In episode 228, Megan shares valuable advice about why you should and need to level up the people you have in your inner circle so you grow in your success.
We cover information about why you need to seek out people in the food blogger space, how to find people outside our space, why you should consider hiring a coach and the importance of joining a high-level mastermind group.
Listen on the player below or on iTunes, TuneIn, Stitcher, or your favorite podcast player. Or scroll down to read a full transcript.

Write Blog Posts that Rank on Google's 1st Page
RankIQ is an AI-powered SEO tool built just for bloggers. It tells you what to put inside your post and title, so you can write perfectly optimized content in half the time. RankIQ contains a hand-picked library with the lowest competition, high traffic keywords for every niche.
Takeaways
Everyone can benefit from leveling UP (way up!) the people with the people we invite into our lives and businesses.
When you are the least experienced, least successful person, this is THE BIGGEST OPPORTUNITY FOR GROWTH and you are ripe to learn.
You've gotta upgrade your PEOPLE. And sometimes you have to PAY for those people.
You have to be intentional about getting into a position to learn. You have to get uncomfortable, out of your comfort zone sometimes to do it as well.
There are incredible byproducts that come from immersing yourself in (and PAYING for) each groups/people's worlds such as the people, the opportunities, the aha moments, the nudges, the accountability.
Networking is what I consider to be an exchange of information or having conversations with peers. Networking and connecting with as many people as possible, whenever possible is good. But different than leveling up.
To accelerate your business growth more exponentially, you need to purposefully invite the right people into your circle to have a massive compounding effect on your business.
Find people within the field of food blogging (& outside the food world!) that you admire and be around them. Consume everything they offer and put yourself in their paths.
Attend a conference and put yourself out there.
Join a high-level mastermind.
Keep learning!
Listen to Loren Runion share how positive self-talk and how the 6K thoughts we have in a day can be shaped to help us grown our businesses in episode 215.
Transcript
Click for full script.

Hey food bloggers! It's just you and me today and in this solo episode I am going to talk about Leveling Up Your PEOPLE Situation!

Before we dive into that, I'd love to take some time here to share about the EBT mastermind groups that are starting up on October 1st, 2021.

First of all. WHY mastermind groups? What is so great about them?

As Napoleon Hill (author of Think and Grow Rich) said about the mastermind principle: "Two or more people actively engaged in the pursuit of a definite purpose with a positive mental attitude, constitute an unbeatable force."

Mastermind groups with like-minded peers provide immense value and opportunity for business growth. There is power in the MASTERMIND. Let's grow together, learn from one another, hold each other accountable and achieve big business dreams.

Weekly Zoom calls will have the format of peer-to-peer learning, with members taking turns being in the "hot seat." Once/month guest experts will be invited into the group to deliver live, interactive value.

The groups we've run so far in 2021 have been wildly successful, creating transformations and providing a safe space for food bloggers to come together every week to learn, grow, share, commiserate and shine.

If this sounds like something that would benefit you and your business, fill out the application at eatblogtalk.com to determine if you're a good fit. This group WILL be capped at 10 people, so it's a first-come-first serve situation.

Do you ever find yourself suddenly in a season of learning and growth? LIke when it unintentionally just happens? Every quarter or so I find myself in this spot where I'm absolutely devouring information like a starving hyena. I have tons of ideas and thoughts and want to implement all of it. Historically.. Past Megan would dive into a good portion of the ideas that entered her brain. New and improved Megan says NO to most of the ideas and puts her stamp of approval on the right ones. Maybe how I figure out which ideas to put my stamp of approval on could be a topic for an upcoming episode, but for today I want to talk about one of the ideas that I have recently put my stamp of approval on and that is leveling up your people situation!

People are everywhere. The world is full of them. Some fun, some inspiring, some who lift us up. And then of course there are the other types, those who bring us down and deplete our energy, but we won't get into that today, either. Today we're going to focus on the first category: the quality, uplifting, encouraging, successful, smart, kind, high-quality types who we should be intentionally finding and pulling into our lives.

You may have heard me talk about the medical ordeal that happened to my husband while we were on "vacation" last month. That whole situation caused me to MASSIVELY slow down. A cool little byproduct that came from that slow-down was many quiet moments, not much work and some thoughtful thinking. All of these ideas and insights started coming to me during that time, and they're still rolling in. Most of them have been really simple thoughts, yet meaningful for me.

There's this simple concept that keeps rolling around in my head: UPLEVEL MY PEOPLE. I think we all intrinsically know how important quality people are. It feels good to have supportive, kind people in our lives, but how much intention do we put behind making sure waves of these people continue to roll in?

This concept needs to be taken to the next level. Everyone listening, myself included, can benefit from leveling UP (way up!) the people with the people we invite into our lives and businesses.

I'm putting this episode together in hopes of inspiring you to massively level up when it comes to the people you choose to surround you. I'd love for you to start thinking about ways you can place yourself in situations where you have the most to learn out of anyone in the group.

I used to be intimidated by this idea, that I was the least experienced or least successful person in a given group of people. Now? I love it. Because when I am the least experienced, least successful person, I HAVE THE BIGGEST OPPORTUNITY FOR GROWTH and I have the most to learn.

I believe that this is one of the most overlooked details about how to nail success quickly: You've gotta upgrade your PEOPLE. And sometimes you have to PAY for those people.

Toward the end of 2020 I decided that I was going to start placing myself (very uncomfortably) into situations where I was that person who had the most to learn. I went way out of my comfort zone and started paying to be in a membership for podcasters. I had never purchased a membership even close to that price point before, so it was a huge stretch for me. I sat on it for 2 months before actually doing it. But I had a good feeling about the people in the group and I knew they were big thinkers with big dreamers with abundance mindsets.

Joining that membership has been one of the best decisions I've ever made for my business. In 8 months, I have made connections with people inside that group that will last for a long time and the amount of value I've received from being a member FAR exceeds the amount I paid to be in it.

I joined another high-level mastermind group in the spring of this year, leveling up yet again. This group was even more intimidating, with just massively financially successful people. I knew that spending time with the other members would speed up my success and open up opportunities more quickly.. And this has definitely been the case in just a few short months.

Then this summer I began coaching food bloggers on a one-on-one basis and it has been super rewarding and fun. Just as I was starting to dig into this new venture, I realized that I didn't have a coach myself! This just seemed wrong! So I found a coach (the story about how he came to me is actually REALLY cool and I'll share about that another time) and again, went WAY outside my comfort zone to invest in him to guide me in ways that would accelerate my personal growth and tweak my mindset (so that I can serve YOU and my clients better) and also accelerate the growth of my business.

I could talk for a really long time if I were to share with you all of the incredible byproducts that have come from immersing myself in (and PAYING for) each of these groups/people's worlds. The people, the opportunities, the aha moments, the nudges, the accountability.. SOOOOO many incredible things have happened and all because I made the decision to massively level up with the people I choose to be in my circle and because I stepped into an uncomfortable place with my finances.

I'm not here to tell you that have to over-extend your spending. That is not my message. I just want you to see the possibilities that can come from surrounding yourself with really high-quality people who know more than you do. And sometimes, that requires an investment.. Sometimes an UNCOMFORTABLE investment.

I was thinking about this episode before I sat down to record it and I was trying to draw the distinction between "networking" and "leveling up." Networking is what I consider to be an exchange of information or having conversations with peers. You can attend a conference and chat with the people who happened to sit down at the same table as you, and that is networking. With networking, you don't always choose who you connect with. Sometimes random networking turns out really well. I've heard of mastermind groups that are wildly successful that have been created fairly randomly by a few people who sat down at the same table at a food blogging conference. And I've made some really great friends this way, so I'm not at all dissing on networking. In fact, I'm a massive proponent of networking and connecting with as many people as possible, whenever possible.

But that is different from what I'm talking about here. In addition to networking, I propose that you extend yourself in a possibly uncomfortable way in order to purposely surround yourself with people you KNOW will accelerate your growth on many levels.

There is NOTHING that is going to accelerate your business growth more exponentially. Purposefully inviting the right people into your circle will have a massive compounding effect on your business.

What are some ways you can do this?

Find people within the field of food blogging who you admire and whose work you respect and GO BE AROUND THEM. If we're talking about a fellow food blogger, become a loyal fan. Devour their content. If we're talking about someone who offers a product or service, buy from them. If we're talking about someone who teaches or inspires, listen to everything they have to say and then engage them in a conversation. Any invitation that is extended from people who fall into this category? Accept it. Put yourself in their worlds and don't wait for them to reach out and pull you in because that may not happen.
Find people outside of food blogging. It is just as important to find people OUTSIDE the world of food blogging, also who you admire and whose messages and work you respect, to find and be around. The same advice applies. Consume everything they offer and put yourself in their paths. Can I tell you a quick story that relates to this? If you're a frequent listener, you know that I'm a huge fan of John Lee Dumas from EOfire. I started listening to his podcast while doing a year-long sprint of creating recipe videos. My videographer and I binge-listened to his episodes while we filmed. His podcast transformed the way I approached my business and was a huge turning point for leveling up and making more money, etc. I'm definitely what you would call a super fan of JLD's and I do everything I can to go where he is. If he's speaking at a virtual conference, I'm there. I read every single email he sends out. His business and the way he lives is how I want my business and life to be in a few years, so I LISTEN.. I do what he does.. And I put myself where he is. John lives in Puerto Rico, so there's not a whole lot of opportunity to just bump into him, especially with a worldwide pandemic happening, so when he sent out an email saying that he would be speaking at a retreat for entrepreneurs in Puerto Rico I immediately applied to go.. And I went! In April of this year I was able to meet him in person and talk to him. I had a moment during lunch one day when I was sitting 2 seats away from him. I was listening to him impart some sort of incredible knowledge to someone across the room. I was like, HOLY CRAP. It happened. Three years ago I was making and filming pumpkin truffles and listening to his voice on my home speakers.. And now? I'm freaking here in the same room, listening to him talk in real life. I had to pinch myself. I did that. I put myself in that situation. I paid to be there. I left my family for 4 days to make it happen. I'm now a blip on JLD's radar and who knows what that may turn into down the road. The moral of the story: Do what you have to do (reasonably, of course.. Don't sell your children or anything) to put yourself RIGHT IN FRONT OF those people who would consider you to be their super-fans.
Hire a coach! Is there someone who always seems to deliver advice or insights that seem to align with the way you live your life.. Or WANT to live your life? Ask them if they offer coaching. This is such a great way to get 1-on-1 support from successful people and to accelerate your business and personal growth.
Attend a conference and put yourself out there. Instead of "just attending" a conference and quietly going from session to session, raise your hand and talk. Linger after a session and get to know a speaker you love. Sit down at a table of bloggers who have WAY more experience than you do.
Join a high-level mastermind group. I mentioned earlier that it can occasionally happen when unpaid mastermind groups come together nicely and without a leader, but the real magic happens when you become part of a mastermind that is consistently led by one person who has facilitates successful groups previously. It is SO WORTHWHILE to pay to be involved in a mastermind group because when everyone is paying? Everyone takes it seriously. It is a no-joke space to convene and get your problems solved while deeply connecting with like-minded people.
Start a podcast. Invite your guests of choice to join you in a conversation. I can't tell you enough how valuable podcasts are when it comes to making connections. At first you might not have top picks of just anyone you'd like to connect with, but if you're consistent with it people will start to take you more seriously and you'll be amazed at the quality of people who will want to share their voices on YOUR platform.
Speak up on Clubhouse. If you're not on Clubhouse yet, you really should be. It is such a cool platform for learning, yes, but the thing I love most about it is that you have the BEST chance possible to directly connect with super smart entrepreneurs. There is no other platform that gives you such quick access to really big names and people you admire. You go into a room, tap that little "raise hand" icon on the bottom and just like that you can TALK to people! It can be scary, I get it, but don't pass up opportunities to do this. If you see someone you know, like, trust and admire hosting a Clubhouse room, go into the room (as scary as it might be), raise your hand and TALK TO THEM.

Moral of the episode: level-up your people. Whether that means investing money (btw, it IS an investment when you pay to level up) or flying to another country (or maybe just across the country) or putting yourself out there in a scary way.. You've gotta level-up with the people you allow in. Put yourself where they are because there is no guarantee that they will find you. Be bold, be persistent, be willing to invest, raise your hand, speak up and get on an airplane.

I'll say this again.. This is such an overlooked detail and can be the thing to totally transform your business in the most incredible way imaginable. There is NOTHING, in my opinion, that is going to accelerate your business growth more exponentially.

228: It's Time To Up-Level Your People with Megan Porta

Leveling up the people you allow into your circle is one of the most overlooked yet powerful secrets to success. Put yourself in the paths of people whose lives and businesses you want to emulate. Don't wait for them to find you!

Seek out people in the food blogging space.
Seek out others outside our space.
Hire a coach.
Extend beyond the comfort zone at an in-person conference.
Join a high-level mastermind group.
Start a podcast.
Speak up on Clubhouse.
---
💥 Join the free EBT community, where you will connect with food bloggers, gain confidence and clarity as a food blogger so you don't feel so overwhelmed by ALL THE THINGS!
Want to achieve your goals faster than you ever thought possible? Stop by Eat Blog Talk to get the details on our Mastermind program. This transformative 12-month experience will help you accomplish more than you would be able to in 5+ years when forging ahead alone.
Click the button below to learn what a mastermind program is, what your commitment is and what Eat Blog Talk's commitment to you is.
📩 Sign up for FLODESK, the email service provider with intuitive, gorgeous templates and a FLAT MONTHLY RATE (no more rate increases when you acquire subscribers!).
Read this post about why I switched from Convertkit to Flodesk!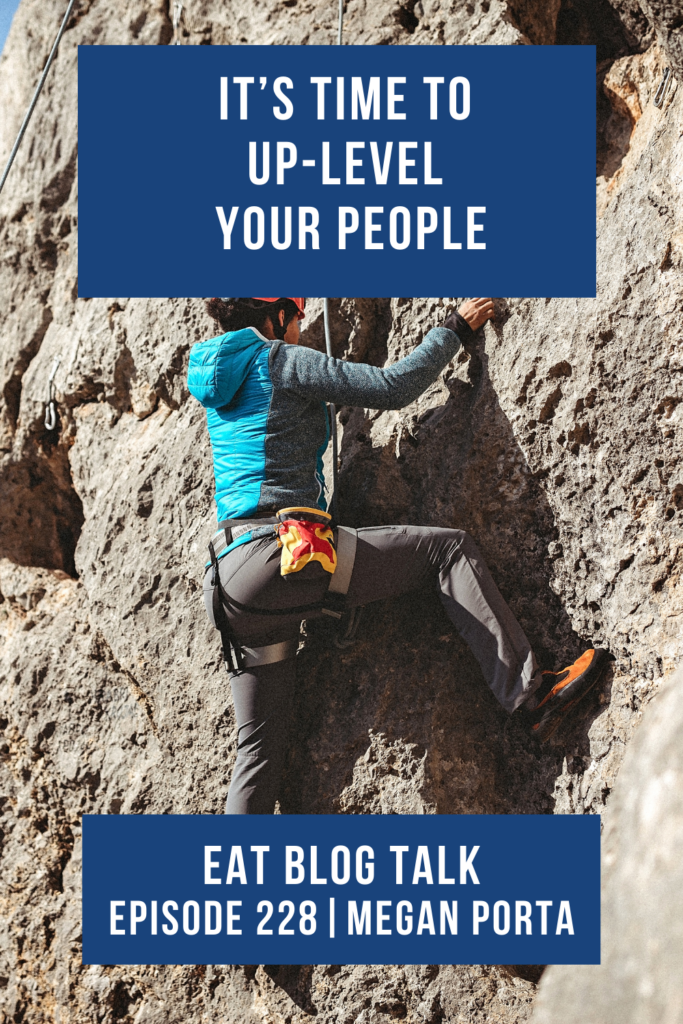 Questions or comments on this episode?
Head over to the Eat Blog Talk forum post about episode #228 to leave any questions or comments. We'd love to hear from you!