In episode 145 we talk with Tara Klippert, from Food and Feels Wellness and a web design consultant about the process of creating a blog on WordPress from start to finish.
We cover selecting your domain, getting set up with a host, what theme to use, the difference between pages and posts and how to set up categories.
Listen on the player below or on iTunes, TuneIn, Stitcher, or your favorite podcast player. Or scroll down to read a full transcript

Write Blog Posts that Rank on Google's 1st Page
RankIQ is an AI-powered SEO tool built just for bloggers. It tells you what to put inside your post and title, so you can write perfectly optimized content in half the time. RankIQ contains a hand-picked library with the lowest competition, high traffic keywords for every niche.
Guest Details
Connect with Food + Feels
Website | Instagram | Facebook
Bio
Tara's education and experience over the last 20 years is in web development and digital marketing. For the last 10 years or so she's also been very interested in holistic nutrition & natural health. She had a previous food blog called Yukon Cavegirl, and most recently has gone back to school and gotten a diploma in holistic nutrition and health coaching. Over the last year she has built up her business – Foods and Feels Wellness – which offers health coaching, customized meal plans, pre-made meal plans and also includes a food blog. Because of her experience in both web development and digital marketing and now nutrition, she is now in a position to help support and empower other food bloggers in their digital marketing efforts.
Takeaways
Consider your logo and colors and any important branding pieces as you begin building a website so you have an idea of your end result.
WordPress offers hosted and self hosted sites. It's important to know the difference, especially as you grow and want to monetize your site.
Before you settle on a blog name, determine the availability of the domain name, then purchase it and domain privacy is a valuable add on to purchase too. GoDaddy, BigScoots and SiteGround are some companies that have good reputations and well known.
Purchase an SSL certificate for your site for extra security, especially if you want to sell products on your site and you are collecting customer information to be stored.
Once you're up and running, immediately go to your settings to put together permalinks, your Gravatars, your site title and tagline.
Select your theme – there are food blog specific themes. Kale and Divi are two specific options.
Anytime you're ready to make a change to your site, always back it up first. There's plugins that can help with that beyond your host helping to do it too.
Plan out your information architecture – the organization of your site.
Posts v pages – A post is literally your blog, and the accumulated blog posts within it. Pages are everything else such as your Home page, About page, etc.
4 main plugins to consider – recipe card, SEO plugin, social media sharing plugin and a Pinterest plugin.
Resources Mentioned
EBT20 – coupon code for booking a consult with Tara
Want more technical tips?
Morgan Wieboldt speaks about Google console on episode 034 to give you tips on how to use this tool to create actionable content.
---
Transcript
Click for full text.

Intro (00:00:01):

Welcome to Eat Blog Talk, where food bloggers come to get their fill of the latest tips, tricks, and insights into the world of food blogging. If you feel that hunger for information, we'll provide you with the tools you need to add value to your blog. And we'll also ensure you're taking care of yourself because food blogging is a demanding job. Now, please welcome your host, Megan Porta.

Megan Porta (00:00:25):

Food bloggers. Hey, if you have not yet joined the new, amazing Eat Blog Talk community, you have to go do it. You will find so much value inside, including connecting with other food bloggers in a much deeper way and having access to all kinds of exclusive value, such as bonus podcast episodes and mastermind groups, and a Resources and Service Providers Directory, and so much more. Go to Eatblogtalk.com for more information, and we cannot wait to see you inside.

(00:00:58):

Okay, food bloggers, have you heard of Flodesk, the new big email marketing rage? This is an amazing new option for managing your email subscriber list. It is super easy to use and it comes with gorgeous, intuitive drag and drop templates. And Flodesk does not charge based on number of subscribers. So your monthly rate will stay the same from month to month. Everyone pays $38 a month or use my affiliate link to get 50% off and pay only $19 a month. You guys, this is a fraction of the price of other email service providers, and you'll be blown away by the beautiful and intuitive templates waiting for you inside. Visit eatblogtalk.com/resources to grab your link. Flodesk, the stunning new option for email marketing.

(00:01:47):

You are listening to part one of two episodes on the topic of creating a blog on WordPress from A to Z. This first part dives into the mechanics of starting a blog on WordPress. So, how to get started, how to choose a host and a theme, and which plugins to use, things like that. Part two will be published on November 5th, 2020, and it will be episode 147. So stay tuned for that. In part two, we will discuss how to create blog posts. Once you're set up with WordPress. We cover topics such as how to optimize your content for search engines, how to select keywords, and also how to request indexing from Google.

(00:02:35):

Stay tuned for part two. For now enjoy part one. What's up food bloggers. Welcome to Eat Blog Talk. This podcast is for you food bloggers, wanting value, information and clarity that will help you find greater success in your business. Today I will be having a conversation with Tara Klippert from foodsandfeels.com. And we are going to talk about creating a blog on WordPress from A to Z. Tara's education and experience over the last 15 years is in web development and digital marketing. For the last 10 years or so, she's also been very interested in holistic nutrition and natural health. She had a previous food blog called Yukon Cave Girl. I love that name. And most recently has gone back to school and gotten a diploma in holistic nutrition and health coaching. Over the last year, she has built up her business, Foods and Feels Wellness, which offers health coaching, customized meal plans, pre-made meal plans, and also includes a food blog. Because of her experience in both web development and digital marketing, and now nutrition, she is now in a position to help support and empower other food bloggers in their digital marketing efforts. Tara, I am super excited to dig into WordPress with you today, but first we want to hear your fun fact.

Tara Klippert (00:03:56):

Yeah, for sure. So first of all, thanks for having me, I'm happy to be here. I'd say a fun fact about myself is that I was actually born without my left hand. And so obviously as one would expect, it's been a bit of a challenge throughout the years, but I really think it's made me into the person I am today. It's made me a lot more resilient and compassionate and empathetic towards others who have faced adversity. And then another quick little fun fact about me is that I was born and raised in the Yukon territory. And I still live here, which is up in Northern Canada. And it's also very cold here.

Megan (00:04:32):

Oh my goodness. Two great fun facts. And I love your perspective, how you took something that might be seen as a negative thing in life, and you have used it to just tackle life in a different way than most people do. That's amazing and so inspiring. So, good for you, that's awesome. And Yukon. Oh my gosh. Yeah, I hear that word and I think, brrrr. I mean, I'm from Minnesota, so brrr here, but yeah, really brrr there.

Tara (00:05:01):

Double brrr.

Megan (00:05:01):

Yes. Double brrr. Exactly. Okay. Let's talk about WordPress. I just love getting back to the basics of specific topics and really digging into them. And this is one of those topics that I've kind of neglected here on Eat Blog Talk because it's kind of one of those things that you just assume people know and get into and figure out. But sometimes it's not, sometimes people really get hung up on that technical side and getting into WordPress.

(00:05:29):

So I'm really happy that you're here sharing your knowledge with us and with food bloggers. You Tara, you built your own website from scratch with the help of your background in web development, as I mentioned in your bio. And now you provide digital marketing consultations for wellness professionals and also for food bloggers. So we're excited to learn from you. You have a lot to say on this topic. I have a huge page of notes here, and I can't wait to hear all that you have to say. So, let's dive into how to create a food blog on WordPress. First of all, before anyone even considers building a website, let's say someone is just diving into this. They don't know where to start. What are the things that people should be considering before they dive in?

Tara (00:06:18):

Yeah, so I know we're not going to get into too much detail on branding in this podcast, but there is a few things that are important to have in place before you start. So, for example, your blog or business name, your logo and branding colors, and you don't have to go into like a full brand setup, but you know, just having a general idea of the colors, a general idea of your brand values. What you want to offer or sell and what types of content you'll be focusing on, or some people call it content verticals and you'll see throughout the podcast why this is important for how you sort of build and organize your website. I know for me before I started building my site, I did design my logo and I decided on a few branding colors and fonts.

(00:07:04):

I also decided on the types of content that I would focus on and that basically helped me decide on how to set up my individual website pages and also my menus and sort of information architecture of the site. And then the third thing I wanted to mention was WordPress offers two different options. So it is important to make the distinction between WordPress hosted websites or self hosted websites. WordPress hosted websites, they're free, and anyone can get them they're available wordpress.com, but you really don't have as much control or functionality in those. So wordpress.org are self hosted websites and basically you're responsible for your own website hosting and you have a way more control over your website. And it's super important if you want to monetize your food blog, because it allows you more control over, you know, ad placement and stuff like that.

Megan (00:08:04):

I see in forums occasionally where people don't know that going in and they do the WordPress hosted version, and then they're like, Oh no, I can't do anything. So is it hard to go from one to the other? So let's say somebody does the WordPress hosted and realizes they shouldn't have done that. Is it hard to switch everything over to self hosted?

Tara (00:08:24):

Yeah, I don't think so. Like, I'm pretty sure you can import a WordPress blog over from dot.com to.org. I've never actually done it myself, but I do believe it is possible. It may involve a little bit of extra sort of technical work to sort of reconfigure the blog once it's over. But no, I don't think it's impossible. It's just a little bit of extra work, I think. So it's just good to start with the self-hosted if you can.

Megan (00:08:51):

And then I'm so glad you mentioned branding because this is something usually comes after the fact, I feel like we all get excited to start a blog, to start a food blog. And then we dive in not really knowing colors or logos or any sort of thing that defines our brand. And then it's something that we wade through and figure out as we go. But it is worth it figuring at least just a few of the details out before you dive in so that you can apply everything across platforms and throughout your blog and not just piece everything together. So it is so worthwhile. Do you have recommendations for places to go to help out with this? What if somebody has no idea where to start with branding?

Tara (00:09:37):

That's a good question. I mean, I know for me I listened to a ton of podcasts and YouTube is honestly a plethora of amazing tutorials. You could take a tutorial on Photoshop or on graphic design or even Canva is actually such an amazing tool for branding these days. And I think you can even create logos on it. There's also services like Fiverr where you can get a really cheap logo made. I know there's other sites online where it actually sort of walks you through the process of creating a logo and then afterwards you're able to download all of the files and all the various formats. So I think there's a ton of information out there these days. And of course there's always people that are willing to help you, you know, freelancers and stuff like that.

Megan (00:10:24):

Okay. So somebody is interested in a food blog, they decide to use WordPress. They have some branding assets in mind and have some things together. Now they're ready to get going with their website. So how does one go about choosing and purchasing a domain name?

Tara (00:10:41):

Yeah. So once you've decided on your blog name, you'll want to purchase your domain name. You'll want to get a relatively short and easy to remember name and try and get it as close to your blog or business name as possible. So, it can be helpful to search for the domain name ahead of time to make sure you can actually get it. I've seen in some cases where people go ahead and decide on a name and get branding. And then later when they go to look for a domain name, they realize that it's actually already taken. So obviously it can create a pretty big disconnect if your blog name is different than your domain name. So one really important tip for starting out. And then I would suggest getting a dot.com domain name. It's the most common and sort of generic domain extension you can get, and then you'll want to consider buying the same domain name with different extensions, if it makes sense.

(00:11:38):

And this helps in the future so that you don't necessarily have to compete against anyone else. As an example. So I live in Canada and for my website, I bought the.com as well as the.ca domains. And then I just have the.ca one forwarding to the .com one. And I mean, it's hard to say whether anyone would ever want to buy Foods and Feels, seems kind of random, but you just never know. And then later in the future, if you lose it, it's gone.

Megan (00:12:04):

Yeah, that would be a bummer.

Tara (00:12:06):

Yeah. Cause then when people Google you, then, you know, they might come up and not you, or both might come up and then people are like, I don't know, which is the one. And then there's also a lot of different websites that offer domain names. So I have mine through GoDaddy, which is a pretty well known and a well-established company. And I found their customer support to be pretty good. The last thing I'll mention about domains is that it's good to purchase domain privacy. It's usually fairly cheap and it basically allows you to protect your personal information attached to your domain. So, for example, if you don't buy it, people can actually look up your domain name and they can see your personal information such as your name and your contact info. So it's nice to have that all sort of private.

Megan (00:12:52):

Is that fairly intuitive as you purchase? Is that like an offering right upfront? Or do you have to dig for that?

Tara (00:12:59):

No, you definitely don't have to dig. I mean, it's kind of one of those upsells, so it usually suggests it to you right in the cart as you're checking out. I know it does with a GoDaddy anyways.

Megan (00:13:08):

And then you might be getting into this, but do you have other recommendations aside from GoDaddy? I know GoDaddy's hugely popular. What are some other ones that people can look into?

Tara (00:13:18):

Nope, because I've had domains with GoDaddy for probably about 10 years now, I haven't spent a lot of time, you know, looking for domains elsewhere. I know at one point I had domains with a company called one-on-one. To be totally honest, I don't know. I haven't done it in a while. I kinda just stuck with GoDaddy because it was there and it was easy. So after you've got your domain name, basically you'll be ready to purchase website hosting. And so I used to get my website hosting through GoDaddy as well, but I actually recently switched over to SiteGround. And the reason for that is that I found GoDaddy uses what's called shared hosting, which means they have a whole bunch of websites all on one server. And so they don't give out enough server resources.

(00:14:10):

And basically what happens is if there's a lot of traffic that other websites are getting, they may end up throttling your resources. So I was finding my website was going down a little more often and I was getting sort of five Oh three errors, which is obviously not good. So I switched over to SiteGround. I did check, they don't sell domains, I don't believe, but they're really good website hosting service. They have really good support. Anytime I've contacted them, they get back to me right away. They actually also do shared hosting, but they give out more server resources than GoDaddy. So it's nice. It's, you know, it's more stable. And they offer a managed WordPress hosting. And so this is a bit of a distinction between that and regular hosting because with managed WordPress hosting, it's really good for beginners or non-technical people because it actually handles the WordPress installation on the server.

(00:15:09):

So when you sign up for WordPress hosting, it'll walk you through the process. It'll ask you for your domain name and then it'll install WordPress and set you up a login. It's just a really super easy and straightforward process. They also offer free website migrations, which is pretty cool. So it can be pretty technical and, you know, there can be mistakes made on migrations, especially with moving the database over. So that's a really cool service. In the plan that I have, they also offer a free SSL certificate, which basically just adds additional security to your website. And that's important if you want to sell digital products in the future, or if you collect any type of personal information from your customers. They also do regular backups of your site, which is pretty cool. So if anything ever happens, your website goes down, you can kind of click and restore it with one click. Yeah. So just, just to note that if you do go through SiteGround just make sure to click manage WordPress hosting, cause they do have other hosting plans. So you'll want to choose that one specifically for setting up a blog.

Megan (00:16:21):

All of the stuff you were just talking about, is for most of us, stuff that we don't want to do. I mean, for technically minded people like you, it's like, Oh sure, no problem, but for a lot of food bloggers, I hear this all the time. It's just a nuisance. I don't know what SSL certificate means, or I don't want to deal with that technical side. And it's so nice to have a hosting service who will actually take care of that for you. I've heard really great things about SiteGround from other food bloggers as well. I use BigScoots and they too are amazing. You mentioned service, having really good service and it is so important to have a hosting service that has really, really good customer support because we all have those times when things come up, our sites go down or there's like a major issue and we're panicking. We've all been there and we're scrambling through our email. I need help. And it is so great to get an email like 10 minutes back or five minutes back from them saying, gotcha covered no problem. And that is how Big Scoots has been for me. And I know a lot of other people too. So I'm glad to hear that SiteGround supports you really well, as well. So that's cool.

Tara (00:17:34):

I've heard really good things about BigScoots as well. I think once your site gets bigger, I believe is when they're good. Cause I think they have like really good server resources. So your sites fast and you're not sharing resources with other blogs and stuff.

Megan (00:17:51):

They will work with you and try to improve anything they can. They're super responsive. And there is so much to that. I was with a really horrible hosting company years ago. I will not mention who they were, but my site went down for 16 hours. I remember the exact number because I was up all night panicking. They just kept sending me to other people and they were like, I'm sorry, I can't help you. It looks like your account was closed. I'm like, what do you mean my account was closed. I talked to probably 20 different people in that span of time. Finally got it figured out, but it was a nightmare. So from that moment on, I was like, nope, I am never doing that again. I'm finding a great host. So it is worth it, whether you use SiteGround or BigScoots or something else, it is so worth it to research and find a really good host. Okay. So once someone does decide on a host, what are some important WordPress settings when you're first getting your website up and running?

Tara (00:18:53):

One of the most important things is permalinks. And so basically permalinks determines how your URLs are generated each time you create either a page or a blog post. And you may have noticed if you look, if you're searching for something on Google, sometimes you'll see that the URLs have a date in them and that's pretty typical of WordPress blogs. And then also sometimes you'll notice that not in the URL, but that you can just see a date of the post kind of in the search result. And so that has to do with permalinks. So to update these settings, you're going to go to WordPress dashboard and then settings and then permalinks and I highly recommend choosing a post name. So basically that removes the date and it's basically your domain slash and then the name of the post or the page.

(00:19:48):

So it's super important for SEO as well as making your blog posts and pages more sort of future friendly, right? Because if you have a recipe and it's three years old now, if somebody's searching on Google and they see that older recipe, they might just pass by. Right. Cause they're like, ah, old content, right? Like it kinda just looks outdated. And then the other thing is, as an example, I've made this mistake myself. I still have dates in my URLs and because I am now about a year into my blog, it's a lot harder for me to change now because I've already started getting ranking on Google. And so what happens if you change your permalink settings later? I mean, A- it can actually break some things on your website. So you do want to have like a really technical person on standby to do that.

(00:20:40):

And I can actually make you lose your Google ranking. So, if you do, I guess one caveat I'll mention is if you do change it later on, you really want to make sure you have, what's called 301 redirect set up. That basically tells Google that, okay, this old URL is now this new URL. Because if you don't do that, essentially Google sees your new URLs as a brand new page and you will have to start from zero in terms of ranking. So yes, we've got permalinks. And then another important thing to set up right away is your Gravatar. So, it's essentially a profile picture of yourself. And you'll notice if you reply to comments on your blog posts, it'll try and attach a profile picture of yourself. And if you haven't filled out your Gravatar, it'll basically just show a little gray box.

(00:21:34):

And you can also change how your name displays. So often it'll default to your WordPress admin username. So that isn't always your name. For me, it's my cat's name. So, it's something you want to change. So basically you go to your WordPress dashboard and click on user and then profile and then you'll, so Gravatar will pop you out, I believe it's wordpress.com where you set up your Gravatar, but once you've set that up, then it'll pull into your WordPress website as well. Another really important thing to set up right away is your site title and tagline, and not so much your tagline, but definitely your site title. And basically the site title is how your title of your site appears in browsers and search engines. And you can customize this by going to your WordPress dashboard and you click on appearance and then customize, and then it's under general settings and site identity.

(00:22:39):

And then there's a lot of other theme settings under appearance and customize. We won't go through all of them today, but I do suggest going through them sort of one by one and updating, because there's a lot of other important stuff in there as well. And then the last thing I'll mention is just sort of general website settings. So also from your WordPress dashboard under settings, I would suggest going through each of the pages there and just sort of configuring it as you see fit. And these are the general settings, reading, writing, discussion, media and privacy. And so there's just a bunch of settings in there that you want to have a look at before you get started. Just to make sure everything looks good.

Megan (00:23:22):

That does seem like a lot. I mean, hearing you talk, I can see where if I didn't know WordPress at all, I would be super overwhelmed. But since I do know WordPress, just hearing you talk through these things, it's really not that much work to do what you're talking about. Thinking about these things upfront is so worth your time and the Gravatar, that takes like a minute or two, the site tagline. I mean, this might seem like a big deal, but it's really not. That takes a minute. And then looking at your general website settings takes a minute too. So if you're listening and you're diving into WordPress and you feel this is really overwhelming, I would just say, don't let it be. Just take Tara's advice and go through each of these things. It'll take very little time and you'll be so happy that you did it.

Tara (00:24:07):

It sounds a little overwhelming, but you're right. And when you go through each of these pages, a lot of the settings are really straight forward. So it'll all make sense. It's pretty easy when you start looking through. Yeah, I find WordPress is, I mean, it does feel overwhelming at first, but it's, it's pretty user-friendly I think, for the most part.

Megan (00:24:26):

It is on the technical side. I feel like when I first got into it, I did think it was fairly technical. It's one of those things that you just dig into and you get to know it and you get to know it pretty quickly. Don't let it overwhelm you. Just spend a little bit of time in there looking through things too. It took me a while to get used to where things were at. Tara, what are your thoughts on choosing a theme? I know there are a lot of different themes available. Are there themes specific to food bloggers that you recommend? What are your thoughts?

Tara (00:24:58):

Yeah. So after you got your WordPress website installed, so the next step is to install a theme. And just to mention too, if people are wondering, you know, like what is a theme? WordPress will provide you with the core functionality of your website. And then if you think of the theme providing just sort of the look and feel and some additional functionalities for laying out your content. So that's kind of a good way to think about what a theme really is. In terms of theme-specific to food blogging, there are definitely a few of them out there. And some of them are free too. I know of one called Kale specifically. It's made very specifically for food blogs and it allows you to easily monetize your website through ads. It also comes with an integration with WooCommerce, which allows you to set up an e-commerce store so you can sell products.

(00:25:56):

And this is really nice if you plan on eventually selling cookbooks or other digital products on your website. So it kinda has everything out of the box and it is free. So basically when you go to add a theme, you just search for Kale straight in WordPress, and you'll find it, click install. It's actually pretty easy. The website theme I use is called Divi, which is actually a really popular theme. There's a ton of documentation and tutorials online for it. It is about $90, I believe for the year or you can buy like a lifetime license, which I think is like $250. It's a lot more complex, not in a scary way, it just has a lot of additional functionality but it can be a little more of a learning curve. It is known to be a little bit heavy and slow.

(00:26:48):

So that's just one thing to keep in mind. The thing I like about Divi is that it comes with a lot of pre-made layouts. So this is really nice if you don't want to spend too much time sort of building your pages out from scratch. If you're not as good with WordPress or you just want it to be quick. I actually did this myself. I used one of their pre-made layouts as a basis for my website and it saved me a ton of time. It all looked amazing. Everything was set up already. I kind of just had to swap out some content. So that was really cool. Divi also integrates really well with WooCommerce. So I do have an e-commerce set up on my site. I sell pre-made meal plans and recipe books there. And I found that really easy to set up, which was nice.

(00:27:37):

Yeah. Then once you're ready to install your theme on WordPress, you go to your WordPress dashboard, click on appearance and then themes. And then in the top left corner, you'll see a button called add new. And then once you click on that, you can search for themes straight out of WordPress, which is where you find Kale, if you wanted to start with that theme. And then if you're purchasing a custom theme, you'll purchase it outside of WordPress. And then it'll prompt you to download the files and you'll just download them to your desktop or to a folder on your computer. And then basically you can just upload your theme into WordPress. And again, it's super easy. You just hit the upload theme top left corner. WordPress knows what to do. It'll basically just do it. And then it will tell you when it's done.

Megan (00:28:27):

I have a few questions about themes. So you mentioned cost, do most themes come with a lifetime cost or a yearly cost? Or how does that usually work?

Tara (00:28:37):

I think most of them come with either, yeah. So if you're not sure you want to stick with that theme forever. I think maybe the yearly costs would probably be sufficient and that basically includes product support and updates. There's like a key you get, for example, with Divi, they give you a key, you put it into your theme in WordPress and then it will automatically sort of be connected out. And so it knows when updates are coming in. So for the lifetime, yeah, you basically just have product support and updates for life essentially.

Megan (00:29:16):

And what if somebody wants to start with a free theme and upgrade to a custom, is that hard to do?

Tara (00:29:23):

No. I mean, it's not hard to do. The only thing I would maybe warn against is that because some themes are different and they have different sort of layouts. If you do change themes kind of once you have your whole website already set up, there will be things that you need to do to sort of clean things up. So, you know, some things will probably look different. Things might disappear off the page. If you know, the new theme doesn't have the same functionality. Your content will all be there. It won't erase your blog posts or your pages. It's just that they may look a bit different and you may have to update some theme sort of settings and content layout.

Megan (00:30:04):

It is worth researching beforehand, just like with every other step of this process that we're talking about. Just a little bit, I mean, you don't need to dive into it for weeks, but do a little bit of research. Do you think you're going to want WooCommerce or some sort of e-commerce on your site connected to your blog? Are you going to want anything specific, you know, thinking through a little bit of that I think is really worthwhile.

Tara (00:30:28):

For sure. Yeah. And back your website up first if you're going to do that. Yeah. Any big change you want to make on your website? Always, always, always back it up. And there are plugins to do that. Like I know I mentioned SiteGround does back your website up. So if you were with someone like them, you kind of already have it, but I like to sort of be extra safe. I also have a backup plugin called updraft and I back my website up almost every time I do a big change or even before I do a big change. So yeah, you just want to make sure that you can sort of quickly restore it and that you don't lose any of your previous work.

Megan (00:31:06):

That's great to mention because I don't think everybody thinks of that and that would be another devastating loss to experience. So what about planning out the information architecture of your site? And I know that's like a really wordy phrase, information architecture. So tell us, first of all, what you mean by that and then talk us through it.

Tara (00:31:28):

So you're right. Information architecture, people are like, what is that? It's essentially the way your website is organized, I guess you could say. Which pages you have on your site, which sub pages fall underneath those pages. So it's essentially how your pages and menus are set up on your site. So the first thing I do, if I'm designing a new site, is I will do a site map. Some people may have heard of site maps, but if not, if you just Google website site map and look at the image results, it'll show you. Like they basically look like flow charts, I guess you could say. So basically, you know, on a scrap piece of paper, just sort of draw a box at the top and call that your homepage and then underneath draw a line down and another sort of horizontal line, and then you can draw lines down to the main sections of your site.

(00:32:27):

So for example, on my site, my main top level sections are what I offer, recipes, shop, blog, about me and contact me. And then sometimes underneath those pages there are then sub pages. So then you draw another line down from that, and then you'd sort of map out which sub pages are going to fall underneath those sections. This is just a good way to sort of plan out the organization of your website. So that later when you're building, it's really easy. You just create pages and you just plunk the pages in where they're supposed to go, kind of thing.

Megan (00:33:04):

How extensively do you recommend someone planning out this sort of information before they've started? I mean, we kind of all know that we're going to want a recipe section, probably, if we're a food blogger and an About section.

Tara (00:33:18):

Yeah. I mean, I wouldn't spend, you know, hours or days on it. It's just kind of to get like a basic idea of how you want to lay things out. Yeah. I wouldn't go too crazy. You just kind of want to have a general sense so that when you're building your menus out, you kind of know where to put stuff, but again, you can change this at any point, right. And like you said, it is a process and when you're going through it and you're like, Oh, actually I want this other page. Or maybe I don't want that page. So it's very easy later to adjust things in your menu. Which actually I could jump into talking about the menu stuff now. So when you set up the main menu or navigation, it's in your WordPress dashboard.

(00:34:02):

If you click on appearance and then menus. And so basically once you've got all your pages created, you can create your menu. And then in this menu you can actually pull in already existing pages and it'll allow you to create custom links and you can also pull in blog posts or even blog categories. So basically you create your menu. All of them can be sort of on the same level. And then in WordPress, it's really cool. It allows you to drag and drop menu links around so you can create the structure. So for example, you have all your top level pages on the left, and then you add your sub pages to the menu, you sort of click and drag them out to the right. And it'll sort of put them underneath a main page, but as a sub link, right? So then when you look at the front end of your website, you've got your top level pages and quite often most themes you hover over that top level page and you'll see your sub menu.

Megan (00:35:04):

Talk about pages versus posts, because this is something that confused me when I first got into WordPress. Because there's a pages section where you can create quote pages. And then there's also posts where you would put like blog posts. Can you talk to us about that?

Tara (00:35:20):

Yeah, for sure. So WordPress is essentially a blogging software. So when you see the word posts, they're essentially talking about blog posts, but most websites that are blogs also have sort of their, I don't know, to call it, like their main pages. So, you know, on a website you have pages and then you have a section that is a blog and then everything under there is a blog post. So it's posts are part of your sort of blog ecosystem and then pages, think of those as just being sort of those top level pages on your website, where you have information sort of your core pages, I would say. I don't know if that makes sense.

Megan (00:36:05):

That makes sense. So can you give us a few examples? Like, let's say there's just a general recipe blog that has posts about a variety of recipes. What would some example pages be?

Tara (00:36:17):

Okay. Yep. So pages would be your homepage is a page. Your about me page would be a page. Your contact me page would be a page. And then, you know, say you had a scallop potato recipe that would be a post. Because when you're creating your recipes, you're creating them inside your blog. So those, all of your recipes will be blog posts.

Megan (00:36:44):

Okay. So pages, posts, we've got our main navigation menu put together. Here is another topic that is a little bit confusing for food bloggers, myself included, creating categories. Will you go through this for us?

Tara (00:36:58):

So to create them, that'll be in your WordPress dashboard. If you go to posts, under that there's a sub link called categories. And so this is where you set up sort of all the main categories for your blog. And I think it's usually good to kind of plan that out. Kind of like you did your site map at the beginning. Spend some time thinking about it because later on down the line, it is possible to make changes to your categories. But when you have lots of blog posts or recipes underneath all the categories, it can be a little bit messy. Say if you add additional categories or remove categories, you know, then you're kind of going back through your posts, having to retag stuff. So as an example, when I set up my categories originally so I basically had a category for each of the different sort of diet approaches that I create recipes for.

(00:37:55):

So I had a category for paleo, for dairy-free for gluten-free, for candida diet, for vegan. And that way I kind of knew those were all the different diet approaches that I would be hitting and most of my recipes. And so that has allowed me to sort of maintain those categories over time and not have to make too many changes to them. The cool thing about categories too, is that you can actually, inside your menu, create a menu link called recipes. For example, I've done this on my site where recipes is your sort of top level menu link. And then underneath that, I created sub links to each of those categories. So when people come to my site, if they roll over recipes on my main navigation, it shows all of those categories underneath. And then when you click on it, it'll basically take you to your category page where it rolls up all the posts that have been tagged with that category. So it's just a really nice way of organizing content on your site and allows people to basically, you know, find what they're looking for. If they go to your site, they're on the candida diet, let's say, they go to candida diet. They know that all of those recipes there are going to be okay for them.

Megan (00:39:14):

Like you said, Tara, going back through and reassigning or reorganizing is a pain. I've done it multiple times and it is not fun. So if you can do that upfront, the less stress you're going to have later down the road.

Tara (00:39:27):

I was just going to mention one last point. So actually category pages on your blog can also be picked up by search engines as well. So, it's kind of cool. I've noticed that when I look at what I'm ranking on, I'm ranking on some of the terms that are basically my categories. For example, paleo recipes, right? And you can actually go into a category and edit the category and you can add text into the category description. So it allows Google to, if you want to put, a keyword or two in your category description, it also is another way to help people find your specific category of recipes on your blog.

Megan (00:40:06):

It's good to know that Google and the search engines actually look at those pages as well. I think one of the questions a lot of food bloggers have is how many categories and what do I categorize? And I know this is kind of a tangent topic, but what are your thoughts on that? Because we can cover all the main categories like appetizer, dinner, salad, but how far down do we go?

Tara (00:40:29):

I think this also kind of comes back to how you want to sort of organize your blog. You know, for me, I'm mostly concerned with the individual sort of diet approaches, but if you are planning on organizing your blog with appetizers, dinners, snacks, desserts, and stuff like that. There's also tags. So for example, you could use your top level categories, could be dinner, breakfast, snacks, and then underneath those, if you wanted to create tags, you can sort of additionally sort of create some organization around that by, say like chicken recipe or vegetarian. So there are sort of a lot of different ways to organize them. I would say don't go crazy with the categories. I would say keep them really tight and sort of succinct. Again, because later you don't want them to get a little bit out of control. It's kind of up to you, right? It really depends on what types of content you're going to be creating, how you want to organize that content. Yeah, it's individual, I would say.

Megan (00:41:54):

Which categories you create depends a lot on what your niche is and what kind of food you're talking about in general. So if you're doing one specific diet, you're obviously not going to put different diets as different categories. So it really does depend on the unique blog.

Tara (00:42:11):

Yeah, exactly. Like say your blog is like only paleo recipes. Well then maybe you don't worry about making a category called paleo because they're all paleo, but your categories are paleo desserts, paleo breakfast, paleo dinner, things like that.

Megan (00:42:26):

Okay. Plugins. There's like a million different plugins out there. And I think it can be very overwhelming looking at all of the options. So talk to us about what you recommend for categories of plugins and then you can go through each category.

Tara (00:42:43):

For sure. So there's sort of four key plugins that I think are the most important. Obviously number one is a recipe card plugin. I think this is by far the most important one. And it essentially allows you to have the appropriate schema markup that allows Google to place your recipes in Google search results alongside other recipes. And it also allows you to show recipe ratings and cook times. So for example, when you search for a recipe, you'll notice that Google will pull up a whole bunch at the top and in these little squares and it shows you the picture and how long and how it's been rated. So that's super important. If you don't have a recipe card plugin, it's very unlikely that you'll ever be able to rank high in the search engines. So it allows you to be competitive, I guess, is what I'm saying with other food blogs.

(00:43:38):

I use the WP recipe maker plugin. It is free if you want to just start with a free version and then later you can upgrade to their premium version, which I do use. And basically it allows you to do some additional stuff, including affiliate links in your recipe, ingredients or equipment, which is pretty nice. And it allows you to do a little bit more nutritional information and serving sizes and things like that. And then the second, I would say most important plugin to have, would be a search engine optimization plugin. It's basically to help you rank higher in search engines. I use a free version of Yoast SEO. I think it's probably one of the most popular ones. And when you install it, it's pretty cool. It actually kind of walks you through configuring it. So it's pretty straightforward.

(00:44:31):

It's pretty easy. You'll just want to spend some time sort of making sure all the appropriate features are turned on and some of them might not make sense. You just turn them on and trust that they're doing what they're doing. And then, the one important thing though through this plugin is there's a feature where you can create an XML sitemap file. And then you connect the plugin to your Google search console. And this basically allows your site to submit your site map to Google. And it essentially just makes sure that all your pages are being indexed properly. I think this is probably one of the more technical pieces to Yoast SEO. I did have to do a bit of Googling and watch a couple tutorials to do it. So, I mean, you could figure it out yourself or you could bring someone on to kind of help you through that.

(00:45:27):

But generally Yoast is pretty easy. And when you create new blog posts, if you scroll down to the bottom of the post, you'll see all the Yoast settings and fields, and it basically gives you advice on how to improve your page. So it'll give you sort of a ranking, if it's like yellow, it's okay. If it's red, not so good. If it's green, it's like, you're doing awesome. And basically it looks at things like how many times does your primary keyword show up in the page, whether you have internal and external links within your content, which is very important for SEO. Whether your content is long enough. So that's kind of one really important piece. Google considers anything under 300 words to be quote thin content. Ideally you want at least 500 words per page. This is something you will run into if you want to monetize your blog, because I know for Google ad sense anyways, they do not like thin content. They obviously don't want to dump a bunch of ads onto a page that only has about 300 words.

Megan (00:46:34):

Yeah. So you want to go over 300? Does, I don't know the answer to this. Does WordPress measure the number of words? Is there a way to do that inside of WordPress?

Tara (00:46:44):

Yoast does do that. So if you've written your post and you scroll down to the bottom, it'll tell you. It'll give you a warning if your contents under, I think it's 300, but I think 500 should be sort of a standard rule. I quite often write my content in Google docs first, and then I'll just kinda do a bit of a word count on it just to make sure.

Megan (00:47:15):

Yeah. Yoast is very direct. I mean, if there's any issue, Yoast is sure to tell you, and we all like the little green smiley face that pops up. Everybody says it's not the end all be all of SEO if you get a yellow or what is it, yellow or orange face, it's not going to kill you. But I still like seeing that green smiley.

Tara (00:47:40):

Totally. Validation.

Megan (00:47:40):

I know it is validation. What else do you have with plugins?

Tara (00:47:44):

So two more. So, a social media sharing plugin is pretty good because it allows people to share your posts really quick and easy with their friends or their family. And these social plugins, they basically apply share buttons to your blog posts. Often you'll see those little sidebar widgets that pop up with all the different social buttons. It also generally gives you sidebar widgets as well, where you can include links to follow you on social media. So it's kind of two-fold; it's helping you get more followers as well as helping you get more shares. And Google does consider social shares in ranking. I don't think it's huge, but it is something so I think it is important. And I use a plugin for this called Monarch. It did come with Divi. So I'm not totally sure if you can get it on its own, but again, there's a ton of them out there.

(00:48:46):

If you search in the WordPress plug-in store, you can probably find lots of them there. And then the last one is Pinterest. So obviously all of your peeps know that Pinterest is one of the biggest traffic drivers for food blogs. So having a plugin, it adds Pinterest share buttons to all your images on your recipe blog posts. And the nice thing about most of them is they will allow you to disable pinning of certain images. So for example, if you have an image that is just like a process shot and you know, it's horizontal, it would look terrible on Pinterest. You can disable that one from being pinned. It also allows you to pre-populate pin titles and descriptions. So for example, if you post something to Pinterest and then you use that same image in your blog posts, then in the metadata on that image in WordPress, you can add the pin title description as well as the repin ID, I think it's called, which is essentially when you're looking at your pin in Pinterest, it's the big string of numbers at the end. So you can post that in. And basically then when someone pins that from your blog, it will pre-populate everything for them. And this kind of allows you to control having good, nice quality text and keywords, and it basically just helps, you know enforce your brand and make sure all your pins are nice that are going back.

Megan (00:50:18):

Gives you a little bit of control over that.

Tara (00:50:21):

Yeah. So I use a plugin called tasty pins for that one.

Megan (00:50:25):

Another option for that, because I am with you. I hate it when somebody pins an image that is just really not at all what I wanted to be put on Pinterest, because as you know, Pinterest is super visual. And you want those hero shots, the mouthwatering gorgeous shots there. Process shots for the post yes, but not for Pinterest. And people pin those weird photos. And I have a few of them that have circulated around Pinterest that will not go away. There's one meatloaf post that I have had up forever on my blog. And there's a process shot that goes along with it that's just unappetizing. It's raw beef in a bowl with a few other ingredients and it will not disappear from Pinterest. So for that reason, because I got so tired of seeing that float around Pinterest, I started using a widget. It's the Pinterest developers widget. Go in, you put your image, you put your link, you put your copy. It tells the pinner exactly what they're putting onto Pinterest. So that there's no question. So that could be another route too. So you have a little bit of control and you can ensure that you're not having those unsavory photos circulating around Pinterest.

Tara (00:51:39):

For sure. Yeah. I'd never heard that. That's cool.

Megan (00:51:42):

Okay. So we've talked about a lot, but I want to get to more. So what do you think about the importance of tracking your data in both Google analytics and Google search console?

Tara (00:51:53):

Yeah, so I think this is super important to have right from the get-go. It basically allows you to sort of track, improve your site and its reach over time. So I would definitely suggest setting those up right away. You don't want to miss any of that data. So Google analytics, it basically provides information on how many people are visiting your site, which pages they're visiting, how long they stay on your site or pages where your traffic is coming from, which is super important. You can see what percentage of your traffic is coming from social versus organic, et cetera. And then Google search console is a slightly different, it's not so much analytics, but it basically, it's giving you a sense of what the health of your website is on Google. So it shows you how many impressions you're getting from Google, which keywords you're getting those impressions on, and whether there are any issues with your site. Sometimes if you have what they call coverage issues, it can prevent Google from indexing certain pages, posts or recipes. And actually one cool thing about Google search console is they've recently added recipes and guided recipes into the coverage section. So you can actually see whether you have any issues with the metadata on your recipe card plugin, which is pretty cool.

Megan (00:53:16):

I've noticed that recently too. So how do we go about configuring both of these things on our own?

Tara (00:53:21):

Yeah. The first thing you need to do is you do need to set up a Google account for your food blog. And then once you've got that set up, you can configure both of these tools. Google analytics, specifically, they will supply you with an embed code. And so you'll want to embed that into the what's called the header section of your blog. And depending on what theme you're using, it's usually somewhere in the theme settings. Usually you can find a text field where you can add code into your website header. This is pretty common. So most themes do provide that. And then for Google search console, they basically will ask you to create a, I think there's a couple ways that they can authenticate you. But one of the easier ways is to create a record in the DNS settings on your domain.

(00:54:15):

And I know that sounds complicated. It's not too hard. And then once you've done that, basically Google checks for it there, say, okay, cool, you've confirmed that you do own this domain. And then basically you're authenticated and you can start to see that data. One thing I wanted to mention about embed codes, like Google analytics, there's a tool called Google tag manager. So it allows you to manage all your embed codes because after a while, and even on my blog right now, I haven't set this up yet, but in the sort of field where it says, add code to your header, I have like just, Oh my gosh, so many different sets of embed codes in there. And it just gets messy. So with Google tag manager, you basically embed one, one time, one code, and then it handles pulling in all those additional embed codes. So for example, if you set up a Facebook pixel on your site or a pixel from your email marketing software, it essentially allows you to just manage those all in one place and not have just like a whole bunch of code firing every time your page loads.

Megan (00:55:23):

As I mentioned at the beginning of this episode, this is part one of two of creating a blog on WordPress from A to Z. So we've kind of reached about N or so in the alphabet. So stay tuned for that, part two will be published on November 5th and that will be episode number 147. So you are offering digital marketing consultations for food bloggers. I would love to hear more and tell food bloggers listening, what they can expect from you with that service and then also how to be a part of it.

Tara (00:55:58):

Yeah, for sure. So you can find me foodsandfeels.com and from there, if you go to the what I offer tab, you can click on the digital marketing consult, and that'll basically just take you to a booking page. I used to do a lot more freelance work where I actually did the physical work. Now that I'm sort of working on my Foods and Feels Wellness business, I don't do as much freelance work in terms of building WordPress sites and all that, but I'm super happy to work with people on just sort of guiding them through the process from A to Z. So, branding, logos, colors, building their WordPress site, plugins, search engine optimization, and anything up to like email marketing, social media marketing, content development. I'm also certified as a user experience expert. So just, you know, designing your page layouts, like, you know, to walk people through sort of a nice flow of your processes and stuff like that.

(00:57:05):

So basically anything, anything digital marketing related, and I very much want to work with wellness professionals and food bloggers because I've kind of now married up these two of digital marketing and food and health. So I can work with anyone, but I really want to work with, you know, health coaches, nutritionists, food bloggers. Anything in the wellness and food industry is what I'm very passionate about. So I put together an offer for your audience. So I'm offering 20% off digital marketing consultations with me. So basically if you go to my booking page and you use the coupon code EBT for Eat Blog Talk 20, so EBT.0 is the coupon code. And just use that at checkout. If you have any issues, let me know, but it should work.

Megan (00:57:56):

Oh, that's awesome. Thank you for offering that. That's very generous of you. I say, take Tara up on that. She's clearly a wealth of knowledge in so many areas. So thank you for offering that Tara. And as you might know, before you go, I do like to ask all of my guests for a favorite quote or words of inspiration for food bloggers.

Tara (00:58:17):

For sure. So it's probably a big cliche. I'm sure you hear this all the time, but it's because it's totally true. So my best advice is to just not give up and to stick with it. Because at first it's going to feel like you're not making any progress with Google and that Google doesn't care about you, but it really does take a while for search engines to trust you and to put your website in front of people. I, myself, honestly, about three months ago, I was ready to give up because I was almost a year in, I was getting almost no traffic from Google. And I think something like 90% of my traffic was all just from social media. So all just from my efforts in getting the word out on social. But in just the last month or two, I've seen through Google search console, I'm starting to get way more impressions and clicks from Google.

(00:59:06):

And every month, it's more and more and more. So I think once you gain momentum, it just snowballs from there. And the last thing I quickly want to mention is to care about SEO right from the beginning. So I hear a lot of food bloggers say, and I think I maybe even heard you say on one of your podcasts that and me, myself too, I also did not focus on it right off the get-go. And I think it delays your success over the long run. So, even though I know SEO just feels overwhelming and confusing, it is like the number one factor these days for growing your website online. So I would say those are my two words of wisdom.

Megan (00:59:46):

Oh, great. Wise words, Tara. Like you said, SEO is something that we get into food blogging for. It's not like a super creative part of it. It's honestly kind of a drag like, Oh, I have to pay attention to this part of it. But I promise when you start paying attention to the user experience and SEO as well, that things do improve slowly and stick with it like Tara said, don't give up. It seems like such a frustrating thing because you want results quickly, but you've got to keep with it. You cannot compare yourself to other people either. And your story is going to be your story and just stick with it. You guys have got this.

Tara (01:00:29):

For sure, it'll happen. You just gotta just stick it.

Megan (01:00:32):

So I will put together a show notes page for you, Tara. And anyone that wants anything that we've talked about today, as well as the resources that we've mentioned, we will put together the plugins and everything that we talked about on the show notes. And you can find that at eatblogtalk.com/Taraklippert and Klippert is spelled K L I P P E R T. Tara, tell my listeners the best place to find you online.

Tara (01:01:00):

Yes, you can find me at foodsandfeels.com and I'm on Instagram, Pinterest, YouTube and Facebook. So pretty much everywhere. Tara Klippert, Foods and Feels Wellness.

Megan (01:01:13):

Awesome. Well, thank you again for being here, Tara, and thank you for listening today. food bloggers. I will see you next time.

Intro (01:01:20):

We're glad you could join us on this episode of Eat Blog Talk. For more resources based on today's discussion, as well as show notes and an opportunity to be on a future episode of the show, be sure to head to eatblogtalk.com. If you feel that hunger for information, we'll be here to feed you on Eat Blog Talk.
---
💥 Join the EBT community, where you will gain confidence and clarity as a food blogger so you don't feel so overwhelmed by ALL THE THINGS!
📩 Sign up for FLODESK, the email service provider with intuitive, gorgeous templates and a FLAT MONTHLY RATE (no more rate increases when you acquire subscribers!).
Read this post about why I switched from Convertkit to Flodesk!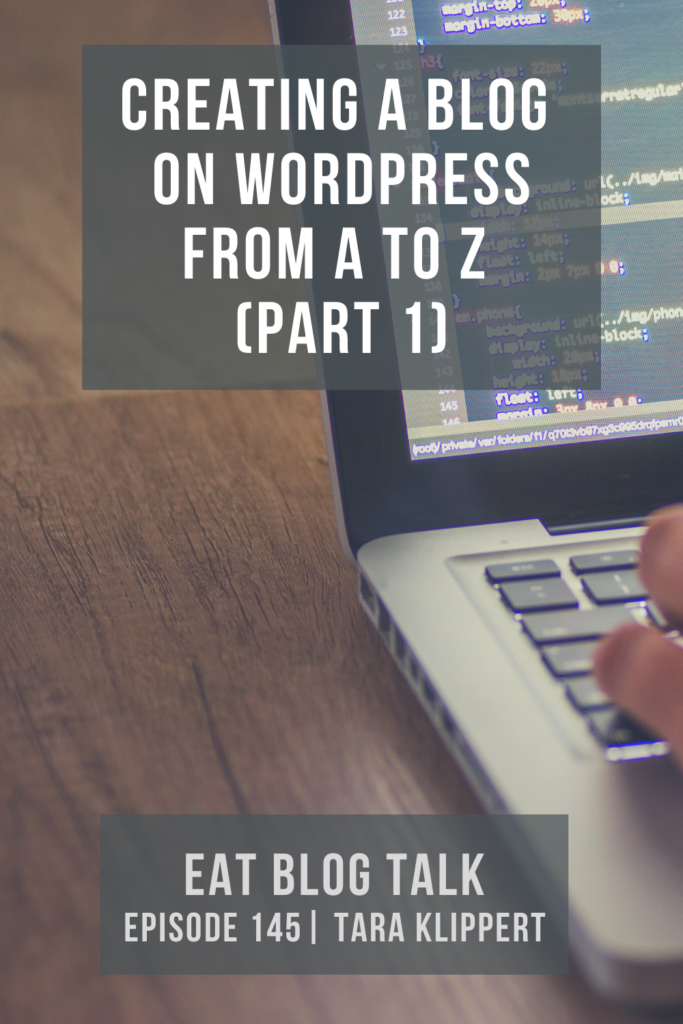 Questions or comments on this episode?
Head over to the Eat Blog Talk forum post about episode #145 to leave any questions or comments. We'd love to hear from you!