In episode 158 we talk with Siri Puppala, blogger at Fat Rainbow who start and stopped blogging over a period of time for personal challenges and is now back to blogging with renewed purpose.
We cover how to make sure blogging brings clarity and purpose to your life, focus on a niche that you can cover and refocus on as you enter blogging again and always be on the lookout for the comparison trap!
Listen on the player below or on iTunes, TuneIn, Stitcher, or your favorite podcast player. Or scroll down to read a full transcript.

Write Blog Posts that Rank on Google's 1st Page
RankIQ is an AI-powered SEO tool built just for bloggers. It tells you what to put inside your post and title, so you can write perfectly optimized content in half the time. RankIQ contains a hand-picked library with the lowest competition, high traffic keywords for every niche.
Guest Details
Connect with Fat Rainbow
Website | Instagram | Facebook
Bio
Sireesha has been a food blogger since 2011 when she put her growing blog on hold due to her career and personal life. She is back with a more meaningful niche and taking her health and wellness blog to new levels and accepted the challenge to help many people suffering with obesity. This married her passion for technology, food and photography and gave her the personal challenge to grow my blog into a business. Being a full time engineer and foodie blogger is a thoroughly rewarding experience.
Takeaways
Blogging can be a hobby, a side hustle or a full time business. You can use it to help you navigate a passion you enjoy even if you have a full time career that's not related.
When you have a true passion for something, make sure that's the main thing you are working on in your blog. It'll keep you energized.
Even if you have to take a break, if your passion is for blogging, you'll always be able to come back to it.
The concept of food blogging may sow seeds of entrepreneurship in you.
When you come back to the your blogging as a job, don't fall into the comparison trap. There's a fine line between using it to help you as a tool and having unrealistic expectations for your immediate success.
Learning to be mindful ahead of jumping back into the blog will serve you.
Find your purpose. What's your aim? What's your purpose for blogging?
Intentions are not results. You have to nurture intentions into ideas and then see that idea through.
If you are jumping back after a break, just get your content out there and get your content published. There's time for the rest of it.
Enjoy the journey, don't focus on a destination.
Learn More On Mindset
Jenny Melrose talks about stopping the mental garbage from coming in episode 150.
Transcript
Click for full text.

Intro:

Welcome to Eat Blog Talk where food bloggers come to get their fill of the latest tips, tricks, and insights into the world of food blogging. If you feel that hunger for information, we'll provide you with the tools you need to add value to your blog. And we'll also ensure you're taking care of yourself, because food blogging is a demanding job. Now, please welcome your host, Megan Porta.

Megan Porta:

Food bloggers. Hey, are you looking for new ways to make money as a blogger? If so, we have got your back. We have launched an ebook called Conversations On Monetization. Inside this resource, we take your favorite podcast episodes about monetization, and we put them all in one easy accessible package. We threw a few exclusive interviews in as well. Friends, there are so many ways to monetize your food blog. Inside this ebook, we have interviews with success stories like Todd Bullock, Alyssa Brantley, Kelly McNellis, Jena Carlin, and more. All of these examples have become successful through completely different monetization strategies. Whether you are a brand new blogger looking for your very first revenue stream, or you are a seasoned pro wanting to diversify, this ebook is for you. Go to eatblogtalk.com to grab your copy. And we can't wait to hear your success story with monetization.

What's up food bloggers. Welcome to Eat Blog Talk. This podcast is for you, food bloggers, wanting value, information and clarity that will help you find greater success in your business. Today. I will be having a chat with Siri from fatrainbow.com. And we will talk about rekindling your passion for food blogging after taking a long break. Siri has been a food blogger since 2011, although she stopped in between, due to career and personal life events that popped up. Despite that she's back with a more meaningful niche. So, seeing her health and wellness blog as a new challenge to help people suffering with obesity. This also put her passion for technology, food, and photography into a personal challenge to grow her blog. Being a full-time engineer and foodie, blogging is a much more rewarding experience. Siri, thank you so much for being here. I'm so grateful to have a little bit of time with you today, but first we want to hear your fun fact.

Siri Puppala:

Sure Megan, thanks for having me on this podcast. I have learned so much from the incredible guests of Eat Blog Talk podcast, and it really, really is really exciting to be on the same platform. And a little secret. I love your voice a lot, it's so, so soothing and comforting.

Megan:

Oh, I appreciate that. Thank you for saying that.

Siri:

Right. There are so many fun facts about me, but if I need to pick out one, as funny as it may sound, I want to become a full-time hiker and set up my own little bed and breakfast, possibly in Scotland or Wales. I love mountains, nature and food. Of course. So occasionally that involves all of this could be so fulfilling for me. Although I'm not sure if I will ever be fortunate enough to pursue the dream. Let's see.

Megan:

Oh I love that! And it's such a specific want hiking in Scotland, you said, and a bed and breakfast?! Oh.

Siri:

Yeah. I love Scotland. Yeah. I feel it's beautiful with lots of mountains, waterfalls and all that. I just love traveling and spending time in nature. That's my dream. It may not be a fun fact, but since I don't see fulfilling that anytime soon, I found it funny for myself.

Megan:

I believe it can happen for you. If it's something you really want, you're going to get it, Siri. I have total faith in that. I think it sounds like such a nice vision that produces being somewhere beautiful and having a bed and breakfast.

Siri:

It's so weird. Actually, my mom says it's a weird dream because I'm into technology, engineering and all that. So I'm running a bed and breakfast, living in the mountains, it sounds so crazy to my family.

Megan:

Well, it's like an opposite reaction to maybe the technology, right? Well, you have such a great story, Siri, and I'm excited to hear about it. You took a long break from blogging and you came back with a renewed perspective. So I am just going to do a real quick intro. I just want to hear how your story has unfolded and what do you have to tell us about it.

Siri:

Sure. To give you a background. I was always interested in things like writing, reading books, photography and food, of course. So back in school, I enrolled myself in many extracurricular activities apart from studies. And that naturally continued even after leaving university and joined the corporate world as a full-time software engineer. I used to do microblogging and be a moderator of what are the famous Google online communities for Indian women. It was a very famous site with millions of page views. So that was an incredible experience, which I think has paved my way for anything related to blogging. When I moved to London 10 years ago, I had to take a very short break and Macquarie for three months. So at my core, I am someone who doesn't want to sit idle at all. So I started a food blog for the love of writing and photographing.

So that passion continued for a few years, posting recipes five times a week. While being a very full-time job in a new place and in a new country. Also, I was also posting about blogging articles and all that. It was going pretty well. This is all back in 2011 and 2012. So at one point, I had to force myself to stop pursuing my passions, unable to cope up with other personal pressures of life, just like most of us have. So that also continued for one year. During this pause, I was blogging, but not consistent enough, at my heart. You know, I was just doing an on and off thing, but it was never like a solid floor, anything like that. So deep inside, I was not happy about it, but really felt very helpless, unable to do the things I love to do. But one good thing is that, since my day job was in technology, I always kept myself updated on the technical side of blogging.

I was helping my blogger friends, clarifying things about WordPress, plugins, photography and all that. Initially like everyone, I started with Blogher, but I moved to WordPress in the very early stages of blogging. So that knowledge I was sharing with friends and all that. So I loved it so much. Back in those days, this information was not at all easily available, like how it is now everywhere. So those friendly discussions meant a lot for many of us. At the end of 2016, I attempted to start a second food blog, niching down to healthy eating and knowledge articles related to weight loss. Because, as a person, my perspective for food, fitness, and blogging changed over the years. My initial blog was a general food blog. I used to post, anything that comes to my mind or anything I made at home and my husband enjoyed.

I started to see blogging as a resource. I mean, this is all in 2016 while I attempted to come back to blogging a second time. So I started to see blogs as a resource. I had big plans for the website, but you know, again, I had to stop it for a few reasons. With age and experience, our tolerance level and how we respond to things change. But back then, I was not at all in a state to continue somehow. So the fact that I could not continue made me think that perhaps food blogging or blogging in general, was never my passion at all. I was so wrong. After some time I began to think who I am outside my formal education, outside my job and outside my relationships. So what is that keeps me happy inside.

I think every person will have this question at some point in their lives. Over time, I discovered that these are my basic strengths and things that make me happy as a person, apart from my engineering degree, the job I do, the money I earn and of course the relationships I formed in my life. So it could be a hobby. It could be a new business idea, or it could be chasing any dream as weird as working as a barista, even when you own a coffee brand, for example. So that's how I discovered that food blogging is again my passion and it has not gone anywhere and it has safely decided in me over the years. I believe a lot in personal branding, in one or the other way since my school days. So here I am with a brand new idea that I wanted to implement for a long time; a blog with more clarity and a strategy and last, but not the least, with more maturity to handle and balance my life and passions at the same time. So I hope to continue this new blog without any breaks anymore.

Megan:

It sounds like you've taken a handful of breaks. But one thing I think about breaks, is that you can come back and have such clarity, right? Especially if you niche down like you did. You went from making a variety of recipes across the board, across many categories. You came back with a vengeance, you decided I am going to find a niche that I'm really passionate about, and you've really dug in. So I would like to hear more about that. How do you feel about your niching down? Do you feel really confident that this is your path that you want to follow for a while?

Siri:

Yeah. If we recap my story a little bit, while I was handling the phase of life and managing several things at a time, I gained lots of weight and I could not help myself coming out of that unhealthy pattern for a long time. Fortunately, I realized it before it got too late and started working on myself, starting with losing some weight first, keeping the hobbies aside. So that was a very eye opening time for me, even mentally too. I learned how to respect my body and its needs, how to be disciplined, how to be on track, how to prepare my mindset for the sacrifices I need. So I can get back to a healthy weight range. Losing weight was never just a physical thing for me, especially when there was so much to work on myself mentally too.

When I decided to come back to blogging, there was no other topic I can think of other than healthy eating, weight loss. Most importantly, self-care. Because I see so many people around me, in my own family and friends, that neglect their health, including me, of course. So we can't blame them because everybody will have their reasons. While they are in the darkest phases, they don't realize it much, but as a third person you can analyze better and offer them some guidance. See, I'm not an expert in any of these things except having tons of experience, which is what really matters when it comes to sharing your knowledge and belief. So, my blog Fat Rainbow is a resource to people that do care about healthy eating, weight loss and self-care. So the Fat Rainbow represents every reader that comes to my blog.

Usually people ask me what is the meaning of my blog? They find it hard to understand, but I still wanted to go with that name because Fat Rainbow means that you are as beautiful as a big fat rainbow, no matter which shape and stage you are in. It also reflects that by eating healthy, colorful rainbow foods, you can become a better version of yourself. So my mission for Fat Rainbow is to make it as an ultimate resource of healthy eating recipes, fitness, and most importantly, have that positive relationship with your own self. That is self-care and self-love.

Megan:

Gosh, I loved everything you just said. I love the meaning of your blog. Then they just hearing you describe what your name means, makes me love it even more. I just want to touch on a few things you said. So you said, even though you're not an expert, you have tons of experience. I think that having tons of experience in an area, any area that's dark, does make you an expert. So I think that makes you even more relevant. It makes people want to listen to you even more than if you did not have experience in that area. You've just put this really positive, insightful, enlightening spin on dark times that you've experienced. I love it when people can do that and come out on the other side, inspiring people and saying positive things and starting blogs that are actually helping people.

So I just wanted to say, that's so amazing and self-care is so important. It's something, as you said, Siri, that so many people neglect, especially when we're going through tough situations. We don't see it at the time. I've been there too. Totally 100%, multiple times in the moment. It's impossible to know what to do for myself. So that's why it's good to have people like you, who can help others find their way out.

Siri:

I believe if it's your passion, it won't die even if you think it's dead. You just only need some light situations to teach you what makes you happy. I'm happy to share my experiences on physical health or mental health. So currently my blog is more about food because I'm, at my core, I'm a food blogger and I'm a food blogger. So I want to combine that food, fitness and mental health into my brand. That's my vision actually. Yes, sometimes what we think at one phase of life can be proved wrong when things around us change. So if it's your passion, it will reside in you safely, no matter how much gap you take. I'm talking about the blogging gap. It just comes out in different forms. The concept of food blogging may sow seeds of entrepreneurship in you.

It may make you an excellent writer, open doors to master photographing, teach you to be your own CEO or encourage you to start selling your physical product. So at your day job, in any company, no matter how big of a role you are in, you have your boss and colleagues to delegate work, resolve your blockers and to assist in making decisions, but yet to run your own blog, you're your own CEO. You don't have anyone to assist you. I think it's a great learning experience. Like I said already, sometimes, you may realize your passion for something when you miss doing it. I think that's me. I was on a long break. I discovered that this greater journey of food blogging and instilling passion and I should continue it.

Megan:

I love that. I love how you never lost your passion for it. You also pointed out that there are so many different things involved with food blogging that you can find passion in. There are so many creative sides; you can get into the writing, you can get into the photos and we could literally go on and on with that. But you stuck with it through that whole time and it always kept resurfacing for you. That means something, that is not nothing.

Siri:

I believe so.

Megan:

I am curious. What were some of the biggest challenges you had after coming back from your blogging break?

Siri:

After a long break, right? Coming back after a long break is both good and bad at the same time. On one side, you are lucky enough to know what work to do that it takes to jump quickly into the blogging game. But at the same time, it pushes you into a circle of comparison with your own peers, who have put in consistent effort to grow their blogs into millions of page views as of today. So, comparing is a natural thing for humans, but if we can, we know what that monster we absolutely can bring the best out of us. You haven't taken the time and effort to implement due to several reasons. I have to accept that gap when I come back to blogging after a long break. See, having knowledge is one thing and putting into action is a whole different thing. So there are a few suggestions that I want to make. If you are someone like me coming back to blogging after a long time, I would say comparison is the biggest challenge I face, you know? But yeah, I have overcome it. With some mindful reading and all that.

Megan:

Mindfulness is great. I think it's such a simple, easy place to start. I think it can be really overwhelming for people because it's such a loaded term right now. So how do you recommend people get mindful?

Siri:

Yeah. Find your own purpose. Whenever you're going to that comparison, think about why you came to this blogging?What is your aim for blogging? Do you want to keep comparing yourself to others, work and get lost in the game? Or do you want to create something? It's quite difficult to digest that your classmates secure good marks, rank and all that while you are equally capable too.

We are all humans and we all have these feelings. It's important to remind ourselves that intentions are not results. Most of us have good intentions and brilliant ideas, but that's not enough, right? We need to nurture that intention into an idea, implement the idea further, put it on paper, test the waters and should put in continuous effort to visualize it. We may encounter difficulties. But what is important is that we should keep trying hard to achieve what we want to.

So that's how I battle my initial feelings. The reason I'm being vulnerable and sharing this piece is to remind anyone who is struggling with similar feelings. Unfollow any large accounts that may make you feel intimidated. Following your favorite, inspiring people from different issues, other than food blogging Try to consume information very mindfully and be strategic about it. Concentrate on creating more than to consume. Half of your problems will be solved. While you're on social media platforms with endless scrolling, remind yourself, what is it that is important to you? Do you want to be a creator? Or do you want to remain a consumer of information. That will give you clarity and remind you about your goals.

This has really immensely helped with me to come out of the comparison game and start creating something on my own. It has really improved my concentration and made me think that I am here to create. Of course I do consume some information, but it is only to help me create. At the end of the day, I want to be a creator.

Megan:

Absolutely. I love all of that. You talked about how getting back to blogging has helped you and how you keep coming back because it's a passion for you. But do you have specific ways to talk about how blogging has given you clarity, how it's freed you, talk to us about that.

Siri:

Blogging has really helped me with my stress, depression and boredom. You know, there is a sense of calmness and satisfaction in sharing, something you know with a flow of words, photographing food, playing with the colors and the whole process of this craft called blogging. This really calms my mind and helps me immensely. Especially when I feel like spending some time with myself.

I use blogging as a way to escape from the daily stress of life. I need to see how it'll turn out in the future. If I will become a full-time blogger, or keep it like a side hustle; we'll see how it goes. I love technology as well. So I'm not sure. But I love food blogging and I'm not going to take a break again, at least in my conscious mind. But the truth is that blogging has really given me immense joy. This joy of blogging or anything in the creative space has got a different trauma together. Maybe it's not for everyone, but it definitely is magical.

Megan:

Yeah, absolutely. I think it is magic for a lot of us. You mentioned distraction before, which I think is a really good way to look at it, because sometimes that's all we need to get back on track or to get more joyful or to find more peace. Just a little bit of good distraction, that is also creative. Do you agree with that?

Siri:

I'm glad that I have discovered this creative space is for me. I don't see myself working nine to five in the engineering field for a long time. So yeah, for now, blogging is my stress buster.

Megan:

Yeah, I like that. Stress buster. That's great. So if somebody is listening and they are on a long break contemplating coming back, what recommendations do you have for them? Do you recommend that they come back and niche down, maybe change their focus or anything else you have?

Siri:

I would highly recommend to niche down, go small as much as possible. You might think that you lose many other potential readers outside of your niche, but when you speak to everyone, you speak to no one. Try to solve one specific problem your potential readers are having. Of course it has to match with your personal interests, what you want to share as well. Apply your knowledge, apply your experience and help a small group of people sincerely.

Even if you start new, if you can help a group of people and solve their problem, it can have a very positive impact on your blog and your own mind as well. So if I'm blogging about any famous Indian recipe, I will try to include pointers like how this recipe can be helpful in their weight loss journey than any regular you find on the internet.

There are no special tips for weight loss. It's all about how we cook, how we eat, and makes most of the success or failure. So I want to incorporate that idea into my blog and that's how I niched down. So I recommend anyone coming back, to niche down. That's one point. The second thing is, don't try to be a perfectionist. Back in those innocent days of being brand new to any kind of blogging, we never cared about how the blog looked like. We just kept on posting.

Now that we have more experience in blogging, we tend to relaunch a blog post or wait until we have at least 20 to 30 recipes and all that. In my view, it's a really bad idea, unless you're launching a big brand. You know, Google takes its own sweet time to show your blog in search. So I would start as quickly as I can. I also, I wouldn't worry too much about the cosmetic things with the blog, like this branding logo and all that. We want to get back to the actual routine of creating content and posting it consistently, at least until we hit the 50 post mark. That's my second thing. Now we'll try to be a perfectionist especially when you're coming back after a long break, we just need to keep going.

Megan:

Yeah. I love that because Google doesn't wait for anyone, right. They just kind of do what they want. So we need to just get our stuff out there. I think that goes for anyone, whether you're just starting out with blogging or you're coming back from a long break or you're just inconsistent with the amount of work that you produce, just getting your stuff out there.

Siri:

Well, the main reason I told this, especially when you're coming back to blogging, you have the stance of experience and skill in your mind, but you didn't apply it for a long time. You'll be on fire to come back with a perfect blog and all that. But you know, but it keeps on going. There is no end for perfectionism. So I would recommend starting as soon as you can.

My third tip would be, it is very important to concentrate on searching and optimization and link building from day one onwards. With these social media algorithms changing every now and then, I feel that it's nearly easier to master searching and optimization. I know Google has its own updates as well, but I feel it's the sweet spot to concentrate on, when you have so many things to tackle at the time. So these are my little tips when you are coming back after a long time, especially.

Megan:

Yeah, those are great tips. I really like that. Again, a lot of that can be applied to anyone. It doesn't have to be a long break. It could be a shorter break or it could be for just somebody starting out. But I think we all battle with all of the stuff we're talking about, from time to time, even if we're still in the game. Like you mentioned earlier, just comparing and seeing your peers and how they're doing, but especially when you come back after a break, I can imagine that it is hard, really hard emotionally to see how much they've grown.

Siri:

Yeah. If you talk about how we can restart with a fresh mind, even though we are an experienced blogger, we have to think of ourselves as a new student in the university. That's how you have to prepare your mindset. You should not be comparing yourself. You shouldn't be trying to be perfect, and all that. Just keep going. Just try to create more. I mean, of course quality is important, but just don't wait for that one sweet day to launch your blog. If you talk about whether to continue blogging, the old blog or to open a new one on and all that. It really depends on your personal preference, but if your ideologies and interests still match with your own blog, it's well and good to continue from the same place.

But like me, if you have niched down and your perception of an idea totally changed, don't get scared too much about starting from scratch. Picking up a new domain name or picking up a new blogging platform or anything like that. But I am confident that I can grow my new blog into a successful one, according to my own parameters. I believe in my strengths, knowledge and the skill I have gained in the years.

So I made a decision to start from scratch. I know I may need to work on making Google to start trusting me from the scratch again, but my aim and aspirations do match with that. I'm working to accept that I'm starting over. There was a happy coincidence a few weeks ago. I was tracking the SEO performance of one of my posts when I found this recipe both from my old and new blog, and got displayed in the first page of search results side by side. It made me really happy.

Megan:

That's awesome.

Siri:

This shows I am traveling in the right direction. The decision should be a balance of your aspirations, liking and your vision for the new brand. I believe that I have the patience and skill and confidence to take up a new challenge. But if you are someone who is not okay with losing the existing brand and the traffic it is having, you can clean up the blog by deleting or annexing any non-relevant posts and start doing it. So don't get stuck at that idea that you should start a new blog or should I continue it. Just make a decision, trust your gut feeling and move forward.

Megan:

Yeah, I think that really is a personal decision based on the individual, because I can see where some people still identify with their original brand. In your case, Siri, you saw a new direction and you identified with that better. So it just depends on your situation. I hate that answer cause it's not like a cut and dry answer, but I think that is the truth for this situation. Do you have tips for growing a new blog really quickly? So if you do decide to take a new niche route, how to do that based on having existing experience?

Siri:

Sure. I would say leverage your old social media channels, even if you start a new blog. If you have no plans continuing the old blog. I simply renamed my old Facebook page and started posting in it. You know, nobody really cares or notices if you're still posting about food. For social media, anything goes fine. So I just renamed my old Facebook page and started posting in it. So leverage your old email subscribers, just send an email to them, informing you about your new blog. Most of them would be happy to reconnect with your content. If you can explain your vision to them clearly. State that you are now going to blog in a different name and continue to send them pages, since they subscribe to your blog for a reason, they will be curious to know about your new content too.

We don't want anyone who is disinterested in your blog anyways. So it's all right, if you have them unsubscribe. So my point here is that you already might have an audience to read your content. Also when I was not blogging, one good thing I did was, to post sport and fitness related content on my Instagram more often just to be connected with the potential audience. You know, the blogger in me did that over the years. That's one advantage I had. So post any useful content on Instagram and develop your personal brand.

You know, it's not always about driving traffic to your blog. Developing trust and personal connections on Instagram or any social media platform might deliver much more than in your business or blogging. Also my other tip would be to invest in a few courses. If you're going to be serious about blogging. Especially if this is a side hustle for you, invest some money in it and outsource a few activities like graphic design, social media scheduling, and all that. Again, it depends on your personal preference.

One cannot do everything on their own, especially when you're starting out after a long break. If this is not a side hustle, reduce your expenses elsewhere and invest in your blog. If you want to remain as a hobby blogger, well and good. But you can't expect immense growth without any investment in doing it. Also, take favors from your blogging friends and ask if they will be willing to share your new content. Blogging world is as friendly as it is competitive. So chances are, it may really work out. There are many blogger friends of mine who shared my content on their Instagram.

So that's really a good sign of friendship. Also join online communities like Eat Blog Talk, Food Blogger Pro, and all this. There's an excellent community around going on the internet. Look out for guest posting opportunities. While it may sound like an old school idea, me appearing on this podcast is a form of guest posting. If you can deliver value, there are always doors open somewhere, I believe. So these are my little tips. Even if you come back, you can really start growing your blog quickly, if you follow these tips, I believe.

Megan:

Yeah, those are so great. I absolutely love everything that you just said, and there is such power in the community. You've touched on that a little bit and just networking with the people you know, but also finding new people to connect with. That will take you so far. It's so often undervalued and underestimated, but there is immense power in that point alone. Siri, I'm looking at your website right now. You are so beautiful. Oh my goodness. I'm looking at the pictures of you, I think they're maybe before and after pictures after you lost weight and you are just so pretty. I just wanted to say that. I'm excited to explore your site a little bit. It's really colorful and just beautiful. So very well done here.

Siri:

Thank you. It's colorful. I want to say one more thing. I love photography and I want to become a photographer, but you know, when I come back to blogging, that's not where my concentration should be. I need to decide whether I want to continue blogging and grow my brand. Or should I work towards becoming a photographer? If you want to grow your blog, you should not be chasing that sort of traffic alone. You should be able to produce decent photographs and concentrate on the other elements of the blog too. So even though I want to become a strong photographer, I just want to keep my concentration on growing my blog for now. So I don't need to produce perfect photographs. I just need to produce decent photographs. That's something I keep repeating to myself.

Megan:

That goes along with the whole perfectionism theme that we talked about earlier. We don't need to be perfect to put ourselves out there. That goes for every aspect of food blogging, as well as just reaching out to people. For so long, when I was an early blogger, I felt like I wasn't allowed to reach out to more successful bloggers because I wasn't quote "there" unquote yet. And I think that's another perfectionistic thing. I don't need to be anywhere in order to make friendships and to reach out. We're constantly learning and growing and we should put our content out and ourselves out there, no matter what. So I like that you're touching on that topic too. Is there anything else you feel like food bloggers need to hear about coming back after a long break that we did not touch on Siri?

Siri:

Just follow your journey. My main point would be to not compare yourself and just stick to your goals and keep an eye around the communities. What other people are doing, how they are achieving, but just don't dig your head more into their concepts. Just take an idea of it and implement your own concept in your own style. Copying never works. Get inspired, but don't copy the stuff. Implement your own ideas. Take an idea and implement it in your own style.

Megan:

That's great advice as well. This has been so fun. It's been so fun talking to you. Thank you so much for being on the podcast. What a pleasure to speak with you today, Siri. Before you go, as you probably know, I like to ask all my guests for either a favorite quote or words of inspiration for food bloggers. Do you have anything for us?

Siri:

My favorite quote, if I want to remind myself, is fall in love with the process of becoming the best version of yourself. I believe in enjoying the journey, where we are leading to more than the destination itself. It is definitely not easy, but we talk a lot about the finish line all the time. However, the process we go through, for each step, to reach that place is just as important as the decision itself. So when you love the journey, any experience,. be it a business or hobby blogging, can be so rewarding, I believe.

Megan:

Hmm. Love it, so much good stuff packed into this episode. Thanks again, Siri. We are going to put together a show notes page for you. If anyone wants to go look at that, you can go to eatblogtalk.com/Siri. S I R I. Siri, tell my listeners again, the best place they can find you online.

Siri:

I am reachable on my blog, www.fatrainbow.com or any of my social media channels, especially Instagram, where you can find it on my blog. If you're like me trying to find some purpose outside your regular life, I'm not thinking to come back to blogging or have any apprehensions implementing any new ideas outside your day job, definitely reach out to me and I can help you with a pep talk.

Megan:

Oh, and you were a good pep talker. I feel so inspired after talking to you.

Siri:

I also have a weekly blogging newsletter where I send out my learnings to my fellow bloggers, and you can sign up any time. It's on my blog.

Megan:

I am totally signing up for that. So you can expect my name to pop up in just a few minutes.

Siri:

Thank you.

Megan:

Yeah. Well, thank you

Siri:

If you are struggling with any mindset issues, losing weight or blogging or starting a new venture, definitely reach out to me and I can be your sister.

Megan:

Aw, that is so sweet. I am so glad you offered that. Well, thank you again, Siri, for being here, it was a pleasure talking to you. And thank you for listening today, food bloggers. I will see you next time.

Intro:

We're glad you could join us on this episode of Eat Blog Talk. For more resources based on today's discussion, as well as show notes and an opportunity to be on a future episode of the show, be sure to head to Eatblogtalk.com. If you feel that hunger for information, we'll be here to feed you on Eat Blog Talk.
---
💥 Join the EBT community, where you will gain confidence and clarity as a food blogger so you don't feel so overwhelmed by ALL THE THINGS!
📩 Sign up for FLODESK, the email service provider with intuitive, gorgeous templates and a FLAT MONTHLY RATE (no more rate increases when you acquire subscribers!).
Read this post about why I switched from Convertkit to Flodesk!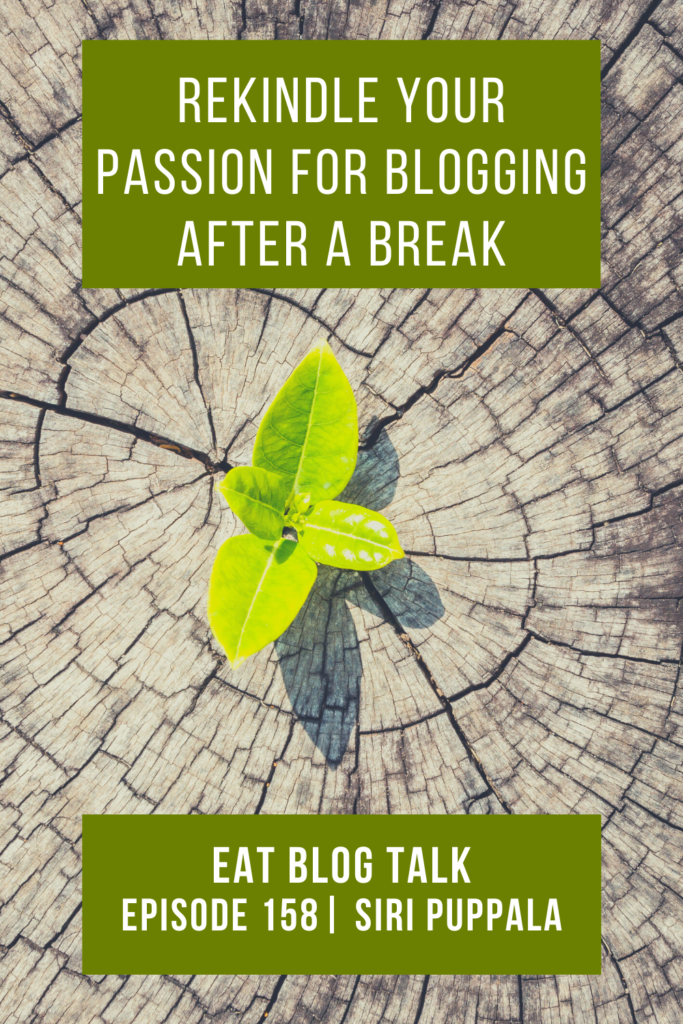 Questions or comments on this episode?
Head over to the Eat Blog Talk forum post about episode #158 to leave any questions or comments. We'd love to hear from you!