In episode 159 we talk with Marie Fiebach, a full time food blogger as well as a regular on her local ABC affiliate news station sharing food segments.
We cover information about how to find the right people to network this opportunity, how to shake the nerves and be a stellar guest and how to go about selecting the best recipe for your segment!
Listen on the player below or on iTunes, TuneIn, Stitcher, or your favorite podcast player. Or scroll down to read a full transcript.

Write Blog Posts that Rank on Google's 1st Page
RankIQ is an AI-powered SEO tool built just for bloggers. It tells you what to put inside your post and title, so you can write perfectly optimized content in half the time. RankIQ contains a hand-picked library with the lowest competition, high traffic keywords for every niche.
Guest Details
Connect with Feed Your Family Tonight
Website | Instagram | Facebook
Bio
Have you dreamed of having your own cooking show? It may be easier than you think. Marie Fiebach blogs at FeedYourFamilyTonight.com. She is a cookbook author and podcaster, but her first love is food TV. As a weekly guest on her local ABC affiliate Marie knows what it takes to be a stellar guest. She helps chefs and food bloggers connect with their local TV stations and learn how to cook on television.
Takeaways
Don't be afraid to reach out to your local news station.
Some local news stations have cooking sets, others don't but don't let this stop you from offering your service.
Friend the local talent on socials. Leave meaningful comments and build an online presence as a fan.
Stay very current in content you are offering. They don't schedule out far in advance with seasonal content.
Pick a super simple recipe with super simple ingredients. Practice the super simple recipe at home.
Be prepared. Arrive at the news station with a finished product, all you need, cleaning supplies and leave it better than you found it.
Be kind to the whole crew. There are people behind the scenes to appreciate.
The video that is created from this segment can be used multiple times and if you don't have a video for this recipe, even better, because now you do.
If you have dreams to do national TV, then this is a great way to get some experience. It also allows you to have one goal on each visit. Sharing a new cookbook? Sending people to your IG? Use this opportunity.
Resources Mentioned
Need More Strategy?
Episode 110 Megan walks you through some great books to help you with your biz strategy.
Transcript
Click for full text.

Intro:

Welcome to Eat Blog Talk, where food bloggers come to get their fill of the latest tips, tricks, and insights into the world of food blogging. If you feel that hunger for information, we'll provide you with the tools you need to add value to your blog. And we'll also ensure you're taking care of yourself, because food blogging is a demanding job. Now, please welcome your host, Megan Porta.

Megan Porta:

Food bloggers. Hey, are you looking for new ways to make money as a blogger? If so, we have got your back. We have launched an ebook called Conversations On Monetization. Inside this resource, we take your favorite podcast episodes about monetization, and we put them all in one easy accessible package. We threw a few exclusive interviews in as well. Friends, there are so many ways to monetize your food blog. Inside this ebook, we have interviews with success stories like Todd Bullock, Alyssa Brantley, Kelly McNelis Jena Carlin, and more. All of these examples have become successful through completely different monetization strategies. Whether you are a brand new blogger or looking for your very first revenue stream, or you are a seasoned pro wanting to diversify, this ebook is for you. Go to eatblogtalk.com to grab your copy. And we can't wait to hear your success story with monetization.

What's up food bloggers? Welcome to Eat Blog Talk. This podcast is for you, food bloggers wanting value and clarity to help you find greater success in your business. Today I have Marie Fiebach from Feed Your Family Tonight with me, and we are going to chat about how to land a cooking segment on TV. Marie blogs at feedyourfamilytonight.com. She is a cookbook author and podcaster, but her first love is food TV. As a weekly guest on her local ABC affiliate, Marie knows what it takes to be a stellar guest. She helps chefs and food bloggers connect with their local TV stations and learn how to cook on television. I am so excited to get some time with you today Marie to talk about landing TV cooking segments, but first we all want to hear your fun fact.

Marie Fiebach:

Well, my fun fact is that I am a professional singer. I sing for weddings and funerals. So it's opera church music, but it's a little different kind of a break from all of the food and media that I do in my day to day life.

Megan:

That is so fun. I remember when I first saw you on our Zoom meeting that we had at the Food Blogger Summit, I thought that really stood out about you. Your voice is really incredible and it's just this really steady, smooth voice, and you have such good pronunciation and just all around, I was wow'd, I love her voice. So it totally makes sense to me and I can imagine how this has maybe helped you in your career. Having started with being a singer, is that right?

Marie:

Right? Well, you know, it kind of has, I have been singing since I was very young and then through middle school, high school and into college, I had several years of professional training. There's a lot of tools that translate. Like learning how to enunciate and learning how to control your breath, that has come in really useful as I've been a podcaster. But then also as I've broken out into TV, media and other forms of media.

Megan:

Yeah. Which kind of goes along with what we're talking about because you are an expert when it comes to TV media. I don't think that is something that a lot of food bloggers listening can say. Some of us can. I did two stints on our local TV news stations. I feel like that way extended myself. It was so stressful, but it was so much fun. I'm excited to get some time with you today to talk about this. I mentioned that I met you at the Food Blogger Summit and I watched your presentation over there. I kinda got a little glimpse of what you talk about and your experience with TV media. This is definitely an angle for putting ourselves out there in a new way, right? Food bloggers don't typically think of doing this. I love that you've discovered this avenue. To start, what advice do you have for people listening who have never done a cooking segment on a local news station? How and where does one even get started with this?

Marie:

Well, you know, the first thing is, to not be afraid to reach out to your local news station. This is something that people often don't understand, is that local stations need people to fill their time. They often have five to six hours a morning of time that they have to fill. They are always actively looking for people to come in and be guests. So you are doing them a favor. So that's one big mind shift thing I want food bloggers to know, is that local stations need you. The second thing is, some stations have cooking sets and some don't, but you can cook on a station even if they don't have a cooking set. So we'll kind of get into how to do your research and some things that you can do to find the best place to get on. One thing you want to look at is just start watching a little bit of the morning shows, cooking segments are almost always on morning shows.

I rarely see them on a show that's after 1:00 PM. So you're looking at morning shows. Morning shows are all about getting the main news of the day out and then there's lots of feel good programming. So there's fashion and there is food and there is the animal rescue shelter. We always say it's about food, fashion and puppies. That's kind of an industry thing for morning television. So start looking at your station, see if they have a cooking set, if there's anybody cooking on there. If they don't, start looking to see what other type of people they are having on in the morning, so that you can find the best station. Because no matter where you are and it's a little harder, if you're in a really large Metro area like New York, LA, San Francisco, but if you're in a smaller market, it is actually much easier than you think to get on television.

Megan:

How do you know who to talk to? How do you know who to reach out to? I mean, let's say someone looks at a TV station and they determine it's a great fit for them. They cook similar things as what they're seeing on the station, where would you even go?

Marie:

Sure. The first thing I have people do is go through their own personal network. That is how I got my first break on the local ABC affiliate. If you know anyone who isn't any way connected with the TV station, that is your best bet. It could be the janitor and it could be one of the anchors. It could be someone who is a producer. To give you a little bit about how a TV station is structured, there is the talent, which are the people that you see on the television. Then there is everybody else behind them. Behind them, there is someone called a producer. The producer is the person you eventually want to get to, because they are the ones who are writing all of the scripts for the talent to read from the teleprompters. They are the ones that are gathering the story.

They are structuring how the show goes. At what point are you putting in the weather? Or what point are you putting in the cooking segment? At what point are you doing some news from the nation? So you eventually want to get to the producer, but anyone at the station can get you to the producer. Now let's say you don't have anyone. You have exhausted your local personal network. The next thing you want to do is start following the people that are the talent, the anchors that are on TV, the weatherman, start following them on social media. As you follow them on social media comment on their things and start building a connection with them. I promise you, if you do this regularly and give thoughtful and meaningful comments, they will start to get to know who you are. I've worked with the talent now for over two years at my local station. They know who their super fans are, and they are always really kind and generous with their super fans. Eventually after you've taken a month or so to build a relationship with this person, you say, Hey, I'm a food blogger. I have an idea for a cooking segment; super bowl, Sunday's coming up and I have some really great appetizers. Would you be interested in having me come on, cook an appetizer for super bowl Sunday? It's as simple as that, it, it sounds really, really simple.

Megan:

It seems so, so simple. I was waiting for some grand instructions, but really it just comes down to something so simplistic. I absolutely love your idea of going to the talent on social media, because most talent is on social media, right? Just being their super fans, even with us as food bloggers, if we have people who are constantly commenting on our content, we know who they are. We know them by name. We know what they like. We know what they don't like. So be that person for them. You will eventually get recognized. You'll be put in their brain, right.

Marie:

It's totally true. Do it with several people. Reach out to three or four different people on three or four different stations. It may take talking with four or five people to make it happen. But if you keep working those connections and once you get your first segment, then it's easy from there.

Megan:

I wanted to talk about something you said a little bit earlier about, you are doing them a favor. I always feel like I am an annoyance. I mentioned that I've been on two segments and it was to promote my cookbook that came out a couple of years ago. I felt like I was the opposite of that. I did not feel like I was doing them a favor. I felt like they were doing me a huge favor. So when I was done, I just felt like, well, thank you for the opportunity. This is never going to happen again. I didn't say that, but that's kind of how I felt. But then they ended up reaching back out to me and saying, Hey, we really enjoyed having you, do you want to come back on? Again, I felt like I, you know, they were doing me a favor. So I just never went back and I feel like I kind of lost out on opportunity there. So I do have the producer's name, Marie. So, if this is something I would want to branch back out into, do you recommend me just reaching out, sending an email saying, Hey, I was on your show a few years ago. What do you think about, and then pitching a specific idea?

Marie:

100%. Yes, yes, yes. And I promise you, especially in these times of COVID, these producers are having a really hard time filling their shows. I had a conversation with my producer about a month ago, and she was just overwhelmed with how hard it was because she used to have seven or eight guests a week. Now she's having to fill all this time without guests because they're not having in-studio guests. So here's the other thing is; I have been taping from home and I've been sending my tapes in. If you are willing to put together a tape from home and send it in as a spec to a producer, they will love you. Because they need to fill this time and it is hard for them right now. These producers are struggling, especially during COVID times. If you have a connection with the producer and you have been there in the past, they will be thrilled to hear from you. They have six hours to fill every day. Just think about that.

Megan:

Oh my gosh, that's a lot. And I can imagine that's extremely stressful for them. I never had that perspective until you said that, but it makes total sense. Of course they're stressed out. Most stations, I'm assuming, do not have people coming in the studio. So talk to us about how that works. So you send a little video clip from your home and you just record it with your phone or how do you record it? How much time do you invest in this? How does that go?

Marie:

I am very low tech. I record on my iPhone. I have invested in a wired mic. So I actually have a 20 foot wire that connects to my tripod and my iPhone because the sound in my kitchen is very echo-y. And I have to tell you, my kitchen is not a gorgeous, beautiful kitchen. I have a small galley kitchen. So I have created a quote unquote cooking set, where I have my kitchen table that is raised with paint cans in a corner of my kitchen. What I do is very, very low tech. If people go to feedyourfamilytonight.com and click on any of my recipes, you can see how low a production value my videos are. I am a little embarrassed that they're not high production value, but I've got what I have and my station is thrilled to have it.

I do weekly segments. I used to go to the studio weekly, and I can talk about some of the logistics of that. But lately, because I've been taping from home, I can do two in a day. That means I only have to tape every other week. I have found that three is just too much. It's too many dishes. I'm repeating my measuring cups and stuff, and I'm having to wash in between. It kind of just gets to be more than I can handle in an afternoon. But I spend the better part of one afternoon, every other week, taping two segments. I do minimal, minimal edits. Most of the time it's just a one-take thing, which is what I do on TV. It's usually a live one take. Then I send it to my editor and I have a video editor at the station.

Then I also send it to the producer. Then the video editor adds all of their stations branding so that you can see KC news at the bottom, the date and the time and the weather and all those things that scroll on the screen. So the video editor adds all of that, and they put it up once a week. I also do something and this is something you would likely have. If you are a new food blogger, new to a station, this is probably how most stations would do it. I actually cook live from my kitchen, with a reporter in the station interviewing me. I do that once a month. My producer would love it if I did it every week, but it takes a lot more work and the talent and I are friends. So they cook the same recipe on the station as I am cooking at home.

Megan:

Oh, cool.

Marie:

Which is really fun. But then you have to think of a recipe that is done start to finish in six minutes. With ingredients that aren't hard for them to gather equipment that anybody can have. I have some funny stories of how that has gone awry. One of the talent, I said, bring a sauce pan. He brought in a six inch skillet and we're trying to make no-bake cookies in a six inch skillet. It was just a comedy of errors, but it turned out really fun and it was fine. Again, it's not my first rodeo. So I adjusted and it wasn't his first rodeo and he adjusted, we all made it happen. But if you're a new person, that's likely how they would do it is they would have you just do it on Skype. Someone from the station would be interviewing you live and, or they might tape it. But most of the time they try and do it live. It's really, really fun. Now I can talk about how to pick a recipe and what goes well on TV,.

Megan:

Yeah, go for it.

Marie:

When I was first starting, I made a rookie rookie mistake. This was my second segment on KC TV ,I'll never forget it. I did roast chicken, cook once, eat three times, and I had two seven minute segments on this particular show. So the first one I showed people how to prepare a roast chicken. Then in the second segment, I was going to teach them how to make bone broth and chicken quesadillas and chicken noodle soup. I was running around like a chicken with my head cut off. It was a disaster. So what I learned, so learn from my mistakes, let me serve you and help you is that you want your recipe to be dead simple. I mean so simple that you don't need a recipe for it. That a viewer can go and make that recipe without ever having to look at the recipe. Now they will go to your website and they will look at the recipe and they will print it out. I promise you, they will do that. But you want it to be so simple that they have the ingredients in their house. And I always say, don't pick specialty ingredients, pick an ingredient that you can buy at Aldi. Aldi's have more specialty items. But if you can't buy it at Aldi, then it should not be on television.

Megan:

I love that advice. Yes. I love that because I cannot imagine going and having something totally over complicated and having to scramble, because when you're on live TV, it's stressful anyway. But having to manage all of that on top of it, right now, I'm just starting to sweat thinking of it. That stresses me out. So yes, easy. Also maybe something that aligns with a season or a holiday coming up or something like that as well.

Marie:

Oh, a hundred percent. That's your way in, your first time. You say, Super Bowl Sunday's coming up. I have some appetizers or, Hey, it's the New Year. A lot of people are wanting some healthy recipes. I have a healthy smoothie recipe, or everybody's wanting to get ready for Valentine's day. I have a chocolate dessert that's guaranteed to woo your loved ones. So use what's happening currently to get your in. The other thing is, TV stations move fast. Two weeks out scheduling something is a long time for a station. Most of the time they are working in the next week to the next day. So you want to be very, very current and you want to be ready to go at the drop of a hat. So if they say, Hey, can you do it tomorrow? You say, yes I can.

Megan:

Yes. Be flexible. Be willing, be ready and just make it happen. What are your tips about being a good guest? And also give us some tips about nerves, because even if you're on live video streaming virtually, I can imagine that's still kind of nerve wracking when I was on. I was so nervous, Marie. I could not even think so, give us your best advice.

Marie:

Okay. My best advice for nerves is, do something that you know, how to do inside and out. The first thing with nerves is start with a recipe that you know so well, so that when your nerves get the best of you, you will go on autopilot and you have the muscle memory so that your body just knows what's next. Practice your cooking segment. When I was starting, I would actually, I didn't have the actual food, but I had all of my utensils and all of my bowls, and I'm going to start with this, and then I'm going to do this, and then I'm going to do this. I would actually practice going through the motions. That is a huge thing with nerves. There was another part of your question that you asked.

Megan:

Aside from nerves, how do you be a good guest in general? What are some other tips you have for that?

Marie:

Okay. So the key to be a good guest is to not be a basket case. Anyone who comes in who is a hot mess and they're dropping pots and pans. I've done it; one time I dropped a pan in the middle of a news segment. It was awful.

Megan:

Oh, no,

Marie:

Learn from my mistakes, but go in and be prepared. One thing I remember my producer telling me is that they really like me, because I come in, I'm super organized and I do the same format every time. This is a format I teach my clients. You start with the ingredients on your right-hand side. Then in front of you, you're doing the cooking, the mixing, the stirring, whatever the actual activity is. Then to your left, you have the finished product. I always come to the station with something that is totally finished. I usually have a taste for the talent. I ask them, would you like to taste? Or would you prefer not to? And sometimes they want to eat on air and sometimes they don't. So by giving them that option, you are being kind and you are being respectful.

Megan:

That's a good one.

Marie:

So, always do that. Another thing is, go in with your end in mind. What are you trying to do during this cooking segment? Are you trying to sell your cookbook like you did? Are you trying to get people to your Facebook group? Are you trying to get people to follow you on Instagram? Have one goal for each segment and tell the talent that goal. You can even, if it's your very first time, I would even type out two or three talking points and give them to the talent. A talking point is, it's a prompt saying, Oh, you are making this particular recipe with pecans. Could you substitute a different nut? You write that. Then you say, the answer I'm going to give is yes, you can substitute with any other kinds of nuts that you want.

Or if you have a nut-free home, you could use sunflower seeds or pumpkin seeds. Actually type out questions and answers. For the very first time you go in, the talent will appreciate that. If you become a guest that comes in more than once, you probably don't need to go to the step of actually typing it out. But that very first time it gives the talent a lot of confidence in you. It gives you a lot of confidence that you know what questions they're going to ask you, so that you're ready to answer them. It helps you be a better guest.

Megan:

And it assures they're not scrambling to find something to ask you about because maybe they know nothing about your veggie salad that you're bringing in and making in front of them. They have to like come up with something on the spot. I know they're really good at that and they're trained to do that, but still, it kind of takes away some stress for them as well. That's a really good point. Is there anything else you would recommend for just being a great guest?

Marie:

I, at the end of my thing, I always ask, would you like me to leave the food here? Or would you prefer me to take it with you? If it's something sweet and baked goods, they usually say leave it. If it's something savory, they're like, I'm okay. It all comes down to being courteous, being kind, being prepared. When you go to a studio, take cleaning supplies with you. Expect to not have any water. Expect to not have anything. So I usually bring, especially if I'm doing something like raw chicken, I bring a quart jar that has bleach water in it. I clean down the set before I start. If there's a little mess from the last person and I cleaned down the set afterwards, I always try to leave the set better than when I came to it. I am always kind to the people, be kind to everybody from the person you walk in the door, until you leave.

Oftentimes leaving, especially if it's something like sweets, leaving something for the crew, they really appreciate it because the talent is always eating on air. But you know, the crew gets to know you too, even though most of the time, in most rooms, you're not even going to see the crew. You're only going to see the talent., In my particular station I walk in and the crew is in a separate room and they're remotely controlling all of the cameras and everything. But they still like to get a taste of whatever you've made. So if they agree that it's okay and leave it in a disposable container. It's kind of like taking food to a friend. You want to make sure that everything is disposable, so that they don't have any burdens. The whole key to being a guest is to not be a burden to the people that you are there with. Because they want you there.

And you're there to help them, but make their job as easy as possible. If you have the opportunity, send the link to the blog post, to the producer ahead of time so they have something to write the copy of the cut-in, which is what the talent is reading before. They're saying, Oh, you know, Marie Fiebach is a podcaster and food blogger feedyourfamilytonight.com. Today's recipe is gluten-free paleo and vegan. So if you have been able to send the recipe to the producer ahead of time, sometimes they even like to have a photo so that they can use the photo as a bump shot, as they're leading into your segment. So anything that you can do to make their job easier is going to make you a better guest.

Megan:

That is all such great advice. So I want to hear from you, what are the benefits of seeking this out as a new avenue for our businesses?

Marie:

There are so many benefits, Megan. The first thing is, we all know that recipes that have video are ranking higher. And if you ask them, they will send you the MP4 of your segment. You can, with their permission, put that up on YouTube. All of the stations I've ever worked with, they don't care as long as you don't scrub off their branding. So it'll say KC TV at the bottom of the video. You can use that as your recipe video, if you don't have video already shot for your recipe. So that's something that's really useful. Also, one segment you can reuse over and over again, and it gives you so much credibility and social proof to have been on television. You can put it on your YouTube channel. You can put it on your Facebook. You can put it on your Instagram. You can use it as part of your resume, saying, you've seen her on TV. Anytime you have a bio that someone's talking about your food blog, you can say, and she's also on television, or she has been on this TV show. It gives you so much social proof and so much credibility. The key is to take one segment and just reuse it over and over again on all of your different channels. Put the video in the blog post, put the video on your Facebook page. It is so useful to have that credibility.

Megan:

Absolutely. Is there anything else you think, any other ways that doing something like this could benefit food bloggers?

Marie:

You know, we're all kind of building our resumes. If you ever dream of doing more food TV, which a lot of food bloggers do, you know, they dream of having the show on Food Network. By having on screen credibility with someone that's not just you shooting a video in your home, it's always good. Especially if you really have that dream of doing food TV. The other thing is, the more you do it, the better you will get at it. So if you can kind of cut your teeth at the local level before you kind of try and start doing something a little bit more national, you'll be leaps and bounds above a lot of people that have never had the local experience.

Megan:

So true. I think the more you practice, the better you're going to be. W. Find that as food bloggers, when we're just creating simple recipe videos for our blogs. At least for me, having done quite a few of those, I get so much better over time. I can imagine doing live videos repeatedly. It just makes you so much better incrementally because you are put on the spot. You're required to have this increased focus. Talking about it, Marie, kind of stresses me out, but there's so much good that I believe can come from this. I'm kind of inspired to reach back out to that producer and just feel it out. See what's available here in the Twin Cities, because why not?

Marie:

Oh, Megan, I think you should. I'm going to follow up with you and see if you did because it builds so much credibility. And then again, you have one less recipe video to shoot. If you have a recipe that you really like and you haven't shot a video for it, do it on TV, and then you can throw that video into your recipe card.

Megan:

It would be way cooler to have a live video on a news station, than to have a video that you created from your kitchen. I think I mean, that's pretty cool.

Marie:

It's fun.

Megan:

Yes. It is fun. After the fact, it was fun. I was like, wow, that was fun. But during it was, ahhh., I have one last question for you Marie, before we say goodbye. What piece of advice would you have given yourself before you landed your very first TV spot?

Marie:

Well, the biggest piece of advice is go with a really simple recipe. That was something that I had to learn the hard way. I cannot emphasize this enough for food bloggers, is that to have a very, very simple recipe.

Megan:

Well, you're my hero because you do this regularly and it's like no big deal to you. That's so awesome. I think that's so cool that you've launched into this. How many segments have you done and how many years have you been doing this?

Marie:

Since September of 2018. So I've been doing it for over two years, five segments a month.

Megan:

Wow, that's crazy. Okay. Where do you see yourself in five years? Are you going to be on the Food Network?

Marie:

You know, I really want to show on Magnolia. That's my big dream. I have a dream for a show that is centered around the family dinner table, a little less chefy and a little bit more family focused. I think Magnolia is the right place for that. So if anybody has contacts at Magnolia Network, reach out to me.

Megan:

Oh my gosh. Well, I believe that's going to happen for you. You're amazing. Thank you so much for being here and sharing such incredible value with food bloggers today, Marie. Before you go, I like to ask all my guests to share either a favorite quote or words of inspiration for food bloggers.

Marie:

You know, I am a meal planner. I love the Dale Carnegie quote, where one hour of planning can save you 10 hours of execution. I really think that's true for food bloggers too. If you can take one hour and plan out your content strategy, you can save 10 hours in doing and redoing things until you can get them right.

Megan:

100% agree with that. I love that quote as well. We are going to put together a show notes page for you, Marie. So if anyone wants to go check that out, you can find that at eatblogtalk.com/Mariefiebach. I will spell that it's F I E B A C H. Marie, tell my listeners the best place they can find you online.

Marie:

You know, the best place is feedyourfamilytonight.com. And if you're interested in my top 10 do's and don'ts for local TV, go to feedyourfamilytonight.com/tv. That'll get you to a list of top 10 do's and don'ts for cooking on TV.

Megan:

Great stuff. Well, thank you again for being here, Marie, and thank you for listening today, food bloggers. I will see you next time.

Outro:

We're glad you could join us on this episode of Eat Blog Talk. For more resources based on today's discussion, as well as show notes and an opportunity to be on a future episode of the show, be sure to head to eatblogtalk.com. If you feel that hunger for information, we'll be here to feed you on Eat Blog Talk.
---
💥 Join the EBT community, where you will gain confidence and clarity as a food blogger so you don't feel so overwhelmed by ALL THE THINGS!
📩 Sign up for FLODESK, the email service provider with intuitive, gorgeous templates and a FLAT MONTHLY RATE (no more rate increases when you acquire subscribers!).
Read this post about why I switched from Convertkit to Flodesk!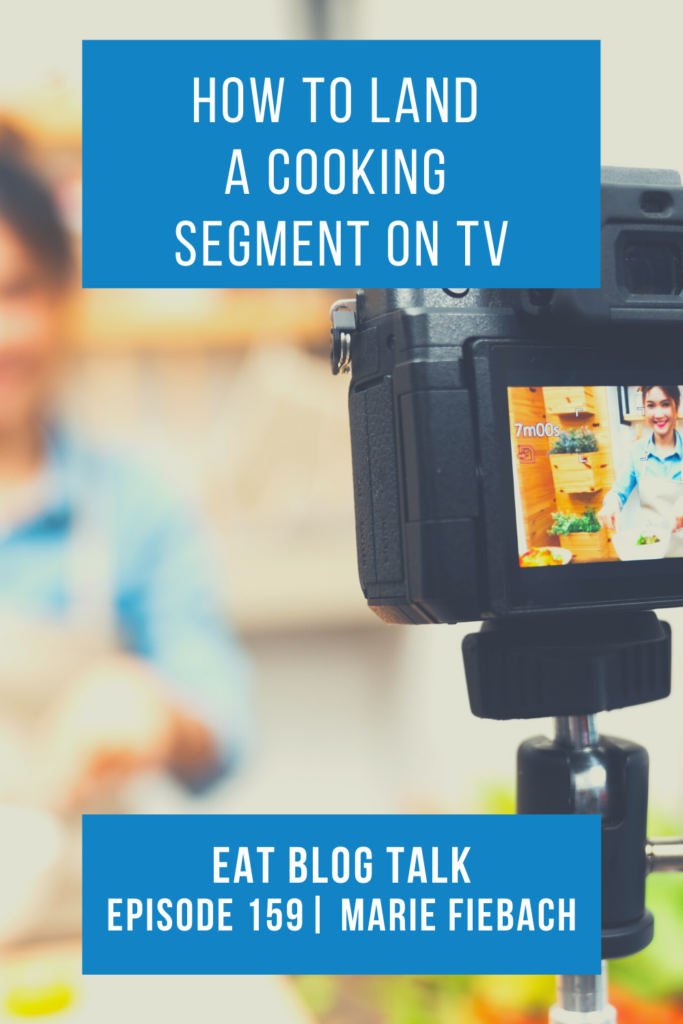 Questions or comments on this episode?
Head over to the Eat Blog Talk forum post about episode #159 to leave any questions or comments. We'd love to hear from you!