In episode 130 we are sharing a replay of an episode published earlier this year with Alida Ryder of Simply Delicious, as we focus on scheduling and planning for success.
We cover information about how to work towards saving a bank of content, set goals and work backward and figure out smaller steps to get you moving towards that goal!
Listen on the player below or on iTunes, TuneIn, Stitcher, or your favorite podcast player. Or scroll down to read a full transcript.

Write Blog Posts that Rank on Google's 1st Page
RankIQ is an AI-powered SEO tool built just for bloggers. It tells you what to put inside your post and title, so you can write perfectly optimized content in half the time. RankIQ contains a hand-picked library with the lowest competition, high traffic keywords for every niche.
Guest Details
Connect with Simple Pin Media
Website | Instagram | Facebook
Bio
Alida started Simply Delicious after being a stay-at-home-mom to twins, Aidan and Abigail for a year. She'd been a makeup and hair artist and had always loved food so she decided to become a blogger as a good way to indulge her love of cooking and creative side.
After only 2 years, Simply Delicious has become one of the top food blogs in South Africa. Now, 10 years later, the blog is her family's sole source of income and employs both Alida and her husband.
Takeaways
In this episode we cover Pinterest tips. Head to episode 012 for show notes and transcript on the original episode.
Learn to embrace planning and scheduling and it will help you so much personally and professionally.
Resources Mentioned
Transcript
Click for full text.

Intro:

Welcome to Eat Blog Talk where food bloggers come to get their fill of the latest tips, tricks, and insights into the world of food blogging. If you feel that hunger for information, we'll provide you with the tools you need to add value to your blog. And we'll also ensure you're taking care of yourself because food blogging is a demanding job. Now, please welcome your host. Megan Porta

Megan Porta:

Food bloggers! Hey, if you have not yet joined the new, amazing Eat Blog Talk community, you have to go do it. You will find so much value inside, including connecting with other food bloggers in a much deeper way and having access to all kinds of exclusive value, such as bonus podcast episodes and mastermind groups and a resources and service providers directory. And so much more. Go to Eatblogtalk.com for more information, and we cannot wait to see you inside.

Okay, food bloggers, have you heard of Flodesk, the new big email marketing rage. This is an amazing new option for managing your email subscriber list. It is super easy to use and it comes with gorgeous, intuitive drag and drop templates. And Flodesk does not charge based on number of subscribers. So your monthly rate will stay the same from month to month. Everyone pays $38 a month or use my affiliate link to get 50% off and pay only $19 a month. You guys, this is a fraction of the price of other email service providers, and you'll be blown away by the beautiful and intuitive templates waiting for you inside. Visit Eatblogtalk.com/resources to grab your link. Flodesk. The stunning new option for email marketing.

Megan Porta:

Hey, food bloggers. We are going to start re-publishing older, Eat Blog Talk episodes periodically in order to bring some of those gems that are hiding deep in the archives back to life. This particular episode was one of the first interviews I recorded on Eat Blog Talk, and it is definitely a gem.

Alida from Simply Delicious, shares about her incredible planning and scheduling and how it has helped to grow her food blog immensely. She is such an inspiring entrepreneur and I loved this chat with her. I am so happy to bring it back to life, and I hope you find as much value in it as I do. In today's episode, I will be talking to Alida Rider from Simplydelicious.com and we will be discussing the power of planning and scheduling. Alida started Simply Delicious after being a stay at home mom to her twins for one year. She had always loved food so thought blogging would be a good way to indulge her love of cooking and her creative side. After only two years, Simply Delicious has become one of the top food blogs in South Africa. Now 10 years later, the blog is her family's sole source of income and employs both herself and her husband, which is amazing Alida. Congrats on that. It is so great to have you on the show today. Planning and scheduling, I feel like are super important components of food blogging. So I'm excited to dive into our talk today, but first take a minute to give us a fun fact about yourself.

Alida Rider:

Well, first I want to say thank you so much for having me. It's such a pleasure to be here. A fun fact about myself. Like you said, I live in South Africa and the language I grew up speaking is Afrikaans. Very, very few people in the world know it, um, nevermind understand it or can speak it. It's a language brought to South Africa. Well, not actually brought to South Africa. It's the raft from Dutch. The Dutch came here, um, in the 17th century and Afrikaans just kind of happened and developed.

Megan Porta:

That's really interesting. Well, thank you for sharing that Alida. Now, if you're ready, let's get onto our topic, which is the power of planning and scheduling. I pretty much avoided planning and scheduling for the first seven or so years of blogging, which is kind of embarrassing to admit. And it really, looking back, it really showed in the content that I was producing and also in the frequency that I was producing the content. It doesn't seem like planning and scheduling content could have such a huge impact on quality and frequency of what we produce, but it does. For years, I was posting one to two recipes a week and it was a struggle just to get those one to two recipes up. Eventually I got tired of my constant cycle of frustration and I forced myself to set up an editorial calendar. I began planning recipes ahead of time and actually scheduling posts ahead of time, which is something that I had never done before that. And not too long after that point, I was able to get a new post up on my blog every other day with relative ease. And I've been able to keep that up since I started it. So there's definitely a magic that comes from structuring your content. And I know that you are a master of planning and scheduling content Alida. So tell us about how things started with your blog and also how the process of planning and scheduling has evolved for you

Alida Rider:

So one of the biggest reasons for planning my content so far in advance is because I want to be able to take December's and January's off from working completely. During December and January we have our summer holidays in South Africa and we usually go down to our beach house for at least two to three weeks. And in previous years I would just never have content going up in those times because I wouldn't plan ahead. I wouldn't schedule. I wouldn't be shooting and developing recipes ahead of time. And that doesn't really make good business sense because that's also the time of the year that the RPMs and page views go off through the roof. So it wasn't very smart on my side to be doing that. So what the schedule allows is for me to shoot months of content in advance. So I can take at least two months off to spend the summer with my kids and family. Um, but it also gives me freedom to take some time off during my kids exams or for weekends away, or even just days that my husband and I don't feel like working. I think that's the beauty of blogging is that we make our own hours. And if you are diligent about banking content, you can do that with even less guilt. Not that I really feel guilty about taking a day off, but I think as a business owner, you kind of always feel like you can be doing more.

Megan Porta:

Absolutely.

Alida Rider:

And when you do take the day off, I think often at night when we've had a day off, I think, Oh, I should have scheduled something, or I should have been, you know, I should have been more active on social media. I shouldn't have been on Pinterest or whatever. So with, um, at least taking care of your content so far in advance, it just gives you that little bit of breathing room.

Megan Porta:

Yeah, absolutely. I love that you used taking time off as a way to launch you into planning and scheduling. And I think that happens for a lot of us because I can't remember exactly what made me start doing it besides just being frustrated with never feeling caught up. But there was something that I wanted to take time off for as well. I planned ahead like a week ahead and it felt so amazing.

Alida Rider:

It does!

Megan Porta:

Like you said, I was able to set my stuff down for a week and it was like, wow, I can actually make this happen. So it really is possible if you just are diligent about it and you set your mind to it.

Alida Rider:

Totally. I think that, I think that that's exactly what you just said. It feels so good to know that you've got some content lined up or even, even if you don't have it photographed and the recipe developed, just knowing that your ideas of there, I think gives me such peace of mind and such peace of mind. And I think I never thought growing up that I would be a control freak, but the older I get, the more I realize that I need some structure and I need like a bit of a shit show. And when I don't have that, I feel like my mind is constantly racing and I'm constantly looking for inspiration. And there's just never that time that I just feel at ease and calm and ready to start actually working.

Megan Porta:

Right. And I think being a mom too, it's helpful to have a plan because things come up. We have days when our kids are sick. We have days when we want to go on field trips with our kids or whatever it is. It's just nice to be able to take a breath once in a while and set everything down. And know that your posts are being posted as you're doing whatever you're doing.

Alida Rider:

Yes, absolutely. I also think with our afternoons being so busy, um, the school hours in South Africa are a little bit different, we start at around 7:30 AM and we finish around 1:30 PM. Um, but our afternoons are then full with extra mural activities. So when we have extra math classes and piano and guitar and sports, um, and I want to be there for my kids for those times, I think that's another thing just like, um, blogging gives me freedom to take days off. It also gives me freedom to spend as much time with my kids as I can. And I want to be able to take them to the piano lessons and sit next to the sport field. You know, I want to be able to do all of that stuff. So my mornings are spent working so that I can do that for my kids in the afternoon.

Megan Porta:

Yes. Taking advantage of that time that you have so that you could take the time off. For sure. So planning and scheduling are really are two entirely different things. You can plan all you want, but if you don't schedule, obviously nothing gets accomplished. So, how far in advance do you recommend planning blog content and then beyond planning? How far ahead of time do you recommend having content scheduled?

Alida Rider:

So currently my schedule is, um, planned up to January 2020. You have a few blog posts scheduled up to June, 2020, but that's like one year and there's like, if I have an idea and June is now past then I'll quickly schedule it in. So what I do is I use Google trends to track when my planned content will be the will be searched the most. And most content is pretty straightforward. I mean, it's grilled foods in June and July, comfort foods from October, but they are often spikes throughout the year and I want to make sure to hit them so that I get the most as on my post as possible. So I do that. So I'll normally do, um, a lot of Google trends searches in January and just kind of start spit balling ideas. And then I'll schedule them in. But what I like to do is leave a little bit of room for creativity in the moment. Um, most of my recipes are planned in detail ahead of time, but I do leave around 30% of my recipes a little bit open-ended. And that just allows for trends or new ingredients to make their way onto my blog in, in like, so that I don't feel rushed because Oh, kale is huge. I need to do something, but my content has been planned in advance so I can't. So I like to leave things a little bit open ended.

Megan Porta:

For those last minute things that come up.

Alida Rider:

Exactly. Exactly. So what I do normally, so for example, I'll schedule a grilled steak for June or July, but only closer to the time we'll actually decide what to do with that grilled steak, whether it's with a simple mushroom sauce or something a little bit fancier. Um, but I would say whatever you're planning to plan is just whatever you feel comfortable with. I, I find with myself the more I'm in the planning mode, the easier it is to like turn out more ideas. And I think that if that doesn't come naturally to you, I don't think, think that you should be putting the pressure on yourself to be doing that. But for me, when I'm planning, it's easy to plan months of content. And then when I'm ready to actually start scheduling that content, then I can take my time. And I, we currently shoot around three to four weeks in advance and I'm trying to get to the point that I have two to three months of content banked, ready to go, completely edited so that I can just write the blog posts and post.

Megan Porta:

That is a great goal. I think, I think that would be amazing to have two months in the bank. Wow.

Alida Rider:

Yeah. I hope that I can actually get there. I must say I get to, there are many days that I get quite lazy.

Megan Porta:

Right. It's almost like you were talking about earlier when you have something that you have to make happen. It's almost like you just have to make yourself do it in order to get to that point.

Alida Rider:

Yes. But also I think since my husband and I both work from home, it's so easy to enable each other to binge Netflix, just lie down and read a book. So I think having that schedule, it also forces me to, because I keep constantly thinking, well, December is coming up, even though, I mean, it's months away, but I'm still thinking December's coming up. I want to be able to take time off. Get off the couch, switch off Netflix. And start working.

Megan Porta:

Right. I liked your recommendation that you just mentioned before about using Google trends. I recently discovered Google trends and it is a miracle. I love it. It's kind of addicting once you get started in it. It's like, it is just fascinating. Isn't it? Just to see what is trending and how does this tool know? It's like this crazy smart tool that knows what's coming up and what's going to be trending. And it's like, it's telling the future. It's amazing.

Alida Rider:

I think what I also love about it, I think that also enables me when I'm in my planning phase is because I'm just so interested in what the trends are. So it's so fun to see what time of the year a steak is going to do well or Mac and cheese or whatever. I find it completely addictive.

Megan Porta:

It is. Once I get into it, I get a little bit sucked in. I have to be careful, but yeah, I'm like I'm working. So my team and I use Trello to stay on track and plan our schedule. Uh, and we love it. But can you share with us any other tools or apps that might help food bloggers plan and schedule content.

Alida Rider:

So my husband and I keep it very simple. I'm a, I'm a big Google fan. So we just use Google calendar shared between the two of us. And then I just kind of color coordinate. So the planned recipes, or for instance are in yellow, recipes that have been scheduled are orange, shoot days I have purple. And then the content that is already done is green. So that it's green for go. And I just find that that works so well. I've tried other, um, scheduling apps and I just, I don't know, I just love the simplicity of Google calendar.

Megan Porta:

I love having a calendar to look at in Trello. You can do the same and it's just a little different. We do use Google calendar as well. I love the color coding because we do that too. It's like, you just need to look at something and know exactly what stage it's in. I don't really know any of the other schedulers. I haven't explored a whole lot, but I know that there are some out there if people are interested in yeah searching those up. Google calendar. I mean, you really can't go wrong with that.

Alida Rider:

Yeah. I think I also like that it's such a clean interface and I quite like that. It's exactly like you said, it's nice to have a calendar to look at so I can look at the whole month ahead. I can look at the week ahead. I know exactly what is coming.

Megan Porta:

Yes. That is nice. Personally, I do weekly planning, but I also do bigger picture planning like you were talking about. So planning out every detail of my week, for both work and personal, which kind of intermingle when you're running your own business. And also taking a step back and looking at my work goals on a much bigger scale. So an example of that larger scale thinking would be like in six months, I want to be posting three new recipes a week with all posts having video or something like that. Then working backward and setting smaller goals that will help to reach that bigger goal. Does that make sense? Do you do anything like that?

Alida Rider:

At the moment? I'm very, um, settled in the schedule that we have. But I definitely did that when I first started being scheduled, like being so scheduled driven. Um, and that was last year around this time, June, July, 2018. I decided to start doing that because we had always been doing freelance content for magazines and other brands. And we just decided, well, what was so nice is that Simply Delicious. The income from Simply Delicious grew so much that it could completely supplement that income. And we decided to put our focus solely on Simply Delicious. And then I just realized that I need to start treating this like a proper business. And I, for another blogging friend asked me the other day. And I said that if you commit to your blog and your content and you treat it like a business, it will start performing like a business. So what you said about planning ahead and kind of working backwards, that's kind of what I did last year. Is I decided that I want to be at a point that I can post seven days a week and I needed to see how I can make that happen. So I started slow. It started with maybe three or four posts a week. And then eventually from January, 2019, I started posting seven days a week.

Megan Porta:

That's amazing. I was looking at your blog yesterday and I was blown away. First of all, your stuff is gorgeous. It looks amazingly delicious, but also just your frequency. I kept going back and like, you've gotta be kidding me. There's like every single day, there's a post. And that is amazing. That's so inspiring. And it just shows you the power of thinking ahead and scheduling out when you can.

Alida Rider:

Well, I'll say I'll, I'll admit a lot of those posts are older posts. So I've been doing, um, Jeff's SEO course, hashtag Jeff's SEO course.

Megan Porta:

Oh sure.

Alida Rider:

And he talks about updating all the content and republishing. And I just decided two or three posts a week would be content that I know are still good. The content pieces are actually still good. They are, um, they might need to be updated writing wise or I'll need to take new photos. But the base of the recipe is still like, a good recipe. So two or three posts a week, um, is old content. But I try to do four to five pieces of new content a week.

Megan Porta:

That's still work. I mean, I think it's smart to go back and recycle old content to make it more current, but it's still work. It's not like it's just, not a big deal.

Alida Rider:

And especially if you've been blogging for 10 years, the photos are very shady.

Megan Porta:

Tell me about it. I go back to some of my older posts and their so bad. And I remember at the time thinking that they were okay. I cannot believe that I thought those were okay to put out into the world.

Alida Rider:

They are a few recipes that I, um, have hidden from the public eye. I'll never forget. One of my first was a chicken stir fry that I had just photographed on our old kitchen counter in at night. So you couldn't even see what was going on in the bowl. And I thought that this was perfectly fine to upload. But I guess I think, um, I've watched a YouTube video. Somebody, I can't remember who it was now, but they said it's sometimes good not to know how bad you are, because then you would stop. And I love that because it's exactly,I would have stopped if I knew how bad that was.

Megan Porta:

That is great advice. Absolutely. I'm glad that I didn't know either. So I was kind of nerdy yesterday and I was just searching up some facts about planning because I know how important it is. And I know some people like to hear numbers. So I found this statistic on the US Chamber of Commerce foundation website that said that only 3% of adults plan ahead in work and in personal. And those 3% accomplished more in their lifetimes than the other 97%. So finding the clarity about what you want to accomplish with your food blog is so key. I think you need to figure out what do you want to do. Do you want to produce more content? How often do you want to put new content up? Do you want to produce video? How much video do you want to put up? I think it's important to set definitive goals and develop a timeline to ensure that your goals are met. So sometimes I just like looking at those numbers, like it really does matter that we are planning and not just flying by the seat of our pants. I remember back in my early years, I would be like, okay, I haven't put up a post in like a week. It's probably about time. So I would literally go to the grocery store and just start looking around and I would see a can of black beans. And I think, Oh, that might go good on a salad. And I would think of my recipe on the spot in the store. I would grab ingredients, go home, make it, photograph it, and post it that same day. That was a horrible way to get by. It just was not effective because it wasn't a good plan.

Alida Rider:

I think that it adds so much anxiety, for me, to know that a blog post is made to go up, say for instance, on Tuesday. And on Monday, I still don't have any idea what I'm posting. I just find that for me, it adds so much stress. So even when I didn't have months of content planned, I still used to at least plan the week ahead to know. And I'll also for me, I like to know what my week looks like on a Sunday. So on a Monday, I know I'm doing shopping for the entire week ahead. I'm doing like all the last minute, little bits of planning so that I know on Tuesdays and Thursdays, when we shoot, everything is ready, everything is like good to go. And I just think it makes everything calmer. And I've seen that when I'm calmer, my family as a whole, is a lot calmer.

Megan Porta:

I totally agree with that. And something I've found to be true for me is that if I start planning in one area of my life, so if I start getting, like you said, you were grocery shopping together, then other areas start taking shape as well. Things really do gain momentum once they're in motion. So once I have my groceries, that means I have to plan what I'm buying. And so it just like, it's like a snowball effect in a good way.

Alida Rider:

Yes, I love a good list. I'm a big list maker. So I love making grocery lists and I love seeing from which shops I'm going to be buying which things. So I just, yeah, I'm definitely a planner at heart. I didn't think that I would ever be that when I was growing up, as a kid.

Megan Porta:

Yeah. Food blogging really does require that.

Alida Rider:

I think so. And you say that you like the numbers and seeing the actual stats. And I also noted at this morning a little bit when I was preparing, and I felt I'd actually like to see what this planning has meant for Simply Delicious. So I saw that our income has gone up 42% comparing June, 2018 to June, 2019.

Megan Porta:

Ohhh, that's amazing.

Alida Rider:

And the traffic has gone up 29%. So, I mean, I guess you can say, I dunno, a Google algorithm has favored me or whatever, but I definitely think that it's because I've been consistent. I've been diligent with planning and scheduling and actually posting content.

Megan Porta:

Yeah. I mean, we always hear right that putting up new quality content is what the platforms are favoring. And so that's proof of that. Planning definitely requires time upfront, but the return on investment is so massive, I feel like. I think it's important to keep in mind too, that planning needs to become a habit, right? Because you can't start planning and then just fall back into your old ways. My husband and I sit down every Sunday evening, just out of habit because we started doing it and it was effective. So we just kept doing it. And we plan all the little details, life and work and everything, doctor's appointments, what is going on in every area of our lives, and it helps me to frame the details of my business too. So the time investment upfront is worth the effort, in my opinion.

Alida Rider:

I definitely think so. And I think if you aren't someone who is naturally a planner, you shouldn't feel intimidated to think all of a sudden you need to have months of content planned. But I think if you can just schedule out your week, and just know that this week I'm planning to shoot this and this recipe, I'm planning to post that and that recipe, I think that just kind of helps you. And that's exactly how I started. I didn't start like start one day just magically had six months worth of content plan in my head. I started really slowly. And then I just saw that it made so much more sense for my business to be doing it this way.

Megan Porta:

So Alida, what are some strategies or recommendations for food bloggers to start with planning and scheduling, give my listeners some tangible first steps to take.

Alida Rider:

So I think it's definitely a good idea to see what you are working with at the moment. How often are you posting now? Is that schedule working for you? If it's not, change. This is your blog. This is your space on the internet that you can really play with and do with what you please. So I would say, look at what you're doing currently and then see, are you happy with this? If you're happy, then continue. But if you wanted to grow, maybe see if you can add one more day a week to post, and then also take a look at your Google analytics and see which days perform the best. For us, it's definitely on a Sunday. So I know that weekends, I have to have content every day of the weekend, if I want to make sure that the page views and the RPMs that I'm hoping to hit are actually reached.So I think, try to see if you can implement one day extra of posting. See if you can maybe schedule that on a day that the traffic to your blog is at its highest and then use Google calendar or your phone's calendar, or literally just pen and paper, and just kind of map out for yourself where you hope for your blog to be within the next year. And then kind of like you said, Megan, work backwards from that. If you want to be posting three times a week, you are currently posting one time a week, just kind of work backwards and see, what do I need to space it in place now for that to happen. And whether that is making your grocery list and sticking to a cooking schedule. And I also like to take a lot of shortcuts. So I'll be very diligent with recipe development, but if I know that I'm going to be serving rice with a Curry, I will buy pre-made rice because it's not an important element of the finished recipe. It's just a side dish. So you don't have to also always be so hard on yourself to create every little like element on a plate, for instance. So I think if you can just start scheduling in a place that you are comfortable. And if that means that you just start with a grocery list or with actually planning your week ahead, whatever you feel comfortable with, I think is what you should go with. Don't put too much pressure on yourself because if you put too much pressure on yourself, you're more likely to fail at the end of the day.

Megan Porta:

Isn't amazing how much we can do when we believe in ourselves? There's no way two years ago I would have thought that I could do new content every other day and still have breathing room to launch a podcast. No way in the world. But when you just put your mind to it and make it happen and plan ahead, it's amazing what can happen. So I encourage people to at least push yourselves a little bit, to do new things and put more on your schedule. It's just amazing what can happen.

Alida Rider:

I also think that it's important to, like you said, push yourself because if you want your blog to grow, that's the only way that that's actually going to happen. And if, if you can add another day or two of content going out, it's just more stuff for Google to pick up more, to be posted to Pinterest and to Facebook and to Instagram. And you'll, I think it's just so rewarding seeing the return on that initial time investment.

Megan Porta:

And sometimes it takes a while for the rewards to come.

Alida Rider:

It does!

Megan Porta:

Sometimes it takes months for Google to realize that you were putting new content up every other day, but just keep going. You touched on something Alida that I wanted to come back to. You mentioned not putting too much pressure on yourself. What do you recommend for those times when we overschedule and end up not completing everything or anything. And then we just feel sunk. Finding myself in a situation like this can absolutely just sink me for a day. So how do we move past massive disappointment like that? Because as food bloggers, it is at times inevitable.

Alida Rider:

Mmm hmm, it is, and I face it pretty much weekly. Um, I tend to overschedule myself. I tend to think that I'm going to get it, get a lot more done than I usually do. And then I sit at the end of the day in front of my schedule and think, how am I going to fit the rest of this stuff in? But I try to then just calm myself down. I close my laptop, I'll sit on the couch. I'll just not think about it for a little bit. And then once I'm like over that initial frustration with myself, I'll open my laptop back up, pull up my Google calendar and then I'll see the week and I reschedule this stuff into. And because I try to leave a few days open here and there, if that means that I have to shoot something quickly on a Saturday afternoon or on a Sunday morning, it's not the end of the world because I still have so much freedom throughout the week to create content and, and still be with my kids and be with my husband and have all of that. So I think if you can just find little spots of time to schedule things into, if you didn't make it happen. And then also it's not the end of the world, nobody else knows what your schedule looks like. Only you know what it looks like. So, it's not the end of the world if your whole thing has to move up an entire week. I've done that many times and it's still working out. So I think it really is just trying to make things work for you. And at the end of the day, that's the beauty of blogging is that we have this freedom. So it's not a big corporation that is expecting content to be going out. It's all up to you at the end of the day. So you don't have to be so hard on yourself if that doesn't happeb exactly as you planned.

Megan Porta:

That's a good point. And I think planning ahead of time actually allows for those days when we're feeling sunk. So that's another reason to plan so that when it happens, because it will happen, it does happen. Then you don't have to be so hard on yourself. You can say, I have some wiggle room and you can just let it happen, close your computer, walk away. And then, when you come back, you'll be a little more refreshed.

Alida Rider:

Yes. And it's also, I think there are also days that we just feel completely out of luck. I have no inspiration today. I don't think how I'm going to style another chicken breast recipe, every iPhone thing I'm going to photograph it. I can't think of what to write. So I think if you have that schedule and plan and you've got a few days of wiggle room to work with, then it's not so lucky you have to finish this post today because it has to go up tomorrow. Um, you, you have a bit of room to breathe and just allow yourself to like reignite that passion again.

Megan Porta:

There's nothing worse than forcing a post. If something needs to go up tomorrow and you need to write about that chicken breast again…

Alida Rider:

It feels soul draining!

Megan Porta:

It is soul draining. Like, what am I going to write about? I just did a huge collection of pasta salads. I kind of batch them together, which I thought was really smart. But then as I'm writing about them, I'm like, I am so tired of writing about pasta salads. The last post I wrote about pasta salads, it was like two sentence intro. And usually I do like two paragraphs because I like writing about food, but I was like, I am done with pasta salads. So I think I need to set that one aside and maybe come back to it because you can only do so much and forcing, it just is not great for creativity and people can sense that.

Alida Rider:

I think people can sense it. And I also think that even like Google can sense it. Like I know I need to hit these key words. So I'm just going to like churn this out, but there's no personality behind it. There's no, what really, anything behind it. There was no inspiration. There was no passion. So you just kind of turned us off. And I have many posts like that on my blog and it's awful, it's awful. And sometimes those are like, I don't know how that happens, but my husband always jokes that those are the posts that go viral or go really big on Pinterest. And then I hate it. I hate it when I put so little, actually reach so many eyeballs.

Megan Porta:

It's confusing at times. Isn't it? The things that are really popular. You're like, what, how did that happen?

Alida Rider:

And then you'd take months on a post and you make beautiful photos and then two people see it. It's so frustrating.

Megan Porta:

You have the highest hopes for certain things and then nobody wants it. So crazy. That's just part of the game of, uh, food blogging though. Right?

Alida Rider:

Well I hope that's a, that's the case for everyone because I certainly feel like that all the time.

Megan Porta:

Oh, I think so. I wanted to ask you about working with your husband. And first of all, like how was that transition and then do you to plan and schedule together or does one of you do the planning and scheduling and the other does other tasks, or how does that work?

Alida Rider:

So we've actually always worked on Simply Delicious together. He was a web developer before I started the blog and he kind of pushed me into starting the blog. He always knew that, he always knew that websites were going to be big one day. He always said that since I met him 16 years ago, and since I'm 18, he always said the internet is going to be huge. We need to like get going on a business on the internet. And I always thought like, you are crazy. It's how are you going to make money on the internet? And I was so naive. And then after being, I used to be a makeup artist and when I had the twins, I couldn't do that work anymore. So then he said, start a blog. I didn't even know what a blog was, to be honest. I thought it was literally a diary on the internet. And I just thought, nobody's going to want to know my thoughts. So you said no, make a blog. And so I did, and it started really slowly, but like, like you mentioned in my bio, it, um, grew quite quickly. And in South Africa, there just weren't that many food blogs. So I got picked up by the local media and then my audience started becoming quite international. We actually, now, my audience is like 95% international. So he then,when Simply Delicious and our food photography and styling business took off, he could let go of his web development clients. And so he always had the admin role for Simply Delicious. He makes sure that the backend is on track, that our ads run smoothly. Even literally, I actually don't even know where to update anything on Simply Delicious. It's just, he does all of that. Um, which is great because I'm not great at any of that stuff. I'm more creative and he also is very into photography. So the reason why our photos look the way they do is because he has pushed me. And he has always said that we need to like do better and get better lighting and do better, just better quality images. And I found that I still struggle with that often. So he does a lot of the, I would say the mechanical work of our business. He makes sure that the blog is running. I mean, he's quite obsessive, actually. He's always checking analytics to make sure that it's not too off of what yesterday was. And yeah, so he does all of that. And then I do all the cooking, shopping, recipe development, and styling, and then we do photography and forming together. So now I do all the planning. Um, like I said, I'm a bit of a control freak with that. And because I find that I can only really post recipes that I actually find delicious and want to eat myself, otherwise I have a really hard time writing about it and shooting it, um, because I'm in charge of the cooking. I just find that it's easier if I do the planning, but he is very into SEMrush at the moment. So he, so what we've decided is actually from next week, we're going to start sitting in. We're going to look at my schedule, that I've scheduled and then kind of see where in SEMrush we can like work with that, with the content that I've got planned and see how we can change it, how we can make it better. Um, and that's another thing that he's probably gonna start doing because I'm terrible at SEO. It's just something that I have such a hard time with.

Megan Porta:

So same here.

Alida Rider:

So it's nice that he, and he's very into that. I think because it feeds a web development background. He's very into the mechanics of blogging and websites and how Google works. So it's so nice to have someone on my team that is interested in that.

Megan Porta:

Oh my gosh, you are so lucky that it sounds like you compliment each other well. Tt sounds like you just fill in the gaps for each other. And I think that's amazing. I too hate SEO. I mean, I hate to say that cause I hate putting negative things out there, but it's been something that I've struggled with and I've honestly avoided for a long time. Just like I avoided planning for a long time, but recently I've just seen the need to dig in. And so I've been in SEMrish lately too, and it's a whole other world, it's like, you can get trapped in there. There's so much to do. It is not my forte. It's not what I want to be doing, but I certainly wish I had someone who was like, wanting to be in SEMrush for me. So I love that you have that.

Alida Rider:

Yeah. Like I said, it's just so nice to have someone on my team that is actually interested in that because I also get lost in SEMrush, but I get lost in a bad way because I don't know what they are talking about. I don't know the lingo. I feel so lost and he immediately reads something and he's like, Oh, okay, cool. So this is our action plan and I'm looking at him like, how do you understand that?

Megan Porta:

Oh, that's great. I love that.

Alida Rider:

It's very nice.

Megan Porta:

Absolutely. I love it. Well, before we wrap up, do you have anything else to tell our fellow food bloggers that we've missed today on the topic of planning or scheduling or anything else that could help them out?

Alida Rider:

I think we've covered the bases pretty well, but I came across a quote that I really love. And I actually can't remember. I think it might've been Catherine Peterson. I think that's who I saw said it. They, she said "A dream without a plan is just a wish."

Megan Porta:

Oh, I love that.

Alida Rider:

And I absolutely love that quote so much because I feel, I feel like that was the first eight years of Simply Delicious was exactly that. I wish I could be on the first page of a Google search. I wish a recipe would go viral. I wish people more people would pin my recipes, but I had no actual plan to make that happen. And now that I do, I can actually see it working. So that quote is something that I hold on quite tightly at the moment. I really love that.

Megan Porta:

That resonates with me as well. I too, for the first, probably seven years of blogging, would wish the same things. Why aren't I getting on the first page for this recipe? And it wasn't until I started planning, I realized you actually have to do things in order to get to that point. So very good quote. I love it. So thank you for sharing that and thank you for chatting with me today, Alida. Everything you've shared has been super valuable for me and I know it's super valuable for all the other food bloggers listening too. It has been a pleasure talking to you. So thank you for taking time out of your day.

Alida Rider:

Thank you so much for having me, Megan. It's been lovely.

Megan Porta:

Yes. It's been fun. Even when my husband plugged the toaster in and unplugged our router and I lost you for awhile. So Alida has a list of favorite resources relating to planning and scheduling and how this topic relates to food blogging. These can be found on her show notes page at Eatblogtalk.com/Alida. And that is spelled A L I D A. Alida, tell my listeners the best place to find you online.

Alida Rider:

So the best place would be my blog, simply-delicious-food.com. I'm on Instagram, Facebook and Pinterest. All the links are through my blog, but Instagram I'm the most active at the moment and that's just Alida Rider.

Megan Porta:

Awesome. Thanks for listening today food bloggers and I will see you next time.

Intro:

We're glad you could join us on this episode of Eat Blog Talk. For more resources based on today's discussion as well as show notes and an opportunity to be on a future episode of the show, be sure to head to Eatblogtalk.com. If you feel that hunger for information, we'll be here to feed you on Eat Blog Talk.
---
Don't Miss These Offers
💥 Join the EBT community, where you will gain confidence and clarity as a food blogger so you don't feel so overwhelmed by ALL THE THINGS! Join at the Member level to gain access to a food blogging forum, challenges that will help you grow certain parts of your business, themed content bundles, exclusive podcast episodes, a virtual coffee shop, webinars, a service providers and resources directory and more!
📩 Sign up for FLODESK, the email service provider with intuitive, gorgeous templates and a FLAT MONTHLY RATE (no more rate increases when you acquire subscribers!).
Read this post about why I switched from Convertkit to Flodesk!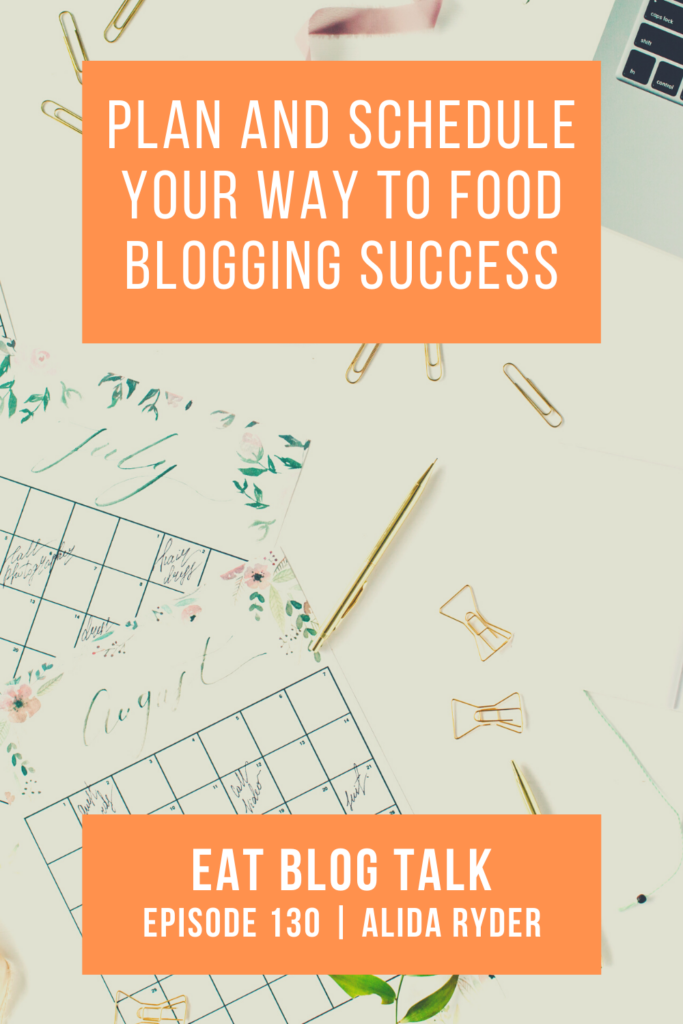 Questions or comments on this episode?
Head over to the Eat Blog Talk forum post about episode #130 to leave any questions or comments. We'd love to hear from you!