In episode 218, we chat with Neha Mathur, creator at Whisk Affair, about her ability to grow her blog with the help of delegating by building a team.
We cover information about how it all starts with a healthy mindset, growth and productivity will come when you choose it and why you need to pick 2-3 things you're good at and delegate 2-3 things.
Listen on the player below or on iTunes, TuneIn, Stitcher, or your favorite podcast player. Or scroll down to read a full transcript.
---
Guest Details
Connect with Whisk Affair
Website | Facebook | Instagram
Bio Neha has been the blogger behind Whisk Affair since 2012. She studied to be a dental surgeon; however found her calling in helping people experience food. She has more than 1200 recipes from India, America and around the globe on Whisk Affair. Whisk Affair has grown to more than 1 million views a month with all tried and tested recipes and the love from its readers.
Takeaways
Apart from cooking, which is obvious, there are just too many things to be taken care of as a food blogger.
If you want to grow, you have to start delegating tasks.
The first step to know what you want to delegate is to understand what you are good at, what you love doing.
What are the things that you don't enjoy that much and can be easily given off to other people.
It's good to learn everything a blogger has to do, but then you'll have to realize that there are only a certain number of hours in a day and you can only work so much.
If you put your entire effort and time into doing something you are good at and you love, your productivity will be stronger.
It is very difficult to let go of things, but it's really good for you, for your blog. When you make this hard choice and let those few things be taken away from you, which begins with your mindset, it's actually a win-win for the blogger and the readers.
Finding a team starts with references from others in the field.
Utilize social media groups as well as websites dedicated to hiring.
Go slow, hire one person at a time. Get them trained and using your system.
Resources Mentioned:
Team Building
Indeed
Organization
Transcript
Click for full text.

Intro:

Welcome to Eat Blog Talk, where food bloggers come to get their fill of the latest tips, tricks, and insights into the world of food blogging. If you feel that hunger for information, we'll provide you with the tools you need to add value to your blog. We'll also ensure you're taking care of yourself, because food blogging is a demanding job. Now, please welcome your host, Megan Porta.

Megan Porta:

Hey, awesome food bloggers. Do you struggle with knowing exactly what you should be doing to move the needle forward in your business? Do you struggle with knowing what to focus on next? If so, if this sounds like you, I have two solutions for you. Number one is mastermind groups. There is so much power in getting people together and helping to solve each other's problems. At Eat Blog Talk, we have put together our own mastermind groups and we are hosting these weekly. You can join at any time. You can try it out for a month or you can sign up for a quarter or you can go all in and sign up for an entire year. Come join us, see if it's a great fit for you, and this will really help you to solve those problems you're having in your business and give you clarity about what you should be doing next to move your business forward.

The next solution is the Eat Blog Talk membership. I have spent all of 2021 so far putting so much value inside of the membership. It is such a supportive and wonderful place to be for food bloggers. We are learning so much from each other. We are joining together in monthly intensive calls, where we focus on very specific parts of food blogging in order to grow our businesses in massive ways. We also have guest experts come in and join us very regularly to talk about really specific parts of food blogging. And we get one-on-one access to these experts such as Matt Molen from email crush, Casey Markee from Media Wyse. So many great people are joining us in these sessions and they are super valuable. There are so many reasons why you should be in the membership. I could not even start touching on all of it. If you're tired of wandering around aimlessly in your business and not knowing what to focus on, give the membership a try for free for two weeks, go to eatblogtalk.com. You can sign up for the masterminds there, and you can also start the process of getting into the membership for two weeks, just to check it out. The rest of us can't wait to see you inside.

Hey, food bloggers. Welcome to another episode of Eat Blog Talk. I'm so happy that you're here today. I have Neha Mathur with me. I'm so excited to have a chat with her. She is from whiskaffair.com and we're going to have a chat about building a team. Neha has been the blogger behind Whisk Affair since 2012. She studied to be a dental surgeon, but found her calling and helping people experience food. She has more than 1200 recipes from India, America, and around the globe on Whisk Affair. Whisk Affair has grown to more than 1 million page views a month with all tried and tested recipes and the love from its readers. Neha, before we talk about building a team, what fun fact you have to share with us today?

Neha Mathur:

Yep. Thank you so much, Megan, for having me here. The fun fact that I want to share about myself is that I actually never cooked anything until I turned 25. So I was preparing to be a dentist surgeon and you know, my focus was always towards studies and I never entered the kitchen, but now that's my office space for more than half of the day. So I think this is a great transformation in myself.

Megan:

So from dental surgeon to cook. That is quite a transformation and you really could not get more different than that, right? Well, it's cool. I'm glad that you decided to start a blog and start cooking because as I told you a little bit ago, I think your photography is so beautiful. Your food is so inviting and colorful and you don't always see that. But the second I clicked onto your blog, I was instantly captivated. I need to learn more about this blogger. She's amazing. Look at this delicious looking food. So you are clearly good at it. So I'm glad you made that decision to start cooking. But today you're here to talk about building a team. Neha, you've managed food content for a long time, right? Which always comes along with challenges, unfortunately, but we all know that. One of the challenges you've really been able to tackle is knowing how to delegate and also build an effective team. So we would love to hear your expertise on that. First of all, I guess we could just start with you telling us what are the different kinds of work that a food blogger needs to do? I mean we know there are so many, but why don't you talk through some of that?

Neha:

Sure. Well, that was a great question, Megan. So apart from cooking, which is obvious, there are just too many things to be taken care of. So building and maintaining a website is nearly half a job in itself. Then you have to research new recipes, which fit your reader's niche. Shoot videos, take pictures, then edit them in different formats for different kinds of social media, Facebook, Instagram, and all those, even Pinterest for that matter. Then you have to write content, handle social media, all of these things. So there's quite a thing to do as a food blogger. So then if you're working with brands, you have to also reach out to them, maybe do some PR, negotiate the contracts, create invoices, manage expenses then maintain financial books, tax filings, and so much more. It's like a full, full time business, or work, you can say. So that's what a blogger's life looks like.

Megan:

It's a handful of real full-time actual jobs put into one, which I think is kind of comical because we really do do it all and we just get used to it. We don't realize how much we're actually doing until we take a step back and look at everything you just said. I was writing furiously as you were talking. So just the things I wrote down; cooking, maintaining a site, finding new recipes, photos, taking the photos, editing the photos, maintaining social media, brand work, brand reach-outs, PR invoices, finances, taxes. That's like 12 jobs rolled into one job and isn't it funny that the general population doesn't even know about food blogging, but we do so much. I just feel like there's going to be this point where everyone, not everyone, but people will start realizing, oh, food bloggers. It's a real profession and look at all that they do, but we are not there yet by any means. When you say I'm a food blogger, what do people say to you, Neha.

Neha:

So most people don't understand exactly what I do. They think that it's a hobby and I just do it too because I stay at home now. So they think that I just do it because I just like to cook food.

Megan:

Yeah, exactly.

Neha:

So that is one of the reasons obviously, but yeah, it's much more than that now.

Megan:

So that's a lot. I mean, we can't realistically do all of that over time and stay sane and keep our businesses in tact. So eventually we've got to get to this point where we start delegating work and building a team, even if it's starting really small. Where do we start? Do we start just identifying what we're good at, what our weaknesses are? Or what do you think?

Neha:

Yeah. So I think after a couple of years into blogging, I figured out that this is not a one person's job. If I want to do it better, I'll have to start delegating stuff. The first step to know what you want to delegate is to understand what you are good at, what you love doing. Then what are the things that you don't enjoy that much and can be easily given off to other people. It's very difficult because you know, when you start a blog, it's your baby, you want to do a hundred percent of everything. But it is practically not possible. Once you scale your business, once it grows beyond a certain point, it is actually very, very difficult to manage all these things. So what I feel is that you just love doing something, you're just good at it as do them. Then find the thing that you feel you want to do more and get better at it. For the rest, look at building a team.

Megan:

How many things do you think we should focus on? You mentioned you love photography. Do we pick two or three things? Do we pick one main thing and focus on that? What are your thoughts on that?

Neha:

Yeah, so I think all of these, the 11, 12 things you pinpointed what food bloggers have to do. I think you can pick two or three of them. So what I did for myself was I love to take pictures and that's what I kept for myself. I also love to create recipes and creating recipes I chose to do because this website reflects me a lot. So when I create a recipe, when I try it out it makes a lot more sense. So I kept creating the recipes and the photography part for myself, and I delegate the taxes, finances, social media, all those things to other people.

Megan:

I think most of the time we don't get into this for the taxes or for the PR necessarily, or creating invoices and events, social media. Some people really embrace and love social media. But I think for the most part, I think it's safe to say that a lot of us do not love that part. It's not our favorite part. So just picking the top two or three, right Neha, and then picking maybe the bottom two or three and holding on to those top ones and getting better at them and taking the bottom ones and starting to delegate. You have to be okay with that. I think people struggle with this. So talk about that a little bit. If people are listening and they're like, yeah, but I can do it. So why would I hand it off? That whole thing I've been there too. I'm capable of doing this. So what would you say to them? Why should they start handing those bottom things off?

Neha:

I think it's always good to learn everything, but then you'll have to realize that there are only a certain number of hours in a day and you can only work so much. If you put your entire effort and time into doing something you are good at and you love, your productivity will be more. If you are taking up your blog as a business, you will be able to grow it much faster. People will appreciate the kind of work you are doing because you are putting a hundred percent of yourself into it. It is very difficult to let go of things, but it's really good for you, for your blog and everybody that you'll make this hard choice and just let those few things be taken away from you. So it's all in the mindset, I think. So at the end of the day, it's actually a win-win for the blogger and the readers. But we have to make this call.

Megan:

That's a really good point. It's not just a win for us. It's a win for our audience, the people who come to consume our content. When you think of it like that, it's much easier, at least for me to say, okay, fine. I'll let go of some things, because we can handle it. We can go through doing the social media and the taxes and all of that. But if we know it's actually going to benefit our people, that is huge. So I love that perspective and you're right. It is so much mindset. Just getting to that point where you make the decision, I think to do it, is really hard. But once you get there, it's like, oh my gosh, worlds open up. Even if you just release, I don't know, a couple hours a week to somebody else to do. Don't you feel like you just have so much more time, even more than the hours that you give them. So if you hire someone for three hours to take over your social media, it feels like so much more than that. Do you agree with that?

Neha:

If you have three hours spare and you love to create recipes, you can create more recipes in that three hour time rather than doing the work that you really don't like and which can be delegated. That is also how you can make a bad, good balance by delegating the work.

Megan:

So where do we go next? Let's say somebody is making the decision to start doing this and delegating and hiring, what is the next step?

Neha:

So there are many different ways to build a team. I think references always work the best. There are many communities on social media in which you can ask for help and references of specific skill sets. So Facebook is full of groups where you can just post your requirements and you'll get tons and tons of replies. So people can advise on VAs who can help you with content, writing, editing, you know handling social media and all those things. Then you can also post on job websites to hire videographers, photographers, accountants, legal, et cetera. So there are tons and tons of job websites out there, and you can find both interns and experienced people. It's up to you on who you want to hire, and there are multiple options available and a number of individuals and companies give services to build and maintain websites also. So you can use all these different methods to hire your team. So you just have to figure these things out; social media, for me, has worked out best because I just post on the group for any requirement and I get a lot of messages. Then I just ask them for some samples and then decide who to hire.

Megan:

Social media is so great for that. You mentioned references, just asking people what experiences they have had with VA's or social media managers or whatever. Because usually you can find a lot of people who have experience with working with people. There's got to be a handful of good recommendations. So I think that is such a great place to start. Go to your favorite trusted community or forum or group, and just ask around. If you have blogger friends too, just ask them who have used Pinterest pin creation, and usually you'll get a ton of ideas back. What are some of the jobs sites that you recommend?

Neha:

I use Indeed sometimes. Because I live in India, we have some local sites here as well. So I have used indeed.com which I think is a popular US-based site to look for hiring out. Mostly it's been Facebook groups and everybody is so helpful. You just have to ask, and there are so many people who are ready to help you.

Megan:

I used Indeed a few years ago. I was kind of thinking outside the box with trying to hire somebody to help me with video. Everyone was kind of in the same rut where they would hire the same people and they would pay the same amount. Everyone was doing the same thing as far as hiring out video. My awesome VA. She said, what if you just put something on Indeed, I believe it was Indeed and ask someone if they would be willing to come to your house and help you film. That was so not a food blogger mindset thing. I was like, oh my gosh, I'm so grateful to have that perspective. So we did. We immediately found this amazing videographer. She came to my house for like two years frequently and filmed my video and edited it.

It was just such a great opportunity to work with her and to get her amazing videos. She wasn't in the world of food blogging. So sometimes if we just think outside the box a little bit, we can actually be rewarded. Don't you feel like that, we're all kind of thinking along the same lines and doing the same things and hiring the same people and it doesn't always have to be that way.

Neha:

Correct.

Megan:

So Indeed is great. What about Upwork or Fiver? I know those are two that get tossed around a lot too.

Neha:

Yes. Correct. I don't use them too much. I live in India, but I have heard my blogger friends in the US using Fiverr and Upwork as well.

Megan:

Yeah. And it's worth looking if you have a need for something. Why not just look. I know on Upwork, you can put a job posting up really easily and you don't have to accept any. You can just see what people come your way and talk to them and see if they would be a good fit. So it really doesn't hurt to look and ask around. We start with building a team and we start with those things that maybe we aren't loving. How far do we go? Do you recommend hiring a handful of people? Where's the sweet spot, I guess.

Neha:

So I would suggest going slow. You hire one person at a time for one task. Then when they kind of get accustomed, and when you feel that you are confident that they are handling it well, then you can move on to the next thing. Because if you want to expand your business, everything is going to take more time. So you want to create more recipes. You want to do more social media, you want to make more pins. So eventually you will need more and more and more people. But I think going slowly is the best way. You hire out one person for social media, try them out for a couple of months and then maybe taxes. I always have because that's one thing I just cannot, I mean, I'm really, really bad with all those numbers and stuff. So that is one thing that I straight away outsourced. But apart from that, I went slow with everything. So currently I have a social media manager. I have a chef who helps me in the kitchen with all the preparations, chopping and all that stuff. I have a content writer as well. I'm currently looking to hire another content writer because I'm wanting to increase the number of posts I do every week. I think that will help me.

Megan:

You mentioned trying someone out for a couple of months. I think that's such a wise strategy because you don't want to lock yourself into six months or a year when you really don't know how you work with a person. So trying, what do you recommend two months, three months to start?

Neha:

Yeah. So I think two or three months is a good time because see, you also keep changing your strategy. Sometimes you feel that posting more content is good for you. After giving it a try, you figure out that maybe updating the old recipes will be a better idea. It's such a volatile field. You have to experiment with a lot of things. If you hire someone for let's say a year, then you are stuck with doing the same thing. So if you hired them for, let's say two or three months, if you want to change something with your business, there's always scope.

Megan:

Yeah. It leaves you room to do that and to change and adapt and all of that. You mentioned you have a few people on your team and you obviously have to work together. You have to communicate. What tools do you use to communicate with one another?

Neha:

So I work on Google sheets. I have heard a lot of people using softwares like astronauts and all those things. I have never tried them. For me, Google sheets work best. So we have these shared sheets with everybody and I have color coded them. So everybody in my team knows when to color code and what to color code. So that is working best for us and for communicating with them. Most of my team works from their home. We meet once in a while over a zoom call or Google Meet. So basically Google docs and spreadsheets is what I just love working with. Everything goes on the drive, everything is safe.

Megan:

I love that. It's just magic. It just saves. You don't have to worry about saving anything, which is so great about applications like that. Google Sheets is amazing. We use that too on my team. I know some people love Asana. You mentioned that. I've never used it. I think it's great from what I hear. Air Table I use to manage content and my VA and I both reference that daily. I know Trello too is really good. I used that for many, many years. As far as just managing content, you can even put an editorial calendar in there. I want to mention this because this is one of the things I love. It's like a little hidden secret for just communicating with your team or with anyone really. But Marco Polo, which is a free app, you can get on your phone on any smartphone and it records video. Are you familiar with it, Neha?

Neha:

No.

Megan:

So you can record videos and send videos to specific people, but they don't have to watch it until they're ready. So it's not like a phone call where they have to answer, right when you're calling. Or even a text. You can just let it sit in the app. Then let's say two hours later, I'm like, okay, now I'm at a spot where I can respond to my VA. Then I watched the video and then I responded to the same thing. So it's super convenient. You don't have to store the videos on your phone. It's all stored within the app. So, I love Marco polo. I don't know what I would do without it.

Neha:

This sounds really, really good. So I must try it. I'll try it. Very nice. Thank you for sharing.

Megan:

Of course. There's a free version, but they do a really good job of sucking you into the paid features, because they'll give you the paid features for a time and they're so nice and you get used to them and then they take it away. You're like, oh man, I really liked those features. So I pay for it. I think it's like $50 a year, so it's not super crazy, but you can fast forward. So you don't have to listen in real slow time. I fast forward podcast episodes when I listen to them because I can still understand it. So it's more efficient for me. Then other little things about it, but yeah, just wanted to mention that. Then are there other resources you have to recommend for teams? So maybe not communicating, but anything else you have to share?

Neha:

Google spreadsheets and documents are very, very strong tools. I think if you just learn to use them wisely and just learn to color code and make your own system, they work really, really well. These are actually the two things I use. Nothing else except these two. Because you mentioned Trello, Asana and Marco Polo, I'm going to try them out as well.

Megan:

I like what you just said, make your own system. You don't have to do what anyone else says. I don't ever expect anyone to hear what I do and go do what I do, because it works for me. It might not work for you and that's fine. But just finding what does work for you and making your own system. I like how you use color coding. That's so smart because so many people are visual and they like knowing just by a glance, what is going on with the files or information. So just find something that works for you and run with it. I think that is the key here, right? Because everyone is different. Everyone works differently.

Neha:

So I can give an example of how I do it. So let's say I have a Google spreadsheet for the recipes I'm going to make this month. Those recipes, my content writer has to write. So when I write the recipes and do the keyword research, I mark the recipes ready. When I cook the recipes and the video is up on the drive, from there the content writer also does step-by-steps. She takes a screenshot for me for the step-by-step part of the recipe and puts it on the backside of the website. Then she is done with doing all the things on the backend. She colored in blue, and then when I'm done posting the recipe, I make it green. So it's a little system and we all know what's going on here. It just works perfectly fine.

Megan:

It doesn't take too long to get into the groove with a system, as long as you're both on the same page, you're all on the same page. You know what everything means. It happens really fast. Then before, you know, if you're like, oh, we don't really even have to talk that much and we know what we need to do. It's like magic, right. It's great when you can get in that groove. Is there anything else you feel like we should know about building a team and delegating? We talked about a lot in a short amount of time. What else do you feel like people should know?

Neha:

I think the first thing is to just make up your mind and just start delegating. You will not feel comfortable at first. Maybe you'll have to handhold the person you are hiring, but that's okay. People learn fast and we should learn to trust people also. This job will also do good stuff because the blog becomes like our babies and we want to do everything for them on our own. But I think others can also do a great job and with a little hand holding and teamwork I think it can take you to a different level. So just give it a try. I'm definitely sure that it will be comfortable sometime.

Megan:

I love how you said that because it can seem daunting and that's one thing, but also we can feel like handing something over is so much work just to kind of teach them. So you need to get past that because they are teachable. People are teachable. So getting past that hump of it might be extra time and extra energy, but getting over that hump is actually going to benefit you. So I love that you ended with that. So thank you so much, Neha. This was fun. I feel like I always have things that I could delegate. Even when I have my system down, there are always tasks that pop up that I'm like, Ugh, I do not want this in my life anymore. So I feel like this is something that we can all revisit, all the time. What can I delegate? What is not serving me? What am I hating? What am I loving? So I really appreciate all of your perspective and everything you brought to the table today. So thank you so much for being here.

Neha:

Thank you, Megan, for having me. Thank you so much.

Megan:

It was a pleasure to talk to you and you might know this, but I like to ask all of my guests for either a favorite quote or words of inspiration before we say goodbye.

Neha:

I would say my words of inspiration, which inspired me as well. Just be yourself and create your own niche with consistent effort and you will be rewarded. So this is my mantra and I keep going back to it. Just keep doing what you're doing, give it your best and you know, it will happen.

Megan:

I love it. Thank you. Neha again. We will put together a show notes page for you. So if anyone wants to go peek at that, you can find it at eatblogtalk.com/whiskaffair. By the way, you should also go visit Neha's website because it is gorgeous. So Neha tell everyone where that's at and where they can find you online.

Neha:

I'm online under the name of whiskaffair.com. So all my social media handles are Whisk Affair and my website is whiskaffair.com.

Megan:

Great. Thank you again so much for being here, Neha. Thank you for listening today, food bloggers. I will see you next time.

Outro:

We're glad you could join us on this episode of Eat Blog Talk. For more resources based on today's discussion, as well as show notes and an opportunity to be on a future episode of the show, be sure to head to eatblogtalk.com. If you feel that hunger for information, we'll be here to feed you on Eat Blog Talk.
---
💥 Join the EBT community, where you will gain confidence and clarity as a food blogger so you don't feel so overwhelmed by ALL THE THINGS!
📩 Sign up for FLODESK, the email service provider with intuitive, gorgeous templates and a FLAT MONTHLY RATE (no more rate increases when you acquire subscribers!).
Read this post about why I switched from Convertkit to Flodesk!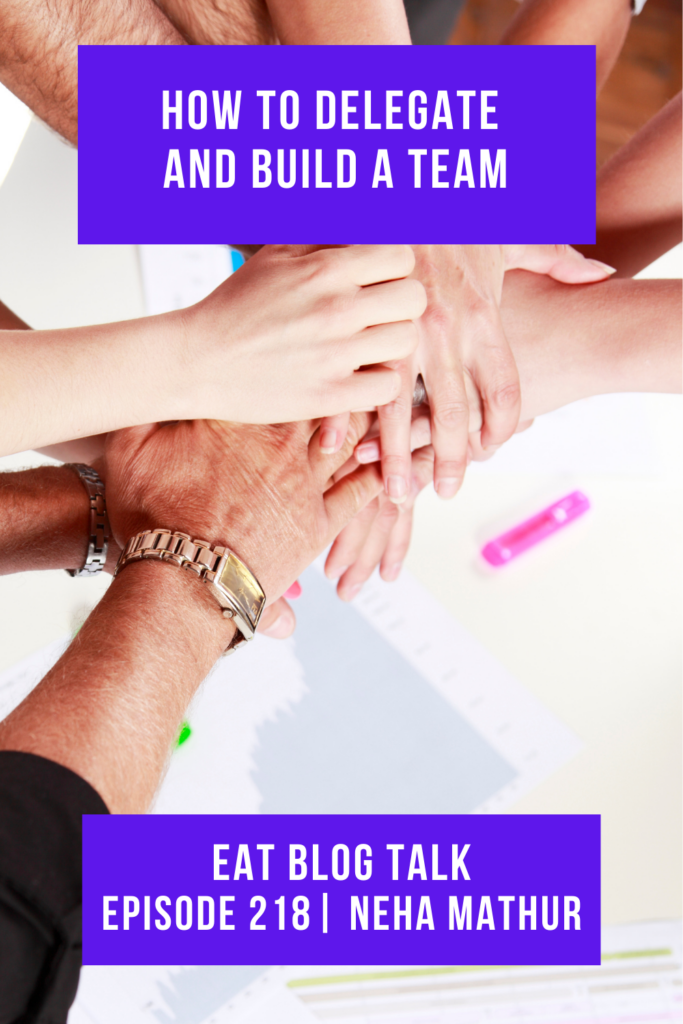 Questions or comments on this episode?
Head over to the Eat Blog Talk forum post about episode #218 to leave any questions or comments. We'd love to hear from you!