In episode 185, we talk with John Greely, Director of Marketing, about Slickstream, a software company that handles search and engagement tools for hundreds of food blogs.
We cover information about the potential value of web stories and why you should pay attention to them now, how your personality can shine through them and don't allow a lack of confidence in another new format stop you from getting started and boosting your blog to your audience.
Listen on the player below or on iTunes, TuneIn, Stitcher, or your favorite podcast player. Or scroll down to read a full transcript.
---
Guest Details
Connect with Slickstream
Website | Facebook
Bio John Greely runs marketing for Slickstream, a software company that handles search/engagement tools for hundreds of food blogs (and other types of blog as well).
Their features include responsive search, recommendations, favoriting, and more. Slickstream doesn't focus on SEO at all, and in fact consider themselves to be the flipside of that coin — SEO and social get visitors to your site, Slickstream is all about what they do once they're there.
Takeaways
People that put time and effort into web stories are seeing good engagement and results.
Check out Google's recommendations and best practices when you build yours.
Stories don't require a full video team – they can be more casual but still put some personality and quality into what you're sharing so your audience values the story. Try to delight your audience.
Google is creating traffic for those using the web stories.
Be thoughtful about how stories are slowing your site speed down and determine if they are worth the value add.
On average, users that engage with web stories tend to get through 5-6 pages of content.
Visit web stories from other bloggers and get an idea of styles available and then be creative with your own. You shouldn't be creating teasers, this is full page content, but you can inject personality and value into the content too.
Resources Mentioned
How to fully integrate and monetize web stories
Slickstream appears on Chopped
More Audience Building
The concepts of love and culture need to be built into your content. Elena Davis talks more about this in episode 203.
Transcript
Click for full transcript.

Intro:

Welcome to Eat Blog Talk, where food bloggers come to get their fill of the latest tips, tricks, and insights into the world of food blogging. If you feel that hunger for information, we'll provide you with the tools you need to add value to your blog. And we'll also ensure you're taking care of yourself, because food blogging is a demanding job. Now, please welcome your host, Megan Porta.

Megan Porta:

Are you a motivated food blogger, striving to meet financial or freedom goals? If so, then the Eat Blog Talk membership is for you. Take a journey with like-minded peers that will bring you past the overwhelm and straight into the arms of clarity. You will have direct access to guest experts, delivering massive amounts of value into your business. You will have the opportunity to participate in monthly strategy calls, focusing on different aspects of food blogging. And most importantly, you will be part of a tight knit supportive and encouraging family filled with people just like you. Visit eatblogtalk.com for more information. And the rest of us cannot wait to see you inside.

What's up food bloggers. Welcome to Eat Blog Talk. This podcast is for you, food bloggers wanting value and clarity to help you find greater success in your business. Today, I am so grateful to have some time with John Greeley from slickstream.com and we are going to have a chat about web stories and engagement.

John Greeley runs marketing for Slickstream, a software company that handles search and engagement tools for hundreds of food blogs and other types of logs as well. Their features include responsive search, recommendations, favoriting and more. Slick Stream does not focus on SEO at all and in fact, considers themselves to be the flip side of that coin. SEO and social media get visitors to your site. Slickstream is all about what they do once they're there. John, this has me super intrigued. I can't wait to talk about this with you, but first we want to hear your fun fact.

John Greely:

Thanks so much for having me, Megan. I guess my fun fact is when I was a little kid, I once beat Tiger Woods at golf. Now, not actual golf, mind you, but gator golf. Do you remember the children's game with the little plastic alligator where you put the ball? So I randomly met Tiger Woods as a kid and challenged him to a game and his 20 foot putt bounced off the Gator's closed mouth and it spun around and taunted him. I was victorious.

Megan:

Oh my God. Are you serious?

John:

That's true. That's a true story.

Megan:

That is so cool. What a claim to fame. You beat Tiger Woods, literally.

John:

Yeah. I just don't need to tell people about the gator part.

Megan:

Leave that part out and then it's the cool, it's still a cool story. I love that. It almost makes it more cool that you guys were kids. You are here to talk about Slickstream and web stories and engagement. I am super excited about this because I feel like I have a lot to learn from you and I do not have Slick Stream on my site, but I need to, because I hear so many bloggers raving about it and what it does for their traffic and engagement. So I guess I would love for you to start by giving us a quick overview of Slick Stream and what it does. Would you mind doing that? How it helps food bloggers, et cetera.

Yes, of course. So you mentioned it in the run through at the top, but you know, a lot of bloggers have been trained to focus on SEO, to be focusing on how to bring people into the site and that's extraordinarily important. How do you get people to your site is one of the fundamental questions when you're building your audience. But there's actually not that much attention paid to what tools can you use and what features can you implement to help them get what they're looking for on your site and to have successful sessions on your site and to stick around and want to come back. That's really important as well, both in the immediate term because ad revenue and page views is also tied to overall activity time on site. The quality of the sessions is actually really valuable in the immediate term, not just the long-term, but then of course, creating a return visitor is something that people are really they they're focused on and they understand the value of, and I think there is this sort of underappreciated aspect of how do you create a return visitor? You make sure that they get what they're looking for when they come to your site. So Slickstream was built with that in mind. We provide a responsive search recommendation. So the film strips that you can see at the top of a post, the content grid is recommended content on the bottom. Favorites, which are integrated into both. So if users want to save content, they can click the favorite button in the bottom right. That will tie in even without sign in or you commanded it, you get all into all of that later. The point is, it's a suite of tools that enable users to get what they're trying to get out of your site and ideally poise you for long-term growth through user satisfaction.

Megan:

Hmm. Well said. Sold. Yes, please. That all sounds amazing. So you guys have recently rolled out some new features that are dedicated specifically to this hot new topic, web stories. So tell us how publishers are currently using web stories.

John:

Web stories are an interesting thing because people are familiar with the concept of story style video, right? I mean, this is not a new concept. People have been browsing stories on their phones for a long time in a social media context, and it's a really popular and good medium. But the way that they actually have been able to integrate that into their websites has been challenging so far. So Google is making a big push on web stories. We're seeing it becoming more and more integrated into the ad ecosystem and there isn't yet a decided way of what is the value of stories and should I be creating them and how should I be creating them? The way that we're seeing publishers use it right now, it's kind of twofold.

There are folks that are saying I'm creating this content for my social media accounts anyway, and now I want to reuse that content and find places for it on my website. So for food bloggers, a lot of the time they'll create stories specifically tied to an individual recipe. Then they'll just port that content over onto their website. There's also teaser content where they have more thorough content or they want to drive people to the recipe. But they don't want to put in a full story that's redoing the making video content. That's not what they're trying to do. So they create a teaser story, ideally designed to bring traffic in from, let's say, Google or people find it and it gets featured and brings them in. We've seen some mixed results on that, but that's something that folks are doing as well. Then there's also, you know, the folks that are really trying to do a lot more high quality video content for stories specifically thinking that this is a medium that will take root in the future. So they're really kind of going all into it much in the same way that we, that some folks went into high quality video content when that became popular on the web several years back.

Megan:

So would you say the full recipe stories are the most popular and fruitful?

John:

Well, you know, I think there's plenty of room for debate around that and there's plenty of room for different styles. What we have seen and we've had this confirmed from some other outside sources in our data as well, is that the more effort you put, I'll put it this way. There isn't actually very much effort into doing quick stories just to have something in the medium. Stories, just like any other type of content, you get what you put in. So the people that are putting more time into this first, people that are doing the full recipe types and really treating it as if it would this be valuable to my visitors? They're seeing much better results with the actual traffic and engagement on the stories themselves.

Megan:

Interesting. So you're saying like if someone is putting in the effort to make high quality video content, like you said, that they're getting better results if they're taking all the time to do that.

John:

Particularly we, we have some insights into click-through on the stories of how many slides, the story that people will click through on average and the amount of time that they spend on it. Some of this is anecdotal and some of this is based on our discussions with other partners, but it does seem as though there is a real benefit to put in the work into stories and creating quality content that conforms to the SEO rules that we've seen in place. Google has some best practices out there of how to get featured in their discovery panel, which can drive a lot of traffic, as well as just what people are actually clicking through on their site.

Megan:

That makes sense. I mean, you get out what you put in. So if you're putting in a lot of effort and producing quality content, then you're going to get more out of it. But if you just randomly throw stuff together, then it's probably not going to be as good.

John:

Following up on that, that doesn't mean you have to have a professional video team. You don't have to reinvent the wheel here. Stories are nice because they're kind of casual content, but I think because some folks are not confident in the potential of the medium, that they're not confident that stories are going to actually benefit their site, they don't want to put in a ton of work to make the stories really good when they don't know if they're even going to get featured or used. I think that probably is the wrong approach to creating them, because just like anything else on your site, food bloggers are among the most focused on the content itself, as far as I can tell the content is what people are coming for.

If it's not as good, or not presented as well, they can get it from other sources. So I think, your listeners almost certainly have a really strong connection with their visitors. So if you're just thinking about it as is this going to be valuable to my visitors rather than is this going to be a good use of my time, then you're more likely to have positive results because we don't know if stories are going to take off as a dominant medium within the web. You know, that's not something that we can predict. I think there's a lot of hype around them, but nobody's quite sure if they're going to be the thing. But we definitely do know that the things that you do to create good experiences for your visitors across your site have an extremely positive impact and this is no different.

Megan:

That was so well said. I love that. I feel like everything comes back to that. Everything comes back to that one line, is this good for my visitors and my audience? Is it adding value to them? If the answer is yes, then do it. It's so simple, but yet not somehow. I loved what you said earlier, John, this line about, we're not confident in the potential of the medium. So that's why a lot of us are hesitating to start and really dig in. So what, from your perspective, is the true value of creating web stories?

John:

That's that's the question and there's the current value and then there's the potential future value. I think the current value is we have seen pretty significant engagement numbers from people who see stories and we'll go through them. There is a potential traffic value as well in the sense that, I've been mentioning, Google has been pushing their web stories as they're really spending a lot of time and effort trying to get publishers to adopt them. They're creating traffic opportunities for publishers through their stories carousel and the Discover feed. So if you search for a recipe, chocolate chip cookies, and there are enough chocolate chip cookie stories out there, Google will sometimes automatically create a carousel of stories from a bunch of food blogs with cookies.

Whichever one catches the eye of the publisher, or as most relevant to their search or the visitor, I should say, that one is more likely to get traffic. We've seen millions of impressions on some of these discover feed stories. And, you know, when you factor in how many people click it and how people engage with it, it can be tens of thousands plus of additional page views from an individual story that you've created. So that's one potential piece of value. Then the other is keeping people engaged and active on your site and getting them what they're looking for. On that latter front, a lot of the value that publishers see in keeping people on site and more page views and more engagement is immediate ad revenue. That part has been a little bit lacking from stories. In the past, I think that a really big focus point in the near to medium term future of stories is how to best monetize these. We're doing some stuff on that front. A lot of ad networks are doing some stuff on that front. I mean, there's work being done there to make sure that the value that your visitors are getting is being recouped by you as well.

Megan:

I think you are speaking to so many people because ad revenue is something that we all want more of, or maybe we want it even just a little bit, so very interesting to hear that there's potential there, I'm sure that you're behind the scenes, you and Google are all working on how to maximize ad revenue. So that's really cool to hear.

John:

Yeah. Right now, as it stands we know that the ad networks that we're working with have the ability to put an advertisement slots in stories. That's already there. The question is, is there the demand from the advertiser side? So can you get the RPMs to make this worthwhile and are publishers creating enough stories that the ad networks are going to put focus on it. So it's sort of a chicken and the egg situation where there is no reason that stories couldn't be properly monetized if they were adopted, but there's no reason that they're going to be adopted if they're not properly monetized. So it's sort of a rising tide floats all boats. If stories start to take off and there's the demand from the visitors to see more stories from publishers and publishers want to create them, then it seems extremely likely that that the ecosystem will adapt to it.

Megan:

What are the biggest challenges you've seen food bloggers having in relation to web stories?

John:

Yeah, I think there are two types of challenges that we've seen. There's the creation types and then there's the implementation that there's the how to create the stories and what to create, and then there's the what to do with them once you've created them and using them on your website. So I'm going to stick with the Google web stories ecosystem for the purpose of this. Slick Stream has a creation tool as do several other third parties. But web stories are the closest thing to to an industry standard at this point, and to create web stories you can use any number of third parties you created in the Google format that can get SEO, and then you have to find out how to place them on your site. You can host them yourself via WordPress, which can be a little complicated.

You can use Slick Stream to display within the Google web player view. I'm just a little hesitant here because there are solutions, but there's no one solution. So it's very complicated for publishers to find out the best way for them to feature the stories that they've created on their site. Then there's the question of is this slowing my site down? Is this technology settled enough that I can ensure what this is going to look like for my visitors on all mediums? If the technology is changing frequently, then that's just a lot for the publisher to keep up with. So that's one of the main hurdles right now. One of the main difficulties for publishers, is just the status of the technology and how you factor it into your site. The story that you've created, it might just be too big of a hassle for you to understand. It's a lot to keep up with.

Then you're creating stories and putting in the effort. So you're worried that if this doesn't turn out to be a valuable thing to do, then what I'm going to do with all this content. You think that you might've wasted that content. So that's definitely one hurdle. The other one is just the specifics of the creation. You're creating with an eye on getting traffic. You're creating with an eye on delighting your visitors. You might not be a video content creator by trade. A lot of people are chefs. These are folks that are focused on the recipe side of things, rather than the video content side of things. They're not used to being a personality and a lot of the best practices we've seen in stories are be yourself, be on camera.

That's also a difficulty. The trickiest part is there is definitely potential here. There is something under all of this that visitors are responding to, and we're seeing that with a lot of successful stories so far. I know that pull for publishers is so difficult where there's something, but how do I even go about creating them and how do I even go about featuring them? There are a lot of companies and a lot of smart people really trying to figure this out. I don't claim that it's figured out just yet.

Megan:

But we're getting there and you're helping to do that. So you mentioned that Slick Stream has a way to help with the creation process part of it. Can you talk through that?

John:

That's the Slick Stream stories beta program, and we've been working on that for, I want to say two years now, time really seems to have no meaning these days, but it's been a while since we started with stories before they really kind of got hot and we moved into beta with a story creation tool, a pretty lightweight way that you can you know, create video content, either using existing video assets or filming on the spot. Then we will host it and then you can use that within your engagement subscription to put the stories on your site. We had a video player ourselves that was related to this, and we also tied it into the more industry standard, Google web story player. So that is these Slick Stream stories beta, and the idea behind that is it's a creation and hosting tool. We've been taking on beta users for that and evaluating what our value add is and how that factors into our overall business. then that's separate from the integrations that we've put into our main product engagement suite, which is more about the stories that you've created. How do you feature them on your site? then that's the integration we have there.

Megan:

I don't know if this is appropriate to ask here, but what is the investment for Slick Stream? Do you have tiers? Is it a yearly rate? How does that work?

John:

We're a SAS, so we do monthly payment and we keep a flat rate for all of our customers. So it's 12 and a half cents per thousand page views. The reason that we do that is just because that's the way that our costs accrue. So we index every bit of content on every one of our customer's sites and provide analytics around individual page view data. So every page view that you get is increasing complexity and cost for us. So we keep it at a flat rate for big sites and small sites. So it scales with traffic.

Megan:

Just a little side note. I was just curious, as you were talking through your features, I was like, that sounds so helpful and cool. I've got to get Slickstream on my site. I said this at the beginning, but so many people are raving about you guys and just got to get there. It's one more thing, right? There's a list of so many things, including web stories that I've barely dug into, but we'll get there. How do you feel web stories tie in with overall engagement on a site?

John:

I feel like I've been saying that's the question, but the thing about stories is there's a lot of questions and I'm going to do my best to give answers, but the nice thing about the position that we sit in is that we can see a lot of the analytics and we can see for our features both stories and non stories related how they're being used and what impact that's really having. So what we can definitely say right now is that when a visitor engages with the story, it is used a lot more than we initially expected. Once somebody has seen a story on your page, they get about five to six pages of that story on average.

They may engage for about a minute, a full minute longer than somebody who hasn't seen that story on the page. So that's the initial sort of, if you get them, if you lure a visitor in with a story, they are going to really respond to it. I think the trickiest component, because on the face of it, adding something on your page that has the potential to increase a visitors interaction by a full minute when your page is a no brainer, but the trade-off for that is one, you have to create the content. And two, you're worried about potentially site speed, as an example. You're worried about what impact this is going to have on the rest of your site. You're adding video to your site. I'd be lying if I said that's not going to have an impact on your site speed.

That's something that both is being worked on by the technology behind the video providers themselves, but also doing stuff like not loading until visitors see it. I think very much up in the area is how best stories can be loaded in the background, how best how best to implement them on your site without affecting things like SEO ranking. You don't want to have the adverse impacts and those are the kinds of things that will take time to sort out in a more mature market. I think right now stories are still sort of the wild west in terms of you're putting them on and you're crossing your fingers and you're hoping for the best that the positives are gonna outweigh the negatives. Over time I think that will be a lot more of a certainty once people have seen what the positives and engagement are and then how to best mitigate the negatives.

Megan:

So we should hang out in the wild west and just know that things are eventually going to evolve and probably fairly quickly, right. I feel like things evolve so fast now.

John:

They're revolving extremely fast and we don't recommend to anybody, oh yeah, you should definitely be creating stories for sure. It's going to help your site a million., You know, it can. Stories have a ton of potential. I think that's what we've taught people, but it's definitely an individual decision for a publisher on what they feel comfortable creating and what they feel like the potential value is. So we have seen a significantly positive impact on engagement for a visitor sticking around on your site. If there is an engaging story on that site. There's also the SEO component where if search engines are prioritizing stories, then that's a potential avenue for additional traffic. Then there's a component of, okay, so I have more traffic, I have more audience retention, is this actually being monetized?

That's where the ad networks come in is making sure that it's appropriately monetized. I don't want to make it seem like the appropriate course of action is, Oh, just wait it out. Just wait it out and eventually it'll work. Because there's a lot of unclaimed land to grab at this point. If you're good at stories, that's going to be a differentiator for you right now in space. We all know that your traffic is going mobile. I would be surprised if many of your listeners have majority desktop traffic these days unless there is a very specific niche site. If your traffic is mobile and stories are the best way for mobile style video content and people are responding to them within their social media apps. It's not a stretch of the imagination to say that this is going to be the dominant video to style content with your site going forward. That's the direction it seems to be moving.

Megan:

Very interesting because stories do seem to be the thing and you're right, mobile is the way that people are getting to most of us, I would say. So it's really interesting to hear you talk through that and just not talking about now and what's in front of us, but what's going to happen down the road and where things are going and how they're evolving. I think that's the smart way to approach it, right? Looking ahead a little bit and saying, yeah, people aren't going to go back to desktop, most likely. They're going to be doing more mobile and stories are huge. The technology is evolving and videos are where it's at and all of all of those things together kind of make that perfect storm. Yes, this is something that we should probably be paying attention to.

John:

I'd like to bring it back to just briefly. Because you're thinking about the future, I think there is this sort of trade off that a lot of your listeners will be familiar with, which is I can kind of maximize, I can cash in on my website now. I can put in a bunch of negative user experience components, imagine giant pop-ups or video ads that replace more video ads and just make as much money as I possibly can from my site right now. Or I can try to keep building it and you can say, the best user experience to build it is they have nothing on the site to be negative, to use nothing, not try to get them to sign up for my newsletter, not try to show them a video, just give the user specifically what they want or try to maximize the business side of it on your end.

That's a really tricky balance to strike, right? We've picked up a lot of this from a lot of our publishers is the things that you're doing that help your visitors. The things that you're doing that suit your visitors' needs, are the things that are gonna pay out in the long term. So you have to meet your visitors where they are to a degree and not hope that the content that you're creating is going to find the audience that it's for, you have to be also saying, well, what does my audience want?

Megan:

Again, so simple, it comes back to some really simple concept. What do they want, what do they need from you?

John:

It sounds really simple, when I just have to say it, now it's a little harder to put into practice when you have to create all the content and manage the website yourself. It's an extremely difficult job that bloggers have because you're just expected to do everything. You're expected to be good at all of these different things. It's really an entrepreneurial challenge.

Megan:

Yes, I hear you. Everyone listening, yes, I hear you. What are your recommendations about where to start with story creation? What if there are food bloggers listening who are like, I don't know where to start, where do I start with my content? How many slides do I put together? All of that. Do you have recommendations?

John:

I would say the best thing that you can do is look around at the stories that you would like to see as a visitor. You almost certainly are pressing other food blogs and seeing the content that they're creating and saying, well, I respond to this, but I don't respond to that. Maybe stories aren't for you specifically. But I think getting inspiration from what other people are doing is the best first step you can take. Because again, there is no one size fits all. Your audience is going to want different types of content than other audiences. So as a concrete example of that, some of our users at Slick Stream, that are food bloggers, like to do these sort of really personal videos of themselves talking through stories around the recipe and then going through it and some do a little more step-by-step what you might expect from the top down videos of that you've seen in the past with recipes. A little more step-by-step, this is a guide. Those are different values that you're providing to the visitor. This is a personal touch to a recipe, and this is another way to get the recipe. As a publisher, as a blogger, you have to decide which of those styles or a different style entirely would resonate more. So I think that the first step is to understand how stories would fit into your brand. Then the second one is, okay, what is the value that I'm trying to recoup? Is it I'm making this a specific SEO play and I'm just trying to get in while the getting's good on the free traffic that search engines are handing out. So I'm going to create stories specifically for that, in that case you should really be following their recommendations to a T. No burned in text.

I don't want to speak for those search engines. Google has a lot of those recommendations published publicly but then you really want to be following their guidelines. But if that's not the key for you is if you're not trying to scramble for the SEO traffic in the immediate terms that you're trying to really get done, then maybe you're thinking, I know I can create this kind of content well through what I've been doing on Instagram, on Pinterest, on any of the vertical style videos that you can be creating. So I want to see how that resonates. So I'm going to take some of that. I'm going to adapt it, and you can do this with Slickstream stories or you can do this with other story creation tools, just take that content, download the videos, make sure that you don't have anything proprietary in there from the social media platform, and then import it in, and then just reuse that story in a context that you find valuable. So that would be the easiest way to get your foot in the door is, are you creating stories for anything? Great. Take that content, use one of the story creation tools, put it in a web story, put it on your site and then check the metrics at first to see, okay, are people responding to this and does this to me feel like a value add to the visitor?

Megan:

Okay. What if you were just launching into this and you decided to go the route of the native web stories plugin. It's a plugin within WordPress. So you're going that route of just using that native interface. Where do you start with posts? Let's say, I want to highlight 10 posts on web stories in the next few weeks. Do I start with my most popular content? Do I start with the newest content? Do you have any thoughts on that?

John:

This is going to come down to publisher circumstance and preference, but what I can say is stories are individual pages themselves. So when you create a web story, using that plugin, that will be treated like a webpage, so it will be searchable. So the kind of content that you're trying to drive people to with web stories, you should be thinking through. I'm creating a story that's tied to a specific post and I intend to embed it there, but even still, this is going to be searchable. This is going to be something that can turn up in the stories carousel, for example and I need to think about what the considerations are from the new content that I'm creating to begin with. As an example, let's say that it's Halloween and you are deciding between whether you want to add a Halloween related story to the new content that you've put out, or you want to add a story to content that you created six months ago that was really popular.

Well, bearing in mind that this is going to be treated like a web page by search engines, that that might have a knock on effect. You might want to think about what the thing is that's more topical. So I would say that's a consideration is don't forget that your web stories are going to be treated as web pages by anything that indexes your site, because that's by nature, what they are is a web page. But then I really do think that if you're trying to knock it off your list of, I want to create stories, do what you're comfortable with, right? Because there will be a learning curve. This is not the same as creating the video content you created in the past. I's not necessarily the first story you do might not end up being the style that you end up creating, going forward.

You might find success with stories in a kind of different way. I would say that if you know your most popular recipe like the back of your hand, and you feel like you could create an easy story for that from scratch, and you want to add it to it because you have a tale that you want to tell about this recipe? Do it get on camera, tell your tale about it, and you have your visitors respond to it. I think it's just getting your feet wet in the medium. It's just getting your feet wet in this new way of engaging with your visitors. You're interacting with your visitors and providing them something. Food bloggers have such a great relationship with their visitors because they have such a back and forth. You're hearing a lot from your visitors and a lot of the industries and verticals we work in, you don't have that back and forth. You don't have that immediate feedback. I think that's one of the best reasons that just creating what you're comfortable with upfront is so valuable is because then you can immediately get feedback on, is this something that my visitors are finding value in? Is this something that they're dealing with? And if not, what can I do differently.

Megan:

For the first time I have kind of a new perspective on that. Just hearing you talk, I was thinking about the way that I create videos, as in videos that I upload to my advertising network and put on my blog. Also on YouTube. What you were just saying is the exact process I go through when I'm thinking through videos. So I think, okay, how would this be valuable to my audience? Then I think about it, I would like to tell them that this cheesecake, if it's jiggly in the center, that you need to put it back in the oven and things like that. I hadn't seen web stories in that same way, but now I feel like you could approach it the same way as you do video and incorporating your voice and your messages and your personality into web stories, as opposed to just putting ingredients steps up of the recipe, exactly as they are, step one, step two. I mean, you could do that, but I really appreciate that new perspective of approaching it as if it were a video that you're creating to share, because I think we all really value those videos that are curated so carefully and with so much love.

John:

Yeah. You mentioned personality there, and I think that's for us at Slickstream, we're seeing that, if there's one word that encapsulates the value of stories, that's different than the value of anything else, it's personality. What I mean by that is it's a, it's much easier to forge in a casual video. So stories if we just consider them to be a little more enabling, a little more casual video style than the traditionally produced type, it enables visitors to get more of your personality in the story, because it's what you're choosing to showcase. Even if it's not you on camera explaining, even if it's a more traditional recipe style, it's the style in which you choose to present it. It's the content that you choose to put stories on.

It's the way that you're telling a story, right? That's why I think it's an appropriately named video style. When you think about why people are coming to your site, it's personality is a big part of it, right? Why do people come to Eat Blog Talk as a podcast, it's you Megan, right? Your personality is a big part if not the part of what people what's driving people to your content. That applies to food bloggers, it applies to really anything. Why are people coming to my site instead of somebody else's site? It's not your tactics, it's not your SEO tactics. It's not your engagement tactics. Those are valuable in driving it a little bit further and making sure that you're efficient and optimize and everything else, but they're doing it because of what you're creating. The content that you're creating is resonating with them. I think the potential that a lot of people see in stories is the ability to really let that personality shine through in an easier way than they could with traditional content,

Megan:

Just like with friends or people in our worlds that we attract. If we have a dull personality and we're not willing to put ourselves out there, we're probably not going to attract people that want to be in our right. I mean, it's the same thing, but if we're like, you know, let our personality shine and we're kind and friendly, then people want to come to us. So stories, no matter which platform and we're talking about across the board stories are about personality and drawing people in. So I appreciate that you've talked through that. This has been really fun. Okay. Is there anything we've missed that you feel like we should cover on the topic of web stories?

John:

I'm not on the fence about web stories, there's value in web stories. I've been trying to make sure that your listeners have an honest understanding of where the technology is now. What I definitely want to make sure is clear is there are a lot of forces moving in the direction of stories right now. There are a lot of reasons that it seems like stories are going to get some traction and not least of which is there's interest in them from really big companies like Google. If they're pushing for this to become an industry standard, then that's not to say it will succeed, but it is a pretty significant sign that it's getting the backing that it would require.

There are a lot of opportunities to differentiate yourself within the publishing ecosystem. But very few of them are as matured as the stories area right now. We have a lot of publishers that use stories and we have a lot of publishers that don't yet. If you're creating high quality story content, it has the potential to be featured within, search. It has the potential to be driving engagement on your site. It has the potential to drive further monetization in the near term and the medium term. Particularly since we're really just beginning to scratch the monetization surface here. If at some point you can get regular RPMs while people are watching stories as well through footer ads or interstitial ads or whatever it is, that is a huge potential revenue stream. It's not that you can just wait and eventually once it's ready jump in. I mean, you can do that, but you'll be less poised to take advantage of once it's actually ready once it's, once it's actually a clear, obvious value to you as a publisher and to your visitors. If you have no experience in creating it, you're just going to be behind. That's okay for some publishers. But I do think that even though there are a lot of questions surrounding stories it is pretty evident that there are big opportunities.

Megan:

Hmm. Well, listen to John everyone. Opportunity. We all love that word. So I've been saying this too. I haven't dug in much. I think I have five or less created, but it's on my radar and I plan to dig in a little bit more. So that was all amazing. Thank you seriously for just going through that. I know I've seen in our community, people are talking about web stories all the time. What does this mean? Should I be doing this? So I think this interview will help people to sort through everything. You guys have an event coming up with Google and you're inviting food bloggers to join you. Can you talk a little bit about that?

John:

Yeah. So this is a Slickstream event. Some representatives from the Google web stories team have been kind enough to join us for, and it will be Q and A, live Q and A, where publishers can ask for sort of best practices for web stories. I was able to speak to the overall ecosystem today, a lot of the technical, what should I be doing and what are the best practices and the specific questions that publishers might have, I wouldn't be as poised to answer. Nor would I be as poised to know what questions to ask. So this is an opportunity, and we're really excited about it because we have been working closely with the web stories team. This is an opportunity for our publishers and other publishers that don't use Slickstream, going to be open to talk to the Google team and to talk to Slickstream.

So I can answer some similar questions and the Google team can as well. They'll do their best to answer a lot of the why, what, how that, from the perspective of a search engine. From the perspective of the story's biggest backer right now. So that's going to be March 25th. We have a registration page available at www.slickstream.com/events. You can register there, it's free, and then we'll send the login details in advance, but we're really excited about this. We've been really working at making sure that our web stories implementation is effective. It's based on Google web stories and they've been great partners in the process. So the fact that they've agreed to come on and talk to our users is just really exciting.

Megan:

Q and A's are always great. Food bloggers love Q and A's. They like being able to go and ask the questions that they have. So glad you guys are providing that. Thank you so much again for being here. This has been absolutely amazing, super valuable. I know food bloggers are going to absolutely eat up this episode. So thanks for your time today. Do you have a favorite quote or words of inspiration to share with us, John?

Megan:

I decided when you, when you asked me to prepare this one, I don't want to go with a quote or anything, I want to stick with our kind of nerdy data oriented Slickstream vibe. That is our personality at Slickstream. Everything that we have seen, thankfully we get a lot of insight into publisher data, and we've been doing this now for a couple of years. We have some longer-term trends to point to, and I think every site is different and what makes every site tick is different. But the thing that we've seen that's a unifier across the board is the more your site does the right thing by your visitors, the more that you're thinking about, is this a good visitor experience or not, your visitors will reward that. That's just been backed up by all of the data that we've seen so far. Making those long-term decisions around giving your visitors a good experience will be rewarded in long-term growth. So I think that's something we've seen a lot from food bloggers. They're already doing this, but you're doing the right thing.

Megan:

Thank you for saying that. I think that is kind of a little bit of peace for a lot of people, myself included. You're doing the right thing. We're focusing on our people and giving them the value they need. That really does go a long way. So thanks, John. We will put together a show notes page for you, John. If anyone wants to go peek at that, you can go to eatblogtalk.com/slickstream. John, tell everyone again where they can find you online.

John:

Sure. So www.slickstream.com. You'll know that you're there because there's a story telling you what we do front and center. So that should tell you how serious we're taking the medium. So slickstream.com is our homepage and then slickstream.com/events is where you can register for the Google event.

Megan:

Awesome. Well, thanks again, John. And thank you for listening today, food bloggers. I will see you next time.

Outro:

We're glad you could join us on this episode of Eat Blog Talk. For more resources based on today's discussion, as well as show notes and an opportunity to be on a future episode of the show, be sure to head to eatblogtalk.com. If you feel that hunger for information, we'll be here to feed you on Eat Blog Talk.
---
💥 Join the EBT community, where you will gain confidence and clarity as a food blogger so you don't feel so overwhelmed by ALL THE THINGS!
📩 Sign up for FLODESK, the email service provider with intuitive, gorgeous templates and a FLAT MONTHLY RATE (no more rate increases when you acquire subscribers!).
Read this post about why I switched from Convertkit to Flodesk!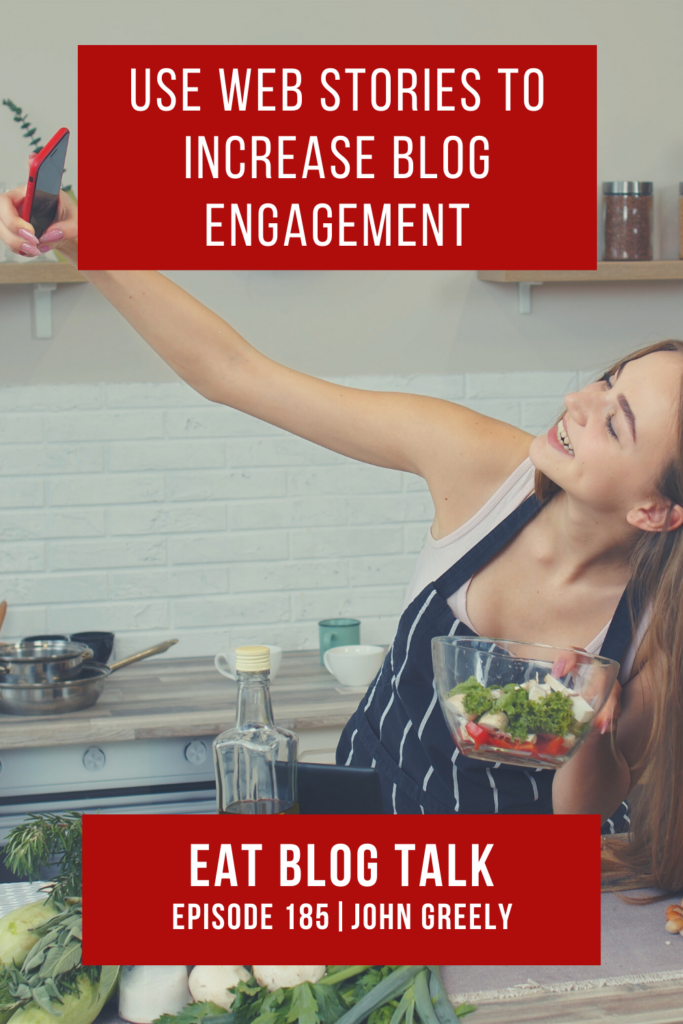 Questions or comments on this episode?
Head over to the Eat Blog Talk forum post about episode #185 to leave any questions or comments. We'd love to hear from you!