In episode 203, we talk with Elena Davis about how the concepts of love, food, culture and tradition are important in blogging to create a delicious food experience for your audience.
We cover information about how it is true your audience wants facts and information but they also want YOU, keep heart written in what you share and make yourself relatable by showing a little of you to your world!
Listen on the player below or on iTunes, TuneIn, Stitcher, or your favorite podcast player. Or scroll down to read a full transcript.
---
Guest Details
Connect with Cucina By Elena
Website | Instagram | Facebook
Bio Ciao! Elena is Italian born living in Utah sharing achievable and delicious recipes for your daily table. She also shares stories about her Italian life. The stories she tells run deep to relate to most anyone reading. The concepts of love, food, tradition, culture, and simplicity meld together to create a delicious food experience. She's a regular cook on two Utah morning shows and has a documentary coming in April about food and history airing on the KSL network station.
Takeaways
Food is central in bringing people together and making friends.
A recipe shared to your audience with a story behind it is a very important part of how that meal was brought to the table and is going to hopefully make it to other people's tables.
The more human you are, the more people will gravitate towards you.
People come to you because they expect you to be an expert in your area and so informational posts are important but the human experience is also important.
More and more artificial intelligence is coming into our lives and doing things for us so much that we aren't even aware so that's why its even more important to be human and personal with our audience.
Make a recipe, create a memory.
After the last year of being a part from our family, friends and community, creating achievable recipes and bringing people to the table and creating memories is so important.
Want More?
Listen to episode 182 as Carrie Forrest shares why you should niche down in your business as soon as possible for success.
Transcript
Click for full text.

Intro:

Welcome to Eat Blog Talk, where food bloggers come to get their fill of the latest tips, tricks, and insights into the world of food blogging. If you feel that hunger for information, we'll provide you with the tools you need to add value to your blog. And we'll also ensure you're taking care of yourself, because food blogging is a demanding job. Now, please welcome your host, Megan Porta.

Megan:

Hey food bloggers. Are you guys looking for accountability and business growth on a whole new level? If so, you should totally join the new Eat Blog Talk mastermind program that we are starting in May 2021. Spend time alongside like-minded peers who will hold you accountable so you actually achieve your weekly and quarterly and yearly goals. Masterminds hold massive power. Let's grow together, learn from one another and stop allowing deadlines to slip through the cracks. Achieve big dreams this year. We are now accepting applications for the mastermind program, and you can find the application at eatblogtalk.com.

What's up food bloggers? Welcome to Eat Blog Talk, this podcast is for you. Food bloggers, wanting value and clarity to help you find greater success in your business. Today I am so thrilled to have Elena Davis with me from mamamiamangia.com. We are going to talk about the stories behind the recipes today. Elena is Italian born and living in Utah. She shares achievable and delicious recipes for your daily table. She also shares stories about her Italian life. The stories she tells run deep to relate to most anyone reading the concepts of love, food, tradition, culture, and simplicity meld together to create a delicious food experience. She is a regular cook on two Utah morning shows and has a documentary coming in April about food and history airing on the KSL network station. Okay, what? That is so cool. Before I even ask you for your fun fact, I want you to talk about that just a little bit.

Elena:

Okay. Well, the documentary is actually airing this Sunday. If you go on my Instagram, there's a fun tease for it, or if you go to KSL5, there's a tease for it. There are some amazing women, all food bloggers that have come together and participated in this food culture documentary where we share stories, recipes, food, stories with culture. It's really a way that has brought all of us together, but not only that, it's just a universal language. Food is, I think, will touch so many once they see the beautiful production. It's been a long time in the making, since January. So it is quite the production. We have some people from different parts of the world even, joining in.

Megan:

Oh, that's so cool. Okay. Definitely checking that out. Thank you for explaining that a little bit more. So on top of that, do you have another fun fact to share with us?

Elena:

I do. So I actually have just a couple, I'll say them quickly though. I'm trilingual. So Italian, French and English. I've moved 18 times in my life and I'm not a military child and some of them have been in the same state and I'm a high school teacher of 13 years.

Megan:

Whoa. So many great fun facts there. I feel like we can have a whole discussion just on all of that, but really cool information. I do like that you qualify that you were not an army or a military child or person because yeah. When you think of 18 times moving, you automatically think, Oh, her family must be in the military.

Elena:

Yes. My family is very stable and we don't just move from place to place that, it just happened. There were just different homes available and different things. Then a lot of that, actually the majority of it has been in my married life, going away for school and different opportunities like that.

Megan:

So fun. And it's so fun to be in different areas of the country and the world. Just exploring new areas and exploring new foods in every area too, which is probably part of your story.

Elena:

Yes, absolutely. One of the things that this food blog of mine, I started in June 2020. We can get more into that a little bit later, but because of the pandemic, there's kind of a story behind it, but this is something that's been brewing in my mind for more than a decade. It really started when food and the love of food and bringing people together through food has always been so important in my family growing up, but it wasn't when I moved out of my house and I got married and we moved to three different States in the matter of six years that I realized how central food was in bringing people together and making friends. It was my first go-to when we met a new group of people or people from school. Well, come for dinner, come gather. That is how we built and maintained so many relationships with people that we are still friends with today.

Megan:

I love that. I just kind of did a rebrand on my food blog. And I hate to say rebrand because it is the same theme I've carried for a long time, but I'm just better now at stating what it is. So I've put words to what my brand is, I guess I should say. That is gathering, feeding and enjoying the people that you gather. So we have very similar themes with that. I completely agree with you that that is one of the most enjoyable experiences ever in the whole world is gathering your favorite people together, or even people you don't know, gathering people period together to enjoy, feed them really good food because good things happen over a great meal. I just feel like it doesn't get better than that. So I feel like we're on the same page there.

I want to say too, before we get started with our conversation, that the story gets so lost these days, because the focus is so much on SEO and pleasing quote, the user, that user that we don't even really know, that user, that we are told, you have to take the story out of this post because you need to answer the question, how can this dish be frozen? What is a substitute for oil? You know, we get so caught up in that, that the story is lost. So I love that you focus on this in spite of all of that. So what do you think about that? Do you incorporate stories in each of your posts?

Elena:

What I did, you'll see this on my Instagram, is you'll see that there's very clear black and white photos. When you see a black and white photo, you know it's going to be just a story. There's usually not a recipe tied to it. But it's what I call my fairly universal stories. We can get more into what I mean by that a little bit later, but there's stories which are just in the black and white. I also have those on my website. Then inside of the recipes, I usually try to weave in about a short paragraph, if it's applicable, not every single recipe has some meaningful, heartfelt story about where the recipe recipe came from, but when it does, I always include it. It's a very important part of how that meal was brought to my table and is going to hopefully make it to other people's tables.

And I fear that, like you said, so many people are worried about, well, that's distracting from your keyword search or your focused keywords. You're kind of adding a different element there. Is that okay? I worried about that when I very first started thinking, does anybody want to hear my story? Does anybody care about my nonna Laura or who did this in this way and whatever. You know what I found? I found that the more human you are, the more people will gravitate towards you. A recipe of substituting vegan butter for this or whatever it is that you're making is important. People want facts as well, because as a food blogger, you're also delivering information. People come to you because they expect you to be an expert in your area, whatever it is, Italian food for me. I do informational posts where I will talk about what's the difference between expensive pasta and cheap pasta. I have a whole blog post on that. Huge interest there, right? That's informational, that's the expert part of me that comes out and I'm fine doing that. But I also feel, going back to your question, that it is so important to keep the story alive. That's the human experience.

Megan:

Oh, that's beautiful. I think that is so true and something that we all need to hear, because we do get caught up in that grind of trying to please certain things that aren't necessarily human or that represent humans. So we need to think more in terms of what do those humans who actually want us want, they want us. They want Elena, they want Megan, they want our stories about food and not necessarily entire long posts. I mean, we can create those too, but they do want bits of us, right? Incorporated into each post.

Elena:

I think so. Yes. We live in an artificial intelligent world. More and more artificial intelligence is coming into our lives and doing things for us so much that we aren't even aware. But for example, on my stories on Instagram, I always try to show my face when possible and get personal and share some experiences. Also just relate to the fact that I am here for you. My job here is to help you bring achievable, delicious Italian recipes and meals to your table. Here's my face every once in a while. Let me show you that I can be reached. You can ask me a question and so I feel like that human connection, once you build it, you also build loyalty. One thing I'm very proud of is the engagement. My account is still fairly small as I started not too long ago. I love all the connections that I have made there. People have asked me, how do you do that? My answer is, it really is my passion for teaching, from loving other people and wanting to get other people in my circle and me in there's. It's important to reply and to communicate with people because in the end, the reason why we're making food, the reason why you're making these recipes and spending this time to learn how to do it, is to feed the mouth of the people around you.

Megan:

Oh, Elena. That's so beautiful. I align with everything that you're saying on both sides of my business. That is the same reason that I deliver recipes and food and recipe posts to my food blog side, because I love these people. I want to get to know them. I want them to know that too, that I am not just a food blog. I am a person who loves food and I love them. I want them to enjoy the food the same way I do. I'm the same way on my podcast side. I deliver value to you guys like everyone, because I truly love you. I am not here just as a podcast. I genuinely want to be the human that delivers value and that I really care about you. So this speaks to me so much. I think that that personal part of it is so often lost, because like you mentioned, we live in an AI world where everything seems robotic and electronic and automated, which is great for some things, but for some things you have to strip that away and just be you and show people that you are there. So I love that.

Elena:

I have something called Sunday stories, which are the black and white photos. Almost every Sunday, I try to post a story. The last story I posted was called, "what's in a name?". It was about my name, Elena, or an Italian Elena. I wrote a story and here's where I'll define it a little bit. A universal story is where I talk about my childhood experience, moving to America and wishing I had the name, Stacy, Kelly and Katie, and I just distinctly remember those names. I wish I had the smooth as peanut butter name that my teachers could just say, and there wouldn't be a pause, or there wouldn't be Helena, Halena, Elena, and you can say my name in so many different ways and it's natural. It's just one of those posts where you get more than 200 comments.

It's a story where I had a lady named Stacy who replied and said funny, I always wanted my name to be Jenny. It's just an experience where you can share your heart about something that's a little personal. So many people relate to your story, you're telling a universal story. You're not just talking about yourself, that you're delivering your story in a way that's relatable, that makes you human. But also that makes people step into your life, either relating it or step into a life and experience that they're glad that they know more about.

Megan:

I love that you do that. So you do that almost every Sunday. You do that on your blog, and then you also share it on Instagram, correct?

Elena:

Yeah. So they're just called Sunday stories and they're black and white and they're intermingled with all the food and the recipes.

Megan:

I think that's great. I think that people obviously come to your account probably because they love your food initially, but then just seeing you and your stories sprinkled in has to be just icing on the cake. So I love that you do that, and I love that you do the black and white so that people know.

Elena:

Just to kind of break it up. It's a conversation I talked to my husband about, I remember just early on thinking, should I do this? Should I not? I don't really know of many that have done that or are doing that on a consistent basis and will get confused and then just think of, I just want the food. I don't really care about her little things. Like I said, in the end, it's really made a human connection to so many more people, that I don't think I could reach just through the recipes alone. But there's certainly ways to do that through just the recipes as well, by opening up.

Megan:

If you think about a recipe post without any stories behind it. What do you think of? I mean, I think of all recipes, like something very cut and dry with no emotion, no background, no history. That does not mean as much to me as a blog post with a human, with an actual story.

Elena:

100%. Even if it's elaborating on ingredients or the beauty of the, the tomatoes and finding the right kind, or this, that, and the other. More than just a slap of ingredients instructions, here's a fuzzy photo. I think to me, to me, where's the heart in that? So I have so much love and appreciation, I think more so now than I ever did for food bloggers and blogging in general for people who pour their heart out into creating a brand and to creating their story, that's much more meaningful than just ingredients and instructions. So I don't think I ever realized how much went into it for sure.

Megan:

Work, but also heart, like you said. There's work and then there's heart and combining both of them is so meaningful.

Elena:

I think so, too.

Megan:

So how do you do that? How do you share your stories and memories on your recipe posts without saturating it with story? Do you have a system? I limit myself to two small paragraphs in the beginning, but then I sprinkle my personality in throughout, it's not just cut and dried for me. Like I will be me throughout my posts. What do you do? What's your process?

Elena:

So here's my process. There's a few things that I try to include in every post. Number one is and not in this order, but just sequentially how it goes is, facts. Just some interesting information about ingredients and specifically which ones you should use and why. They usually have a deeper meaning than just buy these potatoes instead of these ones. For example, I just wrote a recipe about some Italian Herb Roasted potatoes with olive oil, and it's a family recipe of ours. There's a reason why we use these certain potatoes. You can buy them in the United States, but then I talk about the real reason why I buy these is because they taste like the potatoes that I get in Sardegna. That's where I'm from in Italy. Although I can't find those exact ones here, this is the closest, so there you go.

I'm tying my voice. I'm giving a reason, a personal reason, relating it back to Sardegna and get back to Italy and bringing it here. This is why I use this potato. I usually start with how this recipe or this meal might benefit whoever is reading it by listing some wonderful ways that it can be enjoyed and just describing the different flavors, because to me, I'm visual, but I also love description. I also love to know, why am I going to love this? What does it taste like? Just bringing to life the flavors and words. I think that is something that's part of my voice in writing. Then when there is that experience, it's usually kind of in the middle and it always is prefaced by a tagline of the story behind the recipe or the person behind the recipe.

Something like that. That's kind of big. It's a heading, it's big and bold, so people know, okay, if I want to read this story, there it is. Who knows and there's always the button Jump To The Recipe. Some people prefer to do that, but I do spend a lot of time and tender love and care to these posts by giving information, by giving reason, by giving insight and also by delivering and sharing my heart in it. I think that when reading a blog post that you wrote, it's evident Megan, that your voice, like you said, it does come out and people like that, the little quirky things or whatever it's like, Oh yeah, that's Megan, you know? I love that about you and about lots of other food bloggers who I'm kind of used to maybe their style and I like it. Again, you're forming a human connection on another website where it's just the recipes. You see a name but you don't know what that person's like. I beg and beg for people to not be scared of, of the Google search world and to bring back to the human searching world. Now, more than ever, we need connection. We've spent a year or more not being able to be connected physically to so many people. I think that what we put on the internet, which is something that anybody anywhere can see should have even more value.

Megan:

Oh my gosh, Elena, that was beautiful. It was so beautiful. Oh my goodness. But we do now more than ever, we do need connections. So now is a great time to start sprinkling your personality and bits of you into your content. I loved that you mentioned before, just making subtle references to who you are, even if you're talking about maybe something kind of bland, like a potato. You can still kind of allude to who Elena is when talking about that, because you have a history with this. I mean, you could really do that with any recipe that you feel you're creating from your heart. You mentioned in your notes, creating achievable recipes. How you can make memories and stories by doing that. Can you talk more about that?

Elena:

Yes. I like to say, make a recipe, create a memory. So how I thought about it, or my thought process behind that is my mother worked full time growing up. When we moved to the United States, I grew up going to aftercare and my mom got home late, worked a lot. We always had a delicious home cooked meal. It just makes me emotional to even think about the love and the effort that she gave to our family. I know that there's so many families out there who are in the same situation. Italian cooking, from the root, is simple, delicious, and fresh ingredients are very important, but the process doesn't have to be complicated. That's what my mom had to do. When she was putting together a meal day after day in probably less than 30 minutes. Now on the weekends, she had her friends out, we had our friends over and my dad too, I'm not talking so much about him, but he did help.

That was time for maybe a little more elegant cooking, which my parents have taught me all kinds of fabulous recipes from very fancy to what we put on the table every evening. It's healthy, it's achievable, it's delicious. The reason why it's important to do that again, I feel is to bring families back to the table at dinner time. Bring that conversation, when it's possible. I've taught in inner city schools for 13 years. I know poverty. It really breaks my heart. Some of these homes where parents are working so many jobs, they're not able to provide either a home situation where they have dinner on the table every night. What's been really interesting and fulfilling for me through this process is a lot of my students have started following this venture of mine and these sweet teenagers are making meals for their younger siblings.

I just think, okay, if a teenager can do it and if they have the patience and if their parents can provide these simple ingredients, which really you can find anywhere. I think we all can do it and we all deserve to give it a try. So that's my heart behind creating achievable recipes and bringing people to the table and creating memories. It's not always going to be, let's cook this meal together and have this experience. I love to do that. I consider myself fortunate that I can bring my children into the kitchen and give them that experience with me. But there's also a place for, we need to create this meal for the sole purpose of getting mouths fed this evening, and these recipes have the ability to do that.

Megan:

Okay, awesome. So awesome that your mom set such a great example and just no matter what, got dinner on the table for you guys. I love her recipes, they're simple and delicious and fresh, but they're not overly complicated. She could do that in a relatively short amount of time. That is true for so many meals. I think in our minds, we over-complicate things. We think, if I want to do this, I'm going to have to invest two hours of my evening to get dinner on the table. That is not the case. We do not have to invest that much time. The fact that the teenagers at your school are creating your recipes, Elena. That's so awesome. That has to just make your heart so happy.

Elena:

It is. I could just walk away and think, okay, I've done one good thing.

Megan:

Seriously. That is amazing. Do they give you feedback?

Elena:

Yes, they've loved it and it's fun for them and distracting and also gives confidence, right? I mean, think about me, for example. If somebody teaches me how to do something that I'm not very good at, maybe a painting or something like that. And somebody is able to walk me through it. At the end, I walk away with this painting. I mean, it almost brings me to tears because I think I made that. I accomplished that and I've had kind of some similar reactions from, this is not my students, but other people who have come back to the kitchen with some of my recipes. It's been very touching for them to think that they can sit. They've neglected something for so long because they're scared of it. To me cooking and ingredients and food. I mean, it's second nature. It's like, I close my eyes and I make carbonara. You know what I mean? But to some people there's a huge barrier with cooking. So to break that barrier gives confidence, especially to a mom who's tired, who's worn out, who is dealing with different things. The fact that she's able to gather her family again, with something that she's created and was able to do, I think is huge for so many people out there,

Megan:

You are instilling confidence in people that is kind of the theme I'm taking away. You're also making a huge difference. I know that you probably already know that on some level, but I think it's just good to point that out from my perspective. I hardly know you, but you are making a difference. So you were amazing Elena, so inspiring.

Elena:

I hope so. You know, that's another hard part about the blogging and social media world is, you can spend however many hours or how much time on a blog post. I mean, you can always kind of go look and see how many views that had or whatever, and you just think, Oh, how many people did I reach? Or how many people really made it. I just want to come into your home and sit at your table with you. I realize that's not possible and not everyone is going to say something. Some people do, you know, I think maybe one in 10 actually come back and share a personal experience they have with you. But I'm kind of used to that after 13 years of teaching. I've welcomed so many teenagers with open arms and some of them I still call my children that I've just had forever and I've kept in touch.

But with teaching, it's something that you have to do, that if you teach one, if you help one, if you make a difference for one, and usually of course it's more than that, but that's what you're there to do. I think that's the lens that also gets lost, is people are trying to please the masses, they're writing for the masses. What's popular now, I'll write a recipe for that. What are people searching now? Some of those things are very important to keep in mind. You do want to attract some traffic to your site and be mindful of all of the backend SEO. But I recommend also writing for that one person. Writing for that one mom who needs it. Writing for that single dad writing for that teenager who was looking for a way out of depression.

Megan:

It's so true though. Like when you get that one comment, even if it's just one, aren't you just, Oh my gosh, I am so glad I made that recipe and put this out into the world just for you. Just you, one person, if nobody else looks at it or makes it, that's totally fine with me, but you loved it. That's all that matters.

Elena:

Yes, 100%.

Megan:

What do you recommend for people who are listening and they don't add much of a story or add much of themselves to their content. They want to, how do you recommend they start?

Elena:

I recommend by starting with just a little bit here and there, just like starting a new routine. Okay. You decided you want to run a half a marathon, but you're not a runner. So do I suggest you don't run the marathon? No, but I suggest that you start one mile at a time for several days. Then build up and then build up. So maybe something that you could do again is start with a little section in your blog. Like both you and I do where we share a little bit of personal, if that doesn't seem too daunting. How about just sprinkling in, like you said, a little bit more personality to your blog. Once you've done that maybe for a couple blog posts, you think, Ooh, well, I think I'm going to share this little story that I had well making this or while creating it.

Let's say it's not a family recipe. Let's say it's something that you developed on your own or by mistake, or you saw it somewhere and you wanted to make it again. Well, tell that story. The thing I think people are scared of is, well, I don't really want to tell my story or I don't really want to talk about myself. Okay. That is something that I've actually talked to other people about. I'm teaching a course on this exact thing on Tastemakers Conference. I don't know if you know about them, Tastemakers Conference, April 9th and 10th. But the whole presentation is about how you share your story. Some people are not as comfortable sharing themselves and that's totally fine, but there's different ways to represent yourself through selling your stories, in different ways. Some people do it through their photography style.

Speaker 3:

A lot of food bloggers are also food photographers and they are very confident in their craft food photography. Maybe you can talk about the photo. Of taking the photo or how you styled the photo and how important that is to make it visually appealing and delicious. Because we all know that visually in food blogging and also on Instagram, we're drawn to those photos. More and more now the quality of the photos has upped. So why not talk about that? So there's different ways to talk about your story that's different than let me tell you my life story. I think there's a big difference there that can stop people and make them afraid of sharing more of their personality. If that makes sense.

Megan:

It does. And I love how you frame that. So it doesn't have to be about writing or telling this long narrative about a family recipe or family history. It can, but it can also be about different ways to communicate. So a lot of us do communicate through our photography and maybe someone creates a dark and moody theme for a reason. Well, tell your story through that. Why are you photographing that beverage in that way? Also, as you were talking, Elena, I had the thought of behind the scenes stuff could also be a way to get your foot in the door with just being real to your audience.

Elena:

Did you mess up? Did you have a flop? Or this happened to me while making this. It might happen to you or here's what to do to fix it. Or anything that, that is relatable to your audience without spilling your guts about your whole life. I'm fine doing that and I wasn't always, so I've actually gained a lot just through experience. I understand that definitely not people's style all the time and it shouldn't be. So when I say, tell your story, or when I say share your story, I think it's a human experience. Relate to your audience on a human level. There are different ways to do that, like we talked about. I think that is achievable for everyone doing it because some way, somehow you're passionate about what you're doing. Why not tell them why and why you do it.

Megan:

Yeah. And real, I feel like no matter how you can achieve real, is relatable. If you can show the mess in your kitchen after making a meal, that is something that people love and they can relate to and be like, Oh, okay. So the food blogger makes a mess. So I'm not alone. I mean, it could be as simple as that, that's a story. That's a story about your day.

Elena:

There's so many different avenues of sharing a universal story or a story and don't let it stop you.

Megan:

Yeah. And there's so much you can talk about with food. The preparation, the way that you enjoyed it, the way your family reacted to it, the mess you left the cleanup. I mean, there's so much, so, I mean, we just need to think a little bit outside of the box, I think, and make it a human experience. Like you said, Elena. I love those words because much of making food and delivering food is about a human experience. We are humans. We're making food, we're delivering it to other humans so they can eat it and enjoy it. Is there anything else you feel like food bloggers should just keep in their minds as they go about producing blog posts and maybe offering themselves up to their audience in a new way, in a more personal way?

I think one thing that comes to mind is, and I find myself doing this sometimes, but it's something that I feel passionate to share. Don't compare your day one to someone's day 100,. I would say, check in with your own progress, be the winner of your own race. So don't come and look in my Instagram and say, Oh, she does it this way. So the point in sharing all of these tools and suggestions that we've talked about today and had so much fun doing so, is just a way to open up a conversation within whoever's listening right now. I want you to think about your how and your why. If you're listening, why are you doing what you're doing and how are you executing that process? And does your audience know why you're there? Is it clear to them?

And is it clear to you? I think by answering those questions and the more confident that we are in whatever our profession, food blogging, the more that will just create a ripple effect into the people that we touch. So if you're just starting tomorrow, it's your day one. Start to share a little bit more about yourself in selling your story in this way, that's your day one, and you will evolve and it will just change. There will be so much fluid change throughout it, and it will just create a beautiful product that will keep changing. So I feel passionate to say that everyone has their own journey and be the winner of your own race.

Megan:

Oh my gosh. I hate to even interrupt that. I feel like you could keep going, but yeah, embrace the day one, right? Because without a day one, there's not a day 100. You have to embrace every day leading up to that point where you're like, okay, I'm finally getting this because there's value in all of it.

Elena:

Then you might pivot and you might change and you might decide, Oh, I'm not going to do it that way anymore. I'm going to do it this new way, but that other way brought you to the new way. Sometimes it is hard to show up every day. I think there was a while, a few months ago where I just thought, Oh man, should I do this? I have three young kids. I'm still teaching, kind of having a moment there. Every day it just helps me to think, just show up, you know, when you can and be healthy about it, not in an inauthentic workaholic kind of a way. But in a genuine way, I'm going to show up. I'm going to do the day and we'll see what happens. I didn't want to share that story initially about my name. The replies are just paragraphs long of how much it touched people. Not every story will be like that. Some stories I write sobbing and think, Oh, I'm sure people and it touches some but maybe not as many as I thought. Well, that was just a day. I showed up and it made a difference to one person. It doesn't matter how many people replied to everything. But like you said, it's about the one person.

Megan:

Yes, absolutely. I just want to say a thank you to you because it sounds like you are an incredible teacher. As a mom who has two boys in the public schools, but one has definitely needed extra assistance throughout the years. So I feel like more than most parents, I really, really, truly appreciate those really good teachers because they make such a difference. It doesn't matter what the curriculum is, honestly the good teachers are worth so much to me. I can tell, I have a teacher radar now where, when I meet the teachers first, I'm like, yep, they're going to be excellent. Then there's one year, there's only been one year when our son did not get a good teacher and my husband actually met her first. He came back after the open house and he said, so I don't really think you're going to love her. I'm like, no, I'm sure it's fine. Then I met her and instantly knew what he was talking about. I was like, okay. That was a really rough year, one that we all remember, unfortunately for bad reasons. So okay. All of that, that rant to say that I'm super grateful that you invest your time in your students and you instill confidence in them. So collective thank you to you for that Elena.

Elena:

Oh, of course. Absolutely. It's my pleasure.

Megan:

Thank you so much for being here. This was an amazingly fun chat. I loved it. I loved every moment of it. It was one of those that went by really fast. So thanks for taking the time today.

Elena:

Absolutely. It was my pleasure again. Thank you so much.

Megan:

Yes. Well, I know you've already shared words of inspiration. Do you have anything else to share with us or a favorite quote?

Elena:

I did have a quote that I wrote down in my journal in January and I just kind of keep looking at it and it's mainly for me, but I think maybe somebody out there might need it as well. It just says, fear will always stop you. Faith will always push you. In my life, choosing faith is what's made all the difference. I wrote this down and it's to remind me of all the times where, when I chose faith, when I chose to keep going, I have so many examples in my life. It's made a huge difference. When I boggled up in the fear, when I literally feel paralyzed and stopped in my tracks, because I cannot move forward, nothing creative will come with that and I can't help anybody else when I live in that fear. So I would choose faith over fear any day.

Megan:

Love it, such a great way to end. Thank you so much for that, such truth there. We will put together a show notes page for you, Elena. If anyone wants to go peek at that, you can find them at eatblogtalk.com/mammamia. Elena, tell everyone where they can find you.

Elena:

Yes, it's mamamiamangia.com and Instagram is the same Mamma Mia Mangia underscore underscore for Instagram. So you can find me at either of those places. I'm also on Pinterest under the same name and handle Facebook and TikToK is kind of embarrassing, not very active on there, don't go on there. I'm most personal on Instagram and on my blog where you can find me at Mama Mia Mangia.

Megan:

Awesome. Well, thank you again so much Elena for being here and thank you for listening today, food bloggers. I will see you next time.

Outro:

We're glad you could join us on this episode of Eat Blog Talk. For more resources based on today's discussion, as well as show notes and an opportunity to be on a future episode of the show, be sure to head to eatblogtalk.com. If you feel that hunger for information, we'll be here to feed you on Eat Blog Talk.
---
💥 Join the EBT community, where you will gain confidence and clarity as a food blogger so you don't feel so overwhelmed by ALL THE THINGS!
📩 Sign up for FLODESK, the email service provider with intuitive, gorgeous templates and a FLAT MONTHLY RATE (no more rate increases when you acquire subscribers!).
Read this post about why I switched from Convertkit to Flodesk!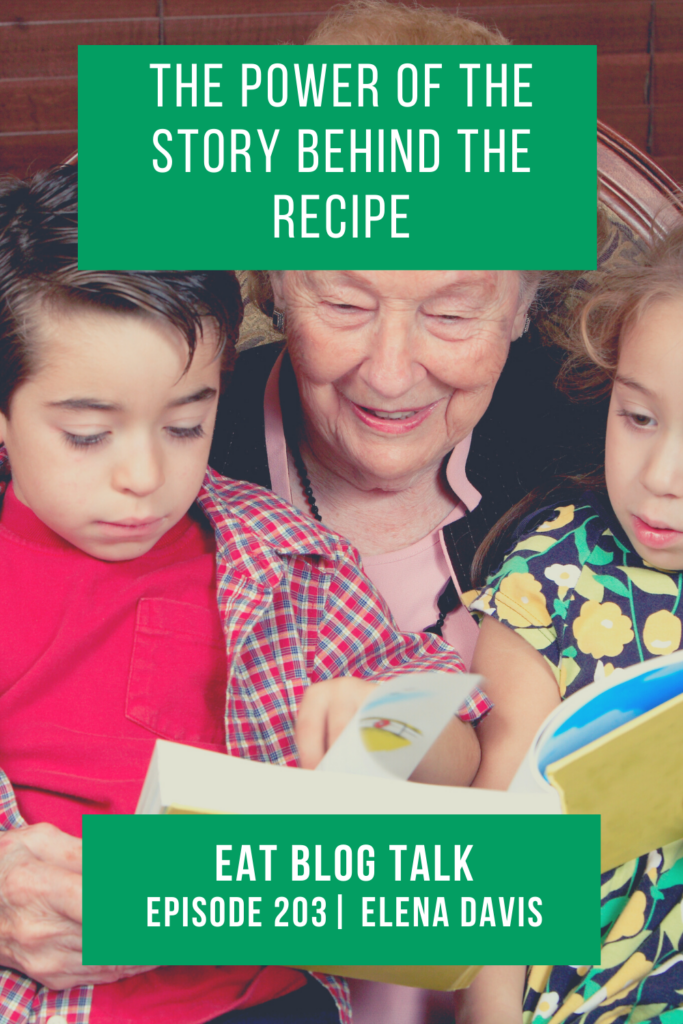 Questions or comments on this episode?
Head over to the Eat Blog Talk forum post about episode #203 to leave any questions or comments. We'd love to hear from you!