Blog Title: Kristie Hill
Social Media:
About:
Notes from Episode #123: All Your Burning Pinterest Questions ANSWERED
Fun fact: Kristie got scuba certified in the Puget Sound during January 10 years ago, where its frigid cold at that time of year! The water was about 40 degrees so she blocked out how long she was in the water for but it is her claim to fame.
Disclaimer by Kristie: There is no right answer or one way on how to do things with Pinterest. You might be aggravated by this answer! What Kristie hopes this disclaimer does, is frees you from not stressing about things and just have permission to know it can be done many ways. But you'll have tools to pave your own way.
How often do you need to pin – This is one of the most common questions in the Pinterest world. You don't have to do the same amount of pins each day, but what is important is that you are keeping your boards active.
Reason? Because then Pinterest knows you are active and then will keep your boards in the audiences feeds.
How many boards should you have – Keeping the boards you have active and fresh is important and relevant more so than quantity of pins and number of boards. Do as many as you find manageable. Kristie is experimenting with 10.
How many blog posts do you have on your site is relevant to how often you should pin content. If you are a new blogger, you aren't going to be able to post as often as a seasoned blogger.
Less is more on Pinterest because they are currently focusing on creators not duplicating pins. They want you to save less content than you did even two years ago. What does this look like? It can depend on how broad your niche is. If you have recipes that are only based on desserts, you might have less boards than someone who covers all the meals.
Action plan to finding your boards – Go look at your blog categories that you are actively publishing in on your site. Then you are going to start with one board on Pinterest for each of those categories. You could have 1 or 2 boards for every category if you're bigger. Stick to 1 if that's all you can be consistent with.
Boards that you aren't focusing on – don't delete! Leave it up and you'll have to do some work to get it active down the line when you're about to publish. You can do this by saving other relevant content to that board ahead of when you're going to publish your own new content again. This will help you get higher impression and engagement rates.
If you have categories that are similiar, how do you pick the categories? Such as chicken/turkey, main dishes, casseroles, dinner.
If you have one casserole dish on your blog, then you don't want a board on Pinterest for casseroles. But if you have multiple recipes that fit there, then its a great idea to have because you can save relevant content. You can find a better board to add that casserole to though if you don't have a lot within that on your site.
Pinterest doesn't want you spamming your audience! Don't share more than 30 pieces of content a day. 30 should be the top number. Pinterest just won't distribute your content if you don't play nice.
If you're using a scheduling tool, you have to pick a number of pins per day to follow. A brand new blogger might only pin a couple of pins a day.
Pinterest is not favoring duplicate pins right now. You can share 1 pin in 5 different boards if you space them out and with different images.
Pinterest is not an instant traffic source. It worked like that in the past but its no longer the way that it works. Pinterest is a long game plan.
Kristie's recommendation for pinning practice: You can pin 1 image one day on one board, then don't pin that same pin again for at least a week. Then you can create a second pin of the same content with a new image and post it on another day (not overlapping) and then space that out a week before pinning it on a second board.
Dripping out with scheduler vs manually – Kristie doesn't believe a scheduler or focusing on manually pinning helps you with Pinterest traffic. What does help? Your content planning and spacing out pinning content to relevant time periods.
Kristie uses a scheduler and she manually pins. Do what's best for your time and staying CONSISTENT. Because consistency is KEY.
If you use a scheduler, but never look at the pins after you set it up, you might not have as high of results as you could. Be strategic and pay attention!
You need to give everything TIME when testing Pinterest pins. You need to give it at least 30 days. Don't say something didn't work after a week.
Posting others content – People want to know how many pieces of their own content and how many of someone else's content they should post on Pinterest. They want numbers because then it's easy to focus on accomplishing that, and work towards attaining a goal. But there isn't 1 perfect answer.
If you have a lot of your own content, then you don't need to use others content as much. But if you have less of your own content, then you can help beef up posting with others relevant content.
Pinterest sees when you pin a piece of content. They are going to assume its about the same theme that the label of the board is named. If you don't have a lot of content based on that board title, then you should add others content with the same theme to help Pinterest see what you're about and bringing to your audience.
Kristie believes in blog karma. It's ok to support fellow bloggers who have quality content that you can save their pins on your Pinterest account. This doesn't harm you but it isn't required of you either. You can do it because it lifts you both up.
Smartloop – works best for people with seasonal content. They don't want us to save pins over and over unless its used in a seasonal aspect. Smartloops are set for an annual posting and you can reuse that to get it out to people. You can refresh those pins look too. Don't be afraid to use the Smartloop. Check your analytics to get more information on this.
The only way you're going to know how to use Pinterest is to get familiar with your analytics and using it to create a plan regularly.
Tailwind Tribes – They are going through a re-branding right now so the name will change soon. Tribes are a great way to find content and get your content distributed.
If you don't have a big audience, this helps you get more exposure. Focus on this as you grow your audience. You are only as successful on Tribes as the Tribe is active.
Pinterest Group Boards – Kristie said they are on their way out. Group boards were gray hat areas and Pinterest has realized that. Pinterest is not distributing that content as much anymore. But each niche is different and to know if its working or not, so the best way to do that is to check your Pinterest analytics – go to Overview (choose your domain only) and you can see your top boards (if they're there).
Pinterest Videos/Story Pins – They do not easily link back to your site. So at first glance you say, " they are not worth it". Kristie points out that they do because they help the HEALTH of your account because Pinterest is giving preference to them. The impression rates will grow because Pinterest is showing them.
Kristie said research is so new that she doesn't have a suggestion on how often to use Stories or Video pins but give it a shot and check your analytics. If you do it and you see a bump, keep at it. If you do it and nothing happens, don't waste a lot of time investing in it.
If people are saving your content for you and its circulating, even if its older content and images, that's GOOD and you don't have to worry about that being shared, that's the beauty of Pinterest.
If people are finding you on Google and saving your pins from your site, you will be sending those out into Pinterest. You can update your pins to post to Pinterest and on your site too so you can have the best available looks out there circulating. .
Creating pins – The words that you use on the pin don't have to be the title of the picture, especially with food. You will always know it's a cookie if that's what there. So instead share the benefits of that pieces of content on the visual pin. For example, use a fun font and write "chewy" above a cookie. Or think of what makes you/your product different? That's how you focus on making your pin to stand out.
People new to Pinterest can really focus on RELEVANCE. That means that the boards they are working on creating are Active and Relevant.
If you're new, focus on just setting up 5 boards and be sure you are saving content to them (your own and others). That helps Pinterest to understand your content.
How do you know if Pinterest is recommending your content? Go to that board, and look to the section where it suggests similar content. If they are recommending something completely differnt, then you need to work harder to show Pinterest what your content is about. Help them!
Test and track your content with your analytics so you can have an awesome plan.
Quote by James Clear – "It's this ability to do the work when its not easy that separates the top performers from everyone else."
Helpful references from the episode:
Example of Pinning Too Many Pins
Here's an example of what can happen when you begin to share pins on Pinterest, but they are pinned too frequently – Pinterest clumps them together under the "following" tab rather than letting them "drip" down into your audience's feed.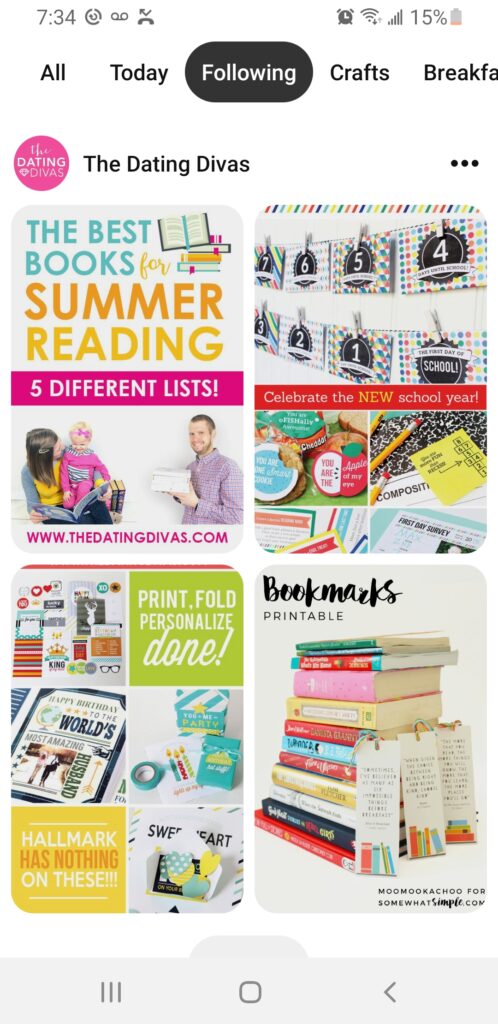 Example 2