In episode 123 we talk with Kristie Hill, Pinterest expert who shares her knowledge about the platform we all use.
We cover information about how often you should pin, the deal with Tailwind, video and story pins and the deal with refreshing your older content!
Listen on the player below or on iTunes, TuneIn, Stitcher, or your favorite podcast player. Or scroll down to read a full transcript.

Write Blog Posts that Rank on Google's 1st Page
RankIQ is an AI-powered SEO tool built just for bloggers. It tells you what to put inside your post and title, so you can write perfectly optimized content in half the time. RankIQ contains a hand-picked library with the lowest competition, high traffic keywords for every niche.
Guest Details
Connect with Kristie Hill
Website | Instagram | Facebook
Bio
Kristie helps aspiring bloggers start and grow their online presence! With her super helpful blog posts, tutorials, and courses the technical and overwhelming aspects of blogging get easier.
Takeaways
There is no right answer or one way on how to do things with Pinterest. Let this free you from not stressing about things and just have permission to know it can be done many ways.
You need to keep your boards active so Pinterest knows you are active. This will keep your boards in the audiences feeds.
Boards that you aren't focusing on – don't delete! Leave it up and you'll have to do some work to get it active down the line when you're about to publish.
Pinterest is not an instant traffic source. It worked like that in the past but its no longer the way that it works. Pinterest is a long game plan.
Kristie uses a scheduler and she manually pins. Do what's best for your time and staying CONSISTENT.
Smartloop works best for people with seasonal content. Smartloops are set for an annual posting and you can reuse that to get it out to people. You can refresh those pins look too.
Tailwind Tribes re-branded to Tailwind Communities. Communities are a great way to find content and get your content distributed. You are only as successful on Tribes as the Tribe is active.
Pinterest Videos/Story Pins – They do not link back to your site. So at first glance you say, " they are not worth it". Kristie points out that they do because they help the HEALTH of your account because Pinterest is giving preference to them. The impression rates will grow because Pinterest is showing them.
The words that you use on the pin don't have to be the title of the picture, especially with food. Share the benefits of the content on the visual pin.
Test and track your content with your analytics so you can have an awesome plan.
Resources Mentioned
Blog Launch Plan for $35 ($164 value!)
Pinterest Dashboard + Masterclass for $27 ($47 value!)
Example of Pinning Too Many Pins
Here's an example of what can happen when you begin to share pins on Pinterest, but they are pinned too frequently – Pinterest clumps them together under the "following" tab rather than letting them "drip" down into your audience's feed.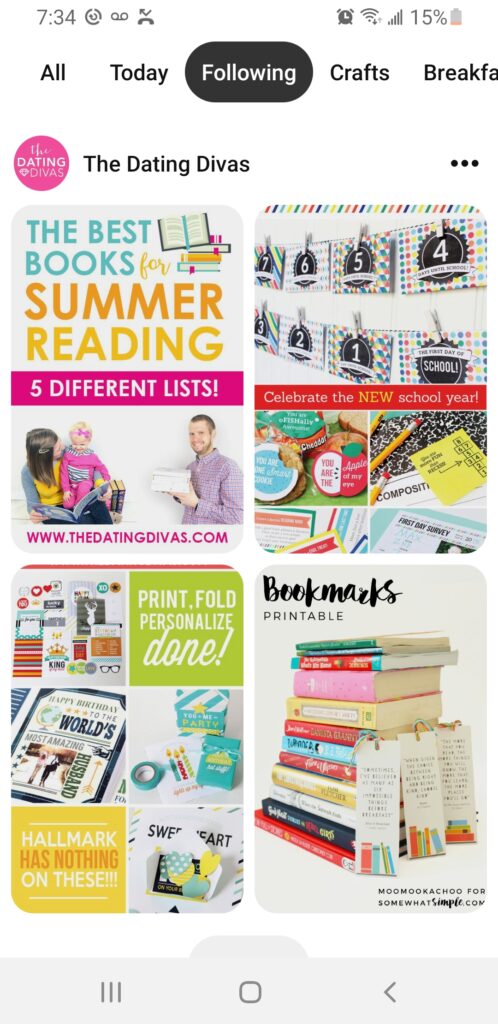 Example 2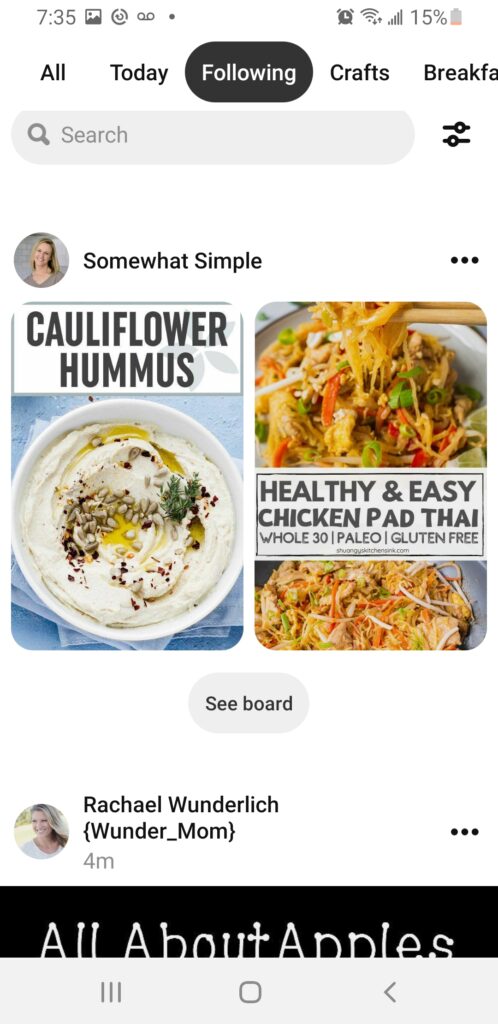 Need more about Pinterest?
Episode 054 will help you improve your Pinterest game with Kate Ahl.
Transcript
Click for full text.

Intro:

Welcome to Eat Blog Talk where food bloggers come to get their fill of the latest tips, tricks, and insights into the world of food blogging. If you feel that hunger for information, we'll provide you with the tools you need to add value to your blog. And we'll also ensure you're taking care of yourself, because food blogging is a demanding job. Now, please welcome your host Megan Porta.

Megan Porta:

Food bloggers. Hey, if you have not yet joined the new, amazing community that we just launched, go and do it. You will find so much value inside, including connecting with other food bloggers in a much deeper way, and having access to all kinds of exclusive value, such as bonus podcast episodes and mastermind groups, and a Resources and Service Provider Directory, and so much more. This is not something that you will want to put off. Go to eatblogtalk.com for more information, and we can't wait to see you inside.

Okay, Food bloggers. Have you heard of Flodesk, the new big email marketing rage? This is an amazing new option for managing your email subscriber list. It is super easy to use and it comes with gorgeous, intuitive drag and drop templates. And Flodesk does not charge based on number of subscribers, so your monthly rate will stay the same from month to month. Everyone pays $38 a month or use my affiliate link to get 50% off and pay only $19 a month. You guys, this is a fraction of the price of other email service providers, and you'll be blown away by the beautiful and intuitive templates waiting for you inside. Visit eatblogtalk.com/resources to grab your link. Flodesk, the stunning new option for email marketing.

Hey, food bloggers. Welcome to Eat Blog Talk. This podcast is for you. Food bloggers wanting value, information and clarity that will help you find greater success in your business. Today I am so excited to chat with Kristie Hill from Kristiehill.com. And we are going to talk about all of your burning Pinterest questions. I know you have them. So we're going to cover everything. Kristie helps aspiring vloggers start and grow their online presence with her super helpful blog posts, tutorials, and courses. The technical and overwhelming aspects of blogging get easier. Kristie, I am super excited for our chat today, but first we would all love to hear a fun fact about yourself.

Kristie Hill:

All right. So fun facts. So it's been a while now. I'm realizing I was like, I don't know if I could use this as a fun fact anymore because it's been like 10 years. But my fun fact is I scuba certified in the Puget sound. And if you're not familiar with the Puget sound, in Washington, it is freezing cold. I did that in January. That's my claim to, I'm awesome. I survived to tell the tale of how cold it was, certifying for that.

Megan:

What is the temperature?

Kristie:

It was like 40 degrees.

Megan:

Oh my gosh. How long does it take? How long do you have to be in that water?

Kristie:

Oh, I don't remember. It was a long time ago.

Megan:

Did you black it out?

Kristie:

You do three different dives, so you'd come out and we would go back in, so that you can meet the certification requirements. So I think that is the coldest I have ever been in my life.

Megan:

I bet that's amazing. I'm impressed. And do you still scuba dive?

Kristie:

Not since kids.

Megan:

Yeah. That kind of happens.

Kristie:

That's why I say, maybe I can't use this as my fun fact anymore.

Megan:

I think it's definitely a fun fact worth using because most of us can not say that we did that so good for you. Wow. Super impressive. So you're actually not here to talk about scuba diving. So let's talk about Pinterest. I feel like Pinterest is one of those platforms that food bloggers are constantly trying to figure out because it can be a really nice source of traffic and revenue. But like with other big platforms, things seem to change relatively quickly. So with all of that said, we have questions, food bloggers have burning questions about how to best use Pinterest in our businesses. So let's just start with a number of pins. What should we be pinning daily and kind of go through that for us.

Kristie:

Before I answer this question, I'm just going to give a little disclaimer. Is that all right, Megan? So my little disclaimer is that you're going to hear something really common from me today, and that is there is no right answer or one way to do things. That is going to be really annoying and aggravating and frustrating for some of you, but hear me out on it. What I hope that this does for you in our discussion and my answers, is that it frees you from stressing and worrying about things that aren't important. So when you hear there isn't one right way. This is my way of telling you that it's freeing you from worrying about things that aren't important.

Megan:

I'm glad you just said that because I think we all kind of tend to want, what is the exact right way? And to hear someone give us permission to not think that way is, it can be freeing, okay, good. So we can listen to your insights and then we can kind of just pave our own way, whatever that might be.

Kristie:

Which is hard, but we're going to give you tools to be able to pave your own way because your account and your content is different than everybody else's. Let's figure it out for you. That's my goal today.

Megan:

Yes, exactly. Great disclaimer, Kristie.

Kristie:

Okay. So the question was how many pins a day?

Megan:

So how many pins a day?

Kristie:

Alright. So, this is probably one of the most commonly asked questions in the Pinterest world. It seems like there should be a specific answer and many people have made up specific answers over the years, right? But if you think about the everyday person using Pinterest, not the marketer, they're not counting the number of pins that they save a day. Sometimes they're not even pinging every day and you don't have to either. More important than how many pins you save a day is that you are keeping your boards active on a regular basis, right? On a weekly basis. The reason we want to keep our boards active is A, so that Pinterest knows that those pins are still relevant and active on that board so that Pinterest will show our boards to people in their feeds, that they'll recommend our boards.

So more than what number of pins we're going to be saving, it's keeping those boards active. So then you're going to have to think about how many boards you have and how much content you have to fill those boards. So how many pins you save a day really depends on how much content you have. Obviously somebody who has 300 blog posts and they've been at this food blogging thing for a long time, is going to be able to save more pins a day than somebody who has just a few blog posts. Right. So it's kind of like this fine ratio that you need to think about. How many blog posts do I have, how many boards do I have, and how can I keep them active?

Megan:

Okay. So can we get, just run through an example? Let's say I have 300 blog posts that are active on my site and I have, maybe I have 30 boards in my Pinterest account. So do I need to keep posting pins, pinning content to all of those boards? Is that what you mean when you say you need to keep them active? Just kind of give us numbers for that 300 blog posts and 30 boards.

Kristie:

That's a good question. Do you need to keep all of those boards active? No. We should talk about a whole question. I don't know if we have a question for boards in here, Megan, but we should talk about those. How many boards? Currently, right now I have, I don't even know how many boards I actually have, but I'm currently only keeping 10 active. Because that for me is manageable and that's what I'm testing and experimenting right with right now. So I guess we can do it on boards right now.

Megan:

Yeah, let's do it.

Kristie:

Really with this, less is more right now on Pinterest. So this is being recorded by the end of July 2020, and Pinterest is really focusing on not creating duplicate pins. That's meaning saving the same pin to all of our boards or multiple times the same board. In this timeframe and how Pinterest is working right now, who knows next year? But how it's working right now is they want us to not save as much content. So for a lot of us, we don't need as many boards as we did two years ago, where there was the trend to have multiple boards for the same topic. So most of us can really function well. Then again, it really depends on how broad your niche is. So if you only have dessert recipes, you don't need as many boards, right. But if you're making recipes for all sorts of categories, then you're going to need more boards because the relevance thing comes into play.

Megan:

Okay. Yeah. That makes sense. Yeah. That makes sense.

Kristie:

It's hard for me to give a very specific answer because all of our accounts are so different and your content is so different.

Megan:

Yeah. That makes sense. If you have a dessert account, all you do is desserts, you're not going to be able to create as many sub categories. For me, I have so many different categories. I do salads and main dishes and within main dishes you can think of 90 categories there and I do dessert. So I feel like an account like mine, I could do a ton of boards and I do, I have so many, but you say like keeping them active. I don't know how many I actually actively use. Maybe that's something that I should think about. So if I went through and found the top 15 that I use, those are the ones that I should be focusing on?

Kristie:

Yes. They should be the ones who are focused on and you can really mash it up nicely with your blog accounts. So here's my action plan for finding your boards; you're going to go to your blog and look at your categories, your top categories. The ones that you're actively using. Hopefully you've done your content plan and you have a good foundation on what categories you're publishing in. Then you are first going to start with just one board for each of those categories. As you get bigger, you have more content. So say you do have 300 plus blog posts. You could probably have one or two boards that are kind of related to those categories, but a good baseline is just to have one board for every category that you blog about. That's a really good starting point to focus and keep those active. Because you know you can, you know you have content for that category, you know you can keep it active.

Megan:

Okay. So that that's very good information. So then what do we do with those other boards that we aren't going to focus on? Do we just kind of let them die off? We don't want to delete them. What do we do with them?

Kristie:

Yeah. So you don't need to delete them. So say you have a random category that you post about once in a blue moon. Know that if you come back to it and you save it, your impressions probably aren't going to be very high on it and you'll see that as you track it. So leave it up, but know that you're going to have to do some work to get active again. That's going to be kind of in that relevance thing is that, Hey, you know, I have a blog post coming up about chicken, but I haven't written about chicken since last year, chicken dinner recipes. So I'm going to go do some searching on Pinterest. I'm going to say some of their content about chicken dinner recipes on this board, so I can get this board active again and then I'll be able to save my content so that it gets a higher impression and engagement rates.

Megan:

Can I give you an example? So main dishes for me, I have a lot of different categories that fall underneath that. So I have chicken, I do like chicken and turkey together and then pork, beef and then casseroles. There are so many things. How would I pick the top categories? , don't know. I mean, I feel like there are so many different ones, I would need to pick like 10 of those. Would that be okay if I'm using them all?

Kristie:

Yeah, that would be okay if you're blogging about all of them. If you're creating recipes for about all of them. Main dish is a very broad category. Which isn't very helpful for Pinterest in the term of relevance. So you do want to narrow it down. But if you only have one casserole dish, then you don't want a casserole board. But if you frequently are making casseroles, then having a casserole specific board is going to be a good idea because you can keep it active. You can save relevant content. But if you only have one casserole dish, you're going to find something else that it goes to. If it's a broccoli casserole, then maybe you blog a lot about broccoli. And that was probably a really bad example because who blogs a lot about broccoli. But you get the point, right? You could find a different spot for it that it's more relevant in.

Megan:

Broccoli is delicious. We should all blog about broccoli more, I think. So the number of pins is something that you can't really give a number for. It's going to depend on so many different bloggers and niches and situations and Pinterest accounts. So really there's no set number. Is there a number that we shouldn't go over? Let's say somebody has a thousand recipe posts on their blog and they want to get up all kinds of content as much as possible onto Pinterest. Is there like a cap?

Kristie:

So best practices, if we reference our interview with Pinterest and Tailwind, they're really saying, really over 30 are not going to be shown anyway. So Pinterest doesn't want you spamming your followers. So they're just not going to distribute your content after a certain while, because you've just been saving too much. Even if you go to your following tab on your phone, you can see when people have pinned too much at the same time. I was actually grouping them together. Since it's a podcast, I can't visually show you that. Maybe I'll send you a screenshot for later, Megan. They're grouping it together, they're not even showing individual pins. They're just saying so-and-so saved a bunch of pins.

Megan:

Okay. That's interesting.

Kristie:

So you don't want to save too much. So really, 30 is kind of that top off number. I've heard some people going a little bit to the 40 50, but I think most people are saying right now that 30 is kind of that top off number. Our heads do work better with a specific number. If you are using a scheduling tool, you do have to set a number, right? You have to pick, I want this many pins to go out today. So definitely decide on how much content you have. If you think that if you're on the higher end, you can go to that 30. But if you're on the lower end, then you could go to 10 or even less. I had a student email me this week and she said, I'm a brand new blogger. I have less than 20 posts, but I keep hearing people say that I need to pin 10 to 30 times a day. With only 20 blog posts to pin 10 times a day, I'd have to pin half of my content, every other day. So for her right now, it's not very practical to even pin 10 times a day.

Megan:

Yeah. That makes sense. Cause then you would just be delivering all of the same information over and over and over and people would get tired of it and ask, what are you doing in my feed? So don't annoy people and that's Pinterest's main thing is they don't want to be spamming everybody. They want people to be there, getting new content, fresh content. So you mentioned this earlier, they are not, as of the end of July 2020, they are not favoring duplicate pins. So what does that mean? So let's say I have an amazing zucchini recipe that would be really relevant right now because of the season. I want to put it in like five different boards. Is that a good idea or not a good idea?

Kristie:

It is a good idea. With space and with different images. As food bloggers, I feel like you guys are the luckiest in this different images game, because you're taking your own pictures, but you have the option to have lots of different angles, different pictures to use. So I feel like you guys are the luckiest in this game. People who are using stock photos, it's a lot harder for them to get different images, to distribute to those five boards, to not create duplicate pins. So for you guys, just know that you're privileged.

Megan:

We do have a lot to choose from, which is good. It makes it easier for us.

Kristie:

You definitely want to put them on those five different boards and get them spread out. Now first, I think it's important to note that we don't use Pinterest as an instant traffic source. That's hard for our mindset to talk about too, because in the past years, and this is just a habit that we've gotten into. We have a new blog post and bam, bam, bam, bam, bam. We're putting it on every board, every day, to get it out there. We're hoping to see that instant traffic. You want to see it right now. That's just not the way Pinterest is working these days; it's a simmer, it's a long burned thing. So you're putting it out there and you're going to see the traffic a little bit when you pin it because your followers are going to see it.

The big traffic is going to come over time as the ripple effect happens within Pinterest. So with realistic expectations, then you can be okay with spacing it out on your pins. So everyone has to experiment on their own account for what works best for them. I have been currently experimenting with at least two days apart. Even if it's a different image, that URL is getting spaced out every two days for me is what I'm currently testing. I'm even testing as far as, at a week at a time. So the same image. So let's do four because there's four weeks in a month usually. Say you had four images, you have four boards. Image one is going to go out week one on board one. And then this is really hard to talk about.

Megan:

I'm following you.

Kristie:

I'm such a visual learner. So image one, board one, week one. Then image two is going to be two days later, on the same board, maybe a different board. But I'm not going to save that same image again until the next week, at least. Not on the same board, but on a different board. Does that make sense?

Megan:

Yeah, that makes sense.

Kristie:

So we're just spacing it out for, I mean, it's always been suggested to space it out, but we're just spacing out further than we used to.

Megan:

Okay. That helps me a lot.

Kristie:

And we are definitely alternating it with different images and a good way to think about it is if you logged onto your Pinterest account on a desktop computer, you see like 10 or 15 pins, at the same time, if you were to look at your feed. You just don't want the same image to show up twice. That's a good way for me to just kind of gauge it. I don't want it to show up right in a row. They should never see it.

Megan:

That makes sense. Also, I wanted to point out that creating different images is actually a really slick process if you can get into it. Because I think people are like, what I did this forever. I was like, what? I don't want to create multiple pins. I don't have time. That was my thing. I don't have the time for that, but really if you go into Canva and like you said, Kristie, we already have all of the images, we're food bloggers who have access to tons of images. We take so many. So go into Canva, you can upload four different images within five seconds and then just create a few templates. You can drop those images and change the text. It is so easy. I started doing this this year and I was like, Oh my gosh, it's almost embarrassing. I cannot believe I was avoiding this for so long because it's really not a big deal. But we make it a big deal because it's like one more thing. So I just wanted to point that out. It's really not something that we should get hung up on.

Kristie:

Templates are such a life saver.

Megan:

Totally agree. So you mentioned dripping out. Obviously we don't want to write down in our calendar. You need to re-pin zucchini fritters two days from now. So that's why we all use a scheduling service such as Tailwind. So what are your thoughts about dripping out on Tailwind versus doing it manually or using something else?

Kristie:

Yeah. Great question. The scheduler versus manual is a big question, and a big debate. You'll see the top, you'll see the headlines, the click worthy headlines, I got this many pagers because I switched to manual or I got this many pages cause I switched to scheduling. I'm just going to say that that's not the case. It's not the scheduler or the manual process that made your success. It was your attention and your planning behind it. I use a scheduler because of my time. Right? Because it saves me my sanity, because I feel like I can plan it out better. It helps me be a consistent pinner. So I do use a scheduler. I do manual pins sometimes too, because if that makes more sense for me.

So you need to do what works best for your time, really is what it comes down to. If you can consistently remember and you have a spreadsheet or something for manual pinning, then do that. You can do that. That's fine. If you're not going to remember to pin your content and if you're not going to remember that manually, then you're going to lose out, right? So use a scheduler. So it really just depends on your personality type and your time constraints, whether that is going to work for you. What we don't want to do with the scheduler is to just schedule it, set and forget it and let it kind of randomly pin for us because then we might not see as high of results as we could have.

We need to be strategic when we're using our scheduler, because that is where sometimes people who manually pin have an advantage, is that they very much know that they are pinning. They're keeping their board active because they're able to say, I already pinned to this this week. Whereas when you're scheduling, you might not pay attention to that as much. You're just getting your stuff out. So when you sit down and do your scheduling day, you need to make sure that you're being strategic about how you're pinning, that you're doing relevant content to each board, that you're keeping your boards active. all those things go into play there. But definitely it's a time thing just to make sure you're strategic, whichever way you decide on.

Megan:

So in a nutshell, be an intentional scheduler. If that works for you. If you like doing it manually and you have time or I need to pin my zucchini fritters today, then go for it. But I think most of us benefit from that schedule because we're busy, we have other things to do. Then I was going to tell you Kristie about this little experiment I did in June, before I went on vacation. I decided to do a Pinterest experiment. So what I did was for the entire month of June, I created two different brand new pins for my top 50 most popular recipes. I would do one pin for recipe number one, on day one.

Then the second pin for that same recipe on day three. Then I just kind of staggered it. Then I was doing one manually and one from Tailwind. At first the ones that I'm manually pinning are all getting way more traction than the other ones, and I thought that was it. But then what I figured out was that, that wasn't, it, it was actually the template I was using. People were favoring this one type of pin that I was making. I had a text overlay on top and I just did one big image. And it was just really visually appealing as opposed to a different style where I was doing process shots. So experiment with manual and scheduling, yes. But also experiment with the style of the pins. Don't just put one style up. You can do so many different things; you can put in process shots. You can put in text. I remember you taught me this Kristie. Initially, maybe don't even write the title of the recipe, but try with dinner's done in five minutes or something that's just really appealing about the recipe. So it was interesting to me to find that people were liking just my style of pin versus anything else that was going on.

Kristie:

That's why it's so good to test it and also why it's so hard to analyze some of our changes on Pinterest, right? You were trying to test them manually versus Tailwind, but then you were doing the one image the same every time because there's so many variables. It is a little bit tricky, but paying attention to your analytics and then tracking and seeing you got with this there's consistency between these images. It was probably that.

Megan:

If you're consistent with it and you do it over a period of time, then you get trained. If I wouldn't have done that for 30 days, I would have thought this is frustrating. I'll have to do everything manually, but I just kept at it. And I was trying to figure out, what is it that people are liking? So it just, if you're going to experiment, I recommend doing it over time and really stick with it and pay attention. And Kristie taught me this. So thanks Kristie.

Kristie:

Megan, I think that this is such an important concept, is that you need to give it time. You can't say I tried it for a week. I think that 30 days is definitely a good boundary to test things in there. So definitely don't just try it for a week and then say, it didn't work for me or it did work for me, cause it just might've been a fluke.

Megan:

Exactly. So what about posting other people's content? Because I know the old rule is like 80/20, and that's what I did for a long time. Is that still the case? Should we be posting more of our own content or what are your thoughts?

Kristie:

Great question. This is another one that's heavily debated in the blogging world. There's a lot of confusion out there on it because people have been making up numbers for years. The experts have been putting out percentages like this 80/20 to help guide people, but it's just made up numbers because people want numbers. So then experts make up numbers for them because we feel like our heads need this exact number. But again, it comes down to my common answer is there's no right answer. So we already talked about the importance of keeping your boards active and know that differs depending on how much content you have, how many boards. So this is something to consider when you are considering how much content of mine do I save versus others? So people who have hundreds and hundreds of blog posts don't need to save other people's content as often as the new blogger does. Again, they can keep their boards active and they have enough relevant content to make your boards work.

So how boards work, is when you save something new to that board, Pinterest gets information about it and decides it must be about zucchini because it's on a board with other zucchini recipes, right? So if you don't have content about zucchini, then you have to save other people's content about zucchini to help Pinterest understand what your content is about. So it really just depends on how much content you have. So a brand new blogger might need to save more content of other people's than their own; for two reasons, because they don't have enough content and because they're still getting Pinterest to understand what their contents are about. People who have been blogging for years and have lots of content, they can definitely pin the majority of their own content, at least 80, that's fine.

Megan:

So Pinterest does not look negatively on bloggers who do that. If you have thousands of recipes to pin, it's okay to do that. They're not saying, Oh, you're being selfish. We're going to take away your Pinterest rates.

Kristie:

From all of the interviews and the information they've been giving us currently right now, they're not, as long as you're not spamming the system, like we've talked about with distribution and stuff. They're not going to penalize you for only saving your own content.

Megan:

Okay. That's great to know. I like hearing that because for awhile it seemed like that was kind of what we were understanding was that you did get penalized for it. But I like to hear that it's not like that anymore.

Kristie:

You're using this platform to grow your brand, to get your traffic, so it's okay to focus on yourself. Obviously there are the reasons that we talked about where it is beneficial to save other people's content and that's helping Pinterest understand and then know there's also that karma and I am hoping that other bloggers are saving my content. So I am still saving my friends content in the blogging world because we know that's how Pinterest works, right? It's this ripple virality effect. So I really hope that people in my niche are saving my content because they have my audience, they have the relevant boards. So I'm also doing that as a good citizen of our community,

Megan:

No, I'm glad you brought that up because yes, I have blogger friends that have amazing content and I want their content to circulate as well. Just kind of supporting our fellow bloggers and you Kristie, you put up amazing content too. That helps us, helps bloggers. So when I see content of yours or other content that I feel like this is really sincerely helpful and it's great content, then yes. I think it is such a good idea to keep circulating the good stuff and not the spammy stuff.

Kristie:

Right. So this is something I teach. I have a Feedly account where I just have bloggers that I trust and know in my industry. I can check it there and just easily schedule their content when they post new things. That way I'm not having to go look for new content. I know I already trust them and I want to help them. It's kind of that, when one boat rises, we all kind of do philosophy there. So I think it's really important to celebrate other people's content.

Megan:

I love it. So let's move on. We kind of touched on Tailwind as far as scheduling goes. Can you talk to us about a few of those little details within Tailwind, such as the Smart Loop. I'm always confused about that, whether or not I should do it. And also talk to us a little bit about Tribes and how to use those.

Kristie:

Okay. Great question. Smart Loop is really confusing sometimes. I think that Smart Loop works best for people with seasonal content. Whether that's, you have Christmas posts, you have Thanksgiving posts, you have summer posts, it works really well for those types of people. Because again, what we've learned from Pinterest is that they don't want us saving the same pin over and over again. So then you ask, why would I use Smart Loop then? It is okay to save that pin in a seasonal aspect. So Smart Loop makes it really easy for you to come in and say, every October, I want these Halloween pins going out. That's awesome that you can kind of set it and forget it in a way. Would it be beneficial to create a new pin still to send them? Yes.

In October it would, but for these other pins, it's there. But again, when it comes down to, is that your account and your content are different. So with my Pinterest dashboard, you can see the percentage of your traffic is coming from Smart Loop. One of my students, I was looking at her analytics the other day and noticed that 32% of her Pinterest traffic is coming from Smart Loop. For her, it's working. So she's going to keep it. I recommend that she keeps doing what she's doing and maybe it's working for her because she is using it. That's just something you need to track and see. And luckily, Tailwind is putting UTM URLs so we can track them. So you can really specifically see if it's working for you or not. It just comes down to testing things for a good chunk of time and then seeing if it worked for me or not, and then evaluating it and going forward based on that plan.

Megan:

Okay. How do you tell if it's coming from Smart Loop or not? I'm in my analytics now, do I need to click on the pin or is that in Tailwind? Where would I see that?

Kristie:

Do you use My Dashboard, Megan?

Megan:

Oh yes.

Kristie:

So if you use my Pinterest dashboard, I've already set it up for you easy and it'll say Smart Loop sessions or Tried sessions, and we've broken it up from there. If you do not have that, then you need to go into your acquisition and campaigns is what it's going to be underneath. If you go and click all campaigns, you can go ahead and see under there. If you're using them, that is, and then it's working. You're going to see one that says, Tailwind and Smart Loop in that campaign section.

Megan:

That's great to know. I think other people might find that helpful because I don't know, for me, analytics are overwhelming.

Kristie:

Yeah, they're just overwhelming. There's so many terms and places to click all these drop-down things.

Megan:

It is something you have to spend time with. If you really want to get to know it, if you do spend time there, it's easier. But at first glance, I think a lot of bloggers are like, no, thank you. Just pray it's doing well.

Kristie:

Yes. But I'm going to just encourage everybody to check it out. You can't just hope that it's doing well. The only way that you're really going to see if it's working is to dig into your analytics and check it out.

Megan:

Agreed. As much as we don't necessarily want to. So that helps. So let's say I have a Chili recipe that always does really great in December, January, set that in my smart loop, like you mentioned. Halloween recipes that are just solid recipes that we know do great every year, put those for Halloween and various holidays and seasons. But again, that's all going to depend on what kind of blogging we do and how seasonal our content is.

Kristie:

I love Tailwind, but if you don't have seasonal content, I really just don't feel like it's a helpful feature for those of us that don't.

Megan:

Perfect. Talk to us about Tailwind Tribes.

Kristie:

They are in the process of rebranding Tribes. So depending on when this podcast comes out and when you're listening, it could be called something different, but it's a Pinterest Tailwind group, community boards, type thing. Tribes are where you're submitting your content for other people to then save your content. So this is different from group boards on Pinterest, because it's not actually going to Pinterest. You're just saying here, Hey, I have awesome content. Maybe you want to save it. Usually these groups, these Tribes have rules around them. Where if you submit something, then you need to go and save other people's content. So if you don't have a foundation on people's content to save already, like I mentioned, with having a Feedly account, this is a really great way to find content, but it's also a really great way to help your content be distributed.

You know that I'm a big believer that what other people are saving our content from our sites, it's helping our domain, our page rank score. So I am a big fan of Tribes because I feel like they're a way to help, especially for newer bloggers who don't have a big audience, it's a way to get our content distributed on Pinterest. It's the way to get us more exposure. So definitely, if you are newer, this is something that I would recommend focusing on and finding active Tribes because you're only going to be as successful as the Tribe that is active. So finding active tribes to participate in, is a really great way to just get more exposure.

Megan:

Each one has slightly different rules? If you contribute something, you need to pin two or whatever it is. I think for newer bloggers, especially, it's a really good way to get your content circulating in a kind of organic way. People have to go in and do that. So I'm glad you're in support of that. Are there any new features or anything else we need to know about Tailwind Tribes coming up?

Kristie:

No, but I think they're just working on changing the name. If someone was looking for it and the name changes by the time they hear this, but that's all.

Megan:

Okay. Then we kind of glossed over this maybe because I don't focus on it, but group boards on Pinterest, not on Tailwind, just regular group boards. That used to be a huge thing in a good way for people to circulate their content. Are those a thing anymore? Should we be focusing, ignoring, what are your thoughts?

Kristie:

Group boards are definitely on their way out. In the SEO world, we talk about white hat, black hat, kind of gray hat, group boards were marketers kind of gray hat area. We were working the system, and Pinterest has realized that. We weren't using them as we were supposed to. So they're not being distributed as heavily anymore. With that said everyone's accounts are different. To see if your group boards are working, that's going to be the biggest way for you to know if you should use them. You can very easily find out. So we're going to go into analytics. We're going to use our Pinterest analytics. You're gonna go to overview. Then you're going on the left hand side, you're going to choose your domain only, under your claimed accounts. Then you're going to go and look at your top boards and just see, are any of them group boards. If you have a group board in that top 10, then Hey, it's still working for you. Then still use it. Because if it's working, use it until it's not.

Megan:

I was just talking to a blogger recently, who said I get so much Pinterest traffic from group boards. I was like, what? I didn't know people were doing that anymore. I thought that was so interesting to learn. I'm looking through mine. I don't see any, I don't see any group boards right off the bat, that's definitely something that we should keep an eye on and why not? Analytics are revealing. So keep your eyes on those. So that's great information about group boards. Now I wanted to ask you, this was not in our notes, so I hate to put you on the spot, but what do you think about video pins? Because I know some bloggers are having wild success with pinning video and some are not, and it is that one of those things, it just depends on you and your niche, or is there a heavy preference for video from Pinterest? What are your thoughts?

Kristie:

Very, very good question. So here are my thoughts on video pins, and I'm going to add, I'm going to put story pins in there with this. They're kind of newer and rolling out to everybody, but they kind of serve the same purpose. So video pins and story pins do not easily link back to anything on your site. At first glance you say, Hmm, not worth it, right? But video and story pins help the health of your account. Pinterest is putting an emphasis on them. The recent article I read from their engineers is that they're like they have some sort of ratio number that they want to show in the Pinterest feed of videos and stories versus regular pins. So they will help you improve your boards impression rates, because Pinterest is showing them. If you have a video pin that is doing really well, while it might not send you traffic, which is the usual thing we look at, to see if our Pinterest is successful, they are giving way higher impressions on videos and story pins.

I just posted a story pin and the results were astronomical for me. It blew everything out of the water. But story pins don't link to anything. It had 50 saves instantly. It was just quick. I was so excited about it. So you think, it doesn't do anything for me, but it is going to help improve everything else on that board. So while they are worth it, you don't want to do only those things, but they are worth it every now and then to help improve your Pinterest account and your overall account.

Megan:

So it really can't hurt right to post them occasionally. Then by occasionally do you mean like a couple of weeks, once a day? What are your thoughts?

Kristie:

I'm just gonna be honest. I don't have enough study or research on how much, because this is still something that's kind of newer. Obviously, if it's not bringing me traffic, I'm not going to spend a ton of effort on it. But because Pinterest is prioritizing it right now. If you have time or if you already have the video that you've created for Instagram, then it's not going to hurt you to put it out there.

Megan:

I always say if there's a platform that is obviously prioritizing one feature, do it.

Kristie:

They're going to love you for it.

Megan:

Yeah, exactly. Do what they're saying. There's a reason. So I think that it just can't hurt. Now you mentioned story pins. Are you talking about videos that you record in stories and then send over to Pinterest?

Kristie:

So story pins are kind of interesting on Pinterest. Basically it's kind of like a swipe thing. So it's like Instagram where your story, it swipes through different chunks and it can be video or it can be pictures. So we're telling a story about this recipe, and so they all match and you create it directly inside of Pinterest. So go into Pinterest and you might not have access yet. I know most of the US does have access; outside of the US may not have access yet, but I think most business accounts in the US have access now. You can upload up to 20 images and it's this swipe thing. It's very new. So Pinterest is focusing on it right now. Because not very many people are using it yet. Those that are, are seeing really, really high numbers, but they don't link to anything. They don't even let you. The video lets you add in a link at least. You can find it if you try really hard. The story pins are no links whatsoever.

Megan:

Okay. Is it obvious how you create a story pin? Because I'm trying to find it and it's really not obvious to me.

Kristie:

So maybe you might not have it. If you're on your Pinterest home like that business hub and you click the create button, underneath there, it'll be create a pin or create a story pin, if you have access.

Megan:

I don't think I do.

Kristie:

It'll come eventually. Once you have access, you can give it a try.

Megan:

That's good to know though. It's good to have on our radar, even if it's not up right now. So we've talked about a lot. I'm trying to think about things that maybe we're missing. So we talked about what to focus on. We didn't talk about new versus old content. So, obviously anytime we post something new, we want to get that content and then we want to drip it out, create a few different pins. What about old content? How often should we revisit that?

Kristie:

Great question! Everyone is experimenting with right now, right? Then there's the difference between old content, new pins or old content. And by pins, meaning images, right? Old images. What we're seeing and we've seen this for a long time is that when you save the same image from an old content, it never performs as well as the original, right? It's the diminishing returns thing, which we see even in the SEO world, if you get a link back from the same article or the same blog with the same URL, there's a diminishing return, right. It's not as valuable anymore. The same kind of thing on Pinterest. When we're saving the same image again, it has diminishing returns, with the exception of those seasonal Halloween, holiday type themes. Honestly, lately I've just been refreshing old content on a seasonal basis.

So even for my content that isn't seasonal, I just have a calendar of my blog posts. This was published in July last year. I'm going to bring it back again. It's just not beneficial saving the same images anymore. Even going forward, they're going to keep pushing that down. But if you don't have enough new content or you really have old blog posts that you want to resurface, you do have to do that, create a new image and save it again. So depends on, do you want that to resurface on Pinterest or not? Also depends on if other people are saving your content, because there's a virality effect. If people are already saving your content for you, it's working for you. You're not having to bring it up yourself, because other people are doing it. That's the beauty of Pinterest, is that your followers are just the beginning. And if it's circulating Pinterest, even though it's old content, other people are pinning it for you, that's kind of fresh in a way. Because other people are doing it. So I get it, depending on your account.

Megan:

Yeah. Overarching theme of our talk. But it makes sense because like I said, in the beginning, Pinterest is such a massive platform. I mean, there's not going to be a set formula for all of us. Although we want to hear that there is, it's just not. So you've got to figure out what your strengths are, what your niche is and what you're focusing on and pave your own way with it. I think this is a really good conversation to help people realize that and help people realize what they need to be doing and you know, all of their specific numbers and all of that. I liked what you just said because a lot of us get frustrated, especially those of us who have been blogging for a long time when we see like a really ancient pin pop up, that's just like killing it. We wonder, why is it doing that? Then we put new content up. We reshot the photography and it looks great. Then we put that pin up and it just doesn't do anything. So it can be so frustrating. I think that's not the norm to see those old pins doing great. But every once in a while, I have this meatloaf picture that's just hideous. It has been great forever, I don't understand it.

Kristie:

Because it's working, right? It's doing a Pinterest cycle and people keep saving it, for whatever reason. But I understand, I have ugly pins that live on and the new ones don't.

Megan:

It makes you scratch your head.

Kristie:

But those new ones, those new images, again, they're new, so they're not going to perform as well at first, it's that simmering kind of thing. So, even if you weren't seeing immediate action at first, they will in the future. Another thing to know on those old pins, sometimes people are only uploading the new images to Pinterest directly. Then the old image is on their site. If people are going to that old image through say, they're finding you on Google and the old image is there, and they're like, I love this recipe. I'm saving it to Pinterest. They are saving that old image and not the new image.

So while it doesn't exactly matter where you're saving it from directly from Pinterest or directly from your site, other people are saving the one from your site. If they are finding you from another platform. I know a lot of food bloggers were very successful on Google as well. So if they're finding you on Google and then they're saying, I want to make this recipe again next week, I'm going to save it to Pinterest. That image is going to be successful. I just totally like cliff dived off of our topic.

Megan:

No, you're good. I think we're just wrapping up some loose ends. So that was good. I was going to ask you one thing. I mentioned earlier, you taught me this, just to kind of look at pins in a new way. Do you have any advice on that? How to take something old and just to kind of refresh it, like you had mentioned. Don't necessarily think about putting a title in, put something else in, what are some other creative things that we can do to give that old content a really nice refreshing facelift?

Kristie:

I'm a really big believer that the words used on pins don't have to be the title. You got to just think of it more like an ad. What's going to capture their attention. So I like to think of their pain points in regards to your topic or the benefits of your content, your recipe versus others. So say you were to be ranking on Pinterest search for a chocolate chip cookie. There's a billion chocolate chip cookies on Pinterest. What makes yours different? That's going to be a good way to kind of figure out how to do different types of pins. Pulling out those benefits and featuring and highlighting those on the pin. So maybe all it says is chewy, and it's one big arrow pointing down to the cookie. You don't need to tell me it's a chocolate chip cookie. I can see it, the chocolate chip cookie, especially for you guys, but all it says is chewy and people who are looking for a chewy chocolate chip cookie are going to be like, sign me up. I'm going to click on that one.

Megan:

Yeah. Food photos kind of state the obvious, right? It's very clear what it is, unless it's not, unless it's like a casserole with a bunch of mushy ingredients and maybe you need to tell people what it is. For most of our food, it's pretty obvious. If it's a mouthwatering photo, which it most certainly is, because we all take those mouthwatering photos, then yeah, I love that idea. I started doing that after you recommended it, after I heard you speak for the first time Kristie and I found a lot of Pinterest success with that. Just one or two words, 30 minute dinner. Okay. That was three. But chewy or whatever it is. Find that thing that makes it really unique and different from other people. I don't know, that's something to test with for everyone listening.

Kristie:

You guys are already taking amazing, amazing pictures and like you said you don't always want to reshoot the picture. So changing up that text a little bit is good, and then letting your food do the talking. You guys have worked so hard on these images. You've worked so hard to stage them and prop them. I know that's a ton of work, so your food is delicious. Let it do the talking and then just play with the words a little bit. That's a good way to freshen it up.

Megan:

That's my favorite thing. I love that piece of advice. So thank you. I was going to ask you just for kind of a baseline strategy for people who are just newer food bloggers or they've been in the game for a few years and they're frustrated because I know that's a common theme. They think, I just don't know where to start. What do I focus on? Do I focus on pin count? Do I focus on creating new multiple pins? What is a baseline strategy for these people?

Kristie:

Okay. We had two different groups there. We have the brand new people and then people who've been on Pinterest, but still not figured it out. Or just brand new to Pinterest, is that right?

Megan:

A brand new food blogger or someone who's just never figured it out. They're just frustrated.

Kristie:

Okay. Because established bloggers who have Pinterest working for them, they don't have to worry about the specifics as much. Because it's working for them. They can put their content out, people save it and then that ripple effect happens. So we are talking about the other people. What can they really focus on? I'm just going to say that relevance is what they can really focus on right now. So Pinterest is all about relevant content. So when I say relevance, it's those boards. It's keeping those boards active and relevant, right? So you want to just focus on a small number of boards. If you're brand new, you haven't figured this out. I want you to focus on five boards at first. You're going to focus on making sure that you are saving content, your own and others, that helps Pinterest understand the context of those boards.

That's going to be your main goal, is just focusing on getting Pinterest to understand that content. A good way to know if Pinterest is understanding your content, is to go to that board. You can click on and see more ideas for this board. If you click that and if Pinterest is recommending the type of content you are hoping that is on that board, then they're starting to understand it. If it's content that is not related to the content you're saving on yours, then you need to work harder on helping Pinterest understand that. So as new bloggers, Pinterest doesn't know your domain yet, they don't know what your content is about. So you need to help them. That would be my suggestion. Focus on five boards and just really helping them become active and relevant.

Megan:

I love that recommendation just to go down to the more ideas. So if you're in a board, I'm in one right now, just trying to see, it's actually at the top now.

Kristie:

It depends on if you're on mobile or desktop.

Megan:

So more ideas and then that gives you an idea. Oh wow. That's really interesting. That's a great recommendation. Awesome. It's as simple as that, right? Just find those boards that you really want to do well and focus on and keep them active and keep everything in there relevant. Whether that's with your content or others' content or both. Pinterest will get the hint and favor that. That's great advice.

Kristie:

Then you're going to see it, as you focus on those boards, you're going to start noticing, Hey, the impressions are getting higher and higher. If they're not, then maybe we're doing something wrong, but you know, normally I'm a traffic girl over impressions, but as you're working on getting those boards active, you're going to start noticing the impressions before you notice the traffic.

Megan:

This is all great stuff, Kristie. We're running out of time, but is there anything we've talked about that you feel like we missed out on that we should cover quickly?

Kristie:

Nope. I think I just would just end with that your account and your content is different than everyone else's. While it takes a little bit of effort at first, because you're not following a template. We all want a plug and play template, but at first you're just going to have to test things out for yourself based on our best strategies and then track it with your analytics and see what's working and what's not working. Then you're going to be able to make your own plan.

Megan:

Great advice. Thank you so much, Kristie, for everything you've shared, this is amazing. I know this episode is going to absolutely get eaten up and devoured. So thanks for being here. Before you go, I like to ask my guests to share either a favorite quote or words of inspiration for food bloggers. Do you have anything for us?

Kristie:

I do. I have a quote and I know we share this author and he's one of our favorites, both of ours. We both like James Clear, Atomic Habits. So one of my favorite quotes is, "It's the ability to do the work when it's not easy, that separates the top performers from everyone else." So I know it's not easy to figure out your own Pinterest strategy. I know it's not easy with all of these different numbers and ideas and suggestions, but if the people that are going to put in the work that are going to do it, you're going to be the ones that are going to come out on top.

Megan:

That's so perfect to wrap this up. Thank you for sharing that. So we will put together a show notes page for you Kristie, and we'll put some resources on there. Just everything we've talked about. If you have time to send over those screenshots that you were talking about, that would be great. Then we'll just put everything there. If you want to look at it, you can find that at eatblogtalk.com/KristieHill. Kristi is K R I S T I E. Before we go, you have so many amazing resources that help bloggers and specifically food bloggers. I found so much value in those. So why don't you tell everyone where they can find you online and also how they can get access to some of that really great stuff.

Kristie:

All right. You can find me online at kristiehill.com and the number one thing I recommend you go and grab today is My Pinterest dashboard, which you can find at Kristiehill.com/pinterestdashboard, or just Google Kristie Hill Pinterest dashboard. It's going to pop up there for you. This is going to make checking your analytics so much easier and not confusing, no clicking, and really to be able to see your top pins, your top posts, best time to pin, your total sessions, Pinterest sessions, et cetera. So that's really going to help you if they draw your best strategy.

Megan:

Join Kristie's email list. It's amazing. I love it. Every single email I dive into, so definitely recommend that too. So thank you again, Kristie for being here and thank you for listening today, food bloggers. I will see you next time.

Intro:

We're glad you could join us on this episode of Eat Blog Talk. For more resources based on today's discussion, as well as show notes and an opportunity to be on a future episode of the show, be sure to head to eatblogtalk.com. If you feel that hunger for information, we'll be here to feed you on Eat Blog Talk.
---
💥 Join the EBT community, where you will gain confidence and clarity as a food blogger so you don't feel so overwhelmed by ALL THE THINGS!
📩 Sign up for FLODESK, the email service provider with intuitive, gorgeous templates and a FLAT MONTHLY RATE (no more rate increases when you acquire subscribers!).
Read this post about why I switched from Convertkit to Flodesk!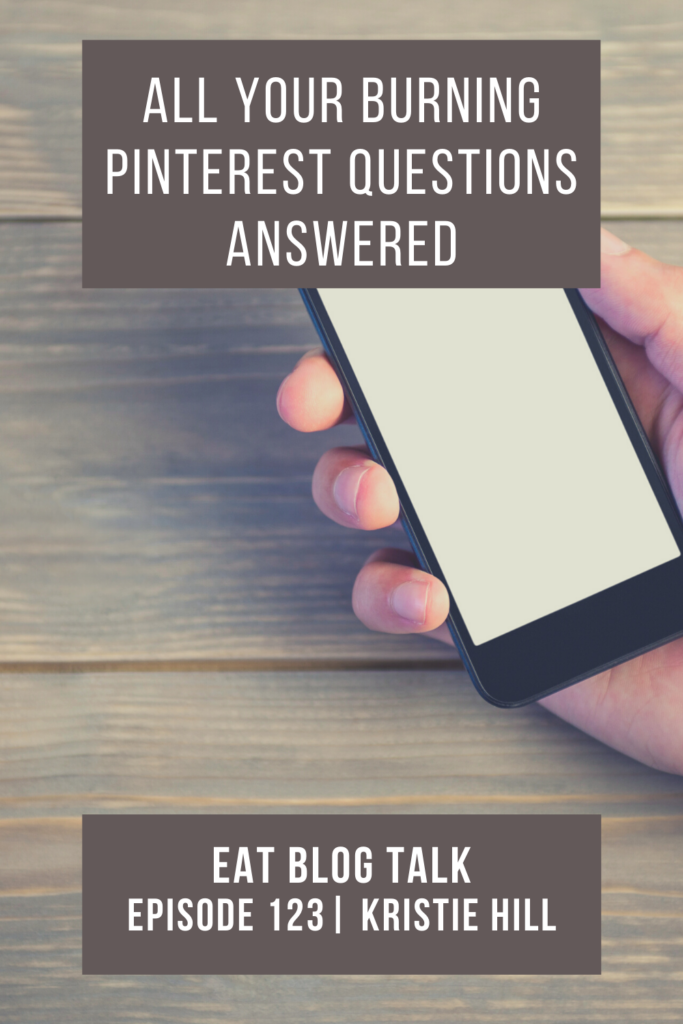 Questions or comments on this episode?
Head over to the Eat Blog Talk forum post about episode #123 to leave any questions or comments. We'd love to hear from you!