In episode 174 we continue the conversation with Kate Ahl of Simple Pin Media, about how we can up our game with Pinterest this new year.
We cover information about the importance of Story pins, the frequency we should be sharing our video pins and what to expect with sponsored work in 2021!
Listen on the player below or on iTunes, TuneIn, Stitcher, or your favorite podcast player. Or scroll down to read a full transcript.

Write Blog Posts that Rank on Google's 1st Page
RankIQ is an AI-powered SEO tool built just for bloggers. It tells you what to put inside your post and title, so you can write perfectly optimized content in half the time. RankIQ contains a hand-picked library with the lowest competition, high traffic keywords for every niche.
Guest Details
Connect with Simple Pin Media
Website | Instagram | Facebook
Bio
Kate Ahl is the owner and found of Simple Pin Media, a Pinterest management and marketing company. She helps businesses use Pinterest to reach more people. She also hosts the weekly Simple Pin Podcast for those who want to DIY your Pinterest marketing.
Takeaways
Story and Video pins should be on your Pinterest marketing plans this year.
Diversification is important in engaging with your audience in 2021.
Get creative with your marketing and really hone in on who how you want to appeal to your audience with your pins.
Story pins are easy to create and and can be a step-by-step visual of how to create a dish and shouldn't take much time to put together.
Just do it ugly. ~Kate on getting your first Story pin.
Create a card in Canva to add at the end of your Story pin to direct the user to search for your recipe on Google with your dish name and blog name.
Don't compare your pins to another accounts. Your users aren't comparing them, so you shouldn't.
Plan on publishing 2 Story pins a week and keep up with your regular pinning. If you can pin 1 video a week, do that too.
Start tracking your success on Pinterest and noticing trends.
Sponsored posts can benefit from you creating a Story pin for them – it won't gain clicks but it's great for Brand awareness and impressions on Pinterest.
Make sure your Story pins are about your good content, not about you, the influencer. Pinterest doesn't care about you.
Want More Traffic Building Episodes?
In episode 098, Yumna shares with us about staying current on Instagram and some tips to be successful!
Resources Mentioned
Grab your FREE 2021 Pinterest Planning Guide from Simple Pin Media!
Grab Pinterest templates for Photoshop from Simple Pin Media!
Grab Pinterest templates for Canva from Simple Pin Media!
Need Help Getting Started with Videos?
Jumprope can help you create videos on your phone to use on social media to grow your audience in episode 161.
Transcript
Click for full text.

Intro:

Welcome to Eat Blog Talk, where food bloggers come to get their fill of the latest tips, tricks, and insights into the world of food blogging. If you feel that hunger for information, we'll provide you with the tools you need to add value to your blog. And we'll also ensure you're taking care of yourself, because food blogging is a demanding job. Now, please welcome your host, Megan Porta.

Megan Porta:

Food bloggers. Hey, are you looking for new ways to make money as a blogger? If so, we have got your back. We have launched an ebook called Conversations On Monetization. Inside this resource, we take your favorite podcast episodes about monetization and we put them all in one easy accessible package. We threw a few exclusive interviews in as well. Friends, there are so many ways to monetize your food blog. Inside this ebook we have interviews with success stories like Todd Bullock, Alyssa Brantley, Kelly McNelis, Jenna Carlin, and more. All of these examples have become successful through completely different monetization strategies. Whether you are a brand new blogger, looking for your very first revenue stream or you are a seasoned pro wanting to diversify, this ebook is for you. Go to eatblogtalk.com to grab your copy. And we can't wait to hear your success story with monetization.

What's up food bloggers! Welcome to Eat Blog Talk. This podcast is for you, food bloggers wanting value and clarity to help you find greater success in your business. Today, I will be having my second Eat Blog Talk interview with Kate Ahl from Simple Pin Media. We are going to talk about setting Pinterest expectations in 2021. Kate Ahl is the owner and founder of Simple Pin Media, a Pinterest management and marketing company. She helps businesses use Pinterest to reach more people. She also hosts the weekly Simple Pin Podcast for those who want to DIY your Pinterest marketing. Kate. I'm so grateful that you're here again. It's so good to talk to you the second time around. Before we dive into Pinterest, I know everyone's dying to hear about Pinterest, but we also want to hear your second fun fact.

Kate Ahl:

First, I'm so excited to be here talking about this. My fun fact is, during the time of COVID and I've always known this about myself, but it has really had a resurgence. I love puzzles. I love them. I love thousand piece puzzles and they are probably one of the most relaxing things for me and helped me organize my brain as I do them. So in this last year, and I used to love them as a kid, but in this last year, I just think that they are the best.

Megan:

I think you're not alone with that. I'm guessing that a lot of people dove into puzzle creations.

Kate:

Yeah. I actually did hear that a lot of puzzle companies were seeing tremendous growth. In crochet and embroidery and all of that, these things we could do at home and I totally get it. I think if you're a person who likes to organize things or I just put a podcast in and do it for a little bit of time and it's delightful.

Megan:

It's a way to just disengage your brain, I think. You go on autopilot or something, your hands take over and you're just putting something together and it allows you to think. So I'm with you. I did create a puzzle too during quarantine and I'm sure many people listening can probably say they did the same, but love it. What was your favorite puzzle? Did you have one design that was just amazing?

Kate:

Yeah. I figured out what designs I do like. My daughter kept picking these Thomas Kincaid ones that are really brushed strokey and I realized, these are killing my eyes, number one. Number two, they're really hard. I found this company, it's on Amazon. Flow puzzles and they're really bright and just really cool designs, kind of like a rifle paper company. So I realized I like that brighter design, it's much more appealing. Just this last weekend, I went to a little local store because I wanted to support locals and bought a really pretty world puzzle with bright flowers. So bright is the way to go. I don't like them being muted. So I've done them. I've done them all. But that seems to be where I'm at now. I'm becoming like a puzzle connoisseur, like wine. I'm like, I like this one. It feels kind of geeky, but you know, some people are really into books. I can do a thousand piece puzzle in three days. And I don't want my kids to do it with me. How bad is it?

Megan:

So are you one of those that's like, no, I put this together. Step away. It's my puzzle.

Kate:

100%. If they pick it out, I will do it with them. They've since wanted to glue their puzzles together and stuff. But if it's mine, I'm not sharing.

Megan:

That's mine.

Kate:

Like my water, don't drink out of my water bottle. That's mine.

Megan:

Oh, I love it. That's super funny. Okay. Pinterest, Kate Pinterest is crazy. I mean, I shouldn't say that because I actually love Pinterest. I've always loved Pinterest. I still love Pinterest. No hate from me, but it was weird in 2020. There was the emergence of the story pins. I felt like every time we kind of had a handle on what was going on and maybe came up with a new strategy, things would shift. On top of that, we had COVID and quarantine and all of that to deal with. I don't know, I just feel like it was kind of an unusual year and I don't think I'm alone in thinking that. But now we're in a completely new year, 2021 is here. I do realize that you are not a Pinterest fortune teller, but what are your thoughts about this? How can we strategize with Pinterest in the coming months and in the coming year?

Kate:

Yeah, I think, I think To answer that question, it's important to look back at what you just said. What happened in 2020? I think we saw this doubling of Pinterest users. Pinterest said internationally, they grew by 37% in users. We saw them go from 280 million to 480 million. It was just this huge jump. Then what we also saw is that introduction of all these new features on Pinterest, which were good, and we knew they were going this direction, which is to help keep people in their ecosystem longer. Cause that helps their ad rates. It makes them look appealing to any kind of company wanting to advertise. So we did know that was coming too, but what they threw in there was this controlled distribution algorithm change. What it basically was to say that, Hey, we know that not everybody is looking at story pins.

We know not everybody is looking at video pins, but once they give us an indication that they've either clicked on it or looked at it, that tells us they're interested in it. So we're going to start dripping it into their feeds a little bit more. So what we saw was that people who were, let's say food bloggers who embraced the story or video pin, tend to get some good, really good headwind with it. They got not only an increased number of followers. They tended to get more direct traffic and they were seeing some good engagement. The same with video. We tended to see those people kind of take rise. Well, people who are having trouble wrapping their brains around story pins and how they were going to look or doing video pins, they were just sticking with this kind of static pin, which is just a regular pin, right?

They were just regularly pinning. We did see their traffic decrease because there wasn't that diversification. So if I had to give any plan for 2021, it's diversification and really getting creative with your marketing and being really focused on who you're trying to appeal to. I think this was such an aha moment for me and even my business, is that sometimes I think we get so conditioned to our tactical elements and playing to an algorithm, that we actually forget we're really still serving a person over there. There's somebody on the other side of the screen, who's searching for something that we create or a recipe that they need from us. I see the people who are both diversifying and serving, tend to be leading out front. I know that's tough for people to wrap their brains around, but that's really what I think for 2021.

Megan:

It's funny how it all comes back to that all the time. Isn't it? No matter what platform we're talking about, we go through, it seems like struggles and challenges and trying to figure out what's going on. It all comes down to that. What does your audience want from you? That's the case with our blogs, that's the case with Google. That's now the case with Pinterest. For so long, Pinterest was not like that. It was a place where I could go and just put one pan and it would get crazy traction. I didn't know who I was serving at that point, but it's not like that anymore. Everything is coming down to, first of all, who is your user and what the heck do they want from you? And really focusing on that. It sounds so easy, right? What if somebody doesn't know how to do that on Pinterest? Where do they start?

Kate:

Yeah, this is great because one of the things that I'm doing is I'm kind of getting into that brain, every single week spending two hours just digging in on my account and kind of wrestling through it. Okay, what does it look like to create a story pin? How long does this take me? What I like about story pins, is if you have something that's an easy, simple step-by-step recipe, it hooks people in pretty easily because it's easy to do. So I'm in the B2B space. So I won't talk as much about what I do, but I'll kind of take it and frame it on what I think a food blogger should do. Don't try to knock it out of the park and stay really singularly focused on your branding, your look, what you have. But I think we get discouraged when we go look at somebody else's page and we're like, mine just sucks compared to that. But we're not worried about that cause nobody else is putting your side-by-side with somebody else.

So I think, number one would be, if you've never done a story pin before, just do it ugly, just do it. The hardest part is just doing it. And I get it. I use Canva. So you have to go into, you can make them in Canva or you can just have the pictures and you can simply make them on Pinterest too. Just play around with it. So I would say that's the number one thing, for somebody who's never done this before. Just take your most popular recipe and turn it into a story pin. That's it. If you get good results, do not expect that every single time. I get a lot of feedback from people who say I did three story pins, they were incredible. Then my fourth one was horrible. Well, that's kind of the way any social media platform works, right?

So just keep going. I would suggest one to two per week, if you have that bandwidth. After you've created those one to two story pins per week, you want to keep up with the static pins that you have, the regular pins. Those regular pins are just, they're the bulk and the foundation of your Pinterest strategy. You're constantly feeding this content onto Pinterest, but with the exception that things look a little bit different now. So Pinterest has come out to say, we love that you're creating a lot of new, fresh images. We think that's amazing. However, we don't want so many for the same post. So what we saw back in 2018, when Pinterest said we want fresh images and a fresh image equals a new pin. Well, they've now come back to say, well actually a new image to the URL is just, that's a fresh pin right there.

You can't create more images. That will be seen as a new pin every single time. That was a big realization for a lot of people and kind of overwhelming. Oh my gosh, what do I do with this now? How do I spread out my images on Pinterest? What I think we came away with the answer was really less is more and not the old mentality of how do I get so many pins onto the platform that everybody sees them. I think you try to make two pins, three pins per URL that are really good. They're really different. So you might get a different angle. Somebody might engage with it in a different way. I hesitate to say how many to schedule per day, because I think everybody's different. Especially somebody who's new and just starting out with their food blog.

They're not going to be able to pin 25 times a day. So I want them to be less focused on the time per day and more focused on, am I able to get my pins out onto Pinterest to all these different boards and then supplement with some story pins. I think video pins are a great thing to have right now, but I know they're really tough. I know they're tough for me, so that if I was somebody who was a solopreneur, I was doing this all by myself. It would be really tough for me to try to learn to do video. So it's good to incorporate, but if we're just talking to the person who's totally new, I would say, just try one to two story pins per week, and then the rest do regular pins.

Megan:

Have you seen much traction with the Jumprope app? I know they are like a new app for food bloggers, not specifically for food bloggers, but I know a lot of food bloggers are using the app to create these very easy videos and they're uploadable to Pinterest and they are seen as a video. I've done a few and they seem to do really well. So that's a super easy way for someone to create a video without getting all of the production gear out and the cameras and editing. And it took me like 30 minutes to make my first one. It was super simple. I took a video on my phone and then you upload the videos individually to the app, it's called the Jumprope that you're making. Then that is viewed as a video to Pinterest. So that is kind of an easy cheat, a hack, if people are interested in checking that out. It's not super high quality, it's for sure doesn't rival actually creating a video with your camera and going through that whole thing. But I don't know if a lot of people really care. So I just wanted to mention that.

Kate:

Well, I'm so glad to hear about that. I haven't tried it. I like it. I've heard of people taking and repurposing Tik Toks and then also repurposing an Instagram story, a 15 second story. Turning that into something on Pinterest, because it's also seen as a video. I think where we have seen this rise of Tik Tok and people putting some of those on Pinterest and Pinterest has said this, we don't want your perfectly curated content, but I will say what we are seeing in the data, is that people are gravitating sometimes towards more beautiful pictures. The joke is, you know, the naked chicken breasts. It used to be everybody loved raw chicken breasts on the counter because it felt approachable, but those are being pulled back a little bit. This is where I think is going to be the really good focus for 2021. It's tunnel vision with your audience, by looking at your analytics to see what are people actually clicking on, what are they saving?

What are they telling me that they like? That could be a little bit different than your Google user or even your Instagram user. But if you're really looking to figure out what works for Pinterest, you might start to see a theme in some of the things that people are clicking on as they come to your site or what does get great engagement with a Story pin. Or like you said, the video with Jumprope. I think it's throwing out all these ideas that I think have been lingering for us, of how to do Pinterest over the last couple of years and looking at it in a new way. Which is hard. It's hard for me; we have 125 clients that we manage for. To think about getting all of that on page and thinking differently is hard. But, as we look at the iterations of all these social media platforms over the years, they've all had migrations. I mean, we can't do the same thing we did on Facebook. It's just not possible.

Megan:

Absolutely. I mean, that's part of the game is just being able to adapt because things are always going to be changing. There's never going to be a point in time when we're like, Oh, look at that. Pinterest is set. We're good to go for the next 10 years. That is never going to be the case.

Kate:

We want it to be.

Megan:

I know, that would be lovely, but that's not realistic. That is not feasible. So we need to just expect that there are going to be changes. I think that's part of the frustration is that people get settled with a new strategy and then they think, okay, we're good. I can breathe. Then something changes and they're like, what? What happened? It shouldn't be that surprising. I personally expect changes. I try to roll with it. But I think that comes with the territory of having been a blogger for a really long time.

So I think this affects newer bloggers. They're like, Whoa, what just happened? This is not the old Pinterest. It's not how it used to be. So I think that's a lot of it. Then just what you're saying too, Kate, is what are people liking from you? It's so simple to figure that out, right? You just scroll through your analytics, scroll through your created feed on Pinterest and look at the numbers. I'm looking at mine right now. And I see the hamburger helper that I posted. Not many people looked at that. My Story pin for healthy breakfast muffins. Oh my gosh. That went crazy. So just taking mental note and do you recommend recording that, writing that down and track it over time?

Kate:

Yeah, I do. Here's an interesting thing to note that we have seen kinda since last April, is that the first pin that you pin to the platform, tends to hold the most engagement. So we want to make sure that when you pin your very first pin, it goes to a board that has that same keyword. So what was the one that you said just went super well with your story pin?

Megan:

The healthy breakfast muffin.

Kate:

So if you put that on a breakfast recipes board, that's really helpful for Pinterest to know where to show people. Even if they don't follow you because they might have searched breakfast recipes or even breakfast muffin or whatever. So that helps the algorithm know. Once you go through all your stats, we recommend just using a basic spreadsheet. I'm not fancy at all. So I do like a few tools that we use for analytics. I know that Google just came out with the new G4 analytics and we're advising people, keep both the old analytics, the universal and keep the new with the G4 because you want to keep all that data instead of trading one for the other. We like Google data studio for dashboards. So that's primarily what we use. So we look at some of those numbers and then just put them in a basic spreadsheet.

We look at followers, we look at the top 10 pins that are driving the most clicks. We look at the top 10 pins that were saved, because sometimes those are different. Because pinners might not always want to take action right away, but they might have recipes they want to save for later to all these boards. So look at the clicks, look at the saves. Then you can look at the impressions too, to see how many impressions did things get. Story pins get a lot of impressions and they have impressions. I think it's like swipe throughs is one of them. Showing the closeups and then saves. I will agree with you, all of my Story pins that I upload do great. I mean, they're really fantastic and that's good for awareness and branding. Here's a little tip for food bloggers that I think as we go into 2021, I think Brands are going to be ready to spend money again. They're going to be ready to do sponsored posts with you. I think if you want to throw in a Story pin for that Brand, because Brands are always looking for impressions and awareness, and that's a really great value add that they might not understand yet. So throw that into your media kit or your package that you're going to sell with them, because that could not only help you, but obviously also help them and inflate some of the numbers a little bit with the impressions.

Megan:

Okay. That is not something I had ever thought of. I love that tip because, like I just said, my story pins go crazy on Pinterest. I have a lot of followers on Pinterest and that would be attractive to a Brand. I feel like I don't have much else to offer a Brand because I have a really low Instagram following. My blog traffic has been all over the place over the years. But that I do have, and I absolutely love that. I never would've thought of that.

Kate:

You know what else it does? The monthly viewer number on Pinterest is a highly debated number. I don't love it because it's a compilation of stats, all the stats over the last 30 days. But that is something to where if you get into this habit of doing Story pins, it will inflate that number just a little bit, to where that can be presented to Brands, because they're interested in those numbers, which is fine. But it can help increase not only your follower number, but increase your monthly viewer number, which will be lucrative to brands.

Megan:

Love that. You mentioned so one to two Story pins a week, minimum. Is it the more you do, the more traction you're going to get? The more love Pinterest is going to give you? Or is it just you need to do a minimum?

Kate:

What we're seeing, kind of what I talked about in the beginning with that control distribution, what Pinterest is looking for is, are the pinners going to interact with these? Once they do interact with them, we're going to show them more. So there's two places; one on the mobile app. When somebody opens at the top, we have those bubbles now that look like Instagram. We haven't seen any data yet as to how people are interacting with them, but we know that those are people you follow, so you can see them. So some people are clicking on those. It gets that in front of them there. But also Pinterest takes cues from the saves and the swipes like they do a static pin from the saves or the clicks. It gives them an indication that that person is interested in that particular topic.

So first, I will pull from that same content to show people. So it's like if Susie engaged with your Story pin for the first time. They at Pinterest might show them your second Story pin. So you might get that re-engagement with that same person again, because they're trying to get them used to it. They want them to engage with Story pins. So it's Pinterest saying, we want your Story pins, give us all of them. Then we'll show them to people. So I think that's why you have this, you do five in a row and they do really well. Then all of a sudden you get one that just doesn't do well. That's what we tell people, keep going. Don't let that one stop you, because we think that the Story pin thing is going to build over time.

I also think at some point, we're going to be able to make ads with them. Who knows that they're going to do the swipe up like Instagram does. There's a lot of possibility with Pinterest Story pins, but they are, I'll say this. They're very different in the sense that, on Instagram, you can talk about yourself and you can just do your face or whatever. You don't really want to do that on Pinterest yet. You still want to make it all about them. What's the recipe? How can you serve them instead of talking about you as an influencer, because Pinterest, they don't care. They don't care about you. They just care about themselves

Megan:

Right. Have you heard anything about users being frustrated with Story pins or are they mostly accepting it and loving it, loving them?

Kate:

We have heard some frustration, especially with the fact that they don't link. I've even had comments in some of my Story pins. Why don't these link? I think it's a training of the audience a little bit and we've had them in full, they've been out of beta and now they're being rolled out in the UK too, and other International areas. So I would say yes, they might be frustrated, but Pinterest is still gonna keep pushing them out there.

Megan:

They're forging ahead, it seems like. They're really standing behind it. I mean, I think they don't require a ton of time to create. They're really easy, like you said earlier, you can do everything within the platform and we've already got all the images for our recipes. So just text overlay, 30 minutes, if that maybe even less and the more you do, the quicker, it can go. A lot of food bloggers too, I started doing this, are putting an end card on the Story pins so that you can say, Hey, if you want the full recipe, go to my blog and here's what it's called. You can do that really easily in Canva and just use the same one. So that's a little tip to get people over there because I too have had a few people say, wait, how do I click? We have been putting the URL within the description, but then people have to copy it and paste it. People are used to being able to click over. So I think it just adds that one little step where they're like, wait a second. Why can't I get the recipe? So I think it's just a matter of time and getting people used to it a little bit more.

Kate:

Yeah, I agree. We put that at the end of ours. Get more tips for marketing on pinterest at simplepinmedia.com. I've also seen people put, go to Google and search Simple Pin Media. You can't copy the URL off the image. It's really hard on your phone. So if you do that kind of prompt, like go to Google, or go to your favorite search engine and search my site name, that is actually easier. There was a recipe that I wanted really badly and it looks so good. I said, Oh my gosh, I want the recipe. So I went to the profile, I searched around and they were doing a lot of Story pins, which was great. But then I ended up going to the site and searching that recipe because I knew what it was called and finding it and making it. And I think pinners, if they want something, they will go on a search. So don't just assume that it doesn't link that people won't, if they love it, they won't pursue it, which is why I think some direct traffic ends up increasing and when you start doing Story pins.

Megan:

Oh, interesting. That's a good way of looking at it too, because I've been there. I've been at that place where I'm desperate. That looks so good. I have to make that this weekend. I will search for 10 minutes if I need to, to find it. I think everyone has that experience. I like the idea of just saying, go to your website name and search for, instead of providing a URL. Or just providing other options for the user. I didn't even think of the mobile thing but yeah, if they're on mobile, how in the world are they going to type in HTTPS colon? You know, that is not realistic.

Kate:

They're not going to do that. They're just going to put it in the name of you or the recipe.

Megan:

Okay. I like that. That is very valuable. Is there anything else about story pins you feel like we should know? They're obviously sticking around. Do you have any other tips for us about those specifically?

Kate:

You know, I would just say, don't let the fear or the time constraint stop you. If you have a project that you're working on, don't do it in the middle of a project, do it when you're watching TV, do it when you're having a little bit more downtime. Cause it doesn't take as much work as you think. Do it on the desktop. It's really hard to do on mobile. So don't do it on mobile, do it on desktop.

Megan:

That's great advice just to kind of save it for a time when you're just relaxing. It doesn't have to interfere with your normal work duties for the day, because it really is super easy and streamlined to do. I am trying to see what you wrote. Oh, do it ugly, as Kate says. I love that. Just do it, even if it's garbage or garbage in your eyes, just put some photos on there and I bet a million dollars that you are going to get more traction than you could ever imagine, because I have tested with this. I did a video pin the other day and then I did a Story pin, close to each other. I created them. Within an hour I was like, Oh my gosh. So many people have looked at this and people were engaging. They were putting likes and comments and it was crazy. So it's kind of fun to experiment and see how much Pinterest is really, really wanting you to create these. So aside from Story pins, we talked about video pins a little bit. What is the ratio of video pins that we should put up? So you had a recommendation for Story pins, video pins, if we can, is one a week good?

Kate:

I think one a week is great, especially if you're doing them on Jumprope or you're repurposing a Tik Tok or an Instagram story, I think that is perfectly acceptable. I always tell people, your business has all these arms. Pinterest is just an arm and there's email marketing. There's all these other things, right. Allot the time per week that you can in that arm, that's going to make it work for you. One video per week is great. As you test it over the month, go back and track it and see how many views it got. It won't get a lot of clicks too. That's the other thing, as well, as it does feel hard to click. So at the end, your closing slide, do the same thing you would as a Story pin, search XYZ. If they just watched the video because Pinterest food videos are a little bit like what we saw on Facebook a couple of years ago with the Tasty Style videos. They're super poppy and they're like, Oh, this is such a good idea. You want that same sentiment of, oh, that's genius. So thinking of the videos that will make people go, Oh yeah, I can make that. Yeah. Okay. I'm going to click through their site and I'm going to make it.

Megan:

Something approachable, but also maybe something a little bit different that stands out. That's kind of what was the appeal on Facebook, I feel like, during that really sweet spot when everyone was devouring, those tasty style videos. The ones that really did great were the ones that were just a little bit unique that started with some process that was just evoking curiosity. So instead of just like the boring, here's ground beef in a pan. Like the chicken breast that you were talking about. Here's a chicken breast laying on a cutting board, ew. Yeah. I think we're all over that. So you've given us some great tips, Kate, I am excited to explore the Brand tip that you recommended and some of the other things. Is there anything else just kind of an overall general 2021 strategy for Pinterest that you want to mention before we start saying goodbye?

Kate:

Yeah. I would say if you've been on Pinterest for a while and you look back at 2020, it's going to be really hard to compare your stats year over year. So give yourselves a lot of grace because you're not going to see the same peaks, because now we went to lock down. It was March and food bloggers, especially saw this explosion of traffic, especially if they had sourdough or bread. So I want you to think about that before you go into the year, that if you see your traffic dropping, normalize it with what you saw last year and the year before, if you've been on Pinterest that long. If you are new to Pinterest and last year was your first year, you're going to have a really tough time comparing what your growth rates are. So you want to get super clear on why you use Pinterest and what your goal is and stay focused on that.

I always use this example that for me, growing my email list using Pinterest is really important. So I'm not as concerned with the number of traffic visits. I'm more concerned with conversions. If you are concerned with more traffic visits, what is the thing you need to do on your pin to get people to click and remain focused on that. Last I would tell people, leave Facebook groups that make you feel you're not doing enough. They talk about this is what worked for me. This is how I'm growing. You always are comparing yourself to those people. That's distracting. I see that a lot, especially in the Pinterest marketing community. Get out of the group, focus back on your business and make yourself a Story pin. I guarantee the 30 minutes you spent in a Facebook group will be better spent 30 minutes creating a Story pin. So just don't fall into that trap because there's going to be a lot of talk this year about ups and downs and people had growth, and people who didn't have growth and it's just not productive.

Megan:

That's such great advice. Take that time that you are spending comparing ourselves to other people's accounts and go make a Story pin. I love it. It's just that simple. You will see huge engagement immediately. Well, thank you Kate, for being here. It was such a pleasure to talk to you again. I always appreciate all of the information that you have about Pinterest and just so lovely to talk to you and thank you.

Kate:

Anytime. Happy to chat,

Megan:

We are going to put together a show notes page for you, Kate, and we'll put together everything that we've talked about today. All of the resources. If anyone wants to go find that it's at eatblogqtalk.com/Kateahltwo. Kate, tell everyone where they can find you online.

Kate:

Yeah, you can go to simplepinmedia.com or you can listen to our podcast on any of the players, just search Simple Pin Podcast.

Megan:

I forgot to mention this, but you guys put out a Pinterest planner this year or before this year started. I downloaded it. It's amazing. I was so impressed. I love it. You guys should go get that. Well, thanks again, Kate for being here and thank you for listening today, food bloggers. I will see you next time.

Outro:

We're glad you could join us on this episode of Eat Blog Talk. For more resources based on today's discussion, as well as show and an opportunity to be on a future episode of the show, be sure to head to eatblogtalk.com. If you feel that hunger for information, we'll be here to feed you on Eat Blog Talk.
---
💥 Join the EBT community, where you will gain confidence and clarity as a food blogger so you don't feel so overwhelmed by ALL THE THINGS! Join at the Member level to gain access to a food blogging forum, challenges that will help you grow certain parts of your business, themed content bundles, exclusive podcast episodes, a virtual coffee shop, webinars, a service providers and resources directory and more!
📩 Sign up for FLODESK, the email service provider with intuitive, gorgeous templates and a FLAT MONTHLY RATE (no more rate increases when you acquire subscribers!).
Read this post about why I switched from Convertkit to Flodesk!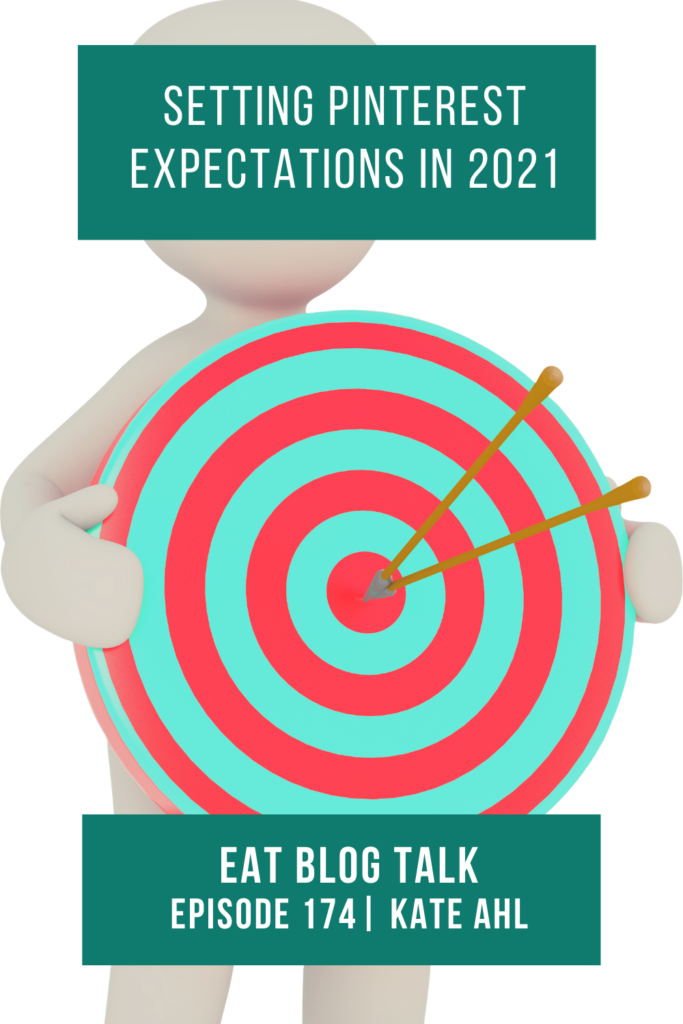 Questions or comments on this episode?
Head over to the Eat Blog Talk forum post about episode #174 to leave any questions or comments. We'd love to hear from you!