In episode 229, we talk with Cate Brubaker about how out of desperation for some organizational help for her growing businesses, she fell in love with Air Table.
We cover information about how you should just get started, then learn all its capabilities because its free and easy, how you can let Air Table adapt to you vs you adapting to it and finally how it simplifies things by having everything in one spot.
Listen on the player below or on iTunes, TuneIn, Stitcher, or your favorite podcast player. Or scroll down to read a full transcript.

Write Blog Posts that Rank on Google's 1st Page
RankIQ is an AI-powered SEO tool built just for bloggers. It tells you what to put inside your post and title, so you can write perfectly optimized content in half the time. RankIQ contains a hand-picked library with the lowest competition, high traffic keywords for every niche.
Guest Details
Connect with International Desserts Blog
Website | Facebook | Instagram
Bio
Cate is the founder and owner of International Desserts Blog, a side hustle she turned into a full-time income in late 2020. Now that she is balancing content, products, sales, partnerships, affiliates, photos, social media (and more!), she has found that using Airtable to run her flourishing business keeps her focused, productive, and making steady progress towards her income goals.
Takeaways
Air Table is not for just for naturally organized people – anyone can jump in and get started with the free version.
Air Table can adapt to your needs -no need to adapt your business(es) or personal life to it.
You create a base which is equivalent to a folder. You can color code them differently and add links, code, tables, sheets and everything needed within one base.
They have a way to toggle between views that can show a sheet, a calendar or "cards" view, much like Trello.
Air Table is able to be your Command Center.
Air Table offers lots of free templates to help you. You can also purchase templates from people within your industry to fit your needs.
The more that you use it, even if you use it in a very, very simple way, the more you'll figure out how you want to use it. Then set it up as you go.
Resources Mentioned
Transcript
Click for full text.

Intro:

Welcome to Eat Blog Talk, where food bloggers come to get their fill of the latest tips, tricks, and insights into the world of food blogging. If you feel that hunger for information, we'll provide you with the tools you need to add value to your blog. We'll also ensure you're taking care of yourself, because food blogging is a demanding job. Now, please welcome your host, Megan Porta.

Megan Porta:

Food bloggers. I want you to know that I myself am a food blogger. So I understand the need to find those connections and find the answers and create transformations in my business that are actually going to matter and help me to grow and make more money and get more traffic. And all of the good things. If you are interested in this too, which you probably are, please consider joining our mastermind groups, which are starting up in the fall of 2021. Go to eatblogtalk.com to find the application. There's a button there that says join a mastermind group that will bring you to an application that will determine whether or not you were a good fit for these groups. As Napoleon Hill, the author of Think & Grow Rich says about the mastermind principle, two or more people actively engaged in the pursuit of a definite purpose with a positive mental attitude constitute an unbeatable force.

Unbeatable force. You can't argue with that. Weekly zoom calls will have the format of peer to peer learning with members taking turns being in the hot seat. Once a month, we will invite in guest experts who will unleash their knowledge about very specific topics relating to food blogging and relating to ways that you can grow your business in a big way. We convene every single week where we share our struggles, our wins, and we can shine and lift each other up and provide resources and input that will help the other members in the group to grow their businesses and grow as individuals as well. Again, go to eatblogtalk.com to fill out an application to see if you're a great fit for the mastermind groups.

Hey, food bloggers. Welcome to another episode of Eat Blog Talk. I'm so grateful that you were here with us today. I have Cate Brubaker with me. She is from International Desserts blog, and we're going to talk about how to use Air Table to stay focused and productive, and also hit your income goals. Cate is the founder and owner of International Desserts blog, a side hustle she turned into a full-time income and job in late 2020. Now that she is balancing content, product, sales, partnerships, affiliates, photos, social media, and more, she has found that using Air Table to run her flourishing business keeps her focused, productive, and making steady progress towards her income goals. I love this topic. As you know, Cate, we've talked about this a little bit outside of this interview and I'm excited to dive in, but first we all want to hear your fun fact.

Cate Brubaker:

Hi. Thanks for having me. My fun fact is when I was 16, I moved to Germany and I lived with a German family. I went to a German high school and I learned German and I spent my entire senior year there.

Megan:

I love that fun fact. You've shared that with me prior and it kind of shaped your blog, right? Your food blog.

It did. I studied German in college, then I went to grad school and then I got a PhD in German applied linguistics. So I was all about Germany and living abroad and teaching German for many years. Then I transitioned into working in international education and I really wanted to work with the whole world and I didn't want to just focus on one country. So I went probably nine years without going to Germany without speaking German and just traveling everywhere else for work. Then I decided to start my food blog and I thought it would just be fun. I just wanted to make things and bake and I just thought it would be fun. I actually hadn't anticipated really focusing on German recipes at all. I wanted to just bake my way around the world from my kitchen in North Carolina, but my German recipes became really popular and people really liked them. So in this journey of my International Desserts blog, I feel like I've actually kind of come back to my previous history with German and Germany and baking all my favorite treats. So it's just been a really nice circular journey back to that high school experience.

Megan:

It's all come full circle right back to your days in high school. Now you're back still loving Germany, such a great story. So as you know, Cate, food bloggers are constantly searching for ways to organize their projects and their lives and their recipes and everything we have going on in our businesses. I love that you have found a way to keep track of so many moving pieces of your life and your business. It's something that you have found that actually works. So I'm really excited to learn from you. I know everyone else is too. So to start, would you talk us through the process of how you got to this point where there are frustrations involved? What have you tried in the past to organize all of your things and what prompted you to search for something that actually worked?

Cate:

Well, first I want to say I am not a naturally organized person at all. I really have to work at it and I've looked for a good organizational system for myself for years. I have always had multiple projects, multiple jobs. I have other websites. So for years I was looking for some way to organize all of these things in a way that was easy and easy to keep going, easy to get started, easy to keep going with. So I tried all sorts of things. I started out with printables because I'm a paper and pen type of person. I had journals. I tried bullet journals. I tried binders and folders. Then I moved to things like Ever Note. I tried Excel and Google sheets. I tried Asana, I tried all these different things and nothing ever really clicked. It would work a little bit, but it just never really worked for everything. I felt like it would organize a piece of things, but then there was the rest of stuff that just was all over the place. So I heard about Air Table. I don't remember how it was probably at least three years ago and I created an account, a free account. I just started using it and it just clicked. It just absolutely clicked for me. I used probably the most basic version of it. I had one base and I had a bunch of tabs within that base and that was it. I didn't link anything. It was the most simple way you could use Air Table. I think that was actually a good way for me to get started because I figured out how I wanted to use it. Every time I thought, oh, I wish that I could do this. Then I would look to see if I could make that work and I could. So I feel like the Air Table was adapting and growing with me rather than me trying to fit and adapt myself to another organizational system.

Megan:

Wow. I love how you said that. So it adapted to you instead of the other way around which I feel like all of those other programs that you mentioned are what we go in, assuming that we have to adapt to it. I've got to figure this all out, but you just started very basic with one base to start with and you grew from there. So can you talk to us about what a base is, because I don't want anyone to be like, okay, it's already confusing and not going to try it. It's really, really simple. So can you talk us through that?

Cate:

Yeah. I know, I'm trying to figure out how to explain exactly what a base is, but it's like a folder. On your computer, you have different folders and then you might have different documents in that folder. So a base is a folder. What I like about it is that it's colorful. Each of my bases has a different color. So when I open up the Air Table, I see all my different bases. It's like seeing your folders in a more visual way. Then when you open up a base, it looks kind of like an Excel spreadsheet, but it looks a little bit nicer and cleaner, and then you can have a lot of different tabs within that base. Then there's a lot you can do within those different tabs.

Megan:

Okay. I think you explained that extremely well, way better than I could have, but I'm with you on the color coding. I love that you can assign colors too, by the way. So it's not just pink that pops up and you have to stick with it. You can change the colors and customize how the folder looks, but that's such a great way to describe it. So basically if you have a Mac or a PC and you open your folders in the icon view, you know how you can see the folders, it's like that. Then you can customize the folders and then once you open the folder, then you see this spruced up Excel spreadsheet that you can customize. It's as simple as that. When you say base, I'm starting to base, I just didn't want people to be, I don't know what a base is, so I'm not going to try it.

Cate:

I think the way you said it, seeing the icon view, that's exactly what it's like, only it's prettier. I do like that it's more visually appealing.

Megan:

Agreed. Okay. So you use Air Table for so many different things. I think it's super impressive, but would you talk through everything that you use it for?

Cate:

I actually have most of my business here. I have three different websites. I do some consulting and training and I have products and things like that. Then I also use it for life things. So I have one base for blog content. I have one for social media. If I work with a contractor, I create a base for them and then they can access that. I have one for financial, one for products, one for email newsletters. Then I have one that just has all my goals and then notes and a bunch of other things that don't quite fit in the other bases. Then I have some that are more for life. I have a meal plan that has all of my recipes and I do my meal planning there. Then I have my grocery list and then I do trip planning. Then I also have some other projects that I'm researching and thinking about for my business. So I'll create a base where I can keep all my notes and everything in there. I'm working on a free bundle right now. Where I have contributors contributing products and we're going to offer them for a few days later in the month. So I have that project that has its own separate base. What's really great about that is that I have contributors sending me their information and they fill out a form and it's like Google forms, but the form is connected in Air Table. So they fill it out and all their information goes right into that base. So I have all my contributors' information. I have all the planning and notes and everything that I need. It's just all right there. So I open up Air Table and I see that base right there. I open it up and everything is there. I can easily switch back and forth between the bases. Some days I'll have in my browser, a couple of different tabs open with the different bases. So instead of trying to remember, okay, is this in a folder somewhere? Is it on One drive? Is it in Dropbox? Is it on Google sheets? Where is this? I just look at Air Table and it's all right there. If I do have something in one of those other places, then I can just drop the link in one of my bases in Air Table. So it's like my central command center. It's so easy. I don't lose time trying to figure out where things are anymore.

Megan:

Central command center. I wrote that down. I love that. I think that will ring true for everyone. Just perk up everyone's ears because we all need that. I hear that in our space all the time, people are looking for something like this because maybe they dabble in Trello and then they also connect to Google sheets and the forms. You mentioned Google forms. They're all over the place. So to have a central place for everyone to go is very appealing. So you mentioned the forms. I did not know that you could do that. Are there templates for forms or did you have to create that yourself?

Cate:

I'm sure there's templates because Air Table has a lot of templates and then I've purchased templates from people too. But it's so easy to create a form. I mean, if you can create a form in Google, then you can create a form from Air Table. It's super easy.

Megan:

Okay. Well that inspired me. Then once people input their information, like you said, it just goes into a spreadsheet, so you don't have to copy and paste and store it somewhere else.

Cate:

It's right there. So if you do all of your project planning in one tab, and then you have photos you want to upload or you have whatever information it's all right there. So you're not looking all over the place for it. You mentioned Trello. I tried Trello at one point too, and I liked certain aspects of it. So another thing about Air Table is that they have different views. So you can look at everything like a traditional Excel spreadsheet, or they have a calendar view and they also have a view that is kind of Trello like. I use that sometimes too. You can move things around easily, just like on Trello. So there's different ways that you can not only organize your information, but different ways that you can visualize it and work with it.

Megan:

I feel like Air Table may have thought this through, oh, people might be coming from Trello and might like that visual board style view. Don't you feel like that? Because I found it very uncanny when I moved from Trello to Air Table. I thought, huh. There's exactly a view that you can adjust, click on a single button and all of a sudden that looks like Trello. So it's kind of handy. It caters to all of the different platforms, whatever you're used to, you can basically look at it in any way that you want in Air Table.

Cate:

Yes. I mean, if you're used to certain things, like if you really like Excel or you like Google sheets or you like Trello, then you can use Air Table. You'll find that and everything else.

Megan:

Agreed. Okay. So I would love it if you just talked through, if somebody is listening and they want to start, this sounds really intriguing and appealing and simple, where do they start? They've just signed up for a free account. They create a few different bases or maybe just one to start that has blog content. So can you talk us through how to do that? Then also like free versus paid and maybe which fields within the blog content base that they would need to think through.

Cate:

Yeah. So you can use a free account. I've been using Air Table for, I think at least three years and I'm still using a free account and I do everything in Air Table. So you can get a paid account. You'll have more space, you'll have more color options and you can customize things more. At some point I think I will do that, but you can absolutely get started with a free account and you can do a lot with a free account. Don't feel like you have to, this isn't something you have to pay for. At least definitely not at the beginning. So once you sign up, it's very easy to create a free account, then you'll get your workspace, which is this blank area, I guess. Then you can create your bases and you can start very, very simple.

You can create just one base. That's what I did for a long time. I had my entire business in this one base and I just had a whole bunch of different tabs. So I had a tab for blog content, financial. I had a notes tab, affiliates, collaborations. You can just create one of those and just have everything in one base so that when you open it up, you can see everything. You just go back and forth between the tabs. If you want to build it out more at the beginning, then you can create a base for the different aspects of your business. So, like I mentioned before, I have one for social media. I have a base for different contractors that I work with. I have one for blog content, newsletters, et cetera. Actually what helped me kind of build out these bases and expand things and use more features, was a set of templates that I purchased from other food bloggers. They had created this great system that was much more complex than what I was using. They were in a group I was part of. I was in this webinar when they showed everything that they were doing and I thought, oh my gosh, I am not using Air Table to the full extent.I was so impressed by all the things that they showed and how they put in formulas and linked things and it was amazing. So I bought their templates and I just started using it. There were a lot of things. They really have like every thing that you could ever want. I ended up taking some of the things out. I didn't use a few of the bases because it was just more than I needed, but that was so helpful in seeing what I could do. Then as I used it, I just kept customizing it to really work for me. But if we just take one base, for example, I have one base that's just blog content. Right now I'm working on content for two of my blogs. So I have one tab for the dessert blog and then I have the other tab for my Germany travel site. What I really, really love is that if you're in one tab, you have different columns for the post title, different information about what you would just have for your content, like the URL, the last date that you updated it, primary keywords, what the opt-in is on that site.

You might want to put in your excerpt or your meta-description. If there's video code or something like that. I'm just looking at mine right now. I have a lot of different columns in this one. Too many to name. But what's really cool is that then I have one column that's status. It's just a little dropdown and I can select whether it's a draft, whether I need to update it, whether it's live and published. I can choose what status that blog post is. Then on the left side I've created different views. So I can very quickly pull up just the blog posts that are drafts and then I can look very quickly and see what I need to work on. Which posts I need to update, which ones are live, et cetera. So it's super easy. I hope I'm explaining this okay. It's hard when you can't see it.

Megan:

You are doing a great job. So basically the filtering capabilities are amazing as well. So if you need to organize by status or whatever else your category might be, you can easily do that.

Cate:

It's really helpful when you have a lot of blog posts. I didn't go in and type everything in at once. I did it just a little bit at a time. So I would work on a blog post and then I would put it in my spreadsheet. So I built this out over a period of time. So when I'm going in and I'm thinking, okay, I should update some blog posts, let me see what's on my list to update. Then I just go over to the left side of the screen. I look at my update view and it just shows me the blog posts that I've indicated needed to be updated. I've found that I can actually keep more detailed notes on all my blog posts this way, because it's really easy. Before, I would have it in an Excel spreadsheet and then I'd have to search for everything and it would just get messy and jumbled. I just have found that I can keep things so much more organized this way.

Megan:

Hmm. I love it. Yes, please on the organization, right. Everyone wants that. Especially people who have so many blog posts. Like hundreds, some people even have thousands of blog posts to keep track of, and that can be really overwhelming and frustrating if you don't have a great system to keep track of them or to store them. I also wanted to mention that you can actually import existing spreadsheets into Air Table. That's what I did. So up until I think it was like spring ish of this year, I used just a Google spreadsheet to keep track of all of my content. I had at one point almost a thousand recipe posts on my blog. So I had a lot to organize. So I just exported that. Then I imported it into Air Table and it was as easy as that. Then to take that a step further, my VA and I, together, we wrote our entire spreadsheet. This was before there was an actual plugin to export information for you, but there is a plugin and I'm hoping you know what it is, if not, I'll put it in your show notes Cate, where you can take all the data from your WordPress site and export it into a spreadsheet so that you don't need to do that like I did, all by yourself. Do you know what that is?

Cate:

I can't remember the name of it, but I have used it as well. It's so easy. You just make a couple of selections and then it downloads everything. You decide what information you want to download and then it downloads into a spreadsheet.

Megan:

Yeah. I wanted to make sure to mention that because we spent so much time on that part of the process that I want to save you that trouble. I want to save you a couple of days of typing and copying and pasting. But we will put that in your show notes. I'll figure out what that is.

Cate:

That'll make it a lot easier. I also want to mention that in my blog content tab, I also have a view that's like Trello. So I have categories listed and I have recipe buying guide, food guide reviews, et cetera. So I can also see all my content that way. It looks like a Trello board, so I can see under the recipe, all the posts that are recipes and I can move them around. It's just a nice, different way of looking at the information. There are little cards, it's called gallery view, but it looks like little cards. For one recipe you can see if you have a certain category, if you have it tagged in certain ways and you can see certain information. So it's just another visual way of looking at what you have in your Air Table. So you don't have to look at everything in just that spreadsheet view, they have those other visual views.

Megan:

They're covering all their bases, I feel like just to accommodate people who have different ways of seeing things. So I wanted to ask you about the templates. First of all, do you have recommendations for which templates to purchase and from whom? Also, can you apply a template after the fact? So if you build out a spreadsheet, can you apply it after or do you have to start with it?

Cate:

So Air Table has a lot of free templates that you can try. I looked through a lot of them and they just didn't really work for me. I think they're good examples. Some of them might work and if there's one that looks good, then you can definitely put that into your workspace. I'll actually give you the link because I'm not totally sure I have the right name for this, but it was something about ABC air table, business center, Air Table Business Command center, or something like that. But I'll give you the link so that you can link that below. I do recommend those. It's a very robust set of templates. You probably won't even need to use everything that they have, but I'm so glad I purchased those because it helped me build out my system.

It saved me a lot of time and they set things up. They set some things up in a way that I wouldn't have thought about doing. I thought, oh, this is so smart. You know, this is just so easy. It saved me tons of time where I didn't have to figure out how to do it all myself. Then as I started using the templates, I thought, okay, I actually think I want to customize these a little bit more. So you know, it was a good way to help me learn how to use some of the other features of Air Table. I still use a very basic version of Air Table. That's something else that I like about it is that you can, you can start very, very small and simple. Then as your business grows and as your needs grow, you can use the more complex features of Air Table. I know that I can still use it for quite a long time. I'm not going to outgrow it at all. So those are the ones that I recommend. Definitely.

Megan:

So if I already have a very basic template that I built myself, can I purchase one of those more robust templates and then apply it to mine? Does that work like that?

Cate:

What you would do is you would transfer their bases. So basically they've created lots of different bases with all the templates inside those bases. Then you would transfer the basis into your workspace and you would still have the base that you created. So you can't really merge the two, but it is easy to copy information from one base into another.

Megan:

Okay. That answers my question. So even the most basic version of Air Table is robust enough. Actually, not even robust enough, it is robust for what we need it for, for food bloggers.

Cate:

Absolutely. I feel like all the time I learn more and more things that you can do with Air Table. A friend of mine uses it. She's a blogger as well. We talk about it once in a while, and she'll like to find a feature that is really cool and she'll share it with me and I'll do the same thing. Then we find out, oh, we can connect to these things and you can automate things. I know this sounds kind of general because I'm thinking of a lot of different things that you can do, but they're really so many different ways that you can make it work and automate things and make things really simple. If you input information in one tab, then it will automatically update in another one. Which could be really useful for social media or if you want to update keywords on a blog post, but then you want to keep another list of keywords somewhere else, then you can connect them so that when you update it in one place, it updates in another place.

Megan:

Oh my gosh, I feel like I'm not using it to its full potential, hearing you talk. I use it in a very basic way. But there's so much more that I can do. I kind of feel like we need to start a new category within the Eat Blog Talk forum, just for Air Table to do exactly what you were saying with your friend. Ooh, did you know, you could do this, you can link from this to this. But I'm excited to dig in more. I use it as basically an editorial calendar for my food blog and then I use a different base for my podcast. I have to say, I love it for both. They both, oh, it's just so great. I use an even more basic version than what you're saying. I don't go into interlinking and creating forms. There's so much more possibility there. So thank you for all of this inspiration. This is awesome. You do weekly meal planning and you also create grocery lists, right Cate? You sell that as a product, correct?

Cate:

I do. Yeah. I had never considered it, but then once I I bought these other templates, I started thinking, I do my meal planning in this. Again, like meal planning is something that I just couldn't ever stick with for a long time. I tried all different kinds of systems, nothing really worked for me. When I started using Air Table, I just started meal planning in it and it was super simple. I can do this to make it a little bit easier. I can build this out. I did it without even really planning it. It just organically grew. It was funny because at the end of the year, my husband and I were just reflecting on the year and he said, you know, you've gotten really good at meal planning. Which took me by surprise because I used to be so bad, so bad at it. I thought, you're right. I have gotten really good at it. I thought, well, what did I do? How did I get here? It occurred to me that it was largely what I had built out in Air Table that just was so easy for me to stick with it. So I decided to turn it into a product. So I shared it with some other people and they said that sounds really helpful, actually. So because it helped me stick with meal planning, I called it the Stick With It Meal Planning System. So it's a base in Air Table. Once you transfer it into your workspace, then you can organize your recipes and I've set it up so that you can get started like really, really, really simple. Then you can unhide or unlock features as you want to use them. So you can put in your recipes, you can link to online recipes. You can upload PDFs of recipes, you can cut and paste directions and ingredients, if you want to. You can make notes if you have recipes in a cookbook or recipe binder. So it's really easy to see all of your recipes and then go to that recipe. Then I've created different views on the side, which make meal planning really easy. So when you're meal planning, you can look at all your dinner recipes and just see your dinner recipes, or you can see them grouped. Here's all my dinner recipes, here's my breakfast, appetizers, snacks, et cetera. You can also look at it by different characterizations, so you can characterize your recipes in different ways. So right now, my husband and I want to lose a little bit of the COVID weight that we've gained over the last year. So I went through and chose the recipes that are the healthiest recipes that we want to eat. I gave them a tag. So in one of my views, when I do my meal planning, only those recipes will come up. I still have all my other recipes in my recipe bank, but when I do my meal planning, I will only see the recipes that I really want to be making right now. I won't be tempted by all my other recipes. Then I can very quickly go in and I just mark this one, this one, this one, this one. I have another view where I can just see my meal plan for the week. So I'm not overwhelmed by all of the information.

Megan:

This is amazing. Oh my gosh, I am so impressed. Okay. Keep going. I just had to say, this is incredible. Continue please.

Cate:

So I have my recipe bank. Then I do my meal planning in one tab and then the next one is the grocery list and it's set up the same way. So I have all the things that I typically buy for groceries. You can have a check mark, a column. So I just go through and check off the ones that I need. Then I have the different views on the side. So when I'm doing my grocery shopping, I pull it up on my phone. Because you can use it on your laptop, on your iPad or your phone. So when I go to the grocery store, I pull up my shopping list on my phone and I have a couple of different views that I use when I'm shopping.

So I have the one that just shows me all the things that I need. As I'm going through the store, I just click on the little check and then it unchecks and then it goes away. So my grocery list gets smaller as I shop, which I also really like. Then I have another view where I can see what I need at the store. This is really helpful. If I just want to run into Whole Foods and I just want a couple of things, then I can just really quickly look at, oh yeah, this is what I need at Whole Foods. This is what I need at Trader Joe's. It's just so simple and convenient. I don't forget to get things at the store. I'm not constantly looking through my list and trying to remember, did I get that? If you have a paper list, sometimes it gets really messy. I don't have that problem anymore. So super easy now. I have no problem. I've been meal planning for over three years and the whole thing is just, it's easy, you know, it's just, it's just become a habit. I just don't stress about it anymore.

Megan:

It's not a ton of work to set up. I know that we can sometimes hear about processes and systems like this and get overwhelmed. Like, well, there's no way I could do that because what you were talking through is like extraordinary, holy cow. Organizing by store and all of that. That is amazing, but it's really not that hard once you dig into it. It's super simple to use. Especially since it's free, why not. Just dig in and try it. Set up a new account if you don't have one already. I am just thinking of all of the things in my life that should be in Air Table as you were talking, Cate. I could put my, Aldi list, because I get certain things from Aldi and then I get certain things from our local grocery store and Costco. Not just relating to shopping, but vacations or money. I mean, there are so many things that I'm thinking through. I feel so inspired. This has been amazing. Thank you so much for the inspiration today.

Cate:

I'm so glad that I can share this because I love Air Table and I meet other people who also love Air Table. It just really works for us. It clicked for us. I've met so many other people who are like that. I think I've heard about it, but I don't know what it is. It sounds really difficult. It's really not. You can get started using just the basics. I think my biggest tip would be, don't spend a lot of time setting it up, just start using it. The more that you use it, even if you use it in a very, very simple way, the more you'll figure out how you want to use it. Then set it up as you go. When I'm adding recipes to my recipe organizer, I didn't sit down and put them all in. Some people do that, but I didn't do that. I started with a one week's meal plan. I started with seven recipes and I just put in my favorite recipes and all I did was type in Dijon chicken. That's it. Then I selected the store in the category of it's dinner. Then I put in the URL and that's it. It takes two seconds. Then when I'm surfing at night and I find a recipe I like, then I just pop it in. It really doesn't have to take very long. It doesn't have to be perfect.

Megan:

Start small and just build as you need from there. But really just getting started is the key. But this is incredible. Is there anything we've missed on Air Table that you feel like we should mention before we start saying goodbye?

Cate:

I think that's it. I would just encourage you to check it out and see if it works for you. It really clicks for some people and other people you know, things like Asana or Trello work better for them, but just go check it out and see if you think it would work for you.

Megan:

Awesome. Well, thank you again, Kate, this was so valuable and I know that food bloggers are going to hear this. They're going to be like, yes, please, because we all want organization. I guess that, just a greater level of organization in our lives and businesses. So thank you. Thank you. Before you go, we would love to hear if you have either a favorite quote or words of inspiration to share.

Cate:

One of my favorite quotes, it sounds very cliche, but it's that Tolkien quote that, not all those who wander are lost. I love that one. I think especially as bloggers and business owners, sometimes it feels like we're lost and sometimes it feels like we're wandering all over the place, trying to find a way to organize all of your business stuff, but it's okay. It doesn't mean that you're lost, even if you're wandering around and trying different things. It doesn't mean you're lost, you're learning and it's just part of the process. I've learned to be okay with that and just to enjoy the whole business journey.

Megan:

I love that. What a great way to end. It kind of ties into what we were talking about today too. So perfect. We will put together a show notes page for you, Cate. If anyone wants to go peek at those and get any of the information that we've been talking about, feel free to go look at them at eatblogtalk.com/internationaldesserts. Cate, tell everyone where they can find you online.

Cate:

Yeah, I am at internationaldessertsblog.com and you'll find lots of delicious international dessert recipes and also my Stick With It meal planning system. Then if you go to internationaldessertsblog.com/airtable, you'll also find a little training video that I've done. I just kind of show you how I use Air Table, just so you can visualize it a little bit more. You can see if it works for you.

Megan:

I love that. Just prepare yourself to drool over Cate's desserts. They are amazing. Every time I go to your blog, I get super hungry. So I am just so grateful that you were here today, Cate. So thank you for being here and thank you so much for listening, food bloggers. I will see you next time.

Outro:

We're glad you could join us on this episode of Eat Blog Talk. For more resources based on today's discussion, as well as show notes and an opportunity to be on a future episode of the show, be sure to head to eatblogtalk.com. If you feel that hunger for information, we'll be here to feed you on Eat Blog Talk.
---
💥 Join the free EBT community, where you will connect with food bloggers, gain confidence and clarity as a food blogger so you don't feel so overwhelmed by ALL THE THINGS!
Want to achieve your goals faster than you ever thought possible? Stop by Eat Blog Talk to get the details on our Mastermind program. This transformative 12-month experience will help you accomplish more than you would be able to in 5+ years when forging ahead alone.
Click the button below to learn what a mastermind program is, what your commitment is and what Eat Blog Talk's commitment to you is.
📩 Sign up for FLODESK, the email service provider with intuitive, gorgeous templates and a FLAT MONTHLY RATE (no more rate increases when you acquire subscribers!).
Read this post about why I switched from Convertkit to Flodesk!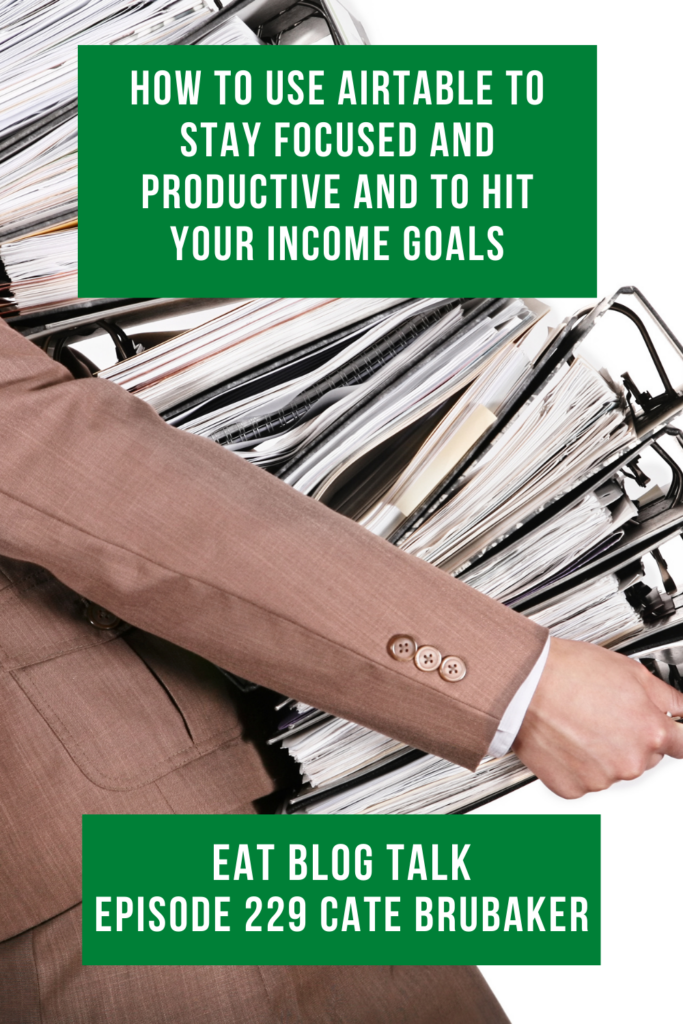 Questions or comments on this episode?
Head over to the Eat Blog Talk forum post about episode #229 to leave any questions or comments. We'd love to hear from you!