In episode 128 we talk with Alexandria Drzazgowski, world traveler and the blogger behind Foreign Fork, who is cooking and eating her way through every country in the world, from A to Z..
We cover information about how to share food from other cultures while avoiding cultural appropriation, how to share recipes from other places authentically and think about other cultures and how they honor their food differently than we do in the United States!
Listen on the player below or on iTunes, TuneIn, Stitcher, or your favorite podcast player. Or scroll down to read a full transcript.

Write Blog Posts that Rank on Google's 1st Page
RankIQ is an AI-powered SEO tool built just for bloggers. It tells you what to put inside your post and title, so you can write perfectly optimized content in half the time. RankIQ contains a hand-picked library with the lowest competition, high traffic keywords for every niche.
Guest Details
Connect with The Foreign Fork
Website | Instagram | Facebook
Bio
Alexandria is the food blogger behind The Foreign Fork, a food blog on which she is cooking one meal from every country in the world. After graduating college, Alexandria backpacked for 6 months, eating and cooking everywhere she went. When she came home, she wanted to continue the adventure, so she started her food blog! For two years now, Alexandria has been cooking the world in alphabetical order, "traveling" to each country from her kitchen.
Takeaways
Alexandria was intentional about taking cooking classes and learning about the food of each country that she visited while living abroad.
Alexandria shares about a new country on her blog. In addition to actual recipes, she shares something unique about the culture and some attributes.
Alexandria helps her audience to experience traveling and new cultures with her style of blog, especially now while we're staying at home more in the pandemic and many peoples travel plans have been interrupted.
Avoiding cultural appropriation starts with being respectful of the culture; doing your homework and speaking to people from there to help authenticate the recipes being shared.
Alexandria tries to research ingredients and cooking methods unique to each country she's sharing on before promoting her content. She purchases unique ingredients as well as learns about original ways to prepare a dish.
When she can't replicate something exactly or knows her audience might not be able to attain the recipe ingredients easily, Alexandria makes note of substitutions and options for them so they can still try to prepare the meal in their home.
Alexandria uses Facebook groups to help connect with people from other countries. This also allows her to get to know people in her community, and to ask questions of someone native to the country she's creating food from.
There's a thin line between appreciation and appropriation of sharing a cultural meal that you're not a native of. Be respectful of differences and be sure to honor a culture with your take on it.
If you've published a recipe that an audience member shares is incorrect to a culture's way of preparing it, Alexandria recommends thanking someone for that heads up, then go back and do your research again, update the blog post with your findings.
Have fun visiting new niche grocery stores. Buy random snacks or seasonings and sauces. Try preparing something with them. Share that with your audience. It'll create interest within your audience.
Resources Mentioned
Congratulations! Foreign Fork won a Saveur Blog Award for Most Groundbreaking Voice in 2019!
Grow Your Content Strategy!
Following along this theme, learn more about new ways to promote content in episode 117 with Yumna Jawad and Tik Tok!
Transcript
Click for full text.

Intro:

Welcome to eat blog talk where food bloggers come to get their fill of the latest tips, tricks, and insights into the world of food blogging. If you feel that hunger for information will provide you with the tools you need to add value to your blog. And we'll also ensure you're taking care of yourself because food blogging is a demanding job. Now, please welcome your host, Megan Porta. Food Bloggers.

Megan Porta:

Hey, if you have not yet joined the new, amazing community that we just launched, go and do it. You will find so much value inside, including connecting with other food bloggers in a much deeper way, and having access to all kinds of exclusive value, such as bonus podcast episodes and mastermind groups and our resources and service provider directory, and so much more. If you sign up by the end of August, you can be a part of the first batch of mastermind groups that we're setting up. So this is not something that you will want to put off. Go to Eatblogtalk.com for more information, and we can't wait to see you inside.

Okay food bloggers, have you heard of Flo Desk, the new big email marketing rage? This is an amazing new option for managing your email subscriber list. It is super easy to use and it comes with gorgeous, intuitive drag and drop templates. And Flodesk does not charge based on the number of subscribers. So your monthly rate will stay the same from month to month. Everyone pays $38 a month or use my affiliate link to get 50% off and pay only $19 a month. You guys, this is a fraction of the price of other email service providers, and you'll be blown away by the beautiful and intuitive templates waiting for you inside. Visit Eatblogtalk.com/resources to grab your link. Flo desk – the stunning new option for email marketing. Hey, food bloggers. Welcome to eat blog talk. This podcast is made for you. Food bloggers, wanting value, information and clarity that will help you find greater success in your business.

Today. I am so excited to have a conversation with Alexandria Drzazgowski, from Foreignfork.com and we are going to chat about how to avoid cultural appropriation as a food blogger. Alexandria is the food blogger behind Foreign Fork, a food blog on which she is cooking one meal from every country in the world. After graduating from college Alexandria backpacked for six months, eating and cooking everywhere she went. When she came home, she wanted to continue the adventure. So she started her food blog. For two years now, Alexandria has been cooking the world in alphabetical order, traveling to each country from her kitchen. Also worth mentioning, Alexandria in 2019, won a Saveur Blog Award for most groundbreaking voice, which is so amazing Alexandria. So nice work on that.

Alexandria Drzagowski:

Thank you.

Megan:

Yeah. And I am just super excited to chat with you today about this because as we talked about before the interview started, this is just a really relevant topic and your experience with backpacking for six months and eating and cooking and doing all of those fun things around the world, and then taking that home to your blog is so cool. I love that. But before we dive into this, give us a quick fun fact about yourself.

Alexandria:

Thank you for that kind introduction. I just want to tell you I'm so excited to be on the podcast. I discovered your podcast about a year ago, but I've listened to all the episodes at this point. I'm so excited to be talking to you.

Megan:

Yay! Likewise.

Alexandria:

Thank you. So my fun fact is, I really, really love to read. I've been working my way through a list of classic books for the last couple of years. There's 300 classic books on that list that I've been working my way through. So that is what I spend a lot of my free time doing.

Megan:

Do you have a favorite or like a collection of favorites or like a time period that's a favorite?

Alexandria:

I think my favorite at the moment is Jane Eyre, which is kind of an unpopular opinion. Most people that I've heard, have a different opinion about that book than I do, but I think I really like it because I tried reading it once when I was a little bit younger and I had a hard time and I couldn't make it all the way through. Then I tried it again. It felt very triumphant to me to be able to finish that book. So I think that's why it's my favorite right now.

Megan:

I love how you can read something or dive into something when you're younger and younger can mean even like twenties or, you know, teens, it just doesn't hit you in a meaningful way. Then when you're older, you've had a few years of experience under your belt and it just is different. You experience it in such a different way. So good for you for trying it again. That's awesome. I love that. I love reading. I did all the classics, not all of them, but I did a lot of them in college because I was an English major.

Alexandria:

I started out as an English major too. I ended up switching majors, so I got a lot of headway that way too.

Megan:

And I don't know, like I wasn't in the right space in college to necessarily absorb all of that. So any class, like I read now, I'm with you. I feel like it just has so much more meaning and depth and like, why didn't I see this back then?

Alexandria:

Yeah. You actually have time to absorb now as opposed to just like reading because you have to,

Megan:

And the desire to. Like you, you have the time and the desire to really understand it. I love that. And I also love that you backpacked for six months. Where in, okay. Where did you go? I just am curious, like, how did it start? Where did you start?

Alexandria:

So, um, when I backpacked, I had left the country a couple of times to go to the Caribbean or to go to Mexico, but I had never actually been overseas. And so I had always, always dreamed of doing a backpacking trip through Europe. So I started out in Italy and I lived in Italy in Rome for about three months. That was wonderful because I got to experience it more than I did with some of the other countries I went to because I was just there for a really long time. So that was incredible and wonderful. Then after those three months were over, I backpacked for the next three months by myself. So I went over the course of that whole time, I went to 15 different countries. I sat in and when you read my bio, I took cooking classes and every single country that I went to, I think it's such a beautiful way to learn about the history and the culture of a place. You can learn so much about a country through the food that the people eat there. I really loved that. It was so much fun.

Megan:

Did you have a favorite place, food and otherwise?

Alexandria:

Ooh, that's a good question. Obviously I loved Italy. My family is Italian too, so that's why I wanted to stay there for a longer time, because I wanted to experience the roots of my family. So I have a very strong connection to Italy because of that. So I obviously obviously loved Italy. I am obsessed with the food in France. I loved the food in France so much, there was not a single meal there that was not incredible. Even things that we eat here, like a quiche or something like that, I would eat it in France and it was just, Oh my God,

Megan:

So much better.

Alexandria:

Yes.

Megan:

So Americanized version of food isn't necessarily better,

Alexandria:

Everything has its place, but the food there, I was drooling over everything. It was so good.

Megan:

Oh, I love hearing that. I love traveling. I love exploring and being adventurous. So you and I are kindred spirits in that way. I know I've used the word love about 5 million times so far, but I also love what you're doing with your blog and how you brought that back over to your work here with this concept of cooking around the globe. I think this is so brilliant, but also a great way to tap into the deliciousness from all of these amazing parts of the world. So let's start our conversation by having you introduce your blog and how you are so familiar with cooking all over the world. We kind of talked about that, but why don't you tell us a little more?

Alexandria:

Okay. My blog is called The Foreign Fork and I'm cooking one meal from every country in the world and I'm doing it alphabetically. Every two weeks I'll start a new country and I'll start off by giving an in-depth view of the country. So I'll get fun facts and I'll give an overview of the history. I'll talk a little bit about the food culture and the flavors that are normally incorporated into the food in that country. I'll also just give any other relevant information that might not go into those specific categories. So I do a little background so that people reading at home can kind of know the country that we're going to be learning about. Depending on the country, two to five recipes from that country over the next two weeks. I try to do a main dish and an appetizer, and I always try to do a dessert because I love dessert. So I'll feature some food from that country. I'll also post on my Instagram fun facts about the country, so that, um, people that follow me on Instagram can stay involved as well there. It's definitely been a really fun way. I thought when I was first thinking of it, the reason that I decided to do it was because I was going to be missing the adventure that I had had for six months. I knew that I was going to come home and have to be a real life person and get a job. I wanted a passion project to kind of continue to do that thing that I had loved so much while I was traveling. So it's good because I think it's definitely helped people that love to travel. It's given them a way to experience culture from their home, whether they can afford to travel right now, whether they can't afford to travel right now, or now at the time we're speaking, everybody is not allowed to travel because of COVID. So it's also a good way to just experience the world in a different way and learn at home and stuff like that too.

Megan:

It's a great time for it because people aren't necessarily traveling like they have been, or they wanted to in 2020. We want other ways to experience the world. So I think this is amazing and super timely. So it's really like a journey for you. Yes. But a journey for people, your audience to come along with you. I love that you start with taking facts about the country and kind of explaining what the country's about and what their food is. So it's not just like, okay, here's a dish, you know, that's from Italy or wherever. You're actually like diving into it slowly. So it's something that people really want to come alongside you and experience. So that is really cool. You went and experienced all this stuff and you came back and you just brought it with you and decided this passion project was what you were going to do. So how did you know that this was going to be an important thing to do?

Alexandria:

Okay. At the time that I started my blog, I didn't know if it would be important to anybody other than myself. I just knew I was doing it cause I wanted a challenge and I wanted to experience the world. And I actually started my blog back in August of 2018. So we're almost a week away from my two year anniversary. I love having my blog. At the time I started it, it was just for me to, to kind of like cope with having to come back home. Obviously nobody wants COVID or quarantine or not being able to travel right now, but it has been a good way to supplement that desire to travel too. So it kind of has, has worked out that it's been beneficial at this time, but I did not expect it, but it's been good.

Megan:

I always come home from vacation and I'm like, so sad first, you know, like a week or two, I'm like, this is real life and I just want vacation again. So I love that you are just like, okay, I need a way to bring vacation with me home.

Alexandria:

Post vacation blues are real. They are so real.

Megan:

So my husband and I have a term, we call it PVD, post vacation depression. And every time we come home from a vacation, even if it's just like a weekend away, we just feel blue and, and we'll walk by each other in the hall and be like "PVD" and "like, yeah."

Alexandria:

Completely. I totally get it.

Megan:

It is a real thing. I hate it. But anything you can do to relieve that pain of having to leave vacation. So this has to be a process for you. Obviously you said you were going like from A to Z, which is really cool, but this still has to be a process. You have to do research and, you know, there has to be more involved than just pulling up a few facts about a country and then making a dish. How do you go through this process?

Alexandria:

When I'm actually starting to cook from a country, I definitely do a lot of research. Because first of all, when you have a food blog, your, your recipes need to be unique to you, right? So you can't just go online and cook a different recipe that you find online. So when you're making up your own recipe from a country that either you've never been to, or you've never cooked that country it becomes a lot more difficult because you end up representing a group of people that maybe you don't have personal experience with. It's really important to be representing the culture of the country that you're cooking in an accurate light and making sure that you're doing it correctly. So I spend a lot of time doing research before I cook for my country. So I will start by doing research on that recipe and that culture. When I'm writing those, um, introduction sections to each country, I'll look up a lot of the common ingredients and common cooking methods. I'll look up a lot of the different tools that are used in that country to make the different recipes that I have on my brain to do. And then I will go through and I'll pick out a list of maybe like three to five ish, um, recipes that I can online or in books or something like that, about that recipe. Say I don't know, cooking a dish from Democratic Republic of the Congo. Cause that's what I'm on right now. I'll go online and I'll find maybe three or four recipes for that dish. I'll look at all of the ingredients that are used to like the common ingredients or the common threads between those recipes to figure out and make sure that I'm using the right ingredients. And then I'm doing the cooking methods in the right way. Then I'll kind of take what I've learned and take the common threads there. I'll turn it into my own recipe. So I'll use different maybe amounts, some ingredients or I'll cook it and maybe like, I'll follow the same instructions, but maybe I'll have a different cook time. Those kinds of things, I'll definitely edit it to make it my own recipe. I always want to make sure that I'm being true to the way that the people in that country make that recipe. I always double check and make sure that I'm doing it in a similar way. It's a little bit different when I'm making recipes that are just like coming out of my own brain out of my own kitchen. If I'm making a pasta recipe, then I just throw things together into what sounds good. But if I'm specifically making a recipe from a specific country, that's when I do like that double check to make sure that I'm getting everything generically in the right way.

Megan:

So you want to make sure that you're staying true to the things that are really important to that recipe into that country. You're putting another spin on it that maybe doesn't matter, maybe a cooking method wouldn't be necessary to follow exactly. Do you have a common spin that you put on foods that you're creating, like Instant Pot or I don't know, anything like that.

Alexandria:

That's actually funny that you said that because I do a lot of recipes in the Instant Pot. So it's funny that you use that as an example.

Megan:

Ooh, interesting.

Alexandria:

Yes. I just got my Instant Pot. I think about a year ago at this point. I've had a really fun time making certain recipes in the Instant Pot. For example, a couple of months ago I did Cuba. I made Cuban Picadillo in the Instant Pot, which is normally a stovetop recipe, but it turns out delicious in the Instant Pot that it tastes the same, the ingredients are the same, but the cooking method is a little different. I love doing things in the Instant Pot, but if I'm not doing it in the Instapot, I try to stay pretty in line with the normal cooking methods.

Megan Porta:

I feel like the Instant Pot just recreates things so deliciously that you can really simulate the same flavors and textures, but the cooking method just makes it kind of magic on certain dishes.

Alexandria:

It's actual magic. I was so scared of my Instant Pot for a while and then, once I actually started learning how to use it, I was like, I'm never going back. This is so easy and fast to use. So I'm obsessed with that.

Megan:

It's daunting at first, all those buttons and you think, is it really worth it? Like really digging into learning it, but once you do it, Oh, it's addicting. Everyone says too. So how long do you anticipate this taking you?

Alexandria:

I've been doing it for about a year. I started off doing one country a week, but that got overwhelming. So now I do one country every two weeks. So I'm doing one country every two weeks with no breaks, no stops. It'll take about eight years, but I sometimes will take some like a week off here and there. I'll focus on something different for a week, like a holiday so I think it'll probably take me closer to like nine or 10 years.

Megan:

Wow.

Alexandria:

If I powered through it'd take 8 years.

Megan Porta:

Oh my goodness. This is inspiring because so many food bloggers get burnt out because they don't really have a direction. Let's say they're just doing generic comfort foods. After a few years that can get a little bit old, but you have a direction and you've got an exact map, literally, to guide you through this process. You even have a time frame in your mind. So I actually think this is kind of the way to go, just to have a real solid plan. I am doing this and it's going to take me two weeks each and wow. I'm just inspired by this. So let's get back to your process. Do you ever like to reach out to people who live in countries locally to ask them about food and how do you do that?

Alexandria Drazagowski:

I definitely do. I am in a lot of different Facebook groups. So I'm in travel Facebook groups, I'm in food blogging Facebook groups, I'm in Facebook groups for different countries and things like that. So when it comes time to actually cook a country, I try as hard as I possibly can to find somebody from that country that is familiar with the food and can look over what I've made. Now all the time, obviously when you're cooking one meal from every country in the world, that sometimes it's not impossible to find one person from every single country, but I do make that a really big effort for me. So if I'm making a food, that's specifically meant to represent a culture, I will do my research. I'll do that method that we talked about earlier, looking at a couple of different recipes, picking out common threads, I'll make the recipe. I'll take some photos of it. Then I will find somebody from that country that can look everything over and make sure that everything looks good and authentic and like how their grandma would make it, you know? You can either have somebody look it over before you actually put it together or you can have somebody look it over after you've made it and you have photos and things. I've learned a lot that way through getting people's input of yeah, this looks good. But did you know we normally add some wine to this or something like that. I've definitely learned a lot from having people look it over. So if you know somebody in person that can look it over somebody online, but either way I always try to have that double check.

Megan:

What if you can't find somebody, has that ever happened?

Alexandria:

Definitely, yeah. There's definitely times where you can't find anybody and that's okay. For the most part when I can't find somebody I will still go through and I'll do that method that we talked about before. I'll also watch some videos on YouTube too, to make sure that I'm getting it pretty correct. I'm pretty confident at that point. If I've done all of that research, I've looked at a couple of different recipes. I'm pretty confident at that point that I've gotten it close to correct. So if I can't have anybody look it over, I'll publish it. But if somebody ever finds my recipe from that country and they let me know that I haven't done something exactly authentically. We could talk about that in a little bit about what I do if I make a mistake, what happens there.

Megan:

Yeah, that's interesting. I love that you do try whenever you can to find locals to kind of give you that feedback because you never know, like you said, there might be one little ingredient that someone's like, wait, you forgot the parsley. Where's the parsley? So you want to make sure to be as true as possible and authentic as possible. What if you can't find enough authentic ingredients that are really a part of a dish just because we live in America and we might not have access to it. What do you do in that case?

Alexandria:

This is a great question because it happens to me all the time. This is probably the part of, I would say this episode that will resonate with most of the food bloggers that are listening because not everybody has a project like I do, but a lot of times people are making Thai inspired recipes or something like that. That gets its inspiration from a country, but maybe you don't have exactly what you need to make something from that country. I definitely have a method for if I can't find ingredients, I try really hard because of the theme of my blog specifically, I try really, really hard to drive around to all of the different, teeny tiny specialty grocery stores in the suburbs of Detroit. I always am driving all over the place. For a lot of people that's not feasible or you might live in rural Kansas and you don't have access to those ingredients. So if you ever have to do substitutions, that's certainly okay. There's just some good ways to go about it, to make sure that you're giving respect to the country that you're borrowing that recipe from.

Megan:

So do you note that, like when you're writing your recipe, do you offer up substitutions or other suggestions?

Alexandria:

Yes, definitely. So if I'm changing an ingredient or if I'm changing a cooking method, um, I will always note that in the recipe. I'll note it in the body of the article and then I'll also put it in like the ingredients and the recipe notes too. Even if I'm making a recipe from a country and I've driven all over kingdom come looking for an ingredient, I don't expect my readers to do that. Even if you are using a specialty ingredient, but you don't know if your readers are gonna want to go through the effort to find those things. I would always note the substitutions. I'll bring it back to the Democratic Republic of the Congo. I was making these little snack bites, they're Ethiopian and they're also from Democratic Republic of the Congo too, they kind of shared as a snack. So in the certain recipe, you needed this Ethiopian spice blend. I ordered it off Amazon. So I had it delivered to my home and that's what I used to make the recipe. But for example, if I wasn't able to find that spice blend or even if I have it, and I know my readers aren't going to go through the process of ordering this specific spice blend online. I will go through and I'll note, just so you know, this is the spice blend that's normally used in this recipe. If you don't have access to the spice blend, or if you want to use a simpler substitution, you can use cayenne pepper. That was my substitution. Then I always link to the actual spice blend. So I found a recipe online that showed how to make that spice blend at home. I linked it to that in my article so that everybody could see, what was actually used in DRC and Ethiopia to make that recipe. I linked to the spice blend recipes so that they could use it if they wanted to. And then I also just made a note about, um, what you can actually use instead. Same with cooking methods. If I don't have like, I dunno if I don't have a certain pan that things are made in a different country or like in an oven outside that are used to make something, um, I'll try to put in like a photo, if I can find a photo that's free for commercial use, I'll try to put in a photo of what that normal cooking method looks like. Then I'll kind of detail it out. This is what you would do. Unfortunately, I don't have access to that method here, but this is what I did instead. So just making sure to give honor to what should have been versus what you did and noting that I think kind of covers your bases there,

Megan:

Right? Because if you use an Instant Pot, for example, where the original recipe, you would maybe use like an outdoor pot, you want to acknowledge that, because that could be like a really important piece of the recipes. I love that you cover all of your bases and you try to just let everyone know the important parts of each recipe, whether it's cooking method or ingredient or whatever. So you really dig in and this has got to make you extremely diverse. You could, after you're done, you can travel anywhere in the entire world and be like, I know your food. Here's what it's all about.

Alexandria:

That's the hope I hope so. I'm a little worried by the time I get to the Z's, I'll forget what I did. Yay.

Megan:

You'll have to do refreshers along the way or something. So I'm curious about your followers. So do you find that your followers are following your journey and also making the recipes along with you? Or do you have people that are just following the journey or do you get just kind of random traffic from Pinterest for a recipe from say Ethiopia or something?

Alexandria:

So I would say I get a lot of traffic right now. This is a big point in my blogging journey that I'm working on right now is I'm getting more traffic from Pinterest and search. It's growing every month. But currently a lot of my traffic comes from Facebook groups actually. I'll put links to the recipes that I've cooked from the different countries and people love seeing different ways to use ingredients, and cooking methods that they use at home. I found like in the Facebook groups, people love learning to cook different foods from their kitchen. Then my Instagram followers, I would say are definitely really engaged in the journey of traveling. I have people all the time reach out to me to say, I am going to this country. What kind of food do you recommend that I eat there? I had people that were supposed to go on trips during quarantine that didn't get to. So they asked what I would recommend from my blog, what recipes to make and things like that. So that's always a big compliment that makes me very happy.

Megan:

Yes. And it's a great time to explore new flavors because a lot of us were in the kitchen a lot for the past eight to nine months. So definitely, I don't know. I feel like it's the perfect time for you. You must have had just this little intuition moment when you started your blog and started all of this, because it really is working, not just in your favor, but in your audience's favor and other people's favor because flavor and new things in the kitchen are huge right now, as you know.

Alexandria:

Yes, definitely mealtime can get boring, especially if you can't go out to eat and things like that. That was also something for me too. I came home for the first couple of weeks that I was home and I made the same thing for breakfast and lunch, every single day and I was so sick of this. I needed some diversity in my food again. Even if travel isn't necessarily like the thing that you love, it's still good to just try different types of foods and just get diversity in your dinner and different spices you wouldn't normally use.

Megan:

Yeah. It's a great way to travel without traveling for those that either can't travel or don't want to travel. I actually know some people who don't love traveling, which I find really weird because I'm like, how can you not like this? But people there are people like that. So if they don't like traveling, they can actually explore those flavors without doing so. But obviously you have to tread a little bit lately with this topic because cultures, as we've mentioned, feel so tied to their foods. So how do you tackle this project while avoiding that cultural appropriation that we talked about earlier?

Alexandria:

I think that there's a really thin line between appreciation and appropriation. All of us food bloggers are doing what we do because we want to appreciate food, right? Nobody is going out with the intention of appropriating any culture. So you just have to make sure that you do it in the right way. So if you're making a dish with flavors inspired from a certain country, just do your research, make sure that you're using actual ingredients from that country. Talking about substitutions, getting it checked by locals. I would say, that's how you make sure that you're doing it in a way that shows appreciation and not appropriation. Sometimes you are bound to make a mistake. If that happens, people can get kind of defensive and sometimes people get angry. If you make a recipe that doesn't directly reflect their culture. I have started learning a lot more about this concept. I've focused on it the whole time, but I've definitely learned so much even in the last six months, because I feel like it's gotten a lot more prevalent in our society, even over the last six months to really start making sure that everybody's respecting the differences in different people and making sure that you're honoring cultures in the right way. So there were a couple of recipes from when I first started blogging that it wasn't intentional. I didn't mean to. But I didn't make them in exactly the right way. Sometimes people would get angry or leave angry comments, or tell me you didn't do this right. It's easy to get defensive about that or get your feelings hurt. But also you just have to realize that if you're making recipes that are showcasing a different culture, or flavors from another culture, you're representing a group of people. People take that very personally because it's showing you're using your platform to show the world about their culture. So they want to make sure that you're doing it correctly. I would say step one, if you make a mistake is just to not get defensive. After that, I try really hard to comment back to them and say, thank you so much for pointing this out. I try as hard as I can to do research. Obviously I made a mistake here. If you were to make this recipe, what would you do differently to make sure that this recipe is authentic? So I always come back very calmly and say, thank you so much for reading my blog. I appreciate you leaving this comment to let me know. What would you do differently? If they answer, that's incredible, I will take their notes. If they don't answer, I'll go back and I'm trying to find somebody else from that country to give me a note on what to do differently. Then I'll go back, I'll redo it. I'll put a little edit in my blog post. I changed this and there's no harm in that. There's no shame. It's okay. If you make a mistake, everyone's gonna make a mistake. Fix it and move on.

Megan:

What do you do if someone swears at you and because I've had this happen and I wasn't even trying to replicate a dish, I just happened to use a word from a dish that comes from a different country that it's like, not even the same recipe, but I mean, Oh my goodness. So many people got so mad at me on YouTube. I had to take a lot of the comments down because they were just like rage and swear words galore. I could not believe what they were calling me. Obviously you just ignore those, but do you have people who get really upset and, or do most people come to you and just say, this is wrong? Are they reasonable because I have only encountered really angry people.

Alexandria:

This severe anger. Actually I've noticed that regardless, people are meaner on YouTube than any other social media platform. I totally understand that. I don't know why, I don't know what it is about YouTube that brings out the inner rage in people, but people are so much more understanding on Instagram or comments on my actual blog than they are on YouTube. I don't know. I do get angry people sometimes if I mess something up. If it gets me worked up, I will never answer when I'm worked up. I just don't want to react out of emotion. So I'll put it away for a little bit. Then I'll come back. Once I've calmed down or don't feel so hurt or embarrassed I will just leave a kind comment, always kill them with kindness. Like, thank you so much for leaving this comment. Thanks for watching my posts or watching my video or reading my post or whatever. I just ask them what they would do differently and show them that like, I am not just doing this on purpose, that it was a genuine mistake and I'm willing to go back and fix my mistake and make sure that it turns out okay. This actually happened to me even a couple of weeks ago.

I've been working really hard to make sure that this doesn't happen, but even a couple of weeks ago, I put on my Instagram, I was doing the day in the life with The Foreign Fork. We're making some recipes from this country. I've researched on making sure I'm not doing anything incorrectly, made this whole big Instagram story about how I go through and do my research. Then that day I had a recipe that I made previously, a couple of weeks ago. I'd had it go live on that same day. So I'm so excited. This new recipe also goes live. I posted in a couple different places and it was a recipe I had grown up having. I recreated a recipe that I had grown up eating at my college cafeteria. It was on some menus and near my hometown. It was this chicken that had pineapple in it. I wasn't making it from any certain country, but I had always seen it called Hawaiian chicken. So I made this post without even thinking about it. I just called it Hawaiian chicken and I posted it. I got so many comments just because something has pineapple in, it doesn't mean it's Hawaiian. I literally was just talking about how to make sure that you're not doing that. I did it on the exact same day. I just responded you are so absolutely right. I didn't even think about it when I was naming this and my post had just gone live. I went in, I named it pineapple chicken instead of Hawaiian chicken and changed the wording throughout the post. I let them know that they were right and that I was gonna edit it. Everything was okay.

Megan:

That's all you have to do. You just have to recognize that you just made a little mistake and change it. I think people really appreciate that and kill them with kindness. That's kind of my motto too. I mean, I've had, I received some doozy comments over the years and that was really unnecessary. I don't appreciate being called that, but I always, every single time, no matter what, I'm always like, thank you for being here. I'm sure that if they actually do take the time to come back and read the comment, they're probably so thrown off. They're like, what? Wait, I was supposed to make you mad. That's a huge motto of mine. People are going to get upset and whether it's justified or not, just be kind back. But this is touchy because you know, you have to consider that this food is somebody's culture. It is another country's culture and something that they're probably very proud of. So you just have to really keep that in mind.

Alexandria:

Yeah. It's interesting because I'm assuming most of your listeners are probably in the United States. I'm from the United States. I don't feel like I have a super big connection to the food of the United States because everything's different. It was kind of even hard for me to understand. I thought, okay, I did something a little wrong, but you don't have to get so angry about it. But then as I started, like learning and reading and talking to people and like, as I've progressed in my blogging journey, I've realized that some countries they're, they're tiny and those foods are what they make and it's made the same and everybody's grandma makes it and that's a really, really important part of their culture. Whereas like us, we have pizza and then we have Thai restaurants and we have the Mexican restaurants. We have so many different kinds of food. In other countries, their food is their food. That's a lot of what people eat and they feel an even stronger bond to it.

Megan:

I'm glad you pointed that out because I too went through that process of being, why are you so offended by this? This is just a recipe, but we don't, we don't think of food here in America, the same way that other countries might. So it's really good to put ourselves in their place and understand that this is really important to them. We have things that we get worked up that are really important to us that they might not understand. So it's good to just kind of think that way.

Alexandria:

Yeah. I think it's our, it's our responsibility. If we're food bloggers that are making recipes that are influenced from other countries, it's our responsibility to make sure that we're doing it in a way that makes those people feel proud of the recipes that are on our site as opposed to…

Megan:

Upset.

Alexandria:

Yeah. Exactly.

Megan:

So not everyone sets out on such an adventurous path as yours Alexandria, but what are some ways that food bloggers can get involved in more tasting the world and their food creations without having to change their niche necessarily, or take on a massive project like yours?

Alexandria:

That's a good question. My favorite thing to do, I absolutely love going to a specialty grocery store on the side of the road. If I'm driving and I see an Asian Mart that I've never seen before, I will make a mental note of it. If I ever have some free time and I'm driving in that area again, I'll go and browse through and pick up an ingredient that I've never seen before. A bag of chips that are a different flavor or just something random that'll give me an authentic taste of what's actually eaten in that country. I think that that part is so fun to do. I would say if you want some diversity in foods, go browse at a grocery store that you've never actually been to before and find something that's interesting to you and then just do a little taste test to figure out what those flavors are actually like. If you want to post it on your blog, you can. But it's also just a really good way to gain some experience and expand your horizons a little bit. I learned some different flavors and I think it gives a lot of inspiration too. That'll help your blog be more creative moving forward too.

Megan:

Because you never know, you might tap into some sauce or just an interesting ingredient that you never would have otherwise explored that you can incorporate into your own stuff. That is such a great, simple recommendation for people. It is fun to go into new stores and just see what's on the shelves. Things are so different in other countries. So it's very interesting to do that. I don't do that much, but every once in a while I will just be called by like a random little grocery store and do that same thing. It's always interesting.

Alexandria:

My mom and I, we call her mama Foreign Fork at the forum. She does some YouTube videos sometimes with me where I like to just go purchase some random snacks and we'll do a little taste. People love those videos. People are very drawn to learning about the snacks and things from countries that they've never visited. I like those are my most popular videos.

Megan:

Interesting! I'm going to have to go watch that. We've covered a lot. I'm just so inspired by your journey and everything that kind of led up to what you're doing right now. I am excited to follow you and see how you go from A to Z. Even if it takes you 10 years let's do it. I'm excited to follow you. So before we say goodbye, I do want to ask you or touch on this, I guess. You won a Saveur blog award for most groundbreaking voice, which I think is so amazing. So tell us how that evolved and how you think you rose to the top and your thoughts on that whole experience?

Alexandria:

So that was honestly the best experience of my whole blogging career. I was so grateful for that. When I first started blogging, I did not know what the Saveur awards were. I hadn't been blogging long enough to know. I saw one of the people that I was following, talking about the Saveur awards and how it was open for nominations. I went in and I peeked around at it and I was like, Oh, this is great. You can nominate yourself, go in and nominate yourself. I actually did not nominate myself even though I thought it was awesome. I thought I'd save this for when I'm a larger blogger. At the time, I only had like 1,200, followers on Instagram. I felt small. I had a small amount of sessions. But I thought this is good to know that this exists. I went to the Taste-makers conference, which I know you were there too. I met a couple of different bloggers there. Then one of them had won a Saveur award the previous year. When I came home, she messaged me on Instagram and she said, Oh my gosh, congratulations on your nomination. I asked, nomination of what? She responded, the Saveur awards. Isn't this you? She sent me a screenshot of this nomination. I started crying, crying for like days. I was so happy. I later found out that I don't know how many people nominated me. I didn't know for a very long time anybody that had, I didn't know how I got nominated. I recently did an interview with a food blogger that I follow from one of the countries that I was featuring. I did a live interview with her and she said, Oh my gosh, I've been following you for so long. I nominated you for the Saveur award. It was so sweet. She was from Cyprus. That was really cool.

Megan:

Yeah. That's such an honor.

Alexandria:

Once you get nominated, people go through and they have time to vote for you. So I posted on my Instagram every single day, and said you guys this means so much to me, I'm such a small blogger in comparison to everybody else. So vote as many times as you can. I had people I didn't even know that said, I've set alarms on my phone. I've been following you for a year. I set alarms on my phone to vote for you every single day. People that I didn't even know were just making a commitment every single day to vote for me. So it fills my heart with a lot of joy.

Megan:

Oh, I love that. That says a lot about you, that people were consistently going in and supporting you in that way. I think that's great. So nice work. I'm so glad that you got nominated and won.

Alexandria:

Thank you.

Megan:

This has been such an inspiring conversation. Thank you so much for being here today, Alexandria and sharing this amazing journey of yours with us. It was such an honor to talk to you.

Alexandria:

Yeah, thanks for having me. It was nice to actually get to talk to you too. I really enjoyed it.

Megan Porta:

Good. Before you go, do you have a favorite quote or words of inspiration to share with food bloggers?

Alexandria:

I have this quote taped up on my mirror, and it's short, but sweet. It says, "if your dreams don't scare you, they're not big enough."

Megan:

Oh, good one. I love it. Yes. That's great.

Alexandria:

Dream, big, dream big.

Megan:

That's right, dream big people. Well, we will put together a show notes page for you. So we'll just kind of go through everything we've talked about today. If anyone's interested in peaking at that, you can find it at Eatblogtalk.com/foreignfork. Alexandria. You've talked about this a little bit, but where can my listeners find you online?

Alexandria:

My blog is called www.foreignfork.com and then every single other thing is The Foreign Fork. So Instagram, Facebook, Pinterest, YouTube, they're all at The Foreign Fork.

Megan:

Awesome. Thank you for listening today, food bloggers. I will see you next time.

Intro:

We're glad you could join us on this episode of Eat Blog Talk. For more resources based on today's discussion, as well as show notes and an opportunity to be on a future episode of the show. Be sure to head to Eat Blog Talk.com. If you feel that hunger for information, we'll be here to feed you on Eat Blog Talk.
---
💥 Join the EBT community, where you will gain confidence and clarity as a food blogger so you don't feel so overwhelmed by ALL THE THINGS!
📩 Sign up for FLODESK, the email service provider with intuitive, gorgeous templates and a FLAT MONTHLY RATE (no more rate increases when you acquire subscribers!).
Read this post about why I switched from Convertkit to Flodesk!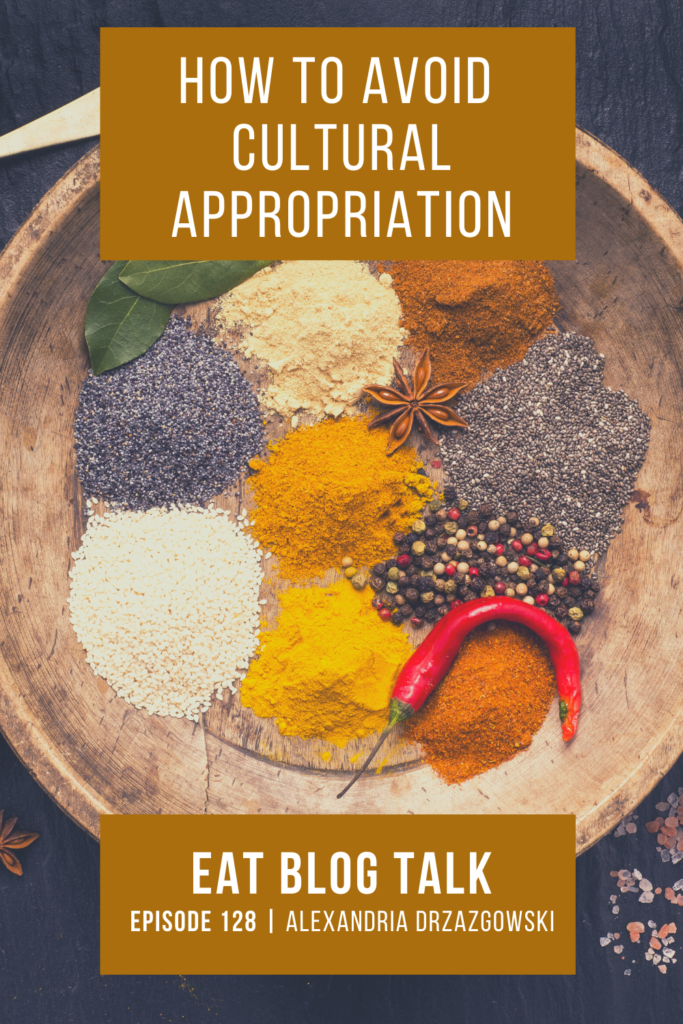 Questions or comments on this episode?
Head over to the Eat Blog Talk forum post about episode #128 to leave any questions or comments. We'd love to hear from you!