In episode 199 we talk with Aysegul Sanford about her story and finding it intimidating talking to peers in the food blogging world and the result that came when she reached out to a blogger she admired and she built community for herself.
We cover information about why you need to reach out to other bloggers, even if its scary and how vital it is to lean on and learn from others and consider joining or starting a mastermind group!
Listen on the player below or on iTunes, TuneIn, Stitcher, or your favorite podcast player. Or scroll down to read a full transcript.
---
Guest Details
Connect with Fool Proof Living
Website | Facebook | Instagram
Bio Aysegul is the blogger at foolproofliving.com. Her site is mostly about healthy recipes made without the use of refined sugars. She has been blogging since 2013 on and off.
Takeaways
The idea of Masterminds is 1) to learn from others and 2) providing value to others.
Masterminds are a great place to make friends and/or solid working relationships.
Some benefits of Masterminds are exchanging ideas, access to networking and tools that others know about, backlinks and support on social media platforms as well as encouraging one another.
Begin a Mastermind with ideally 3-4 people and also bloggers that are at your level.
It's beneficial to set up your Mastermind so that everyone has a set limit of time to share and to set up the questions in advance, even written down on a shared Google sheet so everyone's prepared.
Stick to meeting once a month in order to give everyone time to work on their goals.
Be up front with the members that this isn't a venting session and it should be avoided so as not to waste people's time.
Authentic relationship building is a benefit of being in a successful Mastermind.
More Blogging Journey Stories!
Lynette Rice shares about loneliness and isolation in the entrepreneurial world and how to combat it in episode 73.
Transcript
Click for full text.

Intro:

Welcome to Eat Blog Talk, where food bloggers come to get their fill of the latest tips, tricks, and insights into the world of food blogging. If you feel that hunger for information, we'll provide you with the tools you need to add value to your blog. And we'll also ensure you're taking care of yourself, because food blogging is a demanding job. Now, please welcome your host, Megan Porta.

Megan Porta:

Hey, awesome food bloggers! Do you struggle with knowing exactly what you should be doing to move the needle forward in your business. Do you struggle with knowing what to focus on next? If so, if this sounds like you, I have two solutions for you. Number one is Mastermind groups. There is so much power in getting people together and helping to solve each other's problems. At Eat Blog Talk, we have put together our own Mastermind groups and we are hosting these weekly. You can join at any time. You can try it out for a month or you can sign up for a quarter or you can go all in and sign up for an entire year. Come join us. See if it's a great fit for you. This will really help you to solve those problems you're having in your business and give you clarity about what you should be doing next to move your business forward.

The next solution is the Eat Blog Talk membership. I have spent all of 2021 so far putting so much value inside of the membership. It is such a supportive and wonderful place to be for food bloggers. We are learning so much from each other. We are joining together in monthly intensive calls, where we focus on very specific parts of food blogging in order to grow our businesses in massive ways. We also have guest experts come in and join us very regularly to talk about really specific parts of food blogging. We get one-on-one access to these experts such as Matt Mullen from email crush, Casey Markee from Mediawise. So many great people are joining us in these sessions and they are super valuable. There are so many reasons why you should be in the membership. I could not even start touching on all of it. If you're tired of wandering around aimlessly in your business and not knowing what to focus on, give the membership a try for free for two weeks, go to eatblogtalk.com. You can sign up for the masterminds there, and you can also start the process of getting into the membership for two weeks, just to check it out. The rest of us can't wait to see you inside.

Hey, food bloggers. Welcome to Eat Blog Talk. This podcast is for you, food bloggers wanting value, information and clarity that will help you find greater success in your business. Today I have Aysegul Sanford. She goes by Ayse with me from foolproofliving.com. We are going to have a super fun chat about the power of community and the Mastermind. Ayse is the blogger at foolproofliving.com. Her site mostly contains healthy recipes made without the use of refined sugars. She has been blogging on and off since 2013. Ayse, I am so excited to chat about this today and to have you here with me, but first we all want to hear your fun facts.

Aysegul Sanford:

Hello, thanks for having me. My fun fact is prior to this blogging thing, in my previous life, I worked in hotels, hospitality industry, and my last job was at an ultra luxury hotel in Atlanta, Georgia. I was the front of the house operations manager where I managed anything and everything you'd see at the front of the house, the door, the valet, and concierge front desk the phones and worked closely with other departments, that'd be reservations sales and accounting. It was glamorous in that I was working with a lot of celebrities. I got a chance to work with their people, I guess. It was a lot of fun. I thought I was going to be a hotelier but life took a different turn. I ended up being a blogger, but I loved every minute of it. I had a chance to meet big names like Paul McCartney, Jennifer Lopez, Ryan Reynolds, the Rock.

Megan:

Oh cool.

Aysegul :

Yes, it was fun.

Megan:

That's awesome. I love that. So that job probably kept you on your toes, right? I mean, you probably were able to pivot and respond like a pro and then also you probably also learned the need to collaborate and to communicate well between different parts of the hotel.

Aysegul :

Yeah. These people obviously have very high expectations. At the end of the day, you're just one person, you have to rely on your team, rely on the other departments to make things happen. But at the end of the day, we were the face of the hotel and we were the people that they would come to when they needed something. Usually, you know how life works, they will need something at three o'clock in the morning, when everybody's gone and you're just by yourself. I just always think back to those days and try to figure out whatever it is I'm doing. How can I use some of those principles in my everyday life? It all goes back to that. To that understanding you just can't do this alone and you need your team. Also those people we talk about, like the ultra luxury industry. Yes. They have expectations with their people too. They understand when things go wrong and there's that human element that is, I think is important as well.

Megan:

Ryan Reynolds, did you actually talk to Ryan Reynolds?

Aysegul:

In 2014, right after the big economic downturn, Georgia started giving some tax credits to movie makers. A lot of people started coming over here. At the time that we, I don't think that we had an Airbnb mentality or any of that. They would come to the hotel and, and stay for like six, seven, eight months at a time. He came, I can't remember what the movie was, but he was there with us for over six months. He was staying in a corner room and he was having some rain, it rained so hard and the whole room got, there's just like a lot of rain in the room and it was a problem. But he was so understanding, so kind. Most of the time the celebrities are just so nice. He was just so sweet to the people around them. I don't know if I will say the same thing, because they're the ones who need to make this stuff. But even with that, he actually, I still have that. He, at the end of his stay, it wasn't him. It was his people, but they sent me a bottle of wine. With a note from him, I was like, Oh my gosh, Ryan Reynolds wrote me a note. It was so cool.

Megan:

Oh my gosh, he is one of my favorites. I just love him. You can kind of tell with celebrities, the ones who are genuine and you can kind of tell the ones who aren't. It's just a guess obviously, but my boys and I try to do this for like, I bet he's super nice or I bet he's not so nice. But Ryan Reynolds seems like one of those people that's just really genuinely sweet.

Aysegul :

He was really sweet. He's just like a really nice guy. He had just broken up with Scarlet Johansson. We had newspapers at the front desk in the morning and somebody offered him a newspaper, after the day that the news broke out and he was like, do you think I want to read that paper? We're like, no, we don't think you should read it.

Megan:

We'll protect you, Ryan.

Aysegul :

Yeah. We'll protect you. He was kind of joking about things. After staying for so long at the hotel, they would come to us and just say goodbyes to people. He had his manager buy us all the staff gifts. I mean, we build relationships with these people. If you think about it, you stay there for six, seven, eight months. You see these people every day. Because we're hotel employees, we have to keep cool. We cannot fanboy, fangirl them.

Megan:

Okay. I'm the worst at that. I am. When I see someone who I fangirl, I get so weird. Ays, give me some tips for that, because I was just at a retreat in Puerto Rico. I met all of these people, podcasters and other people who I've been following for a long time. I just feel like, Oh my gosh, you are my hero. I get so tongue tied and I start saying, just ridiculous things. The weirdest things come out of my mouth. I'm your biggest fan. Oh my gosh, I need to learn how not to do that.

Aysegul :

I totally feel you. It is hard. Usually I can keep my cool, like I got used to it. Right. Because at the end of the day, this is my job. I need to keep my job and look at them as people. But I think this doesn't really answer your question, but I think this is really fun. Paul McCartney came to the hotel, but to me, he's the top, right? That's a big time. His fiance came before him and they're staying at the presidential suite. She came in with a late flight. So I waited for her. When the guest comes in, you welcome the guest. They usually come from the back door, we escort them upstairs, give them a room orientation.

She came and in like 30 minutes, he was supposed to come. So I saw him and I started feeling my hands shaking, and he is so, so nice and so aware of the fact that his effect on people. We're going up the elevator and my hands are shaking. Like it's me, a bellman and Paul McCartney. I'm like, keep it cool. Keep it cool. He asked me a question and he asked, How are you? Where are you from? He's asking me this question. He's the one calming me down.

Megan:

Oh, that's so nice.

Aysegul:

It was incredible.

Megan:

He's like, I realize I made you freak out. So I'm going to calm you down.

Aysegul :

It was so sweet. I'm riding in an elevator with Paul McCartney. Is this for real?

Megan:

Well, not many people can say that. So that's a huge claim to fame. That's so cool. Well, this kind of ties into what we're talking about today, which is just having competence to talk to people that you admire and who you want to collaborate with and networking and the power of people and community and all of that. We kind of talked about this a little bit before we hit record, Ayse, but, you know firsthand that this blogging thing is not meant to be navigated alone. I mean, if we try to do that, oh, not just failure, but depression and loneliness. It's just not something that we're meant to do. So when in your journey did you realize this, and I want you to talk through how you went about fixing that because you have kind of a cool story.

Aysegul :

So I started blogging in 2013. Literally out of boredom, my husband, after this whole hotel experience, I got married and he was in Vancouver. I was in Atlanta working at the hotel, but we wanted to be obviously together because we were living apart. It was a matter of like me finding something either in Vancouver or wherever we're going to be next. He got an opportunity in the British Virgin islands, a very small Island. Initially the plan was that I would go there with him and find a job over there. But if you've ever been to the Virgin islands, the British Virgin islands, one, opportunities are very limited. Two, even if there's an opportunity, they prefer to give it to their own people, not to an expat's wife.

So shortly after I realized I'm not going to have an opportunity to continue my career there, but I also didn't want to be a housewife sitting on the beach all day long. It sounds good when you hear it, for the first six months, I was on the beach all day long, we lived on this white sand beach, half a mile, just gorgeous. I promised myself that I will never wash my face in the sink. I'm going to go into the ocean every morning to wash my face. I've done that. But six months into it, it was fun and all, but after that, it started getting really boring. I wanted to see what is it that I can do. I really enjoy cooking. I really enjoyed sharing my story. But I didn't know where to start.

Long story short, we were there for just under four years. I started, okay, I need to learn to take photos. I need to learn to build a blog and I need to figure out what it is that I want to do with a website and the idea of making money or turning it into a business wasn't in my mind. But it was more, okay, how can I make the best out of this, out of this time that I'm going to be here. So as you start building, you can't help or when you start writing, you can't help but look at other bloggers because we're all learning from one another. I had a few of those people who I admire a lot. I was making the biggest mistake, that I was comparing my beginning to some other people's middle and was feeling like there's like this cool kids club that I'm not a part of, without even reaching out to these people or trying to become friends with them.

But you know, I have a really good friend who is now one of my best friends. I met her on the Island. She and I would get together and talk about this all the time. Nowadays, when we talk about it, she's like, you're in the cool kids club right now. I would always call the cool kids club, but I had a few people that I admire, but the idea of reaching out to them and talking to them never even came to my mind, I felt intimidated. So fast forward to say 2017, 2018, we moved back to the US. My husband got a job in another hotel management position in Vermont, which is where we lived after the islands. I saw my friend Alana of Bojon Gourmet share a story that says that she's in Vermont. Alana was one of those people for me, if you don't know her, she's the most amazing food photographer.

She's my top food photographer. I'm a fan girl. I saw her. She shared, I'm in in Vermont in a town that is like an hour and a half away from where we live. She said, I'm here to visit a maple syrup company. She shared something. I had a moment where I'm like, Oh my gosh, she's here. I need to call her. I was like, I'm on my phone. I'm like looking, a total Paul McCartney moment for me. I'm like, yes.

Megan:

Hands shaking.

Aysegul :

So I reached out to her and I said, Hey, Alana. I see you're in Vermont. I know we haven't chatted but I live here. I'm a huge fan. If you have time, I'd love for you to come and visit us here. We live right by the hotel. My husband works there. The hotel is the big attraction in the town where we were living and we can have dinner there. Would love to have you. She got back to me in the next five minutes, she was like, Oh my gosh, of course I would love to. I don't have a car. Can we meet somewhere else? Can you do that kind of thing? I'm like, absolutely I'm getting in my car. The next day, we had dinner. I mean, when I tell you how sweet she was, I mean she is obviously, and I felt like, why did not I do this before. It was such a fun evening.

Then after that, now we talk like, I dunno, a few times a month. We have these long skype sessions where we exchange ideas. She's so sweet. After that conversation, since coming back to the US, I started reaching out to a lot of bloggers, people that I admire, even if it is just a few sentences in an email, just to kind of spark a conversation. Some of them turned out to be really good friendships, which helped me start these Masterminds. Some ended up being just cordial emails, back and forth. Hey, it's nice to meet you. Then like a follow on social media or support. Not everybody turned out to be best friends, but the ones that they did, ended up being so good. Now I'm doing that more often. I'll share some of the things that I'm doing with my readers too, because that's another aspect of this, but yeah, so that's kind of how it all started.

Megan:

That's so cool. It's worthwhile to reach out, if nothing else you are, you're lifting someone else up and telling them, Hey, you're doing a great job. Even if it doesn't turn into a deep friendship, you and the blogger that you really respected, her and her work and her photography, that worked, that turned into a friendship. But not every time you reach out, it's not going to every single time, but that's kind of a good lesson. Yes, reach out because of nothing else, you're telling that blogger that they're doing a good job and that you are supporting them and cheering them on. I also love this about your story, Ayse is that you had the confidence to reach out to her. I mean, you saw she was in your town and you reached out, even though it was probably scary, right?

You were probably not like, Oh, this isn't a big deal. I mean, it's scary to reach out to people that you really respect, but then after she responded in such a positive way, you guys had dinner the next night. That's so cool that she was so receptive and not just receptive, but friendly and really enjoyed her time with you. That probably propelled you to do it more, right. Because you had that confidence, Oh, that worked really well. I'm going to do this again. Do you have any words of encouragement for bloggers who might be listening and who think, I could never do that. There's so many people I admire. I couldn't reach out to them. What would you say to them?

Aysegul :

Who you're dealing with is another human who is doing what you're doing. Because at the end of the day, what we're doing is cooking and putting it in a bowl and on a surface and taking a photo of it, day in and day out. So the person that you reach out is going through the same thing you're going through, and worst case scenario, you're just gonna give them a compliment and move on. Not everybody, not every relation turns out that way, but when it does turn out in a good way, it is so uplifting. You just feel like you're a part of something. This job is difficult in that we're alone most of the time, in front of a computer. With social media, we're having to, in a way fake it, we're having a really good time. This meal is delicious. At that point, we've been eating the same thing for the last five days. The only person who can understand you is another blogger and keep that in mind. You know, we're all going through the same things and some may turn out good, but when it might not turn out good, but when it does, it feels amazing. So it's so worth trying.

Megan:

This kind of leads us to the Mastermind because after collaborating a little bit with other people, you were like, Oh my gosh, this is really powerful and cool and beneficial. So you started putting Mastermind groups together. If you listen to Eat Blog Talk , which I know you do, you know that I am such a proponent of the Mastermind. I love it, it's this concept. It's not just a good concept. It works. If you do it right, it is so powerful. So I just ran a Mastermind group as a trial and Q1 and put some awesome people together. We killed it. I mean, it was, after every single meeting, after every single call, we were like, Oh my gosh, there was such magic. The things that came out of it, we didn't expect going into the call. We were like, wow, that was so incredible. So I'm kind of honing, tweaking my own Masterminds. We're starting up new groups in May. So I've kind of got in my mind what I want to do. So I'm really excited to learn from you, Ayse. So can you talk to us about how you structure your groups? Let's just start there.

Aysegul :

I'm right now in two Masterminds, one is almost two years old. The other one is rather new. The idea of Mastermind for me is, one learns from others. Two is providing value to others. I think that the way that I look at Masterminds is not a venting session. I think that's a really important distinction because if you are not honest about that, and if you don't acknowledge that, it can go south real quick, it could be a waste of time. So for me, it's important to structure your group so you're not wasting your time. To me, that kind of starts from who are you going to Mastermind with? The way that I started was finding people who are at my level. This would be the number of years of blogging or number of page views. At the end of the day, numbers are important. Who can I learn from? That was important to me. What are the strengths of this person? What is it that I can provide to them? So I think that those three points, finding people at your level, figure out what is it that you can offer and what is it that you can learn from them is very important. That is how I would start structuring our group.

Megan:

So do you just reach out to people individually? Or how do you find your people?

Aysegul :

Well, the way that I did, was just really, I started sending out these emails and I'm not like sending out emails everyday. Once a week, I reach out to someone or like every other week. Start a conversation and see if I feel like we're on the same frequency, our interests are the same. I think in terms of a starting point, I think finding people at your level is an important thing, but as you grow yourself and your blog, now the other Mastermind that I'm in, there are people that are little higher level than I am, but that's another whole other thing, because it's pushing me to be helpful and ask the right questions because I want to make sure I provide them value. So basically just reach out to people and build a relationship and then approach them, Hey, would you be interested in something like this?

Megan:

I love that. I love your approach. Here's something that I love about Masterminds. Not only are you getting your own problems solved, but you get a front row seat as you watch other people get their problem solved. So it's a win-win-win all around. Everyone's getting their problems solved, but you get to watch firsthand a group of people solve other people's problems that you might have too, or in the future you might have. You're like, Oh, well, I didn't have that problem today, but I did have that problem. Or I might. I'm going to write this note down because that was a great solution. You know what I mean?

Aysegul :

Absolutely.

Megan:

It's not all about you. You're witnessing just this magic with everyone and you get a front row seat. So I think that's super powerful. So you find the people that you will be in the group with, and you align yourself with experienced levels and all of that. How do you make sure that you are not wasting any time? I have been a part of other Masterminds where you get in and it's like, you're talking about things that aren't relevant. I feel like, Oh my gosh, I'm so busy. Why am I, why are we here? So how do you ensure that you're getting in the group and talking about relevant things and just being really efficient?

Aysegul :

I think setting parameters as to what you're going to be talking about is an important thing and the way that, there's really no right or wrong way of doing this, but the way that we structured it was, by just answering four questions in a matter of 15 to 20 minutes. Hopefully you'll keep it around 15 minutes so that there's another five minutes of asking questions. We created a Google sheets document where we shared it with each other, just a shared file and answered four questions. Those questions are, what is it that I'm working on right now? What are my short term goals? What is working for me at the moment, in the last month, what worked for me, then what did not work for me?

What am I struggling with right now? The last part is the emotional part. What kind of an uplifting do I need? If I'm feeling down about something, if I am having a problem with something, that is where we just lift each other and the way to keep this in a time construct is by writing everything down and being prepared. Just like a 10, 15 minute of writing before getting on the call helps a lot and having these questions, or these parameters really help a lot too, so that you're not wasting time and not turning it into a venting session because it can really happen that way sometimes.

Megan:

Yeah. It can. I mean, it's life, right. We're humans, things come up. Do you have one person in charge of keeping everyone on track?

Aysegul :

We didn't really have that need because we're, I guess we clicked so well. I think, no, I don't think so. I mean, there could be, but in our case we didn't have to do that. Everyone was adult enough to be prepared and ready. What I love about this session, and this is what we started doing, is having a five minute question thing, because especially right now, because most of the business models are based on what is the problem that we're solving? There are so many products out there that are new, and it's so hard to know which one it is that I need, just to give you an example. I have an ebook on my website that is pretty outdated, but it's a freebie that I give, and I'm trying to figure out a way to update it.

But I just don't know if I like that whole PDF thing. So I was thinking about what I can do to make it more of a book experience? So people really see my photos and stuff. I was just like, this is a challenge for me. I'm trying to figure out a way. My friend Tracy, she's the Vanilla Bean blog. She said, Hey, I'm working with this guy out of Australia. He has a product called book elope. This is exactly you need. I had never heard of the thing, but because she had a conversation with him, that was exactly what I needed. Now I have a call with him on Friday, and I'm going to ask him, this is what I need. Will you be able to offer this to me? It's these kinds of things, the goal is to share your challenge and get an answer for it, because she has already done that because she was doing a book for herself. So I guess I don't know how I came here, but that was a good example.

Megan:

Right? No, that's a great example. I'm glad you talked through that because things pop up that you would otherwise have no idea about and someone, this friend just happened to come across the thing that you need and otherwise you probably would have never known about that. So that is one of the great things I think about getting groups together like that. Now, do you guys set goals from week to week and how do you track those things that you want to find success in?

Aysegul:

So we each have a tab on Google sheets and we go back to the previous month, just a few minutes. What was it that I'm working on last month? What have I been able to accomplish? There are times that we talk a little bit about the previous months, but usually because it's kind of a continuation. I was working on this last month and here I am, this is what I have done. This is what is working. That kind of carries down to the what is working session. We don't really intentionally set goals per se, but I guess by keeping an eye on what we did last Monday and having those notes in front of you helps. The interesting thing is when you do this for a very long time, once a month, we've been together for almost two years now. But you go six months prior, or like a year prior, and you see what you were working on there, written down and you see it and look at what you're doing right now is so valuable. You literally see the progress in a way. So just a simple Google sheet is what helps us there.

Megan:

Oh, I love how you just said that. When you write it down, you can look back, it's almost like you're reading a story and you're like, Oh, it started with that. Now look how it's evolved and how it's this. But when you don't log it, you kind of forget, right. You're like, I don't know. I think six months ago I was doing okay, but when you have it written down, you can't help but look at it and see how far you've come now. Do you guys keep it under a certain time? So do you contain it within an hour, or how does that work for you?

Aysegul:

We do 20 minutes per person. It's like an hour. But sometimes we'll be over an hour, but the goal is to lift each other up. We try to keep it under an hour, an hour and a half. But when you have a structure, after that time is over and you don't really need that much more. We're trying to keep it under an hour, hour half max.

Megan:

I think you said this earlier, but how many people is ideal for a group like this, do you think?

Aysegul :

Well, this one group that I have is three and the other one that I'm in right now is four. I think that's a good place to be. I have never been to a group where there are more people. I think, if you really want to benefit from something like this, you need to have it these 15 minutes of time that is about you. After an hour it starts kind of getting a little bit too much. So I think if you can keep it under four people, I think that's a good number. Now I hear there's some bigger masterminds where then you would have to have someone who is kind of leading the group. I have not been to one of those and I don't really have experience, but the ones that I've been to three to four people has been a pretty good number.

Megan:

I was in one that had, I believe it was six, possibly seven. I felt like that was just a little bit too much because we did the going around, kind of what you're saying. You each get a certain amount of time. I feel like we never had enough time. Then also, I just felt like it was just a little bit too big to feel comfortable. When it's four people it's so much more comfortable just to talk freely and to be open. But when the group gets bigger, it's like, Oh, especially virtually. Because if I say something, am I going to interrupt? And you don't know if anyone else is starting talking, you know what I mean? So it's just a little bit uncomfortable over that number. I love everything you're saying. This is so great. Do you guys meet every week and are you super strict about please try to make it every week? Or how do you go about that?

Aysegul :

We meet once a month. I think once a month is more than enough because you need to work on the things that you're kind of writing down. Maybe sometimes during the holiday season, we may take a few months with break because everybody's so busy. But other than that we meet once a month. With both groups, I think that's a good place. If you have two Masterminds, you can do twice a month kind of thing, which is I think a good number. I wouldn't want to do it once a week. I think that will be too much.

Megan:

Then you mentioned lifting people up and making that an important part of your group and what you talk about with each other. So I love that. I've never thought to add that component, but what a great idea, because we've talked about this, we're lonely, we are looking at our computers all day. We get emotional, we get upset. We spend a lot of time with ourselves. So focusing on that piece is really important. So how do you do that? Give me an example of maybe what a problem would be or an emotional something that somebody is experiencing and how you help them through it.

Aysegul :

I mean, there's so many benefits of this. So let's look at this from a business perspective, right? One of the currencies on the internet or two big currencies on the internet is back links and engagement. I think we can agree to that. Right? Social media is all about engagement. Your blog's backlinks are a very important thing. So if you think about it, would you give a backlink to someone you don't know, or you would give a backlink to someone that you know and you understand that your readership will benefit? I mean, it's obvious that if you're writing a post about a recipe and some somebody that you know, has a really good source that you would give a back link to, that comes from a relationship that you've already built.

So I think from a business perspective, the more people you know, the more people that you build those relationships, that's when you get those backlinks. One thing opens another. You know,how it works, you get shared somewhere and then another door opens for you. You increase your chances of being seen when you build these relationships. I think that's the one very important thing. The other thing is we're living in a world of algorithms and engagements, everything. So for example, Oh, bless you.

Megan:

Thank you.

Aysegul :

When we when you are, say the support on social media is I think very important because we do sponsor posts and the minute you put that hashtag of sponsored, Instagram doesn't show, Facebook doesn't show. But if you reach out to a bunch of girlfriends and blogger friends and you can say, Hey, can you give me a handle on this? Can you just share? Comment? Like? I mean, you don't even need to say anything because we're all on the same boat, we help each other. The fact that somebody is going to understand what you are asking and just the fact that they will help you without even thinking, it's just I think to me is so helpful and building these relationships will help you get that help and give that help when it's needed as well.

Megan:

Yeah. Relationship building is such a huge piece of it, information aside. So all the information that you're gleaning is great, but push that aside, the relationships are super important. If you build solid relationships, people are going to think of you. Remember you down the road, when if you offer something unique, they're going to like, Oh, Ayse was really good at that. I'm going to connect her with this person. You know, so that can only benefit you down the road as well. I like that you kind of use the backlinks thing because we all get that. We're all like, Oh my gosh, how do I get backlinks? But you want them to be authentic and you don't want to get backlinks just from anywhere you want to actually know the people. Is there anything else about how you structure your groups or run them that you feel would be helpful to know?

Aysegul :

In the beginning, when you start, you really don't know how the energy is going to feel. If you're going to connect and feel good and comfortable. I think it's good to give each other a little bit of space and just have an understanding of what it is that you're offering to one another. I got very lucky, it worked for my first try, but if it doesn't, it doesn't. But if you stick to a few questions and everybody comes prepared, I think it turns into a really uplifting experience. So just, try a few variations, if it starts small. If it starts small, maybe with two people in the beginning and see if you want to get one more person in and just start from somewhere and see how it goes. But I think my biggest tip is to have some questions ready and record everything and come prepared to the, to the to the Mastermind. That way you'll get the most out of it.

Megan:

Masterminds are pretty easy to implement. You just get on a zoom call or Google Hangouts or something. So it's not rocket science to get that going. So start your own ig this is something that you're like, Oh my gosh, this sounds really intriguing and you have a group of people that you know and trust and that you know you could learn from. Do it ,just to get something started and plugging Eat Blog Talk here, but we are known for having magical Masterminds. I am not even kidding you. They're just so amazing. The people that come are, you couldn't even make it up. I'm always blown away by the power of just what happens inside the group. So if you guys are interested, please come join us. We have magic and it's so amazing, and it will help you grow your business and build those relationships and all of the good things that come from it. Ayse, what is your number one takeaway for food bloggers along the lines of just connecting with people and creating Masterminds, joining Masterminds? What do you have?

Aysegul :

I think that saying, if you want to go fast, go alone. If you want to go far, go together. I think that's my motto right now. This year marks eight years for me for my website. I was thinking about putting together what are some of the things that I learned or what I would have done differently? I think the biggest thing is I would have spent more time connecting with others in the food blogging community. I mean, it's never too late to start, but I think that's the biggest takeaway. Start building relationships, reach out to people and help one another and realize that you can't do this by yourself.

Megan:

Since you told a story about the elevator, the nerves in the elevator, I have to tell the story too, because this ties along with what we're talking about. I would say a few years into my blogging journey, I went to a conference and it was not a great experience and that is not how most conferences go. I will say that. It was unique. But I was in an elevator with Elise Bauer of Simply Recipes. She's a God to all of us, right. We're all like Elise Bauer. She was like the first person to really kill it with food blogging. She killed it. She was amazing, but I was in the elevator with her and I got so nervous and it was me and a good friend of mine and her. I mentioned earlier that I say really stupid things when I'm with people that I'm star struck by.

So I just turned to her and I said something like, you're Elise. She was like, I am. Hi, I'm Megan. I don't know what came out of my mouth. I mean, it was probably ridiculous, but that gave me just a little bit of confidence enough to know that she was a human and that it was okay to talk to other humans, no matter how famous or amazing they are. So then I was like, Oh, well that wasn't so hard. I just said her name. So just try it. Even if you say something dumb like me, just do it. Like Ayse is telling you, she reached out to somebody who she had never met before and asked her basically out to dinner, to come over. She said yes. That is the coolest story ever. So don't be afraid because most people are going to be receptive. And you might form a friendship which should be icing on the cake.

Aysegul :

Absolutely.

Megan:

Encouraging everyone to do that. If you are feeling like you shouldn't or can't, you definitely can. So go for it. Okay, Ayse. This was an amazing, super fun conversation and very timely because I'm in the throws of putting these new Masterminds together. So when I was reading through your script yesterday, I was like, Oh my gosh, this could not have been more timely. It was not planned. This is just one of those synchronicities. So thank you so much for being here. I have just thoroughly enjoyed speaking to you. So thanks for your time today.

Aysegul :

Likewise. Thanks for having me. Thank you so much.

Megan:

Well we are going to put together a show notes page for you, Ayse. So if anyone wants to go look at those, you can go to eatblogtalk.com/foolproofliving. Ayse, why don't you tell everyone where they can find you online?

Aysegul:

I am Foolproof Living everywhere, basically foolproofliving.com is my website. I have Instagram Foolproof living, Facebook, Pinterest, all Foolproof living. So you can find the time and if you want to reach out and if you want me to be the first person you reach out to, you can confidently reach out to me. I'll definitely respond and help you. If you have any questions or if I can help you in any way, just reach out to me via DM or email me. I'm not a big fan of writing long emails. I'll probably get back to via video. So, just start from somewhere and if I can help, let me know.

Megan:

Oh, that's so generous. Thank you for putting that out there and thank you again for being here, Ayse and thank you. Yes, it was so fun. Thanks for listening today, food bloggers. I will see you next time.

Outro:

We're glad you could join us on this episode of Eat Blog Talk. For more resources based on today's discussion, as well as show notes and an opportunity to be on a future episode of the show, be sure to head to eatblogtalk.com. If you feel that hunger for information, we'll be here to feed you on Eat Blog Talk.
---
💥 Join the EBT community, where you will gain confidence and clarity as a food blogger so you don't feel so overwhelmed by ALL THE THINGS!
📩 Sign up for FLODESK, the email service provider with intuitive, gorgeous templates and a FLAT MONTHLY RATE (no more rate increases when you acquire subscribers!).
Read this post about why I switched from Convertkit to Flodesk!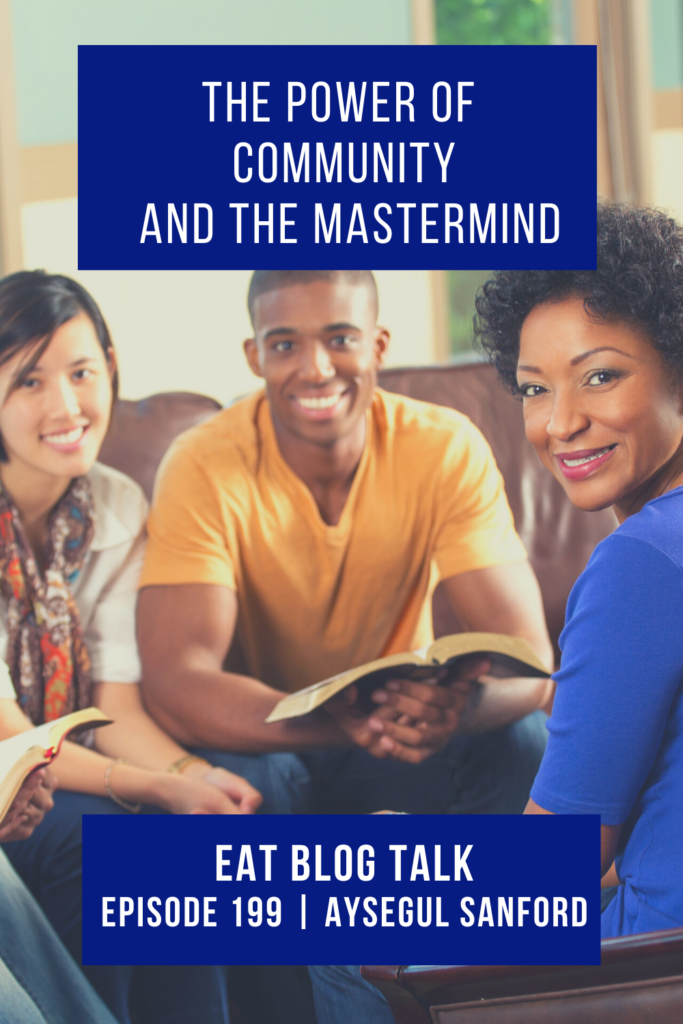 Questions or comments on this episode?
Head over to the Eat Blog Talk forum post about episode #199 to leave any questions or comments. We'd love to hear from you!