In episode 151 we talk with Candice Walker, a former 9-5'er who traveled the world for a year became a food blogger and became passionate about enjoying her life each and every day.
We cover information about how food blogging, travel and enjoying food all fit together, how Candice's exuberance about her travels will encourage you to find your own journey and why now is the perfect time to plan your own adventure!
Listen on the player below or on iTunes, TuneIn, Stitcher, or your favorite podcast player. Or scroll down to read a full transcript.

Write Blog Posts that Rank on Google's 1st Page
RankIQ is an AI-powered SEO tool built just for bloggers. It tells you what to put inside your post and title, so you can write perfectly optimized content in half the time. RankIQ contains a hand-picked library with the lowest competition, high traffic keywords for every niche.
Guest Details
Connect with Proportional Plate
Website | Instagram | Facebook
Bio
Proportional Plate is a place for you to learn what foods feel good to you. It's a place to experiment, discover, and have fun. Candice started Proportional Plate because she wants people to stop feeling guilty about their food choices. Let's make food that feels good!
Takeaways
Purchase tickets that allow you to travel, make changes to the trip in a moment for free or a nominal fee to get the most out of your travels (at the time, Candice said these tickets were called "around the world" tickets).
Commit to staying with people in their homes to learn new foods, how to prepare them and customs from that country.
Be willing to try new things and enjoy learning new foods and flavors.
Be sure to journal everything – what you ate, what you tasted, how things were prepared or what they were prepared with.
Traveling allows you to marry inspired dishes with traditional dishes and create some amazing foods.
"When we stay on a certain trajectory that was planned and crafted and comfortable, then we're only allowing ourselves to grow within the walls that we've built for ourselves. As soon as we just open up the possibility of everything and anything happening, there's just so much more room to grow into becoming a person that you never thought that you could be."
Look outside the box for ways to make your dreams and plans come to reality. House sitting for people is an affordable way to stay abroad. Looking for people going on a sabbatical and renting out their home affordably is another option.
The excitement (leading up to an actual event or trip) was almost as good as the journey itself.
Don't allow yourself say no to new adventures – it can wall you in and not try new things. If you have an excuse today, don't let it be a full no. Let a little bit of that yes live in there until you're ready.
Like a brainstorming session at work, when you're creating something cool with other people remember to throw out everything in your mind, there are no bad ideas. It creates this energy of flow and positivity and excitement. That can't happen if you're shutting it down with a no.
Food guilt is a shared universal experience that we all have and don't talk about. There's different kinds. Candice started exploring the impact that that narrative has on her and her food journey, and saw how even our diets have this elitism aspects to it.
Resources Mentioned
Transcript
Click for full text.

Intro:

Welcome to Eat Blog Talk, where food bloggers come to get their fill of the latest tips, tricks, and insights into the world of food blogging. If you feel that hunger for information, we'll provide you with the tools you need to add value to your blog. And we'll also ensure you're taking care of yourself, because food blogging is a demanding job. Now, please welcome your host, Megan Porta.

Megan Porta:

Food bloggers. Hey, if you have not yet joined the new, amazing Eat Blog Talk community, you have to go do it. You will find so much value inside, including connecting with other food bloggers in a much deeper way and having access to all kinds of exclusive value, such as bonus podcast episodes and mastermind groups, and a resources and service providers directory, and so much more. Go to eatblogtalk.com for more information, and we cannot wait to see you inside.

Okay, food bloggers, have you heard of Flodesk, the new big email marketing rage? This is an amazing new option for managing your email subscriber list. It is super easy to use and it comes with gorgeous, intuitive drag and drop templates. And Flodesk does not charge based on the number of subscribers, so your monthly rate will stay the same from month to month. Everyone pays $38 a month or uses my affiliate link to get 50% off and pay only $19 a month.

You guys, this is a fraction of the price of other email service providers, and you'll be blown away by the beautiful and intuitive templates waiting for you inside. Visit eatblogtalk.com/resources to grab your link. Flodesk, the stunning new option for email marketing.

What's up food bloggers. Welcome to Eat Blog Talk. This podcast is for you, food bloggers, wanting value, information and clarity that will help you find a greater success in your business. Today I will be having an interview with Candice Walker from proportionalplate.com and we will talk about how to travel the world through the lens of a food blog. Proportional Plate is a place for you to learn what foods feel good to you. It's a place to experiment, discover and have fun. Candice started Proportional Plate because she wants people to stop feeling guilty about their food choices. Let's make food that feels good.

Candice, I am really excited to have this conversation with you and hear your amazing story, but first give us a fun fact about yourself.

Candice Walker:

I have had crazy amounts of jobs. I feel like I've done everything. So career change, especially going into food blogging, is kind of strangely normal for me. I've done everything from being a business coach to being head of operations at an aerospace engineering company. I was even ahigh school math teacher at one time.

Megan :

Oh, that is so all over the place, but you must be just super versatile and well-versed in so many different things because of it, right?

Candice:

Yeah. I mean, it's fun to keep things different and shake it up a little bit. I think that's part of why I love the food blog so much because it's kind of crazy and I'm doing all kinds of things.

Megan :

You certainly have shaken it up. That's a lot of different things to do. Your brain must be like the happiest brain ever. That is a really cool fun fact. Thank you for sharing that. It actually ties in with the way that you explore the world and you're an adventurer. So I guess that really does kind of make sense. It all comes together. But you have an inspiring story to share with us about traveling around the world and experiencing international cuisine and all of us listening are people who are dying to travel and we're dying for exploration of other cuisines right now. So we want to live through you Candice. Tell us your story. How did this adventure come about for you?

Candice:

Traveling the world is something I think we all kind of dream of and it's one of those things that you always say, Oh, one day it would be wonderful to do that. I found myself in a place where I had a really toxic work environment and happened to fall in love with my now spouse. It all happened so fast and we both just were very encouraging and spontaneous and spontaneity is not in my nature at all. We decided now or never, if we don't do it now and we say, after we have a successful career or after this happens or after that happens, something like that just, it keeps getting pushed back. We just decided to do it one day and put in our notices at work. We budgeted it out, left without enough money to finish the trip and left to travel around the world for a year. Everyone thought we were crazy, but we just jumped in and did it. I think part of what encouraged that is crazy early honeymoon love. I'm lucky that I was impulsive enough to do it and since we've been talking about doing it again.

Megan :

Oh my gosh. Now or never. Like you said, we all talk about doing things like that. Whether it's traveling the world or doing something else big, that's a common theme. A lot of our lives, we say, Oh, someday I will get to that. Whatever it is, it's hard to actually make that happen unless you have that mindset of yes, we just need to do it now. So I love that you had a significant other who was onboard with you and that you guys decided together because, alone I think that would be a lot more difficult to jump into. If you have someone else saying, yes, I want to do it, let's do it. Then it's easy or easier, I should say. So how cool!

Candice:

It was definitely more encouraging for me. We met a lot of people doing the same thing that we were, on our trip and there were a ton of people doing it alone too. Even people doing it with small children, it was pretty incredible to see how many people actually do it.

Megan :

Interesting, because it seems like there's a million more, a million times more that do not. But once you're in it, you probably do meet those people who are along the journey with you and doing the same thing.

Candice:

Yeah. You even get to meet them in different countries and stay in touch. It's kind of crazy.

Megan :

Tell us a little bit about the actual journey. Where did you start and how long exactly did it take you and where did you go? Favorite places? All of that.

Candice:

So we were gone for about a year and before the year that we left, we did a little traveling from California up into Oregon and Washington for about a month. So we did that for the month to start and then flew to China and spent about three months there. Then started working our way in one direction. So we went from China to Hong Kong, then Thailand, India, Turkey, Greece, Israel, Jordan, France, Austria. I'm trying to remember everywhere. The Czech Republic. We went to a bunch of different places. We bought these around the world tickets, which I'm not sure if they exist anymore, but what was fantastic about them and I mentioned them here because I think if anyone does a trip like this, they should get these types of tickets. These tickets, you basically pick the stop offs that you want along the way.

So we picked our main stops before we left. What was wonderful about them is, although you can't change the location for a nominal fee, you can change the flight date for no fee at all. So even the day before a flight, you can call and say, Hey, we actually want to stay here another week or two. They're like, okay. That's it. We actually changed the stop over to a full stop and it cost us I think, $20. So it was something that really helped us out. Then most of our flights were already paid for before we left. We could take little short flights in addition to those or train rides and things like that while we were on the trip.

Megan :

Definitely worth a small fee. That's amazing. I wonder if they do have anything like that now. I think traveling now is so different, but eventually, probably something available like that again.

Candice:

For a year, I've been itching to do it again.

Megan :

So I have a question about just making your trip happen and how much did mindset play into that? Because I think so many people could get tripped up easily on just finances or logistics. Then also having to hear family members or friends who were concerned. You mentioned that everyone thought you were crazy. I get that because we have not traveled the world, but we have done kind of crazy things that are similar. We sold our house and bought an RV and traveled for a few months one year. Our families thought we were absolutely insane and people were actually concerned. Should we be worried about you? I was like, what?! This is my dream. I have been wanting to do this forever. Why would you be concerned about me? So I had to put up with just managing that sort of thing. So how much of this actually getting started with it, involved mindset work?

Candice:

So I am not a spontaneous person. So a lot of it was just wanting to push myself out of my comfort zone because the life that I was living, wasn't fulfilling me in the way that I wanted. So I was ready for a push and for a big shaking up. So that was really helpful in just, wanting to build something from somewhere that wasn't functioning at its fullest. As someone who was a high achiever and always did everything by the book and followed all the rules, I was noticing that the rules and my achievements weren't getting me to that bliss that I wanted to live. So in deciding to marry my best friend, we were both kind of in that place. We were both excited to create a life that was blissful and didn't necessarily reflect the shoulds.

So the shoulds of, getting married and then buying the house and then having kids and just having that picture life that we see in movies, we see in our ancestry and in our lineage. So just noticing that, that we wanted to feel this happiness that we were feeling when we were together and we wanted that to be our life. We didn't want it to just be this honeymoon phase. We wanted to create a life that produced moments of happiness for us, where we could just feel fully expressed in what we wanted to do. So it was a lot of mindset work because that's not how I was living up until that point.

Megan :

Yeah. And that's a big change to go from following all the rules to taking off for a year. It is scary. I can imagine that's a huge endeavor

Candice:

And everyone thought that we were nuts. We didn't even tell people that we didn't have enough money to finish the trip when we left. So, if we told them that, who knows what they would've thought, but yes, we had a lot of pushback from family, friends that were excited for us, but also, are you sure you want to do this? So it was definitely interesting.

Megan :

But I love that a desire to live a life of bliss, like you worded it overruled the commotion that was going on around you, and you didn't tell people that you didn't necessarily have all the money, those things probably didn't need to be said because your passion for the adventure overruled all of that. I absolutely love that.

Candice:

Totally. Thanks.

Megan :

So I want to hear, and I know everybody else wants to hear about the food because we are all food bloggers, we're foodies. We love to eat and make food. So what were your favorite places to eat? Later I'll ask you about how that inspired your blog, but for now, just talk about your favorite foods.

Candice:

The food on the trip was incredible. There were definitely ups and downs because, dropping two people in rural China where nobody speaks English and you have no idea how to go to a restaurant. That was definitely interesting. Luckily we started in Beijing, which is a major city. Even then going to restaurants was not something that was easy to do. A big thing that we committed to on the trip was staying with people. This was before Airbnb was crazy popular, but we stayed in a lot of Airbnbs and bed and breakfast kind of places along the way so that we could get to know locals and have them help us and give us advice and cook with them in their homes and in their kitchens. That was actually the most beautiful food on the trip, getting to be in people's homes and getting to cook with them and talk about their day-to-day life and what that looked like and just see lifestyles that were light years different than ours.

Megan :

Oh, that's so cool. Such a unique experience. Not very many people can say that they can experience things like that. Being dropped into a country where nobody speaks your language and having to explore, not just the country, but what am I going to eat? How am I going to get by? That's really scary. So good for you for being courageous enough to do that. I want to hear more about the food. Did you enjoy the food in China?

Candice:

Yes, very much. What's interesting because right now open air markets are getting a pretty bad rap. Open air markets were my favorite place to go in China. You'd walk into this giant space filled with fruits and vegetables, half of which you've never seen before. I would buy one of each, so experimentation actually started by me cooking foods I had never seen before. Then going to dumpling restaurants, which I have this sweet place in my heart for dumplings. Then being on the streets of Greece and having these incredible things like lamb chops and lamb kebabs, and then going to Thailand and being in Shanghai and eating Khao Man Gai, which is this chicken and rice dish for breakfast every single day. Then picking up fried bananas on the way home and just learning that food is so different everywhere. People relate to it differently and their stories are attached to how the food got to their tables and then experimenting with and playing with different fruits and vegetables that I've never heard of before. Then coming back to the U S and sometimes finding them here and there in different kinds of markets was just really cool because we could bring so much of that trip home with us and just enjoy those moments from the trip but then now here in the U S was also really cool.

Megan :

You can associate certain types of food with memories, too. I'm sure if you find a random fruit that we don't normally see here in the US in a store, then that probably sparks joy, oh, that reminds me of being in India or wherever. So that's really cool too, because as you know, flavors and foods can really conjure up memories, whether it's from your childhood or another place you've visited. So I love that you have those flavors from all around the world to remember, to carry with you for your whole life, because we don't ever forget flavors once we've tasted something.

Candice:

It's so true. They just vividly take you back. I picture myself standing on the street, talking to this vendor who doesn't speak English. Playing charades basically with them. Eating the food that we bought from him, here and just, you feel being there in a way that it's just beautiful. That memory is just irreplaceable. It's priceless. It's beautiful.

Megan :

I love that so much. So once you got back, you were gone for a year. How did you decide to use your travels around the world and all of the foods you explored to start a blog, because you did start your food blog after that, right?

Candice:

Yes, I did. So exploring new cultures and foods was one thing, but the biggest impact was when we got back. When everyone wanted to hear how we made the trip happen, what we learned, what did we eat? How are we eating now? How did the trip influence our life here in the US? I grew up learning about food and techniques from my mom and my grandmother. There's a lot of tradition based on that; with Persian cuisine and then Eastern European and Israeli cuisine from my dad's side of the family. But taking all of these experiences of cooking that I had, I was noticing that I was pulling in, these crazy ingredients that I was finding that reminded me from our trip, at the grocery store. Then also trying to recreate recipes because I actually kept a journal while I was there.

If I was in someone's home and they were cooking and sharing a recipe with me, I'd write it down. If I was in a restaurant and I ate something amazing, I would write it down and describe it. I'd often ask the chef how they made it. So I have this journal and I was noticing myself taking the foods and techniques from my heritage and sort of fusing them with all of these ingredients and techniques that I had learned on the trip. Everyone wanted to know about the weird things. So it was really fun to get to find a way to share that with more people.

Megan :

Absolutely. So you started blogging and then, is it solely a recipe blog, or is it also about your travels and food specifically? Do you mainly just fuse those food passions of yours and share recipes with people?

Candice:

It started as just sharing recipes. Then I tried to start bringing in travel tips. So I have a little bit of travel stuff on there that I want to expand. I'm trying to find the best way to make that work for readers because people ask me so many questions about our travels and about food and about what we ate, when we were there. Then how it influenced our food now and the way that we eat, that I'm still trying to fully hash out how I want to do that. But there are a couple of travel guides up there, in addition to the recipes and I am working on an article about how to quit your job and travel the world for a year that I will probably launch while we're still in quarantine so people can start planning their trips.

Megan :

Oh, that is gold, Candice. I am telling you, especially after having been quarantined for who knows how long, there are so many people that are going to be all over that. I can't wait to read that, that's gold right there.

Candice:

I want to hear how you made your trip happen too. So I hope you have something like that on yours or you're working on one.

Megan :

We posted blog posts on my food blog, which was kind of weird, about the travels while they were happening. So I have all of those recorded, but I feel like I need to separate those out and maybe just write a book or something, like put it all into a book because I too journal every day. I did not journal about food because that was not at all the focus of the trip and we mostly ate out of our RV. I did really, really thoroughly detail our trip. I think it's so valuable to do that. I'm glad you mentioned your journal, how cool to have a record of not only everything you did, but all of the food you ate and you recorded flavors and the way the foods made you feel. I think that's super valuable.

Candice:

Yeah. It's special. I actually pulled it out about a week ago for the first time in years. I was like, Oh, there's gold in here. I need to do something with this.

Megan :

Absolutely. Because maybe there's something you forget about and just by reading your journal, you remember, Oh, I really liked that fruit and it went really well in this dish. Then you can incorporate it into something you make now. What is your favorite thing to make? You mentioned combining a few food loves and food from your past and also from your travels, which is so cool. What is your favorite type of dish to make today?

Candice:

Well, we make dumplings every week and we do it because one little pack of dumplings makes just enough for four people, which is two meals for us. So we make a batch over the weekend and then we freeze the other half for a quick lunch during the week. It's awesome. What I've found is I've started adding some crazy flavors into my dumplings instead of the traditional dumpling seasonings. I'm actually working on a recipe right now that infuses my middle Eastern flavors into the dumplings. So that's an example of something I make all the time. I love fun, different ingredients that you would never expect to go together. In Persian cuisine, we use an ingredient called pomegranate molasses quite a bit, which is basically if you take a giant thing of pomegranate juice and you cook it down into a syrup. It becomes a tart syrup. I love mixing it with miso paste, and then diluting it down with some oil for a salad dressing. So just taking pretty crazy ingredients that were never meant to be together and just watching them create this dressing that I've had friends literally slather on everything on their plate.

Megan :

I don't know what this is! Oh, that's great though when you can bring such joy to someone, as they're eating, just through putting a few ingredients together and surprise ingredients are kind of one of my specialties too. I love putting two things together that don't necessarily belong and having magic happen and then watching people's faces as they bite into it. You can just tell, they're like, Oh my gosh, this is so good. What in the world is this? I love that you do that as well.

Candice:

So in Japan, they have this flavor profile called umami, which is the perfect balance of sweet and salty and acid. It's this balance of flavors. What's really cool is, you know, taking that concept and applying it to ingredients that were never meant to be together like pomegranate molasses and miso, and watching them come together to create something beautiful that never would have existed because the ingredients would never have seen each other before.

Megan :

So true. And that's the beauty of food, right? Finding ingredients that go well together. I think it's especially beautiful when the ingredients are an unlikely pair and they make something just totally tasty. I mean, it's easy to create something that's obvious. There are certain foods that obviously go well together, but it's so much more beautiful, I believe, when you create an unlikely match.

Candice:

It's fun. And it surprises your palette the way that a dish you've never tried before.

Megan :

Yes. And it surprises guests, it surprises other people. That's one of my favorite things is just making people smile when they bite into something unexpected. Not unexpected in a bad way, but unexpected in a delicious way. Tell me how long ago it was that you traveled. I can't remember how long ago this was.

Candice:

Oh my goodness. I don't even know. I think it was probably six or seven years ago. So it was a long time ago. I'm ready for another one.

Megan :

Oh yes, you are. As soon as all of this garbage has done, you definitely do. So as you blog and you create food for your blog and your family and friends, how do your travels around the world affect that? Do you think that you would even be a food blogger if it weren't for your travels?

Candice:

I don't think that I'd be a food blogger. A big part of leaving and traveling the world was teaching myself that I don't need the security of a nine to five salaried job to create something awesome that can be successful. Food blogging, quitting my job and food blogging would never have been an option for me before that trip, so that alone. Even though I've always loved food and always loved cooking and always even in college, I threw dinner parties, which is kind of strange now that I'm looking back on it. Traveling around the world made my vision of what food could be, way wider than it's ever been. So even though I grew up with immigrant parents from different countries, who met here. I had tons of friends who had their ancestry and heritage from different countries. I was always exploring different foods. Traveling around the world, showed me an endless possibility that I never understood before that. There's traditional dishes and then there's inspired dishes. I think my food blog now has this inspired influence that could only have come from being overloaded with cultures and experiences and people's stories and farmers' stories that we learned around the world.

Megan :

So traveling the world, your adventure has really shaped you and not just as a food blogger, but shaped you as a person. It sounds like it has made you braver as far as launching into new scary ventures. Is that right?

Candice:

Absolutely!

Megan :

So you recommend this, you recommend people try this, or on some level do something similar? They don't have to drop everything and travel around the world, especially probably now.D o you recommend that people on some level get out there and explore it?

Candice:

I do. I think that just shaking up your reality, in any way, will have a positive influence. When we stay on a certain trajectory that was planned and crafted and comfortable, then we're only allowing ourselves to grow within the walls that we've built for ourselves. As soon as we just open up the possibility of everything and anything happening, there's just so much more room to grow into becoming a person that you never thought that you could be. I think that for me, stopping what I was doing and traveling around the world helped me learn about what I wanted from life. It doesn't have to be traveling the world to do that. Like you said, it could be anything that shakes up our world, but giving yourself the opportunity to learn more about yourself and what your own needs and wants are, outside of what you were told to want and need, is a beautiful thing that I think everyone should open themselves up to. As soon as I hear someone telling me that they're even considering it, I definitely encourage it. I'm like, okay, well, if you need any help, any support, you have my number. Call me anytime. I do want to encourage people to live outside their comfort zone, because I've learned and grown so much from it myself, that I want everyone to be able to have that opportunity in whatever world they create that in.

Megan :

You were talking about living a life that did not have bliss versus launching into a life with bliss. So would you say your biggest challenge was living a life without that bliss?

Candice:

I think it was overcoming my desire to achieve and my assumption that achieving and being successful would mean happiness.

Megan :

That's a great answer. I had to think about that for a second. A lot of us grew up with that; families and parents who encourage success, quote "success in achieving" and getting good grades and all of that. But is that what is actually going to fulfill us and give us that bliss and make us actually happy people. We have to learn that on our own. I think a lot of us, especially our generation, we have parents who just had different mindsets. I think as a general rule they taught their children that you have to achieve and you have to get good grades and you have to do this after school. Then here's the template for what you need to do next.

Candice:

And it worked for them.

Megan :

It worked for them and that's great, but we're breaking that norm and saying, wait a second, that doesn't make everybody happy and it might make some people happy. That's awesome. I love that, but not everyone.

Candice:

Right. I didn't even know that there was another option. I really thought that that was the path to what I wanted and needed. I needed something external to really help me see, Oh wait, I might have wants and needs that are different than this. Where do I even start at trying to figure out what those are.

Megan :

That is the beauty of living in our world today. We do have people who have paved those different paths and have success. Not success as in I achieved good grades all through college, but success as in, I am happy, I am living a life of purpose and I am a truly joyful person. We can see that and I think that is really encouraging for a lot of people, myself included. After you got home, how did people react once you were home and saying how it was fulfilling and you enjoyed it, you want to do it again someday. What were their reactions then?

Candice:

When we were a couple of months out from coming back, we actually got it the hardest, cause it was this, what are you going to do when you get back? What are your jobs? What are your, this, what are you that, and it was this big, reality check for them that we didn't care in the way that we had when we left for our trip. We were also really lucky that we both came back with multiple job offers. We had started working on that a few months before the trip was over. We had things lined up that were comfortable for us. We landed in a city that we didn't want to live in, but happens to be the city where we both got jobs. Because this was pre COVID, pre working from home. So there were a few things that we had to be flexible in until we were able to find the right placements for us. I think people struggled with it and didn't fully understand how to wrap their heads around our life, getting to go back to normal so easily. That was a shock.

Megan :

I totally agree. I think sometimes when you can loosen your grip on the details of life, things actually fall into place way more easily than you could ever imagine. From the outside, people looking in are confused. They wonder, wait a second. They just dropped everything and they traveled the world and now they're back and everything's okay.

Candice:

They were so irresponsible!

Megan :

It's almost like they said, they were so irresponsible. Things need to fall apart for them, when it's actually the opposite, because you were out enjoying yourself, you were traveling around the world, enjoying cultures and food and people. So you didn't have that tight grip on your life that so many people have, and you weren't clinging desperately to all the details that you needed to fall into place, if that makes sense.

Candice:

Totally, totally.

Megan :

That's not a concept that people understand who haven't actually taken that leap and done something really big and weird, from their point of view.

Candice:

We were excited to start a new career. You know, it was the new something, our new salary jobs. So it was great having that new excitement as well.

Megan :

Do you have any insights for food bloggers listening? Because we are all drooling over this whole idea of exploring the world right now and exploring different cuisines? About how to do this without traveling. Then also maybe give us a few tips about how to make something like this happen. You talked about putting together a resource, where you're going to talk people through that. So can you give us some insider secrets?

Candice:

So plan it in advance, but don't over plan. Don't let money stop you, because we left without enough money to finish the trip and created ways to make it work. That's actually probably the best advice. Try to find a house sitting position, a long term house sitting position, even if it's just for a month. There are tons of them all over the world, especially in high profile areas during the off season. These people have these mansions and awesome houses that just sit empty for nine months a year. So my greatest advice is if you want to just dip your toe in the water, get the house sitting position for a month in some crazy place. You can work from home now. So just go work from home there.

Megan :

How do you find those? I mean, that's not like an Airbnb type thing. That's more high profile. You mentioned mansion's. So where do you go about finding that?

Candice:

We used trustedhousesitters.com, which I think operates a little bit differently than it did when we were using it. It's like applying for a job. The first hundred applications are the ones that get looked at. You want to get in as quickly as possible, and you want to have a good resume to show that you're responsible. If they have pets that they need watched, you want to tell them about your experience with pets. It's just about getting in and applying and applying and applying because so many people want to house sit. You can build your own little house sitting resume like that. Like you've built your job resume. So just jump in and do it. Just like the trip around the world right?.

We started by looking at sabbatical homes. So often there are professors that end up taking six months to a year at a different university and their apartment is sitting empty so they'll rent them at reduced rates. So for example, we had an apartment in Paris for a month for like less than $1,200. It was this awesome two bedroom apartment in Bellevue. It was wonderful. There's those types of places which are just sabbatical homes, which I think is another website. We just hopped online and researched house sitting positions in France, and we found this 10 acre, 1700's horse ranch that we got to live on for three months. All we had to do was mow the grass. So there's all kinds of awesome ways to find travel that don't cost much at all.

Even in Thailand, we were staying in one place for a week that was $10 a night. So even if you think you can't afford it, you would be shocked as to how different it can be if you just use the right resources, finding empty apartments, finding house sitting positions and going to countries that are a lot less expensive, like Thailand for example, but creating your experience based on what your needs are. What is it you want from traveling? Do you want to set up shop for a month or two in one place? If so, I think house sitting is fantastic. Would you rather hop around from place to place? There's just so many different ways to satisfy what you want to create for the trip. Google helps you find all of those options. I think that's how we found the house sitting. We typed in "house sitting in France" and websites came up.

Megan :

I swear you could do absolutely anything just by Googling it. I mean, literally you could figure out anything, you could go anywhere, figure out a solution for any problem you're having just by Googling it.

Candice:

This was seven years ago. So this wasn't as easy or good. You couldn't take our phones just out and about. We had to take screenshots of maps and carry those around when we were traveling. So it's different now. It's easier now, arguably, so no excuses.

Megan :

I know absolutely no excuses. That kind of ties into this too. As you were talking, I was thinking of Tim Ferriss's book, the 4-hour workweek, have you read that?

Candice:

I have.

Megan :

Okay. Because in there he talks about excuses and how people excuse them out of a lot of really fun things in life and opportunities, because there's always a reason, right? Fill in the blank with about a million things. So he actually takes you through in the book reasons why you should not ever have an excuse. He talks through travel and ways to travel the world affordably, maybe even for free. I just love that because I'm like you, I tend to be a person who just leaps into things and figures it out, but not everyone is like that. I know a lot of people need validation and reasons why it's going to be okay. So listening to his book for someone like that, I think would be really helpful because you just need to hear that, I think sometimes, that there really are no excuses. If you want to make something work, if you want to do it badly enough, there's always a way to make it happen.

Candice:

Totally, totally. I would encourage you to read it and not say, well, that might make sense for him. Just don't close the book and put it away. Do something to keep it in your consciousness and in your face as long as possible to really urge you. At least for me, the way it happened was, it was one yes. It was like a hundred nos and one yes. That one yes happened to align with my spouses yes at the same time. Then we just did it and the hundred knows all the other times that we talked about it, I can't say that they didn't exist. They were totally there. The excuses are just so easy to give validation to. This is your life and you only get one and you might as well make the most of it and do something crazy.

I think that if you have even just a bit of your heart leaning toward the yes, then take the next step. Figure out what countries you want to go to and then put it up on the wall and then leave that up for a little while and then maybe write down the cities or maybe narrow down the countries. That's what we did. We started with like 30 countries probably. We just started narrowing it down in a way that made sense for the period of time that we were going. Then we knew if we traveled in this direction around the world, then we would be in this country during this season. We don't want that. So we could take this country off for now and travel there later. Just put it up on a wall or the wall of your closet or the mirror in your bathroom and just let it be in your face until the day that you're ready to say yes. Because even if you have an excuse today, don't let it be a full no. Let a little bit of that yes live in there until you're ready.

Megan :

Candice, this is so inspiring. Now I want to travel the world Pronto.

Candice:

I know, me too.

Megan :

Oh goodness. I bet. Yeah, you're due, it sounds like. Obviously we can't travel now, but you've given us some things to think about when the world starts opening back up.

Candice:

You can start planning it.

Megan :

Right. So having that trustedhousesitters.com or something that would allow you to stay in homes affordably is a great thing to have in your mind because a lot of people don't know that's an option. What are some other things that we can think through now and plan now when the world is still shut down.

Candice:

I think just getting yourself excited about it. To me, the excitement was almost as good as the journey itself. Because getting to create that, create where we wanted to go and what we wanted to do and start doing that fun research of just what is there in these places that's interesting. Not being married to a plan, but being excited about things I think is definitely a place to start. We have little spreadsheets with different places that we want to go. When we see something cool in a magazine or online, we just pop it in there, that would be cool to do one day. Something that is a living document that can keep your excitement there. You don't have to see something and be like, Oh, that's not going to happen this year, but instead have a home to give it. A place for it to be, in a place for it to get joy and love.

Megan :

Yeah. I love that. So yeah, this year has been kind of a downer as far as travel goes, especially. Instead of seeing any future opportunities, not just with travel, but with business or food blogs, anything in general, to put that positive spin on it. I think when we put the negative spin on it and think right away, that's not going to happen anytime soon. Then that kind of dampens the whole experience. I feel like it brings it to us less quickly. I think that the more positive we can be in our minds about opportunities in the future, the more quickly it's going to come to us and the more we're going to enjoy it and all of that. So it's like super easy to say. Yeah, just think really positively. But if you can do that, I really think that's such a huge, huge thing.

Candice:

It's just like with anything, even a brainstorming session at work. When you're creating something cool with other people you're supposed to say, just say everything in your mind, there are no bad ideas. It doesn't mean you're going to use all the ideas, but it just creates this energy of flow and positivity and excitement that gets our minds moving in new and creative, expansive ways that can't happen if you're shutting it down with a no. It's the same thing for this. If you're excited about traveling, then don't say, no, just start planning your trip. Who knows when you're going to go. Maybe it's in six months, maybe it's in five years, but plan it and you can always add to it and change it before you go. Create the experience that you want to live now. Then when it's ready to present itself to you, you'll be ready to receive it.

Megan :

Mm. I love that Candace. And this is such a good topic for food bloggers because we can work anywhere really. We love food. A lot of us love to travel as well. So I love talking about this to this audience, because I think that's on a lot of our hearts. We want to get out and explore. So I hope that people receive this episode as encouragement and inspiration to do that. If you can't do it now, then you can start planning for it and get ready to explore the flavors from all around the world and come back reinspired or never come back, wherever you land. Prepare yourself to dig into your business in a whole new way, in your blog and a whole new way, and see things from a different light. I just love this topic. Thank you for sharing everything.

Candice:

It's been so fun talking about it. I'm excited about this topic too.

Megan :

I know me too. I want to travel. I want to talk really, really quick before we go about food guilt, because I know that's another topic you love talking about. I think those two words together, it's obvious what they mean, but I just want to hear a little bit about your thoughts on food guilt.

Candice:

Yeah. So food guilt is, to me a shared universal experience that we all have and don't talk about. There's different kinds, right? There can be cheating on a diet and feeling guilty, which is the obvious one. Or eating something that's considered unhealthy and feeling bad about it. There's also guilt about food waste, about whether you like or dislike a food and feeling bad that that's different from your friends. Eating junk foods or eating when you're already full. We have this socially acceptable thing where we say, I can't eat this or I shouldn't eat that. What I started exploring is the impact that that narrative has on me and my food journey and even seeing how our diets have this elitists to this like, oh, I'm vegan.

That makes me more conscious about the environment than you. Or I'm keto and it means I care about my health more than you. I was just noticing these things that are meant to be positive, having negative impacts on me. So I started to share my experience about how I internalize and absorb these messages and how letting go of what's in my head about what I should and shouldn't do, helps me enjoy food in a way that I never had before. Learn what foods feel good to me in my body. Instead of the world telling me what should feel good in my body. So I just started sharing that story because that breakthrough was huge for me. Just learning that things don't have to be bad because I'm eating. I can eat ice cream and it's okay because it feels good to me at the moment and I don't have to regret it later. I can just enjoy it, it was a really helpful change for me.

Megan :

I think food bloggers need to hear this because I love what you really briefly touched on a little bit ago about elitism, feeling like one diet or one way of eating makes people feel like they're better than other people, or they're more conscious. I agree with you. It's in my opinion, kind of gotten out of hand. I think this is something that food bloggers really need to hear and explore a little bit. I kind of feel like you and I should have a separate conversation on this because I could probably go on for a while about it.

Candice:

I love that.

Megan :

Yeah, I think we should, but it's a real thing. There's so many different ways you can define that and you covered a lot of things that consciously a lot of people don't think about., Halloween candy is sitting in my kitchen and I keep eating that and I feel terrible every time I eat it, but it goes so much deeper than that.

Candice:

It does. It does. What if you could eat a piece of Halloween candy and just enjoy it and have that be the end of that story. Then maybe 10 minutes later, you choose to make a different decision, but it doesn't change that you enjoyed that piece of Halloween candy and that's great.

Megan :

I love that. I'm going to enjoy my next piece of candy thoroughly for you, Candice. So seriously, let's do another, chat about that, but for now, do you have anything else that you would like to say about your travels around the world? Anything that food bloggers need to hear before we start saying goodbye?

Candice:

In the food blogging world, in the travel world, there's all these excuses and if there's one takeaway that you have from this call, I want you to just think about the excuses are fine, if they're there. Don't make your excuses wrong. In addition to them, try to find bits of excitement. What excites you about food blogging? What excites you about travel? Keep a journal of that. Try to stay in the excitement of life, rather than in the excuses. So something that I've learned this year and I've been blogging for over four years now. This year, my biggest learning has been to make sure that I don't lose myself in creating my blog by doing what everyone else tells me to do to the point where I forget why I started this work. So my biggest advice for any food bloggers out there would be to stay true to your vision and why food blogging brings you joy.

Megan :

That's great advice. This space is extremely saturated and competitive. So it's something that we need to hear repeatedly. It can just become a lot being out there on our own, doing this day in and day out. It's easy to adopt other people's visions and staying true to yourself is super important. So I really appreciate that you said that. Thank you, Candice. Wow. This was such a great conversation.

Candice:

This year when I went full-time with the blog, I did have a moment where I did lose my vision, got lost in the shoulds of food blogging because of the competitive nature and the saturation in the market. It's not just the saturation with food bloggers. It's, it's a saturation with really awesome content. People are creating great stuff in our world. It took me using that as an inspiration to remember why food blogging brings me joy and why I started the work, instead of seeing it as an impediment to creating.

Megan :

Well said, that was amazingly said. Thank you for that. For now we have to say goodbye, which is sad, but thank you for sharing all of this value with food bloggers. It's going to be well-received and we will put together a show notes page for you, Candice. If people want to go check that out, we're going to put those at eatblogtalk.com/Candice Walker and Candice is spelled C A N D I C E. So go check that out. Candice, tell everyone where they can find you online.

Candice:

You can find me at proportionalplate.com or on social at Proportional Plate.

Megan :

Awesome. Well, thank you again so much for being here and thank you for listening today, food bloggers. I will see you next time.

Intro:

We're glad you could join us on this episode of Eat Blog Talk. For more resources based on today's discussion, as well as show notes and an opportunity to be on a future episode of the show, be sure to head to eatblogtalk.com. If you feel that hunger for information, we'll be here to feed you on Eat Blog Talk.
---
💥 Join the EBT community, where you will gain confidence and clarity as a food blogger so you don't feel so overwhelmed by ALL THE THINGS!
📩 Sign up for FLODESK, the email service provider with intuitive, gorgeous templates and a FLAT MONTHLY RATE (no more rate increases when you acquire subscribers!).
Read this post about why I switched from Convertkit to Flodesk!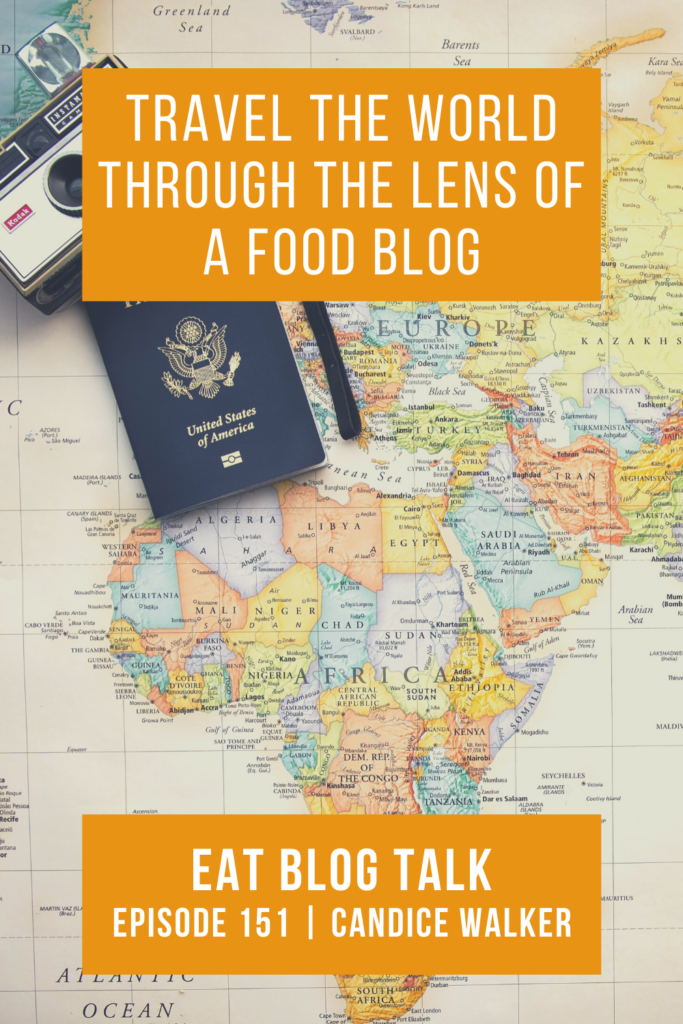 Questions or comments on this episode?
Head over to the Eat Blog Talk forum post about episode #151 to leave any questions or comments. We'd love to hear from you!