In episode 152 we talk with Melissa Megginson, from social media scheduler Tailwind as she helps us navigate Pinterest as a unique search engine that can help grow our business.
We cover information about what Pinterest algorithms are all about, how to adapt to seemingly constant changes as a blogger and many tips, tools and advice!
Listen on the player below or on iTunes, TuneIn, Stitcher, or your favorite podcast player. Or scroll down to read a full transcript.

Write Blog Posts that Rank on Google's 1st Page
RankIQ is an AI-powered SEO tool built just for bloggers. It tells you what to put inside your post and title, so you can write perfectly optimized content in half the time. RankIQ contains a hand-picked library with the lowest competition, high traffic keywords for every niche.
Guest Details
Connect with Tailwind
Website | Instagram | Facebook
Bio
Melissa Megginson is the Sponsorships & Community Manager and resident Cat Lady at Tailwind, the leading visual marketing tool for brands. As Sponsorships & Community Manager at Tailwind, it is her job to make Tailwind's members look GOOD and find success in their marketing efforts. In her 8 years at Tailwind, Melissa has won an ADDY award worked with major brands like Adobe and JCPenney, and recently graduated with an MBA from the University of Oklahoma.
Takeaways
Pinterest is a search engine and focuses on SEO. Like social media in general, it offers rented space. You have to adapt to what they're putting out there and how they're making the changes.
Create your marketing strategy, less as a marketer, and more what would a natural pinning behavior be. You want to be targeting different audiences with that same piece of content that you're creating.
Pinterest is giving us some heads up with these changes and has best practices listed on their website for creative. Tailwind is closely tied with Pinterest and they built in those best practices to their app.
Pay attention to your analytics, both in Tailwind and within Pinterest. When you're comparing saves or repins to clicks, if it's a really high number, but you're not getting those clicks, that may mean you're giving away too much on the pin.
Be sure to check out Pinterest trends, where they let you know the intent of Pinners.
There's never going to be a one size fits all strategy with Pinterest for all businesses.
People who are just getting started with Pinterest marketing, instead of jumping in and trying to build a business, give it a week and use Pinterest as a pinner.
Start small with your scheduling, start with 5 pins a day. The average business finds success with 15-25 if they are established and have enough content.
Use Tailwind Create, a new tool to create easy new pins. Provide your URL and Tailwind pulls in the images, helps add your branding info and you can create new pins easily. It's a one-stop shop now.
Tailwind Tribes is evolving to Tailwind Communities.
Story pins are for brand building.
Resources Mentioned
Find her on Twitter, Pinterest and Instagram at @MelMegg.
---
Transcript
Click for full text.

Intro:

Welcome to Eat Blog Talk, where food bloggers come to get their fill of the latest tips, tricks, and insights into the world of food blogging. If you feel that hunger for information, we'll provide you with the tools you need to add value to your blog. And we'll also ensure you're taking care of yourself, because food blogging is a demanding job. Now, please welcome your host, Megan Porta.

Megan Porta:

Food bloggers, hey! Are you looking for new ways to make money as a blogger? If so, we have got your back. We are launching an ebook called Conversations On Monetization over the Thanksgiving holiday weekend. Inside this resource, we take your favorite podcast episodes about monetization, and we put them all in one easy accessible package, inside of an ebook. We also throw in a few exclusive interviews as well.

There are so many ways to monetize your food blog and this ebook will bring those ways to life. Inside the book, we have interviews with success stories like Todd Bullock, Alyssa Brantley Kelly McNelis, Jena Carlin, and so many more. They've all become successful through completely different monetization strategies. Whether you are a new blogger, looking for your very first revenue stream, or you are a seasoned pro wanting to diversify, this ebook is for you. Get insider information and amazing discounts by joining our launch list. Go to eatblogtalk.com to sign up.

What's up food bloggers. Welcome to Eat Blog Talk. The podcast made for you, food bloggers seeking value for your businesses and your lives. Today, I will be having a chat with Melissa Megginson from Tailwind, and we are going to talk about adapting to changes within Pinterest. Melissa is the sponsorships and community manager and resident cat lady at Tailwind, the leading visual marketing tool for brands.

As sponsorships and community manager, it is her job to make Tailwind's members look good and find success in their marketing efforts. In her eight years at Tailwind, Melissa has won an Addy award and she has worked with major brands, like Adobe and JC Penny, and recently graduated with an MBA from the University of Oklahoma. Melissa, I am super excited to dig into Pinterest and Tailwind today, but first give us a fun fact about yourself.

Melissa Megginson:

Oh sure. Okay. So, since 2020 has been such a crazy year, I apparently thought it would be a great idea to buy a house and get married. So this has been an active year for me, even though we've been stuck inside most of the time. So that's been, something to take my mind off of the state of the world right now.

Megan:

I think you did it the right way, doing a few things that you are certain to remember forever as a way to maybe counter all of the other stuff.

Melissa:

Definitely been a good distraction.

Megan:

Yes, for sure. Well, congratulations on all of that! Also congrats on your MBA. That's a really big deal as well. You are just killing it, it sounds like. So let's dig into Pinterest. Pinterest has always been a really big traffic driver for food bloggers, but we're all sensing those winds of change, as with any platform, things eventually evolve and change. Back when I started blogging 10 years ago, it was so easy to get a ton of eyeballs on my content, almost instantly. I remember that it was like magic. Literally a single pin could successfully circulate for years. I mean, two years later, I'd be like looking at the same pin over and over throughout the platform. But today the platform is much more saturated. It's much different and it's not quite as easy to get those eyeballs and those link clicks. So Melissa, can you talk us through the new Pinterest algorithm and the changes that have been made? Give us some insight and break that all down for us.

Melissa:

Yeah, absolutely. So like with any platform that you're using, whether it's Facebook, Twitter, Google, anything like that, you kind of have to think about it as rented space. So when your landlord, one of these big platforms changes the rules, you have to adapt. You are living on their land, you're getting at the traffic and those clicks and all of that good stuff that we'd love from those platforms, you were getting it from them. So you kind of have to adapt to what they're putting out there and how they're making the changes. Pinterest is no different. I really liked that you talked about how a few years ago you would just see the same pin over and over again. It would be supersaturated. The thing that Pinterest is really focusing on right now, is helping pinners find new inspirational content a lot easier.

So you don't want to go onto Pinterest as a Pinterest user and just see the same exact thing over and over and over again. Pinterest is also a search engine, so they need to help you optimize the search results. So that again, you're not seeing the exact same thing over and over again. You're getting new inspiration based on your search intent. So thinking about your marketing strategy, less as a marketer, and more what would a natural pinning behavior be, will help you going forward. And the big thing to focus on with your content, is so you want to be targeting different audiences with that content that you're creating. So whether that's going and looking at a recipe and thinking about the different things that the recipe could be used for. So, an example that we use a lot is there's this really delicious bourbon cocktail recipe that can just be a bourbon cocktail. People search for that. It could also be, bourbon cocktail for cocktail hour at a wedding or a holiday drink, or a girls' night in, a fun cocktail to make. You can target her search intents with that pin, with that recipe. It may all lead to the same URL, but if you change up the copy and the description on the pin and the pin title, to target those people that have those different ideas about what they can do with that recipe, then you'll be more likely to find success with this new world of Pinterest.

Megan:

So you're recommending taking one recipe because we're speaking to food bloggers, and maybe just putting different spins on it. So using a different description to target different seasons or holidays. Is that kind of what you're saying?

Melissa:

Yeah. That's going to be a really great way to juice your older content that may already exist. You can kind of see the drop-off happening after it's been published for a long time. Great thing with recipes, is it's not like they're going to go out of style. People are always going to be searching for bourbon cocktails or bread recipes or whatever it is. They're always going to be wanting to find those incredible recipes. So instead of just having it be, bourbon cocktails or delicious bread, bread recipes, you can actually target those different holidays, different life events and get more people, more eyeballs on your content that way.

Megan:

What would you say the lifespan is of one image and one description? How long can we expect that to circulate before it's seen as old content?

Melissa:

It's really hard to say. The algorithm is a bit of a mystery, but the way that Pinterest is going now, is that newer content and new images are going to do better in the short term than in a very, very old image. Having said that, of course you can go onto Pinterest and see images that are five years old and they're still performing well, they're still getting clicks. They're still getting those saves and repins. So there's no one set way, but the future of Pinterest is really moving into that burst pin image, or brand new URL is going to be the thing that will perform better in the long run.

Megan:

What are your thoughts about those unicorn pins? Because I have a few myself, they are hideously ugly as far as the photography goes, but they're doing so well. They've been doing really well for years and years. Why is that? Do you have a thought on that?

Melissa:

Oh, I could speculate all day. I think weird things happen in algorithms. I, especially one that's as established as Pinterest. They can't just a hundred percent change everything overnight. So some of those old pieces of content definitely have that like early 20 teens look, you can see a pin and go, yeah, that's from 2012. This is just wild speculation, is that it's a pin that did well and has been doing well and the algorithm recognizes it as something that does well, but that doesn't mean that it'll be a reliable source of traffic in the future.

Megan:

It's just like with Google, I think too, a lot of us have those posts that do really well with Google, but they're really outdated and we haven't updated the SEO inside of them. We haven't updated the photos or the copy yet. They perform really well. They get on that first page and we're told by the SEO experts not touch those, let the magic run its course. So it's kind of the same thing. We don't really know what's going on, but we just have to roll with it.

Melissa:

Yeah, exactly. You know, you can, you can always add new images and test how they do how they perform, but you know, if you found that magic mix with an old pin that doesn't have a great image, just let it ride. There's no need to delete pins. Keep it on there, enjoy the traffic while it lasts. But don't be surprised if you know, in a couple of weeks or a few months, or even a year from now, you're not getting that traffic anymore.

Megan:

Because it really can change at any moment. I've seen that happen with my own content and it's hard. It can be really hard to see that, but we have to go into Pinterest and, digging into Pinterest expecting that, because like you said, this is rented space. This is not our space. We do not own Pinterest. So ride the wave, relish all the traffic it brings us. If it changes, you just have to kind of shrug your shoulders and move on. I've learned that over the years. I used to get really offended. I don't know, emotionally tied. Like why did they do this to me? How could they do this? But really, it's not my thing. Pinterest is not my platform. I don't own it. So of course they're going to change. They can't stay the same forever. Right?

Melissa:

Yeah, exactly. It's easy to get caught up in that and think like, Oh, my content is no good anymore. I am failing at this, but that's just, imposter syndrome sneaking in, it's not you it's the platform. You just got to kind of tweak things and figure out what works for you. Especially as things change on these platforms. Pinterest is giving us some heads up with these changes and has best practices listed on their website for creative. With Tailwind, we are so closely tied with them. We built in those best practices. So there's ways that you can learn what works and what's going to work going forward. So you can set yourself up for success now. Once things fully get transitioned over and those changes are made.

Megan:

So keeping at it, being consistent is one thing that I always tell people because that's one thing I've done over the years really well, is I've just consistently put good quality content and images up on Pinterest. I've been rewarded for that. What are some other bits of advice or encouragement that you have about how to deal with these changes and adapt to them?

Melissa:

I would definitely say pay attention to your analytics. Go in, see what's working. What is trending for you, whether you've pinned it or not, both in Tailwinds analytics and Pinterest analytics. So you can get a feel for the type of content that your audience is interested in seeing from you. So if it's something from your website, you can see those clicks, what people are saving. I would also say that when you're comparing saves or repins to clicks, think about those saves and repins. If it's a really high number, but you're not getting those clicks, that may mean you're giving away too much on the pin. Or if you made that pinch is to build brand awareness for your company, for your blog, great. Then that's a really powerful signal that people are interested in your brand, even if they may not be clicking through.

And then on the opposite side, if you have pins that are getting lots of clicks, but you're just not seeing the saves as much, that pin may need to be adjusted so that, sharing is built in, people are interested in clicking on it. I know I'm guilty of this sometimes when I'm using Pinterest to find recipes. So I'll click through on a pin, I'll open it up in my mobile browser and then I'll just forget to actually save it. So having a really strong CTA on your website to save that pin is going to help with those saved metrics versus the click metrics. At the end of the day, we want those clicks. That's something that we're all interested in. We all want that website traffic, get that ad revenue and get that affiliate revenue. That's what builds our business. So I would say clicks are a little bit more important than the saves, but it just really depends on brand building versus website traffic as well.

I would also say check out the trends, Pinterest trends. So if you go to trends.pinterest.com, look at what is upcoming, what Pinterest is saying people are searching for and interested in. If you can tweak some of your just easily go in and change a couple words on the pin design and the description and share it out to try to capitalize on those trends and what's happening on Pinterest online, then that can really help you as well. Because you know, Pinterest is telling you their search intent here. This is what people are interested in now. So get that content out there and make sure that you're paying attention to what's going on on the platform.

Megan:

I have taken a look at the Pinterest trends section recently, and it's really cool. I love how, of course they tie visuals to it because it's Pinterest. Whereas a platform like, Google trends is very numerical. There are no visuals, but Pinterest trends are really visual and cool and you can browse through categories and they're basically giving us exactly what they're highlighting. So go in there and look at the food category and see what specifically within food they are highlighting that season. Do more of that. So maybe you could match your content to what they put up and let's say chili is really popular within trends. You could go through your archives, find a couple chili recipes, maybe create new pins for them and circulate them around. Do you think that would be a good strategy?

Melissa:

Yeah, it would definitely be worth testing. I will say that, there's never going to be a one size fits all strategy. Unfortunately, that's what we all want. It's just, tell me what to do so I can find success, but definitely start testing things. You know, if you're normally a vegan cook and what's trending is, a meat filled Chili, it may not be for you but make sure it matches what you're doing and try to capitalize on those trends. I really think that it's a relatively new tool in the Pinterest trends, but we've seen, our members have success trying to match the search intent and these trends that are upcoming with the content that they're putting out there.

Megan:

You mentioned testing. I love seeing it like that too. I say that often as well, it's constant testing with your analytics and just also testing with your images and what you put on your images and the way you write your descriptions and what keywords, there's so many different things that you can test within Pinterest. So I see it as being a fun experiment of sorts, because it is, it's fun just to see what works and then you find something that works and you capitalize on that and you do more of that. Then you find something else that works and you do more of that. So it's this big experiment. That's how I see Pinterest. I think that's why I like it so much and why I do pretty well with it. Whereas, there are those who see it as a frustration and maybe they don't see those things that are working out for their accounts and they give up on it.

Melissa:

Who doesn't want to be, getting traffic and seeing the success that from the time that they put in, but it is about testing and, try to make it fun. Pinterest should be fun. So, I know it's easy to get discouraged sometimes, but that's why testing is so important and paying attention to the test. Not just throwing this out there and forgetting what you were actually looking at to test for. Keeping track of that will just enable you to better understand what's working with your audience and what's working with Pinterest as well.

Megan:

I think we all have those platforms that we just have blocks to almost. For me, it's Facebook. I've never understood Facebook, but I've never wanted to understand Facebook. If I really wanted to understand it, I would have gone in and figured it out and done testing there, but I just haven't ever had that desire. So I always find it interesting when people cannot see that, they're like, Pinterest should love me, but I don't like Pinterest. Well, of course, it's not going to love you if you're stating that you don't love it and you're not willing to go inside and poke around and see what works, then of course, you're not going to get Pinterest traffic. I think it's so obvious, but people get so caught up in the emotion of seeing other people succeed and seeing their own counts, not be as successful, that they can't see that. Does that make sense?

Melissa:

Absolutely. Twitter's that platform for me. I don't have a ton of followers on Twitter, but that's because I don't use it. I also say to people who are just getting started with Pinterest marketing and trying to find success, instead of just jumping in immediately and trying to build a business, I would say, give it a week and use Pinterest as a pinner. Figure out what you like, what attracts you, how you organize your boards. That'll get you into the headspace of someone who uses Pinterest. It'll give you a good idea of the mechanics of it. I think it will help you kind of fall in love with it because it is a fun platform. It's very visual. You can find incredible new ideas. So go ahead and go on that first date with Pinterest before jumping in and trying to build a business with it.

Megan:

I think that is the best advice ever because we get caught up in the business side and we don't think to do that. I think we all fell in love with Pinterest. A lot of us fell in love with Pinterest really early on because it was so amazing and visual and beautiful and inspiring. We forget that as we launch into our businesses. So just setting the business aside, taking a step back and going into Pinterest as a pinner, I love that, Melissa. I'm so glad you mentioned that because it's so simple. Just step away for a week and see what people are doing as a pinner, as a user, a consumer of Pinterest. So obviously we can't dedicate all of our time to a single platform on any given day when we're trying to figure it out. So do you have any tips for us about growing on Pinterest without having to invest a ton of time? You mentioned digging in as a pinner, that wouldn't require a ton of time, just a little bit of time a day. What else do you have?

Melissa:

Yeah, so I think for anyone who's been around for three to five years, may remember people talking about how you need to be pinning 100 times per day, 300 times per day. Those days are gone. That's just crazy. No one wants that. That's way too much content. You're just flooding the system. So I would say start small with your scheduling. Whether you're using a tool like Tailwind or using Pinterest internal scheduling, start small and build up that content. Build up how you know, how to work this stuff. Your confidence in what you're doing, and then start to invest a little bit more. So I always say start with five pins per day. In Tailwind you can go in and set your schedule and say, I want to pin five pens per day. We'll build out your smart schedule based on when your audience is active.

And as you get more comfortable as you're learning the platform, as you're learning what people are interested in, and as you get that confidence to add more time slots, you can just really easily go into Tailwind and click on those time slots. We have found that most of our members who find the most success are pending between 15 to twenty-five times per day. Now, if that sounds overwhelming, if that sounds like a lot, you don't have to pin that often. That's not a hard rule. That's just what we found is the sweet spot. Especially if you have a ton of content. So if you've been blogging for 10 years, you're going to have a backlog of content that you can put in. You can change up the images. You can change up the descriptions and have lots and lots of pins going out every single day and really capitalize on that traffic.

But if you're newer or if you don't have as much of a backlog, go ahead and just stick to a small number of pins that you're scheduling every day. Timebox your week or your month. However you plan to schedule out those pins, so that you're not having to go in and take a step away from the other parts of your business. That's where scheduling is just really such a powerful tool. You can think about it for an hour or two, once a week, and then step away and not have to worry about it again, until you go back in and start that process over again to schedule. So rather than going in every single day and trying to pin five to 10 posts organically, you can just have a schedule or take care of it for you. That's going to save you a ton of time and a lot of headaches. Then once that content is on Pinterest, you can come back, look at your analytics, understand what's working and make those adjustments.

Megan:

Scheduling is a dream. I use Tailwind personally, I have for years and it saves me. It saves me so much time, but it also saves me mental energy. Like you said, Melissa, it is a nightmare thinking that you have to go and organically pin content multiple times a day. That would so stress me out. I would last about three days and then I'd be done. So Tailwind saves me with that. Is there anything else you want to say about Tailwind that you think food bloggers would need to hear? I mean, obviously scheduling is great. What else do you have about Tailwind?

Melissa:

So we just launched, I think literally last week or the week before, our new Tailwind create tool, which allows you to create absolutely gorgeous images in very little time. So as a food blogger, you can get started with it by copying in the URL that you want to use. We'll actually pull in the images from that URL. So all of your content, that's already on that URL that you would want to make pins from, you can easily select and change up the pin title, the description, the call to action on the pin. Once you click on Go Create, we will present you with hundreds of beautiful, 95% done pins that you can go in. You can tweak, you can change up. I've been kind of harping on this, creating new pins for new audiences. So you can adjust who the audience is on them and just quickly and easily have those pins already created and scheduled, all within Tailwind. So it's kind of your one-stop shop now. You can go from pin creation to analyzing after the fact, all right within Tailwind.

Megan:

Did you say that has been rolled out or it's coming?

Melissa:

It has been rolled out. So anyone can log in and with our plus plan, you get 15 pins that you can design every month.

Megan:

Okay. So I'm in my account right now and I haven't used this yet. Where do I find this? When I create a pin, I go to design in Tailwind create? Is that it?

Melissa:

Yep.

Megan:

Oh, okay. Wow. I feel like I just got a Christmas gift. I am so excited to play with this. Okay. Later today, I'm totally digging into this. How exciting. I'm really glad you mentioned that.

Melissa:

It's really a great tool. I'm not much of a designer. So it's really helped me make nice pins that don't take a lot of time. You don't have to be a designer and we're constantly adding templates and kind of mixing it up. So you're not going to see the exact same pins on Pinterest all over the place. There's a lot of ways you can customize and build out these pins and make them yours. You can set your brand preferences. So it always has your logo or your website and your image, your colors for your brand. So it's really easy to quickly create these branded pins right within Tailwind.`

Megan:

Oh, cool. I love it. What about Smartloop? Do you recommend food bloggers use Smartloop. We've kind of gone back and forth with that on my team. What are your thoughts?

Melissa:

Smart loop is changed. The purpose of it has definitely changed over the years. So when we first launched it, it was a looping tool. There was a tool out, it got shut down in 2018, called ?? Booster. That essentially that's all it was, was just reposting your pins repeatedly. That really created some of the backlog of content. When you search for bread recipes, you see the same three. That's what Pinterest is trying to get away from, is having that repeated content going out constantly around the clock, all the time. So the big thing with Smartloop that can really help food bloggers is setting them up for different times of the year. So that once it's holiday season, you have your holiday recipes starting to seed out a little bit early. Pinterest is an odd platform and often the holiday season. November through December, that content starts to spike around July. So Christmas in July is a real thing on Pinterest. it's hard to think about that and remember that, Oh, I should be sending out my Christmas recipes now to try and capitalize on that trend. That's where Smartloop is really the most beneficial is making sure that your content that's related to a holiday season or any sort of seasonal event, is going out at this time when it is most valuable and getting the most attention.

Megan:

That's great. I'm glad you talked through that. Do you have any other tools or tips within either Pinterest or Tailwind to help food bloggers save time and energy?

Melissa:

Yeah, I would definitely recommend checking out our Tribe's tool. The name's changing very soon. By the time this is out, it'll be Tailwind Communities. So within Tailwind Communities, you can go and find communities of like-minded pinners to join together and share each other's content. You can get really great ideas from other people. You can meet people who are in the same niche as you and share their content and they'll do the same for you. So it's a great way to connect with other people, other pinners, other food bloggers, and it doesn't hurt that you get your content shared from those communities as well.

Megan:

Interesting that you guys are switching names. I kind of like that, because I feel like tribes have kind of run its course. So putting a new spin on the whole concept and giving it the word communities is really cool. I think we can all relate to that word, community, community building we're all food bloggers. We like to be a part of a community. So I'm excited to see what you guys have to offer there. Is there anything else you have Melissa, tips and tricks?

Melissa:

With keyword research, Pinterest is a SEO platform. It is a search engine. We are trying to get the keywords, that content in front of the right people, with that right search intent. So if you haven't done your keyword research, don't worry too much because Pinterest is an incredible place to go and find those keywords. Unlike Google, which took away the keyword research, I remember being able to find just incredible keywords in the beginning with Google. Now they make it a little bit more difficult. But on Pinterest, all you have to do is type in a keyword that's important to your business. Pinterest will give you the related terms right there. So it'll either be at the top as little pill looking things that'll be related topics, or as you're scrolling, they've started putting some of those into the actual scrolling part of the feed. So that keyword research is super easy, but super, super important on Pinterest.

Megan:

What are your thoughts real quick on story pins?

Melissa:

Story pins are really, really good for brand-building. That's the big purpose of them. They don't have clicks yet. I believe Pinterest is indicated that they will start putting links in. Don't quote me on that. I think I remember reading that in their community. That's really the big thing that they're focusing on with the story pins, is telling a story without having to leave Pinterest and build that brand awareness. So story pins are really, really amazing for reaching new potential readers of your blog, but you're not going to get the clicks from them.

Megan:

Do you foresee that changing? Because I've seen a lot of users commenting on my content, my story pins, just about that, like where is the link? There's a lot of frustration out there. I want to go to this link. So do you foresee that changing or what are your thoughts?

Melissa:

It's hard to say. You know, Pinterest has had a few more social aspects that they've tried over the years. I remember a few years ago they put out, I think they actually called it communities, Pinterest communities, that were kind of like Facebook groups on Pinterest, essentially a tribe on Pinterest. It's kind of funny. That went away. Story pins. They're doing incredibly well for getting impressions, but there's no clicks, no links. So I could see it changing, but that's also kind of the opposite of the intent, because then it's just a pin. So it's really hard to say. I wish I would say I'm a medium for the Pinterest algorithm, but I'm honestly not sure. It'll be really interesting to watch what happens with that.

Megan:

With anything else, we just have to let it unfold and watch it evolve. See what happens a year from now. We'll be talking about some story that story pins created, but for now we just let it unfold. Do you have anything else? We've kind of run through our list of things to talk about, but is there anything else on the topic of Pinterest or Tailwind that you really feel like food bloggers should know before we start saying goodbye?

Melissa:

You're in a really incredible market for Pinterest. That's the majority of what I use Pinterest for, is finding incredible food, blogs, and recipes. So if you haven't made the jump to Pinterest, I highly highly recommend you do it because that is just an absolutely perfect platform for you. So I'm a big fan of Pinterest already. Of course they've given me a career, but also it's the best place to find those recipes that I use all the time. It's so powerful for that.

Megan:

There's so much opportunity. I saw that right away as a food blogger. When I started food blogging, Pinterest was just very new on the scene. I saw that right away. I thought, Oh my gosh, I cannot let this go. It's totally visual. People are coming here for food. Immediately they started devouring the food pins and yeah, there's just so much opportunity. So I'm glad you ended with that. You really can't ignore it as a food blogger, right?

Melissa:

We can, but you won't want to, once you figure out the platform, figure out what works for you. I promise you will fall in love with it as well.

Megan:

Agreed. Well, Melissa, thank you so much for being here today. I thank you for sharing all of this incredible Pinterest and Tailwind value with food bloggers. We really appreciate your time and all of your inspiring words.

Megan:

Well thank you so much. It's been great.

Megan:

Yeah. It's been fun talking to you. And before you go, I like to ask my guests whether they have either a favorite quote or words of inspiration to share with food bloggers,

Melissa:

I knew this was coming. And so I was trying to think of a quote. My words of inspiration is, when I think about my own career and what I've been working on, it's tenacity. Don't give up, be tenacious. Don't be afraid to ask questions, to put yourself out there. The worst thing that you can hear is no, and that's not the end of the world. So just be tenacious, put yourself out there and keep working on your goals.

Megan:

Love it. Thank you for sharing that. We will put together a show notes page for you, Melissa. So anyone who wants to go see our show notes for this episode can go to eatblogtalk.com/tailwind. Also Tailwind is offering $30 off. You can either use that toward a plus plan, or you can take that off an annual plan. Go to the show notes page for this episode to take advantage of that and to get all of the details and the link. Melissa, tell my listeners the best place to find you online.

Melissa:

Sure. You can find me on pretty much any social platform at Melmegg, M E L M E G G and Tailwind is at Tailwind App and that's across social. You'll be able to find us using those.

Megan:

Awesome, Well, thank you again, Melissa, for being here and thank you for listening today, food bloggers. I will see you next time.

Intro:

We're glad you could join us on this episode of Eat Blog Talk. For more resources based on today's discussion, as well as show notes and an opportunity to be on a future episode of the show, be sure to head to eatblogtalk.com. If you feel that hunger for information, we'll be here to feed you on Eat Blog Talk.
---
💥 Join the EBT community, where you will gain confidence and clarity as a food blogger so you don't feel so overwhelmed by ALL THE THINGS!
📩 Sign up for FLODESK, the email service provider with intuitive, gorgeous templates and a FLAT MONTHLY RATE (no more rate increases when you acquire subscribers!).
Read this post about why I switched from Convertkit to Flodesk!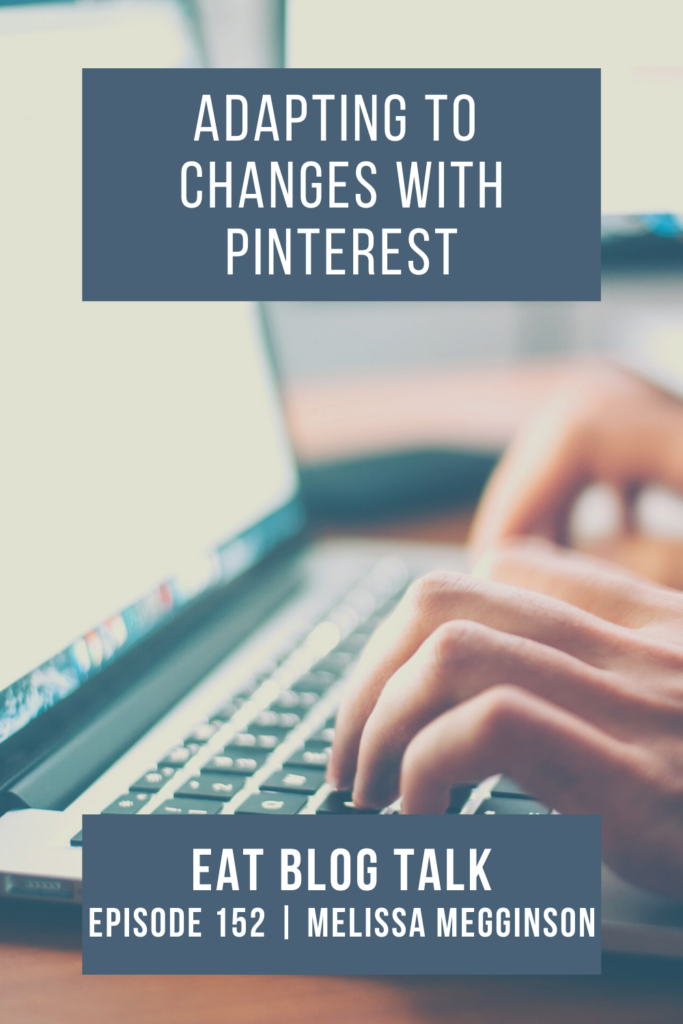 Questions or comments on this episode?
Head over to the Eat Blog Talk forum post about episode #152 to leave any questions or comments. We'd love to hear from you!