In episode 187, we talk with Uma Srinivas about food blogging and how to incorporate time management skills because blogging is so much more than cooking.
We cover information about alloting time in the day to accomplish certain tasks that are necessary, why you should align recipes with upcoming events, holidays and family dinner time and how logging your expenses throughout the year is important.
Listen on the player below or on iTunes, TuneIn, Stitcher, or your favorite podcast player. Or scroll down to read a full transcript.

Write Blog Posts that Rank on Google's 1st Page
RankIQ is an AI-powered SEO tool built just for bloggers. It tells you what to put inside your post and title, so you can write perfectly optimized content in half the time. RankIQ contains a hand-picked library with the lowest competition, high traffic keywords for every niche.
Guest Details
Connect with Simple Sumptuous Cooking
Website | Instagram | Facebook
Bio Uma has been a food blogger for 6 years at Simple Sumptuous Cooking. She shares popular recipes that are simplified so you can prepare a great meal today! All of her recipes are vegan, and she creates all traditional nonvegan recipes into vegan.
Takeaways
There is 10 times more work in the background than what shows up on the blog.
"Working smarter is equally important as working hard." ~Casey Markee
Use your phone to create alarms to remind you for specific tasks. Find an app to help you coordinate that, like Alarmed, with a calendar of tasks in a day so you stick to the time allotted.
Spend a specific amount of time on social media so you're intentional about getting on and off with your audience. Also, be aware of seasons and holidays to post your content there.
Use groups within Facebook to answer questions, engage your potentional audience and share recipes.
Have a list of tasks to do on days that you aren't working on big projects or having a lull or need light work to get through the day.
Get organized with all your food blogging materials, tools and accessories so you're not wasting time grabbing them, finding them or lugging them around.
Coordinate meals for your family with your editorial calendar. They can be great feedback for tips to put in your recipe card notes or ways to improve a recipe based on their instant feedback.
Track your expenses and keep your spending logged so at tax time you're not overwhelmed.
Resources Mentioned
Alarmed – Reminders and Timers
Wave App – financial software for small businesses
Intuit Mint – custom budgets, tracking money
Transcript
Click for full text.

Intro:

Welcome to Eat Blog Talk, where food bloggers come to get their fill of the latest tips, tricks, and insights into the world of food blogging. If you feel that hunger for information, we'll provide you with the tools you need to add value to your blog. And we'll also ensure you're taking care of yourself because food blogging is a demanding job. Now, please welcome your host, Megan Porta.

Megan Porta:

Are you a motivated food blogger, striving to meet financial or freedom goals? If so, then the Eat Blog Talk membership is for you. Take a journey with like-minded peers that will bring you past the overwhelm and straight into the arms of clarity. You will have direct access to guest experts delivering massive amounts of value into your business. You will have the opportunity to participate in monthly strategy calls, focusing on different aspects of food blogging. Most importantly, you will be part of a tight knit, supportive and encouraging family filled with people just like you. Visit eatblogtalk.com for more information. And the rest of us can not wait to see you inside.

Hey, food bloggers. Welcome to Eat Blog Talk, this podcast is for you. Food bloggers wanting value and clarity to help you find greater success in your business. Today I'm so excited to have Uma Srinivas with me from Simple Sumptuous Cooking. We are going to talk about time management to streamline your blogging experience. Uma has been a food blogger for six years at Simple Sumptuous Cooking. She shares popular recipes that are simplified, so you can prepare a great meal today. All of her recipes are vegan and she creates all traditional non vegan recipes into vegan. Uma, before I ask you for your fun fact, I love the name of your blog. It is so appealing and it's got that alliteration and just intrigues me to go check it out. So I love that. I'm really excited to talk about this topic with you today, but first we want to hear your fun fact.

Uma Srinivas:

Thank you. Thank you very much for having me today. Have been a long time listener to your podcast and I learned a lot from your community. I'm so excited to finally talk to you. The fun fact about me is, although I grew up with not much exposure to exotic cuisines, I always wanted to try new fusion recipes, mixing Indian and other cuisines. You can see some for example, like tikka masala pasta, it's like pasta is from Italy and I add spices like masala. You can see a few more examples, like pineapple tofu curry. It's a mix of Indian and Thai. Another example, broccoli cutlet, the cutlet is especially Indian, but broccoli's not from India, it's American.

Megan:

Oh yeah. That's really cool. So you fuse different foods together from different places around the globe. That's really creative.

Uma:

Yeah. Personally I love Thai food and I try to cook type dishes or order Thai food for any special occasion.

Megan:

I love Thai food. I mean, clearly I'm a food blogger and this podcast is for food bloggers. So we talk about food a lot, but today this is my third interview. In every single interview we've talked extensively about really specific foods. So I am starving, I am so hungry right now. Now that you mentioned Thai food, I have to go eat lunch. Thai food is the best. It's one of my favorite foods ever. Thank you for sharing that Uma and you are here to talk about just managing your time and streamlining our businesses. It sounds like you've really dove into this and you also believe that cooking is so much more than just cooking. I love that about you. It's kind of the whole experience, right? Including culture, you mentioned cooking from different cultures and also it involves patience, entertaining. As I mentioned before, time management. I absolutely love this outlook and it's kind of unique, I feel like too. So today let's focus on just the time management piece of it. Would you mind starting our conversation off by talking about how you manage your calendar in order to stay streamlined?

Uma:

One big lesson that I learned running my blog is that there is 10 times more work in the background than what shows up on my site. I adopted this quote from Casey Markee that everyone knows about him. He's an SEO expert, "working smarter is equally important as working hard." So sometimes recipe ideas come easily and sometimes they don't. So I keep a log of new recipe ideas and I plan them out. Once I post a new recipe, I make sure I follow a set timeline for sharing. I also use an app to remind me of major milestones and activities. You get apps on every phones, right? Like alarm and everything. So that's how I keep a calendar with pre-planned recipes.

Megan:

Okay. So you mentioned milestones, what do you mean by that specifically?

Uma:

If there is a specific group for example, there are a lot of Facebook groups, specifically for Instant Pot. So I want a focus on that, on a particular day. During the COVID time a lot of people are expecting how to build an immune system. I previously posted a lot of recipes, but I never focused on those recipes. So I feel like this is the best time during the winter or early spring. I focus the specific recipes to the specific groups. During October and November, I post all the soups and all the spice recipes to the specific group that I keep in a calendar. Post this recipes to the specific group and pin the specific recipes to the specific board, like that. I keep a calendar log.

Megan:

That's a good idea. I never thought about putting reminders to post seasonally or even not just seasonally, speaking of foods and ingredients, but what's going on? What is relevant right now? You mentioned COVID and people are wanting to eat more healthily or boost their immunity, things like that. But I never thought to actually put that in my calendar. That is so smart. So do you just put the reminder, soup season, or do you put specific ideas?

Uma:

I always put in a reminder for Instagram too, because on a busy day, we keep forgetting what to do. I'm doing the content for the post, I forget everything else. I only focus on that or while shooting videos, I only focus on that and I keep forgetting, I have to go through the social sharing, it's also important. So I use a calendar with a pop up reminder that now it's time to share an Instagram post. So that will help.

Megan:

I do schedule some social media, but the ones that I don't schedule, it's so helpful to have those reminders just pop up on my phone, because otherwise it's like you said, Uma, it's so easy to forget. So the more you can include in your calendar, I feel like the better. Going overboard, as opposed to dropping the ball and forgetting it completely. I love that. Then what do you use for managing your calendar? What calendar do you use?

Uma:

I use iPhone calendars and another app called Alarmed. When the app is there, it pops up. It reminds me per day, like twice if I need a reminder. For an Instagram post, for example at four o'clock, it reminds me two hours before and just 30 minutes. It shows up until I mark it done. I don't want to see any notification on my phone. So that's very helpful for me by the end of the day. I see, okay, everything is done.

Megan:

We all like to see those crossed off tasks. I love looking at my phone and seeing things crossed off. I do not like looking at my phone and seeing a bunch of things that I need to do. So crossing them off is always good. So you talked about just allotting time or getting social sharing on your calendar, but how much time do you reserve for that typically?

Uma:

In the beginning, I was not paying as much attention to social sharing as I should have. But as I progressed, I learned that social sharing is a task that I need some time dedicated to it. So apart from sharing, that also includes questions and comments from readers that I like to respond to. So having some time carved out specifically for social sharing and networking helps me and my readers mutually. Just like I told you earlier, I keep a calendar specifically named for social sharing. So I stop everything, whatever I'm doing, stop right there and I go to let's do the social sharing. That's how I gained a lot of followers on Instagram after doing that and in Pinterest and Facebook too.

Megan:

So you just set a timer or set an alarm, and then when it's time to focus on Instagram, you've put everything down and you give it your undivided attention and you give it the focus it deserves. How much time? Does it vary from day to day? Or how much time do you typically give each platform?

Uma:

Frankly, for Instagram I spend like 10 minutes a day. Same goes for Pinterest too, 10 minutes. Most of my time I allot about 45 minutes to one hour. But apart from those social media platforms, I spend a lot of time on Facebook, because I feel Facebook gives me so much more than other two platforms. It's my own opinion. My personal opinion. On Facebook, they interact with each other, they share their opinion and after they try the recipe, they post their pictures with their feedback. I love that. I can communicate with them. I'm asking them, is there anything they need from me, like with the spices, most of the people they don't know about Indian spices. So they are asking me the alternatives of the spices and everything. So I love Facebook a lot.

Megan:

I actually like hearing that because the common theme currently is that food bloggers tend to not like Facebook and push it aside, but that's not the case for everyone. You're showing us that, that there is actually value for some bloggers. I actually really love to hear that. So you dedicate more time to Facebook. You just like the way the platform offers interaction and it just works for you. So that's great. You mentioned spending 10 minutes a day ish on Instagram and Pinterest. I think that is so smart, even if it's just five to 10, 15 minutes a day, that's really gonna make a difference. You mentioned earlier Uma about it's not only that you're putting your content out there, you're actually investing in your people and your audience. So by doing that 10 minutes, which is nothing, you're actually making your users, your audience, your people feel good, feel heard, feel validated, you're answering their questions and all of that. So I think that's a really great, solid strategy. I love it.

Uma:

Yeah. It's working so far for me. So I don't know. I'm not an expert to give advice, but this is what I follow. Recently, I started to believe this and engage with the readers.

Megan:

Engagement is huge. If you can do that consistently, it's even better. Okay. So let's move on a little bit. So what do you think about the holidays and how ebbs and flows come and go with holidays and then in between we experienced that lull. What do you do during those times, those lulls to take advantage of your time?

Uma:

I find that the number of visitors to my site is pretty high building up to certain national holidays and it is actually strong that day. So I find that a good time to finish up on a background work, if I have a bunch of images to optimize or things to catch upon, these are good time slots. I feel working smarter is equally important as working hard. I heard many people saying Thanksgiving day or Christmas day that they will get huge traffic. What I feel is,I also get traffic, but it will stop on that particular date, Thanksgiving day or Christmas day. This is just an example. But on those days I feel there is very less traffic. I don't want to spend too much on that time. Whenever there is a lower holiday time. I feel like it's ok to do other work, like AXA other than our social sharing or you know, interacting on Facebook, I'm stopping all those folks during that time. And I spent like I said, optimizing majors or whatever, I took the video shoots and everything, I'll work on that during this time.

Megan:

So you're saying that during your lulls, whenever that happens for you, because I think lulls are different for all of us. So you have a list of things you can do that you consider to be background work. Is that right? Yes.

Uma:

Yes.

Megan:

I think that's super smart. I do the same and not just for a yearly lulls or seasonal or holiday LOLs, but also for days when I just feel like not working, we all have those nights when we don't sleep well and we wake up and we're like, okay, I am not going to get anything done today. So I pull out of my back pocket this list of, I call it my mind list or background task list. I start doing that. Like you mentioned photos. Yep. I go through my photos. That's one of my things too. Just stuff that doesn't require a whole lot of brain power or effort. That's super smart. So you also wrote in your notes about blogging tools and having dedicated space for blogging tools. Will you talk us through that?

Uma:

Meal presentation seems to be a big factor for readers as much as ease of preparation. Right. and there are some things that we end up using pretty much all the time for presenting the dishes. Especially for me, for example like the tripod, the photography tools, the place settings, et cetera. If you are not keeping it in a specific place, it's very hard to gather all those steps. So I keep a corner tucked away in my kitchen for all such stuff. That's why I don't spend time looking for these things. So this will cut down the time I spend taking a snapshot of my dishes. I moved recently and I felt like that's my blogging tools or that's my blog materials. It was all over my kitchen. This one I was looking for a long time. Then I thought, okay, we'll keep everything in one specific place so that I can look at that specific space when I need the tools or anything napkins or bolts, everything. So this is helpful for the bloggers, if everyone keeps their things, tools in a specific spot, this is very super helpful.

Megan:

We have so much stuff, right. I mean, we've got placemats and cameras and you've got your camera battery and, and cords and tripods and backdrops. So if it's spread all over the place, that's not an efficient use of your time

Uma:

Trays and spoons. I keep everything separate. If it's only specifically meant for blogging because it will ruin the shape or we'll get some scratch.

Megan:

That's smart and it's something that's so simple, but I don't think it is often thought about. Not much thought goes into that, but I'm all for streamlining as much as possible in any part of our business in order to make it even a minute faster or a minute easier, you know? So I love that and I don't keep everything in the same place, but I love the concept of that.

Uma:

It's actually very helpful. If my table is ready, I can grab everything very quickly. I don't have to stress about the things I want the day of or need for the snapshot . So it's very easy. I know where everything is.

Megan:

You don't have to go searching around your house for your tripod, you know exactly where it's at. You don't have to wonder. I could probably improve in that area. So thank you for inspiring me there, Uma. We can always be streamlining in various ways. So this is just one little way that we can do that. This is another way to streamline that I know you do cause I see it in your notes, but I love doing this too. So going into my calendar and looking at what I have to make coming up, let's say in the next month and aligning it with things that I can make to actually feed people. So I'm not making a huge pan of lasagna when nobody's going to eat it. So do you do that as well, just aligning your recipes for times when they're actually going to be consumed?

Uma:

Yes I do. Most of the time, doubling up as a blogger and managing a family with kids, it's quite challenging. I'm sure most homemakers will agree and you do agree, right? I evolved into preparing recipes that typically, so for at the end of the recipe preparation, and after taking all the snaps I need, we just make it our dinner. Sometimes my recipe trial becomes errors and other times we have some delicious meal. But this way I feel good about what I share with my readers, because I will only share recipes after I get the right mix of ingredients. So using the recipes I share as a family dinner saves so much time.

Megan:

Oh my gosh, and resources too. You don't have to waste anything that you're making. I've done that before. It's such a bummer when you make something, you spend the time on it and there's all this food and then there's nobody there to eat it. So it's just thinking through that, and it doesn't take a whole lot of thought really. It just requires you to look at your calendar and just plan it out in your head. But do you ever have times, I've had this happen, where you are like, okay guys, dinner's almost ready and then it's a fail. So then you don't have anything to serve your family?

Uma:

Yes. I think a very long time back, because now we've been married 14 years and I got a little experienced with the cooking. But it happened a few times. Especially my kids, they say, Oh, mom, it's spicy. Then I realize I have to cut down the teaspoons of spice I add. So I make a note on my blog to not use the chili powder if you don't like a lot of spice. I will get feedback from my kids or my family, so there are notes and they give me suggestions. This is spicy. This is bitter, whatever.

Megan:

So you can always get feedback.

Uma:

Yeah, instant feedback. So I see the kids' expressions, how they like it, if they ask for another serving. Okay. It's super good. Instant feedback is the best thing.

Megan:

So it's part of the experimentation and just the testing. So you don't see it as a failure, like the ones that I remember, I I think that was a failure, but really it wasn't because you learn from it and you learn what to change and what works for the kids, what doesn't and what everyone around the table is liking. You can see real time how they're liking it and kids will not lie. They will be super honest and tell you exactly what they think of your food. I see that every day. It's a good learning experience. I like your perspective on that. That's awesome. Did you have anything more about that? I was going to ask you about logging your expenses, but I wanted to make sure you were done.

Uma:

This is something I started doing recently. I get lost in managing the everyday things about the blog and it is easy to lose track of the financial side. It comes to hurt us during the tax time. I know it's very different for every blogger, but keeping all the blog expenses on one card or few cards and tracking them separately on an application. You might have heard of wave apps or Mint makes it a lot easier to keep track of how much you spend. It also comes in handy when you do your taxes. This is the way I started handling expenses recently this year.

Megan:

So you just basically have some way, however that is, to keep track of everything. At first I don't think many people think of this until it's tax time. Then you think, Oh my gosh, I have no idea what I spent this year on anything, but it's really not hard. I use a simple spreadsheet and I can go back easily and see exactly what I've spent money on. The contractors I've paid, the props, all equipment, software. So it is worthwhile. If you're listening and you do not track your expenses, definitely start doing it. It will come in handy. I promise you, when tax time arrives, because it's a nightmare trying to go back and sort through it in your mind when you don't really know. Also I will add to that, credit cards, you can get amazingly good cash back or some sort of something back deals with credit cards. So I think it's worthwhile to find a credit card that's really good. Obviously keep track of your expenses so you're not just wildly throwing things on your credit card, but with intention, put stuff on your credit card and then pay it off so you can earn whatever you want to earn – points, groceries, gas, there's so many different options. Do you do something like that, Uma?

Uma:

I keep separate credit cards for blog expenses and for the other expenses, because a few years ago, I lost everything. So my husband is the one who always does our taxes. Then I started using separate credit card blog expenses and for my home expenses. Then I got this wave app. It actually helps you a lot. It keeps everything logged in if you give your bank account or credit card information in the app, it takes everything. We can delete the other expenses than blog expenses. I will delete every other expense, which is not blog expenses. Then I will get one paper of blog expenses, how much I spent. If you have ad income, like Mediavine or Adthrive, you can track from those too. Like how much you earn and how much you paid; those two amounts in a separate form. So we can track down how much I made this year. It's very easy in the wave apps. I recently started doing this last December. It's so much easier.

Megan:

I agree. Once you can start just seeing on paper, on your screen, what is coming in and going out, it makes a huge difference. Then you can kind of compare from year to year and even season to season. But if you don't have that on paper, I feel like it just adds clutter to your business. It adds clutter to your mind so that you're not as clear about what's to come. I mean, we never quite know what's to come, especially if we're relying on ads, but I totally agree with you Uma. I think it's a really simple way to streamline your business and just honestly manage your time so much better.

Uma:

My husband helps me during the tax time. Now he's thanks me a lot. Finally I did a good job.

Megan:

You did it right. Nice work. Also, I'll add to that. If taxes aren't your thing and it is definitely not my thing and it's not my husband's thing, it is worthwhile to hire someone who really knows what they're doing. So don't just drop your tax information off at H&R Block with someone you don't know, actually find someone who you trust and who really is good at digging into small businesses because our tax guy knows things that I would have never, my husband and I would never have known. He'll say, you can write the space in your office off. I sit in my basement in this little corner of our guest room and that's my office, but I can actually write some footage in this room. That's something that I wouldn't have known. You can write your cell phone bill, a percentage of that off, and obviously groceries and all of that. So it is 100% worth it to find a smart financial tax person.

Uma:

In future we are looking into that. It's big and time consuming. `

Megan:

No, it is. I put a question up on stories the other day and I asked, what are you guys working on this week? Someone replied and said, Ugh, I'm working on taxes. Can you please do a podcast episode about that? I said, no, I am not going to even touch that one. All I will say is hire someone who knows what they're doing. Not my favorite topic to talk about. Every year when taxes come around, my husband is like, gather all your information. It's not that hard. It takes me minutes, but I am like, Oh, really? Do we have to? I don't want to. But once you do it, it feels so good.

Uma:

This time I feel good because it's coming up and we pay taxes in a few weeks. So I'm thrilled to have my expenses because I have it logged in the app. I'm a little proud of myself. I'm doing the right things going forward.

Megan:

Absolutely. You streamline going forward from year to year, you're able to get it more and more, which feels good. We've talked about so many great things, Uma, so ways that food bloggers can streamline their businesses and manage times. We talked about managing your calendar, looking through your recipes and really thinking through them, thinking through social sharing and creating time each day to do that. Also to get in and engage with people and comment and reply to comments and all of that. Then also how to manage the times when we're not as busy by doing those background tasks that we maybe don't always love to do or prioritize. Then I love this. This is probably my favorite one, putting a dedicated space aside in your house for blogging things; your placemats your camera, whatever that is, even your laptop and your notebooks and all of that, because every minute matters.

I always say this – moving around my house to find all these different things really isn't a big deal, but in the end it really does all matter. Time adds up. So that one is my favorite of all of your tips. Then kind of thinking through your blog recipes, what you can double as family meals and learning from those. Then our whole thing about financial and credit card expenses and other expenses and tax people. So this has been fantastic. I think this is super valuable information to deliver to food bloggers. So if you could give food bloggers one main takeaway along this topic what would it be?

Uma:

Given the time of the year, I think keeping the financial in place with an app will benefit the most. On a year-round basis, I feel like having a dedicated space for blogging tools in the kitchen would help everyone stay organized. I would say, keep at least one section of your pantry or cabinet dedicated to this.

Megan:

I loved it. I love everything that you've talked about Uma. So I really appreciate you sharing this value with food bloggers and for taking the time out today. So thank you so much for being here. It's been a pleasure. If you have a favorite quote or words of inspiration to share with us, we would love to hear it.

Uma:

Yes. I have a quote by Henry Ford. I always mentioned to my friends and my family this quote, "Whether you think you can, or you think you can't, you're right." Very inspirational.

Megan:

Yeah. That is amazing. I love that. It's so true. If you're thinking something it's going to be true. So you might as well err on the side of positivity, right. Actually like the sight of something that's going to benefit you and your business. So that is a perfect sweet end.

Uma:

It emphasizes how much attitude determines success or failure, right? I always wanted to share my recipes through my blog, but I had no idea about the background works that goes with it. I still face a lot of challenges, but calls like this help me get motivated in staying the course.

Megan:

Yeah. True. Quotes keep me going too. I know some people always say, I'm not a quote person, but I live by quotes and all of those people from the past who really just got their businesses figured out and they were wildly successful. Go back to them and see what they said, what were their beliefs? What were their attitudes and their dreams and all of that. I'm with you. Every single day I look at quotes and that keeps me going. '.

Uma:

Same here.

Megan:

I'm glad to hear that. We will put together show notes for you Uma. So if anyone wants to go peek at those, feel free to go to eatblogtalk.com/simplesumptuouscooking. And before I ask you to share where people can find you, how did you come up with the name of your blog? I love it. I love the word sumptuous. I think that's why I like it. But how did you come up with that?

Uma:

When I started my blog, everyone will look for the names, right? What to keep? Most of them, they said, go by your name, like my first name. But my dad is the one who advised me to keep some secret word which is mrishtanna. That is my link name you can see. But I know in most of the people here who lives here, in America, it's very hard to pronounce – Mrishtanna. I know that. They will be curious, what does that mean? It's a Sanskrit word, meaning sumptuous or rich. So if you go to some places and as a guest or with a family or you go to temple and if you eat food, everyone will appreciate by saying it's a mrishtanna food. So that's the way I got it from my dad. He suggested go for a mrishtanna which is also known as mrishtanna means rich rich food. So that's how I got it.

Megan:

I'm glad I asked about that because I love that it has actual meaning, you didn't just randomly come up with the word, which is still a cool word, but that's really cool. So cool. Thanks for sharing that.

Uma:

I'm glad you asked. I was always like, Oh, mine is unique compared to others. I always hesitate to say, but now I am over it. But in an earlier stage I was, Oh, mine is very hard to pronounce, why did I choose it. But now that you've asked, I'm very, very happy.

Megan:

I think it's great. If you don't know the word, if you're not familiar with sumptuous, it might be like, what? But sumptuous is such a great way to describe food. It's something that people don't say a lot and it's just an intriguing word. Sumptuous, it's beyond delicious. So it's just an easy way to say that. Well, thank you, Uma. Why don't tell everyone where they can find you. Obviously you simpleassumptioncooking.com. Where else can they find you?

Uma:

If you go search for Simple Sumptuous Cooking, you can see the www.mrishtanna.com. That is my blog, where I share my recipes, vegan recipes and Indian recipes. You can also follow me on Instagram @simplesumptuouscooking.

Megan:

Everyone go check Uma out and follow her. Thank you so much again, Uma for being here and thank you for listening today, food bloggers. I will see you next week.

Outro:

We're glad you could join us on this episode of Eat Blog Talk. For more resources based on today's discussion, as well as show notes and an opportunity to be on a future episode of the show, be sure to head to eatblogtalk.com. If you feel that hunger for information, we'll be here to feed you on Eat Blog Talk.
---
💥 Join the EBT community, where you will gain confidence and clarity as a food blogger so you don't feel so overwhelmed by ALL THE THINGS!
📩 Sign up for FLODESK, the email service provider with intuitive, gorgeous templates and a FLAT MONTHLY RATE (no more rate increases when you acquire subscribers!).
Read this post about why I switched from Convertkit to Flodesk!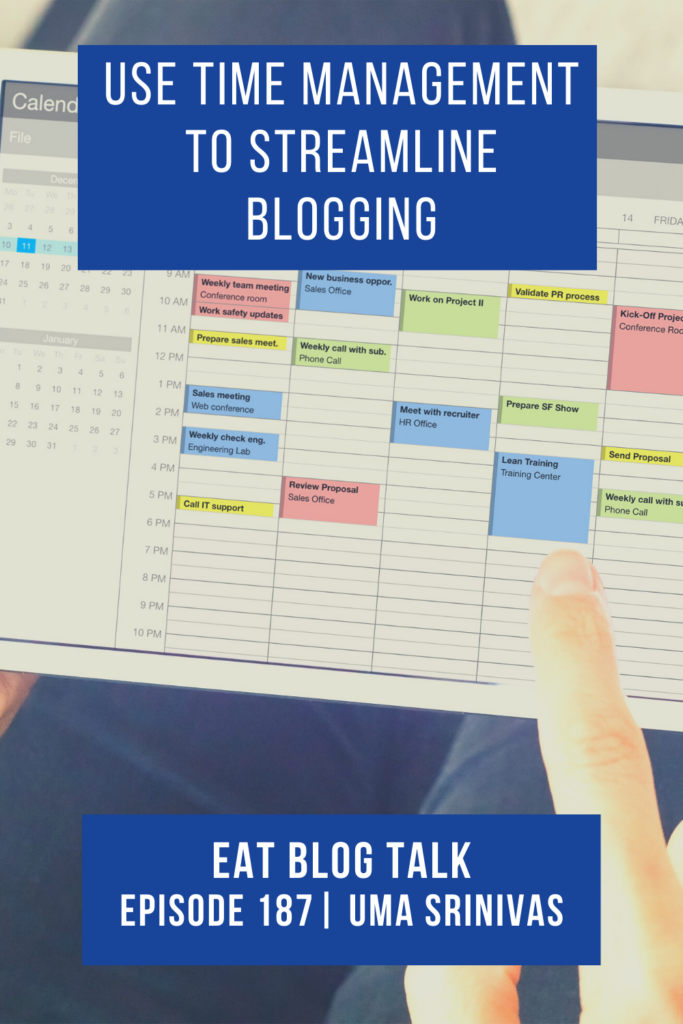 Questions or comments on this episode?
Head over to the Eat Blog Talk forum post about episode #187 to leave any questions or comments. We'd love to hear from you!