In episode 211, we talk with Sally Ekus, co-owner of a full service culinary agency about when to consider publishing a cookbook.
We cover information about what an agent does, when to consider hiring one, what a book proposal entails and landing on a topic.
Listen on the player below or on iTunes, TuneIn, Stitcher, or your favorite podcast player. Or scroll down to read a full transcript.

Write Blog Posts that Rank on Google's 1st Page
RankIQ is an AI-powered SEO tool built just for bloggers. It tells you what to put inside your post and title, so you can write perfectly optimized content in half the time. RankIQ contains a hand-picked library with the lowest competition, high traffic keywords for every niche.
Guest Details
Connect with Sally Ekus
Website | Facebook | Instagram
Bio Sally Ekus is the co-owner of the full service culinary agency, The Lisa Ekus Group. She represents a wide range of culinary, health, wellness, and lifestyle talent, from first-time cookbook authors to seasoned chefs, professional food writers to bloggers, and internet and YouTube personalities. From concept to contract, she has brokered more than 150 book deals with many of the top US publishers.
Takeaways
An agent is your advocate and sounding board if you're thinking about traditionally publishing a cookbook.
An agent should know the players at the publishing house's and what editors are looking for.
Agents are one of the many gatekeepers in the publishing process. Their job is to pitch your idea, sell it to publishers, know the industry standards so that you are getting the most fair and equitable contract.
Agents work on a commission. Should they sign you and represent you and your idea, they earn their commission when they place your book and sell it to a publisher.
A book proposal is essentially the business plan for your concept.
It takes about two years for the average book to hit the shelf.
Think about your point of differentiation in the competition or comparable titles category of your book proposal.
You're gonna make more money off of your blog and advertising or an Instagram post than a cookbook. So the book should be a goal that supports other aspects of your overall brand.
Interested in Self-Publishing?
Join Jason Logsdon in episode 146 as he talks through how he successfully created a self-published cookbook and why it's beneficial.
Transcript
Click for full text.

Intro:

Welcome to Eat Blog Talk, where food bloggers come to get their fill of the latest tips, tricks, and insights into the world of food blogging. If you feel that hunger for information, we'll provide you with the tools you need to add value to your blog. And we'll also ensure you're taking care of yourself, because food blogging is a demanding job. Now, please welcome your host, Megan Porta.

Megan Porta:

Hey awesome food bloggers. Do you struggle with knowing exactly what you should be doing to move the needle forward in your business? Do you struggle with knowing what to focus on next? If so, if this sounds like you, I have two solutions for you. Number one is mastermind groups. There is so much power in getting people together and helping to solve each other's problems. At Eat Blog Talk, we have put together our own mastermind groups and we are hosting these weekly. You can join at any time. You can try it out for a month or you can sign up for a quarter or you can go all in and sign up for an entire year. Come join us. See if it's a great fit for you, and this will really help you to solve those problems you are having in your business and give you clarity about what you should be doing next to move your business forward.

The next solution is the Eat Blog Talk membership. I have spent all of 2021 so far putting so much value inside of the membership. It is such a supportive and wonderful place to be for food bloggers. We are learning so much from each other. We are joining together in monthly intensive calls, where we focus on very specific parts of food blogging in order to grow our businesses in massive ways. We also have guest experts come in and join us very regularly to talk about really specific parts of food blogging. We get one-on-one access to these experts such as Matt Molen from email crush, Casey Markee from Media Wyse. So many great people are joining us in these sessions and they are super valuable. There are so many reasons why you should be in the membership. I could not even start touching on all of it. If you're tired of wandering around aimlessly in your business and not knowing what to focus on, give the membership a try for free for two weeks. Go to eatblogtalk.com. You can sign up for the masterminds there, and you can also start the process of getting into the membership for two weeks, just to check it out. The rest of us can't wait to see you inside.

What's up, food bloggers. Welcome to Eat Blog Talk. This podcast is for you. Food bloggers, wanting value and clarity that will help you find greater success in your business. Today I am so excited. I have Sally Ekus with me from the Lisa Ekus group, and we are going to have a discussion about cookbook publishing 101. Sally is the co-owner of the full service culinary agency, The Lisa Ekus Group. She represents a wide range of culinary, health, wellness, and lifestyle talent. From first time cookbook authors to seasoned chefs, professional food writers, to bloggers and internet and YouTube personalities. From concept to contract, she has brokered more than 150 book deals with many of the top US publishers. Sally, I'm super excited to talk about cookbooks and publishing with you, but first we all want to hear your fun fact.

Sally Ekus:

Hi Megan, thank you so much for having me today. I'm really excited for our conversation. A little fun fact about me is that in my other life, I do improv comedy. So I'm on a main stage cast, and book lovers will appreciate this. I'm on a family show, Main Stage cast at the Eric Carl picture book museum here in Western, Massachusetts. I'm also on an adult team. We used to do Saturday night shows and then eventually we will again, but improv comedy.

Megan:

Cool. Okay. So I've heard so many people say that if you're looking to finesse your speaking skills and just your confidence when you're talking to, or with people that improv is a great way to do that, do you agree with that?

Sally:

That's exactly the reason that I sought out an improv intro course, and I was looking to hone my public speaking and just have a different relationship with public speaking nerves that a lot of people succumb to. I found an intro to Improv class and it completely changed my life. I found my hobby and now I've gone through all the levels and I'm performing, which I said I would never do. It's just absolutely the surefire way to change your relationship to public speaking.

Megan:

How long do you think it took before you were like, okay, yes. Now I'm comfortable.

Sally:

Well I still ask myself, am I going out there tonight or am I going to raise my hand and ask this question? But I would say after the first class and really learning the philosophy and principles of changing your relationship to fear and anxiety and just nerves and really welcoming those feelings in new ways and having a different relationship, it immediately changed my perspective. The course and the class and the school that I went through is called Happier Valley Comedy. It's a really special place.

Megan:

That's so cool. You just endorsed it for me. I'm sold. If we ever start doing those sorts of things in person again.

Sally:

This is a random fun fact that tangentially relates to the fact that I presented at some food blogger conferences combining improv comedy skills and pertaining to the creative process for food bloggers and changing the comfort and the fun a little bit.

Megan:

Oh, that's really cool. Well, I always hear you on Clubhouse talking and I always think, Oh my gosh, she's so well-spoken. You enunciate and you're so clear with your words and you don't add those filler words that I do, like and um and all of that.

Sally:

Sometimes I do.

Megan:

You have to throw those in once in a while. I have to say, since hosting this podcast, I've gotten way, way better, but Oh my gosh, if you go back to some of my first episodes, Oh, it's rough. I have improved my speaking by so much, but I imagine that improv would help even more.

Sally:

It's just a fun tool to have in your toolbox. One day, hopefully we'll get to do it in person together. That'd be fun.

Megan:

Yes, that would be amazing. Well, you know everything about cookbook publishing, Sally, I've heard you talk on Clubhouse before. I thought, Whoa, she knows literally everything. So we are all here today to learn from you. As you know, many food bloggers, once they're in the food blogging realm for a little bit, they start getting intrigued by that idea of having their own cookbook in their hands. So I would love it if we just talked through a few things that we need to know to start. So I guess when it comes to traditionally publishing a cookbook, is it a smart idea to have an agent and maybe even talk us through what an agent actually is?

Sally:

Sure. So for anybody, and particularly for food bloggers, if you're thinking about publishing and you're thinking about traditional publishing, an agent is somebody who is going to be your advocate and your sounding board. An agent's job is to know the industry players. So know which editors at various publishing houses are looking for what types of cookbooks. Agents are one of the many gatekeepers in the publishing process. But they're going to be on your side and their job is to pitch your idea, sell it to publishers, know the industry standards so that you are getting the most fair and equitable contract. But then also help you along the way and different agents will support you at different points in the publishing journey. So one question to ask when you're talking with agents is to what level do they support you in your book past the sale?

But your agent is your sounding board and your advocate. Do you need one? It really depends on what your goals are and what sort of publishing process you are looking for. In addition, I just also want to add that agents work on a commission. So it's not a fee-based relationship. An agent would review a book proposal and we can talk about book proposals, of course. Then should they sign you and represent you and your idea, they don't earn money. They don't earn their commission until they place your book and sell it to a publisher. It's a 15% commission.

Megan:

Okay. So I guess I didn't know that and that's attractive to food bloggers, especially food bloggers who are maybe newer in the game because we don't have a lot of money just to be throwing around. So knowing that they get that later as a commission is really helpful. They're your advocate. That's great to hear too, because you never know. You hear the word agent and I don't know enough about cookbook agents to know, would they have my best interest in mind or would they have a publisher's interest in mine, but they do have our best interests in mind overall.

Sally:

Yes. So your agent works on your behalf to negotiate the best deal. To me, the best deal is defined equal parts in the money being offered and also the editorial fit. So is this somebody who really understands my client's vision and is going to help bring this book to fruition in the most successful way possible. That's what I consider the best deal. Really good book deal, but then also editorial fit. We represent our clients. We are working on behalf of the author, not to the publisher.

Megan:

You said agents also kind of know what's going on as far as what hot topics might be emerging and what is a good idea for a cookbook and what is not a good idea, what to steer clear from, right?

Sally:

So, our job is to know the industry trends and then also what publishers are looking for. So there's the big five, although they're now continuing to merge together. But essentially there are five major publishers and then they're independent publishers. Each publisher is its own brand. So if you take some favorite cookbooks off your cookbook shelf, look at the spine at the bottom, you'll see the publishing company. In many cases, it's the imprint of that publishing company. So my job is to know essentially what is a 10 speed book versus a Clarkson Potter book. Those are sister imprints under the same umbrella of Penguin Random House. So my job as an agent is to know, not only is your concept best for 10 Speed versus Clarkson Potter or Running Press or Cork or HarperCollins, but also which editor at that publishing house is interested in your type of concept versus somebody who sits three desks down and is looking for a different type of cookbook author.

Megan:

So agents are deeply immersed within the world of publishers and cookbook everything relating to that. So you guys know what is a good fit for what author.

Sally:

The creative and recipe development. You all get to do that. That's what you're brilliant at. We get to know the ins and outs of who's looking for what.

Megan:

Gotcha. So talk about book proposals, because I know some cookbook authors who have put really extensive time into putting together a huge book for proposals, and I know others who have not. So what are your thoughts on that?

Sally:

A book proposal is essentially the business plan for your concept. It's not just what the book is and who you are, but it's how you are going to promote it? What's the concept and how is it going to settle into the rest of the larger cookbook conversation happening? A book proposal is one of the best ways to ensure the best book offer that you could get from a publisher. I think it's really important to take the time to do a book proposal in a right, not rushed, way. That's a guiding principle at the Lisa Ekus Group, is right, not rushed. Take the time, do the proposal and do it to the best of your ability because that's one of the best ways to secure those elusive big six-figure book advances.

Megan:

Right, not rushed. I liked that little catch phrase. That's great. Do you have a length in mind or how do you go about even approaching that process? Because it seems super overwhelming to me. How much work and words do you put into it?

Sally:

So another saying that I relentlessly repeat is, it depends. It really depends on who you are. So I've sold book proposals that are 20 pages long from soup to nuts. Then I've had proposals that are 120 pages and everything in between. So it really depends on who you are and how you explain and show your vision for the concept. Then also, you know, marketing and promotion, audience, competition, bio, all those other sections too. So it really depends. I would say, if you can accomplish your full message and vision in fewer pages, that's great because the agents that you're pitching to, if you decide you want to work with an agent and subsequently the editors that then they're pitching to, everyone has limited time. So you want to try to be succinct in what you're pitching, but generally speaking, I'd say most book proposals are anywhere from 30 to 45-50 pages on average.

Megan:

That's helpful. So it depends. I mean, we hear that phrase a lot in our world. Really, so much depends on other factors. So you're saying that's the same with book proposals. Tq2w3e4hen how do we come up with an idea that we know is going to sell? So you mentioned that you guys have kind of some insights into that. Yes, that would be a great idea right now. It's a great season or no, it wouldn't be, but how else do we know whether our book ideas are salable?

Sally:

So you want to think about whether your book concept is trend driven or not. If it's trend-driven then the proposal and the pitch and the sale to a publisher has to come together fairly quickly because it takes about two years for the average book to hit the shelf. A trend-driven book would be an accelerated timeline. It might take a year, but still it's a fast turnaround. So if your book is trending and you want to know, is this saleable you can take a look at places like large online retailers, which shall not be named, to see how these other books that are similar reviewed. What is their ranking? Then you can also look at potential sales figures. And my homework to you in this space is to think about your point of differentiation in the competition or comparable titles category of your book proposal.

So what you're really looking for is a list of other books that are similar enough and successful enough that have proven your category. You're saying, okay, great. I want to write a book on quick and easy Instant Pot recipes for my family. I'm going to look at the comps out there. Then what is my unique point of differentiation and my twist? How am I going to add to this previously successful category in a new and different way? So, Hey publisher, you've already made this investment. I see it's doing well for you. Now I'm going to sort of add to that section of the bookshelf for you.

Megan:

So it's kind of like niching down, which we're super familiar with. So finding what's trendy or what's worked in the past and putting your own spin on it.

Sally:

For food bloggers in particular, I think you're all very seasoned at being able to predict the trends that will be of interest to your readers on the internet, and plan that out in your editorial calendar. So it's a similar type of thought process in looking out a little bit farther down the road for your potential book buying audience. With food bloggers, you want to think about sure, yes, captivating your audience and also capturing new eyes for you, your book and your blog.

Megan:

What cookbook trends are currently really popular?

Sally:

It also depends on the publisher, right? So there's publishers like those that shall not be named that do trend based data research and approach bloggers directly. They're like, Hey, we have a category that we see picking up and we want you to crank out a bunch of recipes really quickly and publish a book in three months. Okay. That's one option. But generally speaking, the more sustainable trends are a move towards deep cultural history, geographic and regional cuisines beyond broad strokes geography. So specific types of Chinese cooking or Taiwanese cooking or different regions from Africa. So we're really seeing this, again, this niche of deep interest in sense of place, and then of course, voice and rich storytelling. So that's one more general shift in the industry. Then you know, from a strictly trend-based point of view, appliance books are always going to be cranking out new titles depending on what the hottest new appliances are.

Megan:

Instant Pot. Are people still cranking out instant pot books?

Sally:

They are. I think the craze is definitely like leveled out a little bit. There's only so many different types of Instant Pot books we can see. But I do think that what that trend shows is a growing interest in the intersection of science and technology and cooking and that in and of itself, categorically, is a shift that we're seeing as well.

Megan:

You feel about combining two appliances. So maybe do a cookbook about AirFryer and Instant Pot or insert your appliance of choice. Is that a no-no or should we stick with one?

Sally:

It depends. Is your blog built on that type of recipe development? Then that could absolutely make sense for you. But if it feels like a stretch and you know, you've got to check in with your gut there. Is this a means to an end to publish a book or does this really make sense for the recipes that my readers know and love and come back to me. Finding the answer to that question, I think, is what helps sort of point the author in that direction.

Megan:

What if a food blogger wants to write a cookbook and they have many ideas about potential topics, does an agent help to sort through that and help land on a topic?

Sally:

Most of the time that wouldn't be the agent's role unless they offer concept consultations, but you would want to pitch an agent formally with a fairly complete or comprehensive proposal. That being said, one of the places that you could do self-directed work to try to figure out what is the idea that makes sense for me, is to focus on the competition section of the proposal first. So again, looking at what's out there and doing well so that I can continue to build off categorically in my new and own different way. That's one way to help hone and sort of the many different ideas that food bloggers and many creative people have wrestling around in their brains.

Megan:

There's so many options. I mean, even if you have a really specific niche, I feel like a cookbook is a really big deal.

Sally:

It's a ton of work too. So, another guiding principle at the agency is just because you can, doesn't mean you should. You're probably gonna make more money off of your blog and advertising or an Instagram post or something else. So the book is really, it should be a goal that supports other aspects of your overall brand.

Megan:

How many bloggers turned cookbook authors do you know who raked in a ton of money by publishing a cookbook?

Sally:

Not many. I have gotten a lot of soundbite gems for you today, Megan. My other soundbite gem is, a book is a big, beautiful business card. It's not a retirement plan.

Megan:

That is a gem.

Sally:

Even the biggest book advances. Let's assume somebody offered a six figure book advance. Maybe it's a hundred thousand dollars. Maybe it's $250,000. That's a great advance, right. But it's spread out and it's paid out over a long period of time. Those books don't often, or don't always, earn back their advances. So it's one component of what's driving other elements of your business. It's one piece of the pie that feeds into others. So at no point does the cookbook alone warrant, okay, I'm going to give up my day job and I'm going to retire on my yacht somewhere. Even the biggest book advances eventually get, they get paid out and it's onto the next thing.

Megan:

A big business card. I love that because that is what it is for so many people. It's a source of pride. I put all of this together more than anything. I have a cookbook and that's what it is for me. I have not gotten rich from my cookbook by any means. So I was just hoping that I was not alone in that boat. So thank you for confirming that.

Sally:

Definitely not alone. And in fact, I think most people are in that boat with you and you're all sort of waving to shore. Wait, what about me? What about me? Again though, like any business card or calling card, it can open up other opportunities. So it's something to offer local media. Where maybe you go on and promote a brand that you have a partnership with, that you really love and want to do a paid partnership on local media. Or maybe it offers something to get your foot in the door for speaking opportunities where you're paid a fee and you can either give books away or then sell books at a discount as part of the promotion and your speaker's fee. So it's a tool that you can utilize and that can work with, and for you in new and creative ways. It alone is not going to be the retirement plan.

Megan:

Oh, you said that so well. That was so well said. Seriously, I might pull that little clip out. You have all of these gems here, Sally.

Sally:

I love sharing this because the more people know, and particularly for food bloggers, the more empowered you can be to make the decision if, and when it's right for you to do a book.

Megan:

I use my cookbook to get on the news, my local news station. Which was terrifying, but it was such a good experience for me because I don't speak well in the spotlight when someone can see me. I've just never done well with that, but it really forced me to get better at talking. Like talking about that whole improv thing. I had to do it. The camera was blinking red. So many people are watching you right now. So you're like, I have to pull this together and make this happen. So that was just one of the little things, the good things that came out of having a cookbook. I actually got other opportunities that way, because they were like, Oh cool. It was really great having you here. Why don't you come back and talk about this? So I went back and that never would have happened if I hadn't been promoting my book. So things do come from it. It's a snowball effect. You are not in it to make money, but other little unexpected surprises do pop up. Which is basically what you said, way, way better than I did earlier.

Sally:

That's such a good example. I mean, local media often looks for food and lifestyle content to fill segments. So if you have a new book coming out or even an old book, but you can deliver a two minute demo, great. They are going to love you for that. Then yes, they will come to you and have you on time and time again. That's part of building the relationship and their repertoire for the skills that you have as a food blogger or writer or author, or however someone sort of fulfills their identity that way.

Megan:

I'm finding the more I get into food blogging. I mean, I've been doing this for a long, long time, but relationships are everything. The more you can build relationships, the more your business is going to scale. There's no exception to that. Building those relationships is key. It's not just about creating your content, making a cookbook. It's so important.

Sally:

I totally agree, no matter what industry, but particularly in the food and publishing space. It's one of the things I love about what we do and specifically what I get to do is matchmaking and really getting to know and love our clients in a way that I can confidently say, yes, this editor has been really excited about your proposal, like genuinely into this. They have been asking for this for awhile and I've been working with them in other capacities for however long. It's continuing to build that network on behalf of new authors and seasoned authors and the editors. I mean it's just one of the things I love about what we do.

Megan:

I love that you have connections in all different areas. So you know who's really good at what and you can do that matchmaking. You know exactly who will be a good fit for the other, which is comforting for us to hear, because we have no idea if we want to hire a photographer, for example. I mean, I wouldn't know, but you would probably know that. Oh yeah, this person would be a great fit for you, Megan.

Sally:

Yeah. Specifically for food bloggers, the notion of how photography is handled in your cookbook is nuanced and oftentimes food bloggers have opinions about that. So expressing those upfront and really being open to the collaboration process and also really clear about what your vision is for the book and who are the people and experts that can help execute your vision and bring it to life is important to communicate in your proposal to an agent, if you decide to work with one. Of course, to your publisher as well.

Megan:

I have a question about publishers who reached out directly to bloggers. Without a book proposal, this is what happened to me. They just say, Hey, we love your content. Would you be willing and able and wanting to create a cookbook for us? So, how do we sort through that and what are your thoughts on it?

Sally:

Yeah, so that happens quite a bit, particularly because if you're a food blogger, doing a good job at what you do. You are searchable and your recipes are coming up in a high ranking and you've got a brand and you know how to promote it. There are many publishers, although there's some sort of usual suspects and I use that in a supportive way that often approaches bloggers directly. They're like, Hey, we found your content. Would you be interested in writing about an idea that we have in house? Or have you thought about writing a book and do you have a proposal? Some of these publishers have, and I would say most of the publishers that are notorious for approaching bloggers directly, have their model for how they offer book contracts and how they bring books to publication.

So some are very trend based and data driven, which I had mentioned earlier. Others maybe there's a little bit more flexibility in terms of the concept and the content, but generally speaking, they have a model for their advanced structure, their royalties. First printing, what their books look and feel like. So one question to ask is, as you're going down this conversation, could you send me some sample books of other either bloggers or comps that you've published successfully. Take a look at what those books look and feel like. Is this the type of book that you want? Or is it fitting a specific model for them, but not necessarily what is your goal for publishing? Then of course, what are their standard contract terms?

There's always an opportunity to negotiate. What does that look like? It depends on who that publisher is and whether or not they operate a traditional publishing model, meaning advanced and royalty, or if they are offering you a work for hire fee where you're paid a flat fee to create the content and then do not earn royalties on the books. Particularly for trend-based books, they're commissioning that concept because they have the research to show this is likely to sell well for us. Sso you need to decide, or I would encourage food bloggers to ask themselves, what is that magic number that I can afford to take time away from other aspects of my business to develop these new recipes, essentially being paid a flat fee, and then somebody else is earning the royalties off those books. It might make sense if that book is going to be a new brand calling card for you that you can leverage in other ways. But it's a question to ask and really reflect on.

Megan:

Yeah, I'm so glad you brought all of that up because you don't initially think of the investment that you are going to have to put into the book. Really, I mean, you are going to be paying to work. You're not going to make that money. Maybe in other ways, like we were talking about earlier with opportunities and relationships, but not directly with money. So it is something to consider. It's a lot of work. It almost killed me.

Sally:

It's so much work. It's so much work. At the end of the day, it is just a book and it is about maintaining that balance. and just finding the balance of what's right for you and your brand and what somebody else is asking for it. So it's a matter of really taking the time to evaluate what is the timeline? What do I have to say no to, in order to say yes to this. Is that a compromise I'm willing to make? What are your ultimate goals? Then a key question for some of the publishers that do this outreach also is, who holds the copyright to the material. That's a key question.

Megan:

Well, that's a great one too. Also preserve some energy for after the book is published, because that's where I got really burnt out. I was like, that was exhausting. I'm kind of done. The publisher that I worked with, they offered, I think it was like three months of PR help after, and then when their three months were done, they were gone. So it was like, I am completely on my own and I didn't know what to do. So I have basically ignored my cookbook for two years, and sold maybe five copies since then. I mean, probably more than that, but it's like, you need to be ready for that and to just save some of your time and energy for after and know that you may have to do some promoting yourself, because I did not expect that.

Sally:

I would say that that's a huge part of a book's success, and I think of a book's life in essentially three chapters. There's the first chapter, which is like concept development and the proposal. There's the second that's writing, delivering, working with your editor. Then the third, whole next wave is the promotion, which is gonna drive the success of the book. It's a lot of energy. Again, identify what your goals are and make sure that that's what makes sense for you. Ask your publisher, you know, what is the level of publicity and marketing support that I can expect and what can I do to set myself up to be the most successful author for you and for our book together?

Megan:

Mm that's great advice too. So what, you've mentioned advances a few times. How can we secure big book advances and maybe just explain what an advance is and how we see that whole thing?

Sally:

Sure. So an advance is the money that a traditional publisher pays the author. It is guaranteed that you'd never have to pay your advance back, even if your advance does not earn out. So let's say a publisher offers you $30,000, and I'm literally just pulling that out as an example. It's not that all books are $30,000. Let's say a publisher offers you $30,000 in advance. It is paid out over a period of time and depending on who the publisher is and what their payment schedule is and if you have an agent who can often negotiate an improved payment schedule, although not always. That advance is paid out in parts to the author. So maybe it's $15,000 when you sign the contract and $15,000 when the manuscript is accepted. Which is oftentimes a year later or longer after you sign your contract.

So an advance is the money that a publisher pays you. It's your advanced money to go off and develop the recipes, maybe shoot the photos. Very rarely does a book advance actually cover all of the expenses of your time, food expenses and the photo shoot. But that's sort of a 2.0 conversation. The advance is guaranteed. Then there's a royalty structure that is outlined in your contract and at the negotiation stage of your deal, that determines how much you earn per book sold. That amount gets earned back to you as the author. You sort of tick up the advance amount in that you have to sell X number of copies to earn back your $30,000 advance and then after that point, you would earn additional money.

Megan:

Yeah. What I mean, what is typical for a brand new cookbook author? Is that a huge range? I mean, is there a typical arrangement that is offered as an advance?

Sally:

It really depends. One way to see a bigger advance is to do a great book proposal. I think that's the most sure-fire way to secure those big six figure advances is to really knock it out of the park with the proposal. But first-time authors, it totally depends. We run workshops where we go through the finances of actual deals that we've done at the agency and we walk people through what would be considered a small advance, medium, and then big. It totally depends. They were first time authors. One of them was a second time author. It really just all depends.

Megan:

Okay. So if there's somebody listening today, Sally, and they're like, Oh my gosh, yes. I want to create my first cookbook. This sounds intriguing. Do you have just quick, actionable steps that they can take to move toward that process?

Sally:

I would start with the bones of a book proposal and use the book proposal as a barometer for how your self-directed deadlines work and putting your ideas that are in your head down on paper. I would suggest starting with the overview and the bio in the proposal. Because your bio is something that you already have either on your blog or available for speakers, speaking that you pitch or whatever it might be. Cut and paste that bio and put it in a word document, check that section is done and you're off and running. I joke about this in the workshops that we run for people who want to write cookbooks, but I'm the type of type A person where I make a to-do list in the morning with things that I've already done, just so I can cross them off and feel like I've started my day in a really productive way.

So I would approach the proposal the same way. You have your bio somewhere. Copy and paste it into a word document and you're off and running. You've already started your book proposal. Then move to the competition section and take a look at what on the market and ask yourself how and what are you saying and doing in your book that you're proposing that's different and new, building off a successful category. Once you've got your bio and once you've got your comp research done, then move on to what's my recipe list. How am I going to market and promote the book? Start developing some sample recipes, and you can start chipping away at the other section. But generally speaking, start with your bio, start with the comps and move on from there.

Megan:

This really is going to make the rest of the process easier. If you have all of that information already compiled. I can imagine you're like, okay, great. I have all my recipes, well sure things change, but I've got recipes listed out. That takes a little bit of weight off, if you have a solid book proposal, that's going to make the entire process easier.

Sally:

Yes. Exactly. Skip around, be flexible and see how it feels. If the book proposal task is the thing that is just looming on your to-do list and you just can't get to it, then I would say you're not ready to write a book because writing a book is also a tremendous time commitment, a lot of work. If the book proposal is something that you're just not able to dedicate that time and energy to, great now, you know, it's not yet time to do a book,

Megan:

Yeah. That's a good point. I like that perspective too. Do you have resources that can help people go through the process of writing a book proposal?

Sally:

Yes. We have proposal guidelines on our website at lisaekus.com. Our proposal guidelines are incredibly comprehensive. It'll prompt you for what to answer in every section. That's a guide that would be applicable for any cookbook agent that you would want to show your proposal to. They're really thorough. So you can find lisaekus.com. Of course you can find me on social media and I can always send them to you as well.

Megan:

Is there anything else you feel like food bloggers should absolutely know before diving into this sort of project?

Sally:

I would just encourage food bloggers to ask yourself, why do you want to write a cookbook? Is the content that you're pitching or proposing most appropriate for a book, or are there other ways to package that content that makes sense for you and your brand?

Megan:

Mm, I like that. That's good to think through because it might be a completely different project. I mean, it could look totally differently just asking yourself that one question.

Sally:

If you land, if you land on a book is really what makes sense, great start working on a proposal.

Megan:

Right. But talking through that, thinking through that is probably going to save you a lot of time if the answer is no. This has been awesome. What a great conversation. I'm sure this will stir up some ideas for food bloggers, whether or not they want to move forward with this sort of project. We really appreciate you taking the time to share your expertise in all of this, Sally. So thank you.

Sally:

It's my pleasure. Thank you so much for taking the time to talk about something that I love, Megan. It's been really fun.

Megan:

Before you go, do you have either a favorite quote or words of inspiration to share with food bloggers?

Sally:

So I will share some words of inspiration that are originally from Lisa Ekus, our founder and my mother, or my mom boss, who I call my moss. It's really nice to have a proposal that goes to auction and a lot of people are interested, but something that Lisa says that really resonates with us is that you only need one yes. Rejection is an inevitable part of the cookbook publishing process. We really encourage people to hold on to you, you only need one yes. Maybe two, if you first signed with an agent and then a publisher, but generally speaking, it's about finding that one person who really believes in you and the content you have to share and the voice in which you share it. So keep on trucking along.

Megan:

How am I going to select a great quote because you've thrown out so many gems, Sally. Okay. We'll put together a show notes page for you, Sally. So if anyone wants to go peek at those, you can find them at eatblogtalk.com/sallyekus. Tell everyone where they can find you online. Also Sally, tell everyone if they are interested in hiring you guys to help out on the agent side, how they can do that.

Sally:

We offer consults and workshops for people who are not yet at the full proposal stage, but really looking for a deeper dive into how publishing works or a hand tailored, what about my idea and how do I bring it to fruition? You can find information on that and pretty much everything else that we offer, including media training, which I should mention Megan, for everyone who's going onto their local media segment and not sure you know how to have that confidence and break down a recipe. We do media training, we do consulting. We offer book representation and talent representation. You can find that on lisaekus.com and then of course on social media, my name @Sallyekus, and then at the Lisa Ekus group. I also moderate a Facebook group called how to be a cookbook author. I welcome everyone to join it. It's a place of sharing resources. You have access to me, an agent, but more so I try to provide industry updates, news, and connect people who are looking to network and make connections with content providers in the publishing and cookbook space.

Megan:

You occasionally share your knowledge on Clubhouse.

Sally:

Yes. Of course.

Megan:

Cool. Thank you so much again, Sally, for being here and thank you for listening today, food bloggers. I will see you next time.

Outro:

We're glad you could join us on this episode of Eat Blog Talk. For more resources based on today's discussion, as well as show notes and an opportunity to be on a future episode of the show, be sure to head to eatblogtalk.com. If you feel that hunger for information, we'll be here to feed you on Eat Blog Talk.
---
💥 Join the free EBT community, where you will connect with food bloggers, gain confidence and clarity as a food blogger so you don't feel so overwhelmed by ALL THE THINGS!
Want to achieve your goals faster than you ever thought possible? Stop by Eat Blog Talk to get the details on our Mastermind program. This transformative 12-month experience will help you accomplish more than you would be able to in 5+ years when forging ahead alone.
Click the button below to learn what a mastermind program is, what your commitment is and what Eat Blog Talk's commitment to you is.
📩 Sign up for FLODESK, the email service provider with intuitive, gorgeous templates and a FLAT MONTHLY RATE (no more rate increases when you acquire subscribers!).
Read this post about why I switched from Convertkit to Flodesk!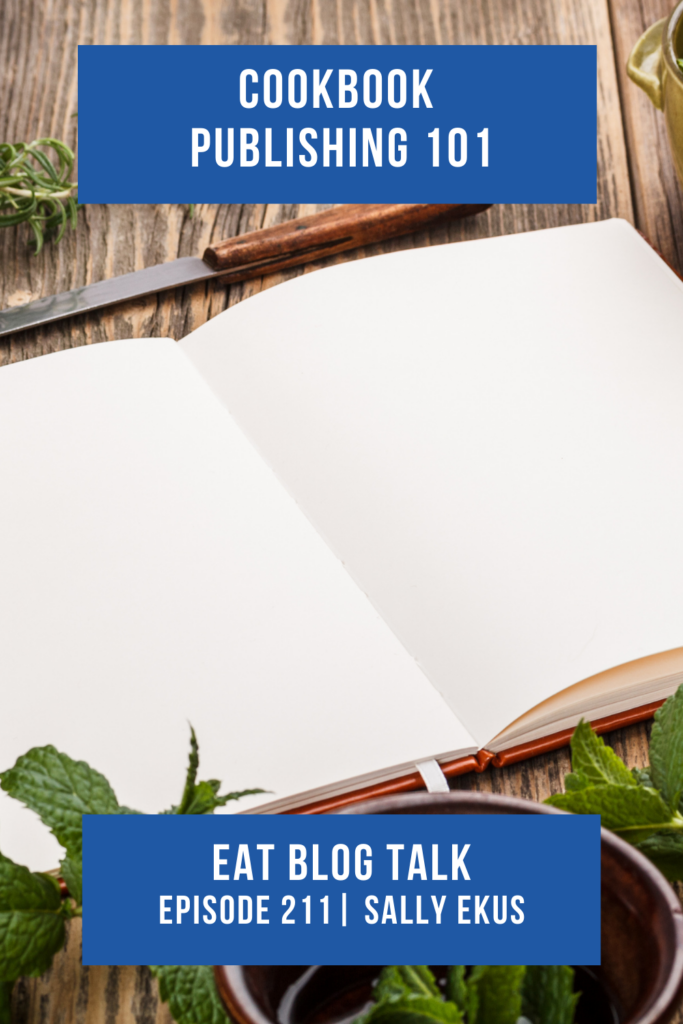 Questions or comments on this episode?
Head over to the Eat Blog Talk forum post about episode #211 to leave any questions or comments. We'd love to hear from you!