In episode 134 we talk with Marye Audet-White, food blogger who jumped into taking care of her family financially with writing and blogging later in life and found success.
We cover information about how your mindset and throughts determine your success, how when we stop growing, we start dying and how its important to invest in community and masterminds!
Listen on the player below or on iTunes, TuneIn, Stitcher, or your favorite podcast player. Or scroll down to read a full transcript.

Write Blog Posts that Rank on Google's 1st Page
RankIQ is an AI-powered SEO tool built just for bloggers. It tells you what to put inside your post and title, so you can write perfectly optimized content in half the time. RankIQ contains a hand-picked library with the lowest competition, high traffic keywords for every niche.
Guest Details
Connect with Restless Chipotle
Website | Instagram | Facebook
Bio
Marye Audet-White is a former stay at home, home-schooling mom of 8 that leveraged an unexpected life event into a writing career and a six figure income. She is the owner of Restless Chipotle Media, LLC, writes full time on her blog, Restless Chipotle, as well as creating courses and membership groups for bloggers and influencers. Marye was a writer for Texas Living Magazine for 4 years, has written for several other magazines, has published over 10 cookbooks, and been featured in numerous interviews, TV spots, websites, and grandchildren's drawings. With over 22 years of homeschooling experience she can teach anyone anything. It's her passion to see women "twirling into their happily ever after".
Takeaways
Note: Episode content warning: talk of abuse and divorce.
Use what is in your wheelhouse. Find jobs that are related to what you do to help supplicate income to your blog.
In 2010, Mary started Restless Chipotle in addition to writing 60 articles a month for other online publications.
January 2016, Restless Chipotle was able to make the same kind of income Mary could from being a freelance writer, so she discontinued that extra work and focused on her blog.
Mary became self aware and confident. She found her sense of humor and had a future she looked forward to.
Women in their 40's and 50's tend to compare themselves to women in their teens and 20's and this is unrealistic.
When you stop growing, then you start dying. Mary works with women in their 70's that are flourishing.
Mary wasn't physically abused by her ex husband but she recognized it was abuse after they divorced. She wants to stand alongside women who are mentally, verbally, financially abused and cheer them on.
Mindset is everything. You can meditate, listen to praise music or Beethoven. Personal affirmations are important.
Write down your movitations and say them outloud, to put them out into the universe.
"I am a firm believer in the more you give, the more you get. I feel like people were meant to be streams, not pond. So a stream is constantly flowing. There's constantly water coming into it and constantly water going out of it into the Gulf of Mexico or wherever. Right. But a pond is just still, and that water gets stale… I want to support life."
Creates your own PDF cookbooks because they are more affordable and offer color pictures.
Mary focuses on membership platforms and mastermind groups within them as income streams.
References Mentioned
Mary can be reached by a food blogger wanting encouragement or advice at [email protected]
Transcript
Click for the full transcript.

Episode content warning: talk of abuse and divorce.

Intro:

Welcome to Eat Blog Talk where food bloggers come to get their fill of the latest tips, tricks, and insights into the world of food blogging. If you feel that hunger for information, we'll provide you with the tools you need to add value to your blog. And we'll also ensure you're taking care of yourself because food blogging is a demanding job. Now, please welcome your host, Megan Porta.

Megan Porta:

Food bloggers. Hey, if you have not yet joined the new, amazing Eat Blog Talk community, you have to go do it. You will find so much value inside, including connecting with other food bloggers in a much deeper way and having access to all kinds of exclusive value, such as bonus podcast episodes and mastermind groups and a resources and service providers directory, and so much more. Go to eatblogtalk.com for more information, and we cannot wait to see you inside. Okay, food bloggers, have you heard of Flodesk, the new big email marketing rage? This is an amazing new option for managing your email subscriber list. It is super easy to use and it comes with gorgeous, intuitive drag and drop templates. And Flodesk does not charge based on number of subscribers. So your monthly rate will stay the same from month to month. Everyone pays $38 a month or use my affiliate link to get 50% off and pay only $19 a month. You guys, this is a fraction of the price of other email service providers, and you'll be blown away by the beautiful and intuitive templates waiting for you inside. Visit eatblogtalk.com/resources to grab your link. Flodesk, the stunning new option for email marketing.

Megan Porta:

Hey, food bloggers. Welcome to Eat Blog Talk. This podcast is for you. Food bloggers, wanting value, information and clarity that will help you find greater success in your business. Today. I will be having a discussion with Mary from RestlessChipotle.com. And we will talk about the midlife pivot. Mary Audet-White is a former stay at home homeschooling mom of eight that leveraged an unexpected life event into a writing career and a six figure income. She is the owner of Restless Chipotle Media LLC. She writes full time in her blog, Restless Chipotle and she creates courses and membership groups for bloggers and influencers. Mary was a writer for Texas Living magazine for four years. She has written for several other magazines. She's published over 10 cookbooks. Wow. And she's been featured in numerous interviews, TV spots, websites, and also grandchildren's drawings, of course. With over 22 years of homeschooling experience, she can teach anyone anything. It's her passion to see women twirling into their happily ever after. I love that bio Mary that's just inspiring just through it. And I'm really excited to dig into a chat with you, but first give us a quick fun fact about yourself.

Mary Audet-White:

Okay. Quick fun fact. I was a Czechoslovakian linguist in the military in 79, 1979 and 1980.

Megan Porta:

Whoa. So tell me what that means exactly.

Mary Audet-White:

That's where you, um, you listened to radio broadcasts from, that was during the cold war, right? Y'all too young to remember that, but you still listen to radio broadcasts from, uh, military aircraft and other things and translate it and make sure that it wasn't anything, you know, problematic for the government.

Megan Porta:

Oh, wow. So was that filled with pressure?

Mary Audet-White:

Um, not really. Not for the time that I was in. And there was, there's also the aspect of interrogation, which I trained for, but never really got to do. It's a good, you know, interrogation is a great ability to have when you have a lot of kids. It's, I mean, it really has helped me out over the years.

Megan Porta:

Oh my gosh. That's funny. Well, I mentioned this, I'm super inspired by your story. Just reading through your bio is inspiring and I am such a huge proponent of women supporting women. And every single time I witnessed this, like a woman supporting another woman, I literally get goosebumps because I just feel like we need to support and love on each other. And not just that, but it is time. Don't you feel this too, Mary? Like it is time for women to shine in new, amazing ways, no matter what their age or their color or their history. So I just love this topic. You Mary, have made an impactful pivot in your life, and I would love to hear more about the background of your story and how you went from being a homeschooling mom to helping other women secure their futures. So why don't you just kind of talk us through that?

Mary Audet-White:

Okay. So, um, I got married out of the military in 1980 and, uh, my husband and I, I was told I could not have children at all. So I said, here, hold my beer and, um, proceeded to have eight. I just don't like to be told I can't do something. So let's get that straight.

Megan Porta:

Yes.

Mary Audet-White:

Then, um, so I had been married for about 30. Yeah. About 30 years. And my now ex-husband decided that he was in love with his high school girlfriend. He connected with her on Facebook. And so like in a span of 24 hours, I thought I had my whole life, you know, completely ahead of me, you know, what you're going to do. I was going to finish raising my kids and then I was going to be, you know, continue to be a stay at home mom and take care of my house and, and have my grandkids. And it was all going to be something out of a 1950 sit-com, right. So, uh, yeah, 24 hours after that happened, I found myself in a house, um, that I couldn't pay for. I had no real income. I was hobby blogging at that time and I made about $50 a month. And, um, so, and I still had six kids at home at that point. I had two that had grown up and left home. So I was terrified. Just, you know, looking at that future, five of five of my kids are boys. So, you know, I, having a man in the house just seemed very important to me because of having five boys, you know, you just want that male leadership kind of role or I did at the time. Um, and so it was a terrifying experience for me, but I have really never been a person to give up. And I knew that I had to do something and I had the hobby blog. So that was one thing that I was doing. And I decided to just kind of try to reach out to a variety of places and see if I could, um, become a freelance writer. And so with all of, you know, the experience and homeschooling, English was not a problem for me, writing was not a problem for me. And I've always, actually loved to write. And, um, in fact, when I was a teenager, I was doing a lot of writing and I was also a fine artist. I had worked in galleries and my dad told me that I needed to stop writing because my real career was in art. So that's kind of funny. But, um, anyway, so I reached out to a lot of companies, Love To Know. Um, She Knows, and back then there was a lot of those like About.com and all of those where they just wanted a lot of, um, information on their sites. And so they hired people to write it. So I had, at that point, over about a month period of time, I had, um, gone to, from having a hobby blog to having about eight clients. I was writing 80 articles a month. And, um, that was the point I decided it would be a great idea to start my own real, not hobby blog. And that's when I started Restless Chipotle. So, um, prior to that, I had had a hobby blog on what was it, blogger, blog spot. I don't even remember. But one of those free ones anyway. So I started Restless Chipotle and, um, in 2010 and, but I was doing like the 60 articles a month. So I was working 20 hours a day trying to, or, you know, establish my blog and establish myself as a writer. And, um, my ex husband wasn't paying anything. In fact, he still doesn't pay anything 10 years later. So, you know, but actually that's really good because to me, I can look at him when he says something and I can say, you know what, I did this by myself. You didn't do a damn thing.

Megan Porta:

Yes.

Mary Audet-White:

Anyway, and I remarried a really wonderful guy that that was not afraid to take on a large family, which I think was heroic on his part.

Megan Porta:

Amazing.

Mary Audet-White:

Yeah. But, um, anyway, so I continued to write, I continued to work long hours and the income, you know, it went up, I was not used to living on a lot of money. My ex husband didn't make a lot. So I was used to really cutting corners, and staying cheap. So as long as I was making $2,000 a month, I could keep things going. And, um, I decided that when I was making $2,000 a month on Restless Chipotle, I would fire all of my clients and uh, go full time on my blog. So that happened in January 2016. And, um, I went full time and I guess that's basically it, it just kinda went from there.

Megan Porta:

Oh, okay. First of all, I just want to say that I'm so sorry you went through that. I just can't imagine at that point in your life that you got to where you were like, Oh my gosh, like everything changed. Like you said, it was in a split second. Just everything was different.

Mary Audet-White:

Yeah. I was, I was 49. I was nearly 50 when that happened and you know, as far, and I had unbeknownst to me, I had been in somewhat of an abusive relationship for all of those years. I just never really realized that it was abusive because he didn't hit me. But being told that you're not smar,t being told that you're not pretty being told, you know, all of those things that you couldn't, I can't do anything without him. So honestly, everything that happened, even though it really felt devastating for a couple of months, when I looked back on it, it was so empowering and such a wonderful pivot in my life that it was a huge blessing. I hope that makes sense.

Megan Porta:

It does.

Mary Audet-White:

It was like one of the best things that ever happened to me because it forced me to stop thinking that I couldn't make it without somebody supporting me. Because, you know, I grew up in the sixties and seventies and back then, the idea was, you, you know, you learned everything you could, and you got married and you raised a family. And if you had a job, that was okay, but you were still primarily going to be supported by your husband.

Megan Porta:

Yeah. Yeah. I hear where you're coming from for sure. And I knew that you were going to get to that, you know, it's obviously not an ideal situation. But how amazing that you were able to look back and see that, that it was such a huge blessing in your life and probably for your kids too, because if you didn't know that you were being mistreated, they probably had an idea. Right. Because kids are so perceptive that I just feel like they probably saw a different mom emerge after you kind of started healing. Is that right?

Mary Audet-White:

Yeah, actually that is, it's actually pretty funny because the two oldest ones that had moved away from home, you know, moved out of the house at that point. Um, my son was actually in Japan. I've got three sons in the military and the oldest one was in Japan at the time. And, um, both he and my oldest daughter were, they just messaged me and they said, we don't even know you. And, um, I, in a matter of months and I say this in a good way, in a matter of months, I had reverted back to the person I was before I had been married. I was more, um, I was more self I can't.

Megan Porta:

Self aware? Or…

Mary Audet-White:

Self. I was more self-aware. I was more confident. I had a sense of humor again. I was free to do things that I hadn't felt free to do before. Um, I was just, it was like a huge weight lifted off of me. And I was absolutely free to be myself.

Megan Porta:

All those years you had no idea that you were holding back, but this kind of released you.

Mary Audet-White:

But you do, you know, you, you make those little choices, like, okay, this happened. And I don't like it, but I don't want to make waves. Okay. Well, now this happened and I really hate that, but no, I'm not, it's not worth making waves over. And after you do that for 30 years and you feel like, you know, 50 just felt really old to me at the time. And I felt like my life is over. Nobody's gonna want me, nobody's especially going to want me with eight kids and you know, and what am I going to do without a husband to protect me and, um, support me. And the answer to that was I'm going to shoot. Great.

Megan Porta:

Yes. Yes. That's amazing. So talk to us about that pivot that you made in the middle of your life. Because that for me is what's inspiring, because I am nearing the middle of, you know, kind of that age range. And I love it when women just dig in and they're like forties, fifties, because you think that that's not something that women should quote do. I don't know. It's just kind of this thing out there like, Oh, your forties and fifties, you should be taking it easy, but I love it. So talk to us about that. Like, what do you think is good? Why should other women do this, Who are listening, who are maybe forties and fifties and they haven't dug in, in a new way? Why do you think that we should?

Mary Audet-White:

Because life doesn't stop as long as you're breathing, right? So as long as I'm breathing and growing and learning new things, I'm really living my life. Um, to say that you're gonna, you know, that you have nothing left to give at age 40 or 50 or that you've become, let's say obsolete at that point in time, um, is ridiculous. It's something that I think society has really wanted us to believe because, you know, 20 year old actresses, 20 year old models, 14 year old models. And, um, we, as we get older,, where we don't, we don't look at other people, other women our age and compare ourselves with them. We compare ourselves with those 20 year olds and 14 year olds and 22 year olds. And we think I'm lacking because of course our bodies have changed and maybe our skin is starting to not have that glowy youthful look. Or maybe, maybe we're starting to forget words in the middle, whatever it happens to be. And the thing about it is, is when we stop growing, that's when we start dying. For a woman in her forties or fifties or sixties or seventies or eighties, I've got people in my membership group that are in their mid seventies or early to mid seventies and they are doing great. And this blog thing is relatively new to them, but they're making a living at it. You know, anytime you stop growing and stop learning, that's on you. That's when you start to die. So in order to have a really real life and continue to grow, then you have to get rid of that attitude of, well, life is over when I turned 50.

Megan Porta:

I have goosebumps right now, Mary, I love everything you just said. And ah, I just, I am with you. I feel so strongly that it is on you. It is your responsibility to keep moving and not just keep moving, but keep growing, keep thriving, keep putting amazing things out into the world. And a lot of this has to do with mindset, I think. And just like what you allow into your head, as far as thoughts, because it can, if you allow those negative thoughts in then the negativity is going to come out. So what do you think about mindset? How do you change mindset? If you are not in a good headspace, do you have tips for us about that?

Mary Audet-White:

I do, but I just want to say really quick, just going back to what we were talking about a minute ago. Um, my main concern with women who have that mindset of their life ends at 40 or 50, or that they can't get along without having somebody in their life to support them, is that a lot of times, women who have been abused for a long time, even if it's verbal abuse, even if it's financial abuse and it's, Oh, well, he doesn't hit me so it's not abuse. Any time that you're being shoved down, that's abusive. And those are the women that need to realize that their life's not over and they need to make those changes. They don't need to stay in a relationship that's bad just because they're 40 or 50 years old and they don't know how they're going to support themselves. There's always a way. So I just wanted to get that in there. There's always a way.

Megan Porta:

Yes, there's always a way.

Mary Audet-White:

So back to what we were saying about mindset, I think mindset is everything. I am a pretty positive person. I am Christian. I've been to, you know, been going to church since my, I was in my twenties. Um, but I don't necessarily agree with every single little thing that the church says and does. So I have my own opinions on things. Um, in order to keep a positive mindset, I pray. I, um, I, I, uh, play praise music when I'm really down. Um, I there's symphony music that I there's certain songs that I listened to. Um, usually if I'm in a really bad mood, I'll start out with Beethoven and then just move up until to happier music, til like I get to a better place.

Megan Porta:

Nice. I love that.

Mary Audet-White:

So there's that. I also use a meditation. Um, I try to meditate for at least 30 minutes a day. And I, uh, use a lot of personal affirmations. After my ex husband left, I just, the next morning I went downstairs, I looked in the mirror and I felt like I was supposed to say something to myself. So I said, I looked in the mirror and I looked in my eyes and this was like the hardest thing I ever did. I said, you're beautiful. You're gonna make it. And I said that for every day for probably three or four years. Um, I still do occasionally if I'm feeling down, but it's more a snarky thing on my end then it was back then. Um, I think you have to say things out loud. I think that you have to affirm yourself if you've never been affirmed, even if you've never been affirmed, even if your parents didn't do it, your, your, um, significant other, people in your life, didn't do it. You still need to, you can affirm yourself, but you have to say it out loud. You can't just think it. Say it, write it down, you know, write down the, your motivations and your dreams and your goals. Write all that stuff down and read it every day and speak it out loud. And, you know, I can do this and, and be grateful. And, um, I think that's a big part of it too. I think that we have become an ungrateful stingy society. And I am a firm believer in the more you give, the more you get. Um, I feel like people were meant to be streams, not pond. So a stream is constantly flowing. There's constantly water coming into it and constantly water going out of it into the Gulf of Mexico or wherever. Right. But a pond is just still, and that water gets stale. Like if you look at Salt Lake or the Dead Sea, that's all nasty, stale water that doesn't support life because nothing flows in, nothing flows out. But all of the bodies of water that where something flows in and something flows out, that all supports life. And I want to support life.

Megan Porta:

Oh, it's fresh. It's not murky. It's not stagnant.

Mary Audet-White:

Exactly.

Megan Porta:

That's such a good analogy, such a good picture to hold in your mind when you're thinking of that. Like yeah. Pond water. No, not, not good. Not conducive for great, thriving lives. Right. But rivers are fresh and they're abundant and they're full of life and all kinds of things that are living and healthy. And I love that so much. So it's just like finding those little things really and doing them. Like you mentioned the music and you start somewhere. Just get started, Beethoven wherever you have to start. And then just move up and keep leveling up. As you feel better. Finding those things that make you happy. And we all have those things. We all feel them occasionally. So when you're feeling that joy, even if it's small joys, make note of it and then come back to it when you need to. Great stuff, Mary, um, do you have anything else for us as far as mine just making those mindset shifts?

Mary Audet-White:

Oh, just try not to complain. Being negative. Speaking negative words. I really believe puts a negative energy into your life. Um, you can call it spiritual. You can call it however you want to call it. Negative energy is negative energy. So when you're around somebody that's constantly negative, you can feel that pull of them, pulling you down. And if you're that constant negative person, you're pulling everybody down around you. You have to strive to be positive. You have to strive to constantly look on the good side of things. Go back and see, you know, obviously you've never, um, not survived something, right. You're still alive. You're still going. So the odds are that, whatever you're going through right now, you're going to get through it.

Megan Porta:

Yes.

Mary Audet-White:

Right. I mean, those are the odds, they're with you. So focus on the good things. Um, and you know, if you have to complain about something, complain about it, give yourself five minutes or 10 minutes to cry, um, punch a wall, whatever you need to do, and then get over it and go on. You know, move on and focus on the really positive things that are in your life. Cause there are some.

Megan Porta:

Always, there's always something. What do your children think, about just the way that you've moved past such a big event in your life and everything you've accomplished afterward that this has to have impacted them positively? Or what would you say?

Mary Audet-White:

I think it has, um, the coolest thing is that, every one of my kids has told me they're proud of me. So.

Megan Porta:

I love that. And that is like everything for a mom, right. To hear that.

Mary Audet-White:

It's everything. And they, you know, they, um, they're their friends know what I do for a living. And they go to my, you know, they, they go to my blog, they'll message my kids and say, Hey, would you ask your mom, you know, blah, blah, blah, blah, blah, or whatever. Um, and so that's been really big. And then they all have a sense of who they are and what they're going to do, and that they can actually do that. My eldest daughter went through a really ugly divorce about four years ago. Of course, all divorces, all divorces are ugly. They just are, they're nasty things. And um, so she's a single mom now and, and she's doing it. You know, I just looked at her yesterday. I said, Erin, you're killing it. You know, you're, you're out there. You're supporting yourself, supporting the kids. And her husband is not paying child support, which I found is actually pretty normal for that to happen. And, um, so she's doing great. And my sons, are, my older sons. I have, uh, two that are married and they are very conscious about how they treat their wives and the respect that they give their wives. And they're like, well, you know, I'm not going to be the, the husband that my dad was. I'm not going to be the dad that my dad was. So, um, I think that all of those years that they saw me going through that that was normal to them. And then I've kind of undone that with them, by moving on and saying, no, that wasn't normal. That was abusive. This is where we are now. And this is what I want you to look at. And this is, you know, how I want you to rewrite your own life in that you can do anything you want to do. Just put your mind to it. I'm your biggest cheerleader. I will always be here for you. And, um, and they are also my biggest cheerleader. They're always here for me. So, you know, it just there's, they watch my videos. They, when I do a live on Facebook, one of them is going to definitely be on there. I never know which one it's going to be.

Megan Porta:

Oh, that's great.

Mary Audet-White:

And um, they, uh, share my stuff and they brag on me, um, on social media. And so it's just, yeah, it's good.

Megan Porta:

That's, they're your biggest fans. And that is so good for your heart. And I think, for me, that would just keep me going in a really new, huge way, I think, because having that supportive, your favorite people, I mean, your kids are your favorite people in the world. There's just nothing like that. And I'm gonna like tear up right now because that's so cool. I love that they do that and they support you and that your story has framed how they are in their lives and how they show up for their wives and their families. And, Oh, so inspiring. I want to hear more about your work, because you talked about digging into your blog, you just decided, like, this is it. And then I love that you came up, came up with a number. I think you said, like, I need to make $2,000 a month and then you just strove for that number and you made it and you made it happen. And then from there you kind of had like on your heart, other passions that you wanted to do, right. Because you went into, I mean, clearly you have a million cookbooks and you wrote for magazines and all of this amazing stuff that you did. So how did all of that unfold after your blog? And then talk to us a little bit about that and then tell us, like, what is next? Where are you going to go from here in regards to your work?

Mary Audet-White:

My first cookbook, uh, it was actually somebody contacted me and asked me to do a cookbook for, for, it was a cookie cookbook. And I was like, I've never done a cookbook before. And they were like, that's okay. And I was like, okay, I'll do it. You know, I needed the money. It was early on in this situation, uh, before I had gone full time on my blog. And, um, so I, I did, I did everything they said. I wrote the cookbook. It did really well. And then I wrote several cookbooks. Uh, another company contacted me and I wrote several cookbooks for them, ghost written. And then I wrote a couple of myself and now I'm just, I'm kind of cutting out the middleman and I'm doing my own PDF, uh, books because they're so much higher quality than the ones that get published and I can do them for such a lower price, um, because there's no middleman, there's no publishing issues so I can have great, big, beautiful pictures in 'em, you know, I can do whatever I want. And so I've been doing that and I just started that, uh, this summer.

Megan Porta:

Oh, wow. So they're just eBooks?

Mary Audet-White:

They're well, they're not even really eBooks they're PDF files. Um, I make, I make on Pages. I use one of their book templates and, uh, yeah. And so I'm, I'm able to sell them for, you know, $7.97 cents. And there'll be like 30 or 40 recipes in them with huge, you know, full color images that are beautiful. And, and that's so much better than, um, I did one Kindle book where people could publish it themselves. And that has done relatively well over the years, but it doesn't have many images in it or many pictures in it because, and the ones that are in there have to be black and white because the cost is like, even with that it's $14.97 cents on Kindle self-publish or whatever it is. But, um, you know, it's, so if I had done the full color images and images with every recipe, it would have been a $57 book. Who's gonna buy that, you know? So I really like the freedom to do the PDF files is, is an amazing freedom that I am definitely looking into more right now. Um, when I finally went full time on my blog, I had, um, the first thing that I did was I got a blog audit from Casey Markee. And cause I knew that I wasn't doing everything right, but that was the first time that I had a chance to get an audit and I wanted to get it early on so that I would have some kind of basis or some kind of foundation, um, for where I wanted to go. And so I did that, that was the smartest thing I ever did, uh, other than, you know, kicking the ex out. And, and so from that point on it grew, I, um, I read everything I could. I watched everything on YouTube I could. And then when I felt like I couldn't, um, you know, I couldn't learn anymore on my own, cause I didn't know where to go, I got involved with a mastermind and, um, it was during that time that we were going through, I can't remember what we were doing on the mastermind, but we were talking about being on the first page of Google. And I said, well, I've got like 900 keywords on the first page of Google and everybody freaked out because most of them, their traffic was coming from Pinterest. And so I thought it was just normal, but it wasn't. So they were like, you've got to write a course. And I was like, Okay. I've never written a course before, but I'll do it. So, um, so I wrote a course and it did really, really well for about three years and I stopped updating the course. I stopped selling the course because right now I don't think SEO courses are the way to go. And I know this is probably not going to be super popular, but Google is changing so fast right now that I really think being in membership groups and masterminds where you're continuously updated, like when something changes on Google. Um, and I hear about it almost immediately because I've got my ears on that. I will go into my group. I will do a quick live. And I will say, you know, there well like, there was, we think there was a, an algorithm change over this past week, just a mild one. And this is September 1st while we're doing this. So over the last week of August, we feel like there was just a mild, algorithm change in. So, you know, I go on and I say, Hey, there's, there's been an algorithm change. This is what we know, don't stress about it, but do keep an eye on your stuff. So they know as soon as I know, they know. If I had to update a course, it could be a month or two months or three months until I got to that if I ever did. So, um, I've, you know, that's why I don't update the course anymore and I don't sell it anymore. Anything like that. Um, I don't have any courses like that. I just have a mastermind in a membership group and so that I can stay on top of it. Um, so anyway, that's how I got into that. And then I just started talking to more and more people and more and more women. And I was really focused in, on women, in midlife anywhere from, you know, 40 on up. But, um, I didn't want, I guess one of the biggest mistakes I feel like I made was it, I think it seemed to younger women like I had nothing for them and I don't know, it's, it's not that I don't have anything for them. This information is for anybody. But midlife women have a tendency to believe that they can't learn new things or they have trouble wrapping their brains around it because we didn't grow up. Like, I didn't even have a microwave in my house until I had been married for two years, okay? I didn't. And um, my kids go nuts with that. They think that's crazy. How could you not have a microwave? I was like, they didn't make them. They weren't, you know, they just weren't in the house. So we didn't have all of this stuff. It's not easy for us to necessarily understand it. And because we've been told for so many years that we're, you know, we just don't get it because we're women or because we're older, um, midlife women need someone who can translate for them from, um, tech speak to moms speak. And that's what I do. That's what I do. So I was very concerned about this, this demographic of women. And I felt like there had to have been more women than me that were stuck in bad relationships that were just too afraid to get out. And so I started, um, trying to speak to them and I grew an email list and, you know, just grew from there as far as what I did. I was invited to speak at Everything Food, um, last, well, not this past year, but you know, before COVID and I spoke at, uh, Jenny Melrose's conference. I spoke at a couple of different conferences and, um, and I always just tried to reach out and say, Hey, you're really smart. Just because you're not understanding this doesn't mean you're not smart. It's just, just means that you need it translated, you you're not speaking that same language. And so, uh, and that's how it grew. It just kinda grew from there.

Mary Audet-White:

You're very perceptive. I love that, that you trust yourself. It seems like you just listened to what you need next. And then you're also really good at, from the way it sounds, listening to other people and what they need. And I think that makes you successful. Yes. But also just likable and just awesome. And it's going to help you just keep finding those new things that you're passionate about and adding new, great people to your life. Um, okay. So where do you see yourself going from here? I mean, you've accomplished a ton. You have overcome a lot. What is next for you?

Mary Audet-White:

I'm working on my YouTube channel. I'm late to that. I know. It would have been better if I'd started it four years ago.

Megan Porta:

Better, late than never. Right.

Mary Audet-White:

Better late than never, and honestly, I didn't have the ability to start it. Now I have the ability to start it and work on it. I've been able to be consistent in doing videos every week. I just got a comment this morning. Um, that said, Oh, it was actually a comment on Pinterest. And the woman said, I made this recipe. It was amazing, but it was the full length YouTube video that made it so easy. And I just felt like, yes! You know, I got it. I did it. Um, my YouTube channel is laughably small. I just hit 400 subscribers. And I was really excited about that.

Megan Porta:

That's all right. You have to start somewhere. You can't start at 2000. I think people get into that, um, line of thinking where they're like, well, I going to start baseline 2000. No, it doesn't work like that. Everybody starts at zero.

Mary Audet-White:

Everything takes time and you have to pay your dues no matter what you're doing, you have to put in that time. And I know that it's just, it's just like, ah, but, um, so that's, that's my new thing for now. Um, I'm hoping to redo my kitchen. We live in a, a house, it was built in 1910. So. Um, I'm going, I'm hoping to redo my kitchen next year to make it more video friendly and, uh, photography friendly. Right now, I have, I have an office in a studio that I use for my photography and I just kind of wing it in the kitchen for my video. But, um, anyways, so the videos are the next big thing. And, um, yeah, that's, I don't know where I'm going after that, but that's where those are.

Megan Porta:

And you don't have to, I feel like as long as.you know, that next thing that you're working on, that you're focused on, that's really all you need to. We get into that mindset that we need to know where we're going to be in five years or what we're going to be working on. And I personally believe that's impossible. Just like looking at what is in front of you and what your next mission is, is really all we should be doing.

Mary Audet-White:

I agree.

Megan Porta:

Yeah. Is there anything that you feel like we should touch on before we start saying goodbye? I've just really enjoyed our chat and if you have any last nuggets for us, I am all ears.

Mary Audet-White:

Just believe in yourself. Um, and be generous with other people. Try to, you know, give what you have to give. If you have extra money and somebody needs it, give them extra money. If you have knowledge and somebody needs to know what you know, you know, help them out, don't be afraid to be that stream rather than that closed in thing. Um, just reach out, you know, constantly be reaching out to people. That's what makes the difference.

Megan Porta:

Well, thank you, Mary so much for being here. I have enjoyed this chat so much, and it was just such a pleasure talking to you today. So thank you for taking time out of your day to do this. And you've already shared tons of inspiration, but I always like to ask if people have a favorite quote or extra words of inspiration to share with food bloggers.

Mary Audet-White:

This is my very favorite quote. It's been my very favorite quote since I first read it when I was 12, which was a very long time ago. And it's by Albert Einstein and it says, "Strive not to be a success, but rather to be a value."

Megan Porta:

I love that you've held that with you since you were 12 too. That kind of has extra meaning. That's really cool. Well, awesome. Thanks for sharing that. And we will put together a show notes page for Mary. So if anyone wants to go check that out, you can find it at Eatblogtalk.com/restlesschipolte. Mary, tell my listeners the best place they can find you online.

Mary Audet-White:

You can find me online. You know what? Just email me, Mary, M a R Y E @ restlesschipolte.com. That's the easiest way to get ahold of me. Um, I have a Restless Chipolte Facebook page. That's a great place to find me. Um, yeah, just wherever. I'm all over the place. You can Google my name and it comes up just so don't even, you know, wherever.

Megan Porta:

Yeah. I looked, I just looked you up on Instagram as we were chatting and it popped right up. So, yep. Super easy to find. Well, thank you again, Mary, for being here and thank you for listening today food bloggers. I will see you next time.

Intro:

We're glad you could join us on this episode of Eat Blog Talk. For more resources based on today's discussion, as well as show notes and an opportunity to be on a future episode of the show, be sure to head to Eatblogtalk.com. If you feel that hunger for information we'll be here to feed you on Eat Blog Talk.
---
💥 Join the EBT community, where you will gain confidence and clarity as a food blogger so you don't feel so overwhelmed by ALL THE THINGS!
📩 Sign up for FLODESK, the email service provider with intuitive, gorgeous templates and a FLAT MONTHLY RATE (no more rate increases when you acquire subscribers!).
Read this post about why I switched from Convertkit to Flodesk!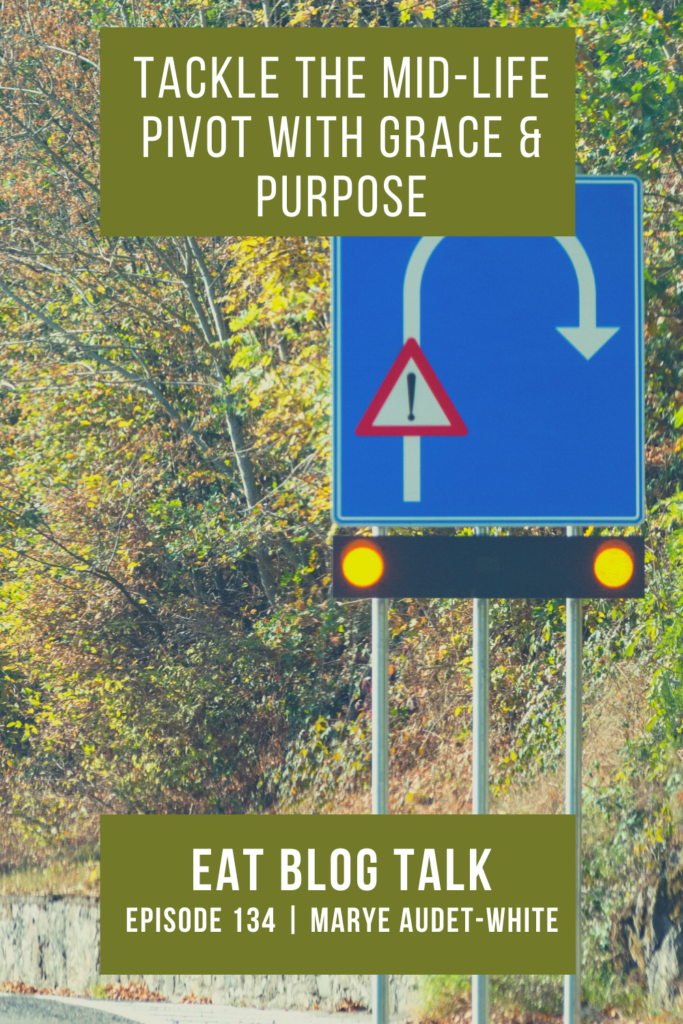 Questions or comments on this episode?
Head over to the Eat Blog Talk forum post about episode #134 to leave any questions or comments. We'd love to hear from you!