In episode 125 we talk with co-creators Natalie and Russ Monson about their Prepear Platform, a site that supports both users and food bloggers.
We cover information about simple, quick ebook creation, how your marketing can be included, how this platform provides a better experience for the end user and what parts of creating a digital book are handled all by Prepear.
Listen on the player below or on iTunes, Google Play, TuneIn, Stitcher, or your favorite podcast player. Or scroll down to read a full transcript.

Write Blog Posts that Rank on Google's 1st Page
RankIQ is an AI-powered SEO tool built just for bloggers. It tells you what to put inside your post and title, so you can write perfectly optimized content in half the time. RankIQ contains a hand-picked library with the lowest competition, high traffic keywords for every niche.
Guest Details
Connect with Prepear
Website | Instagram | Facebook
Bio
Prepear is a connected recipe platform for food bloggers to diversify their revenue streams while giving their readers the best digital recipe experience.
Takeaways
To create a digital cookbook on Prepear, you simply start by getting your recipes onto the platform. Prepear will help you with that and the software they built helps you compile the digital cookbook behind the scenes.
Prepear is simultaneously marketing all bloggers digital cookbooks in their marketplace and in their newsletter. The existing users in Prepear can get to your content right away. This is before you're even promoting it to your audience.
Your cookbook should solve a problem for your audience.
Prepear Gold is an annual subscription available to Prepear consumers annually for $60 and it's ad free. 80% of the revenue is shared with the food blogging community.
A cookbook or meal plan can't be more than $60 on Prepear but it can't be sold for less than $10.
Bloggers who sell their cookbooks in connection with Prepear Gold sell 5x as much as those who just focus on their own content and cookbook sales.
Prepear is a small team but what's important to them is that it's built by food bloggers for food bloggers. Prepear wants the input of the food blogging community and are listening to your feedback.
If you have content that is not on your website, you can manually add it to Prepear so that its able to be used in a cookbook you're featuring.
Once you're on Prepear, you can begin to connect with other bloggers to cross collaborate your content to reach each of your audiences.
The number one way to know what to create is really just ASK YOUR READERS. Also use Google analytics top 10 posts and find trends.
Resources Mentioned
Visit Prepear to find out how you as a blogger can get on board – then fill out an application.
Email [email protected] – if you are interested in joining the technical team!
Looking to create digital cookbooks with Prepear?
Natalie joined Megan in episode #79 and shared about joining the Prepear platform and how food bloggers can begin diversifying their income with digital cookbooks.
---
Transcript
Click for full text.

Intro:

Welcome to Eat Blog Talk. Where food bloggers come to get their fill of the latest tips, tricks, and insights into the world of food blogging. If you feel that hunger for information we'll provide you with the tools you need to add value to your blog. And we'll also ensure you're taking care of yourself, because food blogging is a demanding job. Now, please welcome your host, Megan porta

Megan Porta:

Food bloggers. Hey, if you have not yet joined the new, amazing community that we just launched, go and do it. You will find so much value inside, including connecting with other food bloggers and a much deeper way, and having access to all kinds of exclusive value, such as bonus podcast episodes and mastermind groups and our Resources and Service Provider Directory and so much more. So this is not something that you will want to put off. Go to Eatblogtalk.com for more information, and we can't wait to see you inside. Okay, food bloggers, have you heard of Flodesk, the new big email marketing rage? This is an amazing new option for managing your email subscriber list. It is super easy to use and it comes with gorgeous, intuitive drag and drop templates. And Flodesk does not charge based on number of subscribers. So your monthly rate will stay the same from month to month. Everyone pays $38 a month or use my affiliate link to get 50% off and pay only $19 a month. You guys, this is a fraction of the price of other email service providers, and you'll be blown away by the beautiful and intuitive templates waiting for you inside. Visit eatblogtalk.com/resources to grab your link. Flodesk, the stunning new option for email marketing,

Megan Porta:

What's up food bloggers. Hey, welcome to Eat Blog Talk. This podcast is made for you. Food bloggers wanting value, information and clarity that is going to help you find greater success in your business. Today. I will be having a discussion with Natalie and Russ Monson in from Prepear.com. And we're going to talk about creating digital cookbooks inside the Prepear platform for additional income and just for general, diversifying. Natalie and Russ are the founders ofPrepear, a connected recipe platform for food bloggers to diversify their revenue streams while giving their readers the best digital recipe experience onlin.e Natalie and Russ, I am so excited to talk to you guys today, but first give us a fun fact about yourselves. I don't know if you want to do that together or individually, but what do you have for us?

Natalie Monson:

Hi, thanks so much for having us. We're super excited to be here. So just a quick, it's a little more than a fact. Russ and I have been working together for, let's see about 12 years now. We were both entrepreneurs from the time we got married and we both kind of had side businesses and it was almost a race to see whose business was growing faster to see which one we put our energy in. And so about four years ago, mine pulled ahead and that's when we decided to build Prepear and go all in. And we've been working together since.

Russ Monson:

So we had a race between the food blogging business that Natalie was running with Super Healthy Kids and my real estate business and, um, food blogging won. So we teamed up and doubled down on that.

Megan Porta:

Great! And that's a testament to food blogging and how well you can do with it. I absolutely love that you guys started as both entrepreneurs. I think that's really unusual. Like a lot of people come from a corporate space or, you know, so how cool that you guys have that story and go, Natalie! Just kidding. I'm just kidding.

Russ Monson:

I was happy that her business won. Dealing with all the food blogging work is, is a lot of fun and it's very different from dealing with tenants. So it was a good switch.

Megan Porta:

I'm sure. I'm sure that's an entirely different world. Right? Okay. Well, I am so excited and just thank you for joining me today, you guys. It's always such a pleasure to chat with you two. You're so fun to talk to, and you have so much information and I love your platform at Prepear. In episode 79, I had a chat with you, Natalie, where we talked about kind of the bigger picture of Prepear. And we talked about what, what your mission is, why food bloggers should be on the platform. And, also we talked about how the platform benefits users. But today I thought it would be a really great idea to dive into one specific part of the platform. And that is creating those digital cookbooks inside Prepear. Because that is one of the features inside that can really bring in some nice revenue, I think, for food bloggers. So before we dive into that though, I thought it would be good, just in case people listening missed our first episode together. Can one of you give us a brief overview of Prepear and I need to spell Prepear out just so people know it's P R E P E A R and also just tell us how it is a valuable platform for food bloggers.

Natalie Monson:

Yeah! So I'm like you mentioned, Prepear is a standard recipe platform and we built it for food bloggers to diversify their revenue. And so basically, through my food blogging experience, I just learned a lot of the ways things can be frustrating and how your revenue can go up and down based on things that are really outside of your control. So, social media platforms or ad revenue declines, website issues, all sorts of things. So we wanted to build a platform that food bloggers can use to grow their businesses in a different way that they had a little bit more control over. And so it's a way to deliver their recipes, to readers and users, where they can directly monetize from their recipes. And, it's not from ad revenue. It's not from like signing a book deal or a sponsor or anything like that. It's directly from use of the recipes. So that's what Prepear is on the blogger side. And then for users, they're able to organize and store their favorite bloggers recipes in a way that makes it really easy for them to use. And they can also meal plan with those recipes and organize them into these, what we call cookbooks on the platform.

Russ Monson:

And maybe I'll just add there really quickly, the real motivation behind building it was one of my responsibilities, working for Super Healthy Kids, was to grow the revenue of super healthy kids as a business. And when we started selling our meal planning products, we were able to generate more revenue through our meal planning products, through selling to our audience then we were able to generate through advertising. And we've been able to maintain that significant revenue stream. But the problem that we had is a lot of our readers were asking us for technology solutions that we couldn't feasibly build, even with our own revenue stream, unless we built it as a platform for other food bloggers. So it's really solving problems that we had with our own meal planning and recipe products selling business. That was the inspiration for Prepear. And the ability for us to extend that to other food bloggers is something that we're really excited about being able to do, to help teach other bloggers and provide them with the software and tools they need to get to a situation where advertising revenue is always important, but I have this other revenue stream that's just as significant. And that's what we're trying to create here.

Megan Porta:

I love that you guys took a problem as a food blogger. You saw this problem that people were having and that you just launched into making a solution for it. And I think that you're probably talking to people whose ears are all perked up after you say, like, diversifying and additional revenue streams. Because as you know, it's been kind of a crazy time. It's been a little bit tumultuous with everything that's been going on this year. So, a lot of food bloggers are looking for that. They are looking to diversify and relying on ad traffic is uh, ad revenue is so scary. And we're all to that point where like, Oh my gosh, what would happen if X, Y, Z, and our traffic was gone? I mean, it's like a really scary thought. So I think you guys have created this platform that is just like solving problems for everyone all around. So I just think you guys are the best, and I think you've created such a great product. So thank you for going over that. I think that will help people to kind of frame what we're talking about. So now let's talk about why creating a digital cookbook within your platform, within Prepear is easier and why people should be doing that over, say creating just another, you know, just a regular old ebook.

Natalie Monson:

I think just to start at the very basic, having the ability to have one place where you can start to finish, create a digital cookbook or what most people know them as are eBooks, but on our platform, they're a little bit different than how you would typically create and use an ebook. So I'll just call them digital cookbooks, but, one software solution. So if you think about, if you decide, you want to create an ebook with your recipes, you have to have a bunch of different software solutions. So, where are you going to build it? Like, are you going to build it in Adobe? Or what software solution are you going to use there? And then you typically would either design it yourself. If you have those skills or hire a designer to kind of put it all together. And then, where are you going to sell it? Are you going to just sell it on your website? And if you are, what kind of payment processing are you going to use and how is it going to be delivered to your readers? There's just so many different steps and things to think about. And it takes a lot of work. I'm sure. I mean, most food bloggers have created some kind of ebook, myself included, and it really is a lot of steps from start to finish just to get the product available. And then, after you build it and create it and get everything set up, you have to deliver it to your reader. And usually that's in the form of a PDF that's emailed to them. And this isn't, it's not a bad solution, it's a fine solution, but, the usability on the consumer end just isn't great because they have to open their email and remember where they put it. And then they're trying to use your recipes off of a PDF. And so, typically the best way would be to print it. But a lot of people don't want to have just printed paper. Um, a lot of people have really moved towards digital recipe use. And so Prepear's solution for digital cookbooks really solves that. You can print them, if you'd like, most people do choose to use them digitally. And we'll kind of explain the process of that. So the second thing is usability for the reader or the consumer. The third thing is really the marketing piece of it. So, if you create an ebook and you're just selling it on your site, you really are only making sales when you're actively promoting it. And so a lot of times food bloggers, they're really good at getting traffic. They're really good at promoting the recipes, but marketing, I found isn't something most food bloggers have a lot of experience in. And so, selling something is very different than just promoting your free recipes on your site. Right? And so that's kind of the third piece of it is the marketing piece and how you do that. And just the way you get it in front of your readers. So, maybe I'll let Russ kind of hit up each of those points on why it's different on Prepear than just building a regular ebook.

Megan Porta:

Yeah. Go for it.

Russ Monson:

Yeah, for sure. So in terms of the actual cookbook itself, creating a kind of book is as simple as getting your recipes into Prepear, which our team helps facilitate getting all of your site's recipes onto the platform. And you then organize them, is similar to how you would organize a, if you think about like a Pinterest board that you would create with particular topics, you create the cookbook, just by organizing your recipes. And our design team has created layouts that automatically generate the visual experience of the cookbook for a reader just by you placing your recipes and your existing images in these sessions of a cookbook. So you can create the cookbook. You can segment it. For example, if you're building a cookbook that's, um, topical like Instant Pot, you may have like a session in the Instant Pot cookbook. That's for your chicken recipes or your veggie recipes or dinners or desserts or different sessions. Simply organizing all of your recipes into those sections creates the digital cookbook for you. And you provide just a little bit of information. There's the ability for you to write kind of descriptions for each section that guide the user through how to use the cookbook, how to use the recipes, and then you can enter in some descriptions for the cookbook itself. And that automatically creates the sales pages just based on the images from the recipes and using the photography and work that you've already done to create a beautiful design that will look great and give your readers a really good experience. So creating it is very, very simple. And one of the pluses that Natalie mentioned on the marketing front is we build all those sales pages for you automatically just based on the content that you've created. But we also list them in our marketplace inside of Prepear so that the existing user base at Prepear can start using those cookbooks right away. And we even promote them through our email lists. And that helps you to sell and start earning income immediately. Even if you're not yet promoting it to your audience. The Prepear team will be promoting it to the Prepear audience and allowing users to use those cookbooks and get access to your brand and your, your blog directly through the platform.

Megan Porta:

Okay. I have a few things to comment on because I think I'm just overwhelmed. I think this is such a great thing. I'm so happy that you guys came up with this, but you're basically eliminating a bunch of pain points for us food bloggers, because like you mentioned, Natalie, a lot of us have tested out the waters of eBooks. I did a long time ago and it was a horrible. I'm sure it's easier now, maybe. I don't know. But it was like the most time consuming. Um, what's the word I'm looking for? Just like, it was so much investigating. It took me so much time researching and figuring out.

Natalie Monson:

There's a lot of different parts.

Megan Porta:

Yeah, there are a lot of different parts where you have to go to all of these different places. And then I dunno, it was like, after that, I was like, I'm kind of done for a while. But it's something that we all I think maybe want to branch out into because we all have all of this great content. So putting it together into an electronic book is really appealing. So you've taken away these pain points. So you do, you help us with marketing. You touched on usability and how it kind of solves that issue. And it just like takes all of these things away from us. So, I love that. Um, I wanted to ask you a few questions that just came to mind as you were talking. Do you find that there are, there's greater success with like smaller cookbooks or bigger ones and then also like price points? Because I know that was one of the things when I started looking at the Prepear cookbooks and like making one, I got kind of hung up on that. And I was like, I have no idea what, cause you, I think upfront it asks you what kind of price you want to determine. And I just didn't know. So then I kind of just exited out, but what are your thoughts on like length of the cookbook and then also pricing?

Russ Monson:

That's a great question.

Natalie Monson:

Maybe I'll, I'll, I'll touch on cookbook length and Russ you can talk about pricing. So, um, as far as cookbook lengths, to be honest with you, the saying that really determined success more than length is how well your cookbook connects with your audience and like, what problem are you solving for people? For example, if people have found your content and become a fan of your content, because they like, I'll just use super healthy kids for an example. A lot of people come to us because their kids won't eat veggies. And so they're looking for kid friendly recipes that include veggies that they think their kids will eat. So we created kind of like a picky eater cookbook on Prepear and that's done really, really well because of the types of recipes that are in that. And they're all packaged together in this usable cookbook for parents who are looking to solve that problem. And so I don't know that length matters as much as relevancy. I guess.

Megan Porta:

Okay. Yeah, that answers perfectly. So what about pricing?

Russ Monson:

Yeah. On the pricing front. So we've set up Prepear, and I'll give a little background just kind of on how Prepear shares its revenue with food bloggers so that this all makes sense. So Prepear has a subscription service that's called Prepear Gold that sells as an annual subscription for $60 a year. And we share up to 80% of that revenue with the food bloggers on the platform. So the substantial majority of our revenue, even when it's not from your cookbook sale, is shared out to the food blogging community. And what that does, if you subscribe to that Prepear Gold subscription as a consumer, as one of your readers, is that gets you access to all of the recipes on the Prepear platform ad free and all of the cookbooks, the digital cookbooks and meal plans on the Prepear platform included with your subscription. And then whenever one of those users or readers uses a cookbook or recipe, a meal plan, any of your content in any format on Prepear, we pay that revenue out to you as your content is used. So that provides kind of a range of possibilities for the price of an individual cookbook, meaning that a user can get all the cookbooks on the platform for $60 a year. So the price point could never be over that. And then we've also set a floor on the price point of $10. You can't sell a cookbook or a meal plan on Prepear for less than $10. And that's because we've had a lot of experience in testing the pricing of the cookbooks. And a lot of times we think like, okay, if I just priced it lower, it'll sell better because it'll be a no brainer and we've actually found the opposite to be true. So when we started selling digital cookbooks, we would test price points of $10 and then think, well, $5 would just be a no brainer. And $2 would be a no brainer, but not only were we making less money at lower price points, we were actually selling less units. Like we were signaling to our readers that this content isn't worth anything. And so it's really important as a blogger to establish that your content is really valuable. It is valuable. And when readers buy it, the price point is a little bit of a signal for that value. So we would really generally suggest that your cookbooks aren't much less than $20, much less than you would be selling a physical cookbook for $20 or much less than $20. So the price point for a cookbook can't be less than $10. If you're selling something with just a few recipes in it, that's just making a quick promise for somebody like kick-starting some, you know, just a few dinners, then it may be $10, but we'd probably say you would want to target more around a $20 price point and then add content until you feel like the value is there. And a lot of eBooks you'll see are going for less than that, they're selling for $9, they're selling for $5. And we found that that just doesn't work. And another reason that that is helpful to set your price point a little bit higher is another thing that we've learned as we've started to sell this. Is that most bloggers who were selling cookbooks are actually making more money off of the Prepear Gold subscriptions than off of the sale of the cookbook anyway. So what that means is you communicate with your readers. Look, I offer this cookbook and this cookbook and these 10 cookbooks, and I have a few meal plans. As you start to build a portfolio of products, as a blogger, on the platform, if your price points $5 for each of those products, you can't get to a point where you can say, it's just a better deal to buy a subscription to Prepear Gold. And then you start building a subscription base that you're earning income off of forever instead of just making the one cookbook sale. But if your price point for your cookbooks is around $20, then you can start in your messaging to your readers to say, Hey, I have my instant pot cookbook, my 30 minute quick dinners cookbook. I have this 30 day gluten free meal plan available on here. They're all $20, but you can just get all of my cookbooks with this subscription for $60 a year. And you also get the cookbooks from my food blogging friends that I know you love as well. And I know you follow as well, all included at that one price point. And we found that the bloggers that sell the cookbooks in connection with the subscription make about five times as much income as bloggers who sell just an individual cookbook and don't ever mention or attempt to sell a subscription.

Megan Porta:

So really you could put a bundle of books together and use it as kind of a lead magnet to get people on the platform and enjoying the platform and recipes there. And also, I love that you mentioned promoting other people, like other bloggers content as well. That's such a great idea. So do you guys have, like, I don't know, material that we can use to kind of explain Prepear with our audiences? Do you create anything like that?

Russ Monson:

Yeah, for sure. We have, uh, we have kind of a quick start guide for food bloggers that we can share with you. And you can put the link to that in the show notes for this show, that we'll kind of walk a blogger through the step by step process to get going on selling their content on Prepear. And I can really just quickly walk you through what that looks like. Like the first step is just getting your content on, onto Prepear. And from there, like once you've got your profile and your content set up, you just need to start creating your products from somewhere. Like picking the niches that are most relevant to your audience and creating one, two or three cookbooks. Thinking about if, if your audience happens to have meal planning is a relevant topic, creating a few meal plan templates for them to follow.

Natalie Monson:

And we actually have a pricing guide that you can look at, that wil help you determine… So we've done a lot of user testing and user interviews about pricing of both physical cookbooks and eBooks and digital cookbooks. And so that's kind of how we came up with our pricing guide, based on the topic of your content. And so that's something that you can refer to as well, as you're trying to decide pricing.

Russ Monson:

So we'll send you the links for that, that basically walk you through the steps from getting your recipes on, to creating your content, to marketing it and even integrating it into your actual site. We build some tools that allow you to install a Prepear plugin that adds a save to Prepear button on to all of your recipes on your site that are also on Prepear. And those integrations really help familiarize your audience with what Prepear is. So when you start messaging them about your new cookbook, you don't have to go through the work of here's what Prepear is, and here's this new thing. You can just be directly selling your content and it becomes familiar to them, that this is delivered on the Prepear platform.

Megan Porta:

Wow, you guys, you're amazing. You've just thought through so much. I mean, you took one simple concept, like a pain point, and then it was just developed into this huge, awesome platform that just delivers value to everybody. So I'm so impressed. Just hearing a little bit more about the cookbook side of it.

Russ Monson:

One thing that I would want to say there, Megan, is, you know, we are, we are a really small team, but one of the things that's core to us, so we're working as hard and as fast as we can, but we know that things inside of Prepear aren't always perfect. And one thing that we really think is core to what Prepear is, is this is a tool that's built by food bloggers for food bloggers. And so as your audience starts to think about Prepear, things that they do, and don't love about the way that it operates. You know, if you have a problem with how Pinterest operates, you can't just call Pinterest and say, Hey, can we fix this? Or can we make this work this way? Like, we, we want the input of the food blogging community about what is, or isn't working within our product so that we can make it what you need it to be and not just what we need it to be. So we would love to have conversations with anybody listening to this who's like, well, if it could just do this, then that would be so amazing. Or I really need help with the marketing on this front. Can you build something there, that kind of feedback really helps guide the direction of the product for us. And there aren't a lot of products that you get to use as a food blogger where you can reach out to the team building it, and we'll jump on a zoom call with you and try and help figure it out. So.

Megan Porta:

That's awesome. And I think that anytime you hear by food bloggers for food bloggers, it just rings a little bit more authentic with us because not a lot of people get us. We do so many different things as you guys know, and to have a platform actually built by someone who is a food blogger, just carries so much weight, I think. At least for me. One thing before we move on, I wanted to ask you about, cause you mentioned that designing, you have like templates inside that make the page layout pretty easy. Can you kind of walk through that? Like, do we have flexibility with, like, let's say we want like a full page photo or half page photo, you know, like, do we have that flexibility or is it kind of rigid?

Russ Monson:

Right now it's fairly rigid in terms of the structure of the cookbooks. And that is just because our team is small. And so we have one basic layout that the cookbook will follow when you create it. We do actually have plans in the future to add additional layout functionality and we will be working on building those sorts of features. But for the moment the layout is consistent across all of the cookbooks on the platform. And we will allow that to change in the future. It's just fairly technical. It takes a lot of time and we were trying to stay focused.

Megan Porta:

Yeah. I totally get that. And then can you use recipes outside of what you have inside the platform? Like if I had a brand new recipe, could I add that to a cookbook?

Natalie Monson:

Yeah. Yeah. So you can either, if it's not on your website, you can manually enter it and then add it to a cookbook. And if you wanted, say like, do you want it to just have recipes that no one's ever seen before, like exclusive recipes in this cookbook, you can add them. And then there's a selection you make on the recipe, whether you want it public or private, or whatever you want it to be. And so then users on the Prepear platform can only utilize that if they have purchased the cookbook or their a Prepear Gold subscriber.

Megan Porta:

Ok, that answers that. Is there anything else, as far as like features within the creation of the digital cookbooks that you feel like food bloggers should know about?

Russ Monson:

Yeah. One thing that I think would be interesting is we built once your, your recipes are on Prepear and there, you're earning income on Prepear. You can use the recipes that food bloggers have imported on Prepear, as a food blogger inside of your products. In other words. So if Super Healthy Kids and your food blog, Megan wanted to do a collaboration, we could create a joint cookbook that uses recipes from both our blogs and cross promote that to both of our audiences. So we allow you to use the recipes that Super Healthy Kids has put onto the platform inside of your cookbook and vice versa, so that we can really speak building an ecosystem of content here that benefits all food bloggers. Like that's really core to what we're doing is the things that we do on Prepear, make it easy for food bloggers to help grow their businesses together. Because it can be kind of, like food blogging is an interesting business in that it can be a little bit isolating. And a lot of times when you collaborate across brands, you get exposure to new audiences. And so we've built a product so that they allow you to collaborate with other food bloggers so that you can get exposure to their audiences and them to yours. And you can start building things together with other food blogging brands that make sense for you to work with.

Megan Porta:

Cross-promotion. Oh my goodness. How did you think of that? I think that's so brilliant, because yeah, like if you want to utilize somebody else's amazing content and they're agreeable, then why not? That can only make your content more valuable. So I love that, my wheels are turning. I love that you guys, is there anything else, any other features or anything, and before a food blogger were to dive into this process, that you feel like they should know?

Natalie Monson:

Yes. So not everything in a business is all sunshine and roses. So I think one thing we try to do when new food bloggers come onto the platform is set realistic expectations, because it's not like you're putting a Kindle book on Amazon, right? Like, Amazon is a huge beast. And so the amount of sales you would get from a platform like Amazon is going to be a lot higher than ours smaller platform on Prepear. So, with that in mind, we just want to tell people, it's not like you put content on Prepear, and then all of a sudden you just start making money. Right? Everything requires a little bit of work and we're trying to grow it and build it and promote it as much as we can, but it also takes, on your end, promotion as well so that there's eyes on your content.

Megan Porta:

Yeah. Well, I can say that the ebook I referred to earlier that is on Amazon and it has done nothing. So, I mean, I don't know. There's always that perspective too, because that market is so saturated that it's almost like a little bit scary. Like it's intimidating to go there and I don't know. So I hear what you're saying though, and you want to set expectations that are realistic and people don't want to come on and expect one thing and then get another thing. So I appreciate that you pointed that out.

Russ Monson:

Yeah. Maybe I can even provide just some, obviously every food blog is going to be different based on the size of your audience and your niche, but just to provide some context, we have some food bloggers on Prepear who put their recipes on, and then haven't promoted it at all and have done nothing. And what they're earning is when Prepear users happen to use their recipes, they earn their share of the subscription revenue. So we have bloggers in that situation who haven't done anything that just making 20, $30 a month. We have a larger bloggers who've set up, but they aren't ready to put that kind of effort in we're making $400 or $500 a month, passively. We have bloggers who are really committed with small audiences that are selling $400-500 a month in meal plans. We have bloggers with large audiences who will sell $10,000 a month in meal plans and cookbooks and subscriptions. So the range is, is what you want to make of it, I guess. There's a range of possibilities if you just want a passive, extra income stream and see how it goes, you can do that and have, you know, expectations that the lower end of the range. If you really want to get into it, you know, we can, you can be making as much as you are on advertising on your site or more. So it's just kind of, there's a range based on your commitment where it can go for you.

Megan Porta:

Right. I love that you provided those range numbers because I think we're all kind of wondering, like, you know, in our minds we think of what we're making on advertising and can I get there? And it's just nice to know that if you put in the time, you really can. And that is, like I said earlier, it's so appealing right now because we're all kind of flailing a little bit and worried, you know? So I really appreciate the fact that you guys have put in so much effort on this. I know that it's your business and you obviously benefit from it, but I can tell that you have such a heart for helping food bloggers. And I just personally so appreciate that. And I think you guys are amazing. So I'm trying to think if I have any other specific questions. I was going to say also that here's the tough thing about having a podcast is that I talk to these people who are so inspiring, like you guys, and I just want to like dig in and I have to reign myself in because, Oh my gosh, my project list is crazy right now. So like, as you're talking, I'm like, Oh, I can maybe start that today. And then like, no, I can't okay. I'm going to do it, but I need to like actually set a time to do this and not just flail into it. So, you guys have inspired me.

Natalie Monson:

It's hard to have focus in the food blogging world sometimes because there are so many possibilities.

Megan Porta:

Yes, yes. I know. And then, yeah, like I said, like talking to so many different people who have different levels of experience and different areas of expertise, I get to hear it all. So I, I want to do it all, which is probably not the best idea.

Russ Monson:

Well, I think there's also something about like going into selling your own products that can be more intimidating than advertising because there's this fear that it's not going to work or it's not going to make money or you're going to see the rejection differently if it doesn't work. And I think that that's a valid concern and it is, it can be more difficult, I think in the beginning to start selling. But it is the thing that can cumulatively build up over time. You know, it's not the kind of thing that you're going to start selling your products and you're going to be making tons of money overnight. Just like building up your traffic takes effort over time. But I can attest to the, all the bloggers that we work with who are putting effort into building and selling products and, you know, building sales pages, testing things with their audience over time, they're seeing their revenue grow over time. Just like they saw their advertising revenue grow over time and you don't have to figure it all out. You can really take one step at a time, just like when you start your food blog, you know, it's just one step at a time. It's just getting this figured out and trying this experiment and well that one didn't work and let's try the next one. And as long as you keep going, like there is an opportunity there to keep growing and to see that success build over time.

Megan Porta:

Yeah. I'm glad you pointed that out. It's not an overnight thing. And we're all used to that. I mean, we all get into it and hope that that is a real thing, but quickly realize that we need to stay in the game. We need to stick with it in order to see progress. So this is no exception to that. And I like that you mentioned rejection because yeah. Putting together like an ebook or something digital that is more your somehow it's more yours than your blog. I don't know. But yeah, it becomes like a, a point of like a source of stress because you worry, like, this is like me, this is mine. So what if people don't like it? And somehow we associate that with like, um, I dunno. I just always think someone's going to be more honest about something like an ebook than they would about my blog, but that's, I don't know if that's true or not, but I think that's how we all think.

Russ Monson:

Yeah, it does feel that way when you sell something and not everything that we've sold has sold well. You know, it's a, it's a process just like not every piece of content that you make knocks it out of the park, you know? And so it's really good to just have that mindset going into it, that it can be a fun process if you have that mindset going into it. Um, it really can.

Megan Porta:

Here's a question for you guys. Do you have recommendations about how to pick topics? So like, do you take most popular recipes from the platform? Do you take most popular recipes from your blog or is it more just about like overall everywhere? What people are consuming? What are your thoughts on that?

Russ Monson:

Yeah, that's a great question. And it has, I think like the answer is like fundamental to that whole how do I sell this question? The thing that we found to be most successful is yes, you do want to start looking at your content for inspiration and see what your readers are engaging with. But the number one thing you can do to find out what products you should be creating is just ask your readers. Whether it's on a Facebook post, whether it's using your email list to just send out a quick survey, um, Instagram, Instagram story, polls. Like we have found that asking just very directly, I want to create a cookbook. What do you guys need? Here's some of my ideas, like the answers that you get back are always really, really enlightening. It actually even so much so that when we first built Prepear, we built Prepear primarily focused about around meal planning because our audience on Super Healthy Kids was focused around meal planning. But what we found is we started serving other bloggers audiences who were interested, is that there was really just this heavy interest in the topic we're talking about today, which is cookbooks. A lot of bloggers, their whole audience's interest was in organizing recipes and not so much around meal planning. And so asking that question can just be critical because you may find that your audience really wants simple lunch meal plans, or they really want just cookbooks where they really just want your recipes ad free. And they don't want that. Or they, I couldn't really even say because there's so many different types of food blogs, but asking your readers direct questions will get you direct answers. And it's really helpful.

Natalie Monson:

And then the other way, um, when you're looking at your content, that we have found is pretty accurate, is just going into your Google analytics and looking at your top 10 posts for the last year or so. And seeing if there's any related trends with those top 10 posts. And usually there is. Usually you'll have maybe three or four posts that are kind of in the same lane. And that's a really great place to start with a topic.

Megan Porta:

That is, it's really funny that you guys just said all that because that's kind of the process I just went through. I just had it in my mind lately to maybe create an ebook, like not now, but, you know, I eventually want to, so that is exactly what I did. I went to Google analytics, I looked at my top 10 posts. I found a few themes. I found like three, and then I just sent them to my email list as a survey. And I said, if I were to create, I don't know how I worded it but an ebook, which would you be interested in? And overwhelmingly they picked one of the options that I actually didn't think they would pick. I was like, Whoa. Okay. But I mean, it was funny how overwhelming it was. It was like, I want to say like 75% of the people picked this one option. So yeah, I think we all have audiences who are willing and ready to tell us what they want from us. So if we're really direct and asking, what do you want? And then providing like not leaving it open ended, right? Like providing options for them. They will tell us. And you might think that they won't, but try the polls on Instagram, the emails. So I think it, I thought it was just really funny that you guys mentioned the exact process that I just went through.

Russ Monson:

You're a pro!

Natalie Monson:

People love to give their opinions.

Megan Porta:

They do. They really do, yup. If you've ever put up a poll on Instagram, I mean, it's like all of these people start replying. You're like, Oh, there actually are people there and they're actually watching. Oh, that's great. Okay. So we've covered a lot and I personally am super excited to dig into this and I know that other food bloggers will be too. And again, you guys are just amazing. Is there anything that we've missed that we need to touch on before we say goodbye?

Russ Monson:

I don't think so. I think we've covered, you know, the main thing is building a system that builds an income that's diverse and can withstand the test of time. And if you can start getting into the habit of selling and building these products and over time, get to a point where you can sell subscriptions to your content, you'll be able to have a sustainable revenue stream that has, you know, there's always going to be work involved, but has an element of passivity to it. You know, it's one thing to sell one cookbook. It's another thing to sell a subscription that generates you revenue month over month, as long as those people stay subscribed. So I think just starting to think about your revenue differently is a good thing to do, especially in the times we're in right now where things are changing so quickly.

Megan Porta:

Agreed. Well, thanks again, guys, for being here, for taking time out. And I know you're busy parents and business owners, so I really appreciate you being here today. Before we go, I like to ask all my guests for either words of inspiration for food bloggers or a favorite quote or something along those lines. Do you guys have anything to share?

Russ Monson:

Yeah, for sure. Um, I'd kind of share something that I think is relevant to all of our experience right now where things in the world are changing so quickly and there's, we're living in a lot higher stress environment. And, you know, we've had some of the same experiences with Prepear where some of the Covid impacts have been pretty dramatic and there's been some really stressful things that we've had to deal with. And I think, you know, when things are happening that are hard, I think one thing that can mentally help us to keep going and just make sure we keep going, is being able to frame all of those things in the most positive light. You know, whatever is going to happen to us in our business. It's going to happen to us, whether we're happy about it or sad about it. And there is always a way to frame something as a positive and to, to allow that, to inspire optimism inside of you instead of pessimism. And you know, as we've run through challenges with, you know, we released a bug that causes a problem, you know, there's always, I could just be stressed or I could say, Oh, this is an opportunity where my customers are reaching out to me. Can I get some more feedback from them about how we can improve this? And you know, at least they care enough to reach out. That means the product's working or in any situation with enough creativity, you can frame it positively in a way that allows you to enjoy the journey and keep on going. And that's really, the main thing is to keep on going and keep a positive attitude. So you can enjoy the food blogging journey and not get burned out of it.

Megan Porta:

So the technical issues I had with you guys yesterday, it was a learning experience. I shouldn't be frustrated. I learned something valuable.

Russ Monson:

It was a learning experience. And we got to have two conversations here.

Megan Porta:

I know! I got to talk to you two days in a row. I mean, I truly did go through that yesterday. I was like, okay, first day back at work, do not let this bring you down. You learned, it's okay. So I appreciate that. We're ending on that note. So Natalie and Russ, I will put together a list of just resources, everything that we talked about today, including those links that you guys referred to. And we can find those on your show notes page at eat0blog, talk.com/prepearcookbooks. And again, Prepear is P R E P E A R. And I think we all know where to find you, but why don't you just reiterate everywhere we can find you online guys.

Russ Monson:

Yeah, for sure. You can go to prepear.com/food-bloggers, and that's where you can find out about how Prepear works with food bloggers and complete an application. Or you can always reach out to me if you want to become a Prepear Pro and join the Prepear platform at [email protected].

Megan Porta:

Awesome. Thanks again for being here, guys. And thank you for listening today, food bloggers. I will see you next time.

Intro:

We're glad you could join us on this episode of Eat Blog Talk. For more resources based on today's discussion, as well as show notes and an opportunity to be on a future episode of the show, be sure to head to eatblogtalk.com. If you feel that hunger for information, we'll be here to feed you on Eat Blog Talk.
---
💥 Join the EBT community, where you will gain confidence and clarity as a food blogger so you don't feel so overwhelmed by ALL THE THINGS!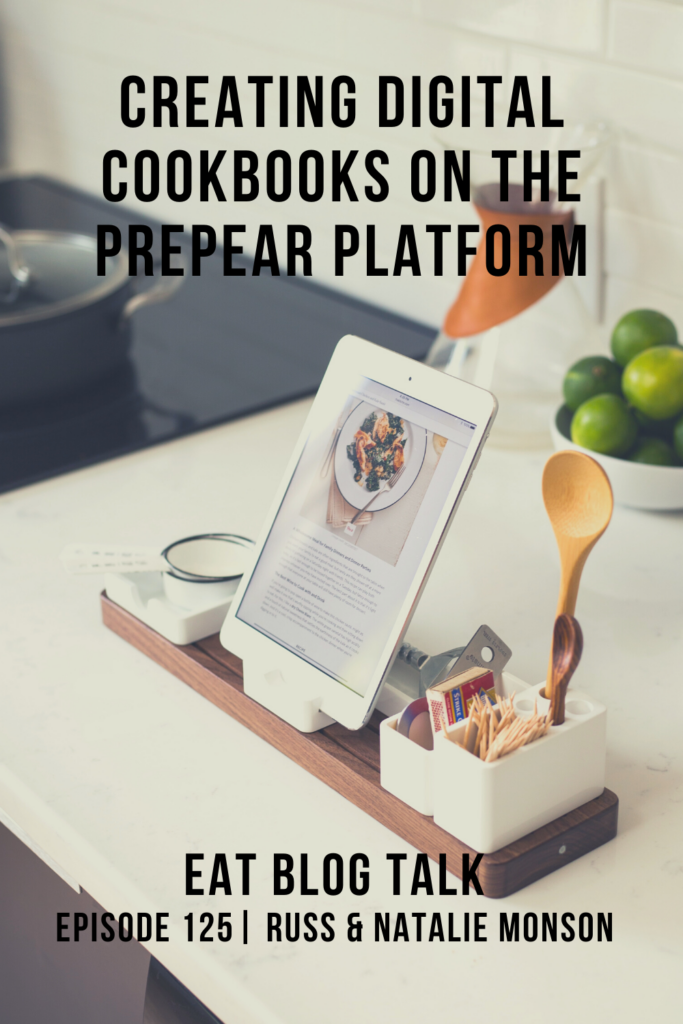 Questions or comments on this episode?
Head over to the Eat Blog Talk forum post about episode #125 to leave any questions or comments. We'd love to hear from you!