In episode 191 we talk with Kate Freebairn, an Aussie blogger who had her blog obliterated by the pandemic but pivoted with success by starting blog on how to make sourdough bread for beginners.
We cover information about how to create a niche and even a sub-niche with a FB group, why every day you need to show up and be consistent.
Listen on the player below or on iTunes, TuneIn, Stitcher, or your favorite podcast player. Or scroll down to read a full transcript.

Write Blog Posts that Rank on Google's 1st Page
RankIQ is an AI-powered SEO tool built just for bloggers. It tells you what to put inside your post and title, so you can write perfectly optimized content in half the time. RankIQ contains a hand-picked library with the lowest competition, high traffic keywords for every niche.
Guest Details
Connect with The Pantry Mama
Website | Facebook | Instagram
Bio Kate is an Aussie mama to 3 boys and lives on a small farm in country Western Australia with her husband of 10 years. After COVID obliterated her local activity based blogging income, she started a food blog about sourdough bread with an international audience. She derives an income from my blog selling ebooks and Amazon affiliate links. She absolutely loves baking bread and spends most days baking and developing new recipes to share with her 15k+ FB group.
Takeaways
Just start. Identify a pain point for your audience and offer a solution.
You can create a blog and make a facebook group to connect and offer solutions.
Create a facebook group as an offshoot of your blog and niche down even further to where people can come together and talk about those ideas and challenges and you can help give them solutions.
Be sure to use searchable keywords for SEO to help build your group on facebook, from the title to the information in the group.
Be sure to offer as much help as you can to your group with tips, facts, guide sheets, answering questions and being involved so to add as much value as possible. Your goal is to get your audience to come back and invite a friend.
If the same question/information is requested from you in the group, it's a great idea to turn that into a blog post and share it with the world as well as resend it to the group.
It's important to be available to your group. Check in multiple times a day and let them know you'll be there to help with anything that comes up. You want to develop a culture so you must invest.
When you start to see repetitive themes come up from your audience, you can use those ideas to create sellable products.
As you grow your group on Facebook, you can work to send them to your blog with sales of ebooks and posts that answer specific questions. This helps to build your sessions on your blog.
Building Social Media Growth?
In episode 063, Levan Wee shares some Killer Instagram Hacks.
Transcript
Click for full text.

Intro:

Welcome to Eat Blog Talk, where food bloggers come to get their fill of the latest tips, tricks, and insights into the world of food blogging. If you feel that hunger for information, we'll provide you with the tools you need to add value to your blog. And we'll also ensure you're taking care of yourself, because food blogging is a demanding job. Now, please welcome your host, Megan Porta.

Megan:

Are you a motivated food blogger, striving to meet financial or freedom goals? If so, then the Eat Blog Talk membership is for you. Take a journey with like-minded peers that will bring you past the overwhelm and straight into the arms of clarity. You will have direct access to guest experts delivering massive amounts of value into your business. You will have the opportunity to participate in monthly strategy calls, focusing on different aspects of food blogging. Most importantly, you will be part of a tight knit, supportive and encouraging family filled with people just like you. Visit eatblogtalk.com for more information. And the rest of us cannot wait to see you inside.

Hey, food bloggers. Welcome to Eat Blog Talk. This podcast is for you, food bloggers, wanting value and clarity to help you find greater success in your business. Today, I'm so excited. I get to chat with Kate Freebairn from pantrymama.com. We are going to talk about growing a Facebook community. Kate is an Aussie mama to three boys and lives on a small farm in the country in Western Australia with her husband of 10 years. After COVID obliterated her local activity-based blogging income, she started a food blog about sourdough bread with an international audience. She derives an income from her blog, selling eBooks and by using Amazon affiliate links. She loves baking bread and spends most days baking and developing new recipes to share with her 15,000 plus member Facebook group. Holy cow. That's so many members. Kate, I'm excited to learn from you today, but first we all want to hear your fun fact.

Kate:

Hi everyone. My fun fact is that many, many years ago, I went to university and did a degree in medical anthropology and Italian literature. I've never used my degree for any kind of work. But I do still speak Italian.

Megan:

Wow. You know, it's funny. I feel like more and more, I find that people go through the lengths of getting a degree and all of the money and the time and effort, and they don't actually end up using any of it. I feel like that used to not be the case in the past decade or so, I feel like that has changed, but I have tons of friends who say the same thing. But really cool to know Italian. Say something in Italian.

Kate:

Ciao. come va?

Megan:

What did you just say?

Kate:

Hi, how are you doing?

Megan:

Alright! Perfect. Well, thanks for sharing that, Kate. So let's talk about Facebook communities. This is a very intriguing topic for me, and I'm super excited to learn from you. I'm so sorry about the way COVID kind of came in and just crashed your business, but it sounds like you pivoted like a champ and made the most of the situation. That must've been devastating though at the time, like what is going on?

Kate:

It was really hard at the time. My husband also had lost his job as well because of COVID. It was a really scary time, especially because our, I guess backup income, which was my income had gone as well. Starting a food blog, honestly was something that was always in the back of my mind. So in a way COVID was actually, I guess, a positive thing in that it gave me the little push that I needed to start to start a food blog. In actual fact it has become more lucrative than my local activities blog ever was. So, in that respect, the pivot has been a really positive thing.

Megan:

Wow. Yeah. I mean, at the time, I'm sure it was devastating and heartbreaking, but good for you for seeing an opportunity to pivot and just taking it because you've killed it in a matter of months, less than a year. So let's talk about that. So you've built a community, a Facebook community of over 15,000 people in just under nine months. How does one go about doing this from scratch? Where do we even start with it?

Kate:

Well, I actually just hit 18,000 today, which is really exciting. So it's been, I guess, nine months since I started my Facebook group and I guess I have had some experience in Facebook community management in the past, through my through my old business and as well as helping other local businesses do the same thing. So it wasn't an entirely new game for me. However, I guess I'd never done it in the food space before. So I think the biggest thing is that you just have to start. Don't ask too many questions of yourself or doubt your abilities because if you don't start, you're never going to, I guess, break the rewards. So I think if you ever thought about it, today's the day. Just get in there and do it. I think that you need to look at setting a topic, a specific topic for your Facebook group. Obviously it needs to align with your blog and what you write about there. Your Facebook group in your Facebook community needs to answer a pain point for your audience. So you need to think about perhaps what problems arise for your audience that you could help them with by creating a Facebook community.

Megan:

I totally agree. That is the answer to everything, I feel like these days. Finding that pain point, finding the struggle and then answering it. I was wondering if you would be kind enough to just talk us through some examples. I honestly would not know how to create a group based on a pain point. Would you mind doing that?

Kate:

Yeah, definitely. Just before we do an example, if you look at my Facebook group, I've gone with obviously sourdough bread because it's what I blog about, but I've even niched it down further to beginner, sourdough bakers. So, there's tons of Facebook groups out there, but don't be frightened of entering a saturated market because there's bound to be a niche that you can squeeze into. Just like I've done with sourdough, but I've created the beginners group because I felt that there were tons of groups out there, but there was nowhere just for beginners to share their journey. So I think that you definitely can enter a saturated market. You just need to think of that pain point. So an example could be like looking at moms who, I'm not sure if you guys in the U S need to make school lunches, but here in Australia, school lunches are a big thing. So moms who need to make school lunches everyday, they're pushed for time and they need to come up with these ideas every single day that aren't always sandwiches and a piece of fruit. So creating a Facebook group where moms can come together and talk about those ideas and challenges could be something of an example.

Megan:

So obviously you want your group to align with your niche, but actually even honing in a little bit more to an even more specific problem. So what if dinner recipes, I know a lot of bloggers in the US create just kind of generic dinner recipes, some with a spin such as gluten-free. But what would you recommend for that? What would be a really specific problem along the lines of creating dinner recipes that we could create a Facebook group for?

Kate:

Yeah. So I would look at who your audience is, who are reading your dinner recipes. So is it a dinner recipe for couples? Is it dinner recipes for families? You could look at creating a group that was specifically for dinner recipes just for couples because everything concentrates on dinner recipes for families. You could go down that route, that's something a little bit different. Or you could go down the route of recipes that took a specific amount of time. So, you know, recipes in less than 30 minutes, if that's possible. Or recipes in less than an hour, because everyone wants to get dinner on the table as quickly as possible so we can get on with what we really want to do.

Megan:

That's a great idea. I never thought of that, either the timeframe or for two people, because you're right. Everyone focuses on families. So maybe the group itself could focus on something just really, really simple. I mean, it doesn't everything in blogging come down to that, niching down, niching down. Then finding that struggle and then finding a deeper struggle and finding a more specific struggle. I feel like that is the solution to every problem in blogging, that we just need to think a little bit more focused. So I feel like that's kind of the message you are relaying here as well.

Kate:

Yes. Honestly, you know, when I started my food blog, even though it was only, you know May last year, I started really broadly. I wasn't blogging about sourdough. I was blogging about family dinner recipes. I just happened to put up a recipe for sourdough bread that I made and I saw a need that I niched down and it was the best thing I ever did. So I actually had started a Facebook group before my sourdough one, which was a lot more broad and just covered a food blog in general, but it wasn't until I niched down that I was actually able to grow my Facebook community.

Megan:

How did you get so many people in your group so quickly? I mean, was it just because of your focus, do you think, or did you have other tricks?

Kate:

So I think one of the, one of the tricks, I guess we'll call it, that, that I used from the very start was to use searchable keywords. You can do that with anything. Obviously sourdough is a very popular searchable keyword at the moment, but you need to look at when you give your group a name, those words that are in your group name are searchable on Facebook. Also, I guess on Google. So you need to think strategically about what you call your group, and that definitely helps to bring people to your group. O

Megan:

kay. So a lot of people just found you by searching. You didn't do a lot of outreach or did you kind of extend yourself and say, Hey, come join my group? Or was it mostly people coming to you?

Kate:

Mostly people coming to me. I've never really done any outreach. I've got a Facebook page called The Pantry Mama that's attached to my group, which has around 12,000 people that I've built in the last nine months. I have got my group attached to that, but most of it has been from people searching for those keywords. So beginner sourdough is obviously very popular and I've made sure that those are in my group name. Another tip is when you start your group, you want to provide as much value as possible to the people who've joined your group. So what you want to do is make sure that they want to come back and they want to invite their friends as well. That's how I've grown. As well that one person will join and then they'll realize that I'm sharing lots of good information. That's helping them to bake better sourdough bread. So then they go on and invite 20 friends and then they invite friends and so forth. So that's a really good tip as well.

Megan:

So you mentioned providing just a ton of value. What kind of value are you providing?

Kate:

So showing up every single day, no matter what, no matter whether you don't feel like it and just answering people's questions. So whatever they may be, answering their questions. it might be that on that particular day, you answer a question that is asked. Someone might ask the same question 20 times over. So that's where you go, okay. That's really popular. So you write a blog piece about that and then you can feed that back into your group.

Megan:

Oh yes. Super smart. Do you have any other little strategies like that? I think that's so smart. Just finding those repetitive questions that keep coming up or comments and then actually addressing it in a bigger piece, like an article or something like that. A blog post. Do you have anything else that you do, like videos or anything like that?

Kate:

I have done some videos. Yes. But I find that the blog posts are the best way. It's twofold because you're not only helping your audience and you're providing value, you're sharing your knowledge, but then it also provides traffic for you as well. So you're able to do two things at once. So you are answering lots of questions and if it's something that comes up again and again, then that's something that you need to, you know, perhaps write a blog about. Or it could be not just a blog. It could be a recipe that people ask about, or it could be you could do a most frequently asked question, blog about a particular recipe or a set of recipes that you can then refer people to.

Megan:

So do you go in every day? Is it something that you just commit to doing daily?

Kate:

Yes, I am in my group every single day, multiple times a day. I guess that's a choice that I've made to be there a lot. You don't have to be there that much. You can definitely set boundaries around that. I am lucky enough that I'm at home with my kids. I'm still breastfeeding my baby, my toddler. So I'm able when I'm sitting there doing that, I'd jump on and answer a few questions. Sometimes I'll just go in and share something that I've been developing a recipe I've been developing that day, or I'll go in sometimes if I'm really busy, I do have to set boundaries. So I'll be like, I've only got 30 minutes to jump in and answer some questions, but it's really up to you how involved you'd like to be in your group. But I think for the first, at least the first 12 weeks, you do need to be quite involved and I guess develop a culture and a really strong community that follow the rules. Then they'll start answering their own questions as well, which is an even more amazing thing.

Megan:

It really doesn't take much of a time investment to be consistent. I mean, you could literally go in for 10 minutes a day. I know of an entrepreneur who has, she manages six different Facebook groups. It sounds like a lot, but she was literally, this is what I do. I sit down with each group, I set my timer for five minutes and then I put in my time, I answered as many questions as possible. I move to the next one. So that's what, 30 minutes of her time. That's 30 minutes of her day. That's nothing. She's taking care of every group, she's investing daily consistently. So really it doesn't have to be this big thing in your mind. You can make it up to be I can't go in every day, but it's not that big of a deal. Do you find that it comes pretty naturally to get in there?

Kate:

Yeah, it definitely comes naturally. I guess some days I find myself in there a lot. Then other days, you know, I've got three kids and I run a food blog. So other days I'm there for literally five minutes. So I guess I just go with how I feel and I do keep it pretty natural. You can also use lots of tools that Facebook has in the group. So you can do a keyword alert. So if there's something that you don't want talked about in the group or there's a topic you don't want people to discuss because it's too controversial, you can set up keyword alerts that will actually alert you if someone has brought that up in the group. So that's a really good thing. So you don't have to hop over all the time.

Megan:

I did not know about that. The keyword alert. Is that a fairly new feature? Do you know?

Kate:

I'm not sure. I've always used it. It's been around for a while. Yeah. If you go into your settings, you'll be able to find it really easily and you can set up multiple. It's called a moderation alert, I think.

Megan:

Cool. That would be good to know. Especially the more people you accumulate, you're going to have so many people, are they going to talk about something bad? Are they going to start talking about politics? Maybe you don't want politics in your group or something along those lines.

Kate:

Exactly. And while it's small, it's never really an issue, but as you're getting bigger and I'm finding I've got 18,000 people now, everyone has their own opinions, which is fantastic, but some of them aren't suitable for a group about baking bread.

Megan:

Absolutely. Exactly. Politics and baking bread don't typically go hand in hand. Well, thank you for talking through those logistics because it's been a while since I've managed a Facebook group. I actually have one, but it's super lame and it's really broad. I think I get like one new person maybe per month and we pay very little attention to it. It's just really good to hear you talk through how you do it and all of that. So, thanks. I'm curious about products. So how do you use Facebook and your Facebook group to develop products?

Kate:

Good questions. So a little bit. So I touched on a little bit before. When people start asking questions in your group, you need to listen, I guess. So when I started listening to what was coming up again and again in the group, I guess it's all about creating solutions. So I listened to what was getting asked again and again, and while I also wrote blog posts, I then took a couple of the topics and patted them out a little bit and wrote a lot more information. I produced eBooks around those topics. Then I sell them back into my group and on my Facebook page.

Megan:

So what products first popped up for you? So you said eBooks, what were some of the first things that you were like, Ooh, everyone wants to know about this?

Kate:

So the first thing I did was basically create a beginner's guide to sourdough and I called it sourdough made easy. I packaged up my beginner recipe with a ton of other tips and photos and basically everything I know in my head about sourdough and I produced it on Canva because that's really all I know how to do. I sold it and it's been selling really well. Then I discovered that people were really curious about how to fit sourdough into their day if they were really busy. So if they're working full time or they had kids or things like that. So then I went and wrote another book called scheduling sourdough. That's all about how to fit sourdough around your day if you're not home because obviously sourdough's a really long process. If you're not home during the day, it can be a little bit difficult sometimes to factor into your day. So I wrote a book about how to do it.

Megan:

So how do you sell those products? Do you direct people to your blog?

Kate:

Yeah, so I post links because it's my group. I can post the links when I want to, I don't have to follow anyone else's rules. I put them on my blog and use SendOwl, which is a program that allows you to upload the books as PDFs. Then when people go and buy them, they buy them through PayPal and it then sends them a link on their email. It also allows you to bundle. So now I've got two books. I've added them as a bundle and people can buy both at the same time.

Megan:

That is so awesome. I love SendOwl. I use it too for my eBooks and it's just super easy. It's slick. I love it.

Kate:

It is one of the best things I've ever been told about. Honestly it makes it so easy to sell eBooks.

Megan:

Totally agree. So it is really cool. So basically you have the super simple formula Kate, where you started this group, you've got people in there, you engage with them, you show up every day and then you just listen. What are they telling you that they need? What do they want specifically about sourdough? You create a product, you put it on your blog and then you send them there. That's amazing. So how do you use your Facebook audience, your Facebook group to enhance your SEO and your traffic and all of that?

Kate:

Basically because you've got the audience there, your Facebook groups are a little bit different to your Facebook page. When you post links to your Facebook page, Facebook doesn't really like links to the outside, but in a group it can be a little bit different because people are in that group because they want that information. If people in your group are constantly asking for this information and they really want to know things, then when you feed those blog links back into the group, they're going to get clicks. So I started my blog in May last year with literally no traffic and no idea of SEO and all that sort of stuff. I was able to grow and I qualified for Mediavine in February.

Megan:

Congrats. That's awesome.

Kate:

Thank you. It's been a dream, I guess. That's all because I used my group and I fed my blog links back into my group. I also worked on SEO. Obviously you have to do that cause that's a more long-term strategy. But I think having the group definitely got me through that 50K barrier a lot faster. Because when I started my blog, Mediavine was still at 25,000 sessions and literally, I got to 20,000 sessions and they moved it to 50.

Megan:

Oh my gosh, my heart breaks for you guys. When I learned that I was like, I collectively felt heartbroken. So I am so sorry about that. I cannot imagine how devastating that was.

Kate:

I think I did cry that day cause I was so close and then I put my big girl pants on and I went and did 50,000 and I did it. Now I'm up around 65,000 sessions. So it definitely works. So your Facebook group, your Facebook community becomes so much more than just a group on Facebook.

Megan:

I'm curious about the links you were putting in your Facebook group to send people to your blog. How frequently did you do that? How relevant was it and all of that?

Kate:

I wouldn't just throw them out there for the sake of it. But if people will come to a Facebook group and they don't always scroll through what's already been asked and already been written. So they'll ask what's the easiest way to start us out or starter or what's the easiest recipe to make sourdough bread or does anyone have a recipe for sourdough pancakes, for example? So every time someone asked those questions, I was able to say, Hey, yes, I've got the answer to that. If you pop it over here, I've written about it in detail so that I don't have to keep repeating myself. Then I found that it's all about creating value. So if obviously, if the links you're providing are not answering their questions, then people are going to get a little bit annoyed and they're not going to share those, but because you're providing lots of value and you're answering their questions in those blog posts, people can start sharing them themselves in your groups. So it's not just you that has to share them. So you definitely have to make sure that you do answer their questions in detail and provide lots of relevant information that can't just be random links that you're just throwing in there for the sake of it.

Megan:

Yeah. Being relevant is super important, no matter which platform you're on or otherwise people catch on. They're like, Ooh, that doesn't seem authentic. That's never a good thing. I'm curious about your blog traffic. What percentage of traffic comes from Facebook and also other areas?

Kate:

So at the moment 30% of my traffic comes from Facebook and around 50% is organic traffic. So I guess organic search traffic.

Megan:

Is SEO something that you work on hard or is this something that just has kind of naturally evolved?

Kate:

It's definitely something that I've worked on pretty hard. In addition to growing my Facebook group, I also am really passionate about growing SEO because I think a Facebook group you are, while it's amazing and I'm going to keep nurturing that Facebook community as long as I can. However, I'm also very aware that it is on someone else's platform. I don't own Facebook. None of us do so Facebook tomorrow could turn around and change their policies, their algorithms, they've done it in the past. So alongside my Facebook community, I'm also definitely working on SEO pretty hard. I've been able to grow my SEO or my organic search traffic to 50%, which I think is pretty good for someone who's a complete novice.

Megan:

Absolutely. That's amazing. I think that's smart that you're not just relying on your Facebook group and using it kind of in tandem with organic traffic and building up SEO. It's a super smart strategy and not many bloggers can say that they have evolved through this process so quickly and gotten approved for Mediavine so fast within a year. So Kate, you're amazing. This is an incredible story. Super inspiring.

Kate:

Thank you.

Megan:

I love it. So talk to us about how you establish authority on a subject in Facebook, in a Facebook group, because did you know a lot about sourdough bread going in? Maybe you did, but what if we use the example that we were talking about earlier where I'm a dinner recipe, food blogger, and now I decide I'm going to start, you know, delivering dinner recipes made for two in a Facebook group, but maybe that's not my thing. Is it one of those things where you just have to be one step ahead of the people? Or what are your thoughts on that?

Kate:

I think you do need to know your topic fairly well. I've been baking bread for a long time. So I guess for me, I do have that knowledge. But I think in addition to the knowledge you have, it's again about consistency and just showing up every single day. Even if it is only for five or 10 minutes and sharing your knowledge. So helping people to solve their dinner problems for two, or just being there to walk someone through a recipe that they are not sure how to move through. But I think you definitely do need to know about the topic, but I think in that example of moving into a group with dinner recipes for two, it would be fairly easy to just stay a few steps ahead in that case. I guess that's the good thing about Facebook is you're not on live video, so you can always think about your answer. You can always think about what you're going to say before you say it.

Megan:

That's true. This is inspiring. This is kind of the problem, being a podcast host, talking about all things food blogging. I always get that shiny object syndrome. Ooh, maybe I should do this. But no, you can't because you have so much on your plate, but it's tempting. I mean like a fairly small investment of time combined with some knowledge and solving a problem for people really could be fruitful. I mean, you get 30% of your traffic from your Facebook group, which is incredible. I think my percentage from Facebook is like 1%, maybe 2%. It's always been that way. So increasing it by that much would be, Oh my gosh, that's so intriguing.

Kate:

Well, if you share your Pinterest figures with me, I'll share my Facebook. Doesn't work for me. Well, I'm just not that good at it clearly.

Megan:

See it. Everyone has their thing, right? Everyone's like I dig into Instagram and Instagram is amazing. I feel like all food bloggers have their one platform that they just feel really works for them and lights them up. So, we should talk about Pinterest and Facebook and maybe share the magic. What else do you have? Do you have a main takeaway for food bloggers who were inspired by this and wanting to dig into a Facebook group or anything else logistically that would help them?

Kate:

I think just go for it. If you're thinking about doing it, what's the worst that can happen and you start a group and perhaps it doesn't take off. Well really haven't lost anything. It's not going to cost you anything. You might just create an amazing community that you'll be able to nurture into the future. I think that you have to look at a Facebook community as a two-way street because you have to nurture that community and you are obviously giving them lots of helpful tips and value, but they're also going to provide things for you. So they're also going to inspire you. I get inspired all the time by things that the people in my Facebook community post. So I think you have to look at it as a relationship, not just a one-way street.

Megan:

You have to look at it like we are helping each other. I think in any relationship that is the way to approach it. It's not just for me, it's for all of us, we are all going to benefit each other.

Kate:

Definitely that's a much nicer way to look at it.

Megan:

I wasn't trying to restate that. That was such a great thing to end on because I think like all of us listening, I want to do this because of me and my traffic and it's all about me, but actually it's not. We want to go in and we want to help people. I want to point out too, that Facebook is so easy, such an easy platform to start a group on. It takes such little effort and time and it's free. So I mean, if this is on your radar at all, just try it. Why not? Right. Find a really specific topic within your niche, like Kate has been saying and just test it out, experiment. If it works great, if not fine. I have that group that I've told you about that it's literally just been sitting there for years. I've ignored them forever, so I don't really need to do anything. That's kind of the status quo there. So yeah, I think this is a really intriguing thing to dig into. So thank you for sharing everything that you did today, Kate.

Kate:

Thank you for having me.

Megan:

Yeah. This was fun. Do you have like a favorite quote or inspiration words of inspiration for food bloggers today before we start saying goodbye?

Kate:

Yes. So my quote, I would like to share, "if you never start, you'll never finish."

Megan:

Oh, see what we were just saying. You kind of started our conversation off with that. I wrote a quote down that you said at four minutes into our conversation. You just have to get started. So that's kind of the theme here. Just do it. Love it. That's amazing. Well, we're going to put together a show notes page for you, Kate. If anyone wants to go peek at those, you can find them at eatblogtalk.com/pantrymama. Kate, tell everyone where they can find you online?

Kate:

So generally I'm hanging out in my Facebook group, but you will be able to find all the links to my Facebook group and also to my Facebook page at my blog, which is pantrymama.com. But also if you do want to have a look at my group, it is Sourdough Starters For Beginner Bakers of Bread and Sourdough.

Megan:

I should go. I'm going to go look at your group. I have to. I'm intrigued. Just to get inspired.

Kate:

I'm getting all these people asking to join just to check it out.

Megan:

So see like where did you guys come from? Then I have to ask you, so you have three boys. What are their ages?

Kate:

So Van is two. Tex is five and Hays is nearly eight.

Megan:

I love that. I love boys. I'm a boy mom too. My boys are a little bit older, but boys are the best. Aren't they? They love their mamas.

Kate:

They do. How old are your boys?

Megan:

They are 10 and 14.

Kate:

Oh, wow. Yeah. So into the teenage years.

Megan:

I know, it's scary. But my teenager doesn't really act like a teenager, which I'm super grateful for. He's yeah a little bit delayed cognitively, but I actually love it. Everyday he's like, mom, will you snuggle me? Just thank you. I'm like, thank you so much. He's not your typical feisty teen that's for sure. But super great to learn that about you being a boy mom, and just thank you for everything you've shared today. Thank you so much for listening today, food bloggers. I will see you next time.

Outro:

We're glad you could join us on this episode of Eat Blog Talk. For more resources based on today's discussion, as well as show notes and an opportunity to be on a future episode of the show, be sure to head to eatblogtalk.com. If you feel that hunger for information, we'll be here to feed you on Eat Blog Talk.
---
💥 Join the EBT community, where you will gain confidence and clarity as a food blogger so you don't feel so overwhelmed by ALL THE THINGS!
📩 Sign up for FLODESK, the email service provider with intuitive, gorgeous templates and a FLAT MONTHLY RATE (no more rate increases when you acquire subscribers!).
Read this post about why I switched from Convertkit to Flodesk!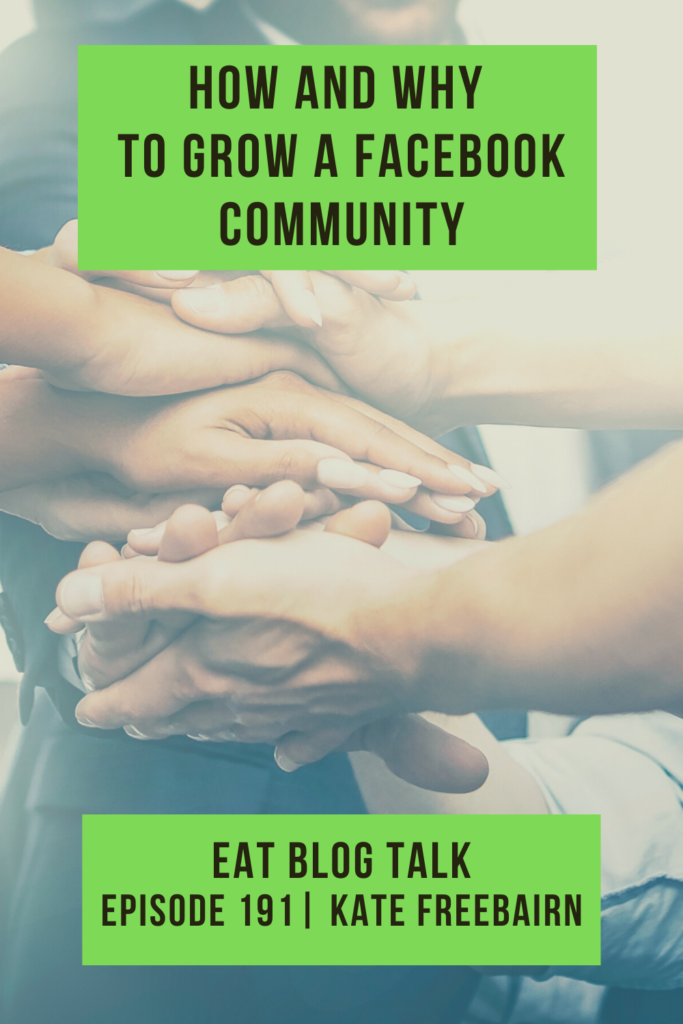 Questions or comments on this episode?
Head over to the Eat Blog Talk forum post about episode #191 to leave any questions or comments. We'd love to hear from you!