In episode 119 we talk with Tajda Ferko, a food photographer based in the UK who shares her wisdom on how to use photography as a source of revenue with your food blogging business.
We cover information about what to focus on when you decide to focus on photography as a new source of income, where to look for free information to help you get started and what avenues of photography you can focus on for revenue!
Listen on the player below or on iTunes, TuneIn, Stitcher, or your favorite podcast player. Or scroll down to read a full transcript.

Write Blog Posts that Rank on Google's 1st Page
RankIQ is an AI-powered SEO tool built just for bloggers. It tells you what to put inside your post and title, so you can write perfectly optimized content in half the time. RankIQ contains a hand-picked library with the lowest competition, high traffic keywords for every niche.
Guest Details
Connect with Tajda Ferko
Website | Instagram | Facebook
Bio Tajda (pronounced tide-ah) is a food photographer and recipe developer born in Slovenia and based in Manchester, UK. Despite her relatively small following on social media, Ty managed to grow food photography into a successful career. She has worked with small local brands and big international companies to help them create beautiful food images. Her images have been featured in print magazines. Ty is also a contributor at Picture Pantry, one of the leading stock image agencies in the world for premium food photography.
Takeaways
Take your spare hours to practice and use free resources to work on improving your skills. It's an investment into yourself as you learn more about your camera and how to use it well.
As you gain more skills, you will be ready to pursue your own business. Once you find that your mindset has switched to this is a business, you will become focused and determined.
Seek a business advisor to set yourself up for the future. They can help you put together a business plan, consider cash flow and diversifying your income. It also encourages you to present yourself professionally to clients.
Create a business website that is separate from a blog. Brand it well, make it professional looking. You can use this to display your services and show off your best work with featured images. This helps you outline professional services too and keep you blog your creative outlet.
To build up authority in your business, be sure to allow for reviews and testimonials as well.
Don't wait until you can buy expensive equipment. There are so many free resources to train you, to teach you and help you improve so that you get started from where you are!
Food photography is great to work with restaurants. Pitching to a restaurant is similar to pitching to another Brand. Visit local places you really like, get familiar with their recipes and the vibe they've created. Restaurants, bakeries and grocery stores can be great locations to reach out to. Also companies related to food, like Panasonic.
Selling stock photography is another avenue to supplement your income in this field. Upload your own images for sale. The Picture Pantry is a site Tajda recommends because they value quality vs quantity. You can use the photos you have on your blog and the other outtakes you didn't use as well.
Recipe creation and accompanying beautiful photos will help Brands know they want to work with you so keep working on your own photography.
Focus on practicing and analyze the images. Take a picture of yours, place it in a Word document. Then place another image similar to it from another persons site. You can play spot the differences! Ask yourself, what is similar; what is missing; how can I achieve the lighting, the colors, the props that speak to me about this other photo. Is it editing? Reflect on your work to improve it. Don't put pressure on yourself while you're learning to do this – it's a process!
Resources Mentioned
How to create light and airy food photos.
5 Tips for New Food Photographers
How to find inspiration as a food photographer
How to take action shots in food photography
How to photograph food
How to shoot food on your phone like a pro
Courses:
Foodtography School, Advanced Foodtography School, FullTime Framework, Artificial Academy.
Blogs to watch:
Broma Bakery Photography Resources
Foodtography School with Broma Bakery
Youtube Channels:
The Bite Shot, Two Loves Studio
Podcast episodes:
Food Blogger Pro episodes with with Rachel Korinek, Joanie Simon and Taylor Mathis
Want To Create A Course For Another Revenue Stream?
Jason Logsdon talks to food bloggers in episode 104 about how to do this.
---
Transcript
Click for full text.

Intro:

Welcome to Eat Blog Talk, where food bloggers come to get their fill of the latest tips, tricks, and insights into the world of food blogging. If you feel that hunger for information, we'll provide you with the tools you need to add value to your blog. And we'll also ensure you're taking care of yourself, because food blogging is a demanding job. Now, please welcome your host, Megan Porta.

Megan Porta:

Food bloggers. The new Eat Blog Talk community platform is here! Come inside and check it out for yourself. One of my favorite things about the platform is the service provider and resource directory where food bloggers can find jobs and also offer their own products and services. Go to eatblogtalk.com to get the scoop.

Megan Porta:

Hey, food bloggers. Welcome to Eat Blog Talk, the podcast made for you. Food bloggers seeking value for your businesses and for your lives. Today, I have Tajda Ferko from My Vegan Minimalist with me, and we are going to talk about turning food photography into a profitable business. Tajda is a food photographer and recipe developer born in Slovenia and based in Manchester, UK. Despite her relatively small following on social media, Tajda managed to grow food photography into a successful career. She has worked with small local brands and big international companies to help them create beautiful food images. Her images have been featured in print magazines. Tajda is also a contributor at Picture Pantry, one of the leading stock image agencies in the world for premium food photography. Tajda, your bio is so awesome. Impressive. I'm excited to chat about all of that with you.

Tajda Ferko:

I'm really excited as well.

Megan:

I am so excited to have you here too. But you know, what's coming. We all want to hear your fun fact.

Tajda:

I thought about that a lot and I think one of the fun facts about me is that I actually didn't know how to cook or bake at all until I was at least about, I'd say 21 or 22. I guess this wouldn't be as unusual if I wasn't a food blogger now. Cause I feel like I hear stories from other food blogger friends and they say, Oh yeah, I've been baking since I was seven or, they've had that passion forever. I just didn't have that because my mom was an amazing cook and she's one of the best bakers that I know and I've always lived at home during high school and university as well, so I never really had to learn how to cook. It wasn't until I moved abroad to study in Czech Republic that I was forced to explore that more. Then it became my number one hobby, all of a sudden, it was really unexpected. I also got into veganism and vegetarianism and I just watched all the cooking shows and I bought all the cookbooks and food magazines and it just naturally became a hobby that I never expected to be my hobby.

Megan:

Isn't that funny? I always think it's so interesting when people land on passions and hobbies that really interested them later, not that you're old, but not in their childhood, but into adulthood. It was just sitting there dormant inside of you, just waiting for you to find it.

Tajda:

It's so strange to think about it, but I think that's what makes it so exciting as well. Cause you never know what the next thing will be as well. There might be a hobby that I have no interest in now. Then maybe in 20 years I'll be Oh yeah, this is my new career.

Megan:

I like that idea! What is just waiting for me to explore it? Maybe I'm a really good piano player or something.

Tajda:

Who knows?

Megan:

Or trumpet or something just off the wall that I would never expect. But I like that. That's really cool. So you are here Tajda to talk about your amazing food photography. I'm always so impressed when food bloggers are able to take just one piece of the puzzle because as you know, there are so many different pieces and turn that one thing into a passion and not just a passion, but also a successful career. You have really connected with that photography piece, which is actually quite a big piece of our food blogging puzzle. You took it to this whole new level. This is so awesome and so inspiring. I would just love to hear how you first found that connection with food photography and how you use that to catapult your career.

Tajda:

The first thing that really got me interested in food photography was a food photography course that I took. It's called Photography School by Bromo Bakery. That really helped me believe that a career in food photography was actually possible. Cause I didn't really know it was a thing before that. It's not one of those things that everyone knows about. I just saw images from other bloggers or people that I followed on Instagram that took that course and I could see how they improved and I just thought it was magical to see how they captured food. I just took a really long time to practice as much as I could and use every spare hour I had to learn from tons of free resources that are out there as well. Just to get to a level where I thought, okay, people would actually be willing to pay for this.

It was really crucial for me to take the time and to invest in my skills. It was just the best decision that I could have made. I think at that point, I wasn't really thinking yet about how I'm going to make money or how I'm going to charge. I was just really focused on the art and craft of photography itself. Getting my skills to that level has really helped me in the long run. I think it also helped me develop that mentality that it's always worth investing in your skills if something's really interesting to you. If that's your hobby, then just go for it. It's always going to be worth it to spend that time to get to a level where you can make something more than just a hobby out of it.

At the beginning, I didn't really think of it as a business yet, but just as a hobby. Then once I got to that level, I think what turned it into more of a business was actually treating it as a business as well. I'm sure a lot of people have said that on the podcast before, because at some point I knew that I had the relevant photography skills to turn this into a business, but I had no idea how to run a business. I knew nothing. What was crucial after I developed the skills was also to have a business advisor because that really helped me get familiar with terms business pad and cash flow and diversifying my income. It also helped me present myself more professionally to potential clients and my business advisor. It was just the best decision as well because I was able to set up my Google business account and that was a big part of my business.

I think it's something that not a lot of people know about. So if I Google food photography, London in Google, basically what you get is a map and then you get like three or four businesses that are recommended to you. Basically that's just completely free if you make a Google My Business account. That's how a lot of people can discover you and you don't even have to have a website. It's really easy and it doesn't take a long time to set up. You just have to fill in your phone number and your services and you can upload some pictures. I've actually had a lot of clients contact me that way.

Megan:

You're kidding.

Tajda:

I never even knew it existed. That was a really easy way to do that as well.

Megan:

Getting that advisor really did help you to find those unique things. I never would've thought of that. Sometimes it's just worth it to spend a little bit of money to tap into the knowledge that people have in specialized areas. Any time you can get advice on business, if you're not a business person, I think a lot of us do that too. A lot of food bloggers get into this as creatives and people who like photography, writing, cooking, baking. We don't necessarily know about the business side and we just have to jump in the water and learn how to swim and just learn it. So I think it was brilliant for you to get an advisor. Where did you find the advisor? Where did you even know how to look for one?

Tajda:

I just moved here to the UK and I was trying to work out how I can become self-employed or how to open a business because I really had no idea. It was just on the website that I found. It was how to blog posts and it's a very local thing. So I met with my business advisor here in Manchester where I live. So I think it just depends on your location a little bit, but I think Google is the way to go and then finding some recommendations as well. That really helped me.

Megan:

That's awesome. Very, very smart. So you got the advice from your advisor and just kind of launched into this passion that you had for photography. I love that you did that by the way, you just knew that it was something beautiful and that people were turning it into this magic and art, and you saw inspiration in that. So you took that as a passion and you decided I'm going to make this a business. That is amazing and so inspiring. What were your next steps after you were getting business advice? What did you do after?

Tajda:

Like I mentioned before, the Google My Business Account, that was a big thing for me, but that's something really small that you can do and it will take like an hour or so. Another thing that I did was I created a business website that was completely separate from my food blog. It featured my previous work, my best images and the different services that I offer. Just the quick About Me section. I feel like blogs, especially food blogs are usually more fun and laid back. Whereas a real photography business website is a little bit more serious. That was really important as well. I just created a really simple website, using one of the templates. That was a really big step. I would really recommend it to anyone that wants to do food photography next to their blog as well.

Another thing that I did that was quite important was getting reviews and testimonials from previous clients. So when I finished a job and if I knew that the client was happy with it, I would just invite them to leave a review on Google or on my website to make sure that I get that good feedback that other clients can see as well. That's really handy to have as well. Another thing that I found to be quite important was, because I had some graphic design experience as well, I made sure that like my rate or any documents or invoices that I'd be sending out would also look professional and part of my brand identity. That's something I, again, didn't really know at the beginning and I didn't know how important it was. That was a big thing. I think just treating it as something serious and not just as a side gig was really important. I think I still have so much to learn because I'm quite new to all of this as well but just always learning, always treating it as a business. That was a big thing.

Megan:

Yes. I think that it's so easy for us to just see it as a little side hustle or something that we do part-time on the side. I don't really need to create a nice logo. It's fine. It'll thrive on its own. But the second we start paying attention to it in that way, where I see you, you are a business, you are real, you are legitimate, then it does seem to really take off. How long did it take you once you recognized these are the things I need to do. You started implementing those things. How long did it take you to start getting more clients and seeing more business come in?

Tajda:

I think I kind of divided into like two different sections because after I completed the food photography course, I think it took me three months or even less to earn that money back and start getting clients. That was mainly because I didn't really pitch any clients at that time. I was just focusing on photography itself. After that, say four months out, I started to really think, okay, who can I contact? What brands would like to have vegan food photography, or just food photography? It took about a couple of months, but then about a year after I also noticed that I didn't really have to pitch brands anymore as much. I would get recommendations from existing clients or they would find me on Google or they would find me somewhere else, like on Instagram or Pinterest.

That was really important to me because I was kind of scared at some point. I feel like everyone in the food blogging world, even if you're not a photographer, you think, Oh my God, am I going to have to like pitch brands forever? I didn't even know if I really liked doing that because I'm not naturally the person that would try to promote themselves. The moment I stopped worrying about it and I just focused on doing other stuff, new emails would just pop in my inbox. I'd realize this is the another job that we could do together. I think so about a year, year and a half after I took the course.

Megan:

That's great. That is really great. I love that moment that you talked about when you realized you're not working as hard as you thought you would need to be. Does that make sense? That time when you don't even know it's happening until you have that moment and realize I didn't have to hustle quite as hard in the last month. Something to celebrate and it's just progress. It shows you that you're making progress. So I love that you mentioned that. So let's talk more about the photography side. I would love it if you talked to us about equipment, because I think it's so easy for food bloggers to get hung up on this part of it. This can even be something that keeps people from getting started. So you can deplete your bank account, getting set up with photo equipment or you can just start where you're at. My thoughts always start with what you have, even if it's just a cell phone. What are your thoughts on this? Then how did it unfold for you?

Tajda:

I couldn't agree more with what you said. I feel like it's such a common misconception that a really great camera will just instantly improve your images. But I think that if you have the right skills, you can use any camera to make stunning food images. I think after I decided I wanted to pursue food photography, I spent a good time just focusing on the skill itself. I would practice to that point that it didn't matter that I had a really cheap entry level camera with the most basic lens. I just had one lens. It didn't matter because I knew other stuff. I knew how to edit the images and how to style the food, about composition. I feel like I practiced to the point where I really outgrew the camera at some point. But I feel like you will know when you get to that point, but just try to make do with what you have.

I would say generally, because photography can be such an expensive hobby and a business. Just think carefully before you buy every single piece of gear that you feel like you need. Also make sure that you make the most of the free resources that are out there. I feel like there's so much much – blogs or YouTube channels. I really love Joni from The Bite Shop. She has a YouTube channel with over a hundred videos on food photography, and you can watch them all for free. They provide such incredible value even to someone like me, that's actually doing this as a job. So I think it's perfect for any newbies or for anyone that wants to improve regardless of their level. It's such such a common mistake.

When friends ask me, people that want to get into food photography or food blogging, the gear will be something that they're really interested in and ask, Oh, what camera do you use? Or what lens? They want to know all the details. But I really feel it can be such a big investment and puts more pressure on yourself if you know you've spent so much money. But then you feel it can be quite a daunting task to have to earn it back. I just had a cheap camera. I think I even got it as a gift from someone. I even worked for brands whilst using that crazy cheap camera because nobody, when you send photos to brands, if they're good, they won't necessarily know what camera you're using. I'm just such a minimalist in that way as well. Just do with what you have and see if you want to improve later. There's so much you can learn.

Megan:

Eventually people get to the point where they have amazing setups and multiple cameras and lenses and lighting. I think that's great if that's right up your alley and if you fall into that, but I don't think that people should feel like they need to start with that because you can really get by. Cameras on phones right now are so ridiculously good and they just keep getting better. I cannot believe some of the photos that our phones take. So if you have a phone and you're listening, just start there. I always said this when I started, I never bought lighting. I tested with lighting a little bit, when I got into food blogging, but the sun is amazing. It's the best light ever and it's free and it's there in the sky. So use that, use what you have. I love your advice just to make the most of each thing that you have until you feel like you're ready for the next step. Then you can launch into it, but don't feel like you need to buy the whole scope of equipment because you really do not. You can see beautiful photos on Instagram and on blogs that are pretty minimalist as far as equipment.

Tajda:

So true.

Megan:

So what do you use for lighting? Do you use natural lighting? Do you use artificial lighting?

Tajda:

At the minute I actually use artificial lighting, but I wouldn't do that if it wasn't for the fact that I live in the UK and in a city where we just have such bad weather. My building where I live in an apartment, it's in the city center and there's loads of buildings around it. I have no view. If I look outside the window right now, I just see a massive brick building and it's really close. So it's really dark in our flats. So at some point I just knew I had to get better equipment because I would work for brands and I couldn't say, oh, sorry, it's really dark in my apartment today. I can't do this for you.

So that's the only reason why. I think it takes quite a long time to learn because I use a flash and a softbox. I just use one flash with a modifier that gives you soft shadows. If it wasn't for that, I would just have used the sun and just natural lights.

Megan:

Yes, it is nice to use that.

Tajda:

It's easier as well and it's cheap. The founder of Photography School and she coaches as well photography and I think she only uses natural lights. That's the only thing she uses. You definitely don't need to jump into that at the beginning.

Megan:

I always think it's interesting to hear what people use, if they're artificial or natural or both. Some people do both too. The only reason I mentioned that I dabbled in artificial lighting years ago the reason I did was because I live in a state that also has long periods of time where it's dark out so much in the winter here in Minnesota. I just got tired of that because I would have to race home. I remember being out with my family and I said we have to get home. I have this picture I have to take. My boys were like, what in the world? We're rushing home for a picture? I was like you don't understand, the sun's going down. I just got to the point where I needed another option. I need to be able to not be crazy about racing the sun. So I do have that as a backup skill. It is good to have that if weather is an issue wherever you may live, but for a lot of people, you don't have that issue. But that's kind of a personal choice.

Tajda:

I definitely remember that as well. I used to have to rebuild my whole room or my whole flat to be able to find that place where I could find good light and that was so much work. Then I had to clean everything up after. So at some point it was just less work to get a flash.

Megan:

So Tajda, you have worked with print magazines as well as local and national brands. You also capture stock photography, which is so cool. I just think that is like such an array of ways to showcase your talents outside of additionally having a blog. Talk us through how other food bloggers can get into exploring similar paths as you, and also touch on other ways we can photography to branch out.

Tajda:

So there are really tons of ways you can earn money with food photography. I have people messaging me on Instagram and they will ask, how are you able to make this your full-time job if you only have five or six or 7,000 followers? Or they will ask, how do you pitch brands, et cetera. I always like to remind people that food photography is a job on its own and exists outside social media and blogging. It's a profession that existed for decades and it's been around longer than social media. So to get back to your question, where do you start? You know, how do you make money with food photography? Obviously one of the main ways is you can create images for restaurants.

That means that you go to a restaurant and you shoot their full menu or some new dishes that they just brought out. You also can have monthly photo shoots with them where you create fresh content for their social media. That's really good to have that steady income that you can count on as well. So restaurants are one thing. Then another way is by creating photography for brands that are in restaurants, you can work with food brands, but you can also work with companies that aren't necessarily related to food only. For example, I worked with Panasonic. You wouldn't think they're a food brand because they're not just a food brand, but at some point they needed food photography and I was able to provide that because I specialize in it.

There are so many brands. I also think what helped me the most was finding my niche. I know that everyone says that in food blogging because I was into veganism. I guess it's more of a lifestyle thing as well. Then brands that are fully vegan will also be happy to work with a photographer that specializes in vegan food and vegan food photography. Finding that little thing that you're really good at it doesn't have to be something related to your diet. It can be like baking. As you mentioned, another way is also by selling stock images.

Basically it's a photo site where you can upload your own images for sale and you don't necessarily have to take images specifically to sell them on stock websites. If I take lots of photos for a dish that I'm shooting for my blog or a recipe, I can also use those photos and just upload them to a stock site as well. Then it's a way of earning some passive income. It's not anything huge but you can supplement your main income or just have a little extra. I use the Picture Pantry. I really recommend them because they specialize in food. So if you're a food blogger and photographer, they're really great because they focus more on quality rather than quantity. I feel like a lot of stock websites out there that people know say like Getty images or they have such a massive volume of photos out there and it's so hard to even have your photos seen by anyone because they're so huge.

Let's just focus on what I'm good at and stick to that. The picture pantry was a great way for that. Another way to earn money by doing photography is by sharing that knowledge that you have with others. I feel like that's something that I learned during the course as well. You can put together an online course, you can make an ebook, you can do coaching or one-on-one mentoring, or you can do a podcast about food photography. If that's something that you're interested in, it's also another really fun way of making money with food photography and getting to know people that care about it as well.

Then the fifth way would be by creating recipes. I think a lot of people that listen to this podcast will obviously be food bloggers, so they will know how to create really great recipes. If you're able to capture them in a really nice way, you'll provide really great value to brands because you can develop a recipe, but you can also give them great images. They all need that for little books that they bring out or for their website. A lot of them have a blog section where they sort of share recipes that use their ingredients. For example, a brand that sells flour or chocolate, so that's another great way. I found that to be the most profitable part of my business, because it joins those two skills, recipe development and food photography. It's quite in demand as well right now with social media. I think those are just a few ways. I'm sure there must be like several others as well.

Megan:

That's a lot, you gave us a lot of food for thought there.

Tajda:

It's such a versatile job. Those are the things that I've done.

Megan:

Those are great. So some of these I had never considered. We all have those times when we're at a restaurant and we see a menu that's just terrible. What are these photos doing here? So how do you go about pitching to a restaurant, whether it's for a menu or for social media, do you have a method for that?

Tajda:

I think it doesn't differ super much from when I'm pitching other brands, but obviously you will go really local and that can be a big plus as well. Maybe it's a restaurant that you really like going to. Oh, this is my favorite place and I really like this and that dish. Just send them an email or just ring them or go in and talk to one of the staff and see what the best contact would be. You can also reach them via social media, Instagram or Facebook. Just see wherever they're active and kind of try to get a good contact person. Then from then on, you can either meet in person or a lot of it will just be done via email, especially these days.

It's kind of like pitching other brands as well, but then finding restaurants in your area or finding cafes or bakeries.

Megan:

There are a lot of options.

Tajda:

I didn't really realize that before I did it, but it really helps you develop as a food photographer because I remember the first time I did photography in a cafe and I'd already been doing photography, in my home studio before and I thought it was going really well. Then I did my first shoot in a cafe and I realized it was so difficult and it really forces you to learn on the spot and to deliver photos, even if you're not having your best day, because there's no option to just say I'll do this another day.

I think it just forces you to learn so much more than you would if you just did it at home. So if you have a chance to do it, you can also offer to do it for free if you're just starting out. A lot of people that start out, will just do it in an exchange for a meal. I wouldn't normally recommend it. If you're actually just really starting out and you need to have a portfolio that you will show to other potential clients, because you need to have some kind of proof that you can do that. That's a fun way to get started as well.

Megan:

There is something about creating photos or really any piece of content for other people that really forces you to buckle down and learn because when we're creating content for ourselves, it's so easy to make excuses. I can do this tomorrow, or I don't really need to learn a new angle. I remember when I made my cookbook and I know I have to up my game a little bit, because I don't want to reshoot these photos. They're going to be really picky. So I just turned it up a few notches and I can tell, if you go back to my blog, pre cookbook, it's totally different. My photography was way worse back then, but having to create photos, other people were judging and critiquing, I just turned it up so much.

Then after I was so much better for my own blog and my own content. There is definitely something to that. Having somebody else's standards in your head, you just know that you have to perform a little bit better. So if for nothing else, if you are just starting out and you mentioned maybe doing a menu for free or doing a few photos for free, I think there's nothing wrong with that. As long as you go in with the knowledge that you're just going to be learning from it and growing yourself as a photographer.

Tajda:

That's so true. We all have to start somewhere. Having someone else's standards or not wanting to let anyone down when you make pictures for a cafe, it just forces you to step up your game.

Megan:

It does. I want to ask you a question about the non restaurant brands. You mentioned creating food photos for brands that weren't necessarily related to food, but they were food photos. How did you discover that? Or how did you know they needed food photos?

Tajda:

So I found them on Instagram. Some brands, if they're really big, like Panasonic, are quite big. They have a separate Instagram profile for just their food part of the business. I think it's called Panasonic kitchen or something. Because they sell bread makers and microwaves and they need recipes for their website that the people can see this is all stuff that you can make in our amazing bread maker. That's how I found them, just on Instagram. Just trying it out and just see a lot of the times, especially at the beginning, you'll realize, Oh, they don't actually need anyone, but then, it can take some time to sort of find that brand that does need it.

It can be hit or miss. Instagram is such a great place to start. I found so many clients there and other people found me there while I was just posting my recipes from my blog and they found me. So I didn't really have to go out of my way to pitch anyone. Facebook and Instagram also because they're not super formal. You can kind of message a brand, a direct message on Instagram and they'll be able to reply and it's more casual than sending out an actual email. They'll be able to point you to the right person in their team. Instagram is really great. Also looking at what other food bloggers are doing or what other food photographers are doing, who they're working with.

Obviously not pitching that plan, but getting an idea of something you could do. For example, I worked with a brand that wasn't a food brand, it was a skincare brand, but they were fully vegan and they cared about sustainability and recyclable packaging and everything. So it kind of fit into the brand that I have, but it wasn't food. I think food and product photography are really, really similar and they're kind of almost the same thing because some of the food is our products as well. That's another way that you can make money with food is to do product photography, like skincare or jewelry.

Megan:

That kind of goes in with your comment about just knowing what your niche is and how that can relate to getting work as a photographer, really. If you're interested in vegan food, then you are interested in other products as well that follow those same guidelines. So that's something that I don't think I would have thought about, branching out into other areas outside of food, but that also does relate to my niche. That's really smart. That's a good way to look at it.

Tajda:

It just sort of happened naturally. Now that I know that it exists, I can use that going forward.

Megan:

That's a great thought. I wanted to ask you one more thing about your lists. So stock images, I've considered that over the years, I've never jumped into it. Getty images or some of those other bigger companies, they're so massive that I just feel intimidated. Would my stuff even be seen? But it's great to find that gem, like the Picture Pantry that you mentioned Tajda. How do you like to divide your photos? Do you upload photos that are already on your blog or do you just take a few photos that you didn't use on your blog from the same photo shoot and do that? Or how does that work?

Tajda:

Yeah, so basically I can use any photos that are already published on my blog and I can also use outtakes because when you're shooting a cake or a brownie, you'll have quite a few different angles, but you won't necessarily use all of them in your blog posts. So I just use all of them. I use the ones that are put on my blog. I use the ones that are really similar, but maybe slightly different compositions. I just upload them all. Basically, it's just the more that you can have the better, because it is still hard to exactly what you said, to be found if you're new to it. The more content that you put out there, the better it is. The good thing is that you can use what you already have.

So if you've already shot for the blog, you've probably edited those photos in a way, and then you can put the same sort of filter with the other images as well in that bunch. Then you just upload all of them to the picture, to the sort of stock image websites. What I found that works best is images of the final dish or stuff that's more styled and really neat. Whereas I tried with general sort of images like ingredients or like just a bunch of vegetables out there because I thought that would maybe work, but I feel like it's not as profitable.

Megan:

But you can kind of test with that and see what works.

Tajda:

So true. It might depend on your style of photography as well.

Megan:

That's a great thought just for somebody looking for a little bit extra revenue from a totally different source. That's something that I don't think most of us typically think to do. So you've given us a lot to think about; restaurants, non restaurant brands, even branching out into non-food products that use food in their photos. Finding your niche, just really keeping that in mind when you're looking for work. Stock images and then also other products. That is amazing. Thank you for listing all of those Tajda. I think that'll be really helpful.

Tajda:

I'm glad I hope it's helpful.

Megan:

Before we start wrapping up, I just want to hear your top tips. There are people listening who want to launch into photography in a new way outside of their blogs. So what are your best tips for them for doing this?

Tajda:

I have a few like really specific tips. I would say, make sure you focus on practicing a lot and not putting too much pressure on yourself when you start. Make sure that you not only practice, but also analyze your images. For me, that was the single most important thing. What I used to do was I would take my own image and then I would compare it to an image of another food photographer that was really great and that I looked up to. So I took those two images of perhaps a similar dish, but not necessarily. I placed them next to each other in a word document. I just sort of really try to play that "spot that difference" game and see what was it that made someone else's images so unique and so striking and what was it that my images were missing.

I would just be really analytical, write down the list. How can I achieve that? Was it the colors? Was it the editing? Was it the way that they're placing the props that makes their image so nice? Was it the backgrounds or the styling of the food itself. The ability to really reflect on your work and be quite analytical is crucial to your success as a food photographer and taking that time to improve. It's not going to happen overnight, but I feel like you can speed it up a little if you do it in a really clever way. Reflect, this is what my images are missing. Another tip I think is to surround yourself with great food images.

One of the things I did was also on Instagram was to follow people that had really amazing food pictures, because that really inspired me and it made me think of new compositions or new props that I never would have thought to use before. It instantly improved the level of my food photography when I was looking up to people that were doing this on a really professional level. Just practice, be analytical, explore your work, get inspired by other people. I know quite a few people that have great food blogs, but then they will have a lot of resources on food photography as well, little tips or just some blog posts. There's so much stuff out there and a lot of free content that you can learn from. I hope that helps.

Megan:

It does. Practice, analyze. I like the line that you said, play the "spot the difference" game and just put two images side by side and see what that element is that's really speaking to you. I think that's really smart if people take the time to do that, it's just a matter of doing that. Because we all scroll on Instagram and we see photos that we think that looks so amazing. You kind of stop scrolling and look at it again and you look at it for like five seconds and then just taking the time to figure out what it is about that image and then maybe adding it to your own photography or replicating it in some way. That is amazing advice. Also surround yourself with great images and photographers. It kind of goes along the lines of just being around good people. If you want to be a better person, you surround yourself with good people. So if you want to be a better photographer than put good images in your life. So that's great. Thank you Tajda for sharing all that. Is there anything you feel like we need to touch on before we say goodbye?

Tajda:

I would just maybe stress the importance of food photography in food blogging. I know how long it can take to grow your sessions and to grow the number of users, to grow your social media. If you want to make some money with it and do sponsored posts, I think having a really great level of photography will make it easier for you to be able to charge more for it. It's just so important. It can make all the difference in the world. I know we say that a lot, but we live in such a visual world and especially when it comes to food, one of the things that matters the most is how good it looks. If you have really great photography skills, then brands will be able to work with you even if you don't have a huge following, because they will see the value that you provide in the photos, not just in the exposure that you give them. It's really such a versatile job.

Megan:

I always say this too. It's such an important piece of it because that's the first thing people see if you're on Pinterest, the photo is really what is going to capture people and pull them over in pretty much any platform. So photography is so important.

Tajda:

Yeah. I just bought a Pinterest course and I'm so excited to finally delve into that and they say the images themselves are really important as well, apart from obvious descriptions.

Megan:

Thank you Tajda again so much for everything that you've imparted today. I know that this is going to be well-received, so thanks for taking the time out for it. Thank you so much. It's been great to have you here. So before you go, do you have any additional favorite quotes or words of inspiration to share with food bloggers?

Tajda:

I just really like this quote: Never let the things you want distract you from the things that you have. I know it's not necessarily related to food blogging, but I think it just really resonates with me. I think it'll resonate with other food bloggers out there because we often talk about growth and the next big step that we need to take in our purveyors or the next course, or the next big client that we'll pitch. We don't actually take the time to acknowledge where we are at the moment and see how far we came. I think it's just really crucial to do that. I think it's such a positive quote and it's so relevant in many other aspects of life as well. It's a great alternative to this mentality of having to constantly hustle and look into the future, but just focus on the moment, just cherish where you are at the moment. I really like that quote.

Megan:

Oh, that's amazing. I love that. Such a great way to end. Thank you for that. Why don't you share with my listeners where they can find online?

Tajda:

Oh sure. They can find me on my blog called myveganminimalist.com. I think that there'll be a link in the show description. I share a lot of resources about photography there as well. I'm actually putting the finishing touches to my quick start guide to food photography as well, which is a completely free email course. So by the time this is out, you'll be able to sign up, just on my homepage. You're also able to find me on Facebook and on Instagram and on Pinterest under the username, My Vegan Minimalist. It's the same.

Megan:

Perfect. We will put together a show notes for you, Tajda and people can find those at eatblogtalk.com/myveganminimalist. So the same name there as well. Thank you again for being here and thank you for listening today, Food bloggers. I will see you next time.

Intro:

We're glad you could join us on this episode of Eat Blog Talk. For more resources based on today's discussion, as well as show notes and an opportunity to be on a future episode of the show, be sure to head to eatblogtalk.com. If you feel that hunger for information, we'll be here to feed you on Eat Blog Talk.
---
💥 Join the EBT community, where you will gain confidence and clarity as a food blogger so you don't feel so overwhelmed by ALL THE THINGS!
📩 Sign up for FLODESK, the email service provider with intuitive, gorgeous templates and a FLAT MONTHLY RATE (no more rate increases when you acquire subscribers!).
Read this post about why I switched from Convertkit to Flodesk!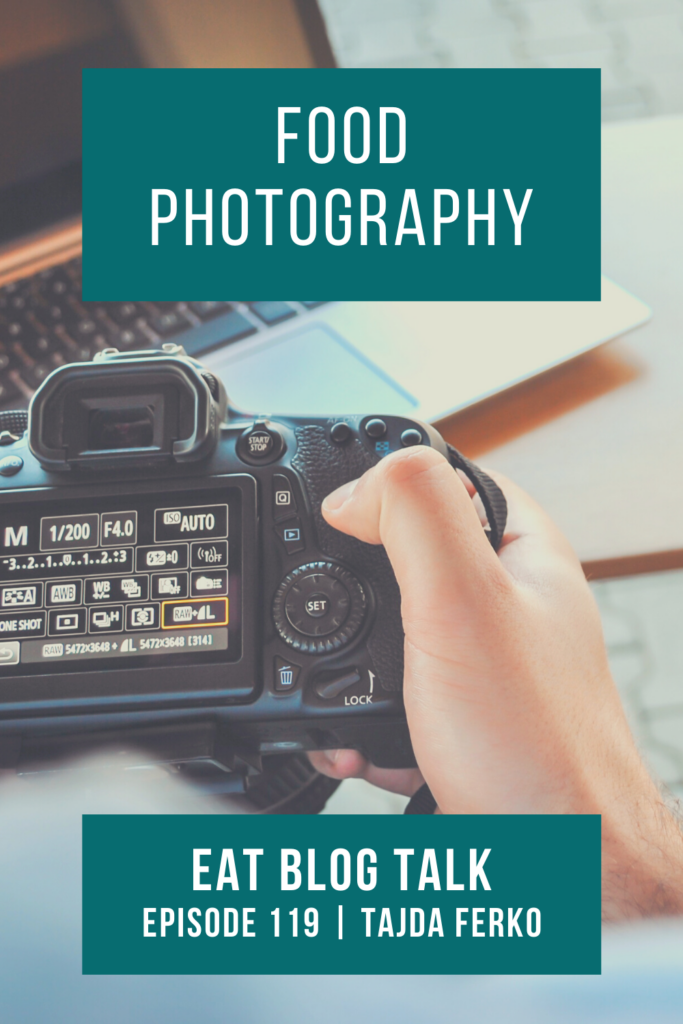 Questions or comments on this episode?
Head over to the Eat Blog Talk forum post about episode #119 to leave any questions or comments. We'd love to hear from you!