In episode 137 we talk with Emily Perron, hiring strategist, who shares how you can find the right person for the right work.
We cover information about just how important freelancers are to the U.S., potential threats that could impact freelancers negatively, how to navigate freelance life, and what we can do to make a difference!
Listen on the player below or on iTunes, TuneIn, Stitcher, or your favorite podcast player. Or scroll down to read a full transcript.

Write Blog Posts that Rank on Google's 1st Page
RankIQ is an AI-powered SEO tool built just for bloggers. It tells you what to put inside your post and title, so you can write perfectly optimized content in half the time. RankIQ contains a hand-picked library with the lowest competition, high traffic keywords for every niche.
Guest Details
Connect with Emily Perron
Website | Instagram | Facebook
Bio
Emily Perron helps bloggers expand and improve their teams with people who care about them and their businesses. She has developed a strategic hiring process that's allowed her to find dozens of knock-out contractors on behalf of her clients, as well as within her own business, and is passionate about aligning the right person with the right role. Emily has a Master's Degree in Industrial and Organizational Psychology and Bachelor's Degrees in Psychology and English. Emily really understands people, and her zone of genius is connecting on a fundamental level to understand their values and empower them to reach for interesting and ambitious opportunities.
Takeaways
Positives about platforms for freelancers – They are a captive audience of freelancers looking for opportunities. It can also be overwhelming and expensive.
Emily has discovered you can find good freelancers anywhere, but it's about HOW you find them. Not WHERE.
Write out your responses, and sketch who this person is so you can imagine them before you start seeking them out. You need to stand out from the noise. Your detail can attract or repel freelancers.
Emily likes Upwork for writers and project managers. For VA's, because it's a broad job and less defined, Emily likes to put the position on Facebook in the VA page and in LinkedIn as well as your own social platforms.
Emily has a job posting template to use (5 sections). This is an important place to include questions for the freelancer to answer about themselves and sprinkle in some food questions for them to answer.
Review each candidate and collect their work sample. Then you can go to interviews to make your final decision.
Once the applications come in, select 10 people from their work samples and then break it down and select 3-5 for interviews and you can do that on the phone (or Skype).
Bloggers tend to be generalists and are good at a lot of things. However, freelancers tend to be specialists and are specific to a task. Don't put too much on one person/position.
You're competing for the freelancing talent so set yourself apart by knowing what you want and share about who you are as a business and employer.
Hiring can seem messy for an entrepreneur. But if you don't hire all the time, it's great to have a system and a process to use.
Resources Mentioned
Emily created a Mini-Course to check out – 5 Things No One Tells You About Hiring Freelancers
Goal Digger Podcast Facebook group:
Abagail and Emylee's Facebook group
Article: Do you really need a virtual assistant?
International Virtual Assistant Association Job Board
Need More Entrepreneurial Guidance?
Episode 110, Megan shares 40 of the best books about business to add to your reading list!
---
💥 Join the EBT community, where you will gain confidence and clarity as a food blogger so you don't feel so overwhelmed by ALL THE THINGS!
📩 Sign up for FLODESK, the email service provider with intuitive, gorgeous templates and a FLAT MONTHLY RATE (no more rate increases when you acquire subscribers!).
Read this post about why I switched from Convertkit to Flodesk!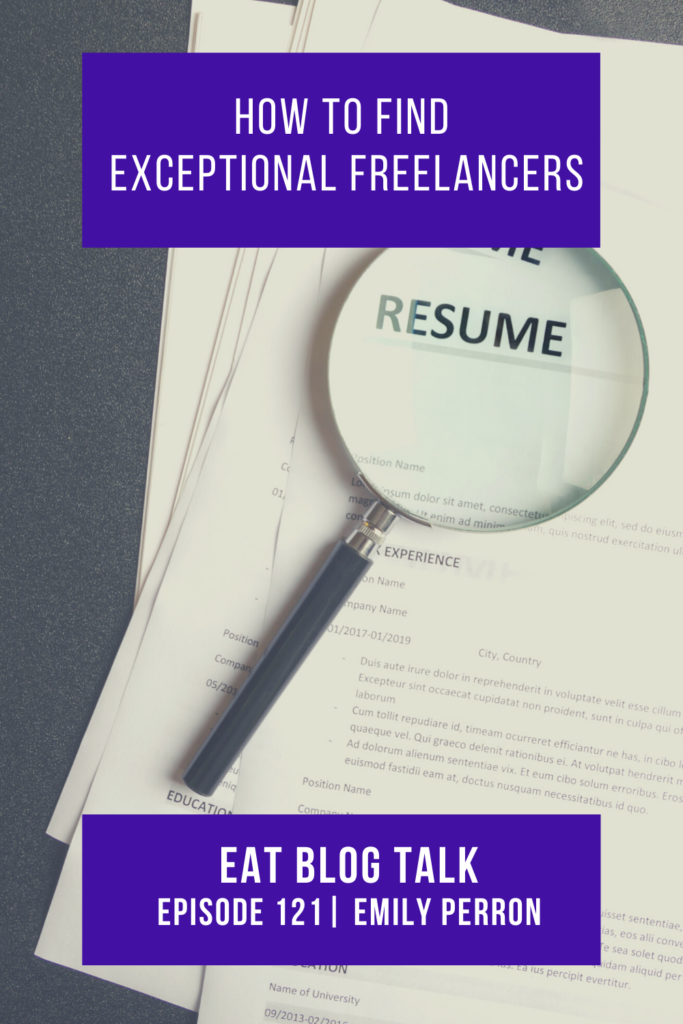 Questions or comments on this episode?
Head over to the Eat Blog Talk forum post about episode #121 to leave any questions or comments. We'd love to hear from you!