In episode 221, we talk with co-founder of Capsule Podcast, Betsy Wallace, about how bloggers can receive help to grow their brand with a professional podcast and can promote a cookbook, meal plan or product.
We cover information about how this can help you connect with your audience in a fresh way, how a small set of podcast episodes won't overwhelm you but will help create a deeper connection and how to make sure this supports your whole brand!
Listen on the player below or on iTunes, TuneIn, Stitcher, or your favorite podcast player. Or scroll down to read a full transcript.

Write Blog Posts that Rank on Google's 1st Page
RankIQ is an AI-powered SEO tool built just for bloggers. It tells you what to put inside your post and title, so you can write perfectly optimized content in half the time. RankIQ contains a hand-picked library with the lowest competition, high traffic keywords for every niche.
Guest Details
Connect with Capsule Podcast
Website | Instagram
Bio Betsy is the co-host and producer of the Dinner Sisters Podcast, which has been downloaded 250k+ times, and has 13K downloads/month. She recently launched Capsule Podcast, which helps brands create a Capsule Podcast to build their brand without the overwhelm and commitment of a weekly show. Capsule Podcasts are a great way to promote a cookbook, launch a meal plan service, use as a lead magnet to grow your list or provide special bonus content to your community.
Takeaways
You do not need to be an audio engineer. You can absolutely do this yourself just by learning a few basic skills.
A pop-up podcast is what we're calling a capsule podcast.
Using a capsule podcast can really help deepen trust with your audience because they can hear your voice.
Offering a capsule podcast will differentiate you from everyone else out there doing the same thing because people can experience your brand in a multi-layered way.
When you have your blog and you have video and you have a smaller podcast in there, it deepens and layers your brand, which helps you stand out from the crowd.
If you plan for up to six episodes as a mini series, as the capsule that supports something you're already doing, you take failure off the table.
There's so many different ways to integrate your podcast into your marketing and into your brand, that it just becomes part of the whole, rather than an extra side project.
If you're nervous to be a guest on a podcast, think about it as having a conversation with someone who you enjoy talking with, and you'll realize that the conversation flows easier than you would think.
Resources Mentioned
Buzzsprout – podcast hosting made easy
Transcript
Click for full text.

Intro:

Welcome to Eat Blog Talk, where food bloggers come to get their fill of the latest tips, tricks, and insights into the world of food blogging. If you feel that hunger for information, we'll provide you with the tools you need to add value to your blog. And we'll also ensure you're taking care of yourself, because food blogging is a demanding job. Now, please welcome your host, Megan Porta.

Megan Porta:

Hey, awesome food bloggers. Do you struggle with knowing exactly what you should be doing to move the needle forward in your business? Do you struggle with knowing what to focus on next? If so, if this sounds like you, I have two solutions for you. Number one is mastermind groups. There is so much power in getting people together and helping to solve each other's problems. At Eat Blog Talk, we have put together our own mastermind groups and we are hosting these weekly. You can join at any time. You can try it out for a month or you can sign up for a quarter or you can go all in and sign up for an entire year. Come join us. See if it's a great fit for you, and this will really help you to solve those problems you're having in your business and give you clarity about what you should be doing next to move your business forward.

The next solution is the Eat Blog Talk membership. I have spent all of 2021 so far putting so much value inside of the membership. It is such a supportive and wonderful place to be for food bloggers. We are learning so much from each other. We are joining together in monthly intensive calls, where we focus on very specific parts of food blogging in order to grow our businesses in massive ways. We also have guest experts come in and join us very regularly to talk about really specific parts of food blogging. We get one-on-one access to these experts, such as Matt Molen from email crush, Casey Markee from Media Wyse. So many great people are joining us in these sessions and they are super valuable. There are so many reasons why you should be in the membership. I could not even start touching on all of it. If you're tired of wandering around aimlessly in your business and not knowing what to focus on, give the membership a try for free for two weeks. Go to eatblogtalk.com. You can sign up for the masterminds there, and you can also start the process of getting into the membership for two weeks, just to check it out. The rest of us can't wait to see you inside.

What's up, food bloggers. Welcome to another episode of Eat Blog Talk. Thank you so much for being here with us today. I have Betsy Wallace with me. She is from Capsule Podcast and also The Dinner Sisters podcast. Today we're going to talk about how to create a capsule podcast to build your brand. Betsy is the co-host and producer of The Dinner Sisters podcast, which has been downloaded 250,000 times and has 13,000 downloads per month. She recently launched Capsule Podcast, which helps brands create a capsule podcast to build their brand without the overwhelm and commitment of a weekly show. Capsule podcasts are a great way to promote a cookbook, launch a meal plan service, use it as a lead magnet to grow your list or provide special bonus content to your community. I'm very excited to talk about this with you Betsy, but first we all want to hear your fun fact.

Betsy Wallace:

So my fun fact is that I actually won an all expenses paid trip to Italy through Airbnb through their 100 best home cooks contest, mostly because of my podcast. In my podcast, I'm kind of the bad cook out of the two of us. But in my application, I talked about how cooking through these 400 recipes from scratch turned me into a good cook. Thanks in part to this community of food bloggers and all these recipes we did. So it was super exciting. Then it got canceled because of Covid.

Megan:

Oh no, I was so excited to hear how awesome it was!

Betsy:

They announced it in March of 2020, and they had a big thing. Then they had to kind of take it all apart and they would generously give us a stipend and some Airbnb vouchers and make everyone feel great about it, but it was this huge, exciting thing that had a COVID ending for me last year.

Megan:

Oh, I am so sorry, but how cool that you were selected? I mean, that is a huge accomplishment, right? So I guess you just have to roll with it, as we all have had to with COVID. We all have that, but COVID story.

Betsy:

It is my favorite, But Covid, story. It's one of those things where you are just like, I can't, what? I can't believe this is actually happening and then it just happened in the wrong year, right?

Megan:

Oh my goodness. Well, I just believe for you Betsy, that in a different year, sometime soon, something even more magical and awesome is going to fall into your lap because that is a big thing to let go of, but very cool. That's so cool.

Betsy:

It's a fun fact and it's a fun story.

Megan:

Absolutely. Love it. And it kind of ties into our chat because that is what you do on your podcast. So I want to hear just before we dive into creating capsule podcasts, I would love it if you shared about your Dinner Sisters podcast, because we were talking a little bit about this before. I think it's so awesome and intriguing. Can you just tell us what you and your sister do on this podcast? I think you said you've made 400 recipes, is that right?

Betsy:

We have. So my sister and I co-host The Dinner Sisters podcast, which is a weekly show. We cook and review three recipes each week from popular food blogs and websites. So we probably have cooked from a lot of your listeners' blogs, and we're so grateful for all the recipes out there. All the fantastic recipes out there on the internet these days. So my sister is single and cooks for herself and I am married, have three kids who are seven, nine and 11. We talk about dinner a lot. We had said, you know, it's kind of hard to kind of parse through all these options on the web. There's some really, really fantastic recipes out there and undiscovered gems. Then there's just recipes that really don't work. A lot of times people think they're a bad cook because they're using bad recipes, right? So what if the two of us would make the same three recipes every week and then talk about how it went and our listeners can get some inspiration and find some new recipes and find some new blogs that they really like and can follow. So we started in 2018 and this year we have come up, I think we're just nearing almost 300 episodes and we cook three new recipes a week. I think we're at about 260.

Megan:

Wow, that's awesome.

Betsy:

With some special episodes in there too. It's been amazing. I was not a good cook at the beginning of this, which was kind of the early episodes. I was really burning a lot of stuff. I made a salt baked fish and I accidentally cooked it with the guts in there.

Megan:

Oh my goodness.

Betsy:

I have had just a lot of experiences and adventures through cooking, cooking for these past three years and have come out the other end with a huge appreciation for a lot of really talented food bloggers and this great community of friends that we have on the internet now and the Facebook group who are all cooking together and discovering these blogs together and discovering these fantastic recipes. We're all much better cooks because of it. So it's been really fun.

Megan:

How do you select your recipes? Do you let the bloggers know that you're doing this or do you just kind of blindly do it?

Betsy:

So we blindly do it. We had at first, when we were more ambitious and just honestly had more time, and COVID this kind of fell off. But we would let people know Hey, we've got a recipe up this week. My sister really, really loves food blogs. I really did not like to cook. It was kind of a chore for me every week before we started doing this. So I would call and be like, oh, I don't even know what to make for dinner tonight. She would say, you know, oh, I saw these really fun recipes. You should try one of these. That's kind of how this started. Maybe we should just have Kate pick the recipes. I'll cook along and other people might like this too. Because I think there's a lot of people who don't love to go peruse around the internet and look for recipes for dinner.

I mean, I know there are people who really love doing that, but there are also people who don't. But want to make sure they have good recipes, solid recipes that they're using to make dinner. So she will plan out our seasons six weeks ahead of time. We've got a little Google spreadsheet and then she puts all the ingredients into a shopping list for us that's also available on the show notes. So I just grab the shopping list, grab the recipe, click the links for the recipes. She does all the planning, which I'm hugely grateful for. I feel like I bring the real world cooking experience in the stories.

Megan:

That's funny.

Betsy:

Yeah. So if we happen to have a recipe that just doesn't work for both of us, we're trying a new blog or something just doesn't work. We don't air it. We picked another recipe. So generally we always pick three recipes that really work for us because we don't want to be dragging people on the podcast for something that didn't for whatever reason didn't work. So that's just not useful and not really fair. So we want to provide three really great recipes. Then we talk about things Kay cooks for herself. So did she freeze half of it? Was she able to halve the recipe? What did she do with the leftovers or did I have to double it? Did I feel like this four to six servings actually was good for my family or did I actually have a huge amount of leftovers because it made a ton of pasta. So things like that are what we talk about.

Megan:

So you're consolidators. You take all of this information from two completely different perspectives. So a single person who has a lot of drive and experience in the kitchen and you, who is a busy mom and you're just learning now you've learned a lot after 400 recipes, but so different levels and you're consolidating all of this information and delivering it to people from all of these different food blogs. So I love that, Betsy! This is so cool. I did not think I ever would have thought of this, but such a cool idea, which is just proof that we don't have to fall into categories. We don't have to do an interview podcast. We don't have to do the podcasts that people normally do. You guys have found this really unique way to deliver information about recipes, which I absolutely love. So let's talk about capsule podcasts, because that's why you're here. As we've been talking, it's just more proof that podcasts are so trendy. I don't think they're going anywhere. I feel like a few years ago people were kind of questioning, are they going stick around or podcasts going anywhere? But they've just exploded in the past few years as you know. What are your thoughts on that? Do you think that they're going to keep getting more and more popular?

Betsy:

I do. So I think when you are in the podcasting community, a lot of the talk is people coming from the radio. So they're talking about podcasting and this will be really similar to your bloggers, right? From print media moved online and you had people starting blogs initially, and people on the front end of this thinking, what could this mean for recipes? How is the Taste Of Home magazine that we all subscribed to, our parents or whoever in the 60's, seventies, eighties, nineties, that's moving online. What does that look like online? So that is kind of in the podcast industry, a lot of the talk is from people who were in radio. There's people who are like us, who were never in radio, but we're taking this medium and using it in a way that we just thought was cool. Or modeled on possibly a radio talk show or something like that. In that sense, podcasts are not necessarily new and trendy. It's more of like a movement of a medium from that kind of traditional radio into a more decentralized and open podcasting space.

Megan:

I love the word movement to describe that. I think that's so true. It doesn't have to be someone who has a history with radio, like you said. It can be anyone. I have zero experience interviewing and podcasting. I had no experience going into this literally. In fact I was probably really horrible, but I did it anyway. It worked. It's been amazing. So anyone can do this. I just wanted to say that because people can get hung up and think, well, I couldn't start a podcast because I don't know how to interview or I don't have the technical background or knowledge. That is garbage. Anyone can do this.

Betsy:

I think it's so true. If you think back to the start of blogging, I'm not a journalist. I'm not a magazine article writer. I don't have this professional background. In the end, as we've seen this evolve, those skills were probably useful if you had that professional experience and you wanted to move it over, but it also opened up so many opportunities for new points of view and new ways to do things. That professional experience was not a barrier of entry and did not predict success in the way we saw it in blogging, right? Authentic new voices that were able to come on to a new medium that people really wanted to hear from, were what exploded things. I mean, that's what people were looking for.

That's kind of what we're seeing in podcasting too. You have people that came over from radio or people who are coming from highly produced celebrity podcasts and that kind of stuff. Which is always going to happen. But then you have this entry of all of the rest of us.W hat do we have to say? I think there's technology, as you know, right now that really allows you to do this in a way that wasn't accessible, even maybe three to five years ago. You do not need to be an audio engineer. You can absolutely do this yourself just by learning a few basic skills.

Megan:

I mean, you need very few skills. I literally have a microphone that plugs into my computer and that's it. That is literally it. Most food bloggers have some experience with editing video. If you can do that, audio is far easier. It's such a piece of cake. There's such minimal requirements as far as getting started. So, if it's on your mind to start a podcast, I say this to my audience all the time, do it. Food being your main thing should not be a reason for you not to, because there are so many ways to talk about food. You and your sister have found this amazing, super creative way to talk about food. So there's gotta be a million other ways that you can do it. Podcasts will explode your business. They will explode your brand. I have seen that firsthand. They are great. I want to hear more about The Capsule Podcast. Would you mind talking through that Betsy? What is it and how will it benefit food bloggers?

Betsy:

So I'll talk about the capsule podcast as a concept that anyone can kind of do. Then we have, I'll talk about just a, an example of what I am producing for a food brand right now. So that might be useful to people thinking about how it works. So Kate and I, that's my sister and I, as we're doing The Dinner Sisters, we're watching this space evolve, and we're watching what companies are doing because we love different innovative thinking and podcasting. One of the things I saw coming up again and again, is the idea of these pop-up or shorter, small podcasts, especially for brands and businesses. So when you look across, there are a ton of people doing interview shows, which is great. But then we saw Reebok started a three episode series when they released a new sneaker.

I was like, oh, that's kind of interesting. Then you had consulting companies that did a 6 episode pop-up for Brexit. We saw that happen and we would see these big, large companies doing pop-up podcasts around specific launches or releases. Then it started to kind of trickle down and I would see smaller brands that were doing pop-up podcasts or what we're calling a capsule podcast, around a service or a launch, or even as a lead magnet and their brand. It really helps people deepen trust with your audience because they can hear your voice. If you're listening to this podcast, I feel like you have bought into the idea that a podcast establishes trust in a way that almost nothing else does right now and holds people's attention. Then it kind of differentiates you, right?

So it'll differentiate you from everyone else out there doing the same thing because people can experience your brand in a multi-layered way. So if you have your blog and you have some video and you have a smaller podcast in there, it deepens and layers your brand, which helps you stand out from the crowd. So the thing I like about capsule podcasts specifically, is that it sets you up to be successful when you are experimenting with a new concept. So jumping right into, going from zero to producing a show every week, will work for some people and does work. But there are a lot of people who pod fade, which is you try it for 10 or 12 episodes and it gets exhausting. You're like, oh my God, I don't even know why I'm doing this anymore.

How is this benefiting anyone? This is taking so much work and it just kind of sits out there. Right? And so if you do, if you plan for up to six episodes as a mini series, as the capsule that supports something you're already doing, you take that failure off the table. You don't feel like a failure because you're only planning to do four to six episodes and you have something that supports an existing part of your brand or supports a launch and gives you a taste of podcasting in a way that sets you up to be really successful with that first experiment. Then of course, if you want to, you can add a second season or something like that. But the capsule podcast itself is a standalone mini series, which allows you to experiment and kind of sets you up for success. So that's the basic concept.

Megan:

So it basically supports this concept of starting small and not buying into the overwhelm. So you don't have to start a podcast and go on endlessly forever. You can do a little bite-size chunks, which is much more feasible. I think for a lot of us who are food bloggers to do. That's the purpose of it like that bite sized project. Yeah.

Betsy:

To match it with something that you're already doing, too. So if you're launching or looking to diversify your revenue, because I feel like all of us are trying to do this in one way or another, and you have a service or you have a digital product, or you have something like that, make those six episodes to support that product. Then when you have your emails about that, when you've embedded them into your blog posts, you can use that specific podcast episode to support that. Hey, I've got this meal planning service or digital product. Here's an episode on how to use it. Here's an episode on my philosophy for putting it together.

If it's a special diet meal plan, you can do an episode on that. That can be linked up over and over again. Then people email you to ask questions about it, you have a podcast episode ready to send to them to say, if you want more information, here's a podcast episode that I did about this too. So you want to make those six episodes super useful in a way that doesn't just sort of float above your brand, but is integrated and embedded into the work that you're already doing.

Megan:

That is such a cool idea. I'd love this because you said this earlier, a podcast builds trust more than any other platform. I believe because people are actually hearing you, they're hearing your voice, they're hearing your stories, they're getting to know you and like you hopefully. So it's just a really unique way to deliver information as opposed to writing an email. Words are great, but they're so different when they're spoken. Don't you agree? Reading an email and hearing the person who wrote it speak the email that they're reading, is a completely different situation.

Betsy:

I agree. We know that people who listen to podcasts, which is just broadly speaking a millennial, a more educated and a higher income level, love to listen to podcasts. They love this format. So if your audience, if that's the kind of people that you are speaking to already, it's just an opportunity also to meet them where they're at. People learning new things and getting new information via a podcast is just a really intimate way to connect with people at scale and also meet a lot of people where they're at and where they want to learn.

Megan:

Yes. I love that. They're already there, so meet them there. I just don't want it to seem overwhelming to people. So just focusing on that; you can create really, really bite-sized projects according to whatever you're doing. So if you have a meal plan you're launching, you mentioned that, put a few episodes together that talk through the meal plan extensively. Talking about, you mentioned what it is, what is your philosophy behind it? Then any details and dripping that out over six episodes you recommend? Is that kind of a good chunk?

Betsy:

Six episodes is a good chunk. I'll tell you this; New York Times Daily, I don't know if you listen to that podcast, but they have put out some research about what the ideal length of an episode is for a solo speaking and for a interview.

Megan:

OOh, let's hear it.

Betsy:

I know this is good information. I was happy to see they did this. So if you're solo speaking, which I think is the absolute easiest way to start with this, because people just want to hear from you, from your voice about your specific topic to start with, eight to 10 minutes. If you are interviewing, they have 23 minutes because that's kind of our average commute. Although maybe this has become dated now that people are not commuting as much anymore. But they had that as a benchmark for what they thought for interviews.

So if you're doing a solo recording, which I think is where you should start, if you are like, I can see exactly how this can fit into my brand. I have this thing I want to tell people about. It would be so useful if I could just explain it in three to five episodes or whatever. Solo speaking, eight ish minutes, five, eight ish minutes. As you know, you can record that. It is so much easier than doing video editing. If you can cut and paste, you can absolutely do this. Then all of the sound balancing and all of the audio editing, there are tools. I use Buzzsprout as my host. So you have to have a host just similar to your website, right? You upload that file in there and you hit their magic mastering button and it does all the balancing and all of that kind of eveling and that's important because if you've ever been in a car and you can hear one host, but you can't hear the other person and you're turning the volume up and down, and it's just a big mess.

That's the kind of stuff that, in the past two-ish years, 18 months, so many more of these hosts are offering that as an add on to their service. I always explain it to people, it's almost like an Instagram filter for your audio. You do the rough cut and paste, cut out your ums or the things you don't want in there. Then you upload it and it'll just make it beautiful and you can get it live.

Megan:

Technology magic. Right? All those things that can be done now that just a couple of years ago, that was probably not an option. What are some other ideas for putting capsule podcasts together? So you mentioned meal plans, promoting cookbooks and that could be an e-book even, or a printed cookbook. That could be really any lead magnet that you're using to get people into your business and your brand. What else? What are some other ideas?

Betsy:

So I am working on a capsule podcast right now. I do have a course that works through this. Then I do some one-on-one client work with this. So I'm working with Monique from Hardcover Cooks, and people might know her, she's got a subscription cookbook box service. So you get a cookbook and then you get some really great specialty ingredients with that from small producers. So she puts this all together in a package and it's a quarterly service that she's launched. So we are doing a capsule podcast as an add on to her subscription box. So when people get the box, then they can listen to the stories about the ingredients and why she selected the cookbooks for this quarter's box.

So if you have something that you are launching, that's new, or if you want to talk about a retreat you are doing, or an online virtual event or cooking class, anything that's pop-up and event related, you can do a companion podcast that allows people to just go a little bit deeper with you about ingredients or guest speakers or anything that they might think, I've listened to like five to eight minutes more about why you selected these things, who these experts are,3 give me a little bit more so I can so I can get into this experience. Anything like that I think would also benefit from a capsule podcast.

Megan:

Yeah, those are all really great ideas. We all have our hands in so many different projects, big and small. So I think it would probably be really easy for anyone listening to come up with a few ideas.

Betsy:

I think as soon as you start in your mind thinking, how could this be extended through a podcast component, like a promotional podcast component, it really opens the doors.

Megan:

How do we integrate something like this into the rest of our content? So the social media platforms that we already have and our email marketing, how do we start telling our audience that we're doing this new thing?

Betsy:

So the great thing about your host, there's a lot of service, the different ways you can do this, but Buzzsprout specifically because I use them. They have just integrated into their hosting service, which is like 10 bucks a month. You can make a graphic with a soundbite over it, just automatically, right from there that's downloadable. Then you can put it on your Instagram or your Facebook. So there's those sound bites with graphics that you can push out to people which are really fun. You can embed a player right into your website. So if you have a post that you want to do a companion podcast episode for, you can embed a really nice looking player, almost all the hosts have these, right into there with a little piece of short code and that'll play right from your website in addition to on Apple podcasts and Spotify and all that kind of stuff.

So that when people are on your website and they're looking at a recipe, you can have your five minute podcasts that give more information or explains the technique, or tells a little bit more about it right there on the website. There is also an ability to use a QR code. So if you're physically at a conference or if you are out in the world, teaching cooking classes or things like that, Apple podcast gives you an option of printing a QR code for your podcast. You can put that on promotional materials and people can scan it and be brought right to your five episodes about gluten-free baking. When you're out in the world. You can have that out or have it on your business card and it can go right there for people to be introduced to your brand. So that's another thing that's changed lately too, is that there's so many different ways to integrate your podcast into your marketing and into your brand, that it just becomes part of the whole, rather than like an extra side project.

Megan:

That was well said too. It becomes part of the whole, so it's not like, Hey, check out this side project I'm doing. It's more like this is part of the brand. This is just a little piece of who I am and who my brand is. I love how you explained that. Because I think, like we were saying earlier, so many people do listen to podcasts and to find out that an existing brand that people already like, a food blog has a podcast that's going to allow them to explain themselves in their projects in a different way. I think that can only be a benefit. I mean, there really is no downside to this.

Betsy:

One thing that I don't know that much about, but there's been a lot of chatter about this, is when Google will also start reading or will start accounting for voice and for podcasts in the search results. So I know that's super important to food bloggers and I am not an expert on this, and I do not think it is something that's happened yet, but the podcasting world is sort of waiting for this to happen. So in that case, if you had an embedded podcast, with your blog content, it could possibly make your content more searchable too. Because Google would start searching for audio results. So those are things that are kind of coming down the line, but that are just sort of little things that are kind of going in the back of your head thinking, this is something that I should maybe start experimenting with. This is something I can start small and do to integrate into my brand to get ahead of these trends.

Megan:

Stay on the front end. We all like being on the front end of things, as they emerge. Google does not have, as far as I know, currently an audio snippet or they don't feature audio. They do video, they do photos obviously, and text, but audio is not here yet. So stay on the front end of this, figure out a way to deliver relevant information to your people and be one of the first people who Google selects to pop up for food blog audio, whatever your niche is. What other advantages are there? Are there other advantages other than just being a first adopter?

Betsy:

So I think one of the big advantages to having your own podcast, even if it's just six episodes, is if you are actively pursuing podcasts touring, or podcast guesting as a way to get out there in the world. If you have a cookbook that came out or if you're promoting a self-published cookbook or you're out there doing something and you want to get on other people's podcasts. People who listen to podcasts will listen to yours. That has been shown over and over again, the best way to grow your podcast is to guest on someone else's podcast, because people who are in this world, like to stay here and like to listen to podcasts. So if one of your strategies to get out there and promote a service you're doing, or a product or a cookbook or whatever you have, is to go on other people's podcasts, to be able to say at the end, where can we find you? Because, right. That's a question we all ask. To be able to refer people back to your own podcast, helps them get into your community and into your world in a way that they love, right? They love that experience of finding out about people through the podcasting medium. If that is one of your strategies, having a home to send people back to in the podcasting space, is hugely valuable.

Megan:

Oh, I so agree with that. I'm going to steal this term from one of my favorite podcasters. He's actually the reason I got into podcasting. John Lee Dumas, Entrepreneurs On Fire. He uses this term called OPP, other people's platforms. Use it. He always says this, and it's so true. It's exactly what you just said, Betsy. If you use other people's platforms to get your word out and to get people back to you, that can only benefit you and think about this too. Other people's platforms, you don't have to do the work. You show up for an interview and you talk; they do the editing, they put all the work in and they're putting your voice out there. So I 100% agree with that. It can only benefit you. There are so many options for food bloggers to share their knowledge. I mean, there are podcasts about cooking techniques. There are podcasts about recipes and so many different things. You guys have such a uniquely awesome one. If somebody listening has not done this at all, they have never been on a podcast. What would your recommendation be? Just start searching for things that align, where do they start?

Betsy:

So one of the things that's an easy win here is if there is a food blogger or someone in your space that you know, or a cookbook author who is heavily focused on publicity, for instance. You can find that person and see what podcasts they have been on, research them and see if you would be a good fit. So it's the fast follow, right? They may have done a ton of research on which podcasts would love to have someone on to talk about food, recipes, cooking, that kind of thing. If you can find someone who has done a podcast tour and been out there and loves to be on podcasts, go check out and see what podcasts they've been on. Make a list, go research those shows and see if they would be good for you as well. That's an easy way to just get a quick start and a quick list.

Megan:

I will invite anyone listening to fill out an application to be on Eat Blog Talk because you are all food bloggers, you all have a story, a unique story to share. You have a unique perspective. You have some skill or something that you're uniquely good at. This is one of my favorite things about this podcast. I love being able to let people come on this show who have a voice or a message to share with this space that's not typical. So if you think, I don't know if I could share anything on whether it's mine or any other podcast, you're wrong. You do have a message and your voice needs to be heard. So fill out an application. You've got a unique angle and I would love to have you on the show too, as a small step to start, because this is a super easy interview, right Betsy? I mean, no pressure. We're just having a conversation and it's way easier than you think.

Betsy:

It is. I think so many times I hear, it's just intimidating to start. It was intimidating to me. So my sister and I both had no podcasting experience, like you said, too. We were a little bit nervous and I was a little bit nervous about, oh, is that what my voice really sounds like? In the end you realized, I mean, it's just having a conversation. What I like to tell people a lot is that don't think about this as presenting from a stage, think about it as having a conversation with someone who you enjoy talking with. It becomes a lot easier. Because I think a lot of us mentally think about having a podcast is the same as public speaking or being a keynote presenter or something like that. That can get the anxiety going a little bit if that's not your favorite thing. But in reality, it feels like having a lot of really wonderful conversations with people that just really expand your network and introduces you to a lot of great, wonderful, wonderful new people. It's just this one-on-one conversation and I love talking to people on podcasts. If you take that leap, you'll realize that the conversation flows easier than you would think.

Megan:

It's so much easier than you think. I promise, because I was in that boat too. Two years ago, I was like, there's no way. I don't have the qualifications. I can't conduct an interview. But it's not like that. It's so much easier.I t's so much more fun than you could ever think. You said these words, Betsy, expanding your network. You would not even believe how quickly you will expand your circle when you start a podcast. So I'm a huge proponent. So capsule podcast, you actually have a site about this. Does it talk through people how to get started? Is there anything else they need to know? Where do they go from here?

Betsy:

So you can visit capsulepodcast.com. I have a group coaching program that's open quarterly and then some done for you services, if you want someone just to do it for you. Then lots of information, if you're just a DIY person and you're like, I could do this. I just need some help, give me some bullets. That is also there on the website with the information about what I would recommend for a microphone or how to start with a podcast host and things like that if you're just someone who says, give me a couple of bullets and I think I could do this. So that's all there on the capsulepodcast.com site.

Megan:

Based on everything we've said today, Betsy, we've talked about a lot and I feel like this was a really great conversation that food bloggers need to hear in order to be an early adopter of something really cool and really new. So from everything we've talked about, what would be your number one takeaway, maybe encouragement or motivation for food bloggers to dig in?

Betsy:

I'm going to paraphrase it cause it's not an exact Warren buffet quote, but it is it'll be closed. The gist of it is that he says, in business, it doesn't matter if you jump over seven foot poles or you step over one foot bars, you don't get rewarded because it's extra hard. So I think for food bloggers and for people who may be podcasting isn't going to be their primary work in their business, let's like step over these one foot bars with these smaller podcasts that fit into and amplify your existing work, as opposed to trying to leap over the seven foot pole vaulting here, with a weekly show. If you have a mental image of this, let's make it super easy and just get going by stepping over the one foot bar.

Megan:

Oh, I love that. What a great way to end. That was perfect. Thank you so much for being here, Betsy. This was a very fun and inspiring chat and I know food bloggers are going to be like, okay, I'm ready to start a capsule podcast. So thank you for all of the inspiration and encouragement today.

Betsy:

You're welcome. As you know, it's always a delight talking to another podcaster because there's not too many of us, especially women podcasters. So I hope a lot of your audience will start podcasts and we can just all get out there and be podcasters together.

Megan:

Food bloggers are mostly women. There are some men sprinkled in, but yes, I think that would be so great, in one year to have just a little community of awesome women, podcasters who can come together and collaborate. I love that you put that out there. Now it's going to happen.

Betsy:

Come join us! Can be women podcasters together with us. We would love, love, love that.

Megan:

That's right. I love it. Well, we will put together a show notes page for you, Betsy. If anyone wants to peek at those, you can go to eatblogtalk.com/capsule podcast. You told everyone where they can find you on your website. Do you have an Instagram page or anywhere else that people can find you?

Betsy:

I do. So you can find us on Instagram at capsule podcast. You can also follow The Dinner Sisters at Dinner Sisters Podcast, I believe it is on Instagram. We are also over on iTunes and everywhere you find your podcasts. If you are looking for inspiration from another show that doesn't follow the traditional interview format.

Megan:

I am definitely checking your podcast out. I'm so intrigued. I can't wait to listen. I'm going to do it today. So thank you for that, Betsy and thank you for everything you've delivered today. Also thank you for listening, food bloggers, I will see you next time.

Outro:

We're glad you could join us on this episode of Eat Blog Talk. For more resources based on today's discussion, as well as show notes and an opportunity to be on a future episode of the show, be sure to head to eatblogtalk.com. If you feel that hunger for information, we'll be here to feed you on Eat Blog Talk.
---
💥 Join the free EBT community, where you will connect with food bloggers, gain confidence and clarity as a food blogger so you don't feel so overwhelmed by ALL THE THINGS!
Want to achieve your goals faster than you ever thought possible? Stop by Eat Blog Talk to get the details on our Mastermind program. This transformative 12-month experience will help you accomplish more than you would be able to in 5+ years when forging ahead alone.
Click the button below to learn what a mastermind program is, what your commitment is and what Eat Blog Talk's commitment to you is.
📩 Sign up for FLODESK, the email service provider with intuitive, gorgeous templates and a FLAT MONTHLY RATE (no more rate increases when you acquire subscribers!).
Read this post about why I switched from Convertkit to Flodesk!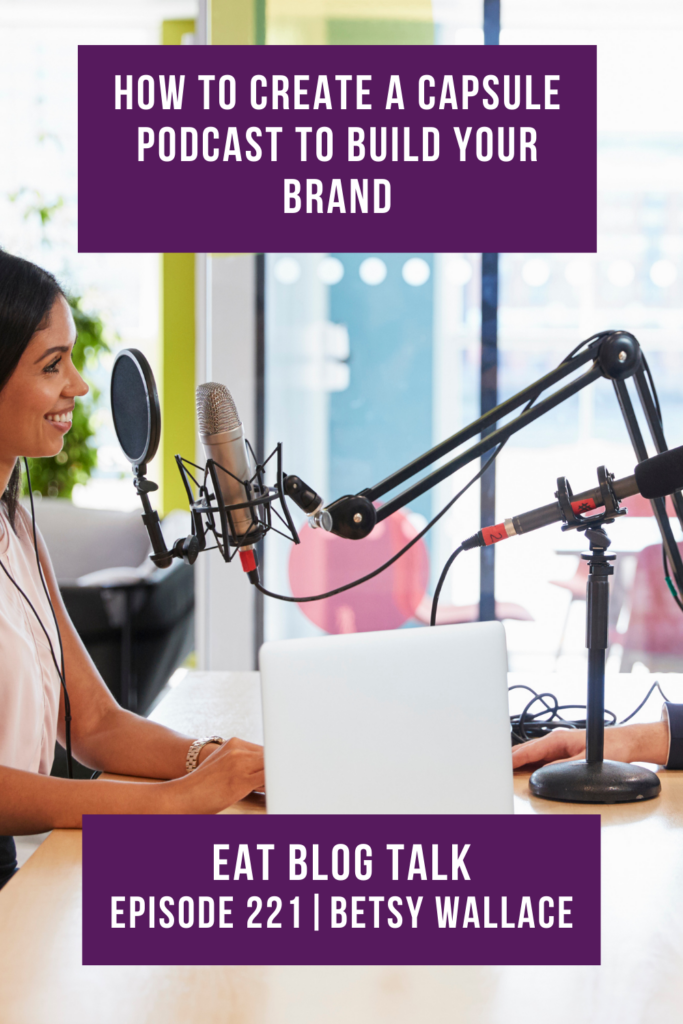 Questions or comments on this episode?
Head over to the Eat Blog Talk forum post about episode #221 to leave any questions or comments. We'd love to hear from you!