In episode 088, Megan chats about how to create an ideal customer avatar and what an important part of your blogging this is!
HOW TO CREATE AN IDEAL CUSTOMER AVATAR: An Ideal Customer Avatar represents the perfect user or customer for each of our businesses. It is vital that you start creating content for someone who is well-defined! The success of your business depends on it.
Listen on the player below or on iTunes, TuneIn, Stitcher, or your favorite podcast player. Or scroll down to read a full transcript.

Write Blog Posts that Rank on Google's 1st Page
RankIQ is an AI-powered SEO tool built just for bloggers. It tells you what to put inside your post and title, so you can write perfectly optimized content in half the time. RankIQ contains a hand-picked library with the lowest competition, high traffic keywords for every niche.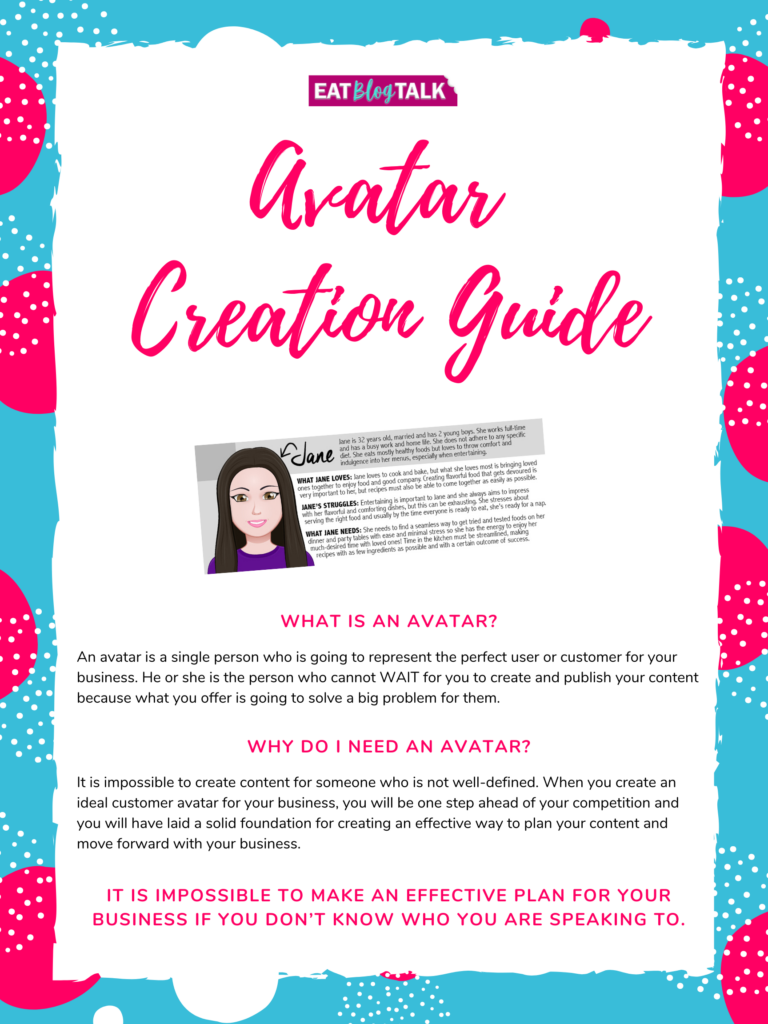 ---
I love the idea of creating content for one Ideal Customer Avatar (ICA) because the more saturated the food blogging space becomes, the more valuable it is to niche down and find a really specific type of person we are serving.
What is an Ideal Customer Avatar?
An Ideal Customer Avatar (ICA) is a single person who is going to represent the perfect user for your business. He or she is the person who cannot wait for you to deliver your content because what you offer is going to solve a big problem for them.
Each of us has a totally unique ICA, just like each of our businesses is unique. Every blog has its own flavors, colors, brands and personalities and so does every ICA.
ICAs are obviously not real people, but they so perfectly embody your perfect user that they'll be brought to life. You are going to go FIND this person (you heard me right!) and create content specifically for him or her.
Why do you need an Ideal Customer Avatar?
It is impossible to create content for someone who is not well-defined. Just ask me! I did it for more years than I'd like to admit. If you already have an ideal avatar, consider refining them in order to be even more specific and unique. If you do not yet have an ICA, now is your chance to bring yours to life!
How to Create an Ideal Customer Avatar
STEP 1 – Gather information about your audience!
The first step is to get some information about your audience demographics. Log into Google Analytics and click AUDIENCE on the left side of the screen, then DEMOGRAPHICS and OVERVIEW. There you will get a pretty clear picture about who is generally consuming your content.
For my own content, my audience is overwhelmingly female and also in the 25-34 year old age range.
Now click on INTERESTS and OVERVIEW (still underneath AUDIENCE) and check out what your people are interested in the most.
Here are some keywords that come from the top of my audience's AFFINITY CATEGORIES – food and dining, cooking enthusiasts, 30 minute meals and foodies.
Now head over to Instagram and tap on INSIGHTS, which can be found inside the 3 stacked lines in the upper right part of your screen. Now tap AUDIENCE and again you'll get a snapshot of who is consuming your content on this platform.
Again for me, the 25-34 year old age range is the winter and my people are mostly female.
STEP 2 – Give your avatar a name!
At this point you might have an idea about what type of person your avatar is. He or she is slowly being brought to life. Your avatar is going to need a name! Name him/her now or come back to this step once it comes to you. (It will eventually come to you.)
I named my avatar Jane because that seems like the perfect name to embody my person. I set Jane's age at 32 years old. She enjoys cooking easy meals for her family, but she also loves making delicious food for entertaining. Jane loves to host, she loves making great food and she loves feeding great food to her loved ones.
STEP 3 – Fill in the gaps about your avatar!
After you've defined those initial handful of details about your avatar, you can start digging deeper and filling in gaps. Is your avatar single? Married? Does he or she have children? Have a job? A busy life? What interests does your avatar have? What's most important to him or her? What does your avatar love to do?
The answers for these questions will come more quickly and easily than you might think because in most situations, avatars are extensions of us. Define as much as you possibly can about your avatar. More information is better than too little information.
If you struggle with filling in these details, spend the next few days leaning into your audience. Pay close attention to the emails and comments and direct messages you receive. What are they needing help with? Are there common themes? Which resources are they requesting? Don't discount messages from people saying HI.
Put intentional thought into figuring out who is behind the message. Note their tones and details about their lives.
STEP 4 – Define your avatar's struggles!
After you have a clear picture about the facts about your avatar's life, you can start defining their struggles. These might be really clear to you right away or some digging may be required to figure this out.
This is where I recommend you go out and actually find your avatar. Find someone or a few someones who fit the description you've put together so far. Here are some possibilities for finding him or her:
Facebook or other forums where they might hang out
Instagram
Your email inbox.
Once you find them, reach out to them and directly ask: What do you love the most? What are your biggest challenges? What would make your life better, happier or easier?
This part might seem awkward, but if they truly are your ideal user they will answer your questions willingly and honestly. You could approach the situation with something like:
"Hey Karen! I've seen your name pop up a lot in my feed and want to thank you for being a loyal follower! So I can deliver the content that exactly aligns with what my audience needs, I'd love to ask you a few questions. Does this sound ok?"
And once that real-life ideal user gives you real-life answers? You will have an armful of GOLD. Now apply that information to your avatar's profile to create a true embodiment of who is consuming your content. You have facts about your avatar and you know what your avatar loves. You know exactly what is important to him/her and also what his/her main struggles are.
STEP 5 – Strategize about ways to solve your avatar's problems.
There is one last important step you need to figure out, which is what your avatar needs from you to solve his/her problems, simplify his/her life and alleviate stress.
Evaluate your avatar's struggles and brainstorm ways you can help him or her. Is there an ebook that would save your avatar? Or a series of blog posts? Or maybe reorganizing the way you present information on your website would be helpful? Maybe there is an email series or an email challenge you could create? Or a guide or cheat sheet?
STEP 6 – Compile all of your avatar's information and put it in one place!
Now it's time to bring your avatar to life! Create a visual representation of him/her by using a website such as avatarmaker.com and pair that with a succinct bio. Put all of the information in a single spot (Word doc or pdf file) or create a graphic.
Print it out or have the file handy on your computer so you can access it regularly. If you ever feel conflicted or confused about what to create, pull it out and clarity will come.
---
Meet My ICA

Everyone, meet Jane! Reading about Jane, you get a very accurate snapshot of her life. You know what she loves, what she struggles with and what she needs from me. This information helps me with my messaging on all platforms and I know exactly which recipes I need to make. It also tells me what information within each recipe post I need to provide. When in doubt, I pull out Jane's profile and I ask her what she needs from me.
---
Once you create an ideal customer avatar for your business, you'll be one step ahead of your competition and you will have laid a solid foundation for creating an effective business plan.
It is impossible to make an effective plan for your business if you don't know who you are speaking to.
---
Your avatar will be your guide as you create your amazing content!
Your avatar may evolve over time and that is completely normal. Expect him or her to evolve right along with you and your business.
Let's dig into this together! Fill out the form at the top of this article to receive my FREE Avatar Creation Guide. The guide will walk you step by step through the process of creating your very own avatar. This will put you on a path to creating your best, most valuable and purposeful content.

Guides That Will Help You Grow Your Business!
In order to launch your business into a new realm of success, complete the guides below in the following order:
Avatar Creation