In episode 166 we talk with Lucy Seligman, foodie creator, about different avenues to explore creating from a place of passion you have so you can help others.
We cover information about finding out what your passion is and how to immerse yourself into it and then seek opportunities to create work for yourself sharing your hobby turned job!
Listen on the player below or on iTunes, TuneIn, Stitcher, or your favorite podcast player. Or scroll down to read a full transcript.

Write Blog Posts that Rank on Google's 1st Page
RankIQ is an AI-powered SEO tool built just for bloggers. It tells you what to put inside your post and title, so you can write perfectly optimized content in half the time. RankIQ contains a hand-picked library with the lowest competition, high traffic keywords for every niche.
Guest Details
Connect with Thanks For The Meal
Website | Facebook
Bio Lucy's love affair with Japan started when she was 15, when she ended up visiting Japan for the summer. She spent her junior year abroad in Tokyo, attending Waseda University and living with the Mitsui family. She got her degree from USC in Japanese and Japanese culture. Eventually, she married a Japanese national and ended up living in both Tokyo and Nagoya. In total, she has lived over 13 years in Japan. Her culinary life in Japan included being a restaurant critic, a food historian and writer, the editor of Gochiso-sama!—her culinary newsletter on Japanese cuisine, and the owner of her own cooking school, Lucy's Kitchen. Lucy just published her first cookbook, "The Wonderful World of Osechi: Japanese New Year's Recipes."
Takeaways
When you enjoy something and you become passionate about it, you should explore all the areas of it that relate so you can become an authority in this and turn it into your work.
Know where your passion lies, so you can share your love and excitement and have a clear vision of what you're doing.
Use the best skill you have to share your work and then hire out for other pieces of the job that need to be done but aren't your forte so you can produce quality work. (i.e. you're good at writing but hire a photographer).
There is endless opportunity out there for entrepreneurial people who want to find ways to teach and share their passion with others.
Start with one avenue of your work. Other opportunities will present themselves as you are open to them and step by step you will grow.
Take some time to explore where you want to be in 5 years, then walk backward to you are so you can find steps to work up towards.
Resources Mentioned
Lucy's Cookbook, The Wonderful World of Osechi
Interested In Blogging With Your Spouse?
Brian Johnson shares in episode 085 about blogging as a team.
---
Transcript
Click for full text.

Intro:

Welcome to Eat Blog Talk, where food bloggers come to get their fill of the latest tips, tricks, and insights into the world of food blogging. If you feel that hunger for information, we'll provide you with the tools you need to add value to your blog. And we'll also ensure you're taking care of yourself, because food blogging is a demanding job. Now, please welcome your host, Megan Porta.

Megan Porta:

Food bloggers. Hey, are you looking for new ways to make money as a blogger? If so, we have got your back. We have launched an ebook called, Conversations On Monetization. Inside this resource, we take your favorite podcast episodes about monetization, and we put them all in one easy accessible package. We threw a few exclusive interviews in as well. Friends, there are so many ways to monetize your food blog. Inside this ebook, we have interviews with success stories like Todd Bullock, Alyssa Brantley, Kelly McNelis, Jena Carlin, and more. All of these examples have become successful through completely different monetization strategies. Whether you are a brand new blogger looking for your very first revenue stream, or you are a seasoned pro wanting to diversify, this ebook is for you. Go to eatblogtalk.com to grab your copy. And we can't wait to hear your success story with monetization.

What's up food bloggers? Welcome to Eat Blog Talk. This podcast is for you, food bloggers wanting value and clarity to help you find greater success in your business. Today I am so grateful to get a little bit of time with Lucy Seligman from thanksforthemeal.net. We are going to talk about the many careers and hobby options available to foodies.

Lucy's love affair with Japan started when she was 15, when she ended up visiting Japan for the summer. She studied Japanese in Hiroshima, stayed in Tokyo's Olympic village and lived with a Japanese family in Okayama. Returning to the States, she told her family that she wanted to go back to Japan and it would be her major in college. No one believed her, yet that's exactly what she did. She spent her junior year abroad in Tokyo attending Waseda University and living with the Mitsui family. She was their 21st foreign daughter.

She got her degree from USC in Japanese and Japanese culture. Eventually she married a Japanese national and ended up living in both Tokyo and Nagoya. In total, she has lived over 13 years in Japan and it remains her second home. Her culinary life in Japan included being a restaurant critic, a food historian and writer, the editor of Gocheeso Summa, her culinary newsletter on Japanese cuisine and the owner of her own cooking school, Lucy's Kitchen.

She continues to love Japanese food and now cooks for her daughter who is equally obsessed with Japanese food, especially street foods like Yaki soba, Okonomiyaki, and so on. Lucy just published her first cookbook, The Wonderful World of Osechi, Japanese New Years recipes. Lucy, oh my gosh. Your bio was so interesting. I love all of that. It's such an amazing story. But before we get to your story, we want to hear your fun fact.

Lucy Seligman:

My fun fact is that I'm a closet British royalist. I have been since I was very young. Actually it was, I was going to major in British Royal history before I switched to Japanese and Japanese culture. In alignment, everyone always comes to me when they have a question about British royalty or Japanese royalty. In alignment with that is I was and am a diehard Downton Abbey fan, and actually even did a Downton Abbey high tea when the TV show was on and people came, dressed up in character.

Megan:

Oh, fun!

Lucy:

Those are my two fun facts that I admit after I get to know somebody.

Megan:

So you really do like immersing yourself in different cultures and you are obviously fascinated by different cultures. I think that's really unique and really awesome. I'm just curious, have you watched The Crown?

Lucy:

Well, of course. I watched all of it, I've re-watched it. I don't know how many times I've seen the Queen and you know, I think because it's so different from how I was raised. I grew up in Hollywood to a TV and film family. Growing up in the Hollywood Hills, my dad was a TV and film producer, and that was a very different life, but travel has always been a big part of my life since I was a kid. That's how I ended up in Japan and how I ended up living in Paris for two years around the corner from the Le Cordon Bleu. So I love to travel. Of course, with what's happening this year, it's very weird that I haven't been on an airplane.

Megan:

I know it's such an unusual year, especially for those who really find passion in traveling. We love to travel as well. I'm just super intrigued by the story. So I want you to just dive into it. You have such a cool story surrounding food and how you got into cooking and specifically Japanese cooking. So why don't you just share your story with us.

Lucy:

As you mentioned, I went there the first time when I was 16, then I went there again for my junior year abroad. After I married and I was living in Tokyo, I had always loved cooking. I can disclose because she's no longer with us, my mother, although she would have admitted it, was not much of a cook. I took over cooking when I was 11 or 12. I've always studied cooking and gone to classes, et cetera. So when I was in Tokyo, I started studying Japanese cooking. Since I lived there and I wasn't living as an expat, I was living like a Japanese family. I spent a lot of time and I love to do it anyway, wherever I go, from supermarkets and going to restaurants. I've learned a lot of cooking from my mother and sisters-in-law. I really immersed myself. So that's how, in my twenties, I started Lucy's Kitchen in Japan. Because I'm bilingual, I taught Japanese housewives, as well as foreigners who lived in Japan who wanted to know how to cook regional and historical Japanese cooking, or just down-home cooking. I also taught French cooking, Italian cooking, you name it. I was teaching it. I taught at many different places in Tokyo. When I moved to Nagoya, I taught as well. From that period, I approached the Japan Times, which is the biggest English language publication in Japan and said, how about I become your restaurant critic and give me a budget and let me explore all the wonderful restaurants in Tokyo, whether Japanese or not. When I travel, because I did a lot of traveling in Japan, I'll do restaurant critiquing as well.

They let me. I did that for a couple of years. It was a wonderful experience, again, immersing myself in Japanese cuisine. A lot kind of happened during that period, as you briefly mentioned. I also started my newsletter, Gochiso-sama, which means thanks for the meal, which is the name of my blog right now. It was another avenue for me to share my love of Japanese cooking and to make it approachable and for people to realize it's not just sushi or sashimi. There's a lot more to it. So, you know of course I think it's pretty obvious how much I love Japan, but I consider it my second home, even though I haven't lived there recently. It's just a big part of me and ironically my daughter loves it as well. So thank God because I cook a lot of Japanese and other Asian dishes weekly, if not daily.

Megan:

So I love that you mentioned your blog and how it was just another avenue to express your love of cooking. I think that's the way that a lot of us start. Food bloggers love to cook, whether it's more generic recipes or something really specific, like what you've launched into. So what piece of advice would you have given yourself back when you first started your blog?

Lucy:

I came to the blog as a recipe developer, as someone who delves into the history of the dish or a cuisine and does food essays. I did not come to it as I'm not a food photographer. I'm not a techie. I think what I've learned in the three and a half years that I've done, Thanks For The Meal, is you can't be everything. My love or my passion is the recipes and the development of them. Writing up recipes and cooking and finding the best combination and telling people a little bit about the story of the recipe or the ingredient. So I've had to, and I know other food bloggers do, I had to acknowledge that I can't do everything especially cause it's not my only business and I've brought in help as needed.

It takes a lot of passion, as you know, to be in the food business, in whatever way you are. I've taught, I've worked in restaurant kitchens, I've been a private chef, I'm obviously a writer, restaurant critic, and you have to have a passion and a very clear vision of why you are doing whatever it is you do. I always come back to that, why am I doing Thanks For The Meal? It's because I love Japanese food so much. I want to share that love and enjoyment and excitement with my readers. That's it.

Megan:

I absolutely love that. I love that your passion truly is the food. As you were talking through that I was thinking how some food bloggers have a passion for more of the photography side, or maybe it's an element of food blogging, but it's not necessarily that recipe creation side. Which is kind of interesting because it all comes back to the food. So you're saying, find what it is that you're passionate about and focus on that. Then perhaps outsource the parts that you are not passionate about and maybe not focus so much on the quality of those parts that you're not as passionate about too. I know food bloggers who like photography are not a passion for them, but they just run with it. They put out photos that maybe aren't labeled as quote the best photos in the world, but they're okay with that because they love their recipes and they love other parts of it. Do you agree with that?

Lucy:

I do. One thing is I do have a secret weapon, so to speak. My college age daughter is a very gifted photographer. When she is home she will take some of the photos for my blog or Instagram. Ironically or sadly, she's been home since March because of Covid, so she's been helping me a lot more. I also use stock photos, or if I have a guest blogger, they share their photos and get recognition for that. I admire food bloggers who are gifted in photography, but I'm not. I've taken a few of the photos but it's not my strength.

Megan:

I love that you mentioned secret weapons because I think that we all need to find those little secret weapons that help us get by because we can't be everything. Like you mentioned earlier, Lucy, we can't do it all. So finding what your secret weapons are and tapping into them and utilizing those are so important in this world. I just want to thank you for sharing your story because I was so inspired by that. What a cool story. Just hearing you talk through it, I can just tell that you're oozing with passion over the Japanese culture and their food. How amazing that your daughter too shares that love for their food with you. I mean, can you imagine if she was like, ew no, that would probably be a bummer for you because you're so immersed in that. So I just really appreciate you sharing that with us.

Lucy:

Oh, thank you. I couldn't even imagine if she didn't like Japanese food. Thankfully she does. She actually ended up studying Japanese for four years in high school and for her high school graduation, two and a half years ago, I took her to Japan and it was absolutely incredible. She had a different take on Japan. I showed her what I loved, but she introduced me to lots of new things too. I admit, we spend a lot of time looking at Japanese food blogs and exploring and planning what our next trip is going to look like.

Megan:

It'll be so worthwhile, after this long wait of not being able to go over there. I keep saying that to everyone who says, I can't believe I can't travel. I say, yeah but think about how amazing it's going to feel when you do travel. It's going to be the best ever. I love how you've taken one passion for a specific type of cooking and just turned it into multiple avenues. I think you said those words, that there were different avenues of ways to express your love for the cooking or something like that. So how much opportunity do you believe exists for foodie creators? And that goes for business opportunities and hobbies, because you seem to have kind of nailed that and figured out how to explore different avenues. How much opportunity do you believe is out there?

Lucy:

I think it's endless. I think that if you are passionate about food and there's a way that you love to express it, I think you can do anything. When I started out in Japan, teaching and writing and developing and doing all these things, I seriously never imagined that years later I would have my own blog, have a Facebook page, write my first cookbook. I'm already planning my second. Have Instagram, have all these avenues as a food creator. I think somebody might have an incredible food product and run with that. Ironically, I know I keep using that word, because of COVID, people actually have been able to, myself included, take a pause and realize what's important. Or realize, wow, I've had this idea in my mind for years, it's time to do it. So I think it's endless. I think it's a great way to explore your creativity and your love of food.

Megan:

So starting with a passion for food, which I believe most of us have, we share that. Then just taking that and maybe starting with one thing, so maybe starting with your blog. Then I think that once you get started with one thing, it kind of opens up into other things. If you're blogging for a year or two, you might hear about someone making a cookbook and think, Oh, that sounds really cool. That's interesting. Maybe in launching into that, you need to start with one little spot and then opportunities will open up before you. Do you kind of get what I'm saying?

Lucy:

Absolutely. Taking those small steps and thinking small in the beginning. Acknowledging you can't do every single social media, in the beginning and learning where your audience is. If you decide to do a food blog and learn what they're interested in. Step-by-step you can grow.

Megan:

I hear that so often when I'm interviewing people from so many different perspectives and points of view. Starting small, starting simple is really the way to go. Don't come into it with this grand idea that you're going to do everything and you're going to be an author and you're going to do everything right away. You come in with one simple idea and guarantee you're gonna have other ideas that will build up and create this delicious empire, however you want it to be. I think that's such an important concept to wrap your head around is just being really simplistic with how you approach food blogging and just being a foodie creator in general. We tend to over complicate things I think, and that's not how to start for sure.

Lucy:

You don't have to start with an ornate blog or website. To me, it's just taking that first step and moving forward. As you said, opportunities or ideas will come to you as you lay the foundation of whatever food business or creation you're doing.

Megan:

Oh, I love how you worded that. What are some specific ways do you think foodie creators can monetize their content?

Lucy:

I'm still learning. I think we all are, but you know, things like self-publishing, a cookbook or an ebook. Sponsored posts, affiliate marketing. If I see a company and remember I'm in a really specific niche about Japanese cuisine, if I see a Japanese food company I like, I approach them. I find out if they do affiliate marketing. I've done sponsored posts. I establish a connection with them. Other digital products, you could sell your food products. That's become very big because of COVID as well. I'm here in the Bay area, chefs who've lost their job, but they've developed a food company and they're doing that, which I think is fabulous. The other area that's totally exploded, a lot of my foodie friends are doing, are virtual cooking classes. There's food gifts. There's creating food courses. There's writing for other publications. There's a YouTube channel you can start. I think it only takes your imagination and love of whatever food creation you do. I think it's endless.

Megan:

I completely agree. And we kind of came to this conclusion on Eat Blog Talk, I don't know, a couple of months ago we were reviewing some of our interviews from the previous year and realizing, Oh my goodness, there are so many smart people who have figured out ways to monetize just from being a foodie creator. So we compiled all of those interviews that touched on monetizing into an ebook and came up with 600 pages. It's insane. The more we dove into it and we started actually reading through the transcripts of these interviews, somehow that brought more clarity to us. We were like, Oh my gosh, there's so much information here. We're not tapping into all of this potential that's just sitting here before us. So we just knew that we needed to put it together.

As we looked at it more thoroughly, I mean, the options really are endless. Like you were saying, Lucy, you could go so many different routes and really make money in any different ways. So yes, I am with you, you touched on a few of our favorites. So self-publishing, affiliate marketing, if there's something that aligns with your brand that, you know would be a really good product or service, I love what you did. You just reached out and said, Hey, do you have an affiliate program? I really like this brand. Do you do affiliate marketing much or just on a limited basis?

Lucy:

I have one for cookbooks. I'm exploring Share A Sale. That's sort of a new one for me. The last couple of months I have had a Japanese food product company in Japan that has some of my specialized ingredients I'm trying as well. I mean, I'm fairly small, because of my niche in my food blog. But what I realized this year is, as you said, focusing on the one side use and that are important to me and letting my readers know about them. I may add one more. One of the issues but hopefully it's temporary is that a lot of the shipments from Japan, like other countries, have slowed down and I think might be why a lot of people aren't using some of my sites at the moment. But you know, that hopefully knocking wood will change with the vaccine coming out and people being more mindful. So it's an area I want to explore more. Believe me, I'm getting your ebook because I need to educate myself too.

Megan:

Yeah. It's a process. It's not something that you can just hear somebody talk about and say, Oh, I know exactly what I want to do. It's like we talked about earlier. I think you've just got to get your foot in the door with one thing and see how that feels and then move forward with other things. I also wanted to touch on the virtual cooking classes because you talked about how that was like a new thing with COVID. It's so popular. I started doing those this year. I think in September was my first one. People are all over these and you can start so simple with that too. You can do a simple zoom meeting, have people pay you $10, $20 and just test it out with like five people, start out with family members or friends. That way you also hone your videography skills and how you are in front of the camera. So I think that one is going to absolutely explode. It already is, but even more so in the coming year. So I love that you touched on that.

Lucy:

Yeah, I totally agree. I haven't done it. I've only done in-person classes. It's kind of in the back of my mind, but at the moment I'm more focused on building up my blog and my cookbook, et cetera, but I think it's a great avenue.

Megan:

A great option for sure. For foodies who solely create for a hobby, because I know there are some people out there who don't necessarily want to launch into this as a business yet, and they're just focused on it as a hobby. What are some ways for them to express their creativity using food?

Lucy:

What I did before I started Thanks For The Meal is, I did a number of family cookbooks. It was a great experience because I gathered recipes and photos and little stories. How did this recipe become part of your family, from family and friends, all over the world. I used the time Taste Book for both of the cookbooks that I developed, but of course now there's so many other options. It's also to me, a way to keep family recipes living for the next generation. It's something in print and it can also be digital. I refer to the two family cookbooks all the time when I'm cooking family treasures and so do my sibs and now my nieces and nephews. I think that's a great way to put your foot in the door. It's not a huge investment. You'll end up with a product, which is something to be very proud of and also to share with family and friends. That's how I got started again.

Megan:

I love that idea. I never would have thought to say that, but it's a good way to get something in your hands that you created outside of a blog and also to provide value to people. So if you're creating a cookbook with your family recipes, everyone in your family is going to love that. Then I also had a third thought, it could also inspire you to traditionally publish a cookbook down the road. Maybe having it in your hands is super inspiring and you're pumped to see something else come to life like that. So that's such a great way to start. I would never have thought to say that.

Lucy:

The other thing is if you have never done anything, it also will make you learn how to be consistent about writing a recipe. How to visualize and write a recipe and make sure if someone reads this recipe, could they make your dish? There's so many things you can learn from it. I was very lucky that even though my mother wasn't a great cook, she had some special dishes and I was able to get them written down before she died. So now I have them and now the next generation has them, and that's really special.

Megan:

People really place importance on family recipes, especially when it's something grandma made and she's not around anymore. But you've got her handwritten recipe, just to put that in a book that you know is never going to get lost is so valuable for so many people. What is your main takeaway? So your number one thing that you would tell bloggers listening who want to diversify income streams through their love of food?

Lucy:

That's a great question. What I did, my ebook, my paperback, my cookbook, as a passive way to earn ongoing income, it's not just a seasonal thing. That to me has been the most important aspect and why I'm already thinking about what's my second book for next year. Everyone is different but that's kind of the main takeaway. The other takeaway is networking and getting to know other bloggers and joining Facebook groups, joining professional groups of whatever field you're in or whatever you're focusing on. Being really consistent about it whatever you decide to do, being consistent and being focused on.

Megan:

Great advice. And before we talk about your cookbook, because I want to hear a little bit more about that. Where do you see yourself in five years, Lucy?

Lucy:

I see the blog still continuing. Maybe I'm not running it on a day-to-day basis, someone else does it. I see myself doing more food essays, because I'm such a history nut. I see myself doing that. I occasionally do this, and will have branched out into other Asian cuisines because even in Japan, the influences of Chinese cuisine or Italian or Korean is still there. I probably will have a couple more books under my belt. Probably, if not in person, I will have been doing more cooking classes. I love to teach. I taught for so many years, I can see myself doing that. Not full-time, but definitely making that part of my food love of Japan.

Megan:

Isn't it fun thinking ahead that far, and spelling out a few things that you definitely want in your working life? It's fun to think about. Hmm. I wonder how that will transpire. I wonder how that will unfold. It's just kind of exciting for me to do that every once in a while. So I like asking people that question.

Lucy:

That's a great question, because we're so immersed in what's going on now. I never even thought about that. So I'm going to write this down after we're done to remember. Thank you.

Megan:

Oh, I love it. I definitely want to hear more about your cookbook. I'm so intrigued by it. So why don't you tell us the title and what's in it and what we can expect if we purchase it.

Lucy:

I had been married for two weeks, and came back from my honeymoon. I was in Tokyo. It was the end of the year, and I was in the kitchen with my mother-in-law and sister-in-laws learning how to cook Osechi, which is Japanese New Years cooking. It is the foremost, most important food festival celebration tradition in Japan. It started in the Heian period back in 784. It's gone on for many, many years. It was a wonderful culinary bridge and celebration of my new adopted culture. To this day, the special year-end rituals and traditions surrounding Osechi and surrounding Oshogatsu, which is Japanese New Year's, which runs from January 1st to January 3rd, has continued. The wonderful world of osechi Japanese New Year's recipes, which I wrote, was because every year I celebrate Japanese New Year's by cooking osechi, and it's kind of a whole process.

My daughter and I go shopping. We're very lucky because there's a number of very good Japanese markets in our area. We have our big shopping list. We plan our menus from December 31st through January 3rd, and we go shopping together. We get the special foods of making a more streamlined osechi. It's not as ornate as it might be if we lived in Japan, but the foods for the most part in the dishes are fairly simple. Actually you could think of it as Japanese tapas, a lot of small cold dishes that are put in beautiful jubako, which are tiered. You could think of it as ornate bento boxes. These are served on January 1st and then filled up as they diminish. The only hot dish during this period is a dish called ozoni, which is a hot soup that's very regional or even house to house based, that uses pounded rice cakes, called Mochi.

Each year we pick what area or what town or what special zone we want to celebrate and I know there's so many different foods and they all have different symbolic meanings, but the other thing that's kind of fun is you end New Year's Eve, if you were in Japan at midnight, with toshi-koshi soba. It is soba noodles served long, so it's called year's-passing soba or good luck for the new year. I make a very simple soy-based dashi stock. It's Tokyo style with chicken and Japanese leeks, negi. It's what you eat as the old year ends and the New Year begins. Again, I think it's a lovely tradition and it's a wonderful way to get to know, in this case Japan, and what they do for New Years. Literally the whole country closes down. Businesses are closed. Families reunite if they don't live together and they celebrate eating osechi and just being together for these three days.

Megan:

So their new year tradition is basically what the whole world has gone through in 2020. Everything shuts down and we spend time together.

Lucy:

What's interesting is, I keep looking every day. Our Japanese markets are still open but that could change because our county is in bad shape. We'll adjust, as I know they will in Japan, if you can't get everything or modify or simplify, but the concept of being together and releasing the old, and bringing in what hopefully will be a much better year for the world. I love that concept. I've actually never liked American New Year's Eve and that whole part, I prefer this.

Megan:

Well, that fits in so well with our current situation, releasing the old and starting anew and welcoming in different new, hopefully better things. So I think this aligns very well with going into 2021. So where can we find your cookbook? How many recipes are in it total? Is there anything else you want to say about it?

Lucy:

My cookbook, which once again is The Wonderful World of Osechi, Japanese New Year's recipes. I have a paperback and an ebook version; they're sold on Amazon. There's definitely 20, 25 recipes and kind of a little bit of the history of what Osechi is and how to create your own Osechi using bento boxes. Each tier has a different meaning and photos as well so you can get a sense of what it looks like and some of the other rituals and traditions and new year vocabulary that is used during this period. Don't be scared. Don't be fearful. Most of the recipes are, with the little planning and doing your shopping in advance, are quite easy to make. I've heard from others that it's delicious. Maybe it can become part of a new tradition of how to ring in a new year for your viewers and listeners.

Megan:

I love that. Everything you were describing sounded so delicious. I love Japanese food. It's just so different from what we eat over here. So any chance I get to eat Japanese food, I'm all over it. I was drooling through all of your descriptions. So thank you for going through those. Is there anything else about your cookbook or was that pretty much all you wanted to say, Lucy?

Lucy:

Pretty much what I wanted to say. The book goes into more detail, but have fun with it. Try something new, even pick one dish and go from there. It's just a wonderful way to connect with another culture, which in my case is Japan. But every culture has sort of special things that they do at the end of the year or eat or drink and this is Japan's.

Megan:

It's nice to get out of our culture once in a while and immerse ourselves in what other people are doing. It's refreshing and I think we all need refreshing this year. So I love this as inspiration. Well, Lucy, it was so much fun to talk to you today. Thank you so much for being here and sharing all of this value with food bloggers. It's been such a pleasure to talk to you.

Lucy:

Oh, thank you so much. I've had a blast.

Megan:

Before you go. I like to ask my guests to share either a favorite quote or words of inspiration. Do you have anything to share with us?

Lucy:

I'm looking at everything I wrote. I think I'll leave you with this because we talked about another culture. "You learn a lot about someone when you share a meal together", Anthony Bordain. I totally agree. That's what I do. I'm basically sharing a meal with my readers every time I post a blog or through my cookbook.

Megan:

That is such a great way to end. Thank you for sharing that. Lucy, we will put together a show notes page for you and everything that we've talked about today. If anyone wants to go check that out, you can find it at eatblogtalk.com/thanksforthemeal. Lucy, tell my listeners the best place to find you online.

Lucy:

You can reach me through my blog, which is thanksforthemeal.net. I welcome your comments, or if you have questions about Japanese cuisine, you can send me an email through my blog. I look forward to hearing from you.

Megan:

Awesome. Well, thank you again, Lucy for being here and thank you for listening today, food bloggers. We'll see you next time.

Intro:

We're glad you could join us on this episode of Eat Blog Talk. For more resources based on today's discussion, as well as show notes and an opportunity to be on a future episode of the show, be sure to head to eatblogtalk.com. If you feel that hunger for information, we'll be here to feed you on Eat Blog Talk.
---
💥 Join the EBT community, where you will gain confidence and clarity as a food blogger so you don't feel so overwhelmed by ALL THE THINGS!
📩 Sign up for FLODESK, the email service provider with intuitive, gorgeous templates and a FLAT MONTHLY RATE (no more rate increases when you acquire subscribers!).
Read this post about why I switched from Convertkit to Flodesk!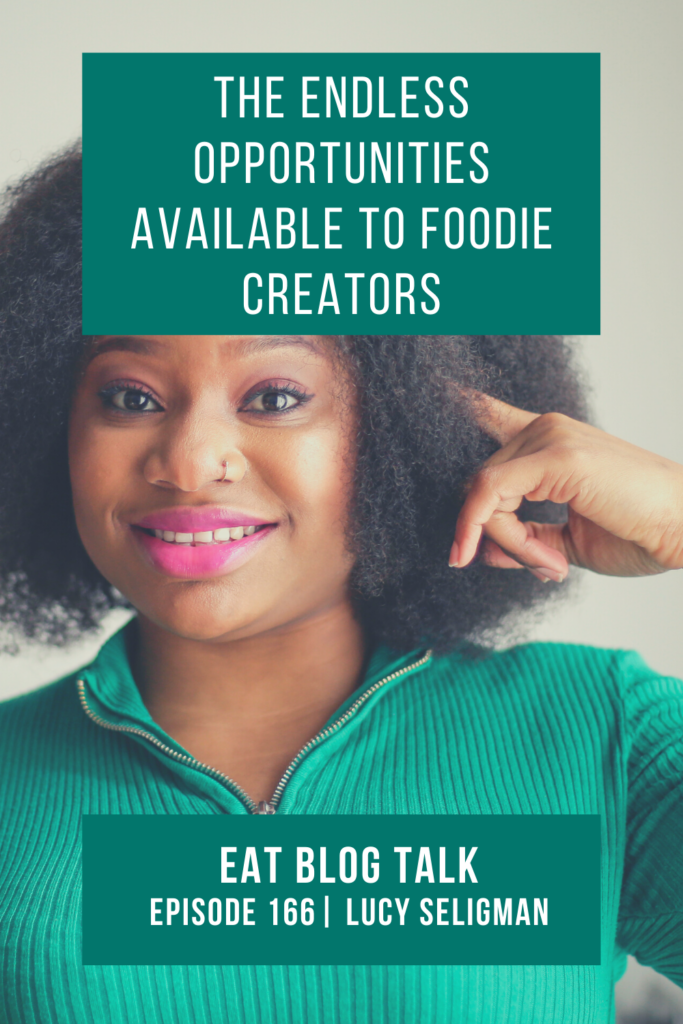 Questions or comments on this episode?
Head over to the Eat Blog Talk forum post about episode #166 to leave any questions or comments. We'd love to hear from you!