In episode 112 we talk with Jena Carlin, a food photographer and blogger as we learn how to express our art through photography and build our businesses.
We cover information about how you should surround yourself with people who can teach you and encourage you, how to hone your talents to create sharp skills that will build your business and monetize your photopraphy! Most of all, remember to practice, practice, practice!
Listen on the player below or on iTunes, TuneIn, Stitcher, or your favorite podcast player. Or scroll down to read a full transcript.

Write Blog Posts that Rank on Google's 1st Page
RankIQ is an AI-powered SEO tool built just for bloggers. It tells you what to put inside your post and title, so you can write perfectly optimized content in half the time. RankIQ contains a hand-picked library with the lowest competition, high traffic keywords for every niche.
Guest Details
Connect with Little Rusted Ladle
Website | Instagram | Facebook
Bio
Jena is a lifestyle and food photographer in the Midwest and the creative behind the acclaimed food blog, Little Rusted Ladle: a collection of recipes, personal interest narratives, food photography tips, and personal musings. Her work has been featured in Taste of Home, Kohls, Martha Stewart, and more.
Jena's ultimate goal is to tell a story within the food… to capture a feeling to enjoy time and time again. Jena is fulfilled by capturing a tale to accompany a recipe or ingredient and brings out the heart of her work.
Takeaways
Look for what art can be and how you can be a part of the process if you have a desire to use your talents in an art world. You can use it as a photographers, set stylists, creative and art directors, editors, and in a working kitchen.
Becoming a photographer prepares you for working under pressure, being able to pivot and be aware of details and tackle anything.
Practice Practice! Test out your ideas constantly. You'll develop your own style. Keep pushing forward with learning skills to hone your craft. You'll start to attract clients that like your work.
Work to develop your style in photography (which is a long process) but once you figure that out, just keep pushing forward. Others will be attracted to your work when you love your own work.
Network with people that you work with or around in the industry. If you take a position where you're working with others you admire and want to learn from, be sure to talk with them, ask for feedback for why they did the things they did in their work so you learn from it. Start to anticipate others' needs so you can assist them better.
Don't be shy about putting your work out there and ask for feedback. Don't take the feedback as criticism, but instead put their advice into practice.
Word of mouth is a great way to find other work in the field you're interested in. A connection can help you find a lead to a position. You can also Google businesses around you that you can work for. Check out Linked In. What's your connection with the company? Always lead with a compliment when connecting. Then move into asking about an interview or asking to shadow someone.
When you want to work with a client, you don't want to just photograph a food piece, but photograph the brand and the pieces that they surround themselves with to incorporate that into your work so it helps them stand out and be recognized by the clientele.
If you're interested in working with restaurants or other local businesses in your area, an important thing to do is to visit the business multiple times before approaching them. Then reach out to a manager or owner. Let them know what you can deliver, leave a business card and stay active with these Brands by interacting with them online on socials and being where they are.
Monetize food photography – Keep an updated blog with current pictures and work you've done.
Resources Mentioned
http://www.littlerustedladle.com/summit
Details To Dama – Pinterest expert
---
Transcript
Click for full text.

Intro:

Welcome to Eat Blog Talk, where food bloggers come to get their fill of the latest tips, tricks, and insights into the world of food blogging. If you feel that hunger for information, we'll provide you with the tools you need to add value to your blog and we'll also ensure you're taking care of yourself because food blogging is a demanding job. Now, please welcome your host, Megan Porta.

Megan Porta:

Welcome to Eat Blog Talk. The podcast made for seeking connection and value. Today, I will be chatting with Jena from littlerestedladle.com, and we are going to chat about food photography. Jena is a lifestyle and food photographer in the Midwest and the creative behind the acclaimed food blog, Little Rusted Ladle. A collection of recipes and personal interest narratives of food, photography tips, and personal musings. Her work has been featured in Taste of Home, Kohls, Martha Stewart, and more. Jena's ultimate goal is to tell a story within the food to capture a feeling, to enjoy time and time again. Jena is fulfilled by capturing a tale to accompany a recipe or ingredient and brings out the heart of her work. Like photo essays, they not only capture the story within a still life recipe, but also celebrate farmers that grow it, chefs and home cooks that prepare it, the communities that celebrate it and the moments of friends and family around the table to experience it. Oh, that was a beautiful Jena. I love how you wrote that and just thank you for being here today. I'm really excited for our chat about food photography, but first give us a quick fun fact about yourself.

Jena Carlin:

Sure. I'm really excited about this year because I purchased a dairy farm that was previously owned by my dad. So growing up, he had two farms, one for dairy cows and the other kind of health heifers that weren't quite ready to be milked, but he no longer has cows. And so I bought the farm that I'm going to renovate into a photo studio and a farm house along with it.

Megan:

That's so cool. I bet you have all these visions for it. I love old rustic places like that for photography. I bet you're just going nuts over that.

Jena:

Oh, I am. Especially because it has so many ties to my childhood and so many memories already encapsulated in it. Total dream came true. Growing up, I thought about buying it. So here we are.

Megan:

Oh, that's so cool. I love that. How exciting! I love your story, Jena. You shared a little bit with me over email and you gave me some audio to listen to, and I just loved your journey and listening through it. I would love it if you started out by talking, not just how your food blogging career began and your food photography, but just how your creative journey has evolved because you started out not really knowing how things would kind of unfold. I think a lot of us are in that same boat. We experienced that same thing. So talk us through your journey. We would love to hear it.

Jena:

Yeah. Thank you for asking. Right after high school, I went to art school. I majored in painting, studio art for painting, and then I minored in photography. I truly value the whole education I've been given, but within being a studio student, there wasn't a lot of talk about what was next, as far as what you could do to actually make money that wasn't a full-time artist. Submitting to galleries as an artist. That was the training we were taught, which makes sense. All I knew was I love to create art. So that's really what I focused on. Then I remember sitting in class, I was in a photography class with another design student. From what I believe, their training to what's next is a little different than ours, as art students. I overheard her talking about an internship that she had gotten.

I had to take a step back. I was like, what? She said, I got an internship at Crate and Barrel for photography in Chicago. I was like, Oh my gosh, I had no idea that they do internships for creative people. I thought they were only for business people. It wasn't a conversation at all in my school, so I had no idea it existed. I think that's amazing because you don't really know what's out there until you get around people that are interested in similar things. You just have to start networking really. She told me about her internship and I immediately searched the internet for anything close to me that would be something similar.

What studios have an internship? I found one in Milwaukee for Reader's Digest and they owned Taste of Home at the time. First I applied and then I immediately started working on my portfolio, really diving into food photography. It was awesome because my aunts were really excited for me too. They helped me by cooking and the food styling while I shot. It was really fun.

Megan:

That's awesome.

Jena:

So that was a fun experience. I got to the interview. I was totally prepared and it went amazing. I stepped into the room and I saw everyone working, and all the creatives and I just had that feeling of this is amazing. I can do this, I will do this.

What they were creating in that studio was art. I was just blown away that you could actually make money commercially, but also doing art and portfolio pieces, what the imagery they were making was beautiful. Food as a subject blew me away as well. The experience of being in the photo studio was so amazing because I didn't realize either at the time that there are so many people involved. There are not only the photographer, but set stylist, that one was eye opening to me because I always thought the photographer did everything. In my experience, and a lot of us as bloggers and everything, I know when we tackle a lot of that ourselves. So that was so eye opening.

So there's photographers, set stylists, art directors, creative directors, editors. You can just imagine the creative energy in that room and the working kitchen is just awesome. There were four stations of food stylist set up and four studio areas. So everyone had their way of working and it was the most incredible experience to be a part of that team and to learn from them. And assist them and anticipate what they're going to need. Learning from people who came before you, is invaluable. So definitely if you ever get the chance to assist anyone, whether it's for photography or set styling or food styling, I highly encourage you to do it because it'll change your life.

Megan:

Yeah. I totally agree with that. There was something that you mentioned outside of this interview that just really struck me. You were talking about, if you ever get the chance to be a wedding photographer, do it. I agree, I did wedding photography for a stint and it was so much work, but there's so much that I learned from it. It carries over, right? Just the things you learn from people and even starting out as an assistant or learning from those people who come before you, there's nothing like it, it is so incredibly valuable.

Jena:

Yeah. It'll grow your business so much faster than to learn it on your own. So don't ever feel too proud for it. Everybody does something different and you're going to pick up tips just to escalate your business. I love to talk about this because in the commercial world, it is super frowned upon to be a wedding photographer and a product photographer or a food photographer. You don't mix the two. But, I think that doing both has really helped me to stand out in my business and I think it can help everyone because of these things. Working under the pressure of a wedding, it's it's tremendous pressure, first of all, you will be able to handle any situation after these. If you can handle a little wedding and do so many that you feel so confident, nothing's going to stop you going forward. The pressure of that alone will just take off any nerves for any commercial client you ever have.

Megan:

For any plate of food.

Jena:

Yeah, right?! Oh gosh. Well, and even working with clients, you'll know how to handle clients because is there any client harder to deal with than a bride? I don't know.

Megan:

No. And, or the bride's parents, the bride's parents maybe.

Jena:

Fair enough. But the people involved in a wedding, it's so important to them, so you're delivering something that means so much to them. So the pressure that's involved with that and the communication that's involved with that, that's going to prepare you for business and working under pressure, working fast under pressure, and also being able to pivot. You also have to obviously be skilled at photographing people and the details, and that's going to help you if you want to introduce lifestyle to your food photography, that's my specialty and I love doing that. I'm able to work quickly with clients to see composition quickly because of my background, my trained eye from being in art school and then also having been under so many situations that held a lot of pressure and working quickly and being able to pivot in different situations because a lot happens during the wedding. And then also being able to tell a story, because weddings are all about telling a story and capturing emotion. If you can bring that into your food photography, you are going to shine.

Megan:

I absolutely love everything you said, there's so much truth there. The story, the photos that we see that tell stories. I was looking through your website and every single photo I looked at, I said yep, there's a story there. You've got that nailed. It just makes the photograph sing. If you are able to do that in a lifestyle setting, like a wedding, it's so much easier to translate over to food. Don't you think? If you've got it down in one area, you can nail it in any area.

Jena:

I agree. There's different skill sets involved with food photography. You have to be very still in and all that, but it's going to elevate your work. Because if you're just doing food photography right now, you're probably not thinking about all those other aspects. So I encourage you to go photograph some weddings.

Megan:

Yeah. That's really putting yourself out there because I remember before I started doing weddings, I, in my mind, I thought, no way, there is no way in the world that I am going to ever do this type of photography. You're just thinking of all that pressure, the brides. But I did it. I'm so glad, but I can see people listening and saying no way. Even if you're just an assistant and you still kind of carry some of that pressure just for a couple of weddings, I think that would be really awesome for people to experience that.

Jena:

That way you don't have to open a whole business. That is definitely a great way to go because also then you're gonna be learning from others on how to set up lights quickly or what they look for as they shoot.

Megan:

Do you have any other tips for being a better photographer? Just kind of in general, because I know that's probably a really far out there tip that not many people will take you up on, but they should. But what other tips do you have for making your photography skills better?

Jena:

I'm a big believer in practice. Test out your ideas constantly, and you'll start to develop your own style and understand what it is that you love about food photography. Then from there, just keep pushing that forward because when you do that, you'll start to attract the clients that like your work and then you'll be creating work that the client loves and you'll end up loving your clients. So I strongly believe that that you have to develop your style. That's going to take a long process. That's not easy, that that develops over years. But once you figure that out, push forward with that, because that's what's going to set you apart because when you're creating the work that you know you love to make, others are going to see that. You're going to attract the type of clients that you want.

So I'm a huge believer in that. So definitely test out in the beginning or even every year. Test out different lighting skills, network with people. I think this is huge. This is also something that I feel very strongly about because of my background. So being in a studio and then other studios, like Kohl's you mentioned. Kohl's is one of the biggest photo studios in the nation. One time they could have 30 to 40 photographers and then also stylists and, and all sorts of creative. When I was there, I really took advantage of talking to everyone. Especially when I was assisting, I could walk around and talk to everyone. I loved getting feedback on why they were doing the things that they were doing, and trying to anticipate their needs to help assist them better.

Just be the best assistant you can be. People will open up to you and start to tell you their journey. You start to learn from that. So this ties into the practicing, we call this testing or sample work. I would on the weeknights be creating work. The next morning I would go in and because I had this relationship with the other photographers and stylists and our directors, I asked them to review my work all the time and critique it. There's nothing more valuable than that. The top industry people telling you how you can improve. Then they see you as someone with motivation and skills.

So that's a huge part, if you do start assisting and you want to move up, talk to people about your work. Because it's really hard to make that jump because they'll only see you as an assistant unless you show them otherwise. If you want to get into food photography or this goes for any studio. Don't be shy about putting your work out there and taking their criticism. You do have to develop a thick skin. As artists, it can be hard because you're very attached to your work and it's very personal. So just put yourself out there and do it because it's gonna help you grow.

Megan:

That's great stuff. So you're talking about studio type work and you're speaking to food bloggers, but there are food bloggers who are interested in branching out. Especially now when diversifying is kind of a big thing. How do you recommend food bloggers do that? How would they go about finding another path for them. Let's say they did want to go work for Kohl's or somebody else? How would they go about looking for that?

Jena:

Okay. In my experience, for me, it was a lot of word of mouth. I just heard that one person say I got an internship right now. I asked, how did you do that? Her experience came from her parents who were friends with someone at the studio. So it was a connection there. I Googled it. I bet you'd be really surprised about what kind of businesses are around you already. So after I got the internship I talked to so many people and then they, you know, and I heard their stories and where they had worked in the past and Kohl's was one of them. That's how I got moved to Kohl's. Then from there, there's lots of other studios because as freelancers, everyone's working everywhere, that is in the area.

So maybe that'll help a little bit, but you do have to get your foot in the door somewhere. It will start with maybe is there anyone you know, otherwise just finding people on LinkedIn. If you know that there's a studio near you, go on LinkedIn and just start messaging people. Do it professionally. You do want to make sure you're presenting yourself very professionally because they probably get a lot of emails a day. What I would do is reach out to them, make sure that you lead with some connection you have with the company. Lead with a compliment and any connection you can think of. From there, move into, what I would love to do is shadow you.

Could I shadow at the studio or come in for an interview, depending on what you want to do. Depending on how you want to get that foot in the door. Definitely coming in for an interview or seeing if there's a need for either more assistants. It depends on what your skill level is too. If you feel qualified, don't start with assisting. Do you have any for a second shooter? Do you have a need for a food stylist? But definitely have that experience if you're, if you're presenting yourself in that way, because you don't want to put yourself in a situation where you can't deliver. Then they'll never talk to you again. Definitely undersell and over-deliver.

Megan:

Things have evolved so much in the past few years. It didn't use to be okay to message on social media, but now it is as long as you're representing your brand well and being respectful, being professional, I think you use that word. I think that's good for people to hear. Now. What about restaurants? Have you ever worked for restaurants doing food photography or anything similar?

Jena:

Yeah, and I really enjoy it. I hadn't started with that. But it turns out a dear client of mine is the first client I got when I started my blog. So this goes into creating the work that you love and then attracting the clients you want. Starting my blog, I was fortunate enough to get hired by a company that makes dog food. This is a family run business. So they were really drawn to the fact that I was using antique props and that my work told stories and that it was just more than just a product shot. So they've been a client of mine for years. And just this past year, they branched out and opened a restaurant. Because they're so invested in the aesthetics of their brand, everything in that restaurant was beautiful and amazing.

When we went in there, we picked out different locations around the restaurant to utiliz, their cream city brick walls, and they're copper bar top. Then some rustic window sills. We photographed all over the place and I'm just so in love with the work that we did. So a lot of it shows the atmosphere. So I encourage you, if you do shoot for restaurants, like find out what's unique about that restaurant and highlight it. Because the clients are going to love you for that because they are investing so much in their story and their brand. If you can deliver that in a way, that's not only showing the food, but showing the experience someone's going to get when they walk in the door, if you can deliver that, the clients will love it.

Megan:

Yeah, it's speaking their language. It's right in their home. I love that you just saw that too. Okay, we need to do this here, this is you. This is your message. They probably absolutely love you for that. How do you get into a restaurant? Is it the same way? Do you find them on social media> email? What is a good way to start photographing for a restaurant?

Jena:

I would actually go to the restaurant a couple of times first. You have that personal connection with them and know the ambiance and the feeling that they're trying to portray. Get to know the brand, get to know the food. Then I would find either the owner or a manager. Find out who that is and either email them, or if they're at the restaurant, walk up to them and just start talking to them. The worst thing that's going to happen is they say, no, we're not interested, or we can't afford this at this time, but it opens up a conversation. So you can, so even if they can't afford it at that time, like just make sure to tell your value and like what you can deliver and why that's important. And let them know that in the future, if they are interested to reach out to you or, you know, leave a business card in and stay active, like I found, like if you were staying active with brands that you want to work for, like show them, not only email them, but also like interact with them on Facebook or Instagram and like show that you're invested.

Megan:

It's kind of along the same lines of just wanting to work with brands and doing sponsored work. People always say, really show that you love their product, show them that you are there, that you love them. That is going to ring for them. It's going to speak volumes. In-person, there's nothing better than in-person. If you're there in a restaurant, why not? I mean you've got nothing to lose. If anything, you're showing your face, you're showing that you really love them and then you'll visually be in their minds so that if it comes up again, you're going to be there. I think that's great advice.

Okay. So I wanted to ask you about this line you said in a little audio clip yesterday and I listened to it and you said this line that just stuck with me. I think it's so valuable for us to hear and especially for food bloggers. It's just about, when you're surrounded by amazing people, you will naturally be elevated. We've touched on this a little bit, but can you talk more about that? Because I just love that concept. If you surround yourself with crappy negative people, of course you're going to sink. But when you're around these amazing, smart, inspiring, encouraging people that is only going to benefit you. So I want to hear your words on that.

Jena:

Definitely. I love this concept so much because it evolved for me naturally and I didn't realize it was happening. I got into the studio, I was surrounded by creative people and that was my life for the 10 years I was living in Milwaukee. Since then I moved back to my hometown in Auburndale, Wisconsin. I miss that element a little bit. I was continuing to work on myself, on my blog, but I knew that I had to create that community some other way, because it's so important. So I started networking more socially on Instagram but also like going to retreats and getting to know people. It's been amazing. What I found too is that when you're genuine and you reach out to people, people can be giving, right?

Everyone's a person so just reach out to them, tell them what you love about their work, maybe a personal connection, like your journey has helped influence my work, this is why. Even speak about one picture in particular. I would definitely do that. I have done that actually. July 7th through the 15th, I'm hosting a summit, I'm talking with 28 people in the food photography industry. So I did this exact same thing and I couldn't believe how willing people were to tell me their stories and to feel connected as well. So I'm just blown away by what we can do now, just online. Because everything else I had done was pretty much in person and the community online can be just as valuable, if not more, because now I'm speaking with mostly food photographers, where as before it was Taste of Home and all food photographers, but then it moved into more product photography and fashion. I highly recommend surrounding yourself with like-minded people that is going to elevate you because you take on traits and start thinking in different ways, that's going to elevate your business because the conversation that you're having with them are already upleveling the way you are thinking about food photography.

Megan:

I just love that concept. Social media is really great for that for food bloggers. I think especially Instagram, it just allows for us to connect in a really unique way. I've gotten to know so many people through Instagram, which is kind of weird, right. Facebook didn't do that or email. Nothing else did that. But when Instagram came around, it was this magical door opened up and I was like, Oh, I can actually really get to know these people. So I think Instagram is a really good avenue. You mentioned doing like retreats. How did you get into that and how do you find good photography retreats?

Jena:

For people and experts that I follow, some of them host retreats. I get emails about them. The people's work I love, I sign up for their emails and then there's quite a few that'll have retreats. I had been really timid to kind of open that door because it can be quite expensive. Then there's the investment in time. Last year I did my first retreat, it was just in Wisconsin, so I only had to travel like a couple hours away, but here's the cool part. It's at Camp Wadawega in Wisconsin and the retreat was called Camp Wadawega and there's a beautiful treehouse. Definitely go to that website and check it out. They have like an amazing tree house that you can stay in. Jenna Kutcher, if you know her, spoke at Camp Wadawega a few years ago and has some pictures of camp on her feed. Do you know Betty from Forks and Stems?

Megan:

I do not.

Jena:

Beautiful, beautiful, amazing, amazing photographer. She's an artist. She used to be a wedding florist and then pivoted into mostly doing photos of cakes. She's now a full-time Instagrammer, maybe blogger. So anyway, stunning work. So I reached out to her, I just had a conversation. I told her, I love your work. It's so amazing. She said, thank you. I asked, where are you from? She's said Canada. She asked where I was from and I said, Wisconsin, she's like, Oh, that's so weird. I'm going to be in Wisconsin in a couple of months.

I asked, for what? She said, I'm speaking at Camp Wadawega. I knew I must go. It was so interesting, I've heard of Camp Wadawega but also, it was a big investment. It was over $2,000 to go. I had that amazing camping experience that you don't have since childhood. That was like such a pull for me because I want to do that again. So you get that experience, plus there were a lot of other speakers on like marketing and SEO and accounting and things to grow your business. Now this retreat is geared towards wedding photographers. I went to network with the people that were there because I knew that there was a wonderful videographer that also ran this event. And she does commercial videography as well as wedding videography.

So I wanted to get to know her and I really wanted to get to know Betty. Everyone else I met was a complete bonus. I met a designer, a graphic designer that is the most talented graphic designer I've ever met. Saffron Avenue. If you haven't checked out her site, it's amazing. She was a speaker there and I will say that, if you have that chance to do a retreat, to do it. It is an investment, but the networking alone will grow your business. The things that they talk about will grow your business. So right after that retreat, I hired a Pinterest expert. Dama Jue at Details to Dama.

Megan:

There's so much magic I think in finding those people that you connected with. That one person where you say if you're going to be there, I'm going. There are certain people in the food blogging space and not just food bloggers, but that do other things that relate to food blogging that if I know they're going to be somewhere, I would pay money to go, just spend time with them. There's nothing wrong with that. Yes, you get value from those things. But I think the true value comes from the people that you are spending your time with. You're going to make connections that are lifelong. You found someone to do your Pinterest, you never know what you're going to find. That opens up doors for you because that's time for you.

Jena:

It's so hard to hire out because you don't know, it's so hard. So definitely getting that word of mouth from someone else. She's been my best hire yet. That all just came from trusting the people you're talking to.

Megan:

There's no better way to get a feel for someone than in person, even if it's a phone call. There's nothing like in person communication. You can just get a really good idea about people. That's such great stuff. I'm on their website, Camp Wadawega and it's so beautiful. I want to go.

Jena:

Seriously, it's so good. I had been wanting to go and it's just like two hours away from me. So there's no excuse not to, except for that it's expensive. It's so amazing because they pitch themselves as pretty much a camp for adults. Awesome!

Megan:

We all have those fond memories of camp as kids. Adult camp sounds amazing. So I guess the bottom line here is, as a food blogger or just a food photographer or both, find that opportunity to go network with people, even if it's just nearby, somewhere close to you. Find that and go network because it truly is so valuable. That's great stuff, Jena. Okay. We talked a little bit about monetizing, so restaurants, reaching out to studios. Do you have any other thoughts for food bloggers specifically to monetize their food photography?

Jena:

Yeah, I do. So I'm gonna tell you my mistakes. When I started my blog, it was a way for me to have an ongoing online portfolio and for me to stay accountable for creating work. That's the part that succeeded. That part was awesome. That that part was fun. It was fun to show people the blog and it was awesome. It got me and a food stylist a book deal and it's gotten me clients. That part's great. What I did not do was think about the blog itself as a thing that could make money. So I was not interested in doing ads because I thought it, just for lack of a better word, I guess I thought it looked messy and crowded.

I was all about the visuals. If I'm showing this to an art director, I don't want them to see a bunch of ads. So I didn't think of it as a way of monetizing and in that I had very low traffic. I also didn't really train myself on SEO. That stuff felt really boring to me. So I didn't do that. But it's very, very important. If you don't want to do it, land a job so that you can pay someone else to do it. Go out and do the things you want to do. Pay for other people to do the things you don't want to do. Just this year, this is going to sound crazy, I finally hired Casey Markee from Mediawyse. That also is something I said, I can't afford that.

I'm not going to do it. I can't afford that. That's silly. That bit me in the butt. No one came to my site. It's so important. If you're not going to learn it yourself, I tried but I dabbled and it sucked. If you're not gonna do it, just hire someone else to do it because it's important. Then also page speed. Ew, another boring topic for me. I hired that out to like Nerd Press and the Pinterest stuff was taking a lot of time. I knew that was really important for traffic. So I hired that out, obviously, I already told you that. Find the things that make you happy and do more of what you love. I know it's going to sound scary to hire all that out. It has been scary actually. It's because you're investing money in something that you're not seeing results for yet. But I'm telling you right now, if you don't do it yourself, you're not going to see traffic no matter how good your food photography is, that's a big component. That's huge, but it's not everything. So don't rely just on your photography skills if you want to grow a business on a blog.

Megan:

Great advice. We all think that, oh my stuff is so awesome. People are just going to flock to me. I mean, I think we all go through that for a period. Then we learn that that is not true. We need to actually put in some leg work and if we don't do the leg work, then we can hire out. Here's the great thing – there's specialists in every single aspect of food blogging that you can ever imagine. So find those people, there are great people who know about SEO. I do not, I am not an SEO expert. I am not interested in page speed at all, Jena, makes me cringe.

Jena:

Yeah. What's great about that too is, I just like to ask them any question and no matter how silly it is, they just answer me and it's fine.

Megan:

They work with food bloggers enough. I'm sure they've heard so many silly questions that they're probably just immune to it. Really silly creatives. Such great stuff. I feel like we could probably go on and on, but we've got to wrap up. I just want to ask, is there anything that you feel really needs to be heard by food bloggers that we haven't mentioned yet?

Jena:

Not that we haven't mentioned yet, but I do want to reiterate creating the work that you love to create, that will give you the lifestyle that you want.

Megan:

I love that. That's great. Great way to end. Thank you. Jena, I know that you have this online summit coming up. That sounds amazing that you're hosting, did you say 28?

Jena:

There's 28 experts. Some are food photographers. Some are food stylists. I have some marketing experts, one SEO expert. And then my hire, my Pinterest expert, Dama Jue. She's going up there. She's got all her, her interview was fabulous. You're really going to want to see that. Especially if you're trying to do food photography and a blog, she likes to talk about both ends. So it's great. Check that out.

Megan:

How can people find that we'll put everything in the show notes, but is there, do you have like an email list or how did they sign up for it?

Jena:

So the signup landing page is on littlerestedladle.com/summit. Also just go to littlerustedladle.com, there's a tab that says free summit in the menu bar. So just sign up there.

Megan:

And that starts on July 7th.

Jena:

Registration is open now. So if you hop in there now, you can save your seat and it's going to be amazing. It's free while it's live. So if you show up live, it's completely free.

Megan:

Oh my gosh, that's great.

Jena:

It's going to be so much fun. There is a chance to upgrade to the VIP pass, where you're going to be able to view all the interviews for a full year and also 11 of the experts are delivering bonus offers in there. So it's incredible. Everything from 30% off of their courses or a month free of courses; that one was more of a membership course. Then some other free training. I'm doing training on drink photography for commercial clients. There's going to be a lot of fun stuff in there. So I would love it if you checked it out.

Megan:

I am going to go sign up right now. I am so intrigued. That is so fun. Woo! Inspired. Thank you so much, Jena, for being here, I've really enjoyed our chat today. So fun to talk to you. So thanks for taking your time out of your morning and I am just over the border from you in Minneapolis. So we are neighbors. So Jena, like we mentioned, I will put together a show notes page for you and we'll add a link to your summit and then just everything we've talked about today. I think there are some things we mentioned that we'll probably add links to. So if anyone's interested in seeing those, you can go to eatblogtalk.com/littlerustedladle. Obviously we know where to find you, but why don't you reiterate where people can find you online and on Instagram and everywhere else?

Jena:

I'm at Little Rusted Ladle in every area; Instagram and Facebook. Actually I have two websites. So if you want to see my commercial website, it's Jenacarlin.com. For my blog, it's littlerustedladle.com.

Megan:

Great. Well thank you again so much for being here, Jena, and thank you for listening today, food bloggers. I will see you next time.

Intro:

We're glad you could join us on this episode of Eat Blog Talk. For more resources based on today's discussion, as well as show notes and an opportunity to be on a future episode of the show, be sure to head to Eatblogtalk.com. If you feel that hunger for information, we'll be here to feed you on Eat Blog Talk.
---
💥 Join the EBT community, where you will gain confidence and clarity as a food blogger so you don't feel so overwhelmed by ALL THE THINGS!
📩 Sign up for FLODESK, the email service provider with intuitive, gorgeous templates and a FLAT MONTHLY RATE (no more rate increases when you acquire subscribers!).
Read this post about why I switched from Convertkit to Flodesk!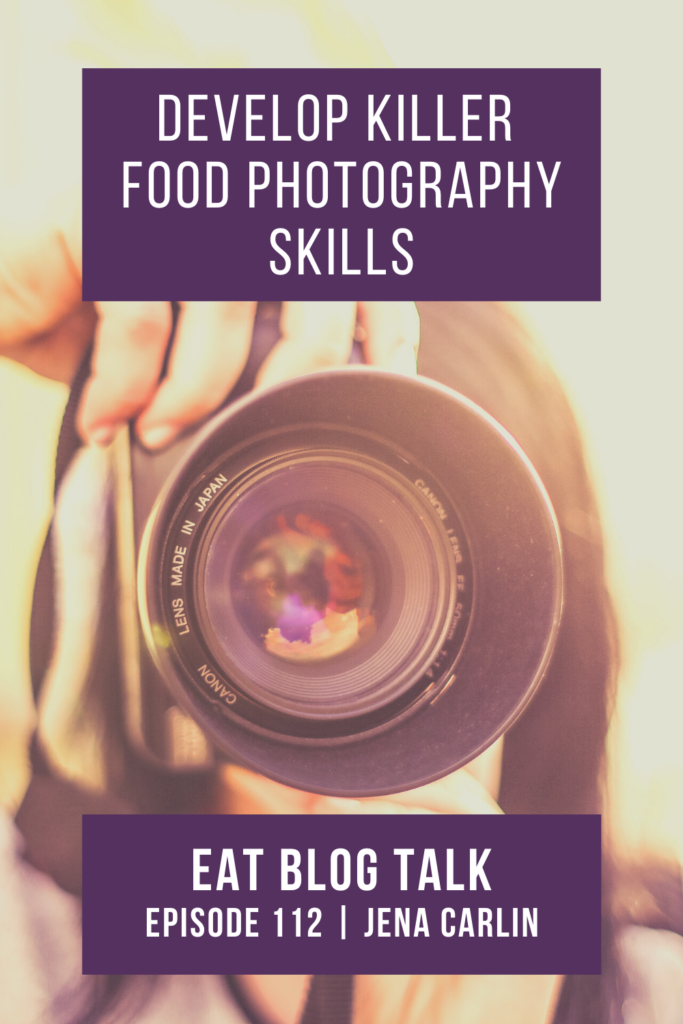 Questions or comments on this episode?
Head over to the Eat Blog Talk forum post about episode #112 to leave any questions or comments. We'd love to hear from you!