Listen to episode 180 to hear Megan share about what it means to work towards goals that give you more freedom – tips to become focused on achieving financial and freedom goals.
We cover information about why you should surround yourself with people who have similar goals, how to engage with experts who deliver relevant value, create a mindset to achieve all that you want and join the EBT Membership to keep you focused on these goals with other bloggers who are too!
Listen on the player below or on iTunes, TuneIn, Stitcher, or your favorite podcast player. Or scroll down to read a full transcript.

Write Blog Posts that Rank on Google's 1st Page
RankIQ is an AI-powered SEO tool built just for bloggers. It tells you what to put inside your post and title, so you can write perfectly optimized content in half the time. RankIQ contains a hand-picked library with the lowest competition, high traffic keywords for every niche.
Takeaways
Define what financial and freedom goals you personally have so you know where you're headed.
If you consider yourself to be a motivated food blogger who is 100% dedicated to attaining whatever freedom speaks to you the most right now, YOU WILL FIND IT.
Determined people always get what they want when they refuse to give up.
Find a tribe of similarly minded people.
Find experts that deliver personalized, relevant content that you can put into action.
Change your mindset and put it into place every day towards reaching your business and personal goals.
Stay accountable with the help of trusted partners/friends/bloggers.
EBT Members should find clarity on achieving each goal with expert guests and relevant content as well people encouraging you.
Become bold and confident as a food blogger, even if you haven't always been so.
Keep Learning!
Goals that stick are important and Amira Sookram shares why in episode 193.
Transcript
Click for full text.

Hey food bloggers! It's just you and me today and in this solo episode I am going to talk about how motivated food bloggers can attain their financial and freedom goals.

I'm going to get right to it today because I'm bubbling over with excitement about this and I can hardly contain myself. This is a story near and dear to my heart. I'm a motivated food blogger myself who has always had dreams of attaining specific financial and freedom goals.

Do you ever look back on your life and see that things might not have made sense in the moment they were happening but in hindsight they fit together so perfectly? The reason I'm so giddy about this topic is because that is exactly what has happened to me in the past few weeks.

About 4-5 years ago, I started feeling a strong pull to provide value to food bloggers in some way. I didn't necessarily see myself as being the source of ALL the information, but instead someone who connects well with people and knows how to pull the MOST quality information out of the abyss of food blogging and deliver it in a way that actually makes sense.. and helps people.

Two years ago this pull grew stronger and I absolutely KNEW I needed to take action. What exactly I needed to do was just slightly out of reach, but I continued to search. The answer came to me from an entrepreneur I respect. He said to me, "You need to start a podcast. Pronto." The next day, I got things rolling for Eat Blog Talk.

As I speak to you today, I have delivered 180 episodes that are packed with value. I am proud of every single one of them. I am constantly in awe of the quality of guests who join me in interviews and the amount of value they are willing to share with all of us. If I'm honest, when I heard the words "You need to start a podcast," I was not super excited. I didn't know if I'd even enjoy it and it sounded like a monumental task. But once it was on my heart, I knew I needed to do it anyway.

I leaned on my intuition heavily and recorded episode after episode, even when it wasn't comfortable. Even when my interviewing skills were sub-par. Even when it took me 5 hours to edit a single episode because I deleted all of my "likes" and "ums" from the audio.

I can't say which exact episode number it was, but I got to a point where interviews were no longer uncomfortable or stressful. I had MOST of my "likes" and "ums" under control and I was THOROUGHLY enjoying talking to my guests. Don't get me wrong, I've enjoyed every single guest I've spoken with, but with more experience comes a much greater sense of enjoyment.

About a year ago, people – YOU – started reaching out to me, telling me that you loved the value that was being delivered through this podcast. Every single time I get an email or a message like this, I smile so hugely and it lights me up in a way I cannot properly explain. THIS is why I do this. THIS is why I have published 2 episodes per week, every week, for a year and a half.. even on weeks when I don't feel like doing it. Adding value, encouragement and LIGHT to your business and your life is the reason I'm here talking to you, and it's the reason I will continue to do this.

As some of you know, about 8 months ago I started the EBT membership with a partner. Our goal was to foster a sense of community because food bloggers need community. As time went along, the direction the membership was going didn't feel right to me. I knew there was something else, another direction, it needed to go in order to best serve you.

My previous partner left EBT a few months ago and it took me almost that full few months to recalibrate and truly understand where the membership needed to go. The recalibration is complete, I am happy to report, and for the first time since the membership started I 100% know that I can help motivated food bloggers like you attain financial and freedom goals by serving you here on the podcast, and by serving you inside the EBT membership. More on that in a bit, but I want you to know how passionately I feel about watching you find that freedom.

"Freedom" is a bit of a loaded word because it can mean so many different things, depending on the person. It can also change from year to year for the SAME person.

Food bloggers who make the decision to really double down and "make it work" as I hear so many of you say, those are the people who are motivated, dedicated, determined and ready to DIG. IN. And invite some sort of freedom into their lives. Maybe that means quitting a corporate job and having more time with your kids. Maybe it means getting to a point where your spouse can quit his or her job and join you in business. Maybe it's paying off credit card debt. Or it could be as simple as having $200 extra every month to support your obsession with reading. Or crocheting. Or whatever.

What "freedom" means to me personally has changed a lot over the years. At first it meant being able to leave my wretched corporate job so I could spend more time with my family. Then it meant tackling credit card debt my husband and I had accumulated. Then being able to buy an RV and having more freedom to travel. Currently I'm on a mission to get my husband to join me in business so we can have even more freedom.

You have a story with what "freedom" means to you. You're probably running through it in your head now. If you consider yourself to be a motivated food blogger who is 100% dedicated to attaining whatever freedom speaks to you the most right now? YOU WILL FIND IT. I know this because determined people always get what they want when they refuse to give up.

Hopefully by being a regular listener of this podcast, your steps have quickened and you've made strides toward your freedom a little more quickly. You can fast forward that even MORE quickly by doing a few simple things:

Consistently surround yourself with other people who have the same desire for freedom as YOU.
Engage with experts who deliver personalized, relevant value.
Learn how to manage your content and your time.
Understand that mindset is EVERYTHING.
Find people who will hold you accountable so you ACTUALLY stay on track with your goals.

I recently joined a membership for podcasters. The same points I just talked through are main focuses within that group, and in just 2 months of being a member things have completely transformed for me. Consistently being around quality, uplifting, encouraging, smart, successful, kind people.. I actually turned that into an acronym, so QUESSK people, has done a couple very pivotal things:

It has helped me to value myself in an entirely new way. This small change alone has opened up tons of opportunity, but this could be an entirely other episode. For now I'll say that the power of truly VALUING yourself and your work is MASSIVE.
Not only do I dream bigger, I believe in my big dreams because other people do.
I have more clarity than ever about what projects to focus on.
I've been able to learn fresh, relevant information about how to run my business and acquire the freedom I currently want. In one year, I want my husband to either be working with me or have a solid plan to come work with me, and I know that will come to fruition thanks to the acceleration I've found inside the incredible membership I'm a part of.

So. Guess what? I'm building the EBT membership with similar values and goals so YOU can fast forward YOUR freedom. I believe in it. I believe in you. I have never been more excited about delivering value to food bloggers..

I want to point out a few mistakes that I observe food bloggers (including myself!) making.

Mistakes food bloggers are making
They are trying to do ALL the things.
Lack of a solid plan.
Listen to everyone.

You guys! I have SO been there with ALL of these points. I tried doing everything for many MANY years and it did not fare well for my mental health. It kept me from earning as much money as I wanted and deserved and it kept me from truly enjoying my work and my family, honestly. I didn't niche down until recently (I'm in the process of doing that NOW.. after 10+ years!) and that has dragged me down big time. And before I started planning my content, I didn't know what I was delivering or who I was delivering it to. I also didn't have a noise filter until pretty recently, which made me feel like I was absolutely DROWNING in information and not having a clue about how to sort through it.

Food blogging does not have to be disastrous! It does not have to drain you, overwhelm you and make you feel like you are the only one in the world working your BUTT off to achieve some seemingly unattainable freedom. You deserve to value yourself and reap the rewards of doing that. You deserve to have a clear next step, to work less and earn more.

With all of that said, I'm going to be completely transparent with you, I don't want ALL of you to go sign up because, no hard feelings but the EBT membership is not for everyone.

Who is Eat Blog Talk membership for?
Have an up-and-running blog and understand the basics of blogging.
Serious dedication to growing your blog.
Ready to commit to disciplining yourself to create change and implement strategies.
Deep desire for increased time with loved ones, more money or freedom of some sort.
Strong desire to collaborate and connect with like-minded peers.
Desire to be challenged mentally and willing to grow/see things in new ways.

Who is Eat Blog Talk NOT for?
People looking for information about how to set up a WordPress site or other basic information about how to get a blog started.
People not willing to be vulnerable.
People looking for immoral shortcuts.
People wanting to grow without putting in the time and effort required.

Based on what I just read through, you should be able to easily determine if the membership is a good fit. If you feel it is, I invite you to join us!

Once inside, you will go from:

Lonely to deeply connected

Overwhelmed to having clarity

Not knowing which information to consume to having clear next steps

Disorganized to planned and prepared

Lacking confidence to having bold confidence and valuing yourself

Why should you listen to ME?

Because I've learned a lot of lessons the hard way. I've been a food blogger for over 10 years and I have been through all of it. I run two entirely separate businesses while maintaining a happy balance in my personal life and WITHOUT working at night like I did for so many years. Once I started implementing some mindset and business strategies into my world, I broke the 6-figure income barrier and I have become well-connected with a lot of really QUESSK people (this part is invaluable).

What if you don't know if the EBT membership is for you?
That's ok! Start with the free forum. Get to know the people there. Dip your toes and see how it feels. Keep absorbing the podcast episodes and let your journey unfold. I will never rush or pressure you. It is here for you.. only when you are ready. Head to ebt.com to check it out WHEN IT'S RIGHT.

What is the investment?

For a very short period of time, and only because I seriously love you guys, you can get a years worth of value for the OLD pricing: $170/year. So you'll get about $13K worth of value for $170. Insane.

Coming up quickly, that price will increase by at least $1K annually, which is still an insanely incredible price point for the value you will be receiving.

To come back to the title of this episode: how motivated food bloggers can attain their financial and freedom goals

You can do this on your own. You are smart. You are motivated. You can figure out how to find the freedom you're searching for. But what if you could fast-forward to that freedom? Would you do it? And what price would you pay for that?

Whether or not I ever see you inside the EBT membership, I am so grateful for you and I love helping to share value that contributes to your success. Thank you for being here food bloggers. I'll see you next time!
---
💥 Join the EBT community, where you will gain confidence and clarity as a food blogger so you don't feel so overwhelmed by ALL THE THINGS!
📩 Sign up for FLODESK, the email service provider with intuitive, gorgeous templates and a FLAT MONTHLY RATE (no more rate increases when you acquire subscribers!).
Read this post about why I switched from Convertkit to Flodesk!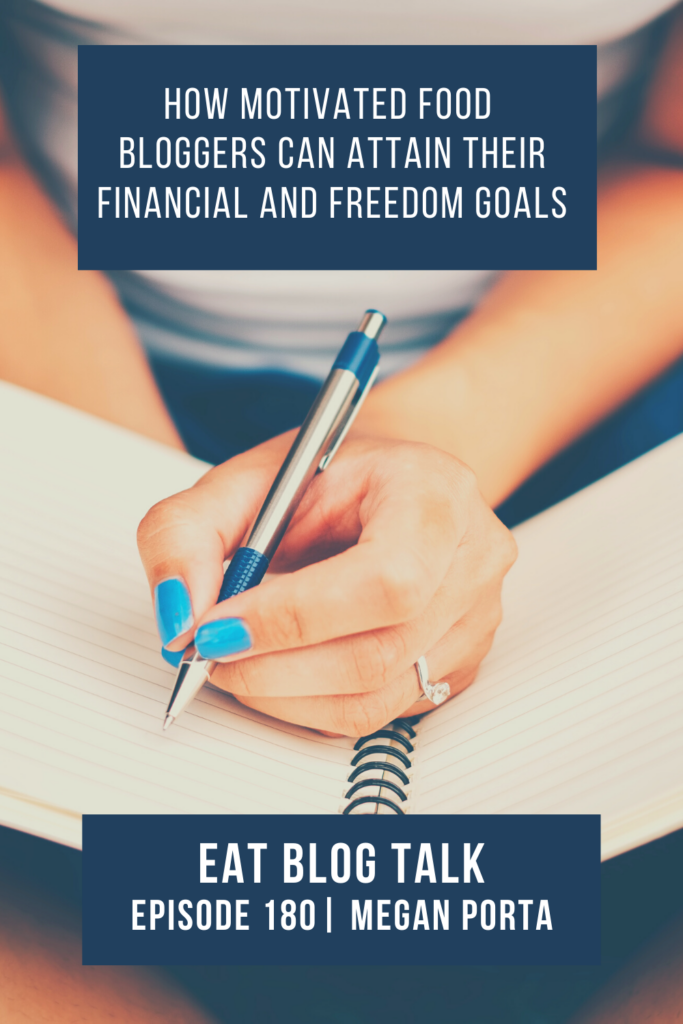 Questions or comments on this episode?
Head over to the Eat Blog Talk forum post about episode #180 to leave any questions or comments. We'd love to hear from you!