Below you will find my review of the new email service provider, FLODESK! It has a pricing structure unlike any other, as well as intuitive and gorgeous templates that will make your emails stand above the rest!
THIS POST CONTAINS AFFILIATE LINKS. IF YOU MAKE A PURCHASE AFTER CLICKING ON A LINK I WILL RECEIVE A SMALL COMMISSION (AND YOU WILL SAVE $, so it's a win-win!).
FLODESK TAKES EMAIL MARKETING BY STORM!
I have been a food blogger for 9+ years and I can honestly say that I have never been 100% happy with any email service provider that I have used. I started out using MailChimp and after a few years switched to ConvertKit. I made the switch because I had begun to feel limited with MailChimp and my subscriber list was growing. And everyone talked about how ConvertKit was made "by content creators, for content creators" so it seemed like the logical next step. All the cool kids were doing it, so I did, too.
My Convertkit Struggles
My virtual assistant quickly became aggravated by ConvertKit because its structure was very technical and not super intuitive. I asked her to press on for a really long time, though, because there wasn't a better option available.

We occasionally had issues with content not saving within ConvertKit and lost a lot of time and work. Eventually we began drafting everything in Word and copying it over but this was not sustainable.

My email list has over 6,000 subscribers, so for the past handful of years I have been paying $99/month for this service and not utilizing it in the way I knew I could because it was not a super intuitive program to navigate.

The emails that we did create were bland and did not accurately reflect my brand and that was always unsettling. Why would I want to scatter emails around that could not be customized to reflect the brand that I've worked so hard to establish?
I first heard about Flodesk from a fellow blogger who raved about it. I decided to see what the fuss was all about because.. $99/MONTH WAS GETTING OLD. And a constantly frustrated VA is no bueno!
I instantly fell in love, you guys, and very quickly transferred my subscribers from CK to Flodesk. Let me give you my WHYs!
1 – THE PRICE POINT!
I already mentioned the $99 I'd been paying previously with ConvertKit for 2 years, which comes out to $2,376. Sigh. In retrospect, I would have rather gone entirely without an email service provider if I could get that money back because I absolutely 100% can say that I did not get anywhere near my money's worth out of CK. Hiring a ConvertKit expert to tackle my email list was the only option because no one on my team had the time or patience to set up a sequence. I take that back. I did set up a small sequence for a giveaway series we did in early 2019 and it was so unappealing that I really had no desire to create anything bigger.
In Flodesk, you do not have to pay extra when your subscriber list increases. YAY! This is the best news I've heard all year! For my 6K subscribers, I will pay the same amount as someone with 1K subscribers and the same as someone with 20K subscribers. So you might be wondering what that price point is!
The cost is $38/month, but if you use my affiliate link? You get 50% OFF, PEOPLE. That brings your total to a whopping $19/MONTH for an email service provider.
CLICK HERE TO PAY $19/MONTH FOR A FLODESK MEMBERSHIP WITH UNLIMITED SUBSCRIBERS! OR USE DISCOUNT CODE EATBLOGTALK.
2 – GORGEOUS, INTUITIVE TEMPLATES
Never before have I used the words "gorgeous, intuitive templates" to describe an email service provider.. until now! Not only are the Flodesk templates absolutely stunning, there are a ton of options to choose from and with different purposes in mind (sales, updates, freebies, introductions, etc). I am a photographer as well as a graphic designer, so DESIGN is everything to me. If something is not designed well, I notice immediately. Nothing about other service provider's emails ever stood out. In fact, they were always very blah.
Here is just a teeny tiny sampling of the template options available for creating new emails in Flodesk..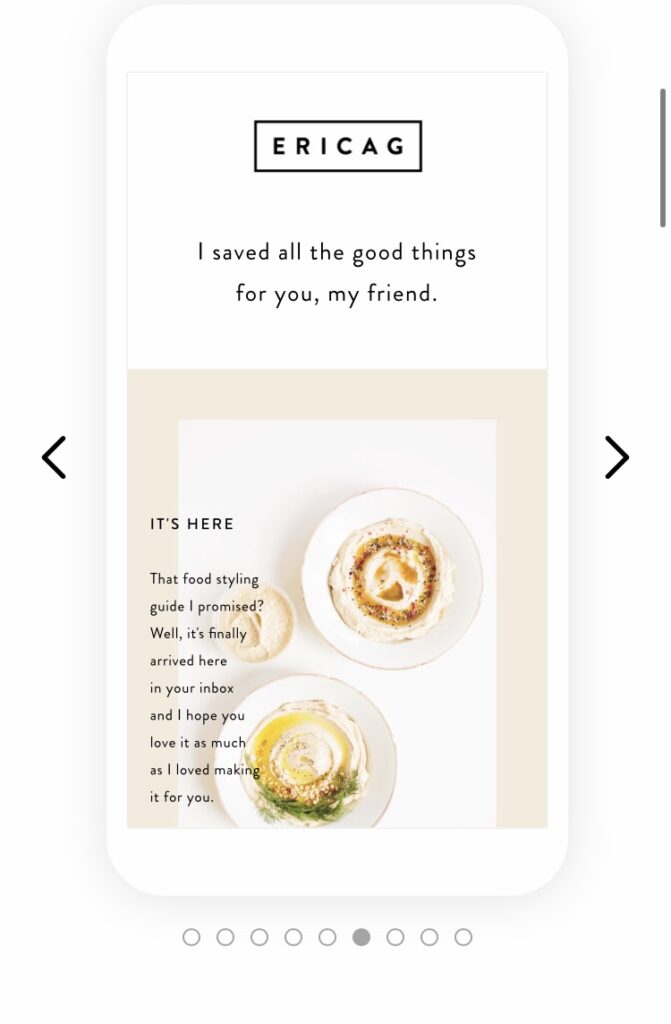 You can create emails from scratch OR you can select from the many pre-designed templates available. Not only do these templates have everything built in, they also give you ideas about information you may want to be presenting to your audience. I don't know about you, but I'm happy to pass off the heavy lifting!
Once inside the templates, the elements are drag-and-drop and everything works seamlessly. There is a great selection of fonts (script, serif and sans serif) and it is easy to add, delete and alter elements. Colors are customizable, links can easily be added, photos can be displayed in a variety of ways and the elements within each page can be easily moved around. It takes 5 seconds to add a beautiful collage of recent Instagram photos to every email, as well.
I mentioned earlier that I've been blogging for over nine years and during that time? I have NEVER created a welcome series or any type of series, for that matter. WHY?! Because I was working with programs that did not make it easy. I have a lot on my plate, so I NEED EASY. Within a few days of being in Flodesk, I had a welcome series up and running! It took me only a handful of hours to create an automation containing a series of 10 emails. That same task would have taken me soooooo much longer in Convertkit and would not have been nearly as appealing.
2 – SEGMENTS
Being able to segment emails is so huge for my business because I have two very different audiences (food bloggers and recipe users) and subcategories under each. Flodesk makes it super easy to segment users and to easily see open rates and click rates for each segment.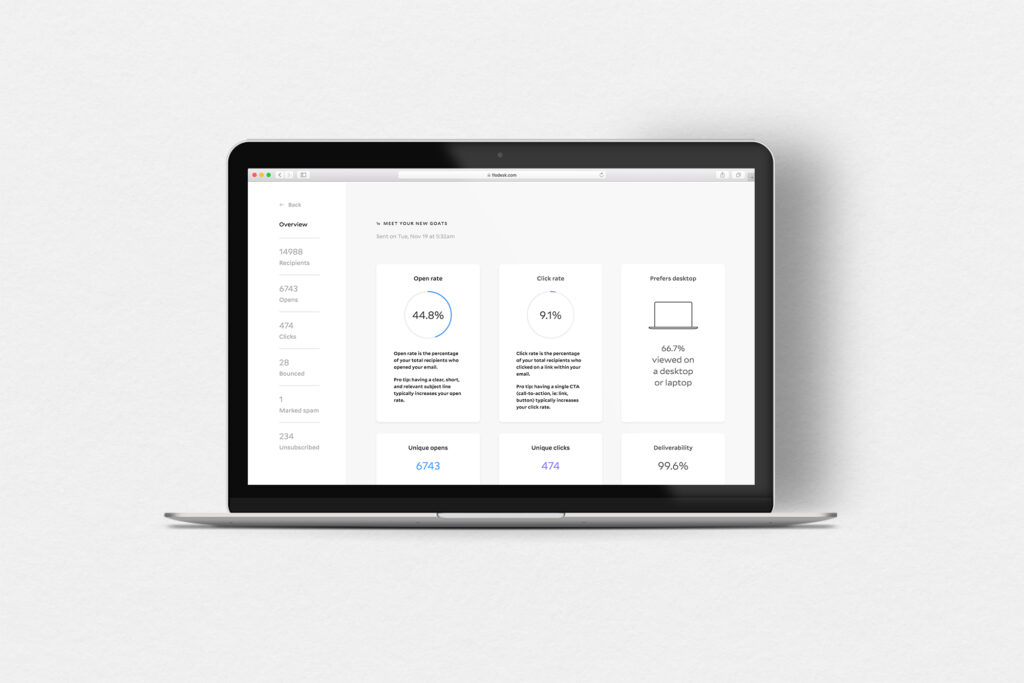 It is also easy to open stats for each user and see their lifetime open rate, click rate, subscriber totals and device overview.
3 – PRE-MADE WORKFLOWS
The workflows within Flodesk are a DREAM. Creating "automations" in Convertkit was definitely not dreamy for me. I literally had to draw out a map on a sheet of paper in order to understand how to order different parts of each automation. And even then it didn't really make sense. Creating a workflow in Flodesk is very visual and made sense to me immediately.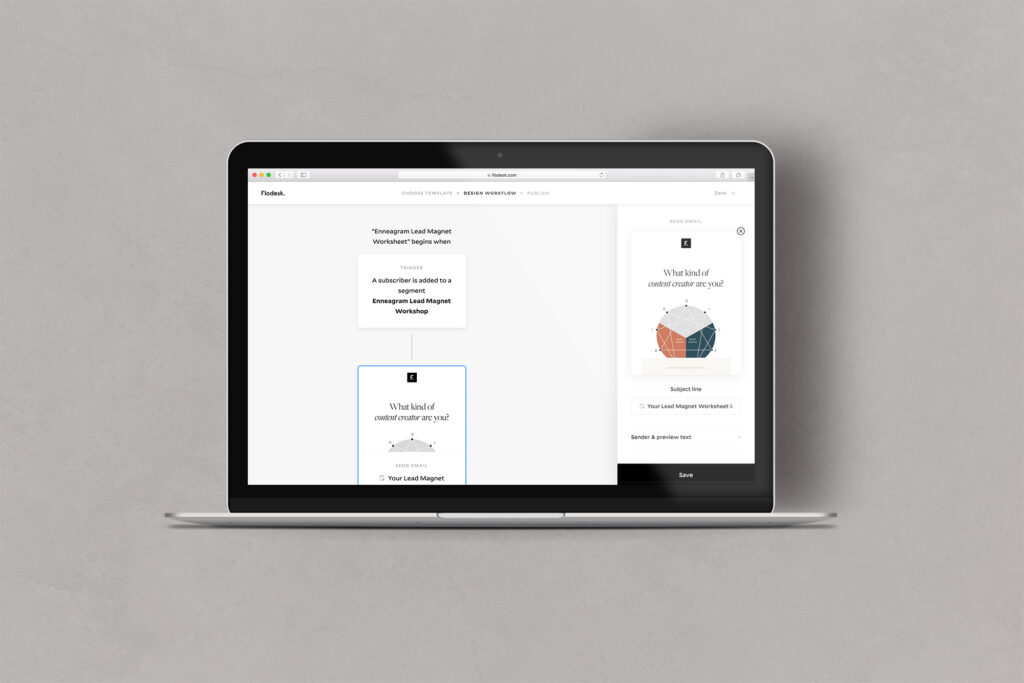 Flodesk workflows are pre-made, so you can use the emails you like and customize them to fit your needs (or make new ones). It literally could not be easier to create a beautiful workflow.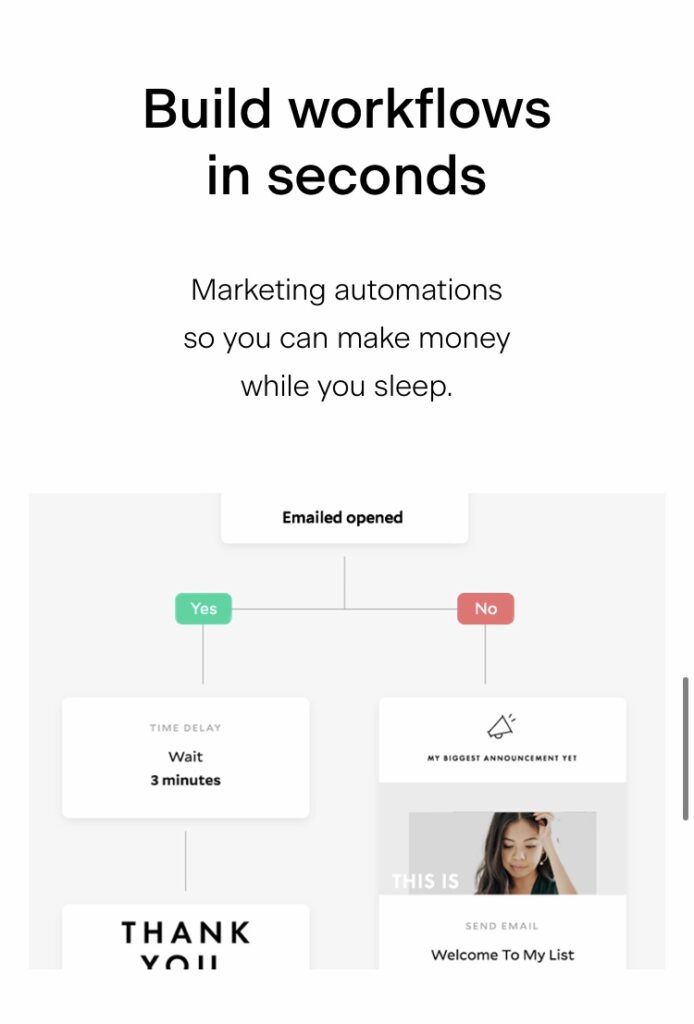 Setting up a good workflow automation is extremely important when you want to present your subscribers with a welcome sequence, nurture sequence, re-engagement sequence or another type of email sequence. This is a great way to deliver lead magnets, freebies, old content, new information and so much more on a consistent (and predictable) basis to your subscribers.
4 – BEAUTIFUL FORMS
Creating forms (pop-ups or in-line) in Convertkit was easy enough, but unless you brought a third-party form builder into the mix they were very basic. Flodesk forms are not only easy to use, they are also appealing!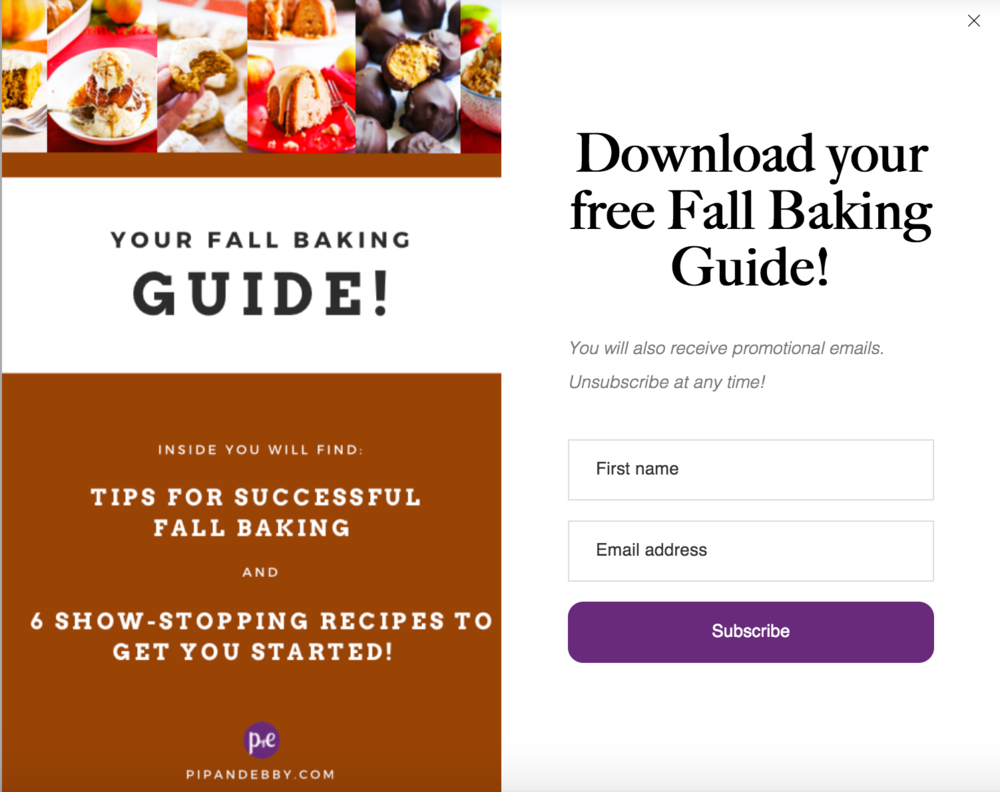 In ConvertKit I couldn't for the life of me figure out how to create a pop-up on mobile that wasn't 100% user UNfriendly. The mobile pop-up in Flodesk has a very clearly marked X for opt-out and does not take up the entire mobile screen. You can create multiple forms and link them to different workflows, as well.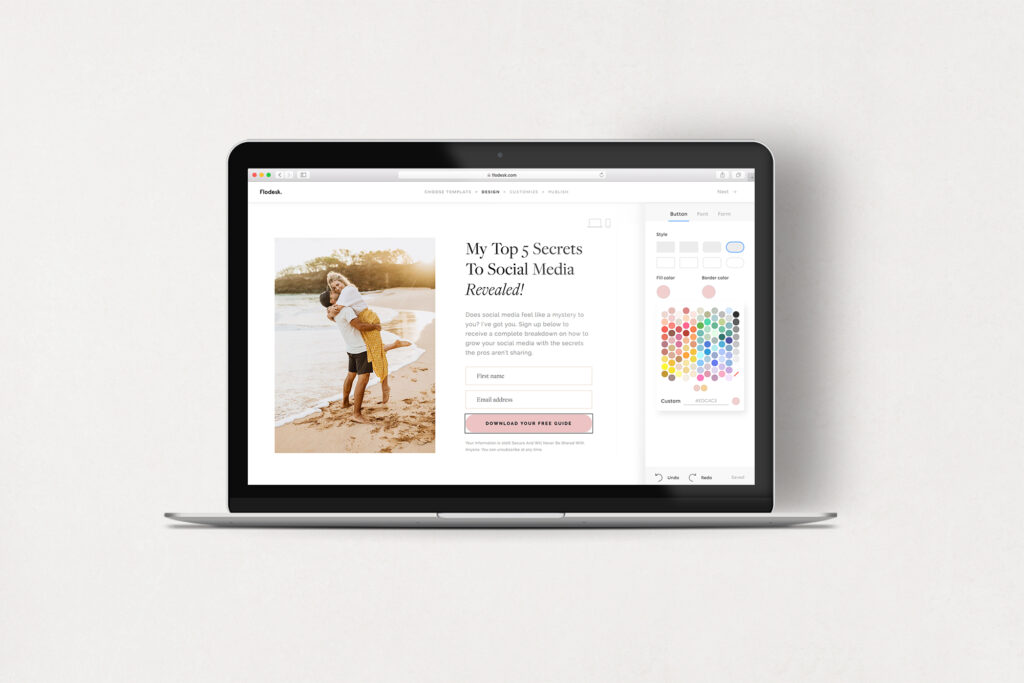 CONVINCED?
Have I convinced you to make the switch yet?
Flodesk is currently in beta, so tweaks are constantly being made. Features you may want that don't currently see will likely be available in the near future. Personally, I am waiting (nails tapping on counter) for Zapier integration!
LOGISTICS: MOVING SUBSCRIBERS FROM CONVERTKIT TO FLODESK
Let's get some terminology straightened out first because CK and FD use different terminology for a few things:
AUTOMATION in ConvertKit = WORKFLOW in Flodesk

TAGS in ConvertKit = SEGMENTS in Flodesk

RULES in ConvertKit = nonexistent in Flodesk (phew! did anyone understand these?!)

FORMS in ConvertKit = FORMS in Flodesk (yay!)
Let's move you over!
First, set up your Flodesk account.

Export subscribers from ConvertKit by downloading a CSV file.

Go to AUDIENCE then SUBSCRIBERS in Flodesk and click on the UPLOAD CSV button. If you have TAGS in ConvertKit that you want to keep intact, export and import them separately. If not, export/import the entire subscriber list at once and segment as desired from there.

Recreate forms as needed.

Set up workflows.
Let's hear your thoughts! Are you on the fence? What is holding you back?