In episode 109, we chat with Bethany Smith, of Food Blog Usability, about why the topic of web accessibility is important to our audience and why it needs to be on your radar.
We cover information about what specifics your site should incorporate to help someone access the information you share, how videos and images should be labeled and how this is also valuable on social media posts.
Listen on the player below or on iTunes, TuneIn, Stitcher, or your favorite podcast player. Or scroll down to read a full transcript.

Write Blog Posts that Rank on Google's 1st Page
RankIQ is an AI-powered SEO tool built just for bloggers. It tells you what to put inside your post and title, so you can write perfectly optimized content in half the time. RankIQ contains a hand-picked library with the lowest competition, high traffic keywords for every niche.
Guest Details
Connect with Food Blog Usability
Website | Facebook | Instagram
Bio Bethany Smith helps you become a more confident food blogger. She offers understandable, thorough & well-researched resources, audits, and coaching. You deserve to be confident in your blogging decisions as you work to grow and maintain an engaged, loyal audience. Follow her on Instagram or check out her website for more.
Takeaways
Web accessibility has been around since the beginning of the internet because everyone should have access to what's on the web
20% of people have some sort of disability; vision, physical, hearing, trouble reading or using a mouse, etc
If you don't monetize your site, you should genuinely want to make sure that anyone in the public that you're inviting to your site can access it.
Web content accessibility guidelines can be read by anyone however the people who wrote them also made Standardized HTML and Javascript readable to the people who need to use it outside developers.
Web accessibility should be POUR – Perceivable, Operable, Understandable and Robust
Links should be clear, color and font are important to tailor to people to help see better.
Think of your user as blind or deaf and tailor your site to that. Closed captioning and transcripts should be offered.
Whatever media player you use to make your video will give you tools to provide these accessibility options.
Captioning and alt-text should be offered on social media.
Resources Mentioned
Transcript
Click for full text.

Intro:

Welcome to Eat Blog Talk, where food bloggers come to get their fill of the latest tips, tricks, and insights into the world of food blogging. If you feel that hunger for information, we'll provide you with the tools you need to add value to your blog. We'll also ensure you're taking care of yourself, because food blogging is a demanding job. Now, please welcome your host, Megan Porta.

Megan Porta:

Food bloggers. Don't forget to check out the food blogging forum style community that we started over at forum.eatblogtalk.com. Finally, there is one place that we can all convene and talk and that isn't scattered all over Facebook. Here are the things that I am loving about it. It is free. It also allows for categorized discussions on all food blogging topics, and there's a category for sharing successes, AKA self promotion. So no more holding back about discussing your big wins and things that you're promoting. Also, everything is in one single spot. So no hopping around from group to group, and there's an amazing opportunity to network and really get to know your fellow food bloggers in a single place. So come join the discussions that are going on over forum.eatblogtalk.com. I hope you enjoy this as much as I do. Don't forget. Forum.Eatblogtalk.Com.

What's up, food bloggers. Welcome to Eat Blog Talk. The podcast made for food bloggers seeking value for their businesses and their lives. Today I have Bethany Smith from foodblogusability.com with me for the fourth time. We are going to talk about the hot new topic, web accessibility. Bethany helps food bloggers by taking a deep dive into the how's and why's of communicating and connecting with their followers. She focuses on the concept surrounding user experience design and how to make blogs user-friendly. Bethany has a background in web design, digital content marketing, and also management. Bethany, I always love chatting with you, and I'm excited to talk about this topic because it's very relevant right now. But before we do that, do you have a fourth fun fact to share with us?

Bethany Smith:

I did think of something. I feel like my fun facts are getting hopefully slightly more interesting over time, actually. There's people who can always just pull out any story or fact about them. That is not me. But this one, because we're talking about accessibility issues, I was kind of thinking about that as it relates to that. One of the things that's interesting when you start delving into accessibility and learning about disability, is that people often have temporary disabilities. So you break your arm and that's not a permanent thing, but you may not be able to use something for a while because of it. So for me, I have had two kids, two pregnancies with them and neither of them were easy, but with my second one, I had an irritable uterus, which is actually a thing. Which basically means you have contractions all the time. Something irritates your uterus. So with me, it was mainly activity that exasperated it. So if I was walking any sort of distance, I was usually okay around the house, as long as I wasn't being really active, but walking to the store, walking in and out of the office for doctor's appointments, I get these contractions. They stayed for hours or even a couple of times even a day.

So it just kept contracting. It wasn't the super painful ones, but it was just a lot of pressure. More like the annoying ones, monthly cramps sort of thing. When you have the babies in the strollers, I just felt like I was really not able to be mobile very well for a good amount of time. That just kind of opened my eyes to what some people have to go through for their whole lives. Luckily, once I had the baby, it was gone. It's just hard to explain to men or people who haven't been pregnant sometimes too. If I walk, I get these contractions and then once it acts up, it gets worse. So then I'd have to rest a lot more, then maybe I could do more.

Megan:

It gives you perspective though. Having those temporary issues definitely does. I share that with you. I was not diagnosed with an irritable uterus, but I'm pretty sure I had that for both my pregnancies. I was on bedrest for pretty much the duration of both of my pregnancies because of that. I couldn't even walk around my house, it was so bad. So I feel you. After that, I was like, I am free. I'm a free woman. I can actually go to the store and walk and do laundry. My husband had to do everything for me during those pregnancies. So he was awesome. But I feel you, it is not fun. Thank you Bethany for providing the most perfect fun fact ever for the topic we're talking about. Okay. So let's have a discussion about web accessibility. You Bethany, are a user experience design expert. So I think you're a really great resource for food bloggers right now who are wondering what all of this commotion is about surrounding web accessibility. So would you mind talking to us through the background of web accessibility and just describe what it is?

Bethany:

Yeah. So web accessibility has been around since the beginning of the internet and within user experience, it's one of the major categories that we look at. So really what it is, is just making sure that everybody has access to what's on the web. One of the things that's amazing about the web is that it actually is pretty simple. I know it doesn't feel that way, probably if you can listen to all of this, but compared to what you would have to do in some other settings or settings that maybe have no way to be accessible to everybody, there are ways to make the web accessible to essentially everybody, which is really amazing.

So there's been all these guidelines. We're going to talk about the wcag guidelines a bit later, and those were first developed in the late nineties. So it's just been around. It's not been something that many website developers have probably taken as seriously as we should have for a while. I think at the start, part of the thing was that just society as a whole wasn't taking websites as seriously. So they weren't looking at it as something that was really this extension of life that everybody needed access to. So I think that's why accessibility hasn't been as much of a thing because there's just been this attitude that it's this extra thing. When you start looking at the laws, which is why this has kind of become a whole thing now is because of some lawsuits around web accessibility. The laws here and in many places were put on the books before websites really took off. So it doesn't have specific language around it, but the language it does have talks about anything that's publicly accessible. I mean, that's why you go into a restaurant and there are always the stalls, there's a handicap wheelchair accessible stall, or there's the sidewalks, there's ramps to go up. So anywhere that the public is invited to, needs to be made accessible. So that's what a lot of these court battles are about, is deciding if websites are considered these publicly accessible things. Most people now looking at it would say, yes, they are something that's integral to life. There's something that the whole public is invited to and should have access to. So they also need to be made accessible legally.

You want everybody to be able to use what you provide. So one of the interesting things too that people don't think about, like we were talking about, is that about 20% of people have some sort of disability and most people will have a disability. Well, probably all people over their lives like we talked about whether it's a temporary one or just as you age. You have more problems with vision. You have more problems with whether you can use a mouse or not, because maybe you can't use your hand as well. So it's something that's going to affect all of us and something that is affecting about 20% of people right now.

Megan:

That was such a great description. That just gave me perspective. Yeah, there's always access for wheelchairs and physical places allow options for people who are in wheelchairs or who have disabilities of some sort. So why not the internet? Because the public is accessing the internet. All of us are, so why not? So I guess it makes sense. That kind of helped me to wrap my head around it. So I love the way you described that.

Bethany:

That is the people who say the web doesn't have to be accessible. They do get hung up on that part of the law. There's something, I think, that mentions physical places. That's what's being fought out in the courts in a variety of different ways to say, well, but now that we have the internet, we also mean that.

Megan:

That makes sense. I think it's actually a good sign because it's like people are taking not just food blogs, but people who make a living online a little bit more seriously. You mentioned before, when people hear I'm a food blogger, I work with food bloggers. They're like, I have absolutely no idea what that means, but okay. Even though they probably use food blogs and interact with them, isn't that interesting that it just doesn't compute that there are businesses and people behind all of the recipe blogs putting all of that content together. But eventually I think people are going to have to learn what's going on.

Bethany:

I think with all of the coronavirus stuff, I think people are becoming much more aware of how much they do. I think we'll see some changes just in the public perception of it, come about more quickly because of that. Because I've worked with a lot of different businesses when I was doing more focusing on web development and there is this huge disconnect. People just don't really understand how prevalent website use is, Google is, all of this stuff, even if they use it. That's another topic I guess.

Megan:

It is. It's really interesting. I find that fascinating. So we'll do that, maybe episode number five for you. Okay. So I love your description of what it is and the background. You talked about this a little bit, but maybe touch a little bit more on why it's a hot topic now, why this is something that food bloggers listening should really be digging into.

Bethany:

So there's been an increase. Well, first, I mean, this isn't like, this is the catalyst for people paying attention to it, but you shouldn't really be doing it just because you may get sued over it. Right. You should be doing it because there's a real person that wants to access your website. Like we talked about before, you know, and like I said, about 20% of people have some sort of disability. People over 40, about 15% of them have some sort of visual impairment.

That might just mean that they need to use glasses or they just can't see smaller texts or whatever it is. So it's really a large portion of people out there. It takes the stress off if you think of it that way, rather than thinking of it as trying to avoid a lawsuit. Because that's very stressful in just running a business, opens you up for lawsuits, no matter what. Another thing I have heard some food bloggers ask, well, I don't monetize my site. Does that mean they still have to do this? When you think of it, one, you should do it just because it's a great thing to do. But two, I don't think monetization is going to be the requirement legally.

I mean, I'm not a lawyer, this is not legal advice, I'm not a lawyer, but if you are opening your website up to the public and you're inviting the public in, then it should be accessible. I don't think making money at it is the thing. If you genuinely have a food blog, which probably nobody is listening to in this case, because you probably weren't listening to this podcast, that you're just like, oh, I'm just really putting this up for my friends. It's just for my mom then yes, you can do whatever you want. But even if you're not monetizing it now, you plan to in the future, you don't ever plan to, or it's like something maybe adjacent to other things you do. It's not directly monetized, any of that, I would guess legally would need to fall into this.

These lawsuits have been coming up. There's been a spike in many of them lately across the board with just web accessibility issues. But there also has been some court cases about it that have ruled that websites do need to be accessible. So one of the main ones was Domino's pizza and somebody sued because their website and app were not accessible. I think it was a blind person. It went all the way up to the Supreme court and the Supreme court decided not to actually take on that case, which basically meant they left the ruling standing that said that Domino's did in fact have to make their website and their app accessible. So that's also been the catalyst in the past year that happened to really make people think a lot more about this. With Domino's, they tied it to the physical location.

You have a physical location that's open to the public. So your website is an extension of that and so it also needs to be accessible. I am not aware of any cases about businesses that are just fully online. So that's what's interesting about this food blog. I don't believe she has any, I'm sure she doesn't have a physical location, but I don't think she even sells physical products or anything. She said, too, that she's going to try to, I don't know much about how these legal cases work, but she's going to try to not settle and basically have it go through the courts so that there may actually be a ruling on it that would then help food bloggers. Really anybody with a digital space, has more guidelines around what they should or shouldn't do or have to do legally.

So hopefully we can understand legally what's required better from that. That should help to quell other lawsuits. If we actually have something on the books saying, these are the standards you need to use, or these are the standards you don't need to use. So it'll be interesting to see how that eventually all plays out. But I think these things can take a lot of time.

Megan:

I'm glad that we will have a standard, whether that's in our favor or not. Because right now we're kind of just floundering. What do we need to focus on? How much do we need to really dive into this, et cetera. So I think once it's run its course, we'll have a much better grasp on it and I feel terrible that she has to be the one to have to go through this. I mean, what an awful thing. So to be continued on that, but in the meantime, there are definitely things that we can do to our blogs and to our videos and also in social media that can make our content more accessible.

Bethany:

I think it's extremely likely that these guidelines and things we'll talk through are going to be what the court said. If they say anything towards you, you have to make it accessible, and this is what you need to follow. The things that we'll talk about are going to be the things. So it's not like, oh, we totally don't know. If you do these things and start the process and work towards it, you're going to be really close to whatever comes out of this.

Megan:

Well, let's talk through some of those things. So let's divide it up into categories. So let's start with blogs and then we'll move on to videos, which is part of the blog, but you know, an extension. Then we'll talk about social media. So specifically on our blogs, what are some things that we can do to make them more accessible?

Bethany:

Okay. So there's several things. What you should look at is the web content accessibility guidelines WCAG, which is weird to say. So those are the guidelines put out by the people who standardize HTML and JavaScript and all of that. They have these guidelines and there's a WCAG 2.0 and 2.1 that are both internationally accepted, that is basically the accessibility standards that people need to work towards. There's guidelines that would affect different people in the process. So some speak more to a developer or even the people who put WordPress together. Some speak more to just different parts of the process. So some of it is more applicable to content producers, which is basically what food bloggers are. So there's four main topics. There's a better term than topics, but within these guidelines the acronym is POUR. So it's Perceivable, Operable, Understandable and Robust. Those last two don't apply as much to food bloggers, but I'll talk through a couple of things here. So one thing that is big is making link labels clear. So instead of saying, click here, it should have the actual name of the recipe or the actual name of whatever it's doing. So download my meal plan instead of just download or instead of click here. Because especially if somebody is using a screen reader or if they can't use a mouse and they're just going through, or like a variety of different ways people will try to access the internet.

It makes it really hard to understand if every link on your page just says, click here.

Megan:

Can I ask you real quick? What about link colors? Maybe you were going to get into that, but is there a set standard for link colors or not?

Bethany:

Also has to do with the font you use and how thick the font is, because really thin ones are harder to see. So you want to find a font that's thicker. Also the size of your font, which is good for mobile. You want it to be larger. I think for your main texts, 16 pixels is kind of the lowest size you should have.

Megan:

Those are really quick fixes. If you go to the contrast checker, check for contrast to make sure you're using an appropriately sized font, make sure your font is the right color and your links are the right color, you're fixing everything.

Bethany:

It should be really easy with CSS to just go in there and do it. Back a long, long time ago when everything was hand coded and then you'd have to go search and replace every every instance of it, now you can make these changes site-wide really easily. So I do think that's one of the things you can focus on at first. Because you can make pretty drastic changes with that. Just step back and look at your website and ask, does this look readable to me? Is it easy for me to see? If you wear glasses, sometimes I take off my glasses and then I try to see it like that. See how much I can still see. The other thing is with the colors, look at your recipe card because I see that a lot of recipe cards where the background color has been changed, just say like to a gray color.

Then that really changes the contrast of the text. It's a lot harder to read your recipe card often than the rest of your blog. Which your recipe cards should be the easiest thing to see there because that's the point of the thing there. I guess jumping into also the recipe cards, the way I interpret some of these guidelines, the ones around bypass blocks, is that I do think the jump to recipe button is necessary to meet accessibility. Basically if somebody is using a screen reader or some of these other adaptive technologies, they have to go through the whole site and they can't just necessarily scroll. They're tabbing through, or there's a variety of ways to do it. If they want to look at the recipes saying, you can just scroll down.

It only takes half a second. It isn't for them. It can be very confusing depending if they've zoomed in. There's a lot of different things that could be going on that would make it very hard to find the recipe card. So that's one of the principles is having what is called a bypass block that would direct you to the main content. So one of the examples in these guidelines they gave was around a news organization's homepage that has a lot of bloggers, right? Has some ads, has some different features for other posts, but the main story is down a bit and it's harder to find. So they suggest that on this news organization site, they have a jump to the main story. So that's essentially the same as the jump to recipe button.

Also it depends how you interpret the main content. Food bloggers may feel like the actual blog post is my main content. I think Yoast does this, is the reading score, like the flesh something reading score. So you want that probably lower so more people can read it. These are all just good user experience things, but also accessibility things. Because we tend to think also about people with more physical disabilities. There's also people with cognitive abilities that maybe can't read as well for a variety of reasons or they can't understand things as well as making the sentences shorter, making the language more user-friendly. So lower reading levels on those scores would be ideal.

Megan:

Keep it simple. So outside of the actual recipe, I know there are some things inside the post that we should be thinking about such as alt tags. So can you talk to us about all tags for images and should we have that on all our images? Then I would also love it if you gave us an example of, I know we don't have any visuals.

Bethany:

So actually this is something I've learned more recently too. If an image is considered a display image, which is not something that food bloggers use a ton of, but sometimes you'll have little icons or just little things that are just a visual thing or on my blog posts, I usually do add an image to the top. That's just a stock image, it's not adding any extra information. It's just decorative. So images are just decorative, actually need a blank alt text. So your theme for the most part, we'll deal with that. Right? So I don't want to say every single image always needs an actual text in the alt text. You can have ones that have blank alt texts if they're not providing any extra.

Megan:

So anything that's relevant, really.

Bethany:

Anything that's relevant. So for food bloggers, most of the images you're adding, probably all of them, do you need all texts in it? Most of you use WordPress, but so there's a way to add it in through that. It's probably best to maybe do a Google search and learn a little bit about how WordPress puts alt texts in based on the media library and based on if you just insert it through your posts. When you're writing your posts. It's a little confusing because they don't always work together very well in the media library and what you're putting in your posts. So just look it up. I also will link in the show notes. I have a downloadable guide about accessibility that walks you through the steps. It has links and a little bit more information on this. On all of this that we're talking about. You want an example. So I was thinking about this a bit last night, too, because I've heard questions from food bloggers about whether you're not really supposed to repeat the same words over and over in your alt texts, which food bloggers have historically been using for SEO purposes or for Pinterest purposes. Which is not what it's for. It's never been for that. It's to make it accessible for people who are using screen readers, but also people who say they have low speed internet may have their images turned off. So there's a variety of reasons for it. But I've heard food bloggers asking, I have all these pictures and it's basically the same thing. How do I not use the same text? So I think the answer to that is actually to stop putting images of all the same things. But from a user perspective, they don't want or need to see five or six pictures essentially of the finished dish. Of the same shot just from a little bit of a different angle. Overwhelmingly people were saying they only need to see a couple of the finished dish. Even with process shots, they were saying, well, sometimes it's helpful. Sometimes it's not. So it's not something your user necessarily needs.

Megan:

I liked what you said. Maybe we're not solving the right problem. Maybe we need to eliminate it. Because otherwise, how would you, if you're looking at the same exact thing, you would write the same alt text for everything.

Bethany:

Simple is better and to the point. So if you run into the issue where you feel like your alt text is the same exact thing five times, maybe…

Megan:

What is sufficient, like 10 words or less? Seven words or less?

Bethany:

Most of you are just shooting your food. You wouldn't need more than that. If it is a process shot and you are showing how to roll playdough or something, you might need more words to actually explain what's going on in it. Whatever is being communicated in that, you need to put in. Most examples with food bloggers, it should be really short. You can get into things like infographics. Some of you may be using something like that. That's a whole other thing where there's some different ways, cause you don't want your alt text to be retyping everything that's on the infographic. So in that case you would need either in the blog posts to summarize what's in the infographic, or you can have a separate text file that's downloadable that you would link maybe in the caption or something that has all the details in text about what's on that.

Megan:

I never thought about that. That's a really good point because it's an image. How would you do that? Because I have a few like that, so I would just separately type out the text and then put it where? Yeah, I'd probably upload it as another.

Bethany:

Okay. I like this is getting a little beyond what I've worked on before, but I would probably upload it maybe as a text file somewhere and then put a caption on the infographic. Don't make it say click here, but say, to see the text file of this infographic or just text file this infographic and that's the link. It depends on your graphic too. Because text files aren't necessarily going to be the easiest to read. You could do it as a separate blog post that's not linked. I wouldn't link it then. I wouldn't tag it as a category. Then that would also be searchable by Google. So you could create a whole separate page. That's just that infographic and the text.

Megan:

Who knew you could get so deep into alt text. That's stuff that I had never thought through, honestly, and I have quite a few graphics that have texts on them. I just never would have thought to consider those as something to make more accessible.

Bethany:

There are people that are using adaptive technologies, a variety of different things. So it's screen readers or people who are just tabbing through your website or a variety of different ways. Those are probably some of the biggest. They can't use a mouse or people can't hear people can't see. But I think the way to think about it is if someone can't see, can they still get this information? If someone can't hear, can they still get this information? You need to make sure that both of those things are true. Especially for content creators. Then if you were say developer, there's more on that looking at, if they can't do those things, do I have it set up properly so they can access it. But as food bloggers and content creators, that's not something we're typically dealing with.

Megan:

That makes sense. As I write my alt tags, I do keep that in mind. So I think if someone were visually impaired and they were on my site, what would they want to know about this image besides, being just a blob of chili in a bowl, is there anything else that we want to convey about it? So that always helps me every single time I write it, I think of the visually impaired. So it's a good way to frame it. So what else within our blog posts or on our websites, should we be considering?

Bethany:

I mean, really all of it. With headings, the heading tags, I've seen a lot of questions about this. More related to SEO. I think that is also a good thing. It should be user first, not SEO first, but most food bloggers still have this really SEO first mentality. I think even with the accessibility stuff, you're going to feel like, oh, these things are at battle or something. Google will look at this stuff. They're reading the stuff that's already there for accessibility and for good user standards and all of that. So it'll work with Google. You don't need to worry about that.

Megan:

It doesn't need to be either. Or I think people get in that mentality. Either I'm focusing on SEO or I'm cheating on SEO and focusing on user experience.

Bethany:

But if you focus on user experience, part of it is accessibility, you'll be fine with Google. So the heading tags are also something that is important because it helps the screen readers and people who are accessing your site in different ways, pull it up because it can read just like your heading tags. So it'll say, do you want to jump to this heading? Do you want to jump to this heading? That type of thing. So having heading tags that are clear and descriptive and not repetitive. That's been a big thing with SEO. Heading tags will make much more sense if you don't think of them as an SEO thing. Just think of them as an outline. If you were writing a paper in third grade or something, we learned about outlines. The top one is bigger and then there's all these subheads. That's all this is. So if your main topic is on chili, we don't need to be saying chili over and over because people know the page is about chili. Also, Google knows the pages about chili. So just use your heading tags. So your main page title will be H1 and then your subheads can be H2 and then sometimes an H3. Then your theme often will be using some H4's or H5's for just smaller things they're doing that you don't necessarily need to worry about. So just make sure they're clear and they're descriptive. So imagine somebody who's trying to read your page and really all they're seeing at first are your heading tags.

Bethany:

Does that give a good outline and explain what's going on in your page? Because that is how some people are accessing your page.

Megan:

That's a great way to think about it. Those third grade outlines totally brought me back. I think it was third or fourth. But just being stressed out about it at the time, but it really taught me how to frame what I was thinking through and what I was writing.

Bethany:

It was so important. You thought, I'll never use this in real life. Well now you are using it.

Megan:

But that's a great way to frame it. I like that. So aside from that, is there anything else just within the blog content or did we cover it all, do you think?

Bethany:

Well, I'm sure we didn't cover it all. I mean, there's a lot out there and different ways to think about it. One thing I was going to mention, when you were talking about having text on your images. If it's an infographic, that's fine. We talked about having a text alternative. It used to be where we would often save headlines and different words as an image. That is not considered standard. The logo is the exception to that. But don't just save texts. If you have a quote or something, don't save it as an image and put it on your blog post, just put the quote in text and put it on your blog. So, I could see an example where you have a quote you're using on Instagram or something and you're like, oh, I'm just going to repurpose this image I made and put it on my blog. It'd be much better if you just put that quote.

Megan:

Type it out.

Bethany:

For your logo, it's fine if that is saved as an image, because it is an image. Just make sure you have the alt text in there appropriately that says Food Blog Usability logo.

Megan:

So you all text your logo, even.

Bethany:

Because that's communicating. Also working on developing websites, we all value our logo way more than anybody else does, but if we want other people to understand it, it needs to have alt text on it. That helps for things like SEO too. Just baseline. What is this page about?

Megan:

Wow. There's a lot to think about. So you've given us a lot of action steps, so we can go through our blogs and do these things and be more accessible. I really think that we could probably go on and on, but Bethany mentioned her guide that we will link to in the show notes for this episode. That's really helpful for food bloggers just to look through and get some more ideas about what we can do specifically to our websites. But let's talk a little bit about video because a lot of us are producing videos and putting them out into the world on YouTube, our blogs, and social media. So give us some thoughts about what we should be doing with our videos.

Bethany:

Okay. Some of this, my brain does have a hard time getting wrapped around. Also, because I haven't done tons with video before, but again, you need to think if someone is blind, how can they get this information? If someone is deaf, how can they get this information? So there's just the basics of doing closed captioning. Then there's also transcripts and there's also case there's closed captioning. There's two things that are like closed captioning, but the other one's not exactly the same. It's when you have subtitles. Apparently they're similar, but not exactly the same. But in some countries I think they are the same. A lot of this with closed captioning also has to do with your media player or whatever tools you're using to play your video, upload your video, make your video. So ideally you're going to find a tool that gives you the most accessibility options possible. YouTube is one of the better ones with that. This goes to your blog too. If anything autoplays, you need to have a way to stop it or pause it. I think just close it out. Paused, stopped or hidden for any automatically playing content.

Megan:

That's something that your ad network could help you with.

Bethany:

I mean, those pop-up ads that the ad networks run. I don't think they'll be around forever because they're really on the border of accessibility because things that just pop up and are automatically playing are really disruptive for a lot of people, for a lot of reasons. If you're using something like a screen reader, say you're doing a screen reader or something and you're halfway down the page and then all of a sudden something else pops up and now you're over here, you have to figure out then how to close that and go back to where you were and it's really difficult. So yes, your ad network should have and think they do all have a way to be stopped or paused or hidden. I haven't seen ones that don't. But it's not the best for the user experience. It's not the best for accessibility to have those. So I know they bring in a lot more revenue because they're so disruptive.

Megan:

They're money makers.

Bethany:

That's the correlation. The more disruptive something is, the more response you get from it, unfortunately.

Megan:

That's why people have a hard time saying goodbye, but I get that it's not the greatest thing.

Bethany:

I think that there'll probably be more guidelines coming out around things like that. Especially because of autoplay. A pop-up is still less intrusive than an auto-playing video that follows you around. So there's a spectrum, right? There's a spectrum to these.

Megan:

There's a spectrum with everything with closed captioning, where and how do we get that? So going forward, we can, we can do it up front, put it on our videos, but what about retroactively? Like how do we get our close captioning on videos that we've already created?

Bethany:

I am not an expert in video. So some of this, I probably don't know as well as what we're just talking about on our blog page. But there is something like rev.com. Do they do that?

Megan:

Yes. I actually think that's the one. Okay. I'm just going to verify that real quick because I don't want to speak.

Bethany:

I'm sure there's services out there that do it. You can upload it to YouTube. It'll put captions on and then you should go back in and edit those because we've all seen where it does not always do it correctly. I was just reading some transcripts where the person's name was like always switched to this word, it wasn't quite a bad word, but wasn't a good word. I was like, ooh, you should've checked that.

Megan:

That's funny. Okay, so it is rev.com. So this is the one that a few other bloggers were telling me they uploaded their existing videos to. It was a piece of cake. I have not personally tried it, but they said it was super easy. It's relatively affordable. So that's one to look at.

Bethany:

I've heard a lot of good things about them. I think they're kind of the main player in that. They offer a lot of service, not just captioning your videos, but I think they'll do transcripts and do all sorts of things. So there are apps that do it. You could just upload it to YouTube and get it there and then go back in and change it.

Megan:

What about hands and pans videos where we're not talking and there's music, I've heard that we need to put upbeat music or something on the screen just to signify that something is going on auditorily?

Bethany:

So I've been thinking about that one too. So I think what needs to happen is yes, for the closed captioning, you should probably put upbeat music or whatever. But then there should also be a text file along with it that has a transcription or just the shots. So if you were doing it. Listen, I haven't made these videos, I haven't worked with food bloggers making them, so I don't know how you guys do it, but do you have a shot list that you go through? Or do you just know it in your head? If you were making an actual film for Hollywood or whatever, right. You'd have this whole script and you'd have the shot list and you know, they even go through you need a shot of this thing cooking. Then it goes back to dialogue if it's a real movie.

Megan:

Like a storyboard.

Bethany:

So I think that what you need in some sort of text format is just a shot list basically. So it'd be a shot of me with a frying pan, a shot of me stirring in pasta.

Megan:

Gosh. That is so much work. I did not want to hear that. So basically this is an opportunity for somebody, you want to make extra money, step in and be the person who writes these scripts for people because food bloggers don't want to do this, typically.

Bethany:

For most of those videos, it feels like it's a lot harder and really overwhelming, but it's not going to be that much. I mean how many different shots really, in a two minute video? You can just type it out quickly. It doesn't have to be super descriptive. It just needs to be what's going on as a baseline.

Megan:

All right. Fine.

Bethany:

Part of the question that I have with that too, which I guess we'll get into social media stuff later too, is if you're sharing that video across platforms, then how?

Megan:

Well, is there anything else with video? Not really, because that's the only thing, right? Just the close captioning and then maybe writing points, writing through your storyboard, if you have something.

Bethany:

I mentioned before, there's different levels of this. So in the highest level, I would imagine that all videos would have closed captioning and a transcription and even a transcription that's possibly maps too. I've seen some software where it's transcribed and then when you click on the sentence, it goes to that point in the video. Which I don't think like, don't hear me, that you need to go on and do that right now. I think that's just a higher level of accessibility that you could do, but really think through, if someone is blind, how are they getting this information? If someone is deaf, how are they getting this information? So I think doing more with transcriptions, because if they're blind, they can't read the closed captions. They can hear the audio, but if there's no audio, that's the hands and pans situation. So you have to have a text description.

Megan:

This just goes back to what you were saying. Don't make these changes based on not wanting to get sued, make the changes really with people with disabilities in mind and what they experience when they consume your content without sight or without hearing or fill in the blank. So I think if we just move forward with those kinds of frame of references in mind, then it's going to be much easier to make these changes.

Bethany:

Sorry, if you're doing the like hands and pans videos, really, some are more just entertaining, but some, if you are doing it more to really teach somebody how to make the recipe, having a text shot list or something is going to be helpful for a lot of people. It's not just people with a disability around it. I would click on it. The interesting thing is technology is always changing. We saw Google come out recently with more instructions on guided recipes. A text file like this may be something that would work well within something like that with different devices or displaying recipes differently. So there's a lot. It may come to a time where you're like, I'm so glad I've been doing this because now this new technology is using this.

Megan:

That's true. That's a great way to think of it too. Getting on Alexa and all of those different devices.

Bethany:

Because if it pulls up your video and then it's reading your shot list somehow, you just never know what's going to happen. So I think doing this stuff, it's not gonna hurt you. It's a little bit more work, but it can definitely open up a much wider audience for you and people will hopefully get less and less frustrated with food blogs.

Megan:

People need to hear that. Opening up an audience for people. I mean, I think all of our ears perk when we hear that, because we worked so hard to get people and those views on our content. So this really is another avenue that we could open up opportunities for. Social media, you mentioned that you recently did a little bit of research and found some interesting findings about social media and web accessibility. So talk us through that.

Bethany:

I've just been really delving much more into this lately. So one thing I did not know is that on Instagram and Facebook, you can actually put alt texts in your images on both. We'll talk about Instagram for a second. When you're posting your image, there's something that says, I don't remember exactly now. Just like extras or more or whatever, at the bottom. You just click there and it has a space for alt texts. So you can add it there and that should also help with being more find-able on Instagram and Instagram's algorithm reading what your image is about. So I suggest doing that. It's not going to take you too much more time. Then that makes it accessible. I mean, imagine if you're like one of the only food bloggers doing it, and then somebody in the community finds that and tells all their friends, oh, Hey, this person, you can actually see their Instagram feed. Because they have the alt text on it.

Megan:

Can you tell me where that's at again? Cause I'm on Instagram right now.

Bethany:

Let me pull up Instagram and see.

Megan:

So if you select a photo and then..

Bethany:

While I'm pulling this up on Facebook also, there's a way to do it. I was having to put it in my image and then click to edit the image. So it was before I posted the image though. I'd like to put up the image and then I would click on that image. Does that make sense? So I upload it and then it gives you a space where you can write in the text on Facebook. But then if I click the image again, it would come up with an edit button and you could put different filters and stuff in that way too. But then there were also more options that'll pop up. Then within there you can open accessibility options and add in alt text. Then also for Facebook. So I was researching like videos, how to do it on there and what they want you to do is just then put up a link to your text.

So if you have a transcription of your video, put a link in the description, right to that. So the same with infographics, like we were talking about. If you post an infographic on Facebook and then put the link to your text file about it or post that has the description of what's in the infographic. Facebook has a Facebook accessibility page. I was looking at that and they put up an infographic that was super hard to read and they did not have any texts about it. Everybody is like, isn't this kind of ironic. I couldn't even read it because it was just so small.

Megan:

Oh my gosh. Is this a joke?

Bethany:

It's probably like, somebody was like, we need to start this account. So that also goes to making sure the people that you're working with, or if you hire somebody as a graphic designer, if you hire somebody to develop or do more on your website, make sure that they understand these things and you can put it in your contract, that somebody is designing a website for you, that it needs to meet the WCAG 2.1 standards. You also can look for themes and plugins that are doing this. I would say, like we talked about at the beginning, it's kind of a process. A lot of people are getting more onboard with it. So feast themes, which many food bloggers use, they're really on board with this, they're making a lot of changes towards this. So I think if you stick with them, you're good. If you're on another theme, just maybe take a little time to do research and see what they're offering for accessibility. If they're making any changes towards that, same with plugins, all of that. So it's not just about you creating the content. It's about the tools you're using and the people you're work with and making sure everybody's really on board with that whole situation.

Megan:

I did find the spot on Instagram. So once you get past the photo, you are at the point where you're writing a copy. So it says new posts at the top. Then that's where you can tag people, add location. Down at the very bottom there's something that says advanced settings. If you tap that, then there is this whole area for accessibility and you can write alt texts. Oh my gosh, who knew? So we should be doing that for every single photo that we upload to Instagram. So should we be framing it the same way we do alt texts in our blog? The exact same bowl of chili on a pink placemat, like that sort of thing?

Bethany:

Yeah. I think that's best. I mean different food bloggers use Instagram differently. For most people that's probably the best way to do it. I mean, sometimes people are posting like pictures of their food, but with a little quote with it. But the quote is in your text. So just again, think about what you're trying to communicate with that image that you're posting, but I would just, bowl of chili.

Megan:

Basically treat it the same way. By the way, I just found this. You can edit a photo that you've already posted and it's really handy because in the lower right hand corner of the image, there's something that pops up that says alt texts. If you click on that, you can write your alt texts. So if you want to go back and do it to posts that have already been published, you can do that too. Wow. I learned something new today. That's pretty cool. Okay. So what else about social media should be on our radar concerning web accessibility.

Bethany:

Okay. So stories like Instagram stories or Facebook stories, those, you really should have some sort of captioning on them if you're doing just the videos of you talking. So there's some apps you can use to put that on. Or you can do just a description, which is what I usually do on mine, of what you're saying. So it's not a full transcript of it. I actually was playing with just doing the closed captioning stuff on there. Just the way stories work, it's a little harder to read. So what I'm in favor of doing is just, and it depends on your brand. It depends how much you're talking, it depends on what you're doing, it's just doing a brief summary in text of what you're saying. So, it's what, 15 seconds? Then I will just summarize. It's helpful because it helps me condense down my thoughts actually. So I know it takes a lot more time doing it that way. That's why I don't use stories as often as I want to. Not even for accessibility, but people have a much higher view through rate if I have those. Because people drop off if I'm just talking. Because people don't listen with audio on, a lot with stories.

The other thing was, I don't quite have the answer right now, is that if you have say an image with no audio. So someone who is blind wouldn't know what's happening there. Because it's all an image, it couldn't be read. Well, I don't know. Maybe it can be read probably depending how you have the text on there. Maybe it can be read by a screen reader actually. So I just make sure you have a little text on there if you want to communicate something. But I think things like stories, this is a good example where it's kind of a newer technology, it's an evolving technology. Instagram and Facebook will likely come out at some point with more options to make those more accessible or there'll be some app that comes out with that. I think you should start putting alt text on your Instagram and Facebook posts and images.

Megan:

It certainly can't hurt. Another thing, I'm just going to add that to my list, Bethany. Thanks for adding to my schedule for the month. Just kidding. Totally kidding. This is actually really great information. I'm just digging into it too and trying to figure out where to start. How much do I really need to do right now? Do I let some of this play out as the court cases evolve? I guess for me, it's really easy to do those couple of changes that you mentioned in the beginning of our conversation about link colors, contrast that is easy. Going forward, adding alt texts to my Instagram photos, that's easy. So I guess we do have a good place to start with all of that. Then just the rest of it that seems more involved. We can just kind of see what happens and go from there. But you've given us some really great places to start.

Bethany:

I mean I would not necessarily go with, see what happens because I mean, regardless, this is stuff that's going to make your website better to all users. It's going to make it more accessible to people with disabilities. There's maybe a few things that seem a little more like… I was talking about some with the video, the transcription linking to this specific part of the video. I mean, some of that I think, but the majority of what we've talked about now is just going to be good user experience type things that you need to do. I think once you get into it, it feels overwhelming. We're just listing off things. But when you get into it, it's not going to be as bad as it seems. So download my guide and just make a plan and just start working through those. You can set a date if you want, to meet certain guidelines and say, I will make sure my website meets these guidelines by this date or whatever. I've heard some people talk about it. I've heard it suggested a couple of places actually, where you can make a statement, an accessibility statement and put that up on your website that says, we're working on this. Here's my goals. Here's the timeline that I'm working towards making my site meet, although with WCAG standards by December 2021 or whatever.

Megan:

Yeah, that's smart. I like that. Giving people kind of a timeframe, so they know you're working on it.

Bethany:

It helps you stick to it. Because a lot of this stuff is not, it takes some time to think through and make a plan for, and maybe learn a little bit about, but once you get it in your rhythm, it's not going to be things that you really think much of.

Megan:

That's kind of what I was saying before. There are things you can do that are very easy and that you can add to your process. But I am sorry, Bethany. I am not gonna go through all of my existing videos and write. I think it's a great idea. I do. I get it. And I get how that will improve people's experiences with our content. But I just like feasibly, I am not going to do that right now. I mean, if someone tells me, yes, you have to do it, then I will go through and write. This is a plate of nachos being removed from a counter. Oh my gosh.

Bethany:

One thing to think about, what can you do going forward as opposed to fixing everything that's there already. So maybe you kind of decided, Hey, like those are never going to get fixed unless.

Megan:

Exactly. Yeah. I like that.

Bethany:

But going forward, and maybe not tomorrow you're going to start doing it, but you're going to make a goal by the end of September, this is going to be something that I figure out how to do or whatever. Then going forward, you have that. The same with alt texts, some people have not been doing alt texts on their website and that's something we'll link to too. There's a plugin from Nerd Press that will help you figure out where you're missing alt texts and it makes it easier to go in and fix those in the past. Which can be quite a lot of work. I highly suggest going back. That's one thing I think you should, if you haven't been doing it to go back and fix. But at least try to start doing these things going forward. It's way too overwhelming to try to think, I'm gonna have to go back and fix all 10 years of content. At least first step, I'm gonna work on this going forward.

Megan:

I like that. I can handle that. That I can process.

Bethany:

The stuff you've already done. It's like, oh my gosh. Especially if you start thinking about social media and all of that.

Megan:

I can't even go there. My brain will shut down.

Bethany:

I think for things you've already given up, alt text is probably the most important one.

Megan:

So if anything, if we comb through anything that we've already created and published, alt texts is the thing that we should focus on.

Bethany:

Yeah. I mean, if you're a huge video person or some of it is based on what you've done a lot with. Most, if you're like a YouTuber, you put captions on your YouTube channel anyway. So some of that is going to be taken care of by where you're uploading it and things like that too.

Megan:

Yeah. I can see where if you were just a massive YouTube blogger, if you had a massive YouTube channel, then yeah. You should probably comb through that as much as you can. But I don't, and I don't think a lot of food bloggers do. So maybe putting your focus on alt tags on your blog, a good first step. Okay. We have covered…

Bethany:

Hopefully people are still accessing all of those recipes on your blog, right?

Megan:

Hopefully. There is so much here and I think this is going to be really valuable. I just stress again, go get Bethany's guide because I thought that was really, it's really succinct. It's not overwhelming. It's not like a super long guide, but it's just got a lot of great information inside of it. So we are going to put some show notes together for you. Bethany as always. And this is your fourth time on the show. We're going to put those at eatblogtalk.com/bethanysmith4. Is there anything that you just feel like we need to touch on before we say goodbye?

Bethany:

I feel like this time is supposed to be more inspirational, but I did think one other thing I wanted to mention is there are some plugins that I've seen people put on their site that have a little icon on the side. I forget the name of it, there's some really popular ones. That then lets people adjust the font size and colors and do all these things. I think that's a nice option, but it does not address the majority of the things that we've talked about today. So yes, you can add that plugin, if you want to. I think most people who need those things probably are using something else to make that happen or just know how to adjust in their browser, like the size of the text or something. But that's not going to solve a lot of this. That doesn't write your alt text. That doesn't change your headline structure. That's not this magical fix for it.

Megan:

Well, that's good to know because I'm sure a lot of people are like, yeah, just wondering, should I be doing this or not? Yeah,

Bethany:

Some of this, it feels overwhelming, but it also feels good when you start doing it because you think, I'm really making this accessible for everybody. It's just going to be better all around and you'll be a better content creator.

Megan:

You're diversifying your audience too, by making your content more accessible. I love that you pointed out earlier, this is not just for disabled people. This is also for the average person who is not disabled, who just wants to consume your content in maybe a more robust way or different ways. So looking at it that way too is really cool. .

Bethany:

I don't like listening to videos with audio very often, so I almost always use the closed captioning and yeah, same I hardly ever do either. So I always appreciate it when people do that. Well, thank you, Bethany. This was very, very in depth and great conversation. I really appreciate you being here today. I know you're busy. You have two little boys to take care of. So thank you for taking the time out of your schedule to talk about this today.

Bethany:

Yes. Thank you for having me.

Megan:

I think we've all heard where to find you online, but why don't you say your website again, just in case people want to go check you out?

Bethany:

Yeah. So I have my websites at foodblogusability.com, but then my social channels Instagram, I try to do more on Cadia Marketing. That was more my web design business. So on Instagram and Facebook, you can find me at Cadia Marketing and then foodblogusability.com is my website.

Megan:

Bethany has tons of valuable information for food bloggers by the way. She puts a lot of it up on her blog, but also on Instagram. I love all the stuff you post. It's just really informative and helpful for food bloggers. So go check her out. Definitely follow her.

Bethany:

And in the Eat Blog Talk forum.

Megan:

Oh, of course. There too. Yes.

Bethany:

I'm the community manager over there. So if you have any questions or just comments or whatever, that's a really good place to reach me. Just go over there and post your questions and I will answer you in the Eat Blog Talk forum.

Megan:

Yes, definitely. Thank you for mentioning that. So thanks again for being here today, Bethany. And thank you for listening today, food bloggers. I will see you next time.

Outro:

We're glad you could join us on this episode of Eat Blog Talk. For more resources based on today's discussion, as well as show notes and an opportunity to be on a future episode of the show, be sure to head to eatblogtalk.com. If you feel that hunger for information, we'll be here to feed you on Eat Blog Talk.
---
💥 Join the EBT community, where you will gain confidence and clarity as a food blogger so you don't feel so overwhelmed by ALL THE THINGS!
📩 Sign up for FLODESK, the email service provider with intuitive, gorgeous templates and a FLAT MONTHLY RATE (no more rate increases when you acquire subscribers!).
Read this post about why I switched from Convertkit to Flodesk!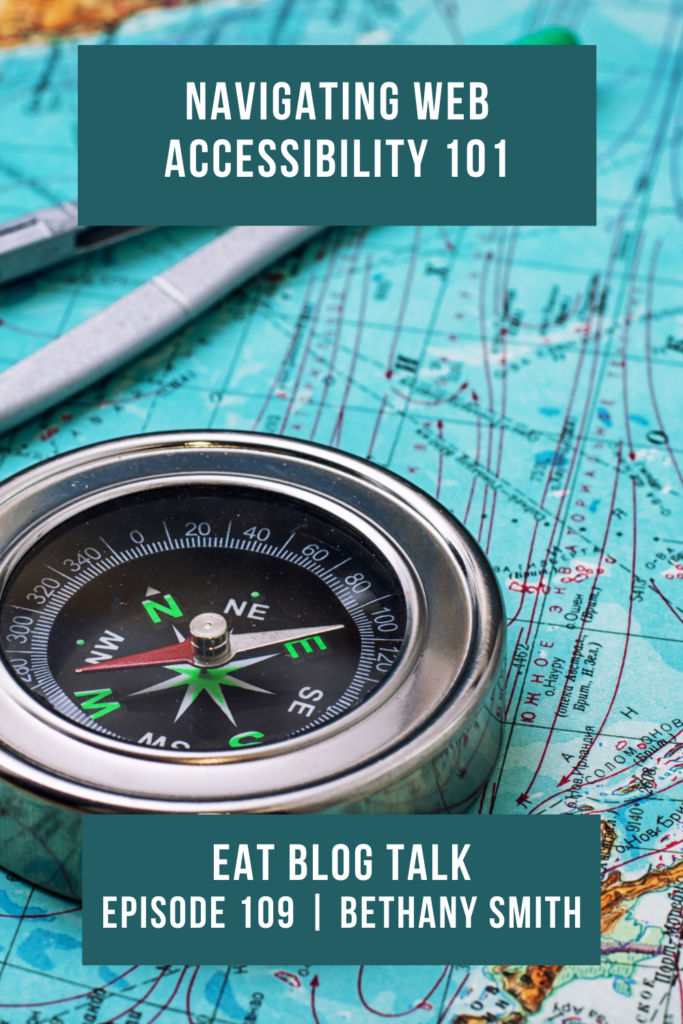 Questions or comments on this episode?
Head over to the Eat Blog Talk forum post about episode #109 to leave any questions or comments. We'd love to hear from you!